Where to Stay in Valencia? 7 Best Places to Stay in Valencia
Destguides may receive commissions from purchases made through affiliate links in this article.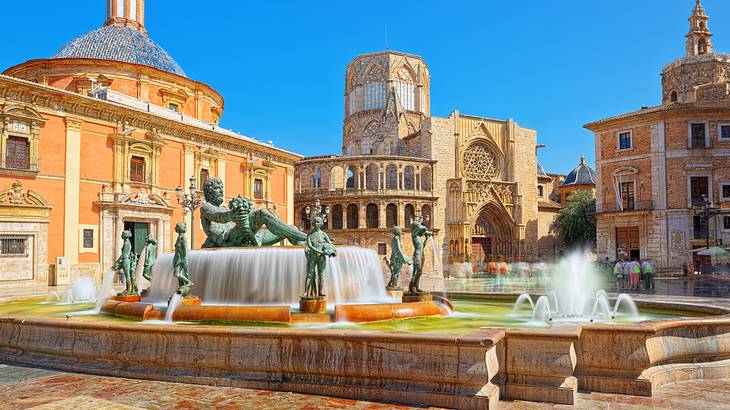 Valencia is a lively and vibrant city with something for everyone. Its rich history, awe-inspiring architecture, and unique cuisine set it apart from every other city in Spain and the rest of Europe.
However, deciding where to stay in Valencia can have an impact on your trip. First-time visitors tend to enjoy the size and ease of Quatre Carreres's district. On the other hand, families might feel more at home somewhere a little further away from the crowds, like Beniferri.
If you're planning an upcoming trip to this artsy Spanish metropolis, keep reading. Here's everything you need to know about the top seven places to stay in Valencia.
7 Best Places to Stay in Valencia, Spain
Valencia Places to Stay Video
Check out our highlights video of Valencia places to stay.
Valencia Places to Stay Map
A map of Valencia. Use the map to explore all the places to stay.
Best Areas to Stay in Valencia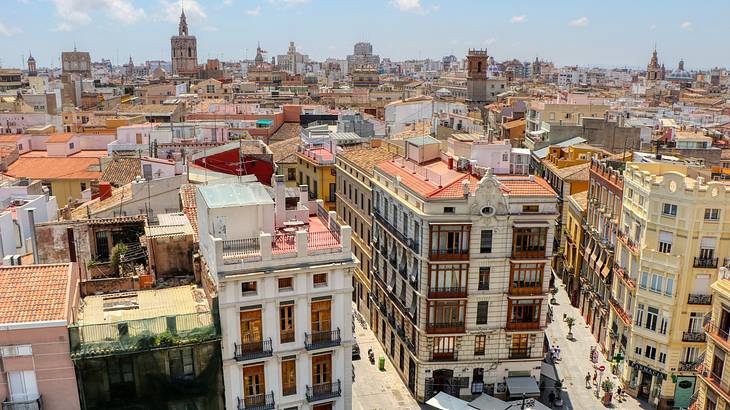 Ciutat Vella (Old Town)
If you're passionate about sightseeing, Ciutat Vella might be the best place for you to stay in Valencia. Valencia Cathedral and the historic Serranos Gate are just two beloved landmarks that are within a two-mile distance of this neighborhood. You can also shop at the bustling Valencia Central Market while in Ciutat Vella.
The area is also an excellent option for visitors coming in by train or bus or those who want to go on excursions to other regions in Spain. Estació del Nord, a main train station in the city, is nearby and offers connections to other parts of Valencia and Spain.
This part of the city has a vibrant social life as well. The popular trendy neighborhood of El Carmen is within Ciutat Vella. There are also numerous restaurants and cafes that stay open until late in the evening. That does mean it can get crowded here, though, especially on weekends.
Hotels in Ciutat Vella are generally pretty affordable. However, they're often near highly-trafficked areas, so you might hear the sounds of cars and people on busy nights.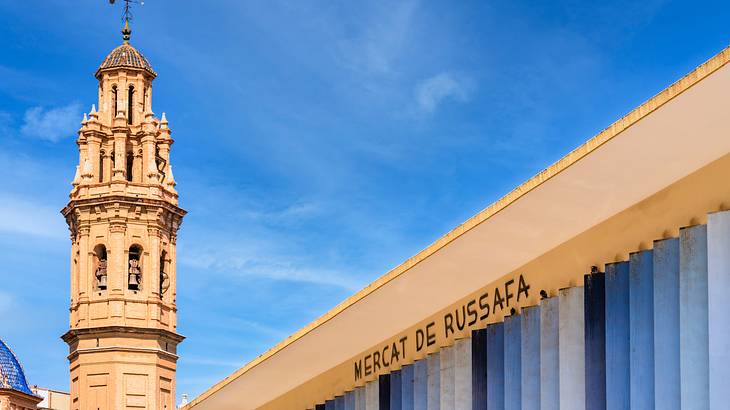 Ruzafa
Not only is Ruzafa (or Russafa) a hip neighborhood that's great for young and solo travelers, but it's also widely considered the best area to stay in Valencia. Known for its numerous bakeries, coffee shops, and clubs, Ruzafa is a lively neighborhood that's been dubbed the "Valencian Soho."
Though this is a particularly popular district among night owls, it also offers interesting sightseeing opportunities. For example, the local Ruzafa Market is a beloved site among tourists where you can browse the stalls and purchase local food and drinks.
Since Ruzafa is popular among young travelers, there's no shortage of lodging options. Many of the hotels in this part of Valencia are pretty affordable, so they're suitable for most budgets. However, if you're looking for some peace and quiet, this likely isn't the right district.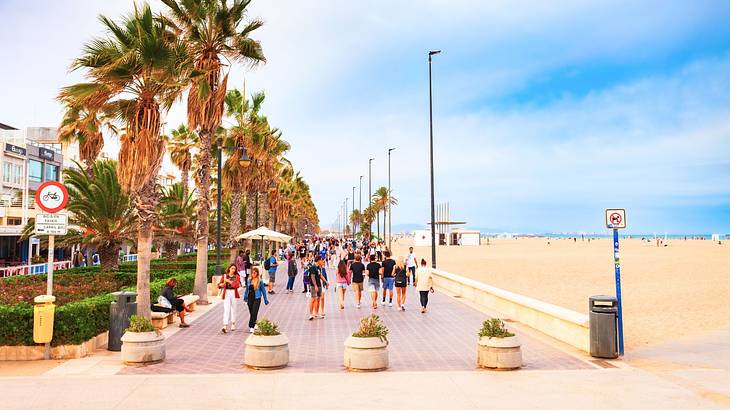 El Cabanyal
Part of El Cabanyal's charm is its coastal location. This place to stay is located within the Poblats Marítims district, a sleepy area that was once primarily made up of fishing huts before becoming one of the most picturesque parts of the city.
Fishing is, in fact, still an important part of the neighborhood's culture. This connection to its roots makes it an excellent place for people who want to authentically experience Valencia.
However, you don't have to spend your days toting around a pole and tackle box! El Cabanyal's streets are full of quaint eateries and little shops to explore. Of course, you're also right on the beach, so you can spend some time relaxing on the sand under the sun.
It's also near some of Valencia's more unique landmarks. For example, the local Rice Museum is around a mile away, and the City of Arts and Science complex is similarly nearby. The area is also well-connected by taxis and public transportation if you want to venture to other districts.
Despite its rustic roots, hotels in this part of Valencia can be expensive. Make sure you give yourself plenty of planning time to make reservations at the more affordable hotels found here.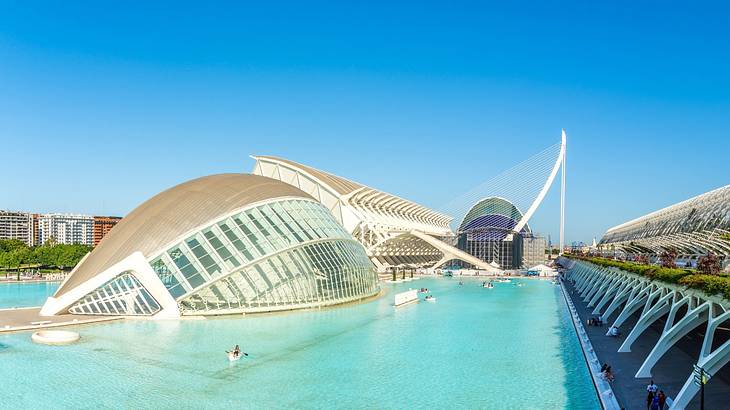 Quatre Carreres
According to locals, Quatre Carreres is the best area of Valencia to stay. Coincidentally, it's also one of the largest districts, meaning many landmarks and activities can be found within its borders. Therefore, it's a great choice for first-time visitors.
The most recognizable site in Quatre Carreres is the City of Arts and Sciences museum complex. This museum also happens to be connected to the Queen Sofia Palace of Arts, a renowned opera house.
When walking around, you'll notice that many of the landmarks in this neighborhood were built in the Modern architectural style. This includes the Hemisfèric Theater and the Assut de l'Or bridge.
While it's popular among tourists, Quatre Carreres is a primarily residential area, so many visitors tend to leave in the evening. For that reason, you can find numerous affordable lodging options, including hotels and vacation apartments.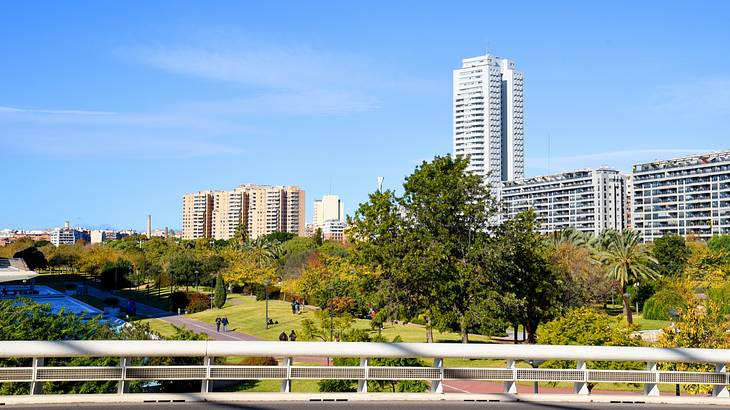 Extramurs
Located just outside of the Old Town district, Extramurs is, according to many, the best neighborhood to stay in Valencia, Spain. Since this is primarily a residential zone, it's a safe and calm place for families and those wanting to escape the bustle of the city center.
On top of being a secure place, many of the nearby sites are outdoor attractions. For example, the Botanical Garden of the University of Valencia is just a three-minute walk away from the neighborhood. So is the Valencia Central Park.
Extramurs is also near Valencia's train station, making it a top spot for people who plan on visiting other places in Spain or Europe while on vacation. It's also well-connected to the rest of the city via buses.
Hotels in the Extramurs district tend to be affordable, even during the summer months. You likely won't find any extremely cheap hotels, but the same can be said about extravagantly expensive options.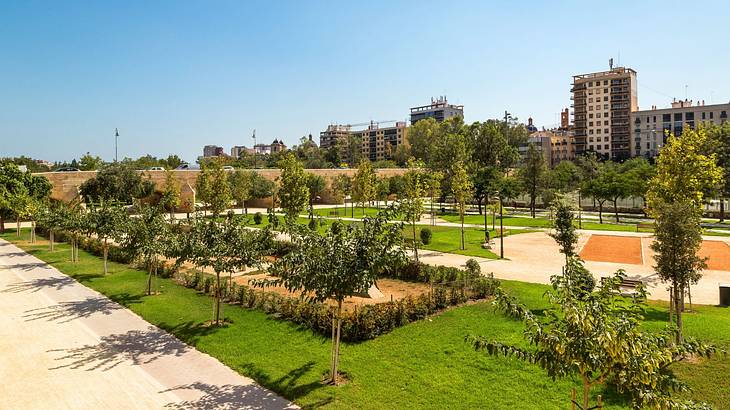 La Zaidía
Since La Zaidía (or La Saïdia) is located just outside the main tourism bubble, it tends to be a calmer neighborhood. It's perfect for visitors who want to be able to relax with some relative peace and quiet. It's also a good option if you want to feel like you're getting a more authentic experience of life in Valencia.
That doesn't mean there aren't fun things to see here as a tourist, though. The Turia Gardens are right next to the neighborhood, and visiting them is one of the most highly recommended things to do in Valencia. If you're in the area with kids, they'll enjoy exploring Valencia's Natural Science Museum, which can also be found nearby.
The price points for lodging in La Zaidía vary from quite affordable to high-end options. So, you should be able to find something to suit your budget. Hotels are the most numerous form of accommodation, but you can also find apartment rentals.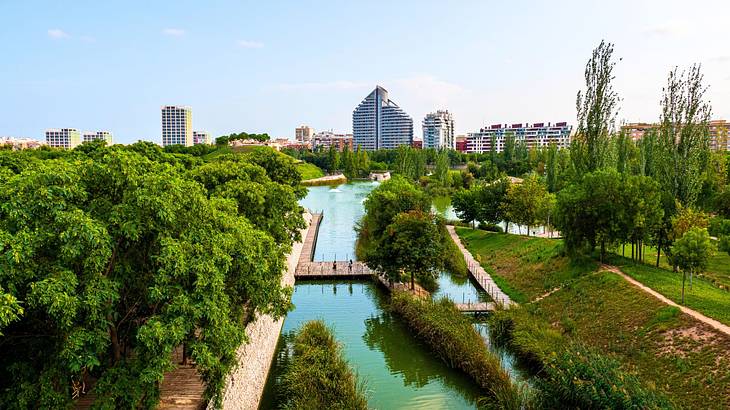 Beniferri
If you're looking for a place to stay that's a bit off the beaten path, Beniferri might be one of the best neighborhoods in Valencia, Spain. It's located on the outskirts of the most crowded areas, making it a quiet and relaxing spot.
In addition to its calmer ambiance, Beniferri is also a cost-efficient option for some families and large groups. Since you're not in the main metropolitan bubble, hotels and vacation home rentals tend to be larger, giving you more room to move around. That extra space doesn't come at an extra cost, either, and most places are quite affordable.
While you'll need to arrange to take a car or bus into Downtown Valencia, Beniferri has multiple nearby attractions worth checking out too. Bioparc Valencia is an excellent zoo park for animal-loving kids, and the Valencian Gothic Lonja de la Seda civic center is also just over two miles away.
Where to Stay in Valencia, Spain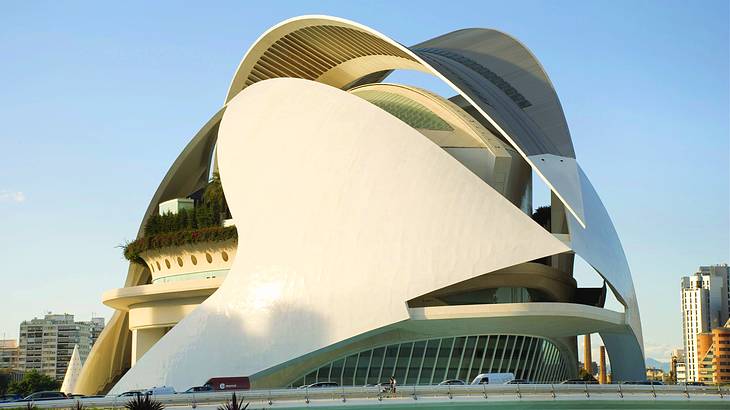 Where to stay in Valencia for first-timers?
Quatre Carreres is one of the best neighborhoods to stay in Valencia, Spain, if you're planning your first visit. As one of the biggest districts in the Valencia area, it's home to some of Spain's most famous landmarks. You can walk around and see how many of the modern structures you can spot, like the City of Arts and Sciences.
If you're more interested in traditional landmarks, Quatre Carreres is still an ideal place to go. You just have to go for a stroll to see the Baroque and Gothic architecture present in the area's public square.
Alternatively, Ciutat Vella, Valencia's Old Town, is another good option. Many of the city's most historic sites can be found around this area, and it's near the train station and numerous bus stops, making getting around town simple.
Where to stay in Valencia with kids?
Valencia has no shortage of great places to stay on a family trip with kids. If you have younger children who love learning, the Natural Science Museum of Valencia is one of the best things to do in the Valencia area and can be found near Quatre Carreres.
Extramurs is another top spot for people visiting with kids. It's not in the middle of the city's busy districts, which means kids can run around the neighborhood parks a little more freely. It's also one of the safest areas because it's mainly a residential zone.
If you have small children who need to stick to a strict bedtime, Beniferri might be the best option. It's a bit on the outskirts, so there's less noise and traffic, making the atmosphere peaceful and relatively quiet in the evening.
Where to stay in Valencia for nightlife?
If you ask locals which is the best location to stay in Valencia for nightlife, they'll almost unanimously agree on El Carmen. This neighborhood can be found in the older part of the city and is home to several historic landmarks like the Serrans Gate.
However, it's also the center of Valencian social life, especially in the evening. You can find dozens of bars, cafes, and restaurants open until late at night. Even the local shops tend to stay open later in this neighborhood, especially on the weekends.
Another valid option is Ruzafa. While the party scene in this district isn't quite as vibrant, it offers a more laid-back ambiance for people who don't want to dance the night away and would prefer to try new food and drinks until the sun comes up.
Where to stay in Valencia near the beach?
El Cabanyal is the best district to stay in if you're interested in spending your vacation relaxing by the water. As part of Valencia's old fishing neighborhoods, most places in this part of town are right by the sea.
The center of this zone is only a 10-minute walk from Malvarrosa Beach, the most popular shore in Valencia. Additionally, you can find tons of shops and restaurants along the promenade, especially during the summer months.
However, it's important to keep Valencia's climate in mind when planning a trip. Though the temperature rarely drops to freezing levels, it usually doesn't get much warmer than 63 degrees Fahrenheit during the winter. Those conditions are too cold for swimming. In addition, many of the beachfront businesses close due to a lack of foot traffic. So, you may want to stay somewhere else during the winter.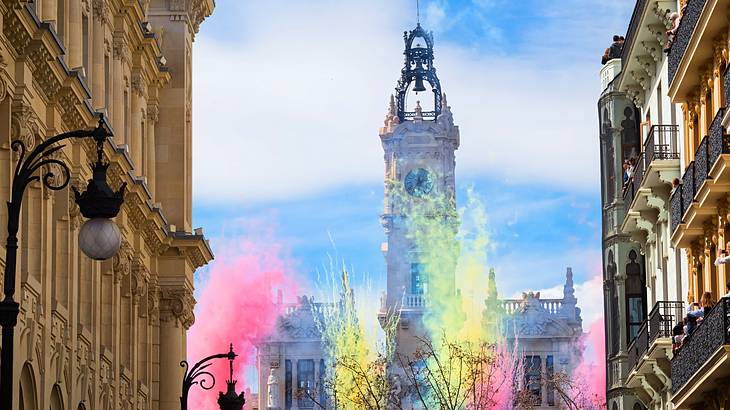 Where to stay in Valencia for Las Fallas?
La Fallas is a five-day celebration held each March, which sees the city explode in excitement in celebration of Saint Joseph. During these celebrations, the best area in Valencia to stay will depend on the kind of traveler you are.
If you have a low crowd tolerance, stay outside the main Downtown areas. Extramurs and Beniferri are good options since they're still nearby, but you don't have to deal with the influx of people the festivities bring both all day and all night.
However, staying further away means you might have to deal with traffic when getting around. If you'd prefer to be able to walk out of your hotel and step right into the party, choose a hotel around Ciutat Vella or Quatre Carreres.
Accommodations all over Valencia tend to book up quickly for the week of Las Fallas. So, if you plan on attending, make sure you make your reservations as soon as possible to ensure you get a good deal in the neighborhood you want.
Where to stay in Valencia on a budget?
Valencia is one of the best places in Spain to travel if you have a tighter budget. That's because you can find rather affordable places to stay all over the area.
One of the most budget-friendly places is Extramurs. As a residential zone, not too many tourists choose to spend the night here, which comes with two advantages. For starters, it tends to be less crowded. However, perhaps more importantly, you can find hotel room availability even during the summer tourism season without breaking the bank.
Alternatively, you can also opt for a place like Beniferri. This is another residential area, but it's a little further away from the heart of Valencia. Though prices here aren't drastically different than the affordable hotels you'll find in other districts, accommodations tend to be more spacious.
In Summary
Valencia is a welcoming, vibrant place with no shortage of places to stay. From the trendy late-night restaurants of Ruzafa to the beaches of El Cabanyal, there's a place for everyone.
Hopefully, this list has helped you determine which Valencian district is right for you. All you have to do now is plan your trip so you can see what this beautiful city has to offer.
Give us feedback about this article
Learn more about Valencia:
More articles about Valencia:
Read more articles about Spain:
More articles about places to stay:
---
---
Want to keep exploring?
Subscribe for discounts on tickets and hotels and our latest guides.
Thank you for subscribing
We will be in touch soon with discounts on tickets and hotels and our latest guides.
Want to keep exploring?
Subscribe for discounts on tickets and hotels and our latest guides.
Thank you for subscribing
We will be in touch soon with discounts on tickets and hotels and our latest guides.
Related Articles