35 Best Things to Do in Valencia, Spain - An Ultimate Guide
Destguides may receive commissions from purchases made through affiliate links in this article.
If you are looking to embrace Spanish culture but would like to avoid the crowded and busy cities in Spain, like Madrid and Barcelona, Valencia is a fantastic Spanish city to visit!
Valencia is less of a tourist destination and more of a residential city where locals live, so it provides an excellent look into the everyday lives of Valencians while still offering loads of things to do.
I was fortunate enough to have spent a month in Valencia, so you can be sure this list contains some of the best things to do in Valencia, Spain. From bars and restaurants serving tapas and paella to the best beach beaches and neighborhoods to explore or stay in - you'll be spoilt for choice!
Valencia is located on the southeastern coast of Spain, geographically between Madrid and Barcelona. It is one of the best places to visit in Europe for winter sun, and it is the third-largest city in Spain, population-wise.
Valencia is known for the Fallas Festival, which takes place every March, and for being where delicious paella originated. It has two official languages, Spanish and Valencian, a dialect of Catalan.
Are you interested in learning more about the best places to visit in Valencia, Spain? Then continue reading to learn more!
35 Top Things to Do in Valencia, Spain
Best Valencia Tours & Experiences
There are many Valencia activities to do, inside and outside the city. Most of the city can be explored on your own with a comfortable pair of walking shoes.
However, if you want to connect with a local and learn more about the city, an organized tour or experience is a great way to make the most of a visit.
Paella Cooking Class
A Paella cooking class is a must-do experience in Valencia. Valencia is the birthplace of Paella. What better way to learn how to cook Paella, than in the city where it originated?
My First Paella offers a guided cooking class. You can sign up to learn how to cook a Seafood Paella, a Valencian Paella - Chicken and Rabbit (the original and most authentic), or a Vegetable Paella (vegan friendly). We did the Vegetable Paella class and loved it!
The class starts with a tour of Mercado de Ruzafa, the local market near their kitchen. The chef and team take you around the market and help you understand how different ingredients are sourced and their importance in making authentic Paella.
After collecting the ingredients, you head to their kitchen for tapas and the cooking class. The class ends with everyone seated, enjoying the delicious Paella they prepared as a group.
Excursion to Cuevas de San José
Within Europe, Coves de Sant Josep is the longest navigatable underground river. The cave system is enormous. A tour of the cave system includes over 800 feet of walking and half a mile of boating through the underground cave system.
Cuevas de San José is located about 45 minutes north of Valencia by car. The best way to reach and visit the coves is with an organized tour group. This tour group covers the transportation to and from Valencia and includes the entrance ticket.
Walking Tour of Valencia
A great way to explore the historical district of Valencia is via a guided walking tour. This tour runs for about 2 hours and covers most of the main sights, like Plaza de la Virgen, Palacio de la Generalidad, Plaza del Ayuntamiento, and more!
During the walking tour, you'll learn about the early settlers of Valencia - the Romans - and then learn about how the different rulers, like the Muslims and Christians, shaped the city over time.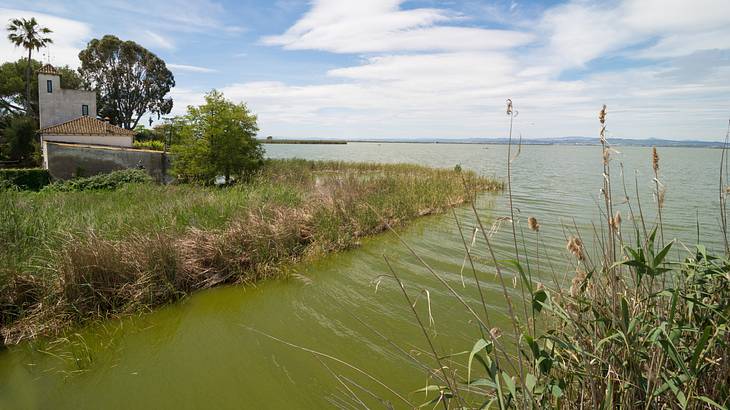 Day Trip to Parque Natural de la Albufera
A popular day trip out of Valencia is to Albufera Natural Park. The park is located approximately 30 minutes south of Valencia by car. The most convenient way to explore the park is via an organized tour.
The park is based around a large lagoon with a unique ecosystem surrounding it. To explore the park, there are multiple organized trails you can take on bike or foot.
Best Tourist Attractions in Valencia, Spain
Valencia was founded over 2,000 years ago. Therefore, it is packed full of historical things to see and do. However, it isn't just the rich history that attracts visitors here. Valencia also has some impressive modern museums and attractions worth exploring.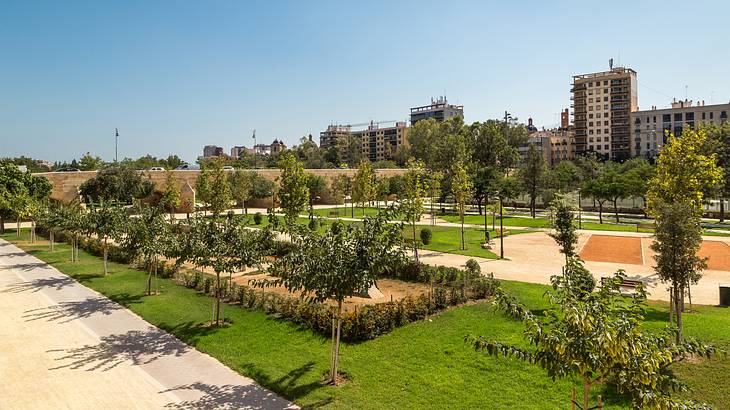 Jardí del Túria
The Turia river was once known for its constant flooding of the city of Valencia. In 1957, the city decided to re-route the river around the town after a massive and destructive flood.
The river re-routing meant Valencia was left with a large passageway through the city. Rather than develop it into shopping centers or highways, the people of Valencia petitioned the government to turn it into a beautiful parkland.
Today, the parkland replaces the river. Within Turia Garden are walking and biking trails through lush green gardens with the occasional sporting field and children's playground. The gardens are best explored by bicycle.
Mercado Central de València
A popular tourist destination but a must-see nonetheless, the Central Market of Valencia is filled with authentic local foods and produce. Mercat Central de València has everything from regular fruits and vegetables to unique cuts of meat and the famous Iberian ham.
It is best to explore the market first thing in the morning before it starts to fill with crowds. Take your time to visit each stall and try out their samples.
Ciudad de las Artes y las Ciencias
The City of Arts and Sciences, or Ciudad de las Artes y las Ciencias in Spanish, is an impressive complex located along Turia Garden within Valencia. The City of Arts and Sciences is one of the most famous landmarks in Spain.
The modern and highly architecturally-stylish structures are a contrast to the historic baroque facades that so many buildings have in the old town of Valencia.
Besides the impressive architectural structures in the complex, the site is home to the Science Museum and L'Oceanogràfic, the largest aquarium in Europe. You can book your L'Oceanogràfic entrance ticket and Principe Felipe Science Museum entry ticket here.
Torres de Serranos
Constructed in 1392 as a defensive structure for the city, the Serranos Towers today serve as an impressive viewpoint to look over the city and out towards Turia Garden. The towers are free to visit and are a Valencia must see!
Torres de Quart
Similar to the Serranos Towers, the Quart Towers were also constructed as a defensive structure along the city wall to protect the city of Valencia. However, the Quart Towers were built slightly after the 1400s.
The Quart Towers are also free to visit and offer another impressive view of the city. You can see down the local streets and across the top of the nearby apartment buildings from the top of the towers.
La Lonja de la Seda
The Silk Exchange is an impressive Unesco World Heritage site constructed between 1482 and 1533. The building is located less than a 2-minute walk away from the Central Market.
The Silk Exchange was used by Valencia's merchants, who would agree on trade contracts and settle disputes here. The building features multiple rooms, a cellar, and a courtyard with a well-maintained garden. It is free to visit on Sundays and public holidays.
The best way to explore the Silk Exchange is with an audio guide. I recommend not visiting on a rainy day, as the audio guide also takes you to several stops outside the structure.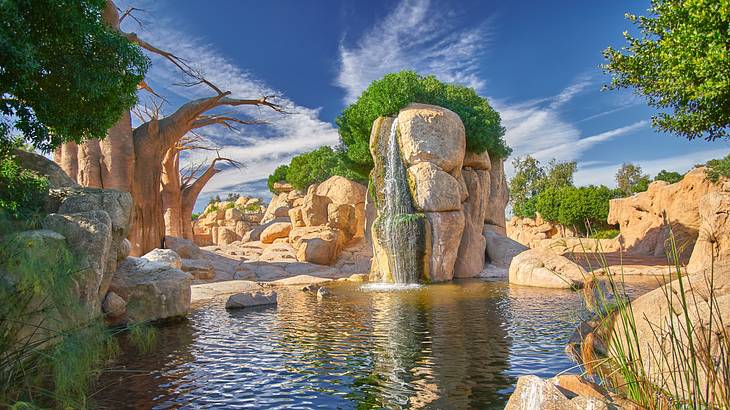 Bioparc Valencia
Located at the northwestern end of Turia Garden is Bioparc Valencia. The Bioparc is a zoo with animals from around the world, such as elephants, tigers, rhinos, and giraffes.
The park is focused on conservation and education and is a great day out for the whole family. The park is self-guided and can be explored at your own pace, depending on which animals you'd like to see first.
Palacio del Marqués de Dos Aguas
The Palace of the Marqués de Dos Aguas is an old noble family home. The building has been well preserved over the years and is now open for tourists to explore. The structure has a highly ornate and impressive facade with many sculptures covering its exterior walls.
Today, the palace is also home to a ceramics museum (Museo Nacional de Cerámica y Artes Suntuarias González Martí). A visit to the palace includes a tour of the old noble family palace and several ceramic artifacts that have been collected in Valencia.
Palacio del Marqués de Dos Aguas is free to visit on Saturday evenings and all day Sundays. It is closed on Mondays. An audio guide is available to download and listen to on your phone, so bring headphones!
Valencia Cathedral
The Valencia Cathedral goes by two other names: the St. Mary's Cathedral, or at length, the Metropolitan Cathedral–Basilica of the Assumption of Our Lady of Valencia.
While we didn't visit this Roman Catholic church while we were in Valencia, as we preferred the free views from the top of the Quart and Serranos towers, this attraction is still one of the popular Valencia, Spain, things to do.
With that said, there is a fee to visit this cathedral. Opening its doors to the public in 1262, the Valencia Cathedral is known for its Valencian Gothic architecture. If exploring churches when traveling is your thing, you should consider adding this cathedral to your Valencia bucket list!
Best Valencia Neighborhoods
The city of Valencia is pretty flat. There are no hills or mountains in the city area. The lack of hills makes Valencia perfect for exploring via bicycle or foot.
During my time in Valencia, I mostly enjoyed walking through the different neighborhoods and admiring each neighborhood's varying architecture and sub-culture.
If you are wondering where to stay in Valencia, any of the neighborhoods mentioned below - Russafa, El Carmen, Gran Via, or Ciutat Vella - are great options, as several of the main sights are within easy walking, bicycle, or commuting distance.
Russafa
Russafa, or Ruzafa, is a very trendy part of Valencia. Many of the buildings are well maintained and have beautiful facades.
During the day, the neighborhood is alive, with people roaming the streets or meeting friends at cafes. Russafa has a healthy number of hip cafes and brunch spots.
In the evening, Russafa also has many lively restaurants and bars. The neighborhood is a popular spot for locals to go and hang out in.
El Carmen
El Carmen is part of the old town area of Valencia. This district has museums, souvenir shops, cafes, and bars. It is also a pretty trendy neighborhood, similar to Russafa, but is a bit more popular with tourists than locals.
The neighborhood's boundaries are marked with the Torres de Serranos and Torres de Quart - large stone towers that used to provide entrances through the now non-existent city walls.
Some of the buildings in El Carmen are a little less well maintained and are marked with artistic graffiti, which gives a unique character and energy to the neighborhood.
Gran Via
Gran Via is the affluent part of Valencia. Many high-end international and Spanish fashion brands have flagship stores in the area. Most buildings are well-maintained and have grand stone facades.
The streets of Gran Via are also quite leafy. Well-nurtured trees line the streets. The well-kept greenery, along with the architecturally-striking buildings, adds to the elegance of the neighborhood.
Gran Via is a popular place to shop for clothing and housewares and dine out at higher-end restaurants. A stroll through the elegant Gran Via is a nice contrast to the vibrant and hip El Carmen.
Ciutat Vella
Ciutat Vella, which translates to the Old City, refers to the old town center of Valencia. Many of the important historical sites of Valencia are located in this area. El Carmen is technically a part of Ciutat Vella.
The southern part of Ciutat Vella (the area south of El Carmen) is home to the Central Market, the Silk Exchange, the Ceramics Museum, and several other Valencia tourist attractions.
Several walking and bicycling tours in Valencia cover quite a few of the main sights in Ciutat Vella, and it is worth joining one to explore the city.
If you are only staying in Valencia for a few days and would like to be close to many of the historical attractions, booking accommodation in Ciutat Vella will be the most convenient.
Best Restaurants & Bars for Tapas in Valencia, Spain
No visit to Spain would be complete without enjoying a few evenings out eating tapas. Many bars and restaurants across the city of Valencia serve tapas. The best way to enjoy tapas is always with good company and a drink in hand!
The best tapas bar is probably the one closest to your accommodation; however, if you are looking to explore more of Valencia or are perhaps going to be or are staying in a very tourist-heavy location, below are some suggestions for delicious tapas in Valencia.
El Albero, Taberna Andaluza
An Andalusia tavern near Gran Via, El Albero, Taberna Andaluza is a great place to go for an authentic Andalusian tapas experience. The restaurant is relatively small with cozy seating; however, this adds to the place's ambiance.
Bodega La Pascuala
Bodega La Pascuala has been in existence for over 100 years. Founded in 1921, it is a gem of a restaurant in Valencia. Bodega La Pascuala focuses on authentic Valencian cuisine. They are not only a tapas bar; they offer full meals and are also very popular for their wine.
Bar La Pilareta
Bar La Pilareta first opened as a grocery and alcohol store in 1917. They have been in business for over 100 years. Since its opening, it has evolved into a popular authentic Valencian restaurant. This bar has all the popular Valencian tapas dishes, such as mussels, patatas bravas, and calamari.
Tapería Pulpería Ligazón
Tapería Pulpería Ligazón is an excellent restaurant serving contemporary Spanish food. They do various meat and seafood dishes and the typical vegetarian tapas sides. Their services and prices are good value for the high quality and delicious food they serve.
Tasca Angel
Tasca Angel is an authentic tapas, beer, and wine restaurant in Valencia. It serves all the traditional dishes in an original and casual environment. Tasca Angel is a good option for a lovely evening out if you want to kick back and mix with locals for late-evening tapas.
Restaurants for the Best Paella in Valencia, Spain
Valencia is the birthplace of Paella. It is a dish that is found in almost every restaurant in town. That said, not every place does it authentically and with traditional ingredients. A few fun facts that I picked up during my time in Valencia about Paella are:
The pan used to cook Paella is also called a Paella, which means that any fry pan can be referred to as a Paella - even a small one used to fry a single egg! Therefore, it is entirely OK to say; Paella is cooked in a Paella.
Traditional Paella has a combination of rabbit and duck (or chicken). Other rice varieties and ingredients (such as calamari) are called Paellas outside of Spain. These non-traditional ingredient dishes in Valencia are referred to as "Arroz con/de," which roughly means "Rice with." The term Paella is reserved for just the authentic ingredient version.
The main meal of the day in Spanish culture is lunch. Many of the restaurants listed below offer a "Menú del día," which is usually a set price for a two or three-course meal with a reduced selection of choices. The price for these two or three courses is usually much lower than a restaurant's a la carte menu. It is a great way to eat out more cheaply!
Restaurante Yuso, El Carmen
Based in El Carmen, Restaurante Yuso is a popular local restaurant that serves authentic Valencian food. The restaurant serves traditional Valencian Paella (with rabbit and chicken) and various rice dishes with other ingredients, such as seafood. The Paella is typically served directly in the Paella (the frying pan) and eaten as a group at the table.
The restaurant has seating indoors and outdoors. During the day, it can be busy with tables being booked by locals. If you are hoping to dine here, arrive before the lunchtime rush to eat outside or take a table inside their restaurant.
Casa Carmela
Casa Carmela has existed since the 1920s. It first started out as a changing room for bathers near the beach. It soon started to add food and beverages.
Today, Casa Carmela is famous for its authentically-prepared, wood-fired Paella. They do a fantastic seafood Paella with fresh ingredients and are a must-visit when you spend the day at the beach. The restaurant is a short walk from either Playa de la Malvarrosa or Playa de la Patacona.
Racó del Túria
Located in Gran Via, Racó del Túria serves authentic Valencian food. The restaurant has beautiful outdoor seating along the street and a dining room inside. Their traditional Paella is with chicken and rabbit; snails can be added if you'd like.
Racó del Túria provides an elegant dining experience in Gran Via and is a bit more premium than the other restaurants on this list. That said, if you are looking for a lovely evening out for a special occasion and want to enjoy traditional authentic food, Racó del Túria might be a good option for that event.
Restaurante La Pepica
A popular restaurant near Playa de las Arenas, Restaurante La Pepica, has existed for over 100 years. The restaurant has ocean views and is a great lunchtime option when enjoying Playa de las Arenas.
Restaurante La Pepica has two varieties of Paella on their menu that they are famous for:
The first is a seafood paella, which the restaurant first prepared for the famous Spanish painter, Joaquín Sorolla.
The second most famous item on their menu is a vegetable paella that was prepared for Reina Sofía, who was the Queen of Spain.
Best Valencia Beaches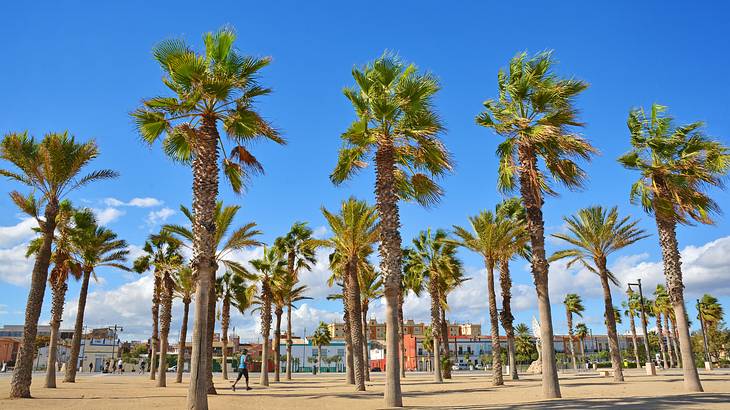 During the summer months, the beaches in Valencia are a popular place to cool off and enjoy the warm Mediterranean water. The beaches in Valencia are easily accessible by public transport or bicycle.
The closest beaches to the city are often the busiest, and the facilities near, such as the restaurants, bars, beach umbrellas, and beach chairs, are usually priced the highest. If you travel a bit further away (another 10-15 minutes on a bus or tram), the prices become more reasonable again, and the beach crowd is a bit more manageable.
All the beaches in Valencia have excellent public facilities nearby, like changing rooms, toilets, showers, and taps to wash the sand off your feet.
Playa de la Patacona
Located at the northern end of Valencia's main beaches, Playa de la Patacona is an excellent beach to hang out on.
The beach is far enough north that it strikes the right balance between being convenient to get to and far enough away that it is usually not overcrowded.
The prices of the restaurants and facilities nearby are more reasonable compared to the closest beaches, making Playa de la Patacona an ideal beach to spend a whole day.
Playa de la Malvarrosa
Malvarrosa Beach is in the middle of Playa de la Patacona and Playa de las Arenas. It is further up from the marina, so it is a bit quieter than Las Arenas, but maybe not as quiet and quaint as Patacona. You'll still find bars and restaurants along the promenade across from Malvarrosa Beach.
Playa de las Arenas
Located next to Valencia's main marina and the first stop for most public transportation lines that travel along Valencia's beaches, Playa de las Arenas is usually a pretty popular and busy beach.
The prices are quite high for beach chairs and umbrellas here as they are focused on attracting tourists looking to enjoy the most convenient (closest) beach to the city. That said, many restaurants and bars nearby still make it a comfortable place to relax in the sun.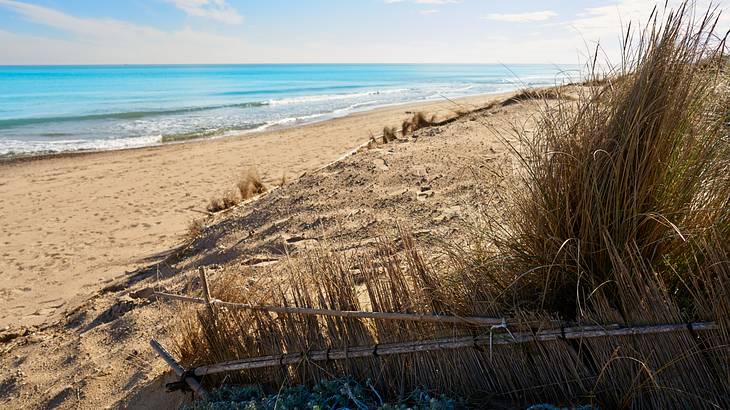 Playa del Saler
This beach is outside Valencia but is still reachable by public transport, although not as easy. The trade-off, however, is that it is a more natural beach with fewer commercial businesses nearby.
If you have access to a car and are looking for a peaceful day out on a more natural beach, then Playa del Saler is an excellent choice. Bring snacks and drinks along, though!
Best Cafes in Valencia, Spain, for Speciality Coffee
There are hundreds of Valencia cafes scattered across town. That said, not all of them offer delicious specialty coffee. Below are a few lovely Valencia coffee shops where I enjoyed sipping tasty coffee while in the city.
Beat Brew Bar
By far the most serious about their coffee than any other specialty cafe in Valencia, Beat Brew Bar serves up delicious, ethically-sourced, in-store roasted coffee in various ways.
From typical espresso and milk combinations to in-house cold brews, Beat Brew Bar does it all! They also offer courses, helping customers perfect their coffee-tasting pallet and learn how to make the ideal coffee at home.
Mayan Coffees
In El Carmen, Mayan Coffees makes nice coffee. The cafe is a popular spot for those who need space to work on a laptop while enjoying a good coffee and a light meal. It is an independent local cafe owned by a lovely family who makes delicious croissants and other treats!
Q7th Specialty Coffee
Q7th Specialty Coffee is another specialty coffee shop in El Carmen; they have their own in-house brand of roasted coffee beans. It is a quaint and small cafe, but there is enough space to rest at the bar to enjoy your brew or to have it to go as you explore the El Carmen neighborhood.
Bluebell Coffee Roasters
Located in Russafa, Bluebell Coffee Roasters does great coffee and brunch. They also roast their coffee in-house and have their own roasted coffee bean offerings.
The cafe is stylishly decorated and a great place for a sit-down meal with friends. Bluebell is a women-owned business and is all about conscious consumption! Cafes and working is not permitted here.
Café ArtySana
Café ArtySana is in Russafa. They have good coffee and simple breakfast options at reasonable prices. The cafe has a small area at the back where they usually allow customers to work from laptops if the cafe is not overly busy with customers.
In Conclusion
There are so many fun things to do in Valencia, Spain. Valencia has everything from historical attractions to modern museums and beaches, as well as cafes and the typical Spanish delights of tapas and paella.
Hopefully, on your visit to Valencia, you'll be able to enjoy all that this fantastic city has to offer - have the best time!
Give us feedback about this article
Learn more about Valencia:
More articles about Valencia:
Read more articles about Spain:
More articles about things to do:
---
---
Want to keep exploring?
Subscribe for discounts on tickets and hotels and our latest guides.
Thank you for subscribing
We will be in touch soon with discounts on tickets and hotels and our latest guides.
Want to keep exploring?
Subscribe for discounts on tickets and hotels and our latest guides.
Thank you for subscribing
We will be in touch soon with discounts on tickets and hotels and our latest guides.
Related Articles