Where to Stay in Interlaken? 4 Best Places to Stay in Interlaken
Destguides may receive commissions from purchases made through affiliate links in this article.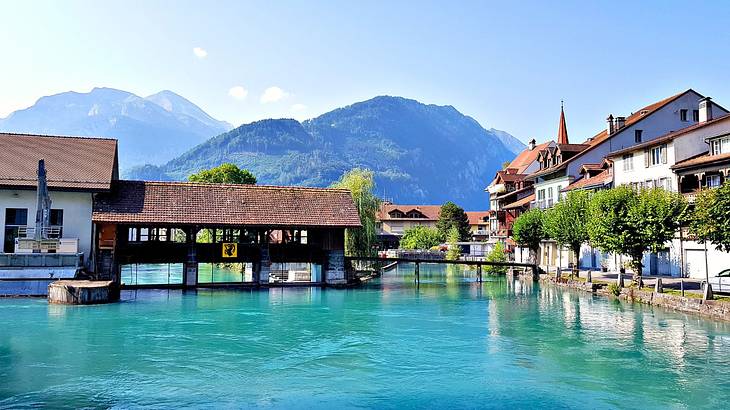 Interlaken is a picturesque part of the Jungfrau region in the Bernese Oberland, Switzerland. It is renowned for its sweeping mountain ranges and picture-perfect lakes. A popular tourist destination by the late 19th century, people have been drawn to its magnificence for centuries and continue to visit to this day.
Interlaken is sandwiched between Lake Brienz to the east and Lake Thun to the west and protected by the mountains Jungfrau, Eiger, and Mönch. This means that the views from Interlaken are spectacular. It also has an excellent transport network to and from the airport and many mountain railways and cable cars.
The climate is temperate all year round, with a fair amount of rainfall, although expect to feel the heat when hiking on sunny days. So if this has piqued your interest, read on to find more information about where to stay in Interlaken.
4 Best Places to Stay in Interlaken, Switzerland
Interlaken Places to Stay Video
Check out our highlights video of Interlaken places to stay.
Interlaken Places to Stay Map
A map of Interlaken. Use the map to explore all the places to stay.
Best Areas to Stay in Interlaken, Switzerland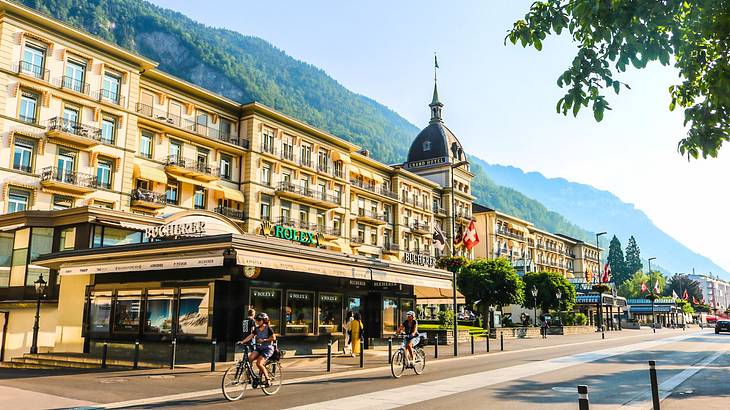 Central Interlaken (near Interlaken West station)
Central Interlaken is the hub of Interlaken, with many hotels, shops, and restaurants in a tight area. These restaurants and bars stay open late, so it's a busy, vibrant center. It also contains some of the city's most interesting landmarks. If you want to be in the main center and near many attractions, this may be the best area to stay in Interlaken.
One popular attraction is Congress Kursaal Interlaken AG. This venue holds restaurants, a theater, a casino, and a conference center. There are also gardens at Kursaal, and you can go to the scenic park, Höhematte, while in Central Interlaken. Additionally, you can easily get to surrounding neighborhoods, like Unterseen, on foot or by public transport.
In terms of accommodations, there's a good selection of luxury hotels, many of which have extravagant spas. This makes Central Interlaken the ideal place to stay for those that want to splurge.
However, while many hotels are expensive, the bars and hostels near the River Aare are more affordable if you're working to a budget. For those traveling on business, the proximity of the Kursaal's conference center is a big draw to this area.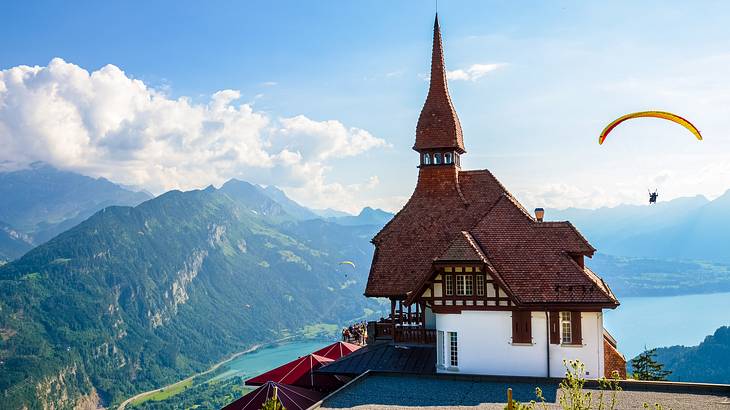 East Interlaken (near Interlaken Ost station)
If you want to be near natural landmarks, East Interlaken is an excellent place to stay. It's located right beneath Swiss landmark Harder Kulm, the mountain closest to Interlaken.
To reach the mountain, you can take the 10-minute ride on the funicular railway to the Two-Lakes Bridge, a viewing platform that gives you spectacular views. Hiking from the bottom of the mountain to the 1,322-meter summit is also an option and will take roughly two to three hours. You can also visit Alpenwildpark Interlaken, a small wildlife park, and the Hohbühl Pavillon viewing deck.
Beyond Harder Kulm, East Interlaken is a commercial area containing shops and a few bars and eateries. There is also a stadium for those who want to see FC Interlaken 1904 play soccer. There aren't many hotels or hostels in the area, but what is available is quite affordable.
East Interlaken is connected to Central Interlaken via a train service, making travel between the two easy. If you want quick access to Central Interlaken without staying there, this may be the best location to stay in Interlaken. East Interlaken is also well-suited for travelers who want to be able to start hiking as soon as they wake up.
Matten bei Interlaken
Matten bei Interlaken is just south of Interlaken. Moving away from the city, this area is more residential, with a focus on parks and family activities. A lot of the area is still woodland. Matten comes from an Old High German word for 'meadow,' which emphasizes how the village differs from Interlaken.
The real draw is the William Tell Open-Air Theater. The play 'William Tell' has been performed in the Rugen Woods nearly every year since 1912. Jungfrau Park is also an excellent place for families wanting something a little more active. With both indoor and outdoor playgrounds, it has plenty of activities for children.
Matten is full of restaurants and bars, so you don't need to leave the area to dine out. If you want to explore further, there are buses to other parts of Interlaken.
This area mainly suits families who prefer open spaces and parks in a quiet neighborhood. Budget travelers, however, may also opt for this area as there is a popular hostel with its own bar. Other accommodations are reasonably priced, and some short-term apartment rentals are on offer.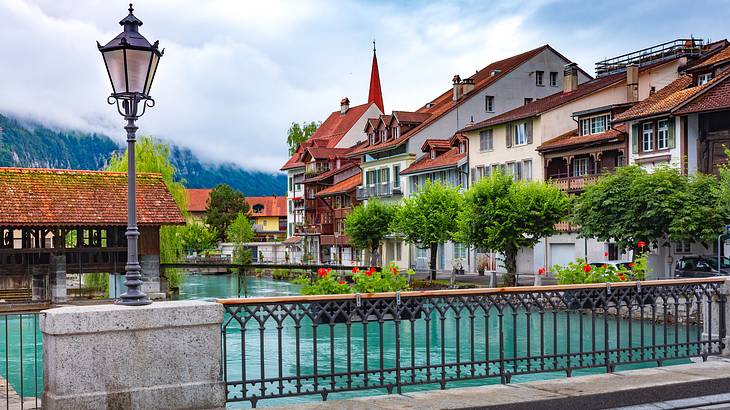 Unterseen
Unterseen is a primarily residential area that's much quieter than Central Interlaken. The appeal of Unterseen is its quaint Old Town, which is right next to the River Aare. Full of historical buildings, chalets, and a tourist museum, it's a relaxing place to explore an older part of Interlaken.
A popular attraction for nature enthusiasts here is Naturschutzgebiet Weissenau. This vast nature reserve sits on Lake Thun and even features the ruins of a castle, Ruine Weissenau. There's also a golf course in the park.
Unterseen is perfect for travelers who want to sightsee without the bustle and nightlife of the city center. It's more affordable than Central Interlaken, too, so it may be preferable for those on a budget. However, there are still higher-priced accommodations here with many amenities and a hostel for backpackers.
Central Interlaken and its train station are a short walk away over the River Aare, making it easy to explore other areas from Unterseen if desired.
Where to Stay in Interlaken, Switzerland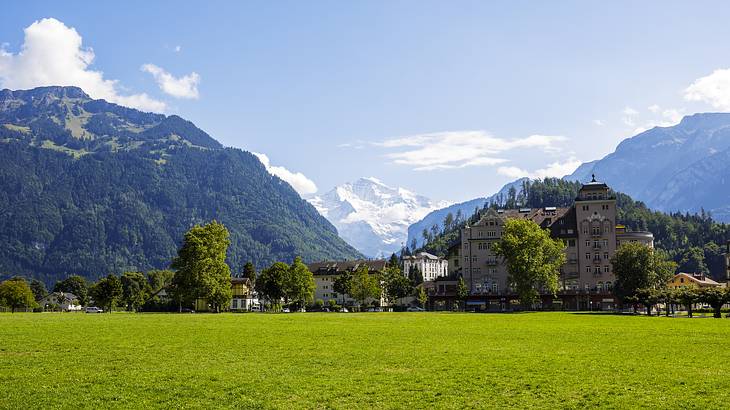 Where to stay in Interlaken for sightseeing?
Central Interlaken holds the keys to the rest of the main city. With its nearby train station and proximity to Unterseen and Matten bei Interlaken, it's the ideal base for a lot of sightseeing. With the old town center of Unterseen just over the River Aare, you have access to significant historical buildings. Likewise, Matten provides you with outdoor spaces and child-friendly activities.
A short train trip will take you to East Interlaken, where you can choose to climb Harder Kulm or watch FC Interlaken 1904 play soccer at their local stadium. Not that you will run out of things to do in Central Interlaken itself. With the castle, Höhematte, and the Kursaal to visit, there are plenty of activities to enjoy.
Central Interlaken also offers walking tours in the Höhematte. If you're looking for something a little more unique, go to the Höhematte and sign up for the paragliding. You'll see the sights from a markedly different perspective, with Interlaken a mere speck next to the mountains and lakes.
Where to stay in Interlaken for cheap?
With plenty of affordable hostels to the north, staying in Matten bei Interlaken is the best place for budget travelers. With Central Interlaken only a stone's throw away, moving around from this base is easy.
There's plenty to do for free in Matten too. The Balmers Hostel, for instance, runs a free guided tour around Interlaken, which will give you a detailed history of Interlaken. Guides always provide the best tips for taking advantage of your stay, so this is an ideal way to spend your time.
Likewise, Matten offers something else unique for those on a budget: the Brunnenweg, also called the Fountain Trail. Eighteen fountains are scattered throughout the village of Matten that were historically used for farming cattle.
These 18 fountains were built by the Interlaken Monastery. They channel the best quality drinking water from the Aletsch region. The trail provides thought-provoking insight into why we should appreciate how important drinking water is.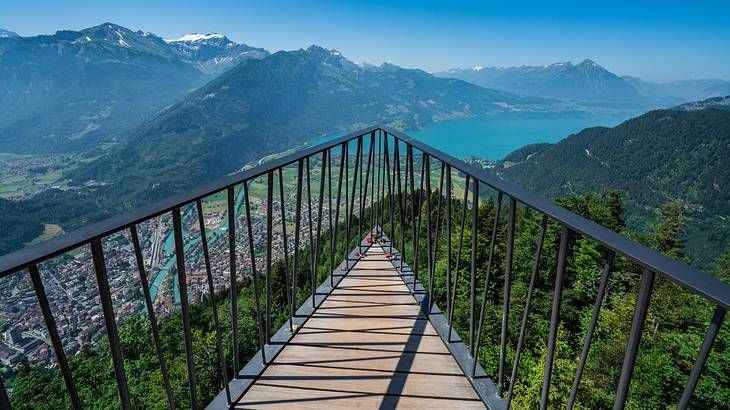 Where to stay in Interlaken for first-timers?
So where is the best place to stay in Interlaken for people who have never visited before? East Interlaken is a fantastic place to start because Harder Kulm has so much to offer and links to many different parts of the Bernese Oberland.
Beyond the lookout point and the restaurant, plenty of trails lead out from the peak. There are also Swiss folk performances in the restaurant every night through the summer months.
If you're a hiker and have whetted your appetite for adventure on the hike up, you'll soon find that's only the beginning. The most popular is the themed Elfenweg trail, which is only an hour long and ideal for families. It circles around the mountain through the forest.
On the other hand, Central Interlaken is an excellent choice for those that want to visit other attractions. You're still near Harder Klum but also have access to museums and parks, and surrounding neighborhoods are a short distance away.
Where to stay in Interlaken with family?
Matten bei Interlaken is the place to be if you're traveling with family. With lots of parks and family-friendly attractions, Matten offers a lot more for those traveling with kids than Central Interlaken.
The William Tell Open-Air Theater offers unique entertainment, and Jungfrau Park is also an exciting place to take children. The park contains Kinderparadies (Mysty Land), Bernese Oberland's largest indoor and outdoor playground. This will give your children hours of fun.
There is an integrated restaurant for the adults too, so if you fancy relaxing while your children go crazy, you can grab something to eat. There are also sun loungers for adults and a water bouncy castle for the kids.
If that doesn't appeal, you can jump into action in their Virtual Reality Multiplayer Arena. Called VIRTUAL ARENA, you and your whole family can play with or against each other in two teams for 15 minutes.
Accommodation prices are also reasonable in this area, and you may be able to find a multi-room apartment rental complete with a kitchen.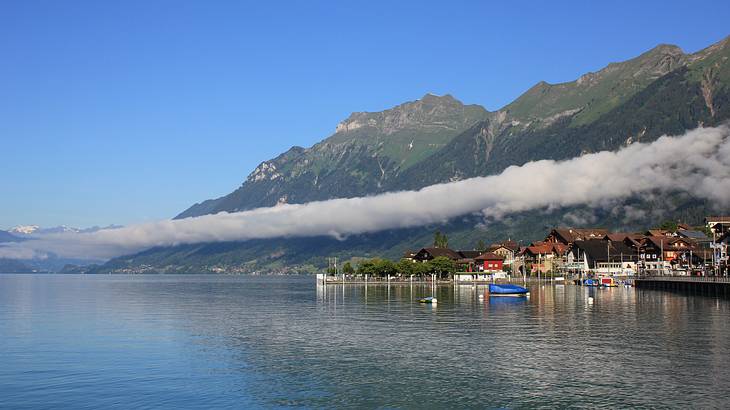 Where to stay in Interlaken for hiking?
East Interlaken's relationship with Harder Kulm makes it impossible to ignore as a top spot for hiking. You can either take the funicular to the summit or walk, but once you've reached the peak, the world opens up to you.
If you want something more intense, take the ridge trail to Augstmatthorn. Following this ridge will be draining, and you'll be exposed to the sun, so take a lot of water and sunscreen. However, after leaving the forest and reaching the ridge, you will have spectacular views of the lakes and mountains. To reach the route, just follow the signs for Augstmatthorn from the restaurant on Harder Kulm.
If you fancy continuing onward, a further three kilometers will take you to Lombochalp and a restaurant where you can replenish and relax. The distance from Harder Kulm to Augstmatthorn is 17 kilometers in total, so with the stop in Lombochalp, the whole hike is 20 kilometers.
In the other direction lies a gentler trail through the forest to Ringgenberg, with views of Lake Brienz once you emerge from the forest.
Where to stay in Interlaken for nightlife?
Once the hiking and exploring are over, you will no doubt want to unwind over a good meal and a drink or two. While not known for its clubs, Interlaken certainly has enough to offer those visiting.
With numerous bars and pubs, Central Interlaken is bustling with activity. From Crazy Mary Pub to Hangover, there's enough of a scene here to keep you occupied until the early hours of the morning.
For restaurants, Brasserie 17 is open to all and offers live music. Congress Kursaal Interlaken AG also has a casino; so after you've explored its gardens and eaten in its restaurant, you may want to play a hand of blackjack. For pubs, the Husi Bierhaus sells local-made beer, while Buddy's Pub is the first original English pub in Switzerland.
Additionally, many hotels and hostels have their own restaurants and bars, so no matter what you're looking for, you'll be able to find it. There's even a Hooters if you have a desire for American food.
In Conclusion
There's plenty to see and do in Interlaken, and choosing the ideal location depends on what you're looking for. There are glorious vistas to see and many interesting historical landmarks to visit, but there are also attractions like an outdoor theater, an indoor virtual reality center, and plenty of bars.
Interlaken has enough to satisfy any traveler, and there are plenty of options, from the family-friendly Matten bei Interlaken to the nightlife and conference centers of Central Interlaken.
So, whether you want to paraglide down a mountain, hike across a ridge, or even just wander through Unterseen's Old Town, you'll never be far from something jaw-droppingly stunning.
Give us feedback about this article
Read more articles about Switzerland:
More articles about places to stay:
---
---
Want to keep exploring?
Subscribe for discounts on tickets and hotels and our latest guides.
Thank you for subscribing
We will be in touch soon with discounts on tickets and hotels and our latest guides.
Want to keep exploring?
Subscribe for discounts on tickets and hotels and our latest guides.
Thank you for subscribing
We will be in touch soon with discounts on tickets and hotels and our latest guides.
Related Articles