The Perfect 24 Hours in Zurich Itinerary
Destguides may receive commissions from purchases made through affiliate links in this article.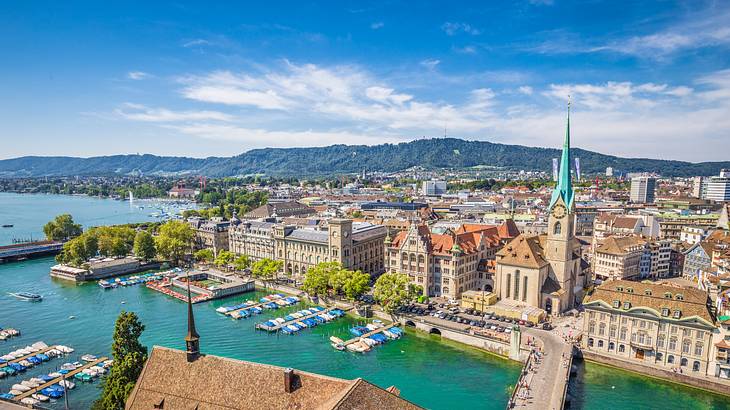 Zurich is the largest city in Switzerland and is known for its high-end shops, fantastic views of the Alps, and world-class museums. It is also conveniently located near the country's biggest airport, making it the perfect place to start or end your trip in Switzerland.
While taking a few days to explore the city is optimal, as it allows for day trips to places like Rhine Falls, one day is enough time to see Zurich's most famous attractions. This 24 hours in Zurich itinerary covers how to spend a fun-filled day in Zurich, Switzerland, allowing you to see as much as possible.
To save time and money as you travel around Zurich, getting a Zurich Card is a great idea. After purchasing, you can travel on public trains, buses, trams, and boats for free. In addition, this card also gives you free or discounted access to Zurich's museums. You can purchase the card from the airport or a train station, or book online.
If you are looking for a jam-packed day with lots of exciting things to do and unique places to eat, this Zurich itinerary is perfect for you!
One day itinerary
Average of 19 stops per day
Zurich in 24 Hours
See Everything Zurich Has to Offer in One Day
This 24 hours in Zurich travel guide covers an array of central locations relatively close to the main Zurich HB train station. As you explore the city, you will visit several museums and parks, try local food, and stroll around the historic old town. Notable places to visit include the Swiss National Museum, Fraumunster Church, and Zurich City Hall.
All locations can be easily reached by walking, so there is no need to worry about public transport. However, if you are travelling with kids or need to travel between attractions quickly, you can use public transport.
As you explore the area and visit attractions, remember not to rush. Instead, simply enjoy your time looking around one of the most beautiful places in Switzerland!
Have breakfast at Confiserie Sprüngli
Your first stop of the day is Confiserie Sprüngli. This charming cafe is near the city's main train station, Zurich HB train station. The eatery belongs to the Sprüngli company, well-known for its chocolates and specialty macaroons called "Luxemburgerli."
Confiserie Sprüngli is an excellent location to grab a quick breakfast, with an extensive menu of fresh baked goods and hot drinks on offer. Although this popular cafe is a little pricey, it's well worth treating yourself!
If you wish to eat in, ensure you order hot drinks. Sometimes when it is jam-packed, staff don't allow people to sit in the cafe without hot drinks.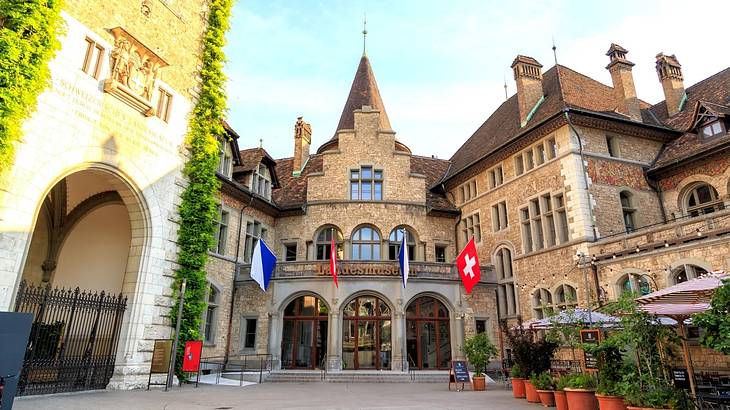 Visit the Swiss National Museum
Built in 1898 by Gustav Gull, the Swiss National Museum is one of the best places to visit in Zurich. It is nestled between the Sihl and Limmat rivers, just next to the Zürich Hauptbahnhof, Zurich's central station.
The museum is known for its impressive architecture with dozens of towers and courtyards. It consists of several museums, including the National Zurich Museum, the Forum of Swiss History, Château de Prangins and The Collection Centre.
There are many things to see across the museums, including Medieval and modern paintings, sculptures, wood carvings, and more. You will also learn more about Swiss history and culture. Spending about an hour or two at the Swiss National Museum should be enough to see the best pieces and displays.
The entrance fee is 10 CHF. However, you can enter for free with a Zurich Card or a Swiss Travel Pass. You can also explore the museum with a tour guide to learn more about the exhibits.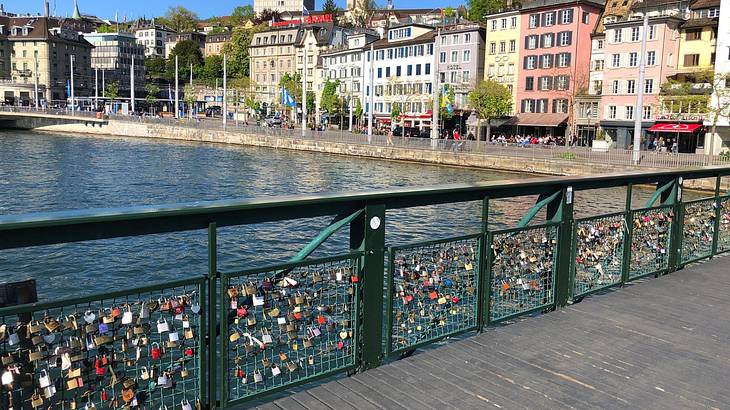 Put a love lock on Muhlesteg Bridge
After visiting the Swiss National Museum, head back towards the train station. Make sure you take the path leading along the Limmat River. As you wander along, you'll see a gorgeous river park and a pedestrian bridge covered in love locks.
The Muhlesteg Bridge is Zurich's version of the Pont des Arts Bridge in Paris. You can purchase a lock from a nearby shop and hang it on the bridge. If you do so, don't hold on to your key. It's an old tradition to throw it into the river to ensure your love lasts!
Next, stroll around the scenic park and admire the spectacular views of Central Square and the bridge. You can also take some fantastic panoramic photos here.
See Giacometti Entrance Hall
A trip to Zurich's police headquarters may not be something you expect on a "what to see in Zurich in one day" guide. However, this police station is a must-see site! Why? Because of its extraordinary entrance hall, called Giacometti Entrance Hall, which is decorated with painted flowers and murals.
The hall's designer, Augusto Giacometti, won a competition in the 1920s to design the police station's hall. Today, it holds the title of the world's most beautiful police station entrance.
If visiting in the morning, get there before 11 AM as the hall closes for lunch. It opens again in the afternoon. Seeing the entranceway is free; you just need to show your ID.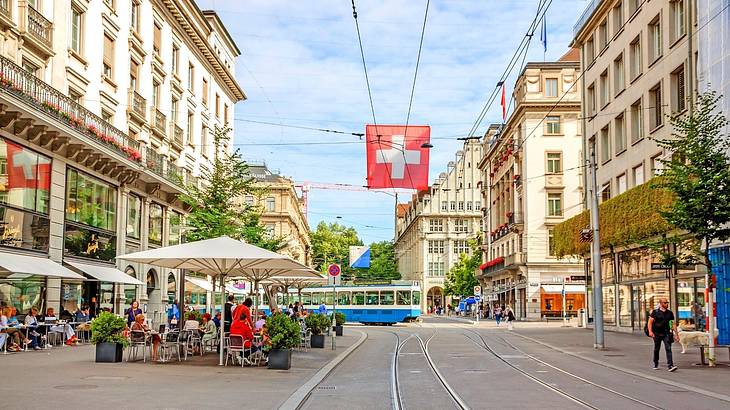 Shop and eat on Bahnhofstrasse
Located in downtown Zurich, Bahnhofstrasse is one of the most famous shopping boulevards in Europe. The 1.4-kilometre-long street has everything you desire, from department stores and chain shops to high-class boutiques, bars and restaurants.
While you stroll around Bahnhofstrasse, don't forget to visit one of the many Swiss chocolate shops in the area. Then, for lunch, popping into The Lion Pub, a traditional British pub with a Swiss atmosphere, or Rooftop, a chic eatery located in the Modissa department store, are great options. Be aware that eating at any of Bahnhofstrasse restaurants can be expensive, so check prices before you go in.
Walk through Rennweg
Rennweg street is another famous shopping street in the city. It is the oldest part of Zurich and attracts thousands of tourists daily. An interesting fact is that Rennweg was the straightest and widest street in the Middle Ages.
It remains one of the widest streets in the city to this day, and seeing it has to be on your to-do list when spending 24 hours in Zurich, Switzerland. As you explore, you will discover numerous high-end shops.
In addition, you will find medieval alleys between the shops, which are the perfect place to take some stunning photos. You can also find great wine bars in this area to stop at for a quick drink.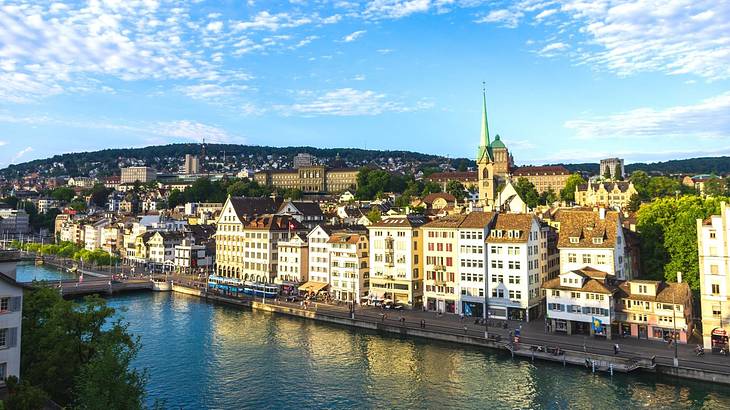 Admire the views from Lindenhof
Lindenhof is located in the city centre and offers iconic views of Grossmünster Church, the Limmat River, and Zurich's old town. In addition, Lindenhof is a historically important place in Switzerland as it houses the remains of Celtic and Roman buildings.
If you are interested in learning more about these historical sites, you can book a guided walking tour of Lindenhof and Bahnhofstrasse. Even if you don't take a tour, Lindenhof is a perfect place to take a break from the bustling city streets. On a beautiful day, you can also play a match of giant chess and have a picnic while enjoying the glorious views of Zurich.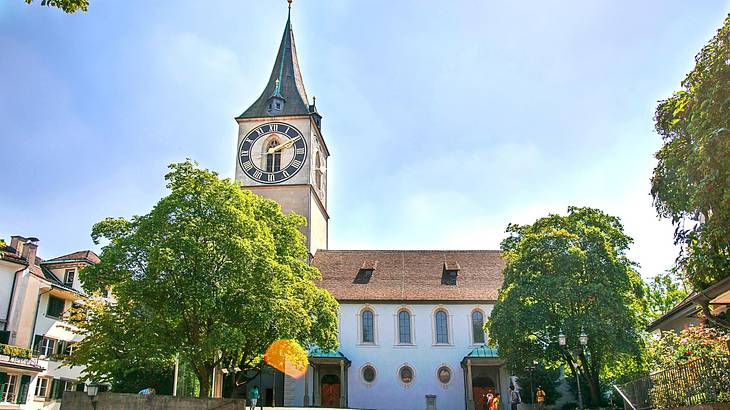 Look around the Church of St. Peter
A famous European landmark located in Zurich is the Church of St. Peter. This church is especially notable as it has the largest clock face in Europe. The clock's diameter measures 8.64 meters, with a minute hand 5.73 metres long and an hour hand 5.07 metres long.
Built in the 9th century, St. Peter is one of four main churches in Zurich and the oldest parish church in the city. Going inside the church to admire the architecture is a must when in the area. You will see a glorious pipe organ, beautiful frescos, and a stunning chandelier.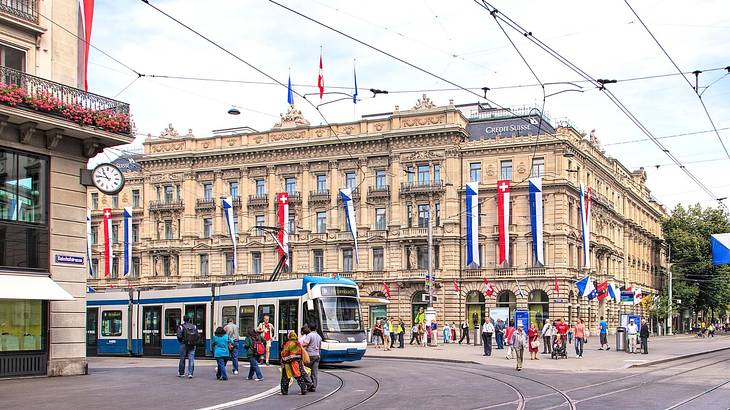 Explore Paradeplatz
Paradeplatz, also known as the heart of Bahnhofstrasse or the financial centre of Zurich, is a tram junction connecting Lake Zurich, Zurich's old town, and Bahnhofstrasse. It is mainly known for having the city's highest concentration of Swiss bank offices.
Before these Swiss banks opened their main offices in the Paradeplatz, the area was known as 'pig market' (Saumart) and 'new market' (Neumarkt). It used to be the city's main market square, full of various businesses.
Paradeplatz these days also houses luxury restaurants and shops. If you get hungry, popping into Puro is a great idea. Puro offers all-day brunch and has a relaxing interior to take a break from the noisy streets.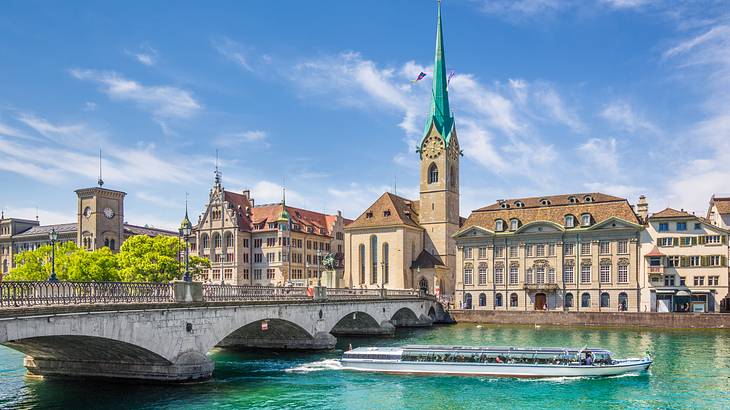 Be amazed by Fraumunster Church
Established in 853 AD by King Louis the German, Fraumunster (also known as Women's Minster or Our Lady Minster) is another well-known church in Zurich's city centre. The church was built for the king's daughter Hildegard and is dedicated to women.
Today, the church has been rebuilt and is one of the places to visit in Zurich in one day that you can't miss. The church is especially well-known for its stained glass windows. The five smaller stained glass windows were designed by Marc Chagall, while Augusto Giacometti created the church's nine-meter tall stained glass window.
If you have a chance, also visit Fraumunster's crypt museum. This attraction is the oldest part of the church and houses an exhibition on its architecture and history.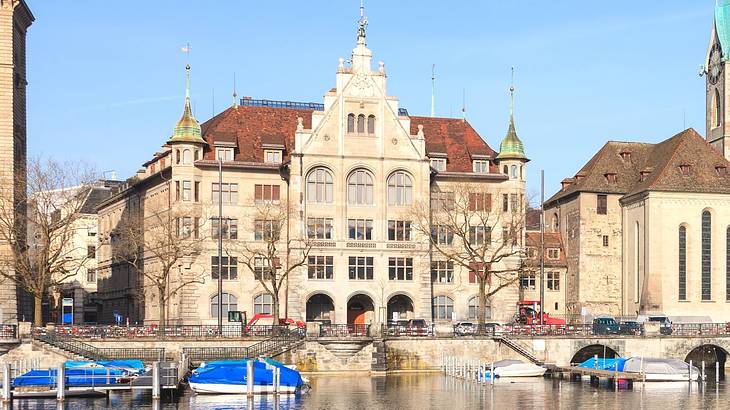 Discover exhibitions at Stadthaus Zurich
A minute's walk from Fraumunster is Stadthaus Zurich, also known as Zurich Cultural Hall. It was founded at the end of the 19th century when Zurich's population began to increase.
The Cultural Hall was built in a neo-Gothic architectural style and became the place where people made critical city-wide decisions. These days it is known for temporary exhibitions held under the archway galleries.
The exhibits focus on social and political issues. Entrance is free, and Stadthaus Zurich is open daily, except on Sundays. The Cultural Hall also closes early on Saturdays. If you can't make it to the exhibitions, don't worry. It is still worth seeing this fascinating building from the outside.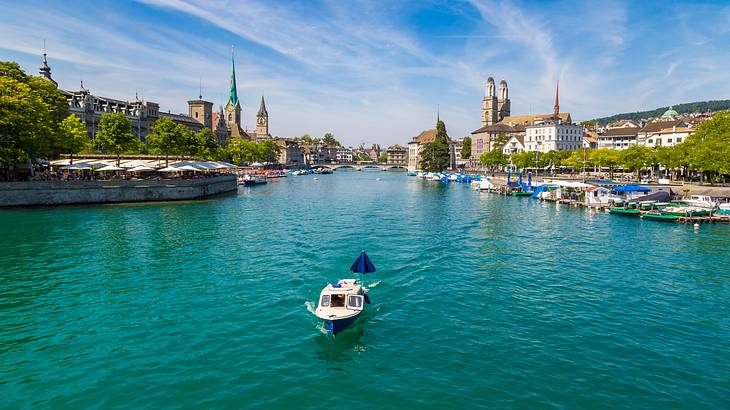 Wander along Lake Zurich
Lake Zurich, or Zurichsee, is 40 kilometres long and 3 kilometres wide. It stretches from Zurich to Schmerikon, making Zurich the biggest city on the lake's shore. There are plenty of activities to do near the lake. However, the most popular activity is to stroll along the lake and enjoy the beautiful scenery.
Regular tour boat services also operate on the lake. The Zurich Card allows you to take a boat free of charge. If you have the time in your day, taking a boat tour along the lake is highly recommended. You could alternatively take a Limmat River cruise along the main river that runs through Zurich.
In addition, Lake Zurich is a popular place to cool off in the summer and take a swim. If visiting the city in warmer months, pack a towel and swimsuit so you can swim and cool off a little.
Fancy an even longer walk? Consider walking the Tour du Mont Blanc, Europe's most famous trekking trail, which passes through France, Italy, and Switzerland
Cross Quaibrucke Bridge
After a relaxing walk or boat ride along Lake Zurich, taking a tram or walking across the Quaibrucke Bridge will allow you to enjoy more views of this beautiful city. The bridge was opened in the 19th century and connects Lake Zurich's western shore to the eastern shore.
Quaibrucke Bridge has two tram tracks, pedestrian sideways, a bicycle lane, and two lanes for traffic. A notable feature of the bridge is its two machine-gun bunkers built in the 1940s. The bunkers are located at each end of the bridge and are accessible to the public.
If you walk instead of taking a tram, ensure your camera is ready. The bridge shows you amazing views of the city's buildings and Lake Zurich. However, be prepared for crowds as it is a popular location to take photos.
Take a break at Cafe Felix
This 1 day Zurich itinerary has quite a lot of walking, and after spending the day on your feet, you deserve a good break at a lovely cafe. Cafe Felix is an ideal place for that!
Located in Bellevue, Cafe Felix is popular among locals and tourists. It serves homemade delights from Confiserie Teuscher, including pastries, chocolates, and freshly baked cakes. The cafe has plenty of selection for all types of taste buds; you are guaranteed to find something you will enjoy!
If you are on a tight budget, simply ordering a black coffee or tea with a pastry or piece of chocolate is an excellent way to go. Also, don't miss a chance to take photos for your Instagram feed. Cafe Felix has a gorgeous interior!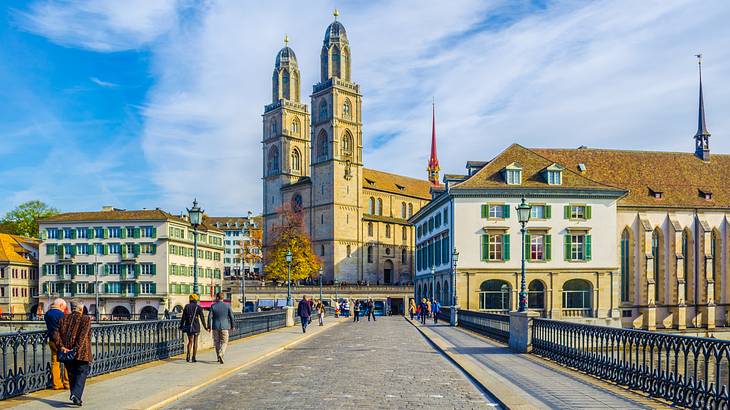 Marvel at Grossmünster Church
During your trip to Zurich, Switzerland, you can't skip Grossmunster Church, a famous landmark in Switzerland. According to legend, Grossmunster was built on the graves of the city's patrons Felix and Regula.
At first, it was just a monastery. However, in the 16th century, Grossmunster became a starting point of the Swiss Reformation led by Huldrych Zwingli and Heinrich Bullinger. This reformation made the church an important religious building, and soon it was named Zurich's cathedral.
Today, it is the most visited church in the city. Grossmunster Church fascinates visitors with its twin towers, stained glass windows, bronze doors, Romanesque crypt, and Reformation museum. The cathedral is open daily. However, you can only enter on Sundays after the morning church service.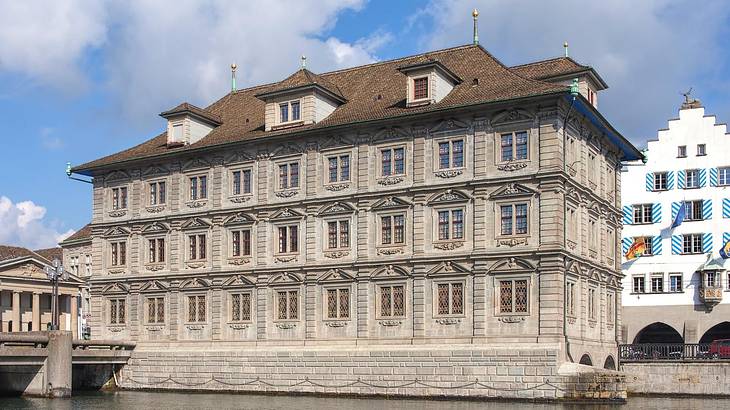 Look inside Rathaus
The current Rathaus, Zurich's City Hall, was built in the 17th century and replaced the first wooden city hall building. It is considered to be one of the most significant landmarks in the city, making it one of the things to see in Zurich that you can't miss!
The Rathaus is where the city and canton (district) parliaments meet to discuss important matters. Zurich City hall features a mix of Baroque and Renaissance architectural styles, making it grand yet simplistic.
Inside the building, you will find an exhibition covering various historical objects and events which depict the story of the city's political and cultural history.
Do make sure you check opening times before your visit. Sometimes Rathaus doesn't accept visitors due to conferences and political meetings being in session. If you are visiting around Christmas, make sure to go to the Rathaus as you can also see the charming Rathausbrucke Christmas market.
Enjoy fantastic views from Rathausbrucke
Rathausbrucke, also known as Rathaus Bridge, is a pedestrian bridge that connects Lindenhof and the Rathaus quarters. It also gives access to a famous pedestrian square that showcases breathtaking views of Lindenhof and Grossmunster Church.
The bridge is often referred to as Gmüesbrugg by locals, which means "Vegetable Bridge" in Swiss German. It got this nickname from the medieval market that operated on the bridge. When Rathaus (Zurich City Hall) was built, the bridge gained its current name.
Rathausbrucke is the central spot for local festivals and other public events. Checking the Zurich tourism website is recommended to see if any festivals are happening on the bridge during your visit.
As the bridge is well-known for fantastic views of some of Zurich's landmarks, expect lots of people to be crossing it. Walking across the bridge just before or after sunset is a good idea to avoid crowds.
Experience nightlife in Niederdof's endless alleys
Another of the best things to do in Zurich is going to Niederdorf. Located in Zurich's old town, Niederdorf, or Dorfli as locals call it, is filled with endless alleys housing bars and shops.
During the day, the area is a famous pedestrian shopping street. In the evening, Niederdorft changes into a nightlife district crowded with pubs and local street artists. It is an ideal place to experience Zurich's nightlife.
In the summer, you can find market booths and stalls selling delicious food from around the world. If you can't visit during the summer, don't be disappointed. You will still be able to taste good food at the many cafes in the area!
End your evening at Oliver Twist Pub
Oliver Twist pub is the last stop of this one day in Zurich itinerary. Oliver Twist is a traditional Irish and British pub serving heartwarming homemade food and traditional drinks, including Irish Guinness. It is one of the best pubs in Zurich and caters to a wide range of customers, from tourists to ex-pats and locals.
You can enjoy tasty burgers, sandwiches, or fish and chips at the pub. Beer and cider prices are also very affordable here, so you won't need to worry too much about your budget. Sporting events are often shown here too, so if there's a game you want to see, heading to this pub is a must!
Oliver Twist is ideal for relaxing after a tiring day and socialising with locals. However, be aware that it might be very noisy and busy on Friday and Saturday nights.
In Summary
There are plenty of things to do in Zurich, and seeing everything in one day can be challenging. This itinerary focuses on the main sights that can't be missed, even during a short visit to Zurich.
This one day Zurich itinerary might look full and impossible to complete in 24 hours. However, it is absolutely possible to visit everything, especially if you take the tram as much as you can and plan your time well.
You can also adjust the itinerary regarding your interests, skipping certain stops if you don't want to eat or are not interested in the landmark. Also, note that Zurich changes during the seasons, so you might need to adjust the itinerary for the weather.
In the summertime, try to skip eating in, instead opting to take food out and eat outside or while strolling along Lake Zurich. During winter, avoid outdoor activities and visit more museums.
Finally, if you are travelling close to Christmas time, don't forget to visit the various Christmas markets around Zurich, enjoying mulled wine and heartwarming apple pie. No matter what you choose to visit, enjoy your trip to Zurich, Switzerland, even if it's only a short one!
Give us feedback about this article
Read more articles about Switzerland:
---
---
Want to keep exploring?
Subscribe for discounts on tickets and hotels and our latest guides.
Thank you for subscribing
We will be in touch soon with discounts on tickets and hotels and our latest guides.
Want to keep exploring?
Subscribe for discounts on tickets and hotels and our latest guides.
Thank you for subscribing
We will be in touch soon with discounts on tickets and hotels and our latest guides.
Related articles