The Perfect 3 Day Taipei Itinerary
Destguides may receive commissions from purchases made through affiliate links in this article.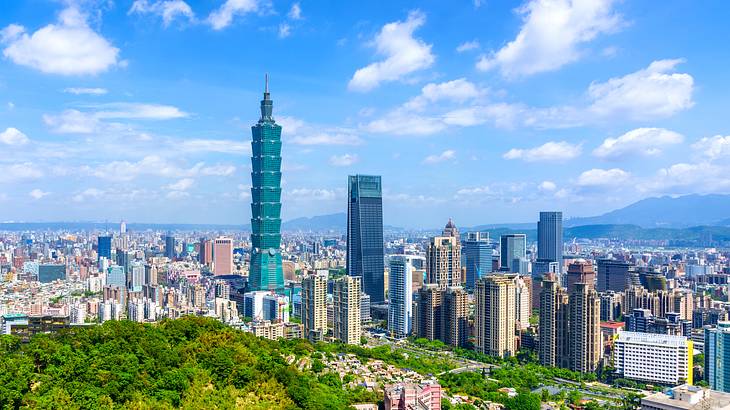 Taipei, the capital city of Taiwan, is a perfect mix of culture and history. It offers many fantastic tourist attractions, from museums and art galleries to night markets and parks.
To make the most of this eclectic city in just 72 hours, simply follow this 3 day Taipei itinerary. In doing so, you can see all of Taipei's top places of interest. The itinerary includes museums covering Taiwanese and Chinese history as well as more unique locations like a paper museum and the largest zoo in Asia.
While attractions are quite spread out, the Taipei Metro system connects them and is very easy to use. If you're interested in experiencing Asian history and culture while visiting a range of unique spots, then Taipei is a must for your Taiwan itinerary! Keep reading to learn how to explore Taipei in 72 hours.
Taipei 3 Day Itinerary
Taipei's Top Attractions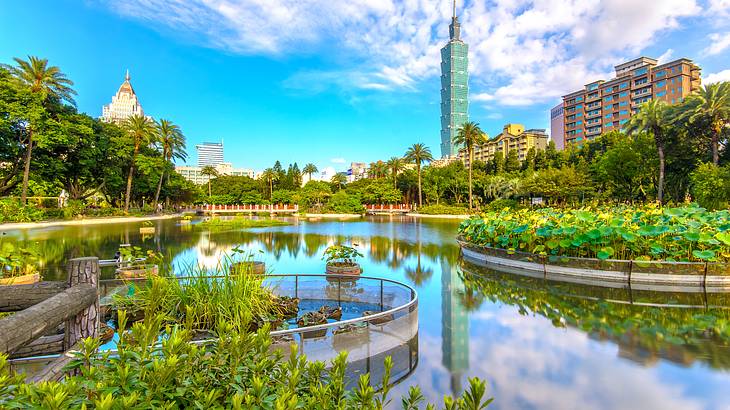 The first day of your Taipei travel itinerary will begin by taking in the city skyline from one of Taipei's best viewpoints, Elephant Mountain. Having completed the gentle hike to the top past three lookouts, you can head back down and on to your next stop, the Taipei Zoo.
The Taipei Zoo is the largest in Asia and has indoor and outdoor exhibits. You can see a vast number of animals, including red pandas, koalas, penguins, and the famous giant panda.
After lunch, you get the chance to visit the National Chiang Kai-Shek Memorial Hall. Built to commemorate former president, Chiang Kai-Shek, the museum is home to an extensive Chinese art collection.
You'll then visit Bopillao, a historic street with colonial architecture and the Taipei Heritage and Cultural Education Center, followed by the Longshan Temple. Your first day in Taipei will end with getting snacks and exploring the other market stalls at Huaxi Street Night Market.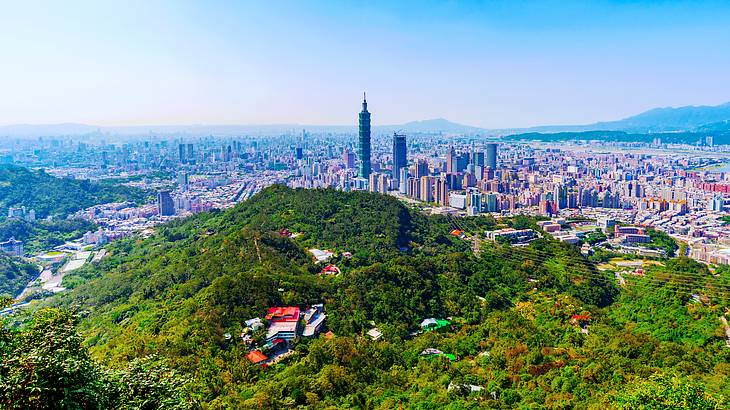 Elephant Mountain
Elephant Mountain is a 183-meter-high mountain in the Xinyi District. It's one of the best places in Taipei to get fantastic city views.
To enjoy the views, you must hike the 1.5 km long trail. The hiking trail features many steps to climb to the top, but it is still a relatively easy trail. It will take approximately 15 to 30 minutes to get to the top.
Along the trail and once at the top, you can enjoy views of Taipei's skyline, which includes the well-known Taipei 101 that was the world's tallest building between 2004 and 2010. As you hike the trail, there are three lookouts to stop at to enjoy the view and snap some pictures.
The most optimal times to visit Elephant Mountain are at sunrise or sunset. However, you'll be able to enjoy the views all day, and as it's a gentle hike, you could return multiple times to see the city during different parts of the day.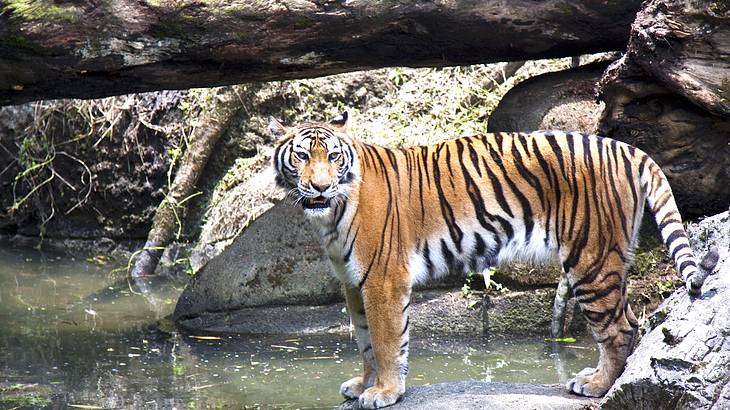 Taipei Zoo
A visit to the Taipei Zoo is a great way to see some of Asia's wildlife, including giant pandas, pangolins, and tigers. As the largest zoo in Asia, you'll get to enjoy numerous exhibits that house a wide variety of creatures.
The exhibits are split into indoor and outdoor exhibits and cover a range of climates. These include a tropical rainforest exhibit, a desert exhibit, and an Australian animals exhibit. There's also the previously mentioned giant panda house, one of the most popular exhibits, as well as penguin and koala houses.
Other exhibits include those with birds and reptiles and an insectarium. There's also the Animal Ecology and Dinosaur Museum, an education center with informative exhibits on ecology conservation, prehistoric animals, and the zoo's history.
Certain exhibits are closed on Mondays, so be sure to check their website for what will be open for your visit.
Yen Chinese Restaurant
Yen is a Cantonese restaurant located on the 31st floor of the W Taipei Hotel. Along with the fantastic views, you can enjoy your meal in a luxuriously decorated dining room with high ceilings and floor-to-ceiling windows.
Even at lunch, you get a vast choice of meat, seafood, and vegetarian dishes. There's also a dim sum menu if you want a lighter lunch. They also have a set menu if you can't decide what to choose from the a-la-carte menu.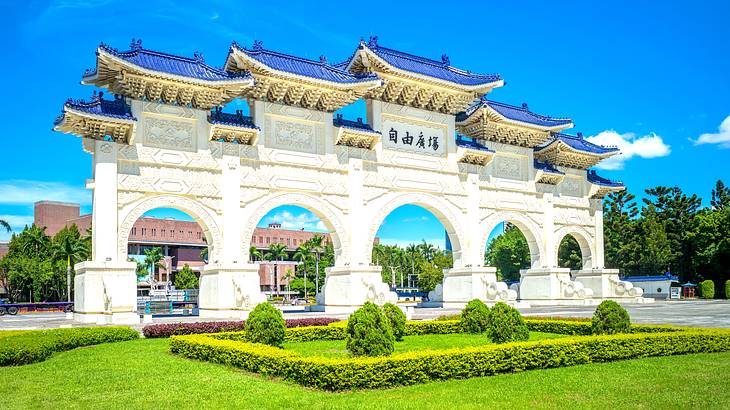 National Chiang Kai-Shek Memorial Hall
The National Chiang Kai-Shek Memorial Hall, or more recently, the National Taiwan Democracy Memorial Hall, is a must-see during your 72 hours in Taipei. This renowned national monument was built to honor Chiang Kai-Shek, the former president of the Republic of China.
The memorial hall features exhibits of Asian art and culture. The main attraction is the 2,314 square meter exhibition hall. This area houses historical relics, artifacts, and photographs commemorating Chiang Kai-Shek.
Having explored the exhibits, you can stroll around some of the 62 acres of landscaped gardens surrounding the memorial hall.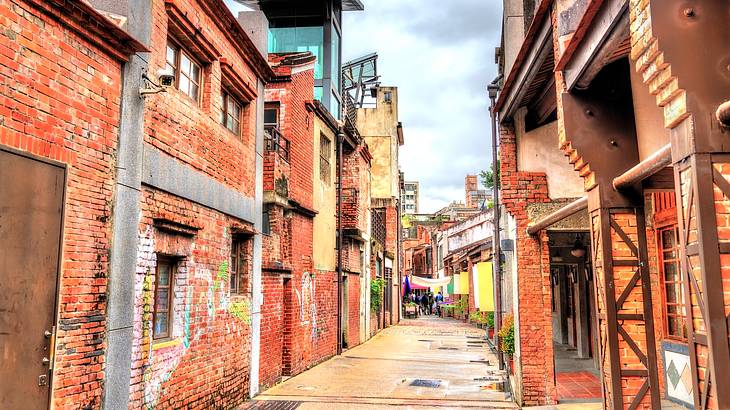 Bopiliao Historical Block
Bopiliao Historical Block is a great place to appreciate a range of architecture. The buildings in this area date back to the 18th century and have Fujian, Japanese, and Qing Dynasty influences.
The majority of the buildings here are built in red brick with balconies and intricate embellishments. There are also many creative wall paintings, all of which are great for photos!
This area was previously the main commercial area of Taipei, but it is now a cultural and historical district. The main attraction is the Heritage and Culture Education Center. This museum covers two stories and has multiple exhibits, including those on Chinese education.
This area also has small shops, mainly focusing on craft goods, and several local buildings have small art galleries inside them to enjoy.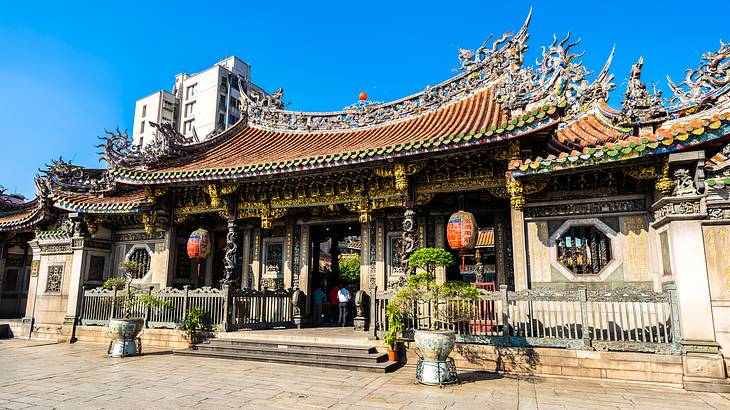 Longshan Temple
During your 3 days in Taipei, you won't want to miss Longshan (also called Lungshan), a Chinese folk temple. The beautiful temple was built in 1738 by settlers from Fujian.
Since its construction, the temple has survived several earthquakes as well as bombings during World War II. Unlike many religious buildings dedicated to one religion, Longshan Temple is for Taoist, Confucian, and Buddhist worship.
Even if you don't belong to these religions, visiting the temple is worth enjoying the architecture and decor. Designed in a traditional Chinese style, the interior and exterior feature intricate details and various colors.
Lungshan means Dragon Mountain, and this name is shown in the design with two large dragons adorning the temple's roof. The temple also contains altars dedicated to Chinese Gods and other deities from each religion.
Huaxi Street Night Market (Snake Alley)
Snake Alley Market, officially known as Huaxi Street Night Market, is one of Taipei's most famous night markets. The two blocks that make up the market feature an assortment of street vendors and specialty shops.
There are also restaurants serving Taiwanese cuisine with a focus on noodle and fish dishes as well as meat and squid soups. The market got the nickname Snake Alley due to the snake handlers and the range of snake-derived foods and medicines that could be found here.
Today, there are a limited number of these vendors due to decreased demand and increased animal protection laws. However, if you want to try these types of products, you can still find a handful of vendors selling them.
A Creative Cultural Day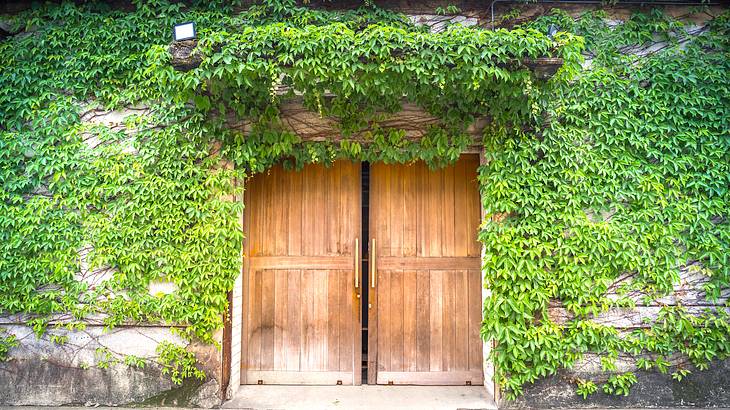 Day two of your three-day Taipei itinerary will take you around some of the city's most creative cultural places. You will begin the day at the Huashan 1914 Creative Park. Here, you can enjoy exciting and unique art installations and pay a visit to the arts and cultural center.
You can then visit the Museum of Contemporary Art. This modern art museum has a collection of artworks from Taiwanese and international artists. Having explored the museum, your next stop is the world-renowned Din Tai Fung restaurant, where you can try their famous Xiaolongbao.
You will spend your afternoon at two very different museums, the first being the Suho Paper Museum. This museum houses paper artworks and exhibits on the history of paper-making.
The next museum to visit is the Miniatures Museum of Taiwan. This museum showcases unique miniature designs, such as miniature houses and palaces, including a small Buckingham Palace.
You'll finish your day at another night market, the Ningxia Night Market. Here you can try some of the best Taiwanese dishes in the city from over 20 street food stalls. They also have carnival games and shops that you can enjoy for a super fun night out.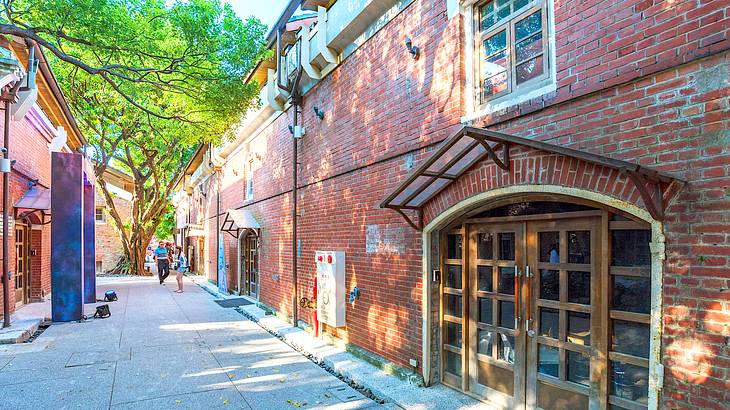 Huashan 1914 Creative Park
The Huashan 1914 Creative Park is a public park located in the Zhongzheng District. It features a range of creative art displays and serves as Taipei's primary creative arts center.
This arts and cultural center is probably the most retro-style venue you'll find in all of Taipei. Located in a remodeled wine factory, the center features local designer shops, plenty of restaurants, bars, and cafes, and often hosts music performances. There are also many cultural arts events held in the park.
In general, the center and park are a popular spot for residents and visitors to the city, especially lovers of art and culture.
Museum of Contemporary Art
If you're interested in modern art, then Taipei's Museum of Contemporary Art is a must-visit attraction.
Here, you can discover exhibits on modernity, creativity, and artistic experiments. The museum opened in 2001 and was the first in Taiwan to feature only contemporary art. It contains primarily Taiwanese artists' works but recently became recognized globally for its exhibits on international projects.
Along with the exciting artworks housed here, the Museum's architecture is notable. The Japanese-era building, which was previously the Taipei City Hall, is designed in a historical colonial style with a red brick exterior and white framed windows.
You can explore the museum at your own pace, or group tours and audio tours in a range of languages are available.
Din Tai Fung
Din Tai Fung is an acclaimed chain with multiple restaurant locations in Taipei. It's both a local and tourist favorite for high-quality Taiwanese food. The original location, which opened in 1958, still operates on Xinyi Road.
They're best known for their Xiaolongbao, a style of dumpling that's a must-try. Fillings include pork, crab, shrimp, and chicken. Other dishes include buns, soups, stir fry, and noodle and rice dishes. Finish your meal with a selection of desserts, including steamed cakes and sweet sticky rice.
Suho Paper Memorial Museum
This museum is a very unique and fascinating one featuring works that celebrate Chinese paper-making tradition. Exhibits focus on the history and culture of paper-making with examples of handcrafted paper artwork on display.
You can additionally admire a traditional working paper mill and even join workshops where you can learn to create your own paper art. Before you leave, be sure to visit the Bamboo Tea House and the gift shop for some fun souvenirs.
Miniatures Museum of Taiwan
If you enjoy seeing very detailed and creative art, then the Miniatures Museum will likely be an enjoyable Taipei attraction for you to visit. It's the first museum to collect and exhibit miniatures in Asia, with over 200 works on display.
The museum displays replicas of houses, castles, and palaces, mostly from the West, complete with fully decorated interiors. Some iconic buildings replicated in miniature include Buckingham Palace and the White House.
It also features designs from many famous fairytales, like Alice in Wonderland and Jack and the Beanstalk. Along with appreciating the replicas' overall designs, some unique pieces to look out for include a working miniature TV and a 1 cm tall whiskey bottle.
There's even a working miniature chandelier complete with 40 functional light bulbs, each the size of a grain of rice.
Ningxia Night Market
Another famous night market in Taipei is Ningxia Night Market. The market has a bustling and busy atmosphere and is said to have some of the best Taiwanese food in Taipei.
You'll be able to choose dishes from around 20 stalls as well as from a selection of pop-up restaurants. Many of these stalls also feature on the Michelin guide of must-try street food stalls in Taipei. Some popular stalls include Fang Chia for their shredded chicken rice and braised tofu and Liu Yu Zi, which sells fried taro balls.
Other snacks on offer include braised pork rice, grilled giant squid, and a large selection of noodle dishes. Finish your meal with a sweet treat, such as syrup-covered fruit or hot mochi. You can additionally enjoy a carnival section with fairground-style games and some shops. It's a great area to check out before or after you eat.
Although the market is open from 4 PM to 2 AM, it is recommended to come between 8 PM and 9 PM to really enjoy the atmosphere. If you want to book accommodation near this market to enjoy it in the evening, Datong is the best place to stay in Taipei.
Taipei's History and Traditions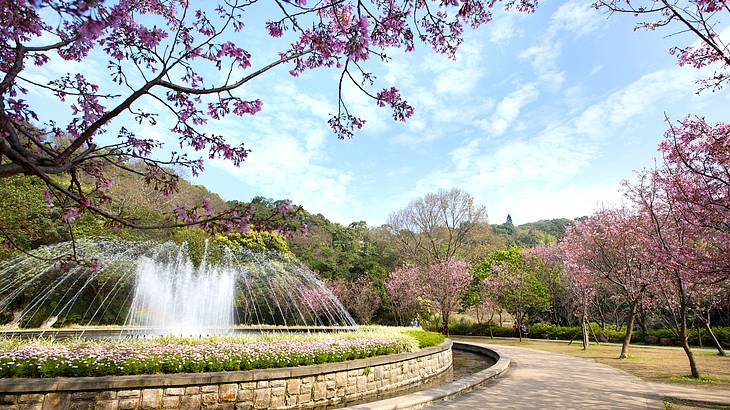 For the last day of your three days in Taipei, you'll be visiting Taipei's most historical sites. First, though, make a quick trip 30 minutes out of the city to hike in Yangmingshan National Park.
Once you return to the city, you can visit the National Palace Museum, which houses over 700,000 artworks and artifacts from the last 8,000 years. The next stop is the National Revolutionary Martyrs' Shrine. The shrine pays homage to those who have died at war. Be sure to stay for the guard changing ceremony, which occurs every hour.
For lunch, you'll visit the stunning and majestic Grand Hotel. Choose from three restaurants, or visit the Garden Cafe for afternoon tea. Having eaten and explored the hotel, your next stop is Dalongdong Baoan Temple which was built in the 18th century as a Taiwanese folk temple.
Another temple, the Taipei Confucius Temple, which pays homage to the philosopher Confucius, can be seen after the Dalongdong Baoan Temple. Your last day in the city will finish at Raohe Street Night Market. This is one of Taipei's oldest night markets and has a vast selection of delicious sweet and savory dishes to choose from.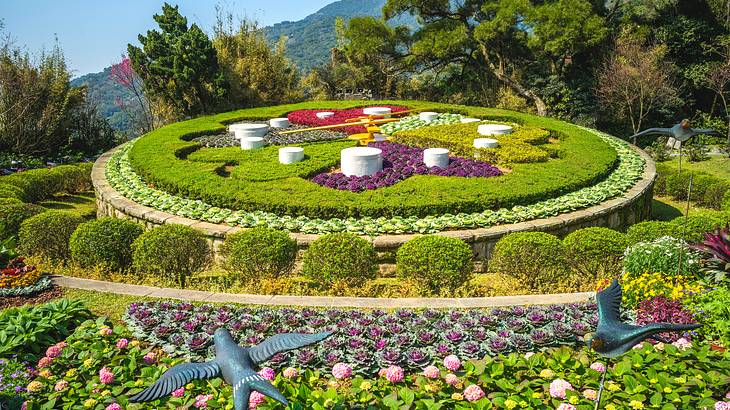 Yangmingshan National Park
Yangmingshan National Park is one of just nine national parks in Taiwan and is located close to Taipei City. You can access the park in about 30 minutes when driving or taking the bus.
The park features volcanic and mountainous scenery, hot springs, lakes, and waterfalls, plus an abundance of greenery. You'll also discover a host of flora and fauna here, including the famous sakura flower, bird-lined trees, and Japanese Maple.
Another popular sight is the flower clock. This clock is made entirely of colored flowers and has a diameter of 22 feet. Multiple hiking trails in the park will take you through natural and beautiful scenery. The area is home to some semi-feral cattle and venomous snakes, so be on the lookout when hiking the trails.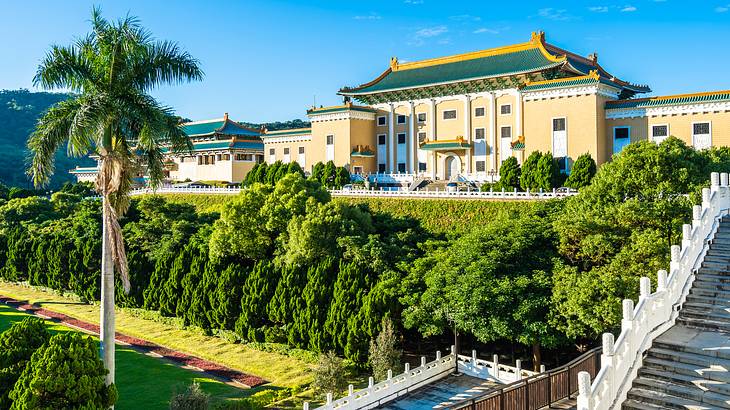 National Palace Museum
The National Palace Museum is the perfect place to visit to learn about the roots and history of China from as early as the Neolithic times. The museum permanently displays about 700,000 ancient Chinese artworks and artifacts, including calligraphy texts and religious objects.
Many of these valuables ended up in Taipei's museum due to the goods being evacuated during the Chinese Civil War. The vast amount of artifacts and artworks housed here makes it one of the most significant Chinese art collections globally.
During your visit, you'll also find tech exhibits, and the museum now uses technology to help preserve ancient artifacts.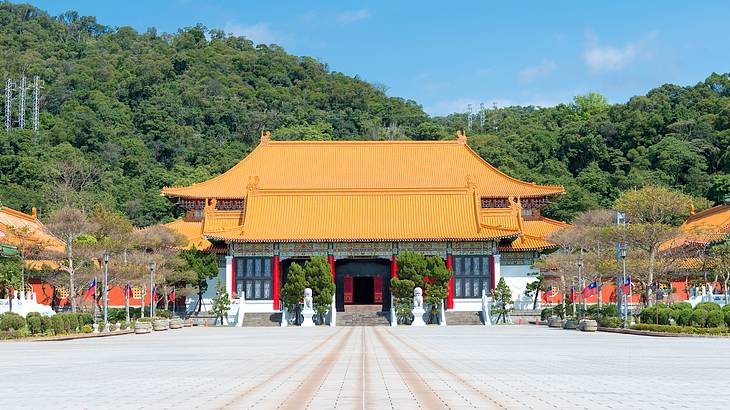 National Revolutionary Martyrs' Shrine
This imposing and colorful building was initially built to honor Kuomintang soldiers who died in the Chinese Civil War, but it is now a monument to all those that died fighting for China. The architecture is Chinese-influenced, and there are some small exhibits inside to view.
The most popular thing to see at the shrine is the guard-changing ceremony. This interesting ritual happens every hour and lasts for about 15 minutes. It's a must-see event during your three days in Taipei.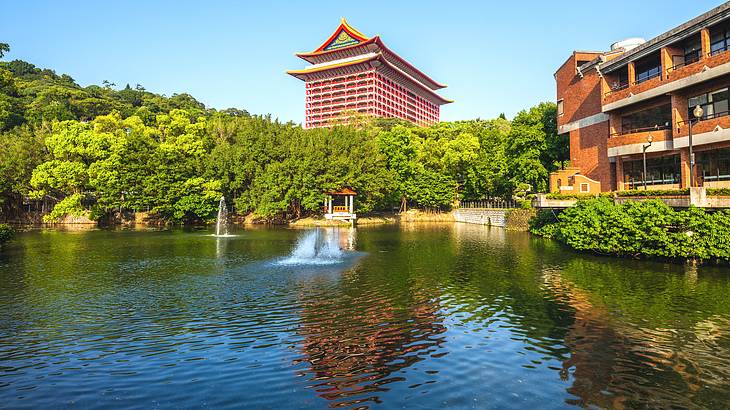 The Grand Hotel
The Grand Hotel Taipei is a majestic 14-story palace-style hotel. This luxury hotel has a stunning interior and exterior and is highly worth visiting to appreciate the design alone. If you have the budget, it's a fantastic place to stay while in Taipei. Even if you don't stay here, be sure to stop by for a meal.
The Grand Hotel has three restaurants and a cafe. The Garden Cafe offers beautiful views of the hotel gardens, and you can enjoy desserts, coffee, and afternoon tea here. The afternoon tea is highly recommended and comes with sandwiches, scones, a selection of cakes, and fresh fruit.
If you want a more substantial meal, the Grand Garden Restaurant is a good choice. This restaurant offers buffet dining with a choice of over 100 dishes at a set price.
Alternatively, the Golden Dragon Restaurant offers elegant dining with Cantonese cuisine and Hong Kong-style dim sum. Dishes to choose from include shrimp with truffle sauce, cucumber soup, and beef with soy sauce.
This restaurant has stunning views of the Keelung River, Taipei 101, and the Dazhi Bridge. Be sure to book in advance to get a table near the windows.
Lastly, you can try Yuan Yuan. This restaurant serves Jiangzhe cuisine. Unique specialties include crispy eel, xihu fish, and sweet and sour squirrelfish. You can also enjoy mud crab, garlic shrimp, and lotus root, among many other dishes.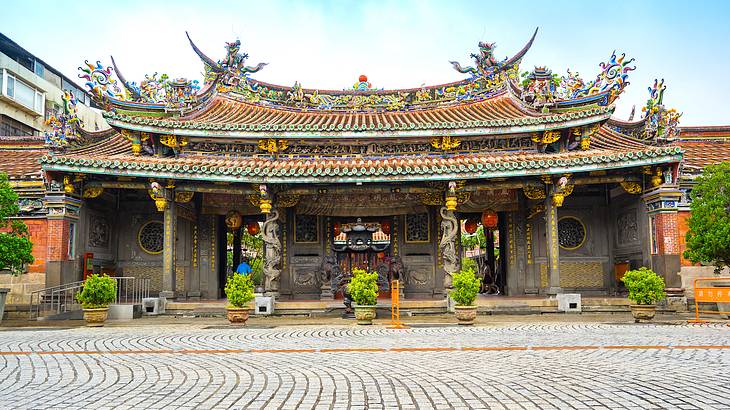 Dalongdong Baoan Temple
This temple might be one of the oldest buildings and most significant monuments in Taipei that you'll see. Also known as the Taipei Baoan Temple, it's a Taiwanese folk temple built in the 18th century by Fujian clan members.
The building is incredibly stunning because of the many detailed and well-restored pieces of decorative art it contains. The temple features a traditional curved roof that is covered with ornate and colorful carvings. You can also see stone lions, dragons, and other carvings around the temple.
If you're visiting Taipei between April and June, you should see the temple to experience the Baosheng folk arts festival. This includes parades, lion dances, and several other exciting performances.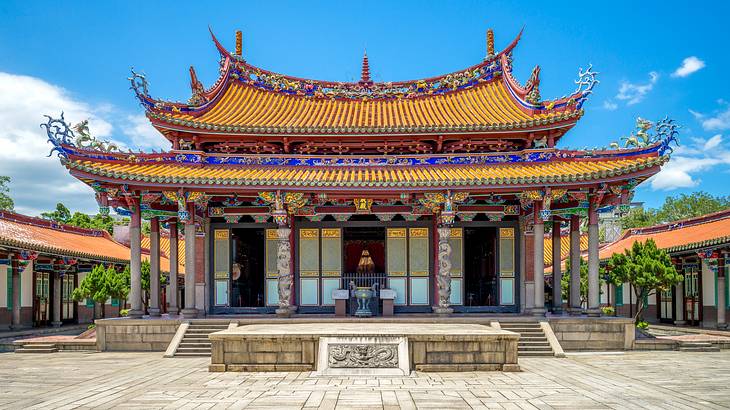 Taipei Confucius Temple
Constructed in the 1920s by a Fujian craftsman, this temple pays homage to Confucius, a scholar, teacher, and philosopher.
The temple is a fantastic example of Southern Taiwanese architecture, complete with interesting ceramic panels and art pieces. Interestingly, you won't find any statues or inscriptions in the temple; however, the overall design is still worth appreciating.
When exploring the temple, you will find several displays that will help you understand the history of the temple and Confucius himself.
These include displays on Confucius, the history of the museum, and the six Confucian Arts. The temple additionally has a 4D cinema with nine screenings a day of Confucius-themed shows.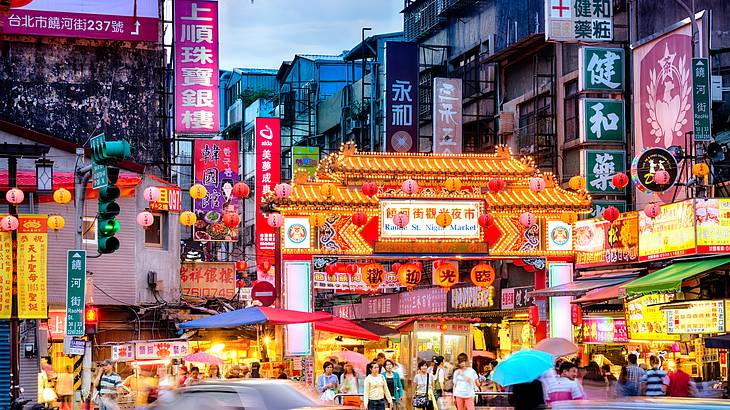 Raohe Street Night Market
The Raohe Night Market is one of Taipei's oldest night markets, with stalls selling a range of well-known Taiwanese dishes.
The Black Pepper Bun from Fuzhou Black Pepper Bun is a must-try item at the market. This dish is the only thing they sell and consists of a baked bun filled with spiced pork and green onions. Other popular choices include tornado potatoes and oyster omelets.
To finish your dinner, you'll find a selection of stalls selling sweet dishes. These include Kasho Dorayaki which sells Dorayaki, a pancake stuffed with cream filling. Filling options here include adzuki bean, matcha, or tiramisu.
In Conclusion
Taipei is a great place to visit for all types of tourists. The range of historical sites, cultural attractions, and bustling night markets makes it the perfect spot for a varied trip, even if you are only seeing Taipei in 3 days.
It's also the perfect place to add to an Asia trip, with cities such as Hong Kong and Ho Chi Minh City being just a quick flight away.
Give us feedback about this article
More articles about Taipei:
---
---
Want to keep exploring?
Subscribe for discounts on tickets and hotels and our latest guides.
Thank you for subscribing
We will be in touch soon with discounts on tickets and hotels and our latest guides.
Want to keep exploring?
Subscribe for discounts on tickets and hotels and our latest guides.
Thank you for subscribing
We will be in touch soon with discounts on tickets and hotels and our latest guides.
Related Articles