Where to Stay in Taipei, Taiwan - 10 Best Areas & Hotels
Destguides may receive commissions from purchases made through affiliate links in this article.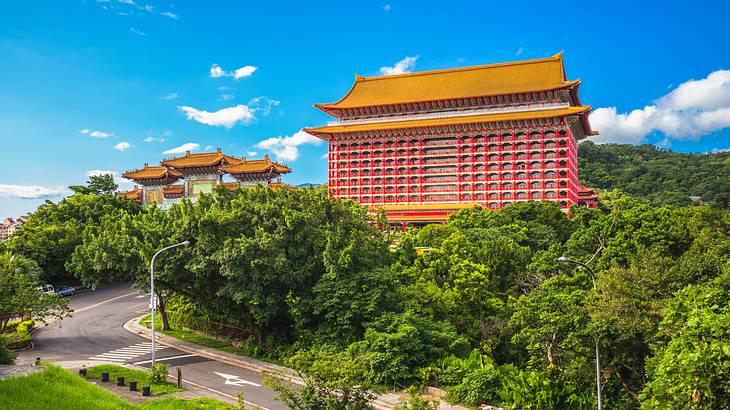 Taipei is an eclectic travel destination that combines modern innovation and historical charm. When deciding where to stay in Taipei, it is crucial to consider what type of experience you desire, as the city offers a multitude of options.
From bustling shopping malls to the lush mountainous areas and everything in between, Taipei is a location loved by travelers from near and far. Each diverse region has a unique flare that will immerse you in historical and cultural Taiwanese heritage. Continue reading to find the best place to stay for your travel goals and needs.
10 Best Places to Stay in Taipei, Taiwan
Taipei Places to Stay Video
Check out our highlights video of Taipei places to stay.
Taipei Places to Stay Map
A map of Taipei. Use the map to explore all the places to stay.
Best Areas to Stay in Taipei, Taiwan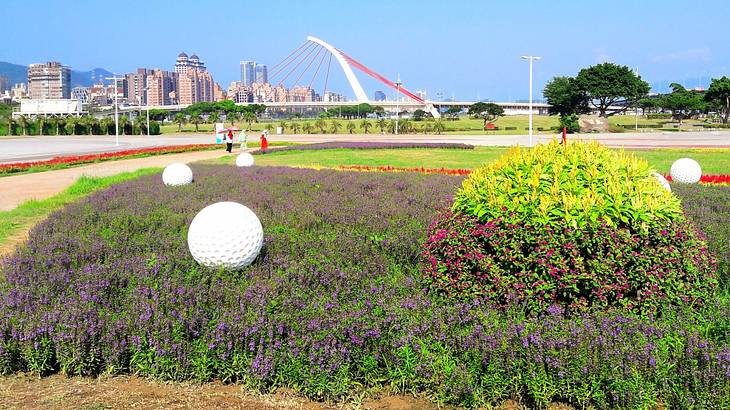 Zhongshan
The Zhongshan district is an eclectic example of Taipei's unique culture. You will find something new and intriguing every time you turn a corner, making it a top place to stay for all kinds of travelers.
Notably, culinary options are plentiful. Zhongshan is known for its excellent Japanese food and whisky and cocktail bars. The area is also famous for its cafes, such as the enchanting Spot Café Lumiere.
In addition, you'll find great attractions here, like the Taipei Fine Arts Museum, which is home to collections of contemporary and modern art. The museum also hosts exhibitions and events throughout the year. After going to the museum, you can wander around the Fine Arts Park located next to it.
The primary type of accommodation in Zhongshan is hotels. Many of these are modern and high-end hotels of four and five stars. Due to the amenities of the hotels and central location, they can be a little expensive. While not only for luxury travelers, this isn't a great area for those on a strict budget.
Zhongshan has a convenient transportation system, which makes it easy for visitors to explore the area. This transport system also offers good connectivity to many other parts of the city, like the neighboring Datong and Da'an districts.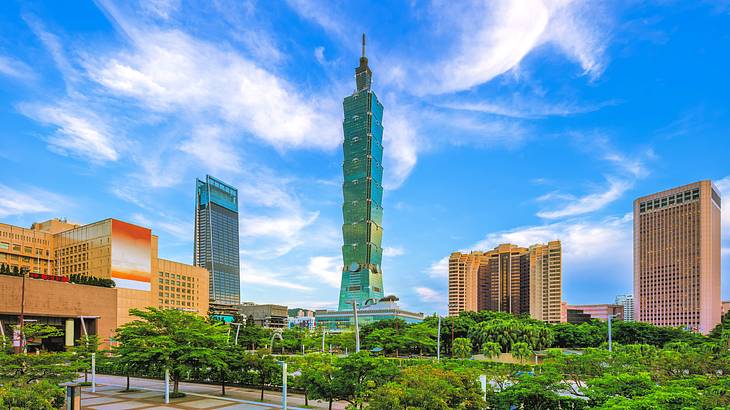 Xinyi
Xinyi is the best location to stay in Taipei if you want to be close to many iconic sightseeing destinations. It is a prime spot for immersing yourself in Taiwanese culture and is a good choice for first-time visitors.
This vibrant district is notably home to the Taipei 101 skyscraper, an iconic Asian landmark. Once the tallest building in the world, it remains a must-visit tourist attraction. From the observation deck, you will see breathtaking panoramic views of the entire city.
Another must-see destination is the Sun Yat-Sen Memorial Hall, a historical site honoring the founding father of the Republic of China. Beyond the rich history of Xinyi, you will also find wonderful nightlife attractions such as bars, night markets, and live music venues, perfect for those looking for a neighborhood with excellent nighttime activities.
Accommodation varies, and there is something for many types of travelers and budgets. You can find luxury hotels with rooms going for hundreds of dollars a night, yet more affordable budget hotels and some hostels are also available.
While there's a lot to see in Xinyi, connectivity to other areas is also good should you want to explore more of Taipei. You can easily reach surrounding neighborhoods like the Zhongzheng District, Da'an District, and Datong District in around 15 minutes when driving or in under an hour on public transport.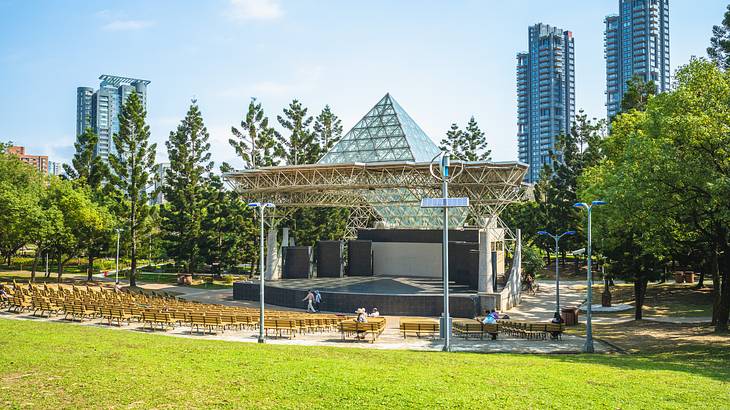 Da'an
Da'an conveniently sits between Xinyi and Zhongzheng. It offers an energetic environment that appeals to travelers of a younger demographic. This youthful atmosphere is partly due to National Taiwan University (NTU), one of Taiwan's most prestigious universities, being located in this region.
Da'an is also known for its markets, like the popular Shida Night Market. This attraction has a lively, energetic atmosphere and is surrounded by trendy cafes, stores, and music venues. You will never be bored during a visit to this night market!
Foodies will absolutely adore Da'an due to markets like Linjiang Night Market, known for its diverse culinary options. There is everything from local Taiwanese delicacies to international dishes.
Due to these nighttime attractions and the university student population, Da'an is an excellent place to stay for young travelers and those that enjoy good nightlife. Accommodation here is relatively affordable, with many contemporary budget hotels in the area. Some higher-end (and more expensive) accommodations are also available.
Due to Da'an's location, you can easily reach Xinyi and Zhongzheng via public transport or taxi. While it will take a little longer, public transport can also connect you to other neighborhoods easily.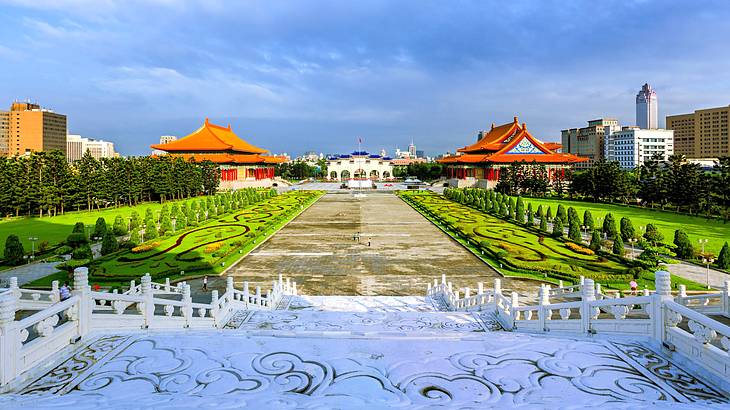 Zhongzheng
From museums to parks and gardens, Zhongzheng is one of the good areas to stay in Taipei for cultural immersion. It is also home to Taipei Main Station, which makes travel around the city very efficient. If you've come to the Taipei for lots of sightseeing, staying in Zhongzheng will appeal to you. It's also an excellent spot to be based if you're on a budget.
One of the most popular attractions located here is the Taipei Botanical Garden. This green oasis features a collection of plants that you can admire as you stroll the path of the garden.
History enthusiasts will also be interested in exploring the National Taiwan Museum. Located at 228 Peace Memorial Park, the museum features artifacts and exhibits on Taiwan's history and culture. The Chiang Kai-shek Memorial Hall is another top landmark in Zhongzheng. Its grand architecture and stunning gardens will leave you in awe!
Hotels are the primary form of accommodation in Zhongzheng. You can find budget options and those with more mid-range prices and amenities. Higher-end luxury hotels are not really available here, though, if that's the type of accommodation you prefer.
As mentioned, the train can connect you to many other areas. Zhongzheng also has other popular neighborhoods on all sides, like Datong to the north and Da'an to the east, meaning you can also quickly reach areas by taxi or, in some cases, walk.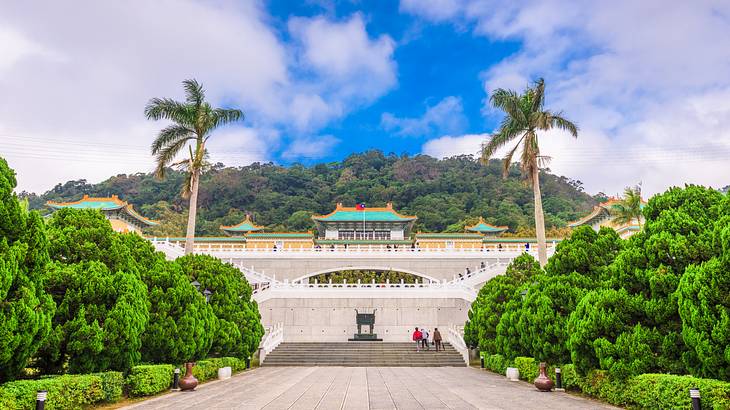 Shilin
This neighborhood is a little outside of the center of the city but is a unique place to stay for those looking for a quiet area with less bustle. Being near many outdoor attractions, it's also a popular place for nature enthusiasts to book their stay.
Shilin is home to the iconic Shilin Night Market, one of the largest in Taipei. This market offers a large selection of street food, clothing, and local goods. Another hotspot in Shilin is the National Palace Museum, home to an extensive collection of Chinese imperial artworks and artifacts.
Beyond museums and night markets, Shilin offers visitors an opportunity to explore some of Taipei's natural wonders. The Xinsheng Park Area of Taipei Expo Park is just a short trip from Shilin and well worth the trek. The beautiful park is known for its hot springs, volcanic landscapes, and scenic views.
Hotels here are generally budget or mid-range options. However, they are comfortable and have all the amenities you need. You can find a few hotels with added extras, like a swimming pool, to help you cool off after a busy day exploring.
Despite being outside Taipei City, you can reach many central neighborhoods in around 15 to 20 minutes by car. Public transport is also good in Shilin, getting you to the center of Taipei in about 35 minutes.
Wanhua
As the oldest district in Taipei, Wanhua is a neighborhood filled with culture. It is the best area to stay in Taipei if you love history and endless shopping. Wanhua has a rich historical background, but it is also home to one of the city's most vibrant shopping areas, Ximending.
In addition, you'll find the Huaxi Street Night Market here. It is famous for its exotic street food and snake-related products. Another must-see location in Wanhua is the Bopiliao Historical Block. Wanhua features traditional buildings, alleyways, and cultural exhibits that tell the stories of Taipei's history.
You can also visit Longshan Temple, which is among the Taipei's most sacred places of worship. If you want to immerse yourself in cultural heritage, a tour of this exquisite temple is in order. Wanhua is one of the best areas for diving head first into Taiwanese history.
You can also find some excellent accommodation options here, including budget-friendly hotels and interesting themed accommodations like an airplane-themed hotel! From Wanhua, you can easily reach New Taipei and other neighborhoods in Taipei City via public transport or taxi.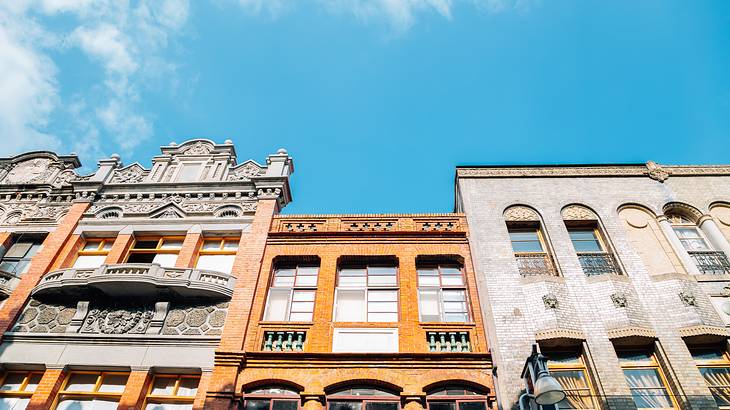 Datong
Your trip to Taipei is not complete without a visit to the Datong District. This is the area to stay in Taipei if you love traditional temples, lively markets, and historical wonders.
Start your exploration on Dihua Street, a famous street lined with traditional shops and buildings that offer clothes, food, and other goods. Ningxia Night Market is another can't-miss attraction. The small but lively market is always bustling with vendors and buyers. This market is famous for its Taiwanese street food and will give you an authentic taste of Taipei.
Datong has good connectivity to other areas as well via taxi or public transport. Nearby neighborhoods include Zhongzheng and Ximending. Mid-range hotels dominate the accommodation market here. There are a few budget hotels but not much in the way of more luxury accommodations.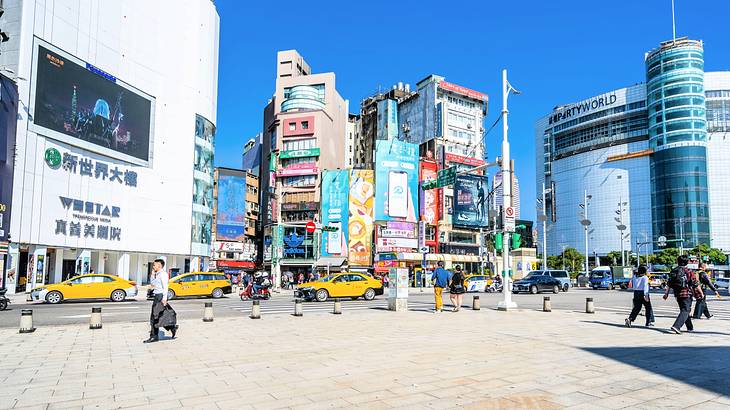 Ximending
Ximending, in the Wanhua District, is the best part of Taipei to stay in if you are a shopaholic. With fashion boutiques, department stores, street vendors, and even themed 7-Eleven stores, you will find a unique mix of stores in Ximending.
Another fun place to visit is a Korean selfie booth. These colorful shops are fun for tourists of all ages, providing a photo booth for you and your friends to document your visit to Ximending.
Along with many shopping outlets, you can go to cultural attractions, like the Red House. The red brick structure hosts cultural performances in its theater, and shops and cafes are located on the ground floor.
As with the main part of the Wanhua District, accommodations include budget and mid-range hotels with various amenities. From Ximending, you can walk around the rest of the Wanhua District or reach other neighborhoods quickly via taxi or public transport.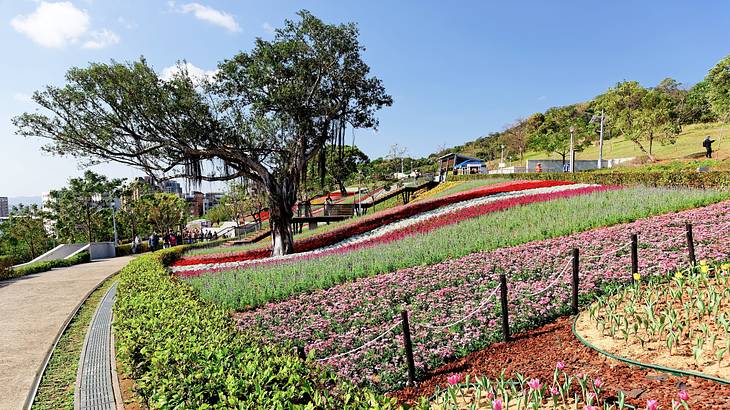 Beitou
One popular day trip from Taipei is a journey to Beitou. Known for its hot springs and natural beauty, Beitou is the place to stay in Taipei if you are looking to experience serenity and to escape the bustle of the city.
Beitou Hot Springs is famous for its geothermal activity. Here you will find public bathhouses, private resorts, and luxurious spas. Take a leisurely stroll through Beitou Park, a wonderful greenspace set in the center of Beitou. Lush vegetation, groomed walking paths, and tranquil ponds set the scene for pure relaxation.
Another popular spot for nature walks is Plum Garden. This is a historic Japanese-style villa that is surrounded by stunning gardens. These gardens offer visitors a peak into the Japanese influences on Taiwanese culture. Just outside of Taipei as well is the Yangmingshan National Park, which also provides wonderful hot springs and scenic views.
Beitou offers visitors resorts and more luxurious hotels with stunning views and amenities such as spas. You can find a few budget options, like hostels, under one hundred dollars, but you'll need a healthy budget to book at the best resorts and hotels.
Due to this area being on the outskirts of Taipei, connectivity to other neighborhoods isn't great, but it doesn't mean you can't get to more central areas. Taxi and public transport can connect you to many parts of Taipei City in under an hour.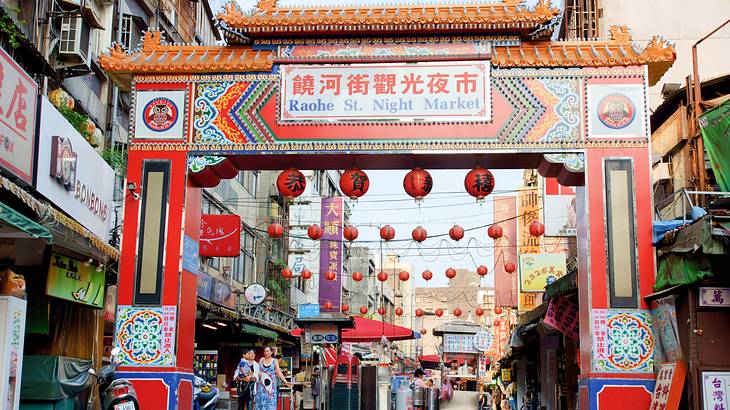 Songshan
When in Songshan, you will enjoy an eclectic mix of past charm with a modern twist. Night markets such as the Raohe Street Night Market are extremely popular among tourists and locals alike. The amount of mouth-watering local and international food options is plentiful. Pepper Buns are among the local's favorite delicacies.
Songshan also boasts the Taipei Arena, where many sporting events and live performances are held. This is the perfect place to catch a game or enjoy a live show during your stay.
Lastly, take time to marvel at the Ciyou Temple. This stunning, colorful temple exemplifies Chinese architecture. It is a sacred location that will leave you feeling spiritually connected to the city of Taipei.
Accommodation in Songshan mainly comprises mid-range yet comfortable and stylish hotels. However, some luxury options are available, such as the Mandarin Oriental Taipei. Budget travelers can book a hostel in Songshan, too, meaning if you want to stay here, you'll find accommodation to suit!
Being to the northeast of many other popular neighborhoods, it takes a little longer to reach places like Ximending and Zhongzheng. But like with other areas, taxis and public transport can get you around the city if needed.
Where to Stay in Taipei, Taiwan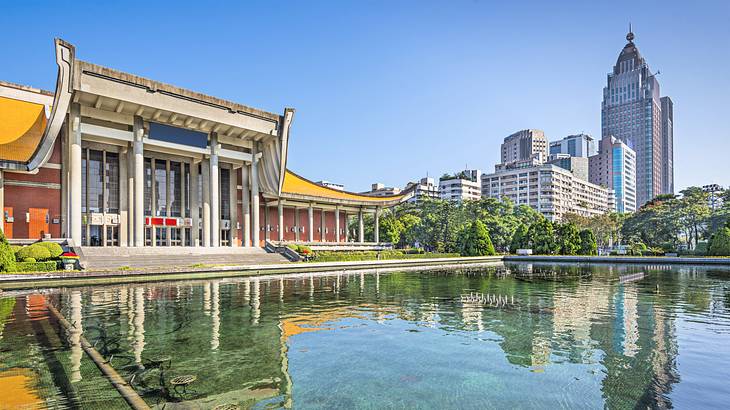 Where to stay in Taipei with family?
Taipei offers many great locations for families to reside during a visit. The two that are ideal for families are the Xinyi District and Zhongshan District because of their kid-friendly attractions and accessible transportation systems.
Xinyi is in the center of all the action. This is the best neighborhood to stay in Taipei if your family enjoys a central location with easy access to popular tourist attractions such as the Taipei Zoo. Kids will also enjoy a visit to the famous Taipei 101 Tower, which is easily accessible in Xinyi.
The accommodations in Xinyi are upscale, the shopping is plentiful, and access to activities is convenient. These factors make it a wonderful place to stay when traveling with children.
Another option is Zhongshan, a scenic destination in central Taipei. Traveling families can enjoy attractions such as the Miramar Ferris Wheel, shopping malls, and museums like the Miniatures Museum of Taiwan. There is also a very efficient public transportation system which makes it easier for a family on the go.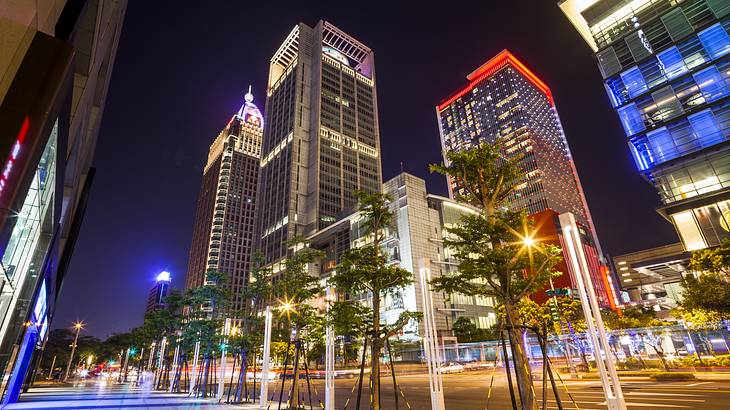 Where to stay in Taipei for nightlife?
Taipei has no shortage of vibrant nightlife options, from night markets to nightclubs. Depending on where you stay, you will have different out-on-the-town experiences.
Da'an has a very vibrant nightlife scene. Some popular areas for bar-hopping in Da'an include the alleys near Dongmen MRT Station and the Ren'ai Road and Heping East Road intersection. The night markets offer an excellent opportunity to mingle with locals, try delicious snacks, and experience the culture.
Zhongshan is another bustling district with a lively atmosphere. Taipei is famous for its karaoke culture, and Zhongshan has several karaoke establishments where you can sing your favorite tunes. Another unique option is the beer gardens which are popular hangout spots during the warmer months.
Where to stay in Taipei for shopping?
Just as Taipei is known for its vibrant nightlife, it is also known for its seemingly endless shopping. Ximending is the best place to stay in Taipei for shopaholics.
It is extremely popular among locals and tourists alike. Vendors offer clothing, cosmetics, local crafts, and much more. If you can dream of it, it is almost certain you can find it in the shops.
The Wan Nian Building is famous for its extensive options of discounted toys and games. Whereas the Esilte Department Store and Wanguo Department Store are excellent places to hunt for clothing and accessories.
Taipei is known around the world for its wonderful shopping options. There is so much to see that it can be a challenge to pack it all into your Taipei itinerary, but it is worth it to shop until you drop!
In Summary
Taipei is truly a city of experiences. From natural hot springs and stunning mountain landscapes in Beitou to skyscrapers and endless shopping in Ximending, there is something for everyone.
The night markets are world-famous for their diverse offering of food and goods. Taiwanese cuisine comes to life in Taipei, with an abundance of options at your fingertips. Iconic dishes like stinky tofu, beer noodle soup, and bubble tea are must-tries.
Most importantly, the Taiwanese people are known for their welcoming nature and hospitality. The overall positive energy of the city will leave you counting down the days until you return.
---
---
Want to keep exploring?
Subscribe for discounts on tickets and hotels and our latest guides.
Thank you for subscribing
We will be in touch soon with discounts on tickets and hotels and our latest guides.
Want to keep exploring?
Subscribe for discounts on tickets and hotels and our latest guides.
Thank you for subscribing
We will be in touch soon with discounts on tickets and hotels and our latest guides.
Related Articles