Abu Dhabi Beaches - 11 Best Beaches in Abu Dhabi
Destguides may receive commissions from purchases made through affiliate links in this article.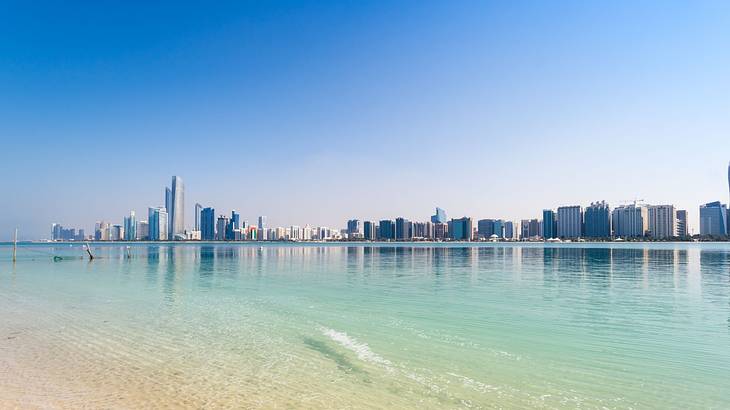 The United Arab Emirates (UAE) is known for its luxury and decadence. Its capital city, Abu Dhabi, has a beautiful waterfront location and is surrounded by stunning landscapes, making it a popular place for tourists worldwide.
The weather in Abu Dhabi is hot in the summer and pleasant in the winter, making it a great place to hit the beach at any time of the year. Abu Dhabi beaches also have some of the most beautiful crystal clear waters and the most gorgeous strips of sand you will find in the country.
For a city known for its vast oil reserves and unparalleled riches, you will be pleasantly surprised to learn that Abu Dhabi has a beach for everyone who visits. From tourists to residents, people flock to the best beaches in Abu Dhabi year-round for some fun in the sun and exciting water sports.
Many luxury resorts and hotels have their own private beaches, and expansive public beaches are dotted around the whole city. Some beaches have a minimal entrance fee, but most have free entrance.
Abu Dhabi has got you covered whether you are in the mood for relaxation or water sports. So, let's dive into the best beaches of Abu Dhabi.
11 of Abu Dhabi's Best Beaches
Abu Dhabi Beaches Video
Check out our highlights video of Abu Dhabi beaches.
Abu Dhabi Beaches Map
A map of Abu Dhabi. Use the map to explore all the beaches.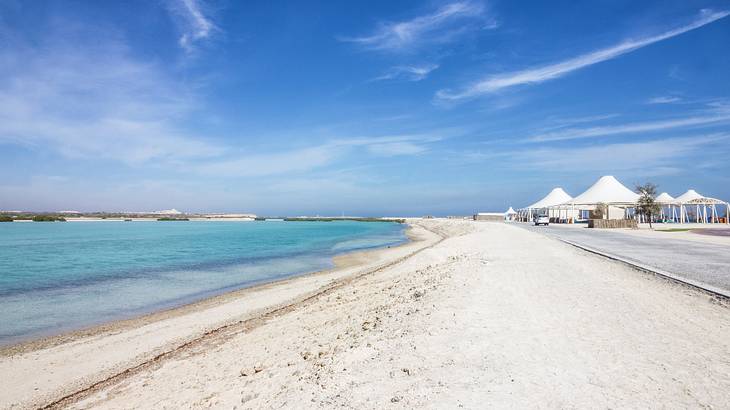 YAS Beach
YAS Beach is located on the southern end of YAS Island. It is one of the best beaches of Abu Dhabi to visit, attracting loads of tourists and locals alike. Whether you're staying at one of the YAS Island hotels or visiting YAS Island for the day, YAS Beach should be one of the stops you make.
When here, you will be spoiled with a stunning view of blue water and white sand stretching for miles all around the beach. Sun lounges and cabanas framed with flowy curtains can be found everywhere for you to sit on, relax and have a drink.
On YAS Beach, there is a swimming pool for adults and a separate pool area for children. The whole strip is littered with cafes, food kiosks, and water sports offices where you can buy experiences from.
If your accommodation is on YAS Island, your entry to the beach will be free. Kids under 12 also get in for free. However, if you are not staying on YAS Island, you can access YAS Beach either by visiting YAS Waterworld or buying a day pass.
The day pass is AED50 for adults and AED25 for children on weekdays. On weekends, the fee goes up to AED100 and AED50, respectively. Saturdays are half-price for women. YAS Beach is open from 10 AM to 7 PM.
Mirfa Beach
Known as the hidden gem of the United Arab Emirates, Mirfa Beach is a gorgeous oasis away from the bustling life of the city. It is located about an hour and a half away from Abu Dhabi city, in the village of Mirfa in Al Dhafra.
Mirfa Beach offers a quiet and uncrowded beach escape for both tourists and locals, all year round. In April every year, the Al Dharfa Watersports Festival is held here. The festival is a great time to witness the beach in all its glory, though it can get a bit overcrowded.
Surrounded by a mangrove forest towards the west and providing stunning views all around of crystal clear blue waters, Mirfa Beach is one that you should be adding to your 2 day Abu Dhabi itinerary.
Visitors to Mirfa Beach can take advantage of the camping facilities and buy any supplies they need from the nearby village. Kayaking, paddleboarding, and kiteboarding are some of the activities that are also available at this beach.
Live entertainment, kid's play areas, and a Sunset Souk are all present at Mirfa Beach, making it an ideal place for families. Mirfa Beach is open from 11 AM to 11 PM. There is no entry fee. Whether you're in the mood for relaxation or adventure, Mirfa Beach will not disappoint.
Al Maya Island
Al Maya Island is a tiny island located off the coast of the Corniche. It is accessible by a 20-minute boat ride from the Khalidiya Palace Rayhaan by Rotana resort.
If you're looking for a relaxed atmosphere but would also like to indulge in a little partying, Al Maya Island is the perfect place for you. It is a very exciting and isolated island that attracts tourists and locals year-round.
On Fridays, Al Maya Island lights up with the party feel. You can lie on one of the many sun loungers, laze around the poolside bar, and hit the dancefloor. Many a time, you may spot famous DJs spinning some good tunes as well.
There is a huge pool that you can swim around in while enjoying a few drinks from the bar. On Saturdays, there is more of a chilled vibe, allowing you to rest and take in the stunning views of the Abu Dhabi skyline around the island.
The boat ride will set you back AED100, which includes the entrance fee and use of the facilities. Al Maya Island is open from Friday to Saturday, 10 AM to 8 PM.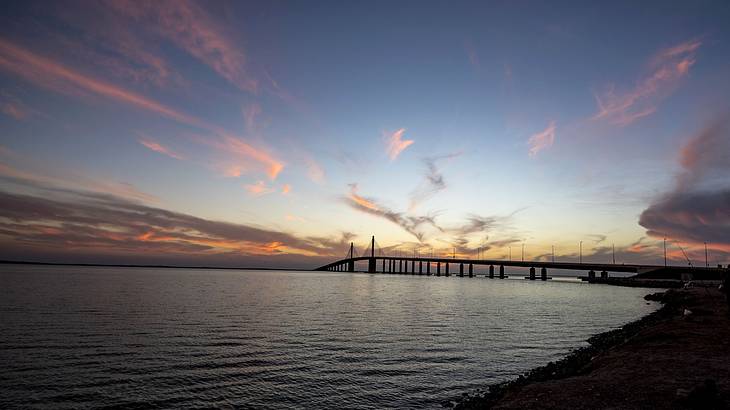 Al-Bateen Beach
Al-Bateen Beach is located on Khalifa Al Mubarak Street and overlooks Al-Hudariyat Island and Al Hudairyat Bridge. It is a public beach with blue, calm water and sand that stretches for 800m, meaning it is a fantastic place to visit if you're on a budget or just want to kick your feet up and relax.
Since this is a public beach, there is no entrance fee. There is a women-only area towards the south end of Al-Bateen Beach, which has a minimal fee of AED25. The public area is open from 8 AM till sunset, while the women-only area stays open till 10 PM.
The public area of Al-Bateen Beach has a handful of cafes where you can grab a quick bite to eat. Many sports can be played here as well, such as football, volleyball, and tennis. You can also hire kayaks and paddleboards if you are feeling adventurous.
Al-Bateen Beach is blue flag certified, and there are many lifeguards and guards that patrol the area to ensure the safety of swimmers.
Take a packed picnic, chill in the gazebos, or sunbathe on the sun loungers. Al-Bateen Beach is a beach that you should definitely be visiting on your trip to Abu Dhabi.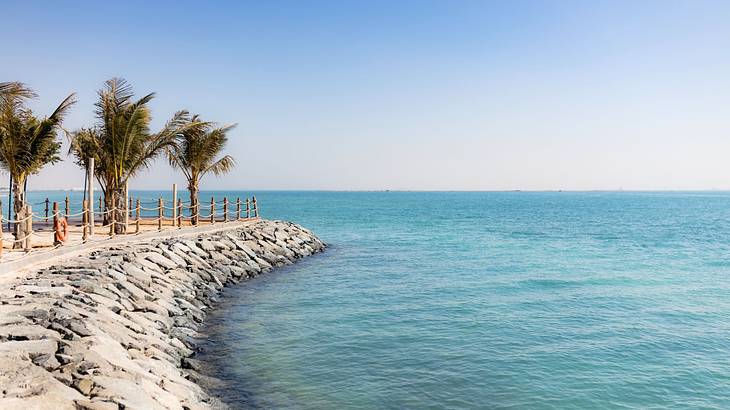 Al Hudayriat Beach
Al Hudayriat Beach, on Al Hudayriat Island, is part of a new city development by Abu Dhabi. It takes about 15 minutes from Abu Dhabi city to get here. It has increasingly become a favorite go-to for all.
Located across the water from Al Bateen Beach, on the shores of Abu Dhabi, Hudariyat Island is the perfect place to relax and catch some sun after a busy vacation.
The beach on Hudayriat Island stretches over 600m and promises calm waters no matter the weather. The water temperature is warm in the summer and comforting in the winter, meaning you can take a dip in the water no matter the time you visit.
Cycling tracks and sports facilities are available for visitors looking to explore the island. There are also playgrounds for kids to spend time in.
The beach of Hudayriat Island provides stunning views of the city skyline full of famous Abu Dhabi landmarks and the Hudayriat Bridge. You can sit on a sun lounger and enjoy the sunset at the end of a day of swimming and fun.
Food trucks line the beach, offering some of the best cuisines you can get in Abu Dhabi. The beach is open daily from 8 AM to 7 PM, and entry is free.
Nation Riviera Beach Club
Located right on the Corniche in Downtown Abu Dhabi, Nation Riviera Beach Club is one of the most well-known beach clubs in Abu Dhabi. Locals love this spot as it offers year-long memberships while visitors can access it with a day pass.
Nation Riviera Beach Club is connected to The St. Regis Abu Dhabi, meaning it is open to you if you are a guest at the hotel. There is a huge fitness center in the beach club, making it an excellent place to relax and stay fit at the same time.
The beach stretches for 200m and offers a view of the pristine Arabian Gulf. While you can swim in the ocean, there are swimming pools for both adults and kids on the beach.
The beach club is open from 8 AM to 9 PM every day, with the pools closing between 6 and 8 PM. Day passes for non-members start at AED465 for a family of 4, with AED85 charged for each additional member.
Boasting an array of health and recreational activities, such as kayaking and water sports, Nation Riviera Beach Club is a great place to spend a day in Abu Dhabi.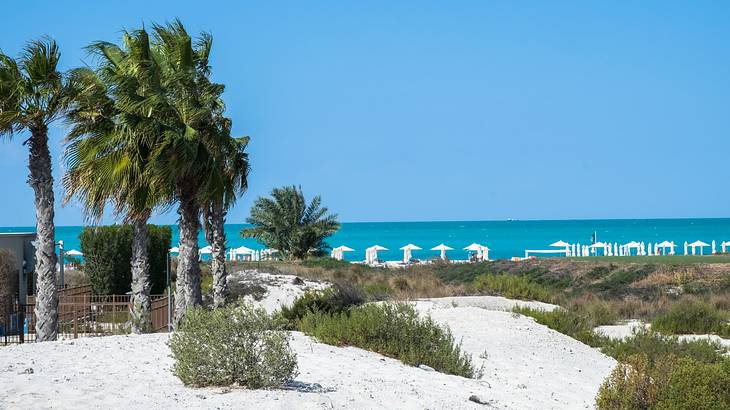 Saadiyat Public Beach
Located on the northwest coast of Saadiyat Island, Saadiyat Public Beach is a great place to spend the day relaxing and enjoying the crystal clear waters.
It will take you about 30 minutes from Abu Dhabi International Airport by taxi to get to this beautiful beach. Ferries are available if you would like to island-hop while here as well.
Saadiyat Public Beach is a 400m stretch of white, powdery sand that offers many watersports and activities for locals and tourists. You can also rent sun loungers for AED50 during the week and AED75 on weekends and spend the day unwinding.
Apart from spending the day near the stunning blue water, you can also sign up for a beach yoga session and engage in eco-friendly watersports. There are many indigenous animals on the island, such as Hawksbill turtles. Occasionally, you may even spot a dolphin or two in the sea.
Saadiyat Public Beach is open every day of the week from 8 AM till sunset. Adults will have to pay AED25 to get in, while kids over the age of 6 have an AED15 entry fee.
Saadiyat Beach Club
Located on Saadiyat Island, Saadiyat Beach Club is a must-visit beach if you want to immerse yourself in an upscale area of Abu Dhabi. The island is located 5 minutes from downtown Abu Dhabi.
Saadiyat Beach Club is an exclusive beach club that caters to locals living on Saadiyat Island and visitors renting apartments. The beach has a very serene feel to it and provides maximum relaxation to all who visit it.
Saadiyat Beach Club has blue flag certification and is focused on protecting the habitats of endangered species local to the area. There is an entry fee of AED25 for adults and AED15 for children. The beach club is open from 8 AM to sunset.
Zaya Nurai Island
If you're looking for pure indulgence, Zaya Nurai Island is the spot for you. It is located a 15-minute boat ride from Al Saadiyat Island and will make you feel like you are miles away from the hustling and bustling of Abu Dhabi city. Boats run from 7:30 AM to 12:30 AM every day.
Zaya Nurai Island has a stunning long curve of white sand surrounded by crystal clear, light turquoise water. Sitting amongst the natural beauty of this beach, you may think you're in the Maldives rather than Abu Dhabi.
You will have to buy a day pass for AED480 per person if you'd like to visit this island. As pricey as that might sound, the fee includes the boat transfer, and AED420 will be redeemable for food and drinks once on the island. Prior booking is needed, so plan in advance. Zaya Nurai Island is open from 7:30 AM to 10 PM.
Zaya Spa on the island provides a place for you to unwind and have luxurious treatments done. There are also many restaurants on the island that boast dishes from all around the world.
Whether you want to chill, spend a day in the spa, or dine in excellent restaurants, Zaya Nurai Island is definitely a stop to be added to your Abu Dhabi itinerary.
Al'Bahar Beach
Al'Bahar Beach is located on the Corniche in Downtown Abu Dhabi. It is home to AquaFun, Abu Dhabi's largest inflatable water park.
This beach offers an outdoor gym for all the fitness buffs out there. There are also volleyball and basketball courts providing adults and kids a chance to enjoy the active beach lifestyle too.
From 7 AM to sunset, Al'Bahar is free to enter and provides a beautiful stretch of white sand surrounded by calm waters. The water is perfect for swimming no matter the time of year you visit.
There are gaming areas, shops, and restaurants along the beach. Whether you're in the mood for a quick game or a sit-down meal, there are plenty of options to keep you occupied.
From fitness freaks to families, Al'Bahar has something for everyone. It is a great way to spend a day in Abu Dhabi, with the chance to jump around in the inflatable waterpark and ending the day with a delicious meal from one of the nearby restaurants.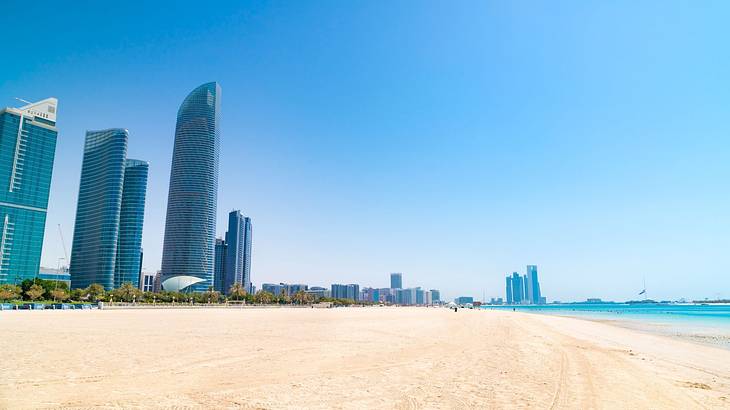 Corniche Beach
Corniche Beach is one of the most popular beaches in Abu Dhabi. It attracts both locals and tourists in huge numbers, and all for the right reasons. This beautiful beachfront is a fantastic place to come with family and friends. The beach is divided into three sections, allowing you to choose the kind of day you want to have.
There are two dedicated sections for families, with Gate 2 also boasting a quiet section for visitors looking to have some downtime while on vacation. Gate 3 is for children with multiple sandpits and play areas dotted along the strip, and Al Sahil is excellent for groups and singletons.
Gate 2 and Gate 3's entry fee is AED10 for adults and AED5 for children, while Al Sahil has free entry. All the sections at Corniche Beach are open from 8 AM to 8 PM daily.
Conclusion
Indulgent luxury is the word that comes to anyone's mind when they think of Abu Dhabi. The city is filled with traditional and modern architecture that can take your breath away.
Many people don't realize that Abu Dhabi has some very stunning beaches. From Zaya Nurai Island's luxurious atmosphere to the more chilled vibes of Al'Bahar, there is a beach for everyone.
Whether you're looking for a family-friendly beach or one that you can put your party boots on for, I hope this guide helps you experience the best beaches in Abu Dhabi. So grab your sun hat, lather on the sunscreen, and get ready to dive into the glistening water of Abu Dhabi's best beaches!
---
---
Want to keep exploring?
Subscribe for discounts on tickets and hotels and our latest guides.
Thank you for subscribing
We will be in touch soon with discounts on tickets and hotels and our latest guides.
Want to keep exploring?
Subscribe for discounts on tickets and hotels and our latest guides.
Thank you for subscribing
We will be in touch soon with discounts on tickets and hotels and our latest guides.
Related Articles