20 Famous Landmarks in Abu Dhabi
Destguides may receive commissions from purchases made through affiliate links in this article.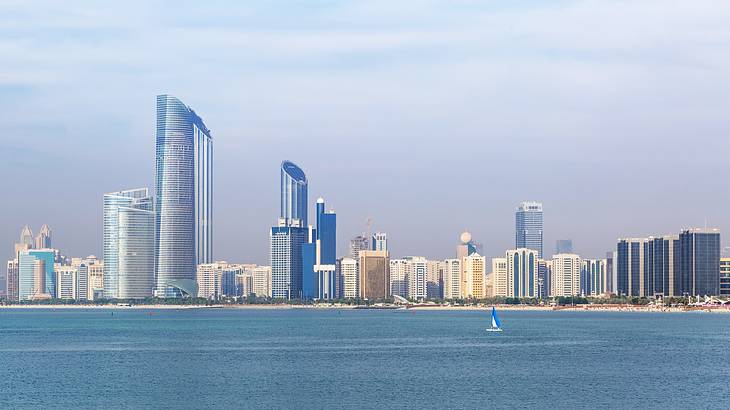 Abu Dhabi, the capital of the United Arab Emirates (UAE), is a well-planned city with a gorgeous waterside location. It is more traditional than its neighbor, Dubai, but it still can capture you with its beauty, magic, and culture.
Abu Dhabi is famous for being one of the smallest yet wealthiest cities in the world. It is also known for its vast oil reserves, which make up 6% of the world's reserves. The city houses one of the world's richest men as well, Mohammed bin Zayed Al Nahyan, the Crown Prince of Abu Dhabi, and is filled with unmatched luxury that can't be found elsewhere.
From the grandeur of the Sheikh Zayed Mosque to the desert landscapes of the Liwa Oasis, this guide will show you all the famous landmarks in Abu Dhabi to add to your 2 day Abu Dhabi itinerary.
This city is a mixture of modern architecture interspersed with cultural heritage sites and traditional buildings that have made it an attractive destination for tourists worldwide.
Whether you're visiting Abu Dhabi for the first time or are returning, you are sure to find many Abu Dhabi landmarks that will take you on a journey. From the heritage experiences, historic sites, and nature activities to the theme parks and animal encounters - it is all provided in this small yet diverse city.
So, what are you waiting for? Put on your traveling boots, pack up your suitcase, and get ready to venture into the city of Abu Dhabi!
20 Famous Landmarks of Abu Dhabi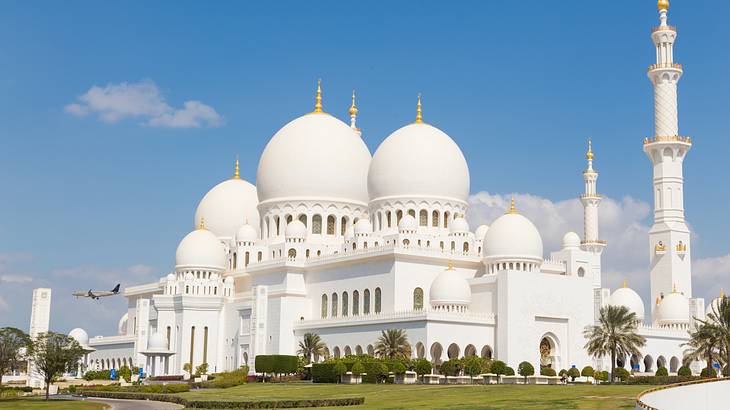 Sheikh Zayed Grand Mosque
Home to the largest crystal chandelier in the world, this grand mosque is sure to catch your eye as soon as you come across it. It is named after the UAE's founding father, Sheikh Zayed bin Sultan Al Nahyan, and is the city's crown jewel.
By far one of the most popular tourist attractions in Abu Dhabi, the Sheikh Zayed Mosque is made from Macedonian marble, which adds to its grandeur. It blends design elements from Mameluke, Ottoman, and Fatimid design, giving you a feel of tradition yet modernism.
It was opened in 2007 after being in construction for almost 20 years, and it can hold up to 40,000 worshippers. It is located not very far from the main city and will not take you long to reach it by bus or car.
When deciding on when to visit the mosque, you should consider visiting sometime in the afternoon. This gives you enough time to take in the beautiful architecture and see the sunset while enjoying the breathtaking views.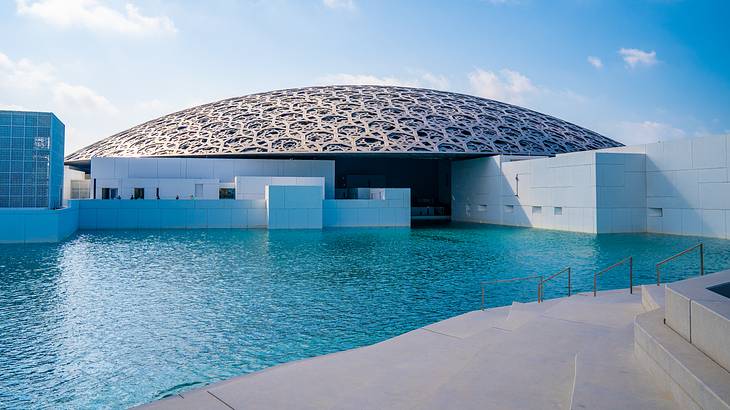 The Louvre Abu Dhabi
As you venture inside The Louvre Abu Dhabi, you are greeted with an expansive hall that holds some of the most stunning art pieces you may ever set your eyes on.
The pieces are presented to show how human civilization has evolved through the years, and while it does lean a bit more European, it is sure to be an excellent site for all history lovers. This is proved by the thousands of tourists that flock to this famous building of Abu Dhabi every year.
Apart from the art on display, you can also check out their website for any performances or screenings that may be happening during your visit.
The entry to the museum requires a 60AED ticket and allows you to visit the museum from 10:30 am to 6:30 pm. It is located in the aptly-named Cultural district on Saadiyat Island and can be easily accessed by buses.
Whether you're inside this museum or roaming around the courtyard, your eyes will always be met with art, whether it is the pieces inside or the magnificent architecture of the whole building.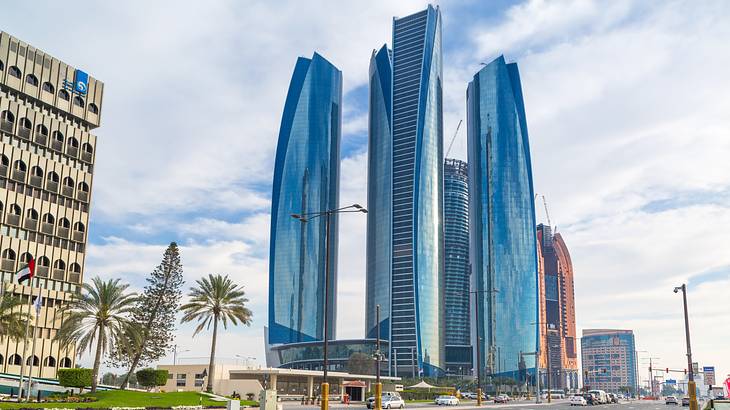 Etihad Towers
Located on the Corniche West Street in Abu Dhabi, the Etihad Towers are a series of five towers that loom over the stunning landscape. Tower 2 is the tallest building in Abu Dhabi and is a sight to be seen.
The towers have restaurants, shopping centers, entertainment areas, hotels, and workplaces all within one complex, and are a great place to spend a day with the family.
Jumeirah Etihad Towers Hotel offers beautiful aerial views of the city from its 74th-floor Observation Deck 300. It is the highest vantage point in all of Abu Dhabi and shows off views of the Abu Dhabi skyline, the Corniche below, and the Arabian Gulf in the distance.
A mix between luxury and modernism, these towers are a great way to see views of the city and enjoy some delicious food and shopping from all over the world.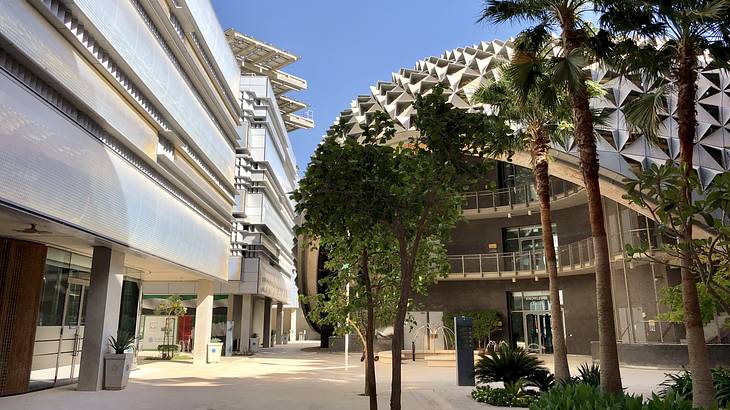 Masdar City
Located towards the southeast of Abu Dhabi city, Masdar City is a glimpse into the future as it is set to be the center of clean energy technology for the area. It hosts the International Renewable Energy Agency headquarters and is open to the public with no entry ticket or fees.
An experience like no other, visitors can take unmanned electric cars from the city's entrance and enter it to explore architectural wonders. The buildings here are made with renewable energy in mind, so they can be interesting to see.
Once you have seen the marvels of architecture, you can relax at the many coffee shops or restaurants around. Organic food shops and luxury retail shops are all at the visitors' disposal as well.
For a peek into the world's sustainable future, don't forget to visit Masdar City when in Abu Dhabi.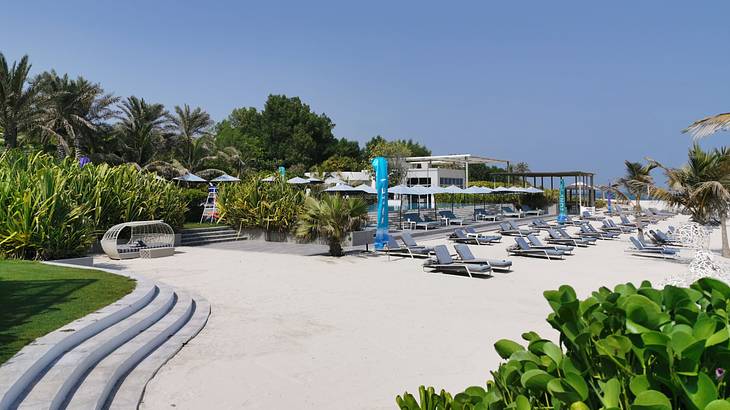 Zaya Nurai Island
Located about 20 minutes away from the Saadiyat Island welcome center, Zaya Nurai Island is the epitome of exclusivity and luxury. It has one of the best beaches in Abu Dhabi, and it is only accessible by speedboat for both day-trippers and overnight guests.
Once on the island, you can enjoy the spa facilities, communal wave pool, and teepee lounge areas, all adding to the feeling of luxurious comfort.
You can rent bikes for a more adventurous experience, and to explore the hidden natural gems of the island as well. Watersports of all kinds are also available on Zaya Nurai Island, making it a perfect spot for tourists and families.
From the beach estates to the private beach villas, Zaya Nurai Island is the perfect place for a stay-cation or a day trip to bask in the luxury and natural beauty of Abu Dhabi.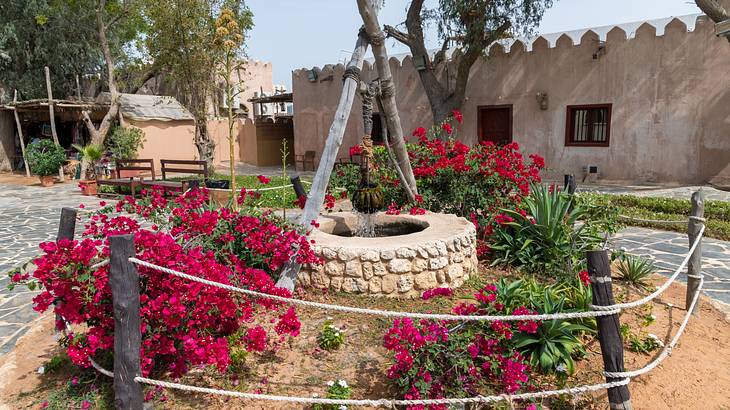 Heritage Village
In the mood for a look into the pre-oil era of Abu Dhabi? Well, the Heritage Village is the perfect place for you. Not far from the main city, it is a traditional oasis village that lets you experience what life was like in Abu Dhabi in the past.
The Emirates Heritage Club runs the Heritage Village and hosts several public workshops from local artisans, allowing you to pick up some local skills from the region.
The village offers food, shopping, and entertainment, all influenced by Abu Dhabi's cultural and traditional history. It's a place where you can marvel, learn and take some of the most beautiful, handmade artifacts home with you.
If you want to fully immerse yourself in Abu Dhabi's essence, the Heritage Village should be on your Abu Dhabi bucket list.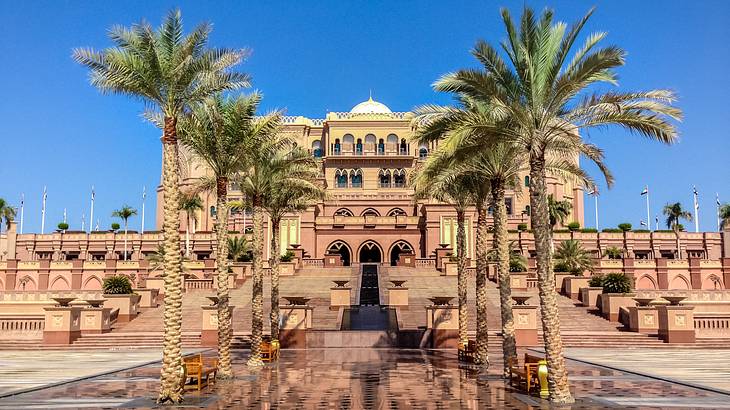 Emirates Palace
One of the most overwhelming feelings that Abu Dhabi evokes is the feeling of utter luxury. Nothing adds to this feeling more than the Emirates Palace.
This stunning palace is essentially a hotel, but it allows tourists to visit its grounds and lobby area to feel what luxury awaits them if they stay at the Emirates Palace. The expansive hotel sits on 100 acres and has all the amenities guests would expect from such a grand hotel.
Located on West Corniche Road, the Emirates Palace boasts some of the world's most expensive desserts and cuisines. For a real luxury experience, guests can order everything from gold coffees and desserts to gold-leaf facials.
When you are done marveling at this hotel, you can stop at the Marina Mall to catch a bit of shopping and food before ending your day.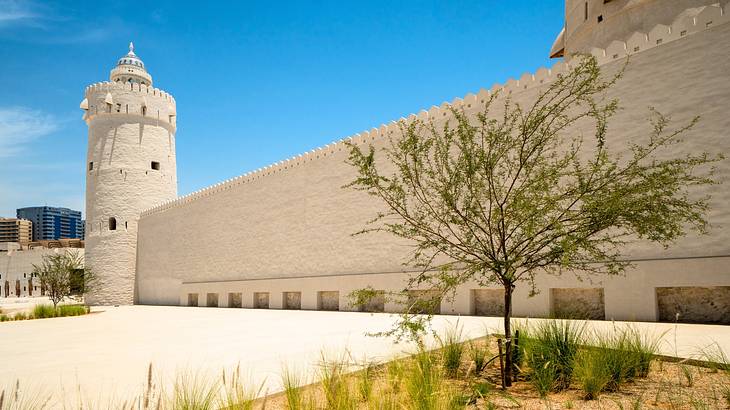 Qasr Al-Hosn
One of the oldest stone buildings in Abu Dhabi, the Qasr Al Hosn is a must-visit tourist site. It was built as a protective watchtower in 1761 before becoming home for the royal family of the UAE.
When you visit this Abu Dhabi landmark, it will give you a sense of history due to its towers, architecture, and museum. The museum takes you on a journey of how the land around Abu Dhabi has changed over the years, leaving you feeling more connected to the city.
If your trip is in December, be sure to check out the annual festival that takes place at Qasr Al-Hosn. Live music and dance shows, along with local food, are sure to be a real treat here.
From heritage materials exhibited to the many events held here, it will surely be a great addition to your Abu Dhabi itinerary if you're looking for a historical experience.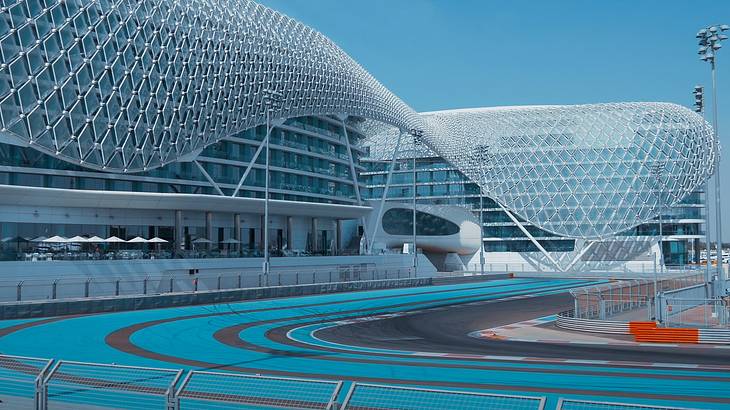 YAS Island
If you're looking to spend a whole day relaxing, shopping, and having fun, Yas Island is the place for you. Located about 30 minutes from the center of Abu Dhabi city, this island provides many activities for tourists all in one spot.
Home to Yas Mall, Yas Waterworld, Ferrari World, Yas Marina Circuit, and beautiful private beaches, this human-made island has become one of the most popular landmarks of Abu Dhabi. Going to the island is free, but activities and adventures will cost you a fee.
No matter what age you are, there is something to do for everyone as it offers everything from relaxing resorts to golf courses and theme parks to concert venues. The attractions on Yas Island are open from morning to night, and each one has a different entry ticket price.
To fully experience each of the attractions here, it is advisable to dedicate a day to each place to fully enjoy it in the best way.
YAS Marina Circuit
For car enthusiasts and Formula One lovers, one of the most exciting stops on Yas Island is the YAS Marina Circuit. This is where the Abu Dhabi Grand Prix is held annually as well as many other racing and car events throughout the year.
This Asian landmark allows you to walk, ride and speed around the track. You can sit with a certified formula one driver and get your adrenaline pumping by experiencing the track in its full force. You can also just come to marvel at the spectacular building that sits on the side of the mammoth race track.
Warner Bros. World Abu Dhabi
Warner Bros. World is a theme park and indoor entertainment venue located on YAS Island in Abu Dhabi. It features six immersive lands: Bedrock, Dynamite Gulch, Metropolis, Gotham City, Cartoon Junction, and Warner Bros Plaza. It is the perfect place for families to spend their day.
There are many rides and experiences to enjoy at this theme park. From thrill-seeking rollercoasters to 3-D experiences, Warner Bros. World is a must-visit for anyone who comes to Abu Dhabi.
Throughout the park, many characters walk around as well, allowing you to get your photographs with Batman, Superman, and Tom & Jerry, among others.
One of the most popular attractions in all of Abu Dhabi, be sure to add Warner Bros. World to your Abu Dhabi landmarks list. Book your tickets well in advance to ensure you can enjoy the newest addition to YAS Island.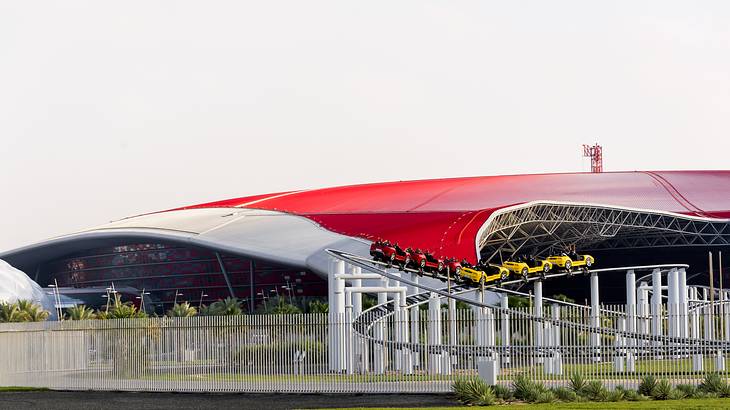 Ferrari World Abu Dhabi
For tourists that love fast cars and rollercoasters, Ferrari World is a wonderland. It is located on Yas Island, right next to Yas Waterworld, and boasts the fastest rollercoaster and the highest loop in the world.
Apart from the rides, you can also find simulation games that allow visitors to drive Ferraris as well as rides for smaller children, making it a perfect destination for families. Ferrari-themed shops and restaurants also make it a great place to spend the day.
The ticket to enter this theme park is a little more on the expensive side, but it is worth it whether you're a car enthusiast or not. The impressive architecture of the complex alone is enough to warrant a visit.
Ferrari World has fast become one of those Abu Dhabi landmarks that are always visited by tourists coming to the UAE.
YAS Waterworld
Located within YAS Island, YAS Waterworld Abu Dhabi is a tourist favorite. This theme park is the best escape from the scorching heat of the desert all around you. It features over 40 rides, slides, and activities for all ages and will surely satisfy your need for thrill and adventure.
After paying for the ticket at the entrance, you enter the waterpark and are met with a colorful and playful theme that sets the mood for a day full of thrilling rides and some lounging by the pool.
Once you're done with the rides and slides, you can either head to the wave pool to relax and end the day, or you can go to the many different snack shops and restaurants to fuel up for some more exciting rides.
At the end of the day, as you're leaving the waterpark, don't forget to visit the souvenir shop to get a memento of your wonderful time here.
Capital Gate
One of the most popular landmarks of Abu Dhabi is the Capital Gate. It can be accessed by a bus ride and a 15-minute walk, and it is for sure worth the travel.
The unique shape of the building makes it an incredible sight to look at. It has a unique design with a height of 160 meters and a wavy look to it. The Capital Gate is the focal center of Abu Dhabi.
You can marvel at the architecture before heading into the building to enjoy delicious food at the restaurant. There is also a viewing deck at the top that provides great views of Abu Dhabi.
Abu Dhabi Falcon Hospital
Situated close to the Abu Dhabi International Airport, the Abu Dhabi Falcon Hospital is the first of its kind in the world. It allows visitors to learn about this majestic bird and see it in flight as well.
The Abu Dhabi Falcon Hospital was first designated as a veterinary hospital looking to treat and rehabilitate falcon birds. Now, it offers tours to tourists and residents alike to educate them on how vital falcons are to local life.
On your visit to the hospital, you will be able to see the grounds and learn about how they help falcons. You will also get to see a falcon in flight and talk to the staff to learn about them. In the end, you will have a chance to get a picture taken with a falcon to keep as a souvenir.
This is a unique experience that Abu Dhabi has to offer and should not be missed. A visit to the Saluki Center in the neighborhood will also give you a chance to learn about the local dog breed.
Sheikh Zayed Palace Museum
Also known as the Al Ain Palace Museum, this beautiful historical fort is an incredible sight for tourists to see. It is an expansive building that shows off the luxury and cultural heritage of the Royal Family of UAE.
It is held in high regard by the locals as it was the home of the founding father and first president of UAE, Sheikh Zayed bin Sultan Al Nahyan. It is located a little far from the main city but is easily accessible by bus and car.
This fort was built in the 1930s and provides the visitor with an insight into the lives of the Royal Family before the riches of oil came into the economy.
Some of the rooms inside the fort are well-preserved and allow you to imagine what life must have been like back when it was full of people and laughter.
From the decadence of the interior settings to the cultural heritage this fort contains, it is an excellent addition to any Abu Dhabi itinerary.
Emirates National Auto Museum
Featuring a great collection of military vehicles, trucks, and modified cars, the Emirates National Auto Museum is one of the most visited sights in Abu Dhabi.
The Auto Museum allows you to experience some of the cars owned and used by the Royal family of UAE. It also has an exhibit that shows off the largest truck in the world with other objects for comparison. Moreover, you can find an extensive collection of American vintage cars and uniquely modified vehicles as well.
Located towards the center of old Abu Dhabi city, this museum is a must-visit for anyone who wants to take in one of the largest collections of classic and new cars.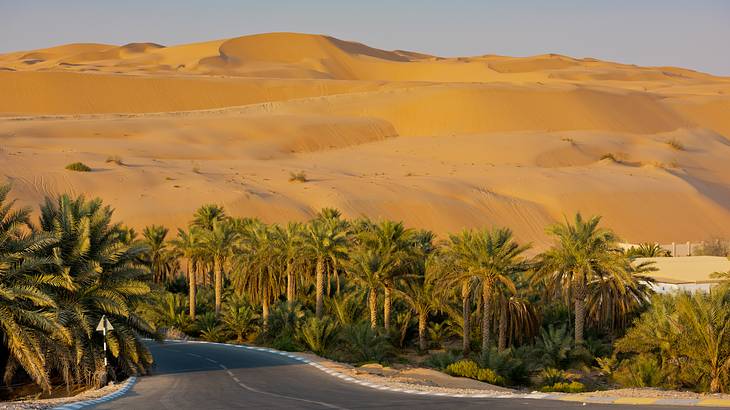 Liwa Oasis
Away from the metropolitan area of Abu Dhabi lies a sandy oasis called the Liwa Oasis. The Liwa Oasis is surrounded by vast expanses of sand and will truly bring you close to the natural beauty of Abu Dhabi.
This oasis is part of the Empty Quarter, or Rub' al-Khali, the largest sand desert in the world. Though a little far from Abu Dhabi, it is one of those stunning natural landmarks you cannot miss.
You can camp under the stars, ride four-wheelers around in the sand and enjoy dinner and dance performances all in one day if you visit Liwa Oasis. A chance to chat with the local Bedouin tribe and a trek to the largest dune in the desert are some of the other activities that can be enjoyed here.
Originally the Al-Nahyan family's home, the Liwa Oasis has now become a favorite amongst tourists wanting to experience the sandy lifestyle of Abu Dhabi.
Emirates Park Zoo & Resort
Looking for the perfect, nature-friendly way to spend a day in Abu Dhabi with your family? Well, look no further than the Emirates Park Zoo!
Boasting animal species from all over the world, this zoo is a great place to be at one with nature. It is located 35km away from the center of the city and is easily accessible via the Abu-Dhabi to Dubai highway.
While you can walk around the zoo and marvel at the many animals they have, you can also feed some of them. There is a luxury resort within the park that allows tourists to have breakfast with giraffes and parrots too.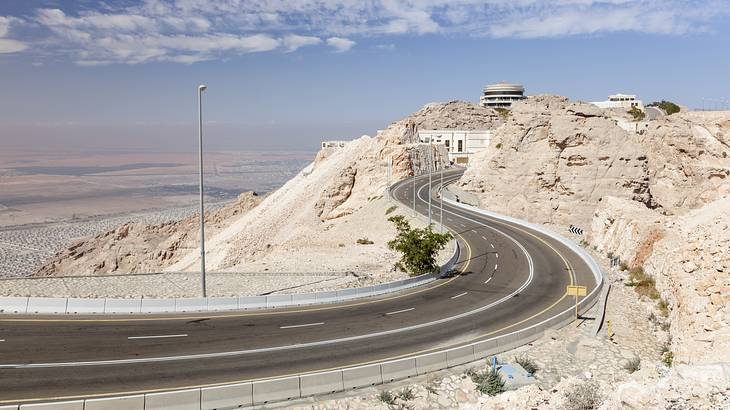 Jebel Hafeet
Jebel Hafeet is a mountain peak that holds the title of the tallest peak in the UAE. It borders Oman and Al-Ain and has stood tall for millions of years. It contains some preserved fossils and burial tombs as well.
The drive up to the peak is a unique winding road that will be perfect for adventure seekers and regular tourists alike. The hot springs on the way to the peak are also very popular amongst tourists. You can dip your toes in the hot springs and enjoy the stunning views that come with the vantage point.
At the foot of the hill, you can also visit the Jebel Hafeet Desert Park, which is an excellent place for families as it has rides, activities, and restaurants.
Conclusion
Abu Dhabi is a magical city that perfectly connects the modern, luxury vibes with the cultural and traditional ones.
With the most beautiful architecture, the Palace Museum, and the Sheikh Zayed Mosque, Abu Dhabi will surely leave you feeling in love with this desert oasis city.
Not only limited to historical sites, Abu Dhabi also brings to you a modern, concrete jungle with impressive buildings and renewable energy-dependent cities, influenced by oil riches.
From theme parks to zoos and cultural attractions to tall peaks, Abu Dhabi has something for everyone, no matter the age or interest.
I hope this Abu Dhabi guide helps you experience the very best parts of this diverse city. Now, get packing, go out there and explore Abu Dhabi!
Give us feedback about this article
Learn more about Abu Dhabi:
Read more articles about the United Arab Emirates:
More articles about landmarks:
---
---
Want to keep exploring?
Subscribe for discounts on tickets and hotels and our latest guides.
Thank you for subscribing
We will be in touch soon with discounts on tickets and hotels and our latest guides.
Want to keep exploring?
Subscribe for discounts on tickets and hotels and our latest guides.
Thank you for subscribing
We will be in touch soon with discounts on tickets and hotels and our latest guides.
Related Articles