The Best 2 Days in Abu Dhabi Itinerary
Destguides may receive commissions from purchases made through affiliate links in this article.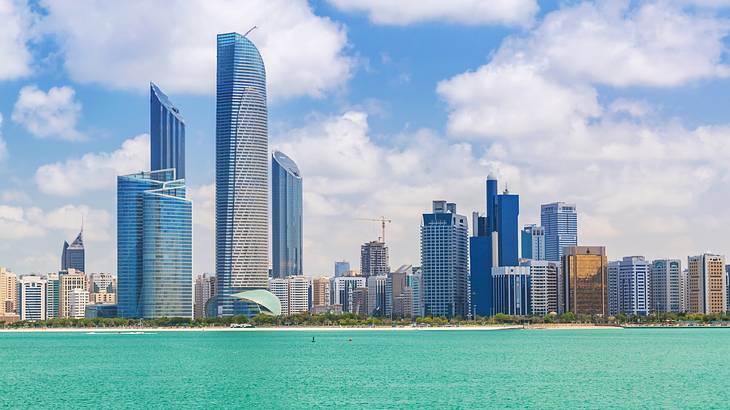 Abu Dhabi, the capital city of the United Arab Emirates, offers a unique experience like no other city in the world. Its incredible attractions and unspoiled cultural heritage make it one of the most-visited cities in the Middle East.
Located almost an hour and a half drive from Dubai, Abu Dhabi can be reached by car. It's also close to Abu Dhabi airport, making it very accessible for those that want to fly.
Abu Dhabi's exceptional infrastructure makes it the ideal place for a city getaway. But, if you're unsure how to explore the city best, this 2 days in Abu Dhabi itinerary is here to help!
During a visit, you can see an array of well-known sites, from landmarks like Sheikh Zayed Grand Mosque to attractions such as Warner Bros World Abu Dhabi.
If you're visiting Dubai and can only spend a day in Abu Dhabi, a day tour from Dubai is also possible! For those spending a few days in Abu Dhabi, continue reading for a fun-filled itinerary!
Abu Dhabi 2 Day Itinerary
Abu Dhabi Highlights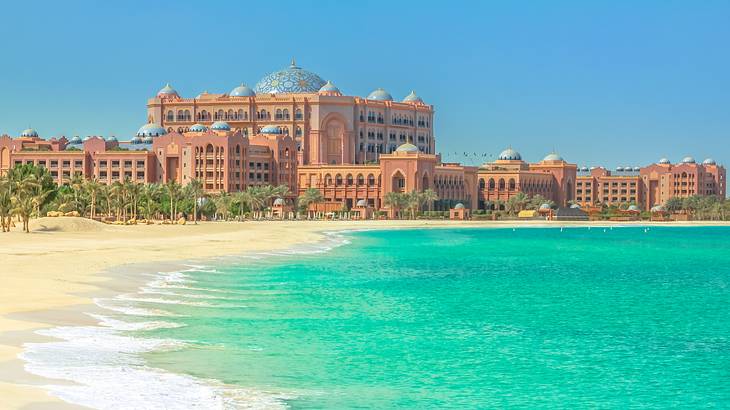 On your first day in the city, you'll visit the best attractions in Abu Dhabi. After breakfast, you'll take a relaxing stroll along the Abu Dhabi Corniche. You can admire the views and even take a quick dip in the ocean.
An iconic Asian landmark, Sheikh Zayed Grand Mosque, is your next stop. After taking in the beauty of this world-renowned structure, you'll head to the Emirates Palace Hotel. While visiting this five-star establishment, you can wander around the gardens and indulge in a luxurious afternoon tea.
Next, you can take in the city's best views from the observation deck at Etihad Towers. While in the towers, you can also visit Li Beirut for a delicious lunch.
In the afternoon, trips to the UAE Presidential Palace and the Heritage Village are on the agenda. Finally, your first day will end luxuriating on a Dhow Dinner Cruise.
The Terrace on the Corniche
Your first day in Abu Dhabi will be busy, so get a good breakfast. A great place to check out is The Terrace on the Corniche, known to many as the best breakfast spot in the city.
The luxurious eatery serves American-style breakfast dishes with a Middle Eastern twist. Dishes to order include croissants and other pastries, fruits, and yogurt parfait, among many other options. You can accompany your meal with tea, coffee, or juice. Or why not treat yourself to some champagne?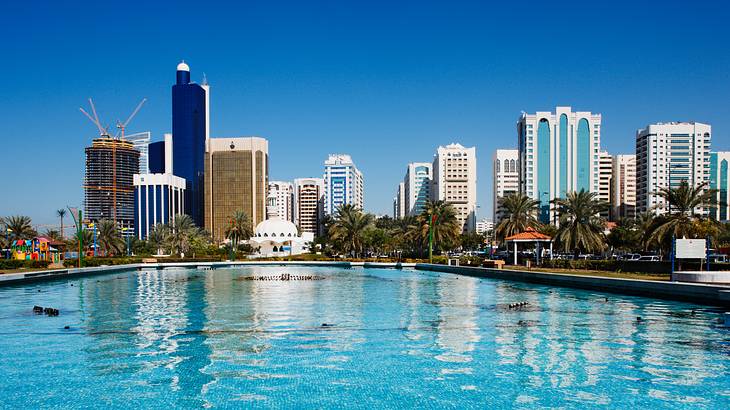 Abu Dhabi Corniche
After breakfast, go for a stroll and take some fantastic pictures at the gorgeous Abu Dhabi Corniche. The Corniche contains one of the best Abu Dhabi beaches, appropriately named Corniche Beach.
This eight-kilometre-long stretch of sandy beach extends along Corniche Road. It's an excellent place to sit, relax, and enjoy the area's natural beauty without needing to leave the city.
The Abu Dhabi Corniche also has excellent restaurants, children's play areas, and dedicated swimming sections safely watched by lifeguards.
You can choose to take a leisurely walk along the beach with the morning breeze or go for a quick dip in the ocean before heading on to your next stop.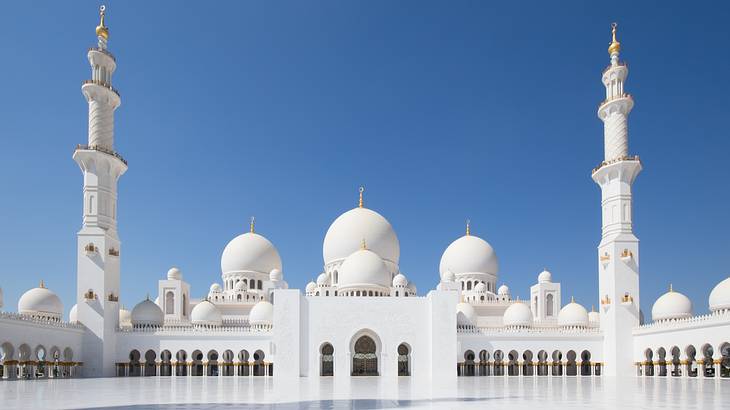 Sheikh Zayed Grand Mosque
Serving as the centre of the UAE's culture and history, the iconic Sheikh Zayed Grand Mosque is the largest in the country. It is named after the former President of the UAE and is one of the few mosques in the world that welcome visitors from all religions.
Visitors can stroll through the enormous walkways adorned with intricately designed marble pillars with gold accents, leading to the primary prayer hall. Once inside, you will undoubtedly be swept away by the sheer magnificence and grandeur of the décor.
The mosque also houses the largest Iranian carpet in the world, along with magnificent crystal chandeliers. Its Arabic-style minarets, pure white domes contrasting against the bright blue sky, and calming pools on either side give it a peaceful and serene vibe.
To get the most from your visit, booking a Sheikh Zayed Grand Mosque guided tour is recommended.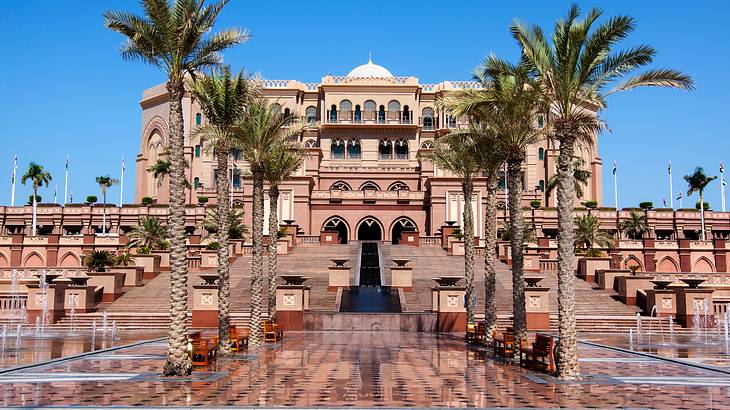 Emirates Palace Hotel
An architectural landmark in the city of Abu Dhabi, the Emirates Palace Hotel is a marvel sitting on the glamorous skyline of the city.
This hotel is undoubtedly a sight to behold with its opulent and magnificent architecture and design. Ornate in gold and crystal, the hotel is worth visiting just for its grandeur and larger-than-life feel.
Even if you are not staying at the hotel, you can reserve a table at one of their coffee shops or restaurants. You can also walk on the beautiful lawn surrounding the palace, adorned with fountains leading to the main gallery.
You can easily spend an hour exploring this fantastic hotel. In addition, trying the world-renowned gold-leaf-covered cappuccino at the café is one of the best things to do in Abu Dhabi, so it can't be left off your to-do list.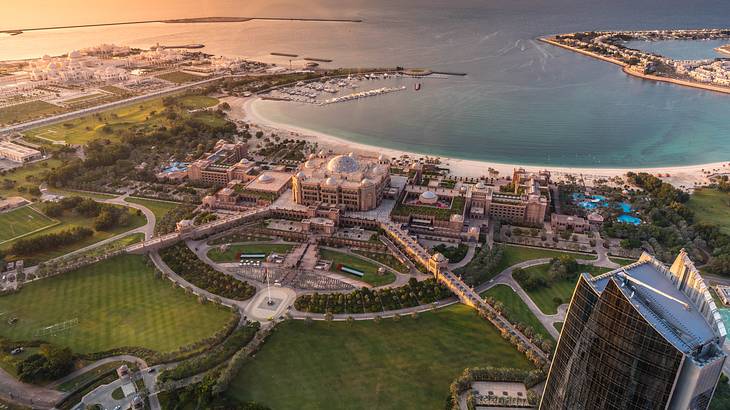 Etihad Towers and Observation Deck at 300
Witness the iconic towering skyline of Abu Dhabi up close by visiting Etihad Towers. You can take the elevator up to the observation deck located on the 74th floor of the building to get a delightful bird's eye view of Abu Dhabi.
Known to be the highest vantage point in the city, it offers a 360-degree view of the entire skyline. Make sure to visit the observation deck on a clear day to ensure that you get to enjoy the city's panoramic views. Attractions to see include the Presidential Palace and Emirates Palace.
You can walk around the deck or sit at one of the tables to enjoy beverages and snacks from the café. It is a fantastic place to indulge in afternoon tea while enjoying gorgeous views of the Arabian Gulf.
If you want to see the best city views, a trip to Observation Deck at 300 in Etihad Towers is a must during your 48 hours in Abu Dhabi.
Li Beirut
After visiting the viewing deck, it's time to refuel your body and sit down for lunch at one of the most popular restaurants in the city. The Etihad tower houses 11 exquisite bars and restaurants with cuisines from around the world, such as Japanese, contemporary Lebanese, Indian, and Italian.
All restaurants in the tower have a unique ambience with cosmopolitan surroundings and unparalleled views of the Arabian Gulf. There are so many options offering diverse and fresh cuisines that you will be spoilt for choice.
Opting to dine at Li Beirut is recommended. This award-winning restaurant features delicious contemporary Lebanese food. It is one of the top restaurants in the city and is highly rated amongst its guests.
The restaurant offers fantastic views and serves modern and traditional Lebanese dishes with a fusion of European tastes. The menu is a delight, with signature dishes such as foie gras kibbeh, zaatar crusted lamb with truffle and sweet potato, and an indulgent honey fudge dessert.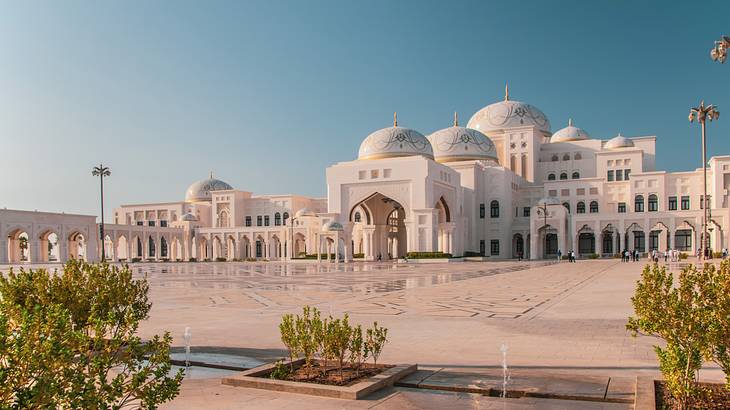 UAE Presidential Palace
Most people who visit Abu Dhabi opt to visit the Sheikh Zayed Grand Mosque to admire the beautiful white marble courtyard and gold-laced minarets. But the Presidential Palace of UAE, or Qasr Al Watan, takes luxury to another level and is well worth a visit.
Located next to the Emirates Palace Hotel, Qasr Al Watan is gorgeous with its enormous Great Hall and intricate marble tiling with gold trimmings.
It also houses various museum exhibits to help you learn about different parts of the palace and the history of the Sheikhs from all seven Emirates of the Kingdom.
You can also visit the Presidential Palace Library and Banquet Hall, where international diplomats are regularly hosted and grand Emirati dinners are held. An interactive light show also takes place every evening in the palace.
If interested in learning more about the world famous landmark, consider taking a Qasr Al Watan tour. This Abu Dhabi tour also includes other attractions, like Etihad Towers.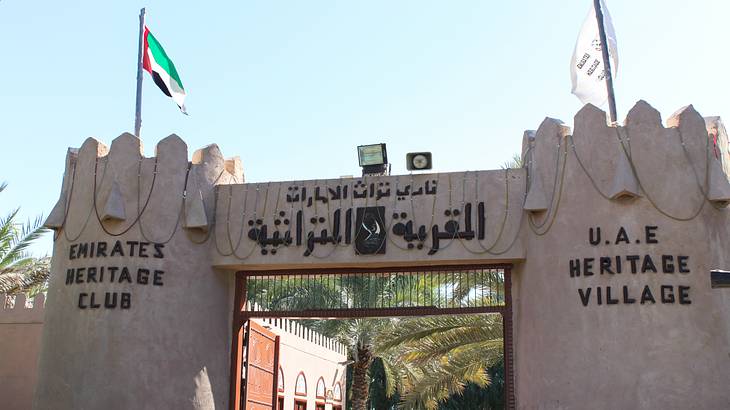 Heritage Village and Emirates Heritage Club
The Heritage Village in Abu Dhabi is a great place to experience the country's traditional desert way of life. The attraction will transport you back to the period before the city's modernization.
At Heritage Village, you can watch artisans build pottery, weave fabrics, and blow glass. It is also a great place to shop for some lovely souvenirs. The artisans are happy to share their skills with visitors; if you are lucky, you may get a chance to try it out for yourself!
Operated by the Emirates Heritage Club, the village is a reconstruction of a traditional oasis village and provides a glimpse into the time gone by. You can also visit a little spice shop selling handmade soaps, dried herbs, and spices.
You can see Heritage Village with a guide on an Abu Dhabi sightseeing tour. The tour also takes you to Abu Dhabi Dates Market and The Founder's Memorial.
Dhow Dinner Cruise
The perfect way to end the first day of your Abu Dhabi tour itinerary is to take a relaxing Dhow Dinner Cruise on the glistening waters of the Gulf Sea. The cruise offers a high-quality buffet, entertainment, and incredible views.
Grab a seat on the top deck and relax after a long day of sightseeing. You can sip a drink while marvelling at the gorgeous Abu Dhabi skyline and sailing through the serene waters. You will sail on traditional wooden boats known as Dhow, a prominent part of the Abu Dhabi culture and tradition.
The cruise usually lasts two hours and includes a delicious three-course spread. The cuisine served is primarily Middle Eastern. Many traditional Arabian dances and shows also take place on board to help you soak in the Arab culture.
A Day on Yas Island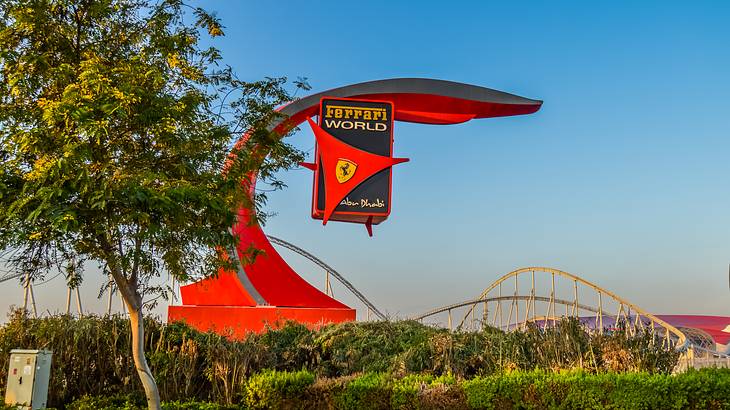 After seeing the best Abu Dhabi landmarks yesterday, the second day of your "what to see in Abu Dhabi in 2 days" guide will show you city's best entertainment attractions on Yas Island.
Located about 30-minutes from Abu Dhabi, the island is home to three world-class theme parks, a world-renowned F1 race circuit, a huge mall, and a myriad of 5-star hotels.
However, your day will begin on Saadiyat Island with an Italian-style breakfast at Larte Ristorante. Next, you'll visit the Louvre, a counterpart to the renowned museum in Paris, France. After exploring the museum, you'll make your way to Yas Island.
Your first stop on the island is Yas Marina Circuit, a famous Formula 1 track. After exploring this attraction, you'll unwind with some retail therapy at Yas Mall before visiting Ferrari World Abu Dhabi.
Later in the day, you can enjoy lunch at Urban RetrEAT Restaurant. You will spend the afternoon at Yas Waterworld and Warner Bros World Abu Dhabi.
Your Abu Dhabi trip will end with dinner at Warner Bros World's The Starlight. You can also treat yourself to an indulgent ice cream from Celebrity Scoop!
If you would like to take the second day at a slower pace, just pick one theme park to visit on Yas Island out of the three mentioned below.
Larte Ristorante
Larte Ristorante, located on Saadiyat Island, is a hub for contemporary Italian hospitality. The restaurant is also filled with objets d'art and has a high-end atmosphere.
With Italian classics as the inspiration, the restaurant offers dishes that have been designed imaginatively and are perfect for sharing. You will find many great breakfast dishes too. The omelettes served here are world famous, and the Italian Shakshouka is also worth trying.
You can enjoy your meal on a vast outdoor terrace with a creative community garden. Kids options are also available if travelling to Abu Dhabi with children.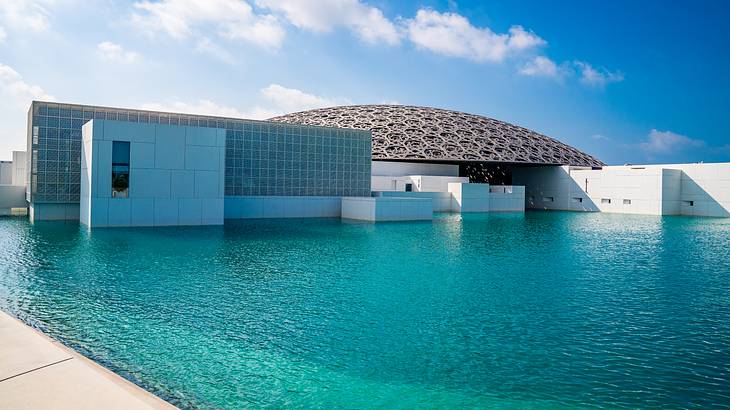 Louvre Abu Dhabi
One of the most well-known Abu Dhabi cultural attractions is the Louvre on Saadiyat Island. It is renowned for being the largest art museum on the Arabian Peninsula. It is a must-visit place in Abu Dhabi, especially for modern art enthusiasts.
Even if you aren't an art buff, you must visit it to witness the exemplary design of the structure as well as the grandeur of the interiors. Designed by award-winning architect Jean Nouvel, the building is just magnificent!
The collection at the Louvre Abu Dhabi is much smaller than that at the more well-known Louvre in Paris. However, the collection is still incredible and features works by many renowned artists.
Going through each of its galleries, you will be guided through the different themes and ages of cultural development. As this is a popular attraction, booking a Louvre Museum Abu Dhabi ticket in advance is recommended.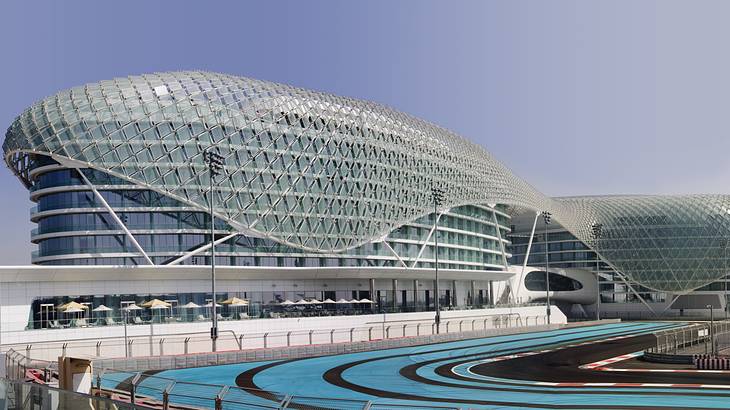 Yas Marina Circuit
Yas Marina Circuit, on Yas Island, was built in 2009 to host Formula 1 Grand Prix races. Today, the racetrack complex is one of the liveliest venues in the area, and there are many activities to try at Yas Marina Circuit for all types of visitors.
Along with professional motorsport events, the circuit is a hub for community and entertainment events. One of the most popular activities here is experiencing the thrill of driving an Aston Martin GT4 on the track at a speed of over 200 km/hr.
You can also enjoy go-karting at the Yas Kartzone or take training classes to obtain your racing license at Yas Racing School. If you get a chance to visit a sporting event taking place at Yas Marina Circuit, you should take up the opportunity!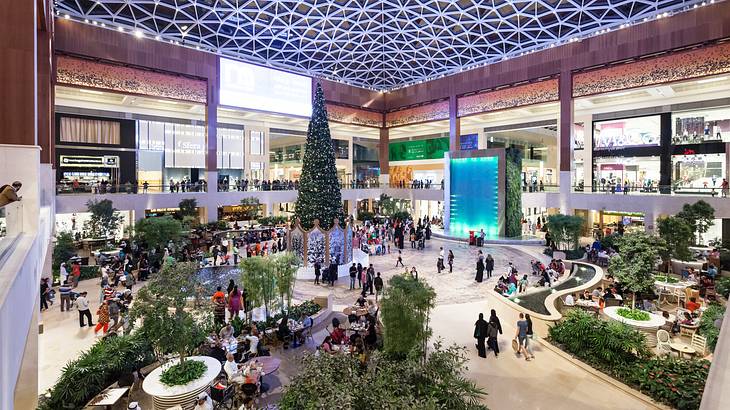 Yas Mall
Yas Mall is the largest mall in Abu Dhabi. Not only does it offer an unparalleled retail experience, but it is also the entrance point for all of the theme parks located on the island.
You will find numerous luxury brands here if you want to indulge in some retail therapy. Stores to visit include Max Mara and Michael Kors and popular chain outlets like Zara and H&M.
At the heart of the mall is a gorgeous indoor fountain structure, which is a perfect place to take a selfie. The striking design of the fountain, along with its majestic height, makes for an ideal Insta-worthy picture! After shopping, you can also stop for something to eat at one of many dining outlets.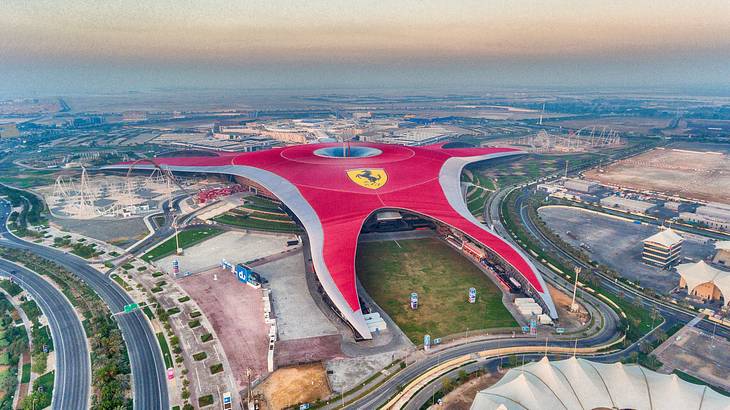 Ferrari World Abu Dhabi
The first theme park you should visit on Yas Island is Ferrari World. This attraction is the first Ferrari-themed amusement park in the world and boasts 20 unique rides that kids and adults can enjoy. In addition, this theme park is home to the world's fastest roller coaster, Formula Rossa, which has a high speed of 240 km per hour!
The experience at Ferrari world is truly memorable, offering another level of excitement and thrill. To make entrance easy, purchase a Ferrari World Abu Dhabi ticket before you arrive.
Urban RetrEAT Restaurant
Urban RetrEAT is the ideal place to refuel after a busy morning of activities. Located right opposite the Ferrari World entrance, Urban RetrEAT offers a unique dining experience with options for all tastes.
The eatery is a one-of-a-kind creative space that provides a platform for local food vendors to showcase their dishes. In addition, it is a great place to sample delights from across the globe in a casual and friendly setting.
You can order food from various street food-style outlets, with cuisines to choose from, including Mexican, American, Egyptian, and Japanese.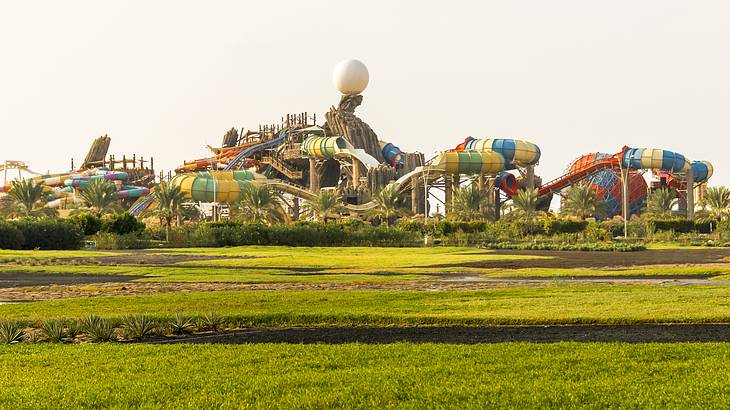 Yas Waterworld
After lunch, head next door to Yas Waterworld, a world-class Emirati-themed water park with over 40 unique water slides and water-based rides. From crazy tornado slides to suspended roller coasters, Yas Waterworld is undoubtedly the place to be for having fun. You can even try surfing on the surf simulator.
In addition, there is a playground for younger visitors, multiple swimming pools, and relaxing pool-side cabanas. Splashing around in this aqua-park will surely bring out the kid in you! Of course, it is also the ideal attraction to visit if travelling with family.
Book your Yas Waterworld entry tickets.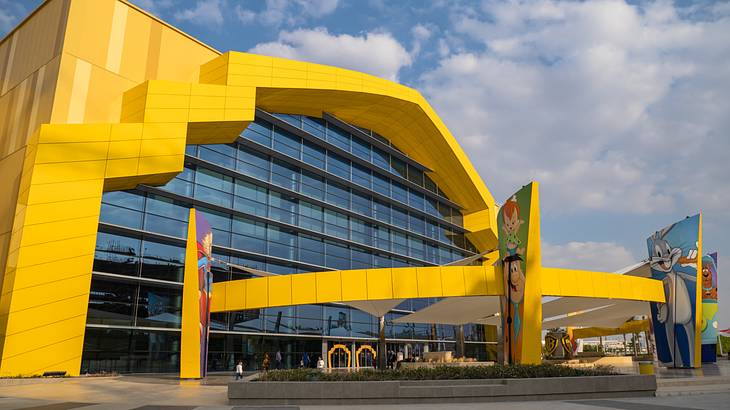 Warner Bros World Abu Dhabi
Last but not least, head over to Warner Bros World, located in the vicinity of the other theme parks. This attraction is an indoor theme park that instantly teleports you into a world filled with your favourite Warner Brothers movie characters.
The park comprises six sections, each with different themes, rides, and attractions. For example, at the Bedrock, you can meet the Flintstones, whereas, at Cartoon Junction, you will find Tom & Jerry, Scooby-Doo, and Bugs Bunny running around!
At Metropolis, you can enjoy Superman-themed rides, and the Road Runner and Wile E. Coyote can be seen at Dynamite Gulch. Lastly, if you are a fan of Batman and the Joker, head over to Gotham City to visit the Joker's Funhouse.
There are over 28 exhilarating rides at Warner Bros World and a myriad of live entertainment shows that the entire family can enjoy.
The Starlight
There are so many dining options at Warner Bros World that you will be spoilt for choice. You will never go hungry with eating options in every corner of the theme park! There are four sit-down restaurants inside the park and numerous cafés.
The Starlight is one of the most popular eateries to visit. This 1930s Hollywood-inspired restaurant serves menu options like steaks, meat and veggie skewers, and decadent desserts. As you enjoy your meal, popular characters like Bugs Bunny may even make an appearance!
If you have a sweet tooth, you should also head to Celebrity Scoop to sample their extensive selection of ice cream. A popular item on their menu is the "Celebrity Split," a sundae made with three different ice cream flavours, topped with pineapples, crushed cherries, banana, chocolate syrup, and tons of whipped cream.
In Conclusion
Although quite busy, this Abu Dhabi travel guide is perfect for a city break or a weekend in Abu Dhabi, and it will help you experience all the wonders this fantastic city offers. With so many unique attractions at your disposal, two days in the city will fly past!
However, a few days is enough time to see all the most famous attractions and landmarks, from historical structures to world-class hotels and fun theme parks. Going on a desert safari is also highly recommended if you have extra time. Enjoy your time in wondrous Abu Dhabi!
Give us feedback about this article
Learn more about Abu Dhabi:
Read more articles about the United Arab Emirates:
More visual stories related to this article:
---
---
Want to keep exploring?
Subscribe for discounts on tickets and hotels and our latest guides.
Thank you for subscribing
We will be in touch soon with discounts on tickets and hotels and our latest guides.
Want to keep exploring?
Subscribe for discounts on tickets and hotels and our latest guides.
Thank you for subscribing
We will be in touch soon with discounts on tickets and hotels and our latest guides.
Related Articles