Oxford Day Trip Itinerary - The Perfect Day Trip to Oxford
Destguides may receive commissions from purchases made through affiliate links in this article.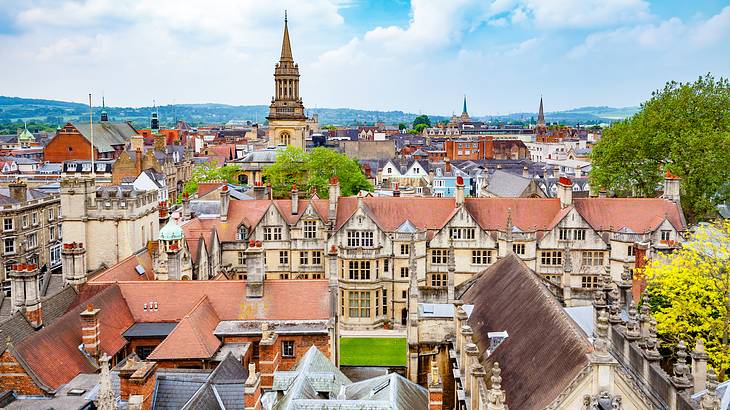 Situated in the beautiful Oxfordshire county in the United Kingdom, Oxford is the oldest university city in England. Oxford is located just 90 kilometres (56 miles) from London, making it worth a day trip from the UK's capital. This was also the reason for the creation of this Oxford Day Trip Itinerary!
Oxford is well known for its 38 colleges (done in the beautiful Anglo-Saxon architectural style), breweries, and narrow alleys with cobbled streets, most of which are located within Oxford's city centre.
In warmer weather, a punting tour is a must while visiting Oxford. However, punting companies are open all year round. So if the English weather hasn't scared you off yet, you can try punting any time of the year.
Oxford can be reached by train or coach bus, or you can book a package day tour from London that usually includes some other locations, such as the Cotswolds, Blenheim Palace, Windsor Castle or Stonehenge. When in Oxford, you can easily get around by either walking or cycling.
If you don't like guided tours or hate planning trips by yourself, then this Oxford itinerary is perfect for you. So relax and get ready to read a perfectly-planned guide for one of the most beautiful and historic cities in England!
One Day in Oxford Itinerary
Highlights of Historic Oxford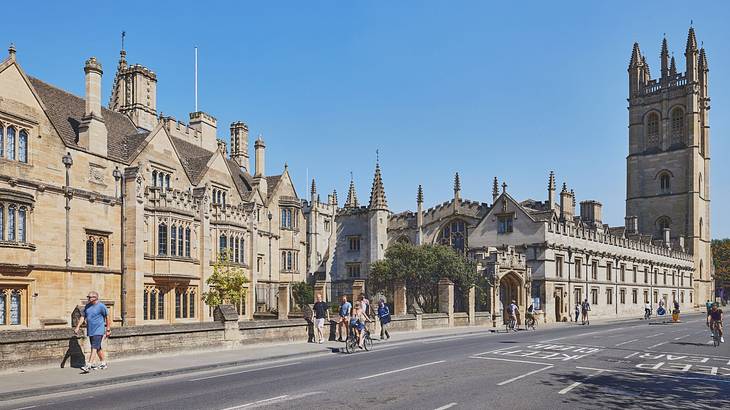 One day in Oxford isn't enough time, but it's plenty to visit the main European landmarks of the city. To make the most of your day here, travel early. If you are departing from London, it takes an hour to reach Oxford from Paddington train station.
Be prepared for a fast-paced itinerary. You can skip some stops below if you want a more relaxing day. You will visit several museums and colleges, including the Christ Church College which featured in the Harry Potter movies. You will also go for a stroll down fascinating alleys, taste delicious food, and learn more about Oxford's history.
I highly recommend walking, but you can rent a bicycle for a day or go on a hop-on-hop-off bus that will take you to several British landmarks. Bicycle rentals and tour bus ticket booths can be found near the train station and within Oxford's town centre.
Have Breakfast at The Jam Factory
Situated next to Oxford Railway Station, The Jam Factory is a quirky restaurant, art gallery, and a cocktail bar. It is located within the historic Frank Cooper's marmalade factory - a well-known Oxford marmalade brand.
The restaurant serves breakfast, brunch, lunch, and dinner, and has various types of cakes to go with your coffee or tea. It's my favourite place to have a light breakfast before exploring the city, especially when it's just a couple of minutes walk from the train and bus stations.
Don't miss a chance to visit its art gallery as well. You will find various art pieces from local artists here - a great place to begin your Oxford day trip.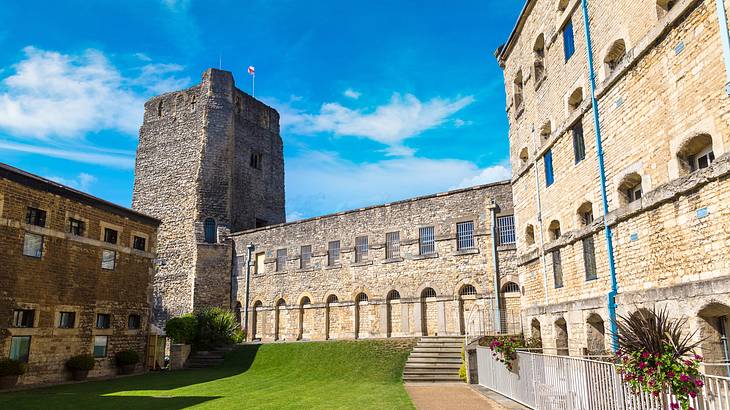 Visit Oxford Castle and Prison
Constructed in 1071 by William the Conqueror, the Oxford Castle is the oldest building in the city. Today, the castle attracts visitors to its prison dungeons, castle mound and St. George's Tower that showcases panoramic views of the city.
The most popular attraction of the castle is a 900-year-old crypt - the only surviving remains of St. George's Chapel. To reach the crypt, you will need to descend deep underground. The path that takes you underground tends to be a highlight of ghost walking tours in Oxford.
To enter the attraction, you will need to buy a ticket that includes a guided tour around the castle, prison, and mound. Oxford Castle is open daily from 10 AM to 4.20 PM.
See Mummies at the Ashmolean Museum of Art and Technology
Founded in 1683, the Ashmolean Museum is one of the top things to do in Oxford. It is a museum of archaeology and art and has a fascinating collection of contemporary art and Egyptian mummies. It is a must-visit, even with only 24 hours in Oxford.
The attraction is known for being the world's first university museum. The current building was built between 1841-1845 and is said to be a 19th-century architectural masterpiece.
Entrance to the temporary and permanent exhibitions is free. Inside the building, you will find a lovely cafe and a museum shop where you can find beautiful gifts for your friends and family.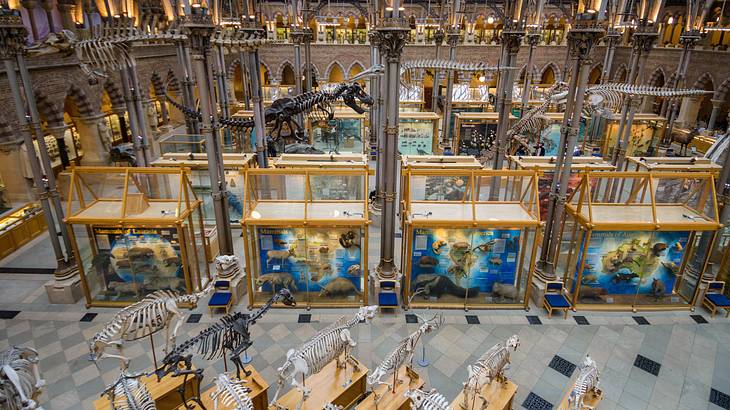 Get Lost in the Pitt Rivers Museum
Established in 1884, Pitt Rivers Museum is another museum that belongs to Oxford University. It is home to 500,000 objects, photographs, and manuscripts from all over the world. The attraction aims to showcase people's lives from various periods.
While the Pitt Rivers Museum is connected to the Oxford University Museum of Natural History, you can only access it through the Natural History Museum as there is no separate entrance.
I recommend spending between half an hour to one hour at this attraction. There is a lot to see here, but if you aren't interested in anthropological objects, save your time for the Natural History Museum.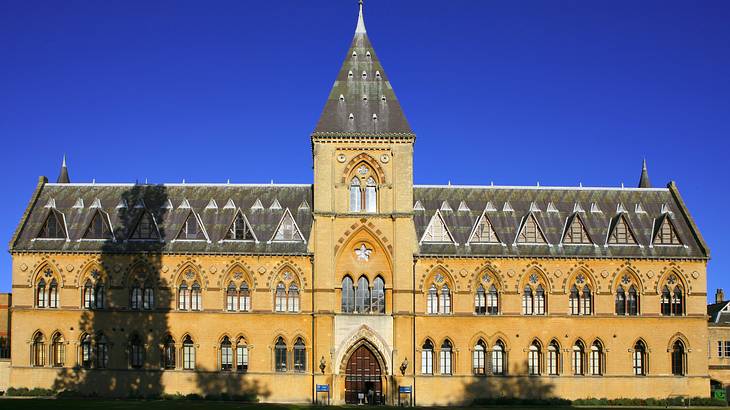 Learn About Natural History at the Oxford University Museum of Natural History
Known as the Oxford University Museum of Natural History (OUMNH), this museum houses a massive collection of natural history specimens. It was founded in 1850 and is considered to be one of the grandest buildings in Oxford.
Museum collections are divided into three sections: earth (minerals and rocks), life (zoological collections), and the archive collections. All sections are equally impressive and have a wide variety of displays.
The most famous specimen is a dodo (actually, only a dodo's head and foot). It is ironically the most complete remains of a single dodo in the world. The museum has regular tours, so I highly advise you to check their website for the tour times. Believe me; it's worth it as there are so many things to see and learn here.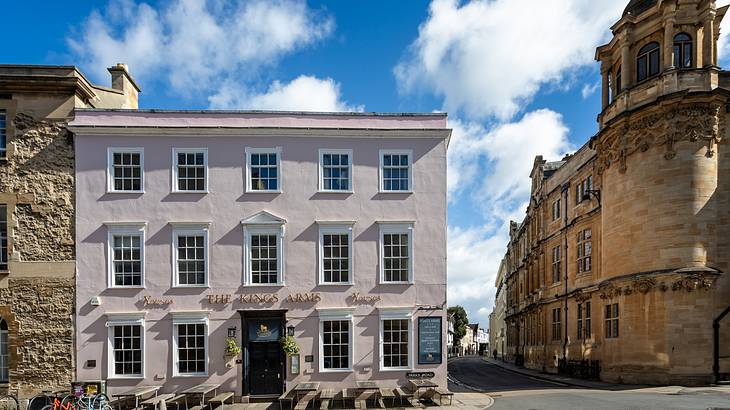 Have a Meal at the King's Arms
After a visit to the three museums, head back to the city centre where you will find the oldest pub in Oxford - the King's Arms. It was built in 1607 and still stands in its original location. The pub is equally popular among both students and tourists.
It is the perfect place to have a pint (or more) of their excellent cask ale, and dig into homemade fish and chips. I recommend booking a table in advance as it can get incredibly busy during lunchtime.
Be aware that food is more expensive here than in other pubs due to the King's Arms prime location.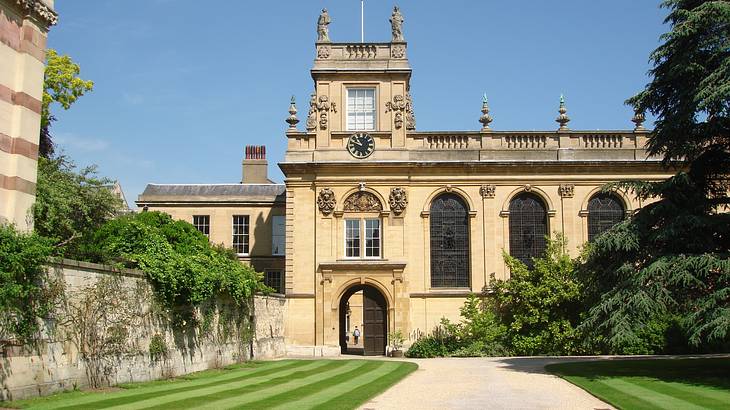 Visit Trinity College
Trinity College is located close to the King's Arms. The college is famous for producing three British prime ministers and is considered one of the most prestigious colleges in Oxford.
It is definitely worth a visit and a popular thing to do in Oxford on a day trip. Therefore, it must be included on your London (and Oxford) bucket list.
The main sights of the college are a baroque-style chapel, massive gardens, and a luxurious dining hall. You can wander around the college on your own; however, not all of the buildings are open to the public. Also, make sure not to step on the grass and follow the designated paths.
To enter Trinity College, you will have to pay an entrance fee. Also, be aware that it can be closed during exams or events.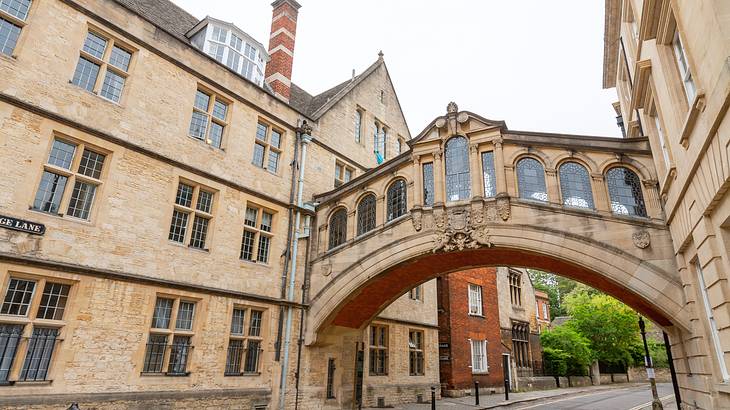 Stop By The Bridge of Sighs
The Bridge of Sighs, or Hertford Bridge, is another quick stop near the King's Arms. It joins two parts of Hertford College and is the main English landmark in the city. The Hertford Bridge got its name from the Bridge of Sighs in Venice, which is built in a similar architectural style.
Constructed in 1914, the bridge lies on the opposite side of the Bodleian Library, making it a perfect spot for photos. The Bridge of Sighs isn't accessible to the public; only students and staff of Hertford College use it.
Explore the World of Books at Bodleian Library
Bodleian Library is the second largest library in Britain, after the British Library, and one of the oldest libraries in Europe. It is home to over 12 million items and has almost every book published in the UK.
The library has strict rules for its members. Before being permitted to access the library items, everyone needs to agree with a formal declaration. Traditionally, this declaration was an oral oath but has now been replaced with a letter. Oral oath ceremonies are still held for those who wish to do that.
All visitors are required to pre-arrange a visit to the library. You can arrange a self-guided tour, or take the Oxford libraries tour that includes a visit to the old Bodleian Library, the Divinity School, the medieval Duke Humfrey's Library and the Radcliffe Camera. These tours are available to book online from two weeks in advance.
If you are a Harry Potter fan, I highly recommend booking a tour as it takes you through the places that were featured in the Harry Potter and the Philosopher's Stone movie.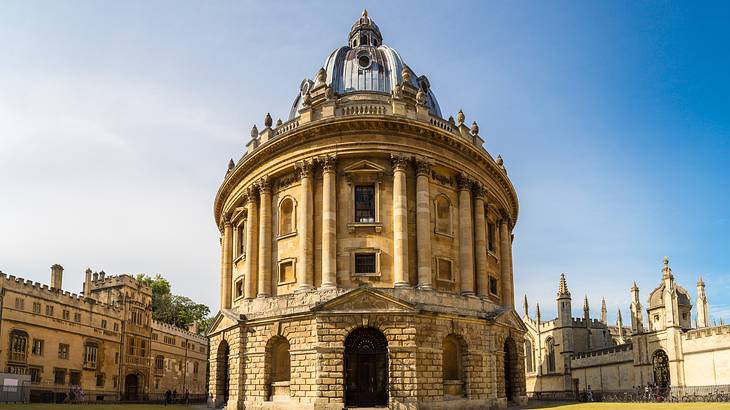 Get Fascinated by the Radcliffe Camera
Established in the 18th century, the Radcliffe Camera (camera simply meaning room) amazes every visitor, and seeing the landmark is one of the things to do in Oxford in a day trip that you can't miss. It was built as an independent library named the Radcliffe Library. Today, it is a main reading room of the Bodleian Library.
The Radcliffe Camera holds about 600,000 reading materials beneath Radcliffe Square and has two massive reading rooms. The only way to access the Radcliffe Camera is by taking a 90-minute guided tour from the Bodleian Library.
However, I recommend just taking a look at it from the outside. Stand near St. Mary the Virgin church to get the best view of the Radcliffe Camera.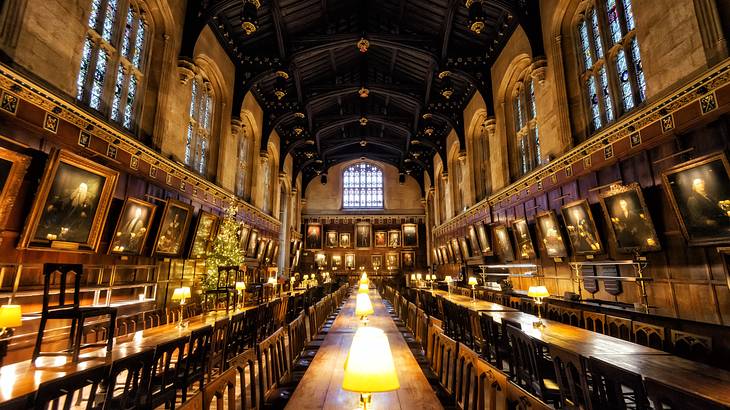 Visit Harry Potter's Great Hall at Christ Church College
To arrive at our next stop, after exiting the Radcliffe Camera, head south of the city centre (don't worry, you will come back here later). You won't need to walk far, just until you see a magnificent building - the Christ Church College. Next to it lies the Christ Church Cathedral.
Founded in 1546 by King Henry VIII, Christ Church College is an architectural masterpiece. You will see structures around, such as Tom Tower, Tom Quad, and the Great Dining Hall, which was featured in the Harry Potter movies and The Golden Compass.
You will need to pay an entrance fee to enter the college and its cathedral. If you are a Harry Potter fan, don't miss a chance to see the magical Dining Hall that looks almost the same as in the movies.
Go Shopping at the Oxford Covered Market
Head back to the High Street where you will find a massive covered market that has been operating since 1774 - the Oxford Covered Market.
The Oxford Covered Market has more than 50 stalls selling food, handicrafts, shoes and clothes. You can find almost anything at this market.
Most of the stalls are food retailers, though, which includes butchers, take away food shops and greengrocers. A little bit deeper in the market, you can find newer chic gift shops and bakeries. So grab a quick bite to eat here and shop for some souvenirs.
Travel to Oxford's Diagon Alley on Broad Street
A day trip in Oxford for Harry Potter fans isn't complete without visiting Oxford's own Diagon Alley (also known as the Visitor Information Center). It is located on Broad Street where you can find lovely traditional pubs and shops.
Pop inside the Visitor Information Center to find many items related to Harry Potter, including butterbeer, wands, brooms and more. Even if you don't want to shop, it's nice to look around. Inside the visitor centre, you can also book a Harry Potter walking tour.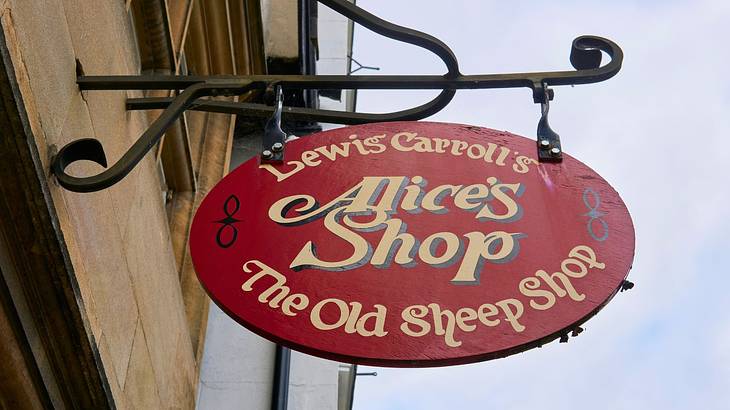 Walk to Alice's Shop
From Broad Street, walk towards St Aldate's Street where Christ Church College is situated. Your destination is the world's most famous little shop - Lewis Carroll's Alice's Shop. On your way, you will pass some charming buildings, so make sure you have your camera handy.
Alice's Shop is famous for being the actual shop where Alice, from Alice in Wonderland, bought candies.
It used to be called The Old Sheep Shop. From the late 60s, the shop started selling Alice in Wonderland memorabilia and gifts. Even now, not much has changed about the shop, just the range of memorabilia has grown.
Lewis Carroll's Alice's Shop is my favourite place for gift 'hunting' as they have funny, cute and quirky items.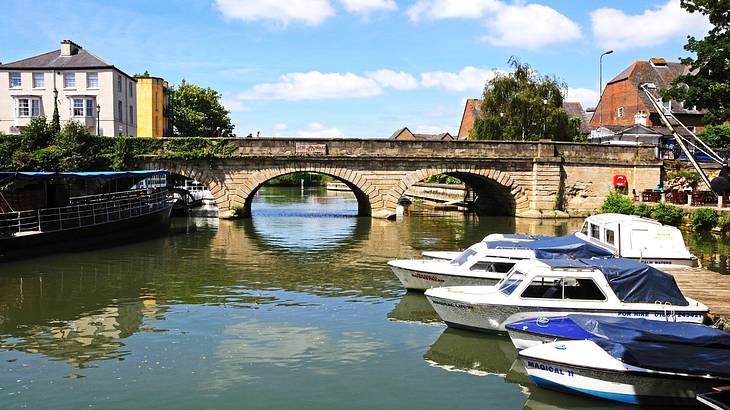 Go for a Stroll Along Folly Bridge and the River Thames
Down St. Aldate's Street lies your last stop in Oxford - Folly Bridge. It was constructed in 1825 over the River Thames. The stone bridge connects two sides of Oxford and is separated by the island into two parts.
Tourists love Folly Bridge because of its river views and quiet restaurant on the river island. You can pop inside the restaurant and grab a small bite to eat while watching the sunset. Or, you can continue your journey to the River Thames where you will find a fantastic walking path along the river's edge.
Continue walking that path to the train station or city centre. If you are visiting in summer, I recommend spending more time near the river. You can have a small picnic here before you board your train or bus. This beautiful walk will be the end of your full-day trip in Oxford.
In Summary,
This Oxford Day Trip Itinerary is perfect for travellers who want to see as much as they can within a short period. The itinerary is packed with useful travel tips that will help you explore the city without a hassle. I hope I've helped you discover what to do in Oxford for a day trip.
Feel free to add or reduce stops depending on your mood, weather and the season. Remember, Oxford isn't the only town outside of London worth exploring in a day or weekend. You can also do a weekend in York or a trip to Dorset.
If you are travelling in colder or rainy weather, try to visit more museums and colleges to stay dry and warm.
In warmer weather, stay outdoors: go punting, visit the Oxford Botanic Gardens & Arboretum and the Christ Church Meadows. There are just too many things that you can do in Oxford!
Honestly, out of the many day trips in England I have done, Oxford is my favourite. Almost everything is located in one place, making it easy to visit most of the city within a day. I hope you are going to like it, too!
---
---
Want to keep exploring?
Subscribe for discounts on tickets and hotels and our latest guides.
Thank you for subscribing
We will be in touch soon with discounts on tickets and hotels and our latest guides.
Want to keep exploring?
Subscribe for discounts on tickets and hotels and our latest guides.
Thank you for subscribing
We will be in touch soon with discounts on tickets and hotels and our latest guides.
Related Articles