25 Famous Landmarks in Alaska You Must See
Destguides may receive commissions from purchases made through affiliate links in this article.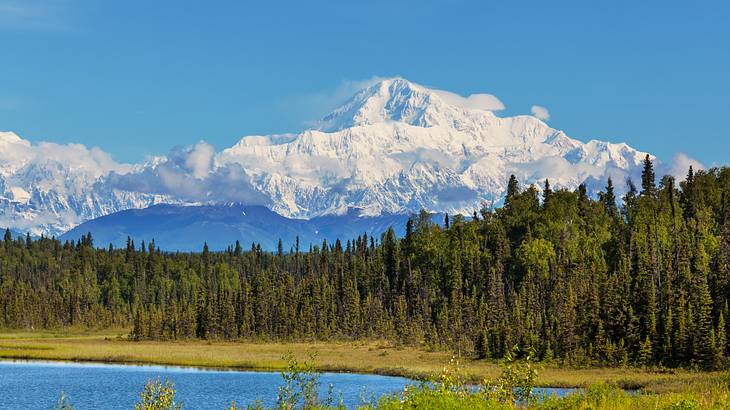 Have you landed on this article because you are wondering:
What is Alaska known for?
Well, at 663,268 square miles in area, Alaska is most definitely known for being America's largest state! Its size and composition also mean that Alaska is famous for its breathtaking natural parks and wilderness and various UNESCO World Heritage Sites and historical landmarks dotted around the state.
Moreover, Alaska is remote, with the northern extremes stretching into the Arctic Circle and many regions where caribou populations far outnumber the people.
Because of this, careful planning is needed to navigate Alaska's rugged expanse. Continue reading to make sure you can hit as many famous landmarks in Alaska as possible on your trip!
25 Famous Alaska Landmarks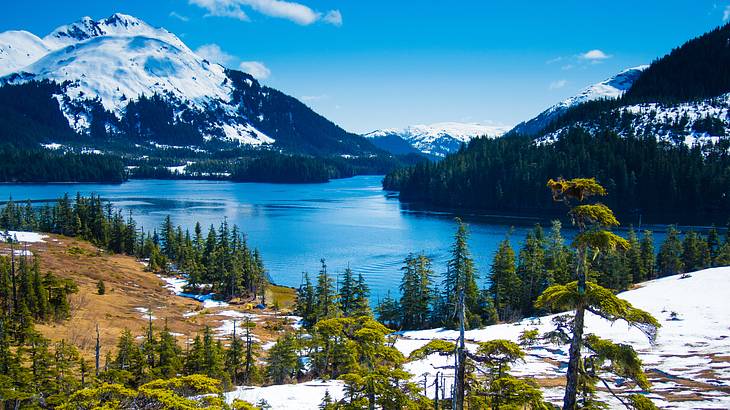 Prince William Sound, Gulf of Alaska
Prince William Sound is an Alaska landmark that offers a little bit of everything. Lovers of aquatic life will enjoy it for the sea lions, orcas, and humpback whales that can frequently be seen in its waters and along its coastline. Those who prefer land animals will find brown bears, moose, and mountain goats in its rugged terrain.
If you're coming for the scenic landscape, you'll be treated to fjords, hundreds of glaciers, and one of the world's only temperate rainforests. In short, it doesn't matter which you prefer because there's no need to choose when you come to this stunning corner of the world.
Kayak Island, Gulf of Alaska
Located in the Gulf of Alaska, Kayak Island is one of the famous historical sites in Alaska. The name was coined nearly 200 years ago when an army lieutenant from Russia thought the island's outline resembled a skin canoe he'd seen built by the Native people.
The craggy island sees tumultuous weather and is resultingly the spot of Alaska's first confirmed tornado. There is no permanent settlement on Kayak Island unless you count the Cape St. Elias Lighthouse that's sometimes used as a writer's retreat.
Bering Expedition Landing Site, Kayak Island
The Bering Expedition Landing Site on Kayak Island is where Vitus Bering and his crew first set foot in what is now the state of Alaska. The expedition was the first to determine conclusively that there was no continuous land route between Asia and North America.
Among the crew was naturalist Georg Steller, who studied the terrain and people they encountered. Steller's journal provides one of the west's first glimpses into the history and geography of Alaska and its peoples.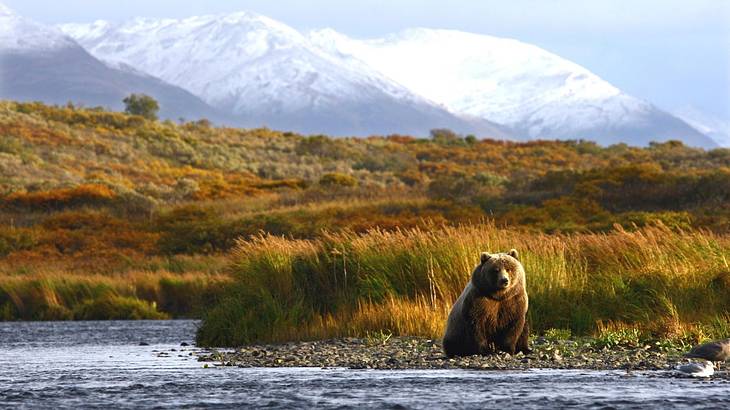 Kodiak Island, Gulf of Alaska
Approximately the size of Cyprus, Kodiak Island is one of the largest islands in the United States, second only to Big Island in Hawaii. The north and east sides are full of forests and mountains, with several deep bays to provide safe harbors for yachts and the island's thriving fishing industry.
The Kodiak National Wildlife Refuge covers more than half of the island. Presiding over the refuge is the mighty Kodiak brown bear that can grow up to ten feet tall and weigh as much as 1,500 pounds. Bald eagles, salmon, foxes, and many other creatures remain protected from human activity within the refuge.
Fort Abercrombie State Historical Park, Kodiak Island
Fort Abercrombie State Historical Park is a historic landmark on Kodiak Island, providing a cultural side of the island to complement its wilderness.
The 182-acre historic park was created in 1969 and contains the ruins of American coastal defenses from World War II. These reminders of war provide a stark contrast to the park's pristine spruce forests, dramatic cliffs, and wildflower meadows. Hiking trails, campgrounds, and picnic areas also help make this one of the Alaska state landmarks not to miss.
Alaska SeaLife Center, Seward
Alaska SeaLife Center is the only permanent marine animal rehabilitation facility in Alaska. Opened in 1998, the center is dedicated to education, marine research, and wildlife response.
It is one of the only non-profit institutions in the world that holds a fully supported research facility and a public aquarium in the same house.
The SeaLife Center focuses on the species that have found their home in Alaska. That includes fish, sea birds, invertebrates, and marine mammals.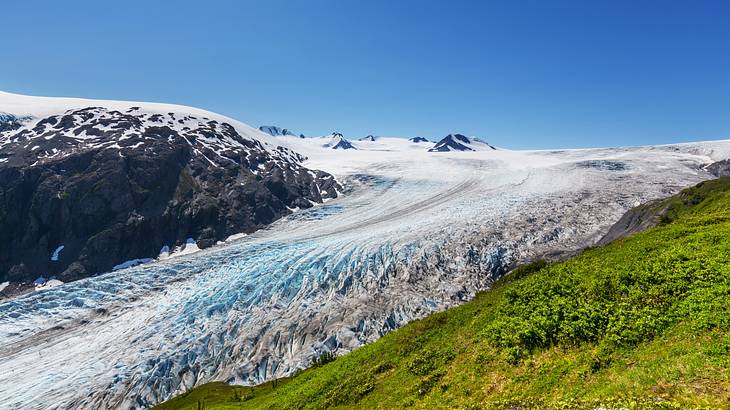 Kenai Fjords National Park, Seward
Perhaps the most charming point of interest in Alaska, Kenai Fjords National Park is a gem that lies south of the city of Anchorage. The star of the park, Harding Icefield, is located on the Kenai Peninsula and is one of the largest ice fields in the United States.
The nearly 700,000-acre national park is home to grizzly bears, sea otters, killer whales, harbor seals, nearly forty glaciers, and an impressive assortment of fjords. The park is accessible by boat, plane, or foot.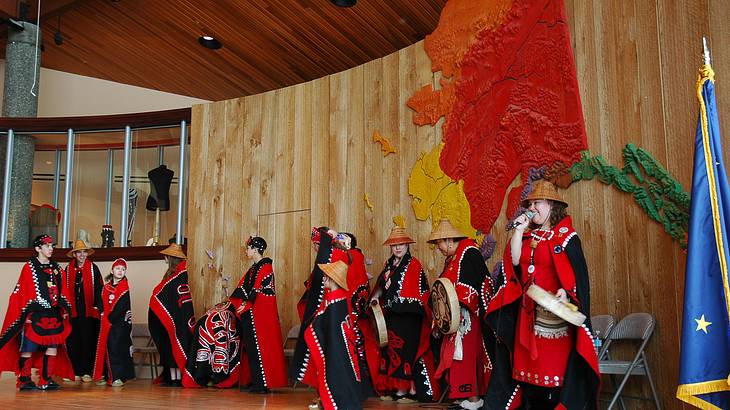 Alaska Native Heritage Center, Anchorage
The Alaska Native Heritage Center is a cultural and educational center that has showcased Alaska's native culture and traditions since its opening in 1999. The institution introduces visitors to the histories and cultures of the area's many indigenous groups.
The Heritage Center is surrounded by twenty-six acres of forest that contains a lake, a theatre, life-size village sites, and a gathering spot for demonstrations. All of this makes it one of the points of interest in Alaska that belongs on your trip to the Land of the Midnight Sun.
Tony Knowles Coastal Trail, Anchorage
The Tony Knowles Coastal Trail is ranked as one of the best scenic trails in the nation. Named for Mayor of Anchorage from 1982-1987 and later Governor of Alaska from 1994-2002, it winds for eleven miles from downtown Anchorage to Kincaid Chalet.
Depending on the season, the trail can be hiked, biked, or skied and is packed with opportunities to see moose and beluga whales. On clear days, you'll also get spectacular views of Denali, the tallest mountain in North America.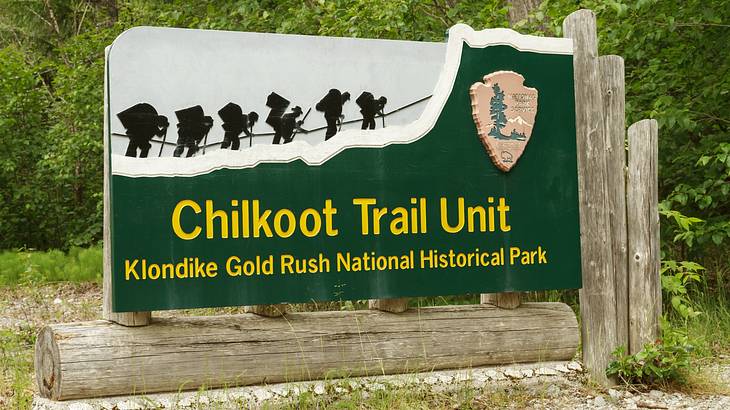 Klondike Gold Rush National Historical Park, Skagway
Klondike Gold Rush National Historical Park is one of the great historical landmarks in Alaska. It celebrates the Klondike Gold Rush in the 1890s when thousands of people brought in EuroAmerican culture to the area. The park is located in Skagway, in the Northern part of Alaska's Inside Passage.
Klondike Park is comprised of four units. Three of them - the Historic District, the Chilkoot hiking trail, and the White Pass unit - are in Alaska. The fourth is found in Seattle, Washington as the staging zone for prospectors seeking wealth further north.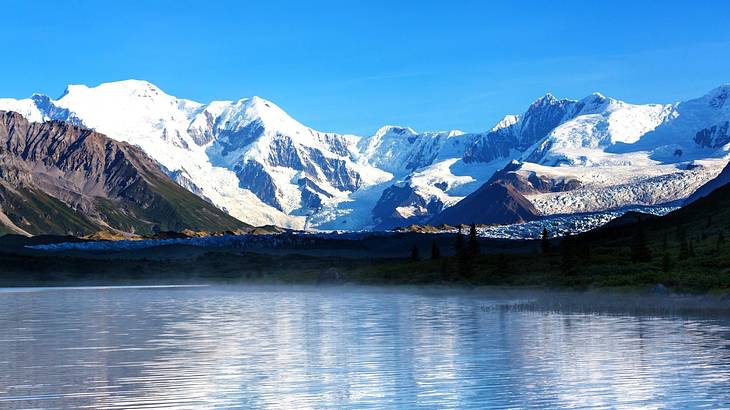 Wrangell-St. Elias National Park & Preserve, Southeastern Alaska
Wrangell–St. Elias National Park is America's biggest national park. The park maintains the diverse nature of the area and protects the animals.
The huge park is home to Mount St. Elias, the second-tallest mountain in North America. Although many of the park's volcanos are no longer active, Mount Wrangell remains active. The biggest piedmont glacier, Malaspina Glacier, is also located in this beautiful national park.
Glacier Bay National Park and Preserve, Yakutat
Just 15 minutes by air from Haines, Alaska, Glacier Bay National Park and Preserve is one of the most popular wilderness parks in North America.
Glacier Bay National Park is part of a UNESCO World Heritage Site and provides a diverse experience for all visitors. A rainforest, fjords, mountains, and over fifty named glaciers make this a rare, wild scene.
Out of all the glaciers, Margerie Glacier is the most impressive. Twenty-one miles in length, Margerie can only be seen from a ship or plane due to the park's absence of roads.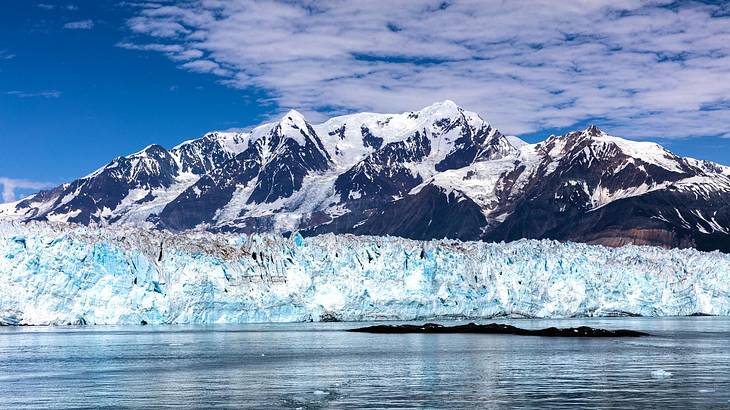 Hubbard Glacier, Yakutat
While this massive glacier extends seventy-five miles inland, the most popular viewing points are along the six-mile-wide terminus where it slides into Yakutat Bay near Canada.
Cruise ships can reach within about a half-mile of the 400-foot wall of ice before the icebergs become too treacherous. Still, its immensity means visitors can still see, hear, and feel when four-story chunks of ice calve off and crash into the bay.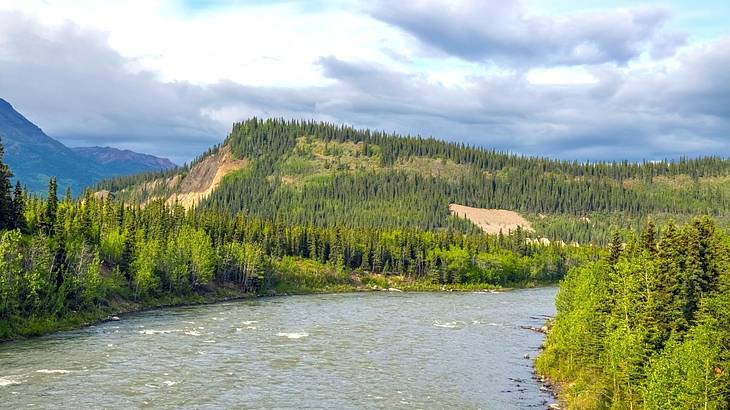 Denali National Park and Preserve, Denali Borough
Denali National Park is one of Alaska's famous landmarks and among the best National Parks on America's west coast. It's located just three hours south of Fairbanks North Star Borough and has over six million acres of untamed land managed by the U.S National Park Service.
In the center of the park sits Denali, North America's tallest mountain. Ascents of the mountain are possible, though they require guides, preparation, and technical training. During the wintertime, visitors can ski, snowmobile, and dog sled. During summer, it's possible to hike beyond Savage River.
Saint Lazaria Wilderness, Sitka
Saint Lazaria Wilderness is an island home to hundreds of thousands of seabirds that rely on its shores and forests for nesting. It lies just 20 miles west of Sitka and is part of the Alaska Maritime National Wildlife Refuge.
A staggering 7,000 seabirds per acre can be found in this protected area. Visitors can explore this critical sanctuary only by boat, with only the island's scientists and caretakers permitted to enter on foot.
Alaska Native Brotherhood Hall, Sitka
Alaska Native Brotherhood Hall is the original meeting place of the Alaska Native Brotherhood. The place was added to the list of National Historic Landmarks in 1987.
This historic landmark is one of the most famous buildings in Alaska. It was founded in 1912 to fight the bans placed on Native people in movie theaters and restaurants.
The Brotherhood helped battle racial discrimination in Alaska, which resulted in Native people eventually gaining the right to full US citizenship.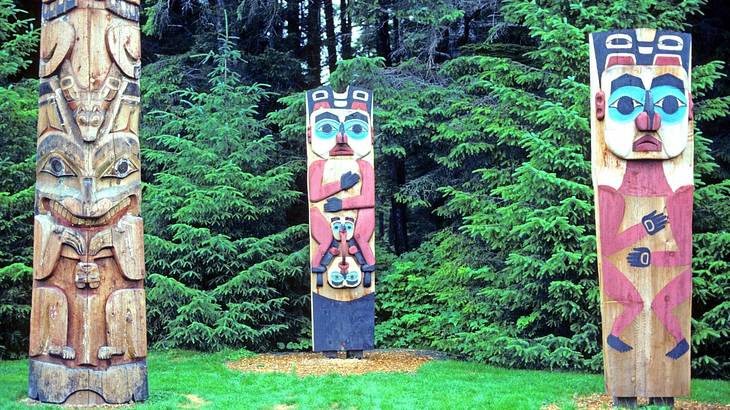 Sitka National Historical Park, Sitka
Sitka National Historical Park commemorates the battles between the Russian American Company and the native Tlingit people starting in 1802. Despite initially repelling the Russians, the Tlingit clans retreated from their strongholds in Sitka by 1804.
Instead of continuing to fight a larger enemy head on, they established blockades against Russian traders that lasted until 1822. Afterward, the Tlingit returned to Sitka, but neither side would completely control the region again. They lived as grudging neighbors and trading partners until 1867, when Russia sold the territory to the United States.
Castle Hill, Sitka
Castle Hill, located in downtown Sitka, is an important park in the history of Alaska. The area was originally inhabited by the Tlingit people but was occupied by the Russians in the 19th century.
The park's significance lies in the fact that it is where Alaska was handed over to the United States in 1867. The 49-star American flag was raised here after Alaska became a state in 1959.
Russian Bishop's House, Sitka
For over 100 years, the Russian Empire claimed the territory of Alaska, with Sitka as its colonial capital. Their influence went as far south as California during the 19th century, and the Bishop of Sitka was in charge of spreading Orthodox Christianity through the region. In addition, a nickname for Alaska at the time was "Russian America."
By 1969, much had changed, and the Russian Orthodox Church decided to close the Bishop's House in Sitka. It was bought a few years later by the US National Park Service and restored as one of the major landmarks in Alaska.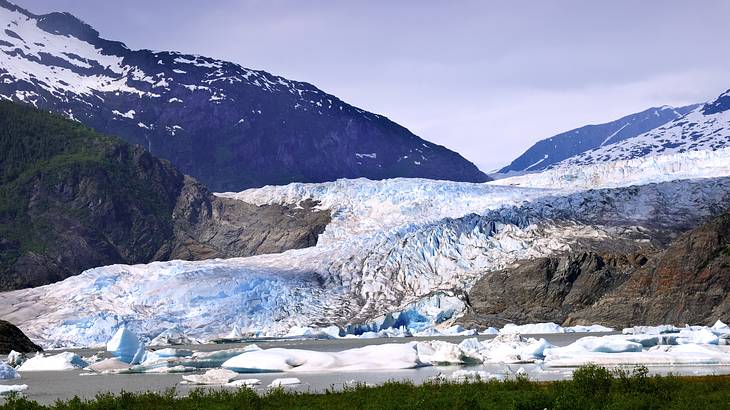 Mendenhall Glacier, Juneau
Located twelve miles from Juneau, Mendenhall Glacier is the only glacier accessible by road in Southeast Alaska. Its Visitor Center alone provides extraordinary views of the enormous ice formation. Luckily, there are several ways to get to the Visitor Center.
The glacial mass of Mendenhall starts at the Juneau Icefield and begins a slow-motion fall of 4,500 feet over thirteen miles. It has been retreating for nearly 400 years, and this trend has accelerated over recent decades due to the warming climate in Southeast Alaska.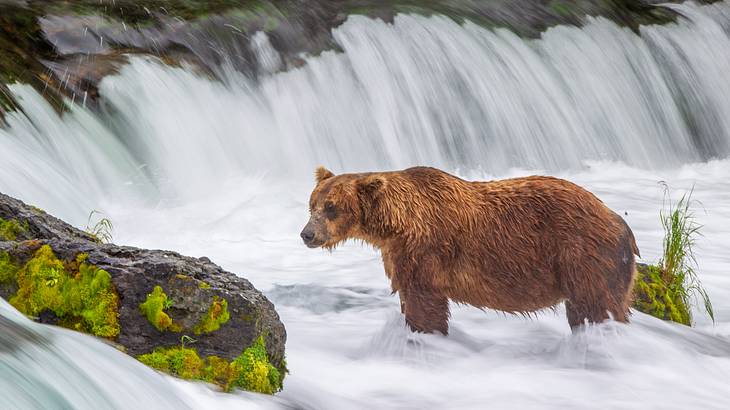 Katmai National Park and Preserve, King Salmon
In 1912, the largest volcanic eruption of the 20th century shook Katmai National Park and Preserve, tossing lava and ash and creating steaming fissures in every direction. The culprit was Novarupta, and the area around the volcano has since been named the Valley of 10,000 Smokes.
As wild as this sounds, it's not why most visitors come to the park. If you've watched a nature documentary where brown bears wait atop a shallow but wide waterfall to snatch leaping salmon, you've likely seen Brooks Falls, the park's most popular attraction.
Bear tours bring visitors to a viewing point where they can see this from a safe distance, or you can watch the live bear cam from home. To reach this remote wilderness, visitors will need to charter a floatplane or arrive by boat at Brooks Camp.
Brooks River Archaeological District, Katmai National Park
Also found in Katmai National Park is the Brooks River Archaeological District, one of the most important landmarks in Alaska.
The twenty well-preserved sites here date back 2,500 years and show how people have lived, fished, and thrived in this region from historical to modern times. Inside these settlements is the most significant collection of Arctic tools in the world.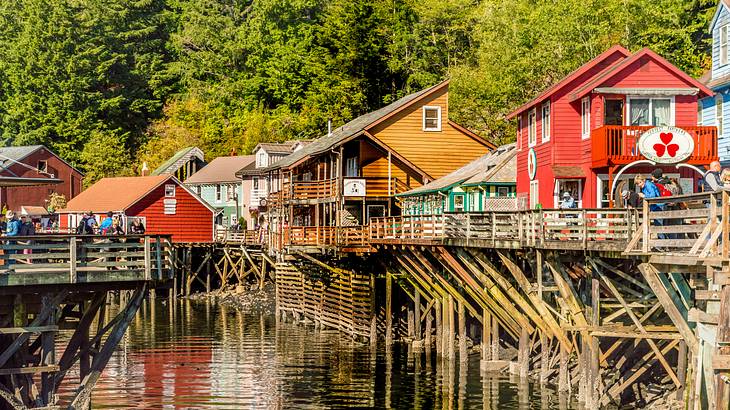 Creek Street, Ketchikan
Creek Street was built over the water of Ketchikan Creek to cleverly avoid the labor of digging into the rocky hillsides. Access to waterways and fishing is the most important consideration in much of Alaska, and Ketchikan especially feels like a series of interconnecting docks and boardwalks.
Along these walkways are restaurants, historic buildings, bed and breakfasts, and some of the best salmon viewing seats in the world.
Totem Bight State Historical Park, Ketchican
In the early 20th century, many young native people from Alaska moved to non-native cities in southern Alaska, where more jobs could be found. This led to an abandonment of villages and Totem Poles throughout the region.
When the US Forest Service began repairing and rebuilding the Totems in 1938, they hired older native craftsmen and brought young artisans back to the villages, effectively reversing the migration trend. The Totems speak to a golden age when villagers who found wealth in the fur trade could devote more time to the art form.
Both Totem Bight State Historical Park and the Totem Heritage Center in Ketchikan provide a wealth of information for visitors. They can learn how to interpret the art as they discover more about the Alaska historical sites they were originally found in.
Japanese Occupation Site, Aleutian Islands
In June of 1942, a Japanese force of over 1,000 stormed the remote island of Kiska and began the only part of WWII fought in North America. They quickly overcame the civilian population of zero and the ten American personnel operating a weather station.
Japan was never able to convert the unforgiving island into anything useful, though. In the following July of 1943, the US deployed over 30,000 soldiers to take back this sort-of American territory. They achieved a rare bloodless victory, as the Japanese had stealthily retreated weeks before to make their stand elsewhere.
Because of how remote the island is, no one has ever bothered to clean up the militaristic refuse of an army that departed in haste.
In Conclusion
Alaska is a vast and diverse area rich in nature and history. It is a state that represents natural beauty, and for this reason, Alaska deserves a spot at the top of your travel bucket list!
Inside Alaska's Inside Passage are the towns of Ketchikan, Juneau, and Skagway, all hosting many must-see Alaskan landmarks.
Mendenhall Glacier, Klondike Gold Rush National Historical Park, and Totem Bight State Historical Park are just a few of the landmarks. When visiting this exciting state, make sure you leave enough time to see everything Alaska has to offer!
Give us feedback about this article
More visual stories related to this article:
Want to keep exploring?
Subscribe for discounts on tickets and hotels and our latest guides.
Thank you for subscribing
We will be in touch soon with discounts on tickets and hotels and our latest guides.
Want to keep exploring?
Subscribe for discounts on tickets and hotels and our latest guides.
Thank you for subscribing
We will be in touch soon with discounts on tickets and hotels and our latest guides.