25 Fun Things to Do in Surprise, Arizona
Destguides may receive commissions from purchases made through affiliate links in this article.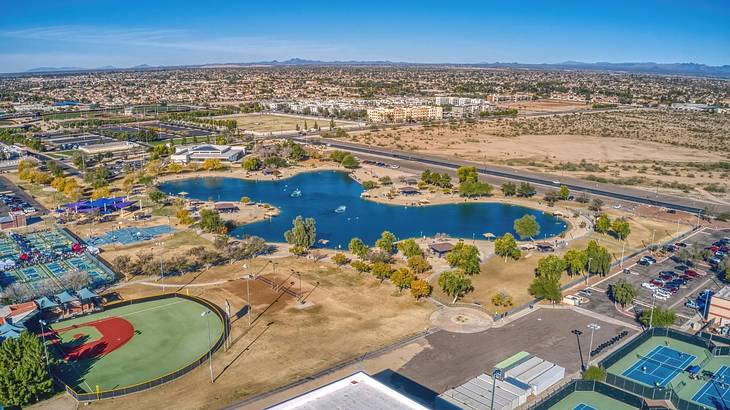 Located just under an hour from Phoenix, Surprise is a vibrant Arizona city with lots of attractions. Fun things to do in Surprise, Arizona, range from watching a baseball game or swimming at local pools to dining at outstanding eateries and even going ax throwing!
You can also find many things to do just outside of Surprise if you're willing to drive a little, like exploring Tonto National Forest or visiting the renowned Grand Canyon. Keep reading to discover 25 fun and memorable activities to enjoy in and around Surprise, Arizona!
25 Fun Things to Do in Surprise, AZ
Surprise, Arizona, Things to Do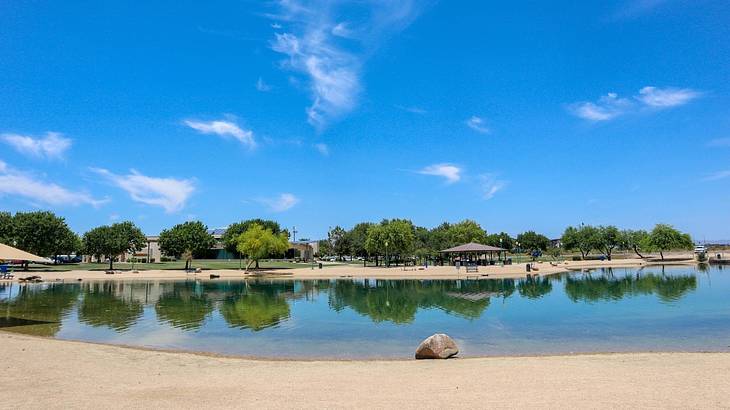 Hang out at Surprise Community Park
Surprise Community Park is a popular park that both locals and visitors enjoy. Things to do at the park include following trails and walking around the scenic pond. You can also enjoy a picnic, with gazebos and BBQ grills available. If visiting with children, there's a playground for them, and there's also a dog park to check out if you're a pet parent!
Play a round at Granite Falls Golf Club
Granite Falls Golf Club is part of Sun City Grand and features two manicured courses, Granite Falls North and Granite Falls South. The courses both have 18 holes, to make 36 in total if you want a game across both.
As you play, you can enjoy the scenic surroundings, which include hills and cacti. There are also two other courses within the complex, Desert Springs Golf Course and Cimarron Golf Course.
Watch a movie at AMC Surprise Pointe 14
Also called Digiplex Surprise IMAX, AMC Surprise Pointe 14 is one of the best Surprise, AZ, attractions to visit if you're looking for something laid back to do. The movie theater shows all the new releases in a stylish cinema complete with comfortable recliner chairs.
While watching the film, you can get food and drinks to your seat, including popcorn, candy, pretzel bites, and even cocktails and other alcoholic drinks.
Find a new book at Northwest Regional Library
Another laid-back activity idea in Surprise is visiting the Northwest Regional Library. Located in Surprise Community Park, you can find an array of books that cover various genres and topics.
Once you've found a book that interests you, you can check it out of the library or relax in the reading room. As you read, you can take in beautiful views over the lake in Surprise Community Park.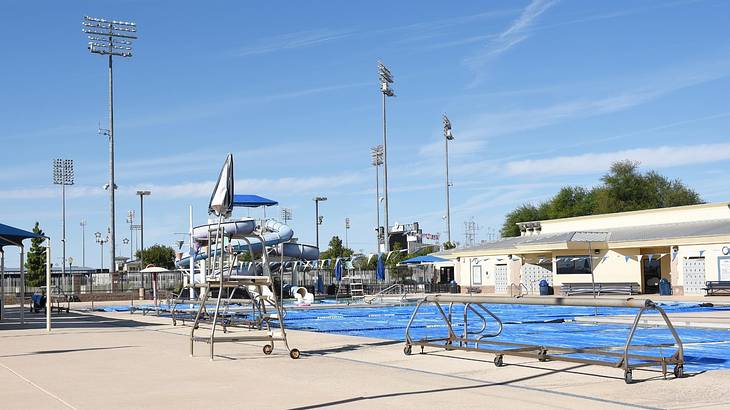 Swim at Surprise Aquatic Center
Going to Surprise Aquatic Center to swim is one of the best things to do in Surprise, AZ, if you want to get some exercise in. The outdoor pool with zero depth area is ideal for lap swimming and also has an open swim space. The attraction isn't only for adults, though; kids are welcome to swim too, and there are waterslides and a diving board around the pool.
Bowl at Uptown Alley
Whether you're looking for something to do in the day or during the evening, going to Uptown Alley is always a fun idea! Visitors can not only bowl but also play arcade games and pool.
After enjoying the amusements, you can relax with food and drinks at Uptown Alley's bar and eatery. Menu items include tacos, pizzas, and appetizers like chips and guacamole. Cocktails, beer, and wine are available too.
Dine at Saigon Kitchen
Saigon Kitchen is one of the most popular eateries in Surprise and is well worth booking a table at. At the trendy Vietnamese restaurant, you can enjoy a range of dishes, like lemongrass brussel sprouts, coconut shrimp, and various types of pho. With your meal, you can also order some delicious craft cocktails, like a passion fruit martini.
Have a game of tennis at Surprise Tennis & Racquet Complex
One of many sports activities in Surprise, AZ, to enjoy is playing tennis at Surprise Tennis & Racquet Complex. The courts have even received a USTA Outstanding Facility Award! Tennis players of all ages are welcome, and there are also racquetball and pickleball courts.
Paint pottery at Mad Platter
Another of the fun and unique attractions in Surprise is Mad Platter. During a visit, you can choose from a selection of pottery pieces, including mugs, bowls, and figurines, that you can then paint however you like. Do note, that the pottery you create will need to be glazed, so avoid this activity if you won't be able to return to pick up the finished piece.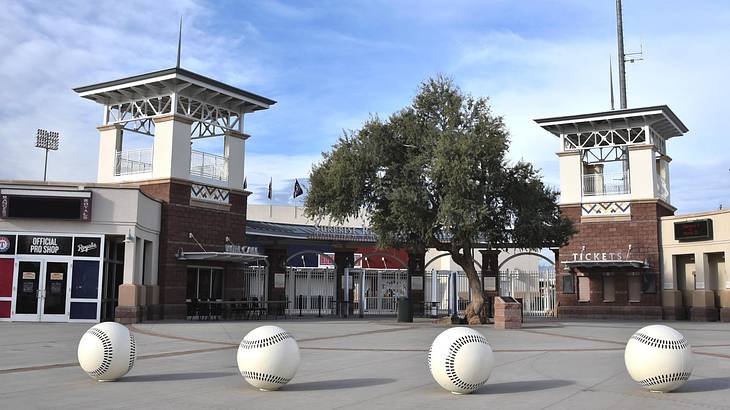 Catch a game at Surprise Stadium
Sports fans will definitely want to plan a trip to Surprise Stadium. The stadium has been in the city since 2002 and is notably the spring training ground of the Kansas City Royals and Texas Rangers.
Along with being able to watch some practice games involving those Major League Baseball teams, you can catch a Surprise Saguaros game during the Arizona Fall League season.
Throw axes at Badaz Axes!
One of the more unusual yet fun Surprise, AZ, things to do is ax throwing at Badaz Axes. At the venue, you'll get a rundown on ax throwing before being able to try the sport yourself, aiming to hit the bullseye on the ax throwing targets! Badaz Axes also offers escape rooms and gelly ball, an activity similar to paintball.
Explore the WHAM Community Art Center
The WAHM Community Art Center has many attractions and activities relating to the arts. During a visit, you can look around art galleries that display works by local artists. Art classes and events, such as painting sessions, clay workshops, and poetry nights, are also hosted frequently.
Take your kids to Luv 2 Play
Those with young children will definitely want to visit Luv 2 Play. The family-friendly venue has many amusements, like an indoor jungle gym, slides, and giant building blocks. After playing, you can get your kids snacks and drinks in the on-site cafe as well.
Cool off at Hollyhock Pool
Hollyhock Pool is one of two public swimming pools in Surprise, with the other being the pool at the Surprise Aquatic Center. This local pool has three lap lanes as well as an open-swim area. If visiting with family, young kids can also enjoy a water play area and spray pad.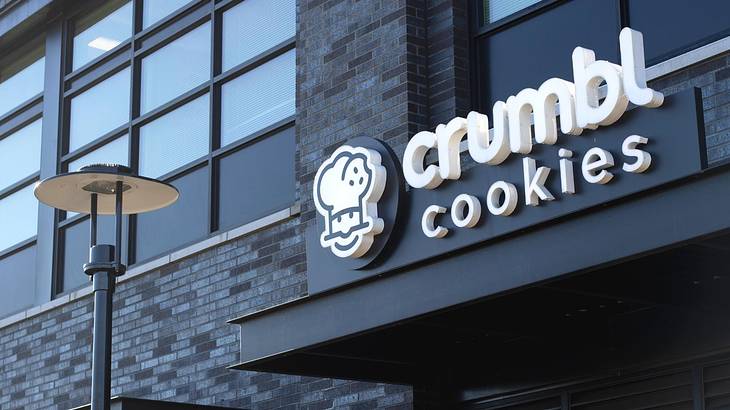 Treat yourself at Crumbl Cookies
Visitors to Surprise that have a sweet tooth can indulge in treats at Crumbl Cookies on West Waddell Road. At the bakery, you can order traditional cookies, like chocolate chip, as well as more unique offerings.
Specialty cookies include almond coconut fudge and peanut butter nougat cookies. Crumbl Cookies has weekly menu features, too, so you can try new types of cookies each time you visit!
Indulge in comfort food at Bonfire Craft Kitchen
If you're still wondering what to do in Surprise, AZ, for dinner, going to Bonfire Craft Kitchen is a great idea. The eatery serves classic American dishes, like various types of burgers, meatloaf, and wings, plus many sharing plates and appetizers. You can accompany your meal with alcoholic or soft drinks, and sporting events can often be watched on big-screen TVs.
Grab a coffee at Spencer's Place
If you're looking for a place to get some coffee in Surprise, be sure to head to Spencer's Place. The coffee shop is notably partnered with the Employed and Overjoyed Foundation, which helps those with intellectual and developmental disabilities find employment opportunities.
Menu options include classic coffee drinks and more unique options, like a pecan pie or lavender-flavored caffe latte. You can even order a coffee flight that allows you to try four specialty coffees! Hot and iced tea, as well as delicious baked goods, are on offer as well.
Get drinks at the Irish Wolfhound Restaurant & Pub
The Irish Wolfhound Restaurant & Pub is a relaxed and friendly local spot to visit for some drinks and a meal. The pub has an extensive beer menu, which includes Irish classics like Guinness. Irish whiskeys, bourbon, and other alcoholic and soft drinks are also on offer.
Food options include beer-battered fish and chips and shepherd's pie, as well as some more American dishes, like various types of wings and sliders. A traditional Irish breakfast is available all day on Saturday and Sunday.
Fun Things to Do Near Surprise, AZ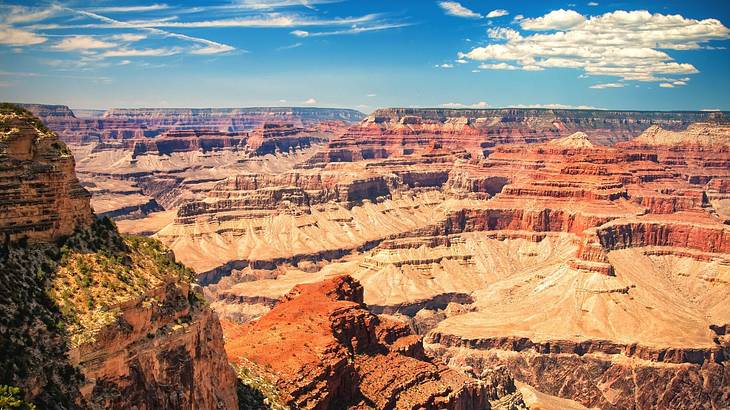 Plan a trip to the Grand Canyon
The Grand Canyon is a well-known world landmark located in Arizona. A fun Arizona fact is that the landmark is so important to the state that it has the nickname "The Grand Canyon State." As Grand Canyon National Park is around three and a half to four hours away from Surprise when driving, it's an excellent weekend getaway destination.
While at the park, you can hike around the area, book one of many Grand Canyon tours, and of course, have lots of chances to marvel at this phenomenal landmark! If you're staying overnight or for a few nights, you'll be able to find an array of accommodation options around the park too.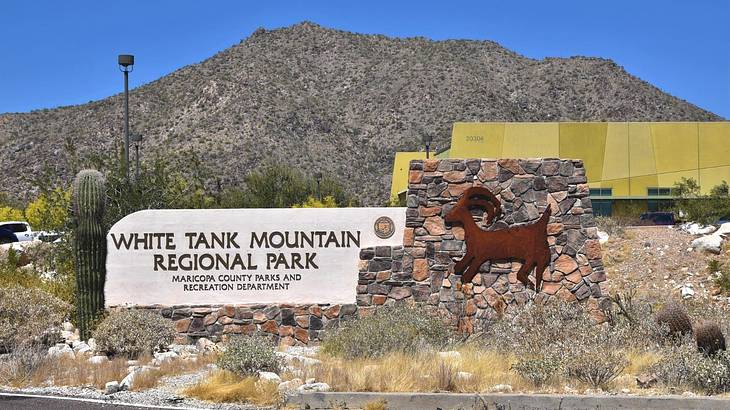 Hike, bike, or camp at White Tank Mountain Regional Park
White Tank Mountain Regional Park is a natural landmark in Arizona that's well worth visiting if you enjoy outdoor activities. The park is situated around an hour from Surprise when driving, depending on traffic.
At the almost 30,000-acre desert park, you'll find no shortage of activities. Things to do include hiking or biking various trails and looking for wildlife, like javelinas. Those that want to spend longer in the park can also camp overnight. Do note that you must book a White Tank Mountain Regional Park camping spot in advance.
Enjoy a beer at State 48 Brewery
If you want to relax with a beer, State 48 Brewery is one of the best places to go in Surprise, AZ, to do so. The brewery was founded in Surprise, and at the taproom, you can taste a range of brews, including dark and light beers and fruit beers, like a blueberry ale.
In addition, the brewery serves delicious wood-fired pizzas and other dishes. There's also a dog-friendly patio to hang out on when the weather is nice.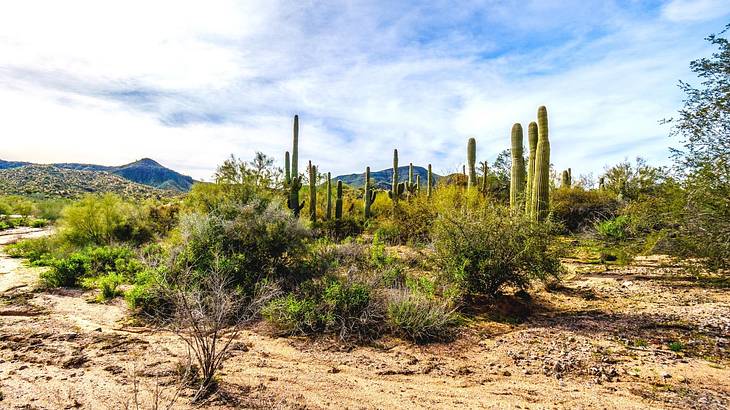 Spend the day at Tonto National Forest
If you're willing to travel around an hour from Surprise, then going to Tonto National Forest has to be on your to-do list. The natural landmark is the ninth-largest National Forest in the United States, covering 2,873,200 acres. Visitors to the park can hike, mountain bike, and drive along scenic routes. Camping within the park is also allowed if you'd like to stay overnight.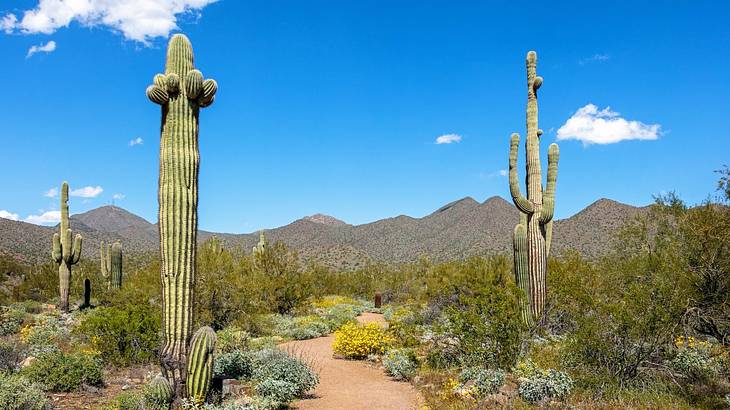 Visit McDowell Mountain Regional Park
Planning a trip to McDowell Mountain Regional Park is one of the most fun things to do around Surprise, AZ, for those that like exploring the outdoors. You can reach the park in around an hour when driving from Surprise, and once you arrive, you can follow trails that take you through a beautiful desert landscape. You'll also be able to spot lots of wildlife, from turkey vultures to tortoises.
Jump around at Sky Zone Trampoline Park
Going to Sky Zone Trampoline Park in Peoria, Arizona, is a fun thing to do for kids and adults. The attraction is only around 20 minutes away from Surprise when driving. At the trampoline park, you'll find standard trampolines as well as areas with foam pits to practice tricks, a climbing wall, and a trampoline dodgeball course.
After enjoying the trampoline park, you could also explore the area a little more, as there are many other fun things to do in Peoria!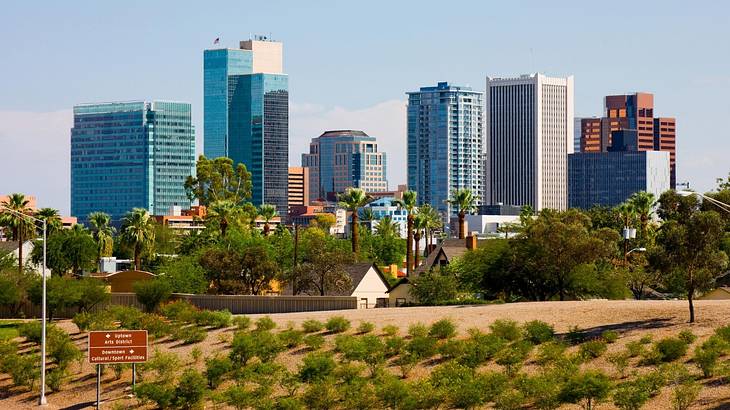 Go to Phoenix
Arizona's state capital of Phoenix is only 40 minutes to an hour from Surprise, depending on traffic, making it a perfect day trip destination. If you're interested in doing lots of activities in Phoenix, you could even stay overnight, with many great hotels located in and around downtown.
Things to do in Downtown Phoenix include going to the Arizona Science Center or Phoenix Art Museum and hanging out at Encanto Park. The city is also the perfect place to visit with your partner, as you can find many things to do on a date in Phoenix, like exploring the Japanese Friendship Garden or relaxing at the Clarendon Hotel & Spa.
In Conclusion
There are many Surprise, Arizona, attractions to check out, with something for all interests. From watching MLB teams play at Surprise Stadium to painting pottery and relaxing at a local craft brewery, you won't struggle to find exciting things to do in this Southwestern US city!
Give us feedback about this article
More articles about Arizona:
Read more articles about the United States:
More articles about things to do:
More visual stories related to this article:
---
---
Want to keep exploring?
Subscribe for discounts on tickets and hotels and our latest guides.
Thank you for subscribing
We will be in touch soon with discounts on tickets and hotels and our latest guides.
Want to keep exploring?
Subscribe for discounts on tickets and hotels and our latest guides.
Thank you for subscribing
We will be in touch soon with discounts on tickets and hotels and our latest guides.
Related Articles