35 Fun Things to Do in Modesto, CA
Destguides may receive commissions from purchases made through affiliate links in this article.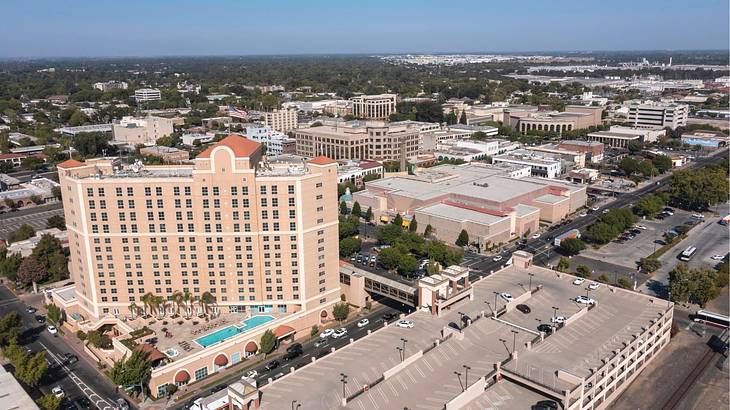 California has an array of incredible cities to visit, from well-known destinations like Los Angeles and San Francisco to many amazing smaller cities. Modesto, situated in the Central Valley California region, is one of those lesser-known towns worth checking out.
Visitors will discover no shortage of fun things to do in Modesto, CA! Activities include watching baseball at John Thurman Field, shopping at Modesto Certified Farmers' Market, and tackling an escape game. Want to learn more about all the things to do in and around Modesto? Read on for 35 fun and unique activity ideas.
35 Fun Things to Do in Modesto, California
Places to Visit in Modesto, CA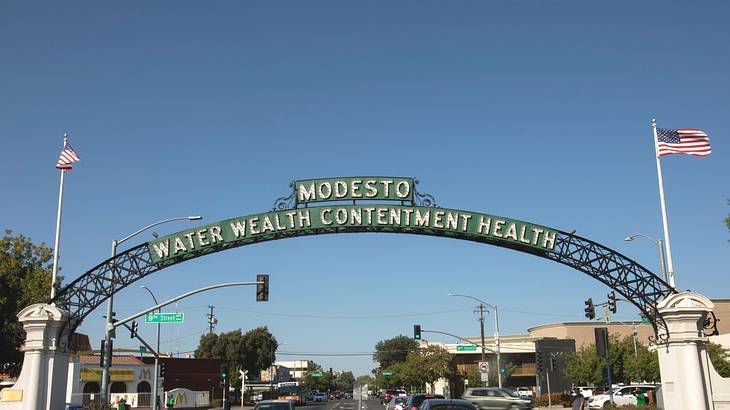 Snap photos of the Modesto Arch
As one of the city's most well-known landmarks, seeing the Modesto Arch and taking some photos is a must. Constructed in 1912, the arch features the city's motto, "Water, Wealth, Contentment, Health." It also features 696 incandescent light bulbs that illuminate the arch at night.
Watch baseball at the John Thurman Field
Sports fans will be interested in visiting John Thurman Field to watch a baseball game. While Modesto doesn't have a Major League Baseball team, they do have a team in the Minor League, the Modesto Nuts. You can catch a game from April through September in the regular season.
Shop for local produce at the Modesto Certified Farmers' Market
The Modesto Certified Farmers' Market is located in Downtown Modesto and hosts an array of local vendors. The market operates on Thursday and Saturday and sells fresh produce, baked goods like bread, flowers, and much more. Visiting allows you to meet locals and try some incredible products grown in California.
See George Lucas Statue
Seeing the George Lucas Statue is one of the Modesto things to do that you can't miss. This landmark features two teenagers in 1950s-style clothes. It's dedicated to film director George Lucas and his 1973 film American Graffiti. When passing the statue, be sure to stop and snap some unique photos!
Follow the Virginia Corridor Trailway
The Virginia Corridor Trailway is another great outdoor attraction to check out. This 4.2-mile trail follows an old railway line, the Tidewater Southern Railway line.
As you wander along the trail, you'll be able to admire the surrounding views and pass creeks and forests. The trailway can be hiked, biked, or jogged along and is suitable for all activity levels.
Tackle at escape room at Escape Modesto
One of the attractions in Modesto, California, to visit no matter what the weather, is Escape Modesto. At this escape game venue, you can choose from a few themed rooms, including "CSI Modesto," "Prison Break," and "King Tut's Treasure."
The rooms here are quite challenging to escape from, with the average success rate being between 10 and 25 percent! However, whether you solve the puzzles or not, you're guaranteed to have a great time with friends or family.
Walk along the Tuolumne River Trail
The Tuolumne River Trail follows the Tuolumne River and covers 2.3 miles. It's a great place to bike, go for a run, or walk your dog. There's also a children's playground along the route. In addition, you may come across a group of cats that live in the area!
Look around the Great Valley Museum
The Great Valley Museum is located at Modesto Junior College and has exhibits on ecology and other scientific subjects. You can learn about California's ecology and wildlife, including about plants and animals found in the area in the 1800s and earlier. There's also a fascinating exhibit on the Indigenous Me-Wuk Tribe.
Hang out at Mancini Park
Mancini Park is a quaint urban park located just outside of downtown. It sits next to the Tuolumne River and features lots of green space and picnic tables, making it the ideal place to spend time in the fresh air with friends or family. There are also two full-sized soccer fields and a softball field.
Catch a show at the Gallo Center for the Arts
Opened in 2007, the Gallo Center for the Arts is a much-loved performance venue in Modesto. The center has two theaters, the Foster Family Theater and the Mary Stuart Rogers Theater. At the venue, you can see a variety of shows, including classic plays and concerts.
If you've been wondering what to do in Modesto, California, at night, going to a show at the Gallo Center for the Arts has to be on your to-do list!
Take your kids to Funworks
Funworks is one of the best Modesto attractions to visit with your family. The entertainment center has many amusements, including arcade games, go-karts, putt-putt golf, and bumper cars. There's also a batting cage and play areas for young children.
One of the most popular attractions at Funworks is the Teddy Bear factory, where your kids can make their own stuffed animals. Their new bear even comes with a birth certificate!
Tour the McHenry Mansion
Constructed in 1883, the McHenry Mansion is a fascinating landmark to visit in Modesto. It was initially home to banker Robert McHenry and was added to the National Register of Historic Places in 1978.
Today, you can tour the Victorian-Italianate mansion that's decorated as it would have been in the 19th century. Visitors can take a guided tour and learn more about the home and its previous owners.
Visit the Graffiti USA Classic Car Museum
Another interesting and unique museum in Modesto is the Graffiti USA Classic Car Museum. You can see a range of retro cars at the museum, with many dating from the 1950s and 1960s. Events are also hosted at the museum, including the annual Graffiti Summer event that features numerous activities related to classic cars and George Lucas' American Graffiti.
Let your pup play at Modesto Dog Park
Also known as Elk Park, Modesto Dog Park is the ideal place to take your dog for some exercise. The park features a large fenced area for dogs to run around and play with other pups. The park also has water fountains, access to a canal if dogs want to swim, and a separate area for small dogs to play.
Enjoy Graceada Park
Graceada Park is situated next to downtown and has numerous attractions. If you like to play sports, there are many options here, with soccer fields, tennis courts, and baseball fields available. There are also hiking and biking trails, as well as wading pools and splash pads for kids.
View artworks at The Mistlin Gallery
The Mistlin Gallery is located downtown and was opened for local artists to display and sell their work. Visitors can see a range of works by California artists, and there are many great temporary exhibits that allow you to see new artworks each time you visit. The gallery also holds art classes for all ages if you want to create your own masterpieces.
See a movie at the State Theatre of Modesto
Opened in 1934, the State Theatre of Modesto is a local landmark that shows a range of films, including independent and foreign movies. You can also see classic films from the last 70 or so years. Special events are held at the movie theater as well, like tribute band concerts and days when you can bring your dog to the cinema.
Learn about Modesto history at the McHenry Museum
If you're interested in learning about local history, one of the attractions in Modesto, CA, you'll want to visit is the McHenry Museum. The museum is next to the McHenry Mansion and has exhibits covering important historical events. You'll also learn what Modesto was like in past eras and can see many artifacts, like gold mining paraphernalia, furniture, and firefighting equipment.
Dine at Galletto Ristorante
Galletto Ristorante is a popular eatery in Modesto with a stylish interior and a large outdoor patio. The Italian restaurant serves many classic meals, like pizza, various fresh pasta dishes, and meatballs. For dessert, you'll also have an extensive choice, with treats like affogato, tiramisu, and house-made gelato on the menu.
Bounce around at Rockin' Jump
Rockin' Jump is another excellent family-friendly attraction in Modesto. This trampoline park has a variety of attractions, including regular trampolines, trampoline dodgeball, and trampoline basketball. There are also areas to do flips and other tricks safely.
Play paintball at Extreme Paintball Park
Having a game at Extreme Paintball Park is highly recommended for thrill seekers wondering what to do in Modesto, CA. The venue offers a few levels of paintball and has options for most ages. You can also play exclusively with your own group or play against others.
Start your day with breakfast at Squeeze In
Squeeze In is a perfect place to start your day! The spot has an extensive breakfast menu with options like omelets, pancakes, and French toast. You can also order brunch-style drinks, like mimosas, as well as coffee, tea, juice, and hot chocolate with lots of whipped cream and sprinkles. Black Bear Diner is another excellent spot to visit for breakfast or brunch.
Treat yourself to cupcakes at the Village Baking Company
If you have a sweet tooth, you have to visit the Village Baking Company while in Modesto. The bakery sells assorted cupcakes with beautiful decorations. Flavors to purchase include Oreo, peanut butter, and salted caramel. You can also order some other sweet treats and can order savory dishes in the cafe, with menu options like sandwiches and salads on offer.
Have dinner and drinks at Dewz Restaurant
Dewz Restaurant is another great place to have dinner in Modesto. Opened in 1997, the eatery is popular with locals and residents alike.
Dishes on the menu include housemade pasta with various sauces, peri peri chicken with seasonal vegetables, and multiple types of steak. To accompany your meal, you can order a bottle of wine from the restaurant's wine room or opt for delicious cocktails, beer, or cider.
Play sport at East La Loma Park
East La Loma Park is a popular attraction with those that want to play sports. The park has basketball and tennis courts as well as a disc golf course. At the park, you can also walk along some scenic tree-lined trails, and there's a fun playground for kids.
Explore Tuolumne River Regional Park
Tuolumne River Regional Park is an urban park located along the Tuolumne River, about ten minutes from downtown Modesto. The park stretches along the river for around seven miles and gives easy access to the water for watersports. There are also many scenic paths to follow, including the Tuolumne River Trail.
Fun Things to Do Near Modesto, CA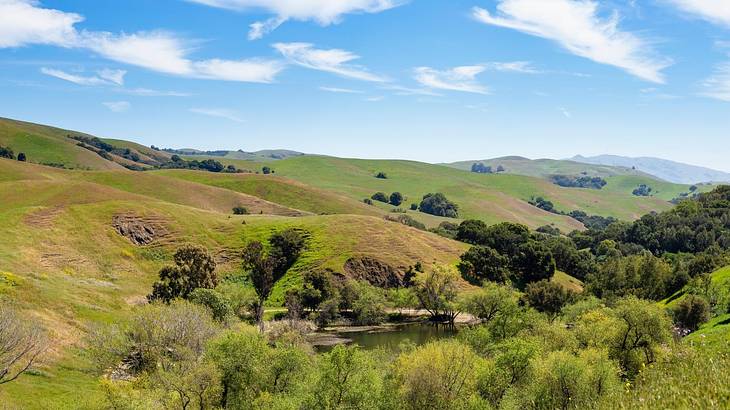 Hike in Dry Creek Pioneer Regional Park
Located an hour and a half from Modesto, Dry Creek Regional Park is a beautiful place to go for a hike. The park has numerous trails that take you through hills and forests. There are also many picnic areas along the trail, and the park is dog-friendly, so you can bring your pup along on your hike.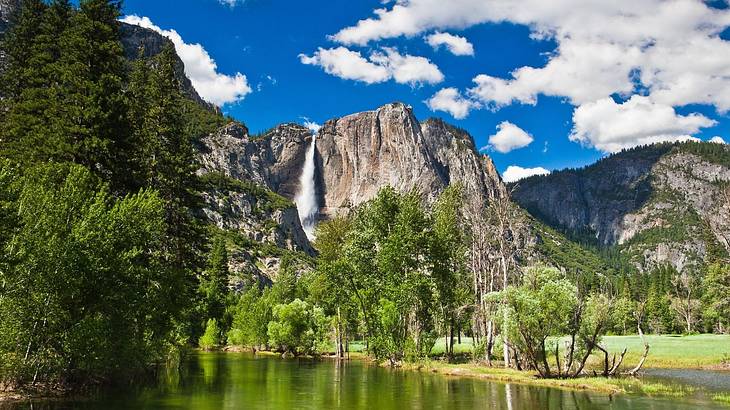 Hike in Yosemite National Park
Yosemite National Park is a renowned outdoor space and one of the best National Parks on the West Coast. It's located just under two hours from Modesto and is well worth visiting if you enjoy outdoor activities. In the park, you can hike various trails that take you through breathtaking landscapes. You can also camp in the park overnight.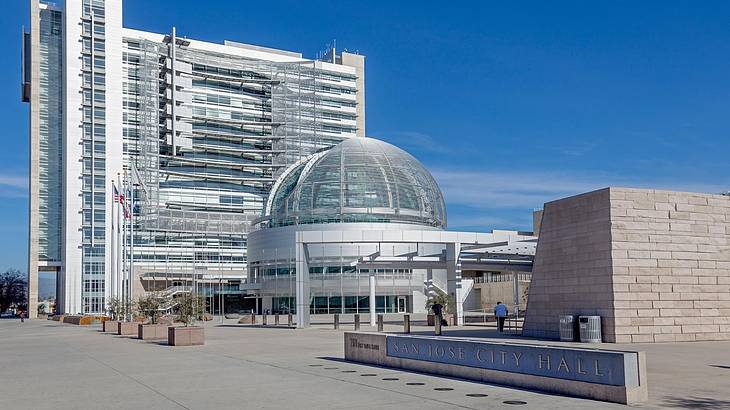 Drive to San Jose
San Jose is a well-known Californian city situated an hour and a half from Modesto. It's a great destination to drive to for a day or overnight trip.
In the city, you'll find many fun things to do, including watching musicals, going to a San Jose Sharks NHL game, and visiting the San Jose Museum of Art. You'll also discover fantastic bars, restaurants, and coffee shops, and can visit some California landmarks.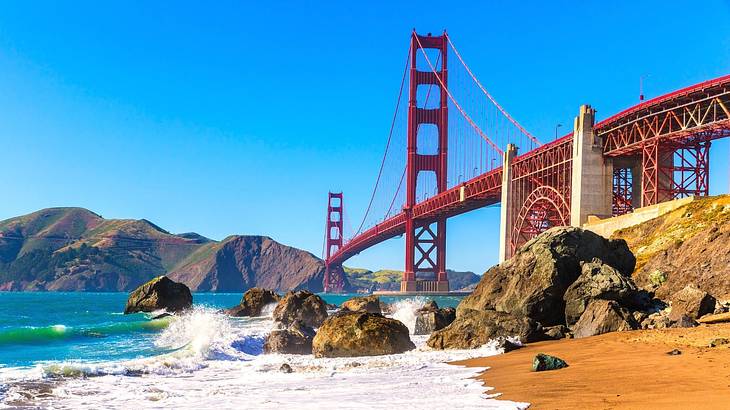 Spend the day in San Francisco
If you're looking to plan a day trip from Modesto, going to San Francisco is highly recommended. The iconic city is just under two hours away, and you'll find an array of things to do in San Francisco once you arrive.
The city is notably home to many landmarks. Famous landmarks in San Francisco to see include the Golden Gate Bridge, Pier 39 at Fisherman's Wharf, and Alcatraz. Other activities to add to your San Francisco itinerary include going to local parks and exploring museums and botanical gardens.
Boat at Jacob Myers Park
Another of the many fun things to do near Modesto, California, is boating on the river at Jacob Myers Park. The park sits next to the Stanislaus River and features a boat ramp for easy access. Other things to do at the park include following trails and having a picnic or barbeque. There's also a playground for kids.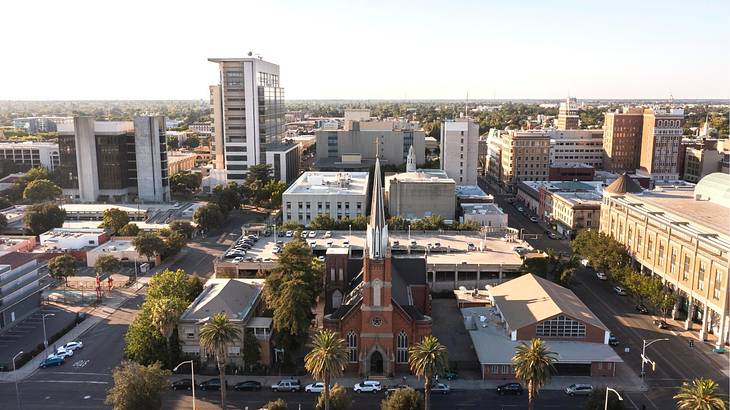 Go to Stockton
Stockton is another small California town situated only 30 minutes from Modesto. Things to do in Stockton include visiting the beautiful Wat Dhammararam Buddhist Temple and seeing a Stockton Kings basketball game. In addition, there are many bars, breweries, and restaurants to check out. If you have kids, you can also take them to the local theme park, Pixie Woods.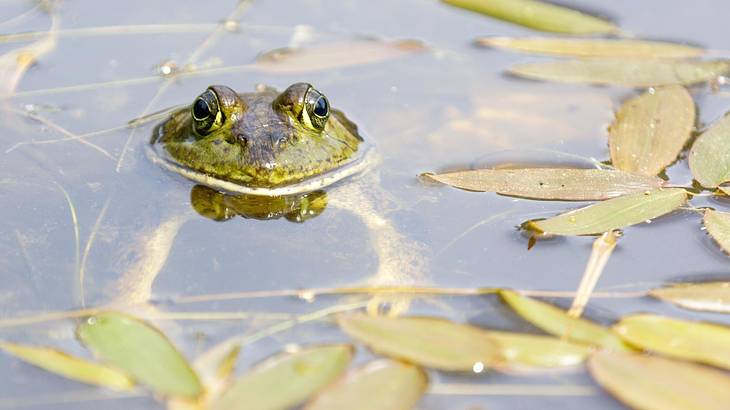 See wildlife, hike, and more at Henry W. Coe State Park
If you've checked out a lot of the city's attractions and are looking for other fun things to do near Modesto, head to Henry W. Coe State Park. The park is an hour and 40 minutes from central Modesto and is the largest state park in Northern California.
You can follow multiple trails in the 87,000-acre park and will spot a range of wildlife. Animals to see include badgers, American bullfrogs, and bald eagles. Other activities to enjoy include mountain biking and camping.
Go rafting on the Stanislaus River
Sunshine Rafting offers rafting tours and rentals on the Stanislaus River, which is located about 40 minutes from Modesto. Kayaks and rafts are available, and tours are suitable for most ages. As you travel through the water, you'll also be able to admire the stunning natural surroundings. Sunshine Rafting is seasonal and generally offers rafting tours between May and September.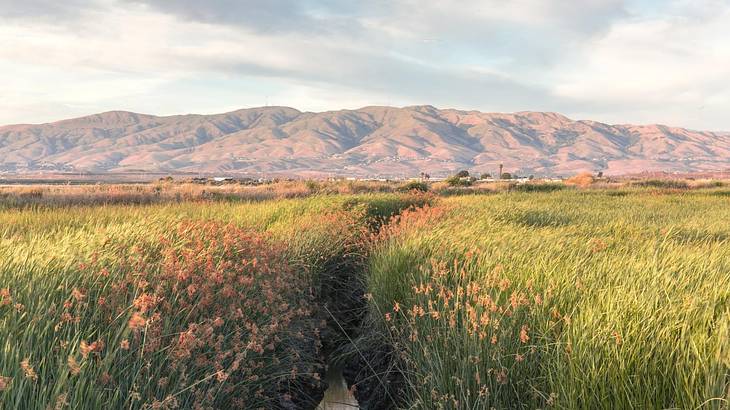 Climb Mount Diablo on a hiking trip
Going to Mount Diablo is an excellent idea for those that want to spend the day hiking. The mountain is just under two hours from Modesto, but it's worth the drive to enjoy the stunning scenery.
The route to the peak is quite challenging, so it is recommended for experienced hikers. It takes about four hours to complete. However, there are easier trails in the area, and Mount Diablo is also a popular place for bird-watching.
In Conclusion
There are numerous attractions in Modesto, California, with something for everyone, from history buffs to outdoor activity enthusiasts! In addition, you'll also find many places in the surrounding area to visit, like breathtaking parks and famous cities such as San Francisco and San Jose.
---
---
Want to keep exploring?
Subscribe for discounts on tickets and hotels and our latest guides.
Thank you for subscribing
We will be in touch soon with discounts on tickets and hotels and our latest guides.
Want to keep exploring?
Subscribe for discounts on tickets and hotels and our latest guides.
Thank you for subscribing
We will be in touch soon with discounts on tickets and hotels and our latest guides.
Related Articles