25 Fun Things to Do in Stockton, CA
Destguides may receive commissions from purchases made through affiliate links in this article.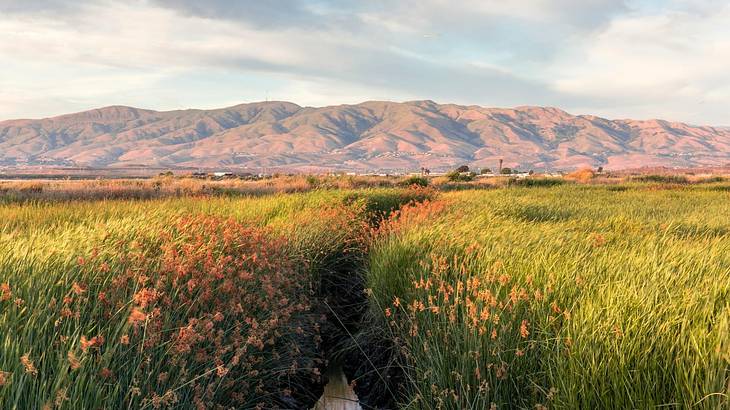 Located on the West Coast of the United States, Stockton is well worth visiting! Despite being a less well-known Californian city, Stockton has something for all types of travelers, from couples to families with kids.
Fun things to do in Stockton, CA, include playing golf at the Swenson Park Golf Course, getting craft beer at Valley Brewery Co., and taking your children to Pixie Woods theme park. Read on to discover all the activities you can enjoy in and around Stockton.
30 Fun Things to Do in Stockton, California
Stockton, CA, Things to Do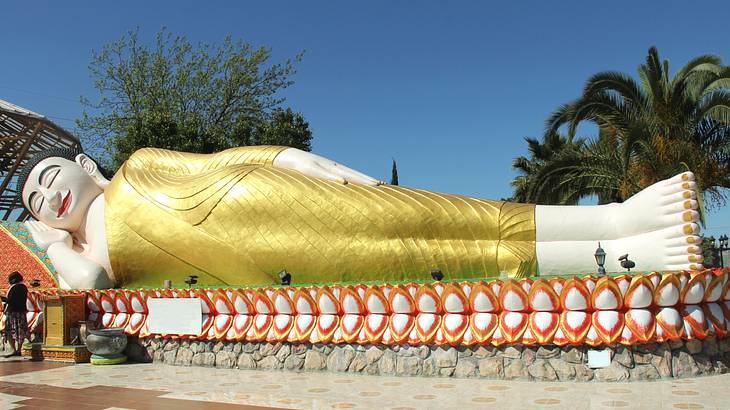 Marvel at the Wat Dhammararam Buddhist Temple
The Wat Dhammararam Buddhist Temple is a unique landmark to see in Stockton. The temple was founded by Cambodian refugees and features a beautiful temple building, plus many religious statues. During a visit, you can look around, learn some facts about the temple, and snap pictures of your colorful surroundings.
See a performance at the Bob Hope Theatre
The Bob Hope Theatre was opened in 1930 and is a well-known performance venue in the city. The theater features a stunning entrance with a marble mosaic floor and luxurious red velvet seats within the theater itself.
You can see dance shows, concerts, and other live performances at the venue. Visiting the Bob Hope Theatre is a memorable way to spend the evening!
Visit Stockton Marina and Joan Darrah Promenade
The Stockton Marina sits on the city's waterfront next to McLeod Lake and features a scenic walkway, the Joan Darrah Promenade. It's the ideal place for a relaxing stroll next to the pretty waterfront filled with boats. You can also find restaurants and other attractions around the marina to visit after your walk.
Play golf at the Swenson Park Golf Course
On a nice day, one of the best things to do in Stockton, CA, is playing a round of golf at Swenson Park Golf Course. The course is one of the best in San Joaquin County and features an 18-hole and nine-hole course.
There's also a disc golf course, driving range, and a restaurant called The Fox Den. If you're new to golf or looking to improve your skills, you can take lessons as well.
Watch a game at Banner Island Ballpark
Banner Island Ballpark sits on the Stockton Waterfront and is home to the Stockton Ports Minor League Baseball team. Going to a game at the stadium is a fun idea that allows you to mix with locals and cheer on the team. You can see a game between April and September in the regular season.
Admire artworks at the Haggin Museum
The Haggin Museum is a must-visit attraction for art lovers. Opened in 1931, the museum houses a vast collection of works by American and international artists.
Notable artists with works on display include Jean Béraud, Pierre-Auguste Renoir, and Auguste Rodin. You can also see an impressive collection of Japanese woodblock prints, among many other works.
Go to a Stockton Kings game at Stockton Arena
If you like sports, one of the best things to do in Stockton, California, is going to a Stockton Kings game. The basketball team plays at Stockton Arena and is in the NBA G League as an affiliate of the Sacramento Kings NBA team. You can catch a game between November and April.
Shop at Lincoln Center
Lincoln Center is a shopping mall that's well worth visiting when in the city. It features a variety of boutique and independent shops as well as some chain stores like Sephora. After shopping, you can dine at one of over 20 eateries, including sit-down restaurants, take-out spots, and juice bars.
Attend a concert at the Stockton Memorial Civic Auditorium
Stockton Memorial Civic Auditorium opened in 1925 and is one of the oldest buildings in the city. The venue hosts concerts and other performances, making it a fun place to spend the evening. There are also some bars around the auditorium if you want to get a drink before the show begins.
Explore Miracle Mile
Miracle Mile is an area in Downtown Stockton on Pacific Avenue that features an array of shops, bars, and restaurants. Shopping opportunities include many unique boutique stores selling all kinds of goods, from homewares and antiques to clothing, jewelry, and books. You can also find a variety of cocktail bars, restaurants, and ice cream shops.
Take your kids to Pixie Woods
If you have kids, one of the most fun things to do around Stockton is taking them to Pixie Woods amusement park. The attraction features rides and themed play areas within an enchanted forest-style park.
Just a few of the amusements to enjoy include a carousel and a pirate ship ride on the lagoon. After exploring the park, you can get some snacks like ice cream cones or hot dogs.
Listen to live music in Victory Park
Victory Park is a popular local park located next to the Haggin Museum. It has trails, playgrounds for kids, and picnic and BBQ areas. It's a great place to spend some time in the fresh air and hang out with friends or family.
Events are also hosted in the park, including 'Concerts in the Park,' which features free live music acts in the evenings. You can bring a picnic to enjoy with the show, and dogs are welcome to join. Past music genres have included R&B, Rock, and Latin music.
Hang out at Oak Grove Regional Park
Oak Grove Regional Park is a scenic 180-acre park with a lake, nature center, and scenic trails. It's the ideal place to spend time in nature, following trails and hanging out by the lake. The park also has an 18-hole disc golf course, a playground for children, and picnic tables next to BBQ grills.
Enjoy a meal at Angelina's Spaghetti House
If you're looking for a delicious meal, one of the best places to visit in Stockton, CA, is Angelina's Spaghetti House. This Italian eatery serves an extensive menu of dishes and is open for lunch and dinner.
Menu options include spaghetti with various sauces, ravioli, lasagna, and meatball sandwiches. With your meal, you can enjoy Italian or Californian wine.
Get local produce at the farmers market at The Fruit Bowl
The Fruit Bowl is a farm shop that also hosts a farmers market. You can purchase a range of fresh produce from local orchards, like cherries, plums, and peaches. The farmers market also has olive oil, local wine, and Italian pasta sauces. In addition, those with a sweet tooth can get treats at the bakery, such as fresh baked pies and biscotti.
Dine at Market Tavern
Another great restaurant to dine at in Stockton is Market Tavern. This cozy eatery serves a variety of dishes, including Nashville fried chicken sandwiches, pizzas, beef stroganoff, and vegan sausage rigatoni. There's also a kids' menu and sides like mac and cheese, sauteed spinach, and broccoli with garlic butter.
You can accompany your meal with drinks like wine, beer, or house-made pear and basil, lemon rosemary, and hibiscus sodas. Craft cocktails are also on offer.
Smell the flowers at the University Park World Peace Rose Garden
The University Park World Peace Rose Garden is a pretty place to explore when in Stockton. This garden features 250 rose bushes covering a range of rose species. There's also a scenic lake to sit beside, and you can see inspiring messages of peace written by local students on Peace Plaza.
If you enjoyed this rose garden, you could also visit the State Capitol Park World Peace Rose Garden that's 50 minutes away in Sacramento.
Go to the Children's Museum of Stockton
Stockton is a family-friendly city, and another of the fun places to go in Stockton, CA with kids is the Children's Museum of Stockton. The museum has many interactive exhibits for kids, including those that allow them to do arts and crafts and play in pretend grocery stores, pet clinics, banks, and the like.
There are also replicas of firetrucks to explore and nature exhibits that are sponsored by the San Joaquin County Audubon Society. If you have young kids, they're sure to have a great time playing and learning at the Children's Museum of Stockton!
Eat delicious Chinese food at Dave Wongs
Dave Wongs is a much-loved Chinese restaurant that has been in Stockton since the 70s. You can dine in for both dinner and lunch and will be able to enjoy traditional Chinese dishes, plus some with a more contemporary twist.
Just a few of the dishes on offer include tofu lettuce wraps, Kung Pao chicken, ginger beef, and various noodle and fried rice dishes. After your main meal, you can also order tasty desserts like lemon cake or coconut ice cream. Take-out is available as well if you'd rather dine at home.
Grab drinks at Valley Brewery Co.
Valley Brewery Co. is a brewpub that also hosts jazz acts and serves food that you can enjoy in the bar or on the patio. In addition, this is a great spot to head to if you want to watch the game, with the bar showing NFL, NHL, NBA, and MLB games.
At the bar, you can order various beers brewed by Valley Brewery, including a unique apricot or berry ale. If you want food, dishes on the menu range from burgers and hot sandwiches to gumbo and baked mac and cheese. Indulgent desserts like key lime or banana cream pie can also be ordered.
Fun Things to Do Near Stockton, CA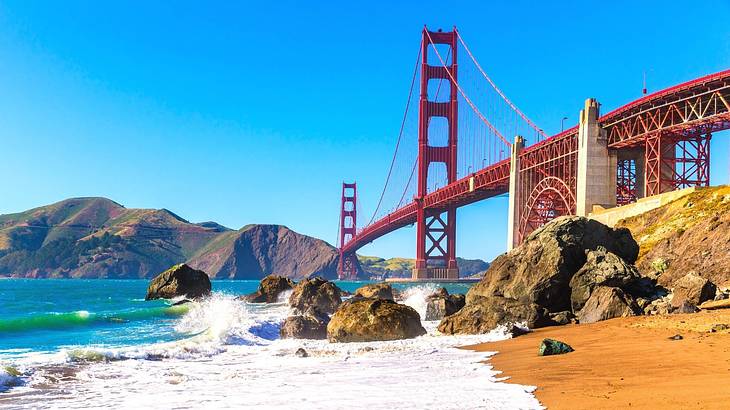 Plan a trip to San Francisco
San Francisco is just an hour and 40 minutes from Stockton, making it the perfect place for a day or overnight trip. You can find an array of things to do in San Francisco, such as visiting California landmarks like the Golden Gate Bridge and Alcatraz and checking out unique shops, bars, and restaurants.
Other things to add to your San Francisco itinerary include visiting Pier 39, exploring Chinatown, and wandering around Golden Gate Park. If you stay overnight, you'll also find many things to do in San Francisco at night!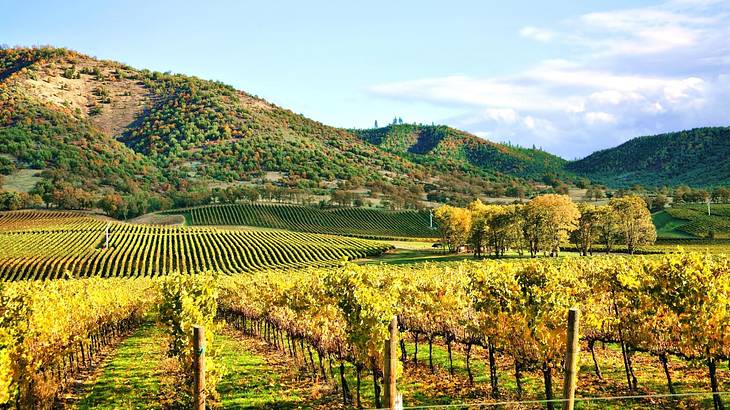 Road trip to Napa and Sonoma
Napa and Sonoma are located just under two hours from Stockton. The areas are known for their many wineries that you can visit to tour and do wine tastings.
You'll also find many other things to do in Napa and Sonoma, like taking a hot air balloon ride or biking through the scenic countryside. If planning a visit with family, there are plenty of things to do with kids in Napa as well.
Wander through the Japanese Garden at Micke Grove Park
The Japanese Garden at Micke Grove Park is located just 25 minutes from central Stockton. Created in 1959, the park is designed in a classic Japanese style and features cherry blossom trees, pagodas, and ponds filled with koi.
You can also walk across traditional red bridges and admire a range of plant and flower displays. Wandering through the beautiful Japanese Garden is one of the fun things to do near Stockton, California, that you can't miss!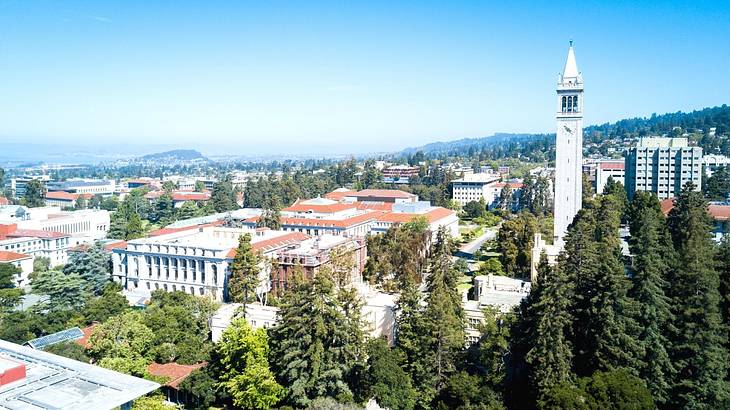 Drive to Berkeley
Berkeley is another fun place to visit that's just over an hour from Stockton. The city has lots of attractions to see, like the Lawrence Hall of Science and Berkeley Farmers Market. You can also discover many things to do outdoors in Berkeley, like visiting Berkeley's many parks.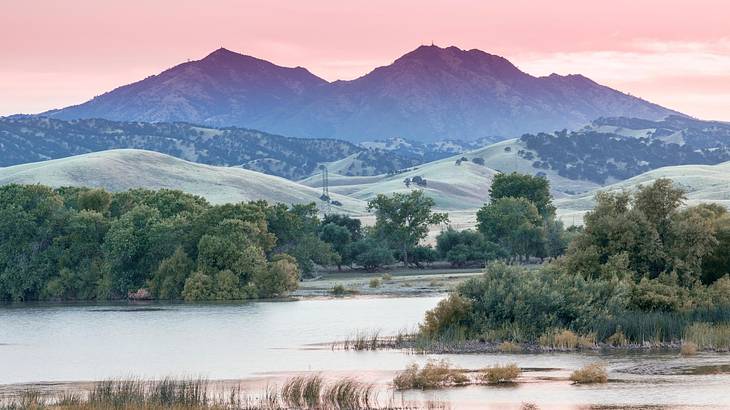 Hike at Mount Diablo State Park
Outdoor activity enthusiasts will want to make the drive to Mount Diablo State Park for a day of hiking. The park is about an hour and a half from Stockton and is home to Mount Diablo, part of the Diablo Range.
The most popular activity here is hiking to the mountain's summit, which sits at 3,849 feet. At the peak, you can admire views across the state park and may even be able to see San Francisco's Golden Gate Bridge on a clear day. You'll also find some other trails around the mountain that you can hike or bike.
In Conclusion
There are many fun places in Stockton, California, to visit for all types of travelers. You'll also discover excellent day trip destinations nearby, like San Francisco and Napa Valley. So whether you like visiting museums, hanging out at parks, or finding the best local breweries and restaurants, Stockton has something for you!
Give us feedback about this article
More articles about California:
Read more articles about the United States:
More articles about things to do:
More visual stories related to this article:
---
---
Want to keep exploring?
Subscribe for discounts on tickets and hotels and our latest guides.
Thank you for subscribing
We will be in touch soon with discounts on tickets and hotels and our latest guides.
Want to keep exploring?
Subscribe for discounts on tickets and hotels and our latest guides.
Thank you for subscribing
We will be in touch soon with discounts on tickets and hotels and our latest guides.
Related Articles