Best Time to Visit Sacramento for Weather, Prices, and Crowds
Destguides may receive commissions from purchases made through affiliate links in this article.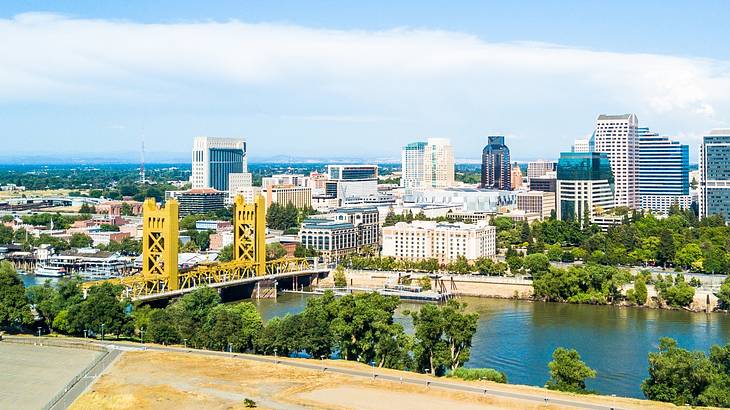 Located in California's Northern-Central Valley, Sacramento is the state capital and one of California's largest cities. It is known as a hub of art, culture, music, and food. With a mild climate for most of the year, visitors come from all over to enjoy the local art scene, visit museums, and dine at Sacramento's famous "Farm-to-Fork" restaurants.
Nicknamed the "Farm-to-Fork Capital of America" for its direct ties to the agricultural community, Sacramento has numerous restaurants with produce-centric menus and dozens of farmer's markets throughout the city. In the fall, the city hosts its yearly Farm-to-Fork Festival showcasing the city's best culinary delights. Simply put, Sacramento is a foodie's paradise.
Sacramento is also a lively city with a full calendar of annual festivals. From art and music festivals to food and beer festivals, Sacramento has events for everyone. Ready to hit the city streets, admire some art, and taste some award-winning cuisine? Read on to learn the best time to visit Sacramento.
Best Time to Go to Sacramento
Sacramento Best Time to Visit Tips Video
Check out our highlights video of Sacramento best time to visit tips.
Sacramento Vacation Planning Questions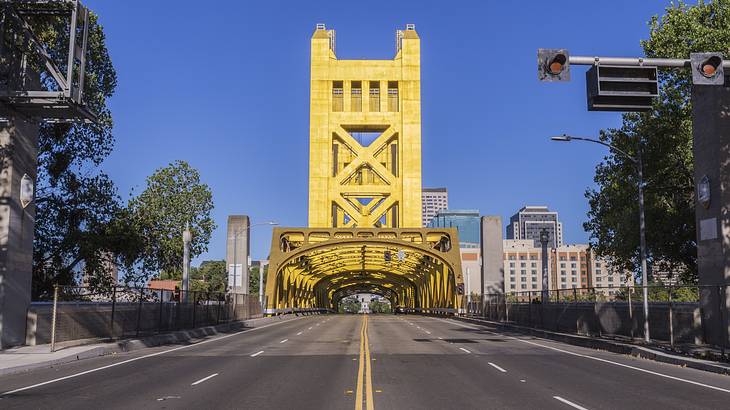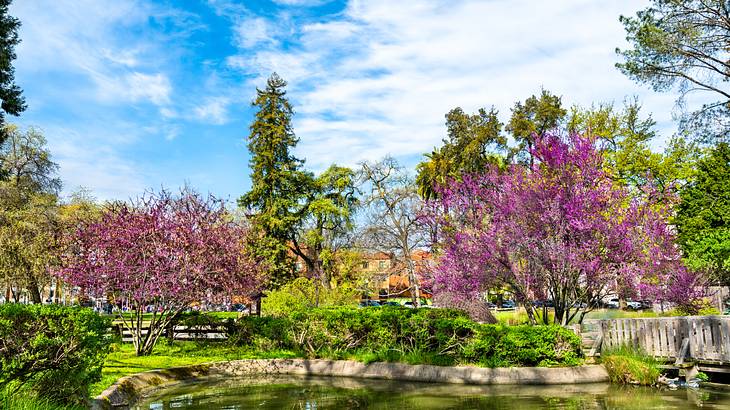 When is the best time to visit Sacramento?
The best time of year to visit Sacramento will depend on what you like to see and do. If you want to attend one of Sacramento's famous festivals, that may be your best jumping-off point in planning your trip.
Whether visiting for a popular music festival, a family vacation, or a weekend getaway with your partner to enjoy all the things to do in Sacramento for couples, there's never a wrong time to visit California's state capital!
Regarding weather, April through June has the best conditions for exploring the outdoors. These months have the mildest weather, marked by sunny days, temperatures around 70 degrees Fahrenheit, and little to no rain; perfect for hiking, biking, and touring the city on foot.
Hate crowds? The best time to visit is winter (December to March). It's typically the least crowded season due to colder temperatures (30 to 50 degrees Fahrenheit) and more rain. So just pack some warm, rainproof gear and enjoy all the city offers.
When is the rainy season in Sacramento?
The rainy season in Sacramento runs from November through February, with January often seeing the most rain. Sacramento can receive between two and four inches of rain during this time. While the nature trails can get pretty muddy in the rainy season, exploring the city with the proper rain gear is still a must.
Thankfully Sacramento has plenty of indoor things to do when the rain hits. From visiting California landmarks like the State Capitol Building to checking out cozy coffee shops or breweries. You can even book an indoor skydiving session at iFly Sacramento.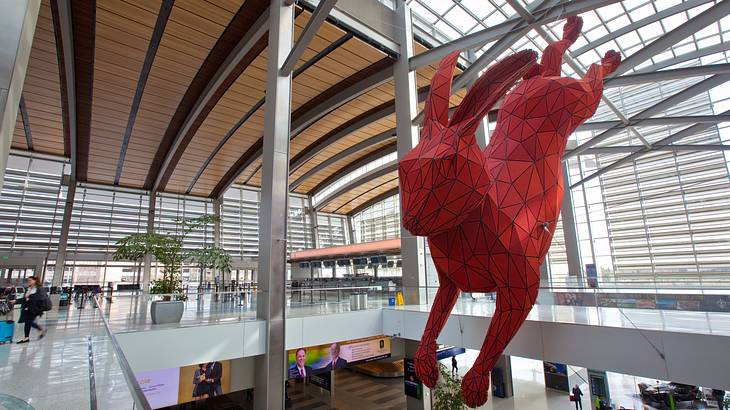 When is the cheapest time to fly to Sacramento?
The cheapest time to fly to Sacramento is usually during February or March. According to online flight price data trackers, travelers see an average 22 percent drop in prices during these months.
Flights heading to Sacramento on a Monday are traditionally cheaper, making this the best time to travel to Sacramento on a budget. Most major airlines fly into Sacramento International Airport, giving travelers many options to find economy tickets.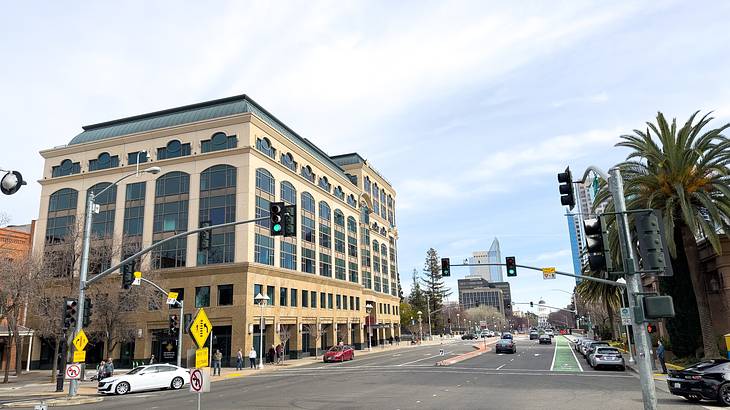 What are the cheapest hotels in Sacramento?
There are over 100 hotels in Sacramento to choose from in every price range. If you're looking for a high-quality but budget-friendly option, book a room at the Comfort Inn and Suites. Centrally located between the airport and downtown, this hotel includes all comfy basics, free parking, complimentary breakfast, and wifi.
Another low-cost hotel option in Sacramento is staying at the Governor's Inn. This boutique-style hotel is only a mile from the city center and also offers free parking, complimentary breakfasts, and wifi. Additionally, studio-style rooms are available, with an extended workspace, sofa, and kitchenette.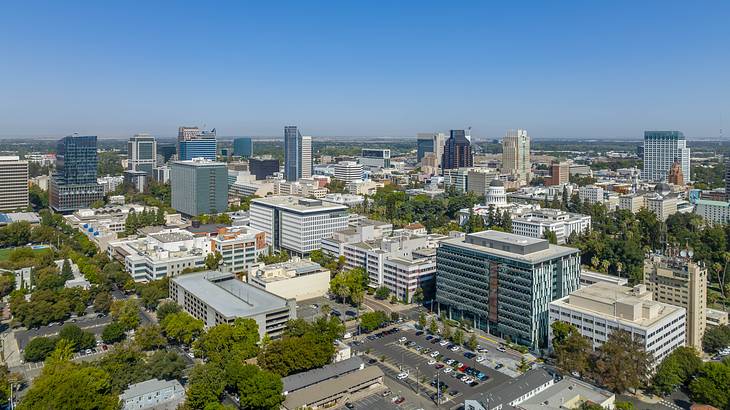 What are the cheapest motels in Sacramento?
Sacramento has many motels if you want to get the most out of your travel dollars. Staying at Motel 6 downtown or booking a room at Econolodge near the convention center are excellent options. Both motels offer basic rooms and amenities at budget-friendly prices.
For longer stays, reserve a room at Extended Stay America. This location has upgraded rooms featuring dining tables and kitchenettes at motel prices. Notably, this chain offers a budget-friendly accommodation option for large families.
Weather, Prices, and Crowds in Sacramento
Sacramento in Winter
Winter (December to March) is the coldest and rainiest time in Sacramento, with temperatures ranging between the 30s and 50s degrees Fahrenheit. Don't let the rain put you off your trip, though. Except for the week of Christmas and New Year's Eve in Sacramento, winter has the lowest crowd levels and accommodation prices.
Winter can also be a great time to get acquainted with Sacramento's art scene. There are several art museums and galleries in the area, and local venues host pop-up art shows, poetry nights, and more.
You can even join an art and food tour to explore all the city's best art galleries and restaurants in one day!
Sacramento in Spring
Spring (March to June) in Sacramento has fantastic weather for sightseeing. Temperatures range from the 40s to 70s degrees Fahrenheit, and the rainfall levels taper off towards the end of the season.
Daytime is usually sunny and pleasant for exploring the city on foot, and it's a great time to take a Sacramento food and history walking tour.
Those looking for more outdoor adventure can head to the nearby Folsom Lake Recreation Area for boating and hiking. You can explore multiple hiking trails on foot or paddle the waterway on a kayak or paddleboard.
Crowds can be moderate to high as Sacramento hosts many festivals in the spring, such as the Sacramento Music Festival, Capital Beer Fest, and Sacramento Comic-Con. These festivals draw large crowds, so book your accommodation in advance to avoid high prices and lack of availability.
Sacramento in Summer
Summer (June to September) can be a scorcher in Sacramento, with daytime temperatures reaching into the 90s degrees Fahrenheit. Nighttime does see dips into the 60s, so many visitors wait until after sunset to explore the city on foot.
To cool off from the summer heat, swimming, and tubing are popular around Sacramento. Multiple lakes around the city have designated swimming areas, and tubes can be rented to float down the famous American River. You could also take a historic river cruise to see some Sacramento landmarks from the open water.
Sacramento summers are packed with festivals, including the California State Fair, Sacramento French Film Festival, Sacramento Juneteenth Festival, and Sacramento Pride. As a result, crowd levels and hotel prices are at their highest, and hotels and motels fill up fast, so make reservations in advance.
Sacramento in the Fall
Fall (September to December) brings cooler weather, more festivals, and the famous fall colors. Crowd levels and hotel prices are moderate to high, with higher rates for accommodation close to event venues.
October is the best month to visit Sacramento to see the tree-lined streets of downtown and midtown erupt in gorgeous orange and red hues. Although Sacramento sees some rain in the fall, there are still plenty of dry days for exploring the city on foot or hiking the nearby nature trails. Temperatures range from the 40s to 70s degrees Fahrenheit.
Festival season is still in full swing in the fall with headliners like the Aftershock Festival, California Capital Airshow, and Sacramento Aloha Festival. Additionally, the Farm-to-Fork Festival is one of Sacramento's biggest events marking the end of the harvest season.
Outside of the festivals, fall is a great time to tour the city. Sacramento has many unique tour offerings, from ghost walks and bar crawls to river sightseeing cruises.
Love biking and craft beer? Why not combine the two and take one of Sacramento's famous brew bike tours? This brewpub on wheels will take you to all the best craft beer spots around the city.
In Summary
Sacramento is a top-rated destination for all travelers, from art enthusiasts and history buffs to festival lovers and foodies. Hopefully, this guide has helped you decide when to visit Sacramento, so you'll be ready for a fun-filled vacation in California's capital city!
Give us feedback about this article
Learn more about Sacramento:
More articles about California:
Read more articles about the United States:
More articles about best time to visit tips:
---
---
Want to keep exploring?
Subscribe for discounts on tickets and hotels and our latest guides.
Thank you for subscribing
We will be in touch soon with discounts on tickets and hotels and our latest guides.
Want to keep exploring?
Subscribe for discounts on tickets and hotels and our latest guides.
Thank you for subscribing
We will be in touch soon with discounts on tickets and hotels and our latest guides.
Related Articles