35 Fun Date Ideas in Sacramento, CA
Destguides may receive commissions from purchases made through affiliate links in this article.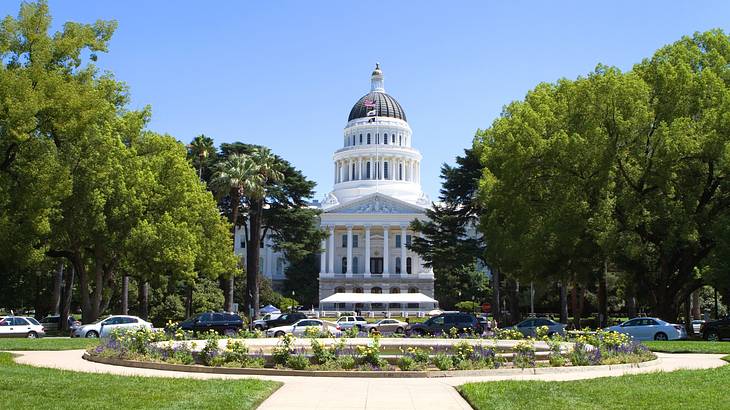 As the capital city of California, it's no surprise that Sacramento has many fantastic attractions. This destination has something for everyone, including couples. Whether you're planning a romantic trip to the city or are living in the area with your partner, there are numerous fun date ideas in Sacramento, CA, to enjoy!
During the day, you can visit romantic places like the World Peace Rose Garden or the spa at Arden Hills. You can also explore parks and museums, and much more.
In the evening, there's no shortage of romantic restaurants to dine at, or you could do something a little different, like catching a Sacramento Kings basketball game. Keep reading for 35 of the most fun date ideas in and around Sacramento!
35 Sacramento Date Ideas
Romantic Things to Do in Sacramento, CA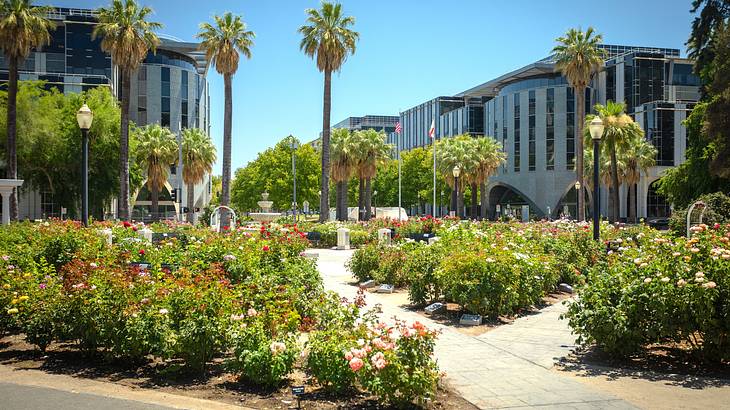 Admire the flowers at the World Peace Rose Garden
The State Capitol Park World Peace Rose Garden is a stunning and romantic attraction that every couple should visit in Sacramento. The park features a Victorian-style rose garden with flowers in many colors.
You can follow trails around the garden and will also see charming fountains and pavilions. Don't forget to snap some photos together with the pretty background!
If you're wondering when to visit Sacramento to enjoy the World Peace Rose Garden to the fullest, opt for a spring trip. This is when most of the flowers are in bloom, and the garden is at its most colorful.
Unwind with a stay at Arden Hills
Arden Hills is a wellness resort housed inside a stunning villa in Sacramento. It's the ideal place to stay for a romantic couples getaway. Those that book a room at Arden Hills can access the spa and enjoy treatments like massages, sugar scrubs, and facials.
The resort also has outdoor swimming pools, surrounded by cabanas and beautiful gardens. After a day at the spa, you and your other half can relax in a Spanish villa-inspired room.
Take a cruise around the Old Sacramento Waterfront
Taking a Sacramento River cruise is definitely one of the most romantic things to do in Sacramento for couples. The afternoon cruise takes you down the river and past the scenic Old Sacramento Waterfront.
Your captain will also offer more information on the history of Old Sacramento, and you can spot Sacramento landmarks, like Tower Bridge.
Have brunch at Tower Cafe
There are an array of excellent brunch spots in Sacramento for a romantic weekend meal. Going to Tower Cafe is highly recommended if you can't decide which spot to try.
You can get a table on the pretty patio and enjoy dishes like French toast, omelets, and fresh fruit with granola and yogurt. Delicious house cocktails can accompany your meal as well if you want a treat!
Wander around the Leland Stanford Mansion
Constructed in 1856, the Leland Stanford Mansion is one of the oldest residences in Sacramento. It's also a beautifully designed building that's a romantic place to wander through with your loved one. As you explore, you can admire opulent decor pieces, luxury antiques, and more. You can then stroll through the lush, manicured gardens.
Ideas for Date Night in Sacramento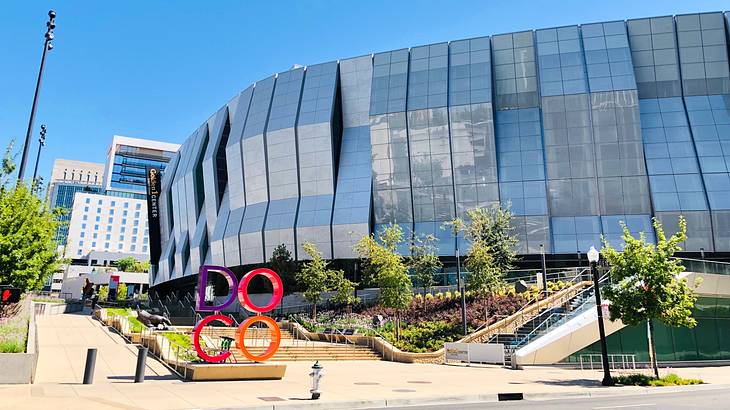 Cheer for the Sacramento Kings at Golden 1 Center
Couples that like sports can spend an evening together at Golden 1 Center cheering for the Sacramento Kings! The NBA team generally plays games in the evening, with some also held in the afternoons on weekends.
You can catch the team playing between October and April in the regular season, and there are many bars surrounding the arena to grab drinks before or after the game.
Watch a classic film at Crest Theatre
One of the best date night ideas in Sacramento for movie lovers is seeing a film at Crest Theatre. This iconic Sacramento movie theater shows classic, independent, and foreign-language movies. Concerts and comedy shows are also hosted here, and you can visit the on-site Empress Tavern for drinks before any event.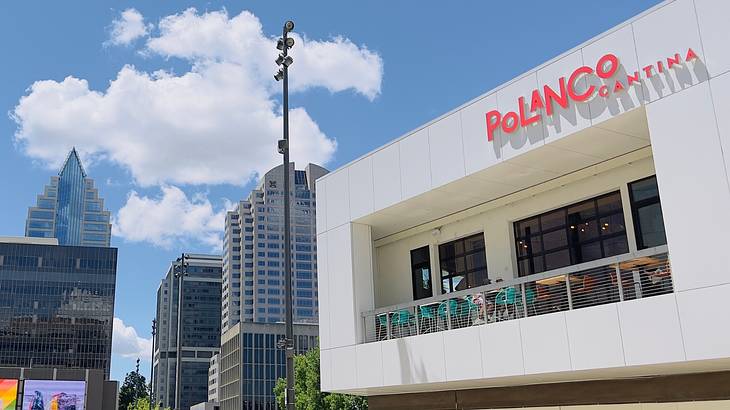 Get drinks at Polanco Cantina
Polanco Cantina is a fun spot for a drinks date, with food also available if you and your partner get hungry. The drinks menu features various types of margaritas as well as signature cocktails, like a drink with tequila, passion fruit liqueur, lime, and cranberry. You could also opt for a tequila flight with three spirits to taste, among lots of other options.
Laugh all night at the Sacramento Comedy Spot
If you're looking for laid-back Sacramento date night ideas, the Sacramento Comedy Spot is the place to be! This local comedy club hosts a range of stand-up comedians as well as improv groups. While you watch the show, you can enjoy beer from local breweries, and snacks like candy are also on offer.
Listen to live music at The Shady Lady Saloon
The Shady Lady Saloon is a cool place to spend the evening together, listening to live music and enjoying good drinks. The 1920s prohibition-inspired bar hosts live music acts three nights a week, including jazz and blues bands. Menu options include craft cocktails, wine, and sharing snacks like charcuterie boards.
Most Romantic Restaurants in Sacramento, California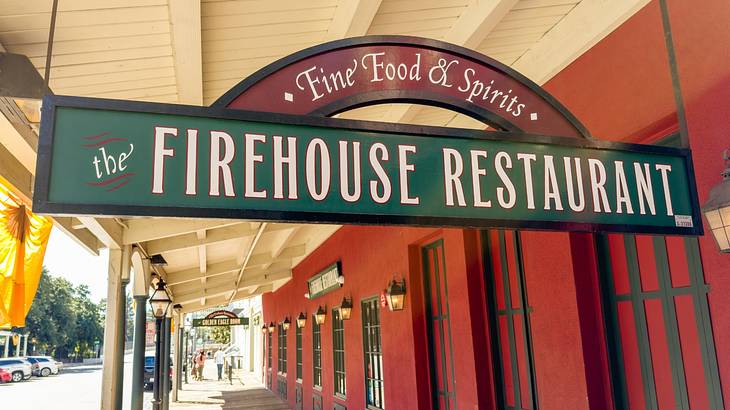 The Firehouse
The Firehouse is a fine dining restaurant located in Old Sacramento. It features a charming dining room and a tranquil outdoor patio, perfect for warm California evenings.
Dishes for you and your date to order here include pumpkin gnocchi, clam bucatini, and Chilean sea bass with red wine jus. If you can't decide what to order, opt for the five-course tasting menu with wine pairings available.
Andy Nguyen's Vegetarian Restaurant
One of the best plant-based eateries to visit for a date is Andy Nguyen's Vegetarian Restaurant. This spot specializes in Vietnamese dishes, with delicious menu options like crispy lotus rolls, various noodle soups, and oyster mushroom and tofu hot pot. With so many choices, getting lots of dishes to share is highly recommended!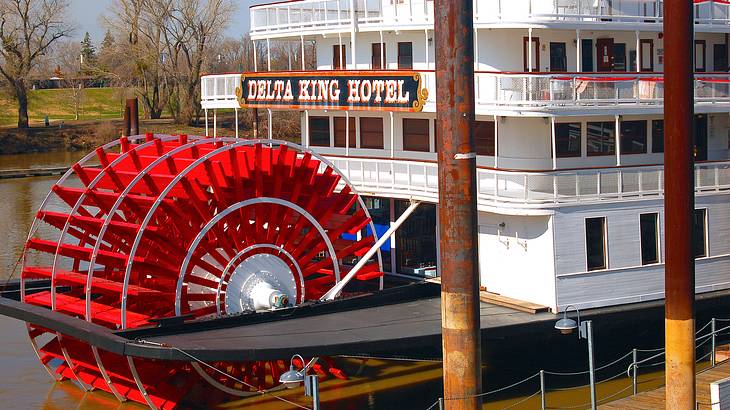 The Pilothouse Restaurant at the Delta King Steamboat
The Delta King Steamboat is a unique attraction located on the Sacramento River. The steamboat houses a luxury hotel as well as entertainment venues and the Pilothouse Restaurant.
At the restaurant, you can enjoy river views while dining on dishes like shrimp cocktail, Cajun linguine, and roasted beet salad. An extensive wine list is also available.
Red Rabbit Kitchen and Bar
Red Rabbit Kitchen and Bar is the perfect place for a dinner date. The stylish eatery serves dishes like kale caesar salad, salmon with pesto zucchini noodles, and tofu green curry. You can also enjoy delicious cocktails, such as a gin, plum wine, and cardamom cordial mix, as well as wine or beer.
Cafeteria 15L
If you're looking for a trendy yet romantic restaurant in Sacramento, check out Cafeteria 15L. You can start your meal with a craft cocktail before enjoying dishes like truffle tater tots, baked rigatoni with burrata, and chicken and waffles. To finish, you and your date can indulge in desserts, with sweets like skillet S'mores and mint chip mud pie on offer.
Best Date Ideas in Sacramento, CA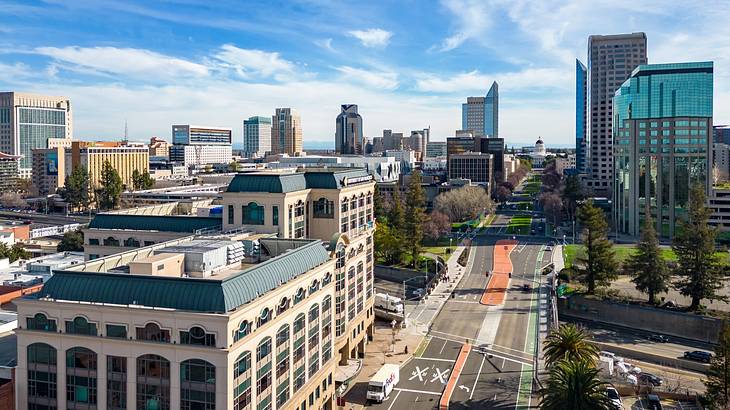 Discover the best eateries in Sacramento
Foodie couples will be interested in going on a Sacramento food tour. This excursion takes you to some of the top-rated eateries in Downtown Sacramento, where you can try a range of delicious dishes. As you go from stop to stop, your guide will point out landmarks and offer information on the city's history.
See classic cars at the California Automobile Museum
Sacramento is home to lots of niche museums, like the California Automobile Museum. At the museum, you and your partner can see over 150 classic cars as well as race cars and other vehicles. Within the exhibits, you can also learn more about each car's background.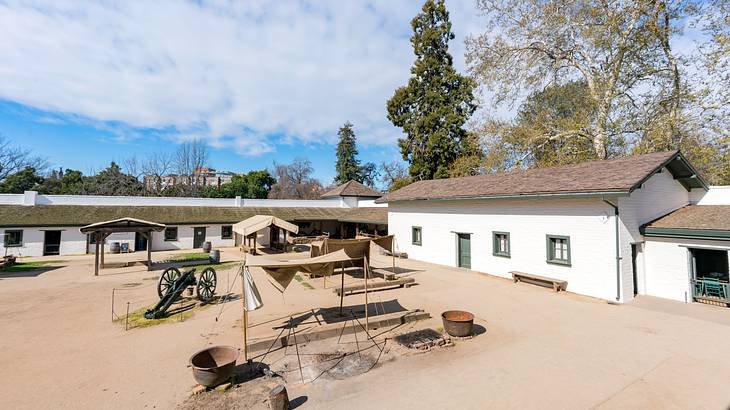 Visit Sutter's Fort State Historic Park
A fact about Sacramento is that it was an important trading area in the mid-1800s and also attracted around 300,000 people during the Gold Rush. You and your partner can learn more about this time period in Sacramento by visiting Sutter's Fort State Historic Park.
This site was a 19th-century trading post within the Mexican Alta California province, and today, you can tour the grounds and fort to find out more about its history.
Learn new things at the California State Railroad Museum
Planning a trip to the California State Railroad Museum is another of the fun things for couples to do in Sacramento if you both like unique attractions.
This museum covers the history of the railroads in California and how this form of transport connected the state and its businesses to the rest of the United States. As you look around, you'll see artifacts relating to the railroads as well as restored locomotives.
Break free from an escape room
Tackling an escape game is a fun activity that will appeal to almost all couples. At Enchambered Escape Room, you and your partner can choose from various themes, like a witch-themed game or a Victorian ghost story room.
If you want something a little less spooky, there's a toy workshop puzzle to solve! No matter which escape room you choose, you'll enjoy trying to complete the game together.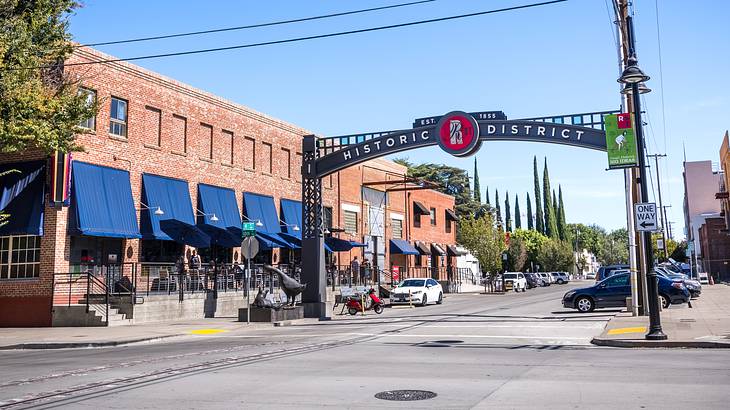 Explore the Old Sacramento Historic District
Located on the waterfront, the Old Sacramento Historic District is a fascinating place to explore together. It features many 19th-century Gold Rush-era buildings that now house museums, shops, and restaurants. While looking around, you can also take in the scenic waterfront views.
Whether you and your date have chosen some places to visit or just want to browse the shops, eateries, and other attractions, you'll have a great time exploring!
Appreciate artworks at the Crocker Art Museum
Visiting the Crocker Art Museum is one of the most fun things to do in Sacramento for couples, especially those that love arts and culture attractions. Founded in 1885, this is the oldest art museum in the Western United States and houses a collection of about 15,000 pieces.
The collection has an array of works by California artists, including pieces depicting the Gold Rush. Art by other American and international artists is also on display.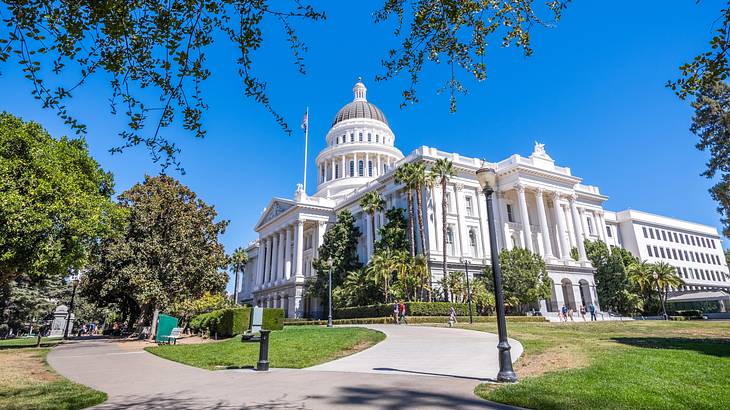 Tour the California State Capitol Museum
The California State Capitol Building is a famous California landmark located in Sacramento, the state's capital city. If you and your partner are visiting the area, going to the California State Capitol Museum within the building is a must.
You can learn more about city and state history and culture, and politics in California over the last few hundred years.
Follow the American River Bike Trail
Also known as the Jedediah Smith Memorial Trail, biking along the American River Bike Trail is a must for couples that like outdoor activities. The trail can be accessed from various parks in the area and extends for around 32 miles. You can tackle as much or as little of the trail as you like and will be met with scenic river and forest views all the way along.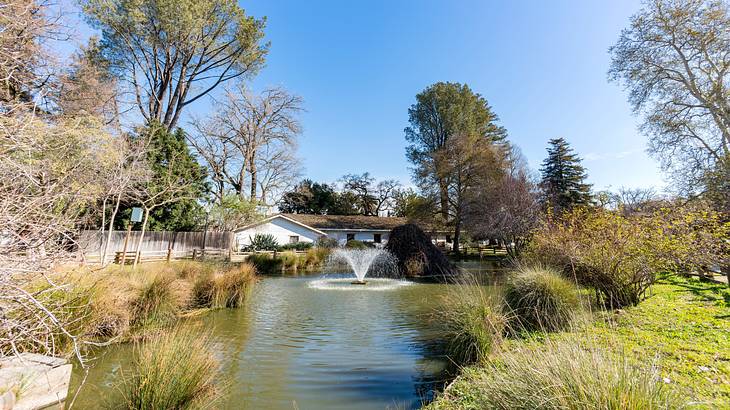 Go to the California State Indian Museum
If you're looking for more unique museums to visit together, add a trip to the California State Indian Museum to your list. Exhibits cover the culture and history of indigenous populations in California.
During a visit, you'll find out more about these civilizations and see artifacts, including hunting tools, handicrafts, and clothing and jewelry, many of which date back hundreds to thousands of years.
Play a round at William Land Golf Course
Whether you and your partner play golf a lot or just want to give the sport a go, you'll have fun playing a round at William Land Golf Course.
The nine-hole course is surrounded by lush greenery and woodlands, making it a scenic place to enjoy on a sunny day. After your game, you can stroll around the rest of William Land Park, which includes a duck pond and flower gardens.
Cute Date Ideas in Sacramento, CA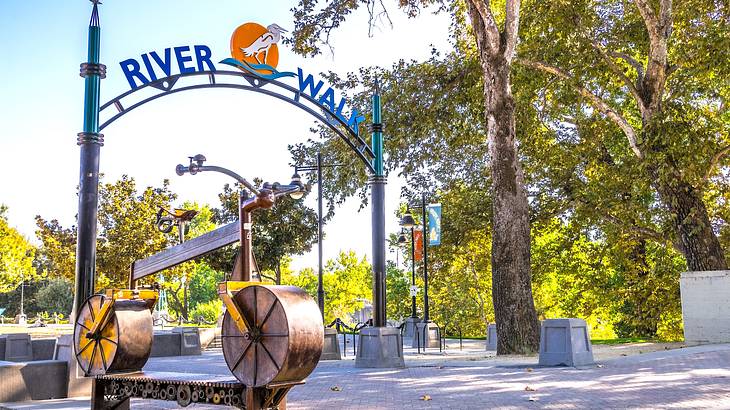 Hang out at River Walk Park
West Sacramento's River Walk Park is a scenic place to enjoy warm weather with your date. The park sits on the waterfront and features trails that offer views of the Sacramento River. After wandering along the waterfront, you can sit and chat on the lawns or share a picnic.
Catch a movie at the West Wind Sacramento 6 Drive-In
Hanging out under the stars to watch an outdoor movie is one of many cute Sacramento date ideas. At West Wind Sacramento 6 Drive-In, you and your partner can see new releases from the comfort of your car. Before the film begins, you can also grab movie snacks like popcorn or candy.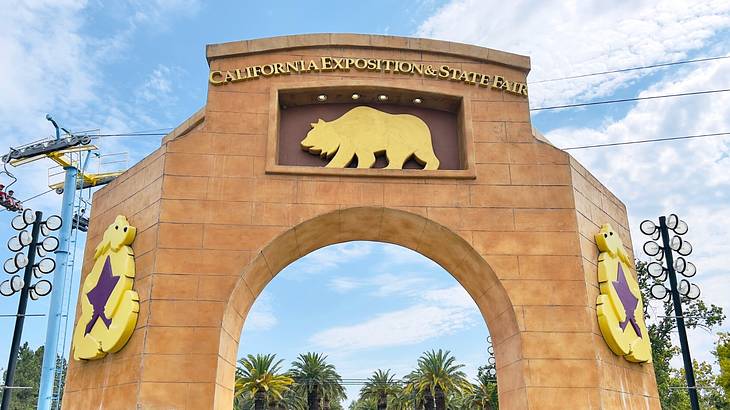 Check out the California State Fair
Couples in Sacramento in July can plan a cute date at the California State Fair! The annual 17-day event features a variety of food vendors as well as booths by local businesses, carnival rides and games, and many other attractions. As this event is open all day until around 10 PM, you can plan a memorable daytime or evening date at the California State Fair.
Have a picnic at McKinley Park
The pretty McKinley Park is one of many Sacramento attractions for couples to visit on a nice day. At the park, you can wander through gardens and past charming duck ponds. It's also the perfect place to go for a cute picnic date. You'll find no shortage of scenic places to sit and enjoy your meal together.
Treat your date to ice cream at The Parlor Ice Cream
Going on a dessert date is sure to please, and there are numerous spots to head to for sweet treats in Sacramento. For ice cream, The Parlor Ice Cream is one of the best options.
You can get things like the brand's signature ice cream puffs, decadent sundaes, and milkshakes, as well as ice cream by the scoop. Unique flavor options include cake batter, coffee with Nutella, and taro, with classics like chocolate also available.
Fun Things to Do Near Sacramento, CA, for Couples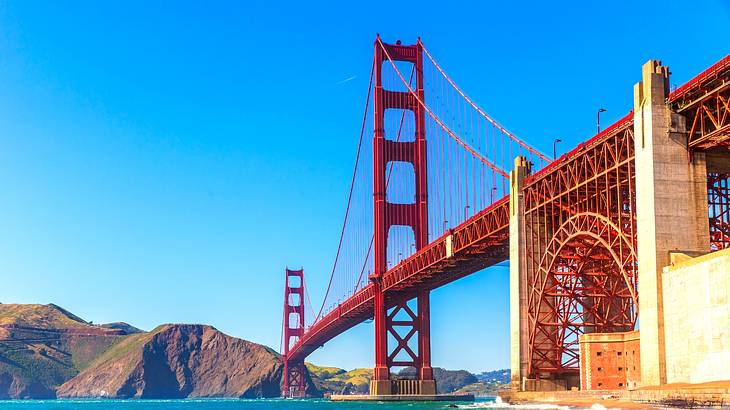 Spend the weekend in San Francisco
Although you can find an array of romantic things to do in Sacramento, California, sometimes, it's fun to plan a couples getaway. If you're looking for an amazing destination that's not too far away, planning a weekend trip to San Francisco is a must.
Couples things to do in San Francisco include biking across the Golden Gate Bridge, strolling around the San Francisco Botanical Garden, or having a dinner and movie date at the trendy Foreign Cinema. You could also book a San Francisco tour, such as going on a sunset cruise around San Francisco Bay.
Enjoy a day or overnight trip in Santa Rosa
Another excellent day or overnight trip destination is Santa Rosa. This charming California city has something for everyone and is only an hour and a half from Sacramento.
Fun things to do in Santa Rosa together range from viewing Snoopy exhibits at the Charles M. Schulz Museum to relaxing with drinks at Bear Republic Brewing Co. Brew Pub or exploring Spring Lake Regional Park.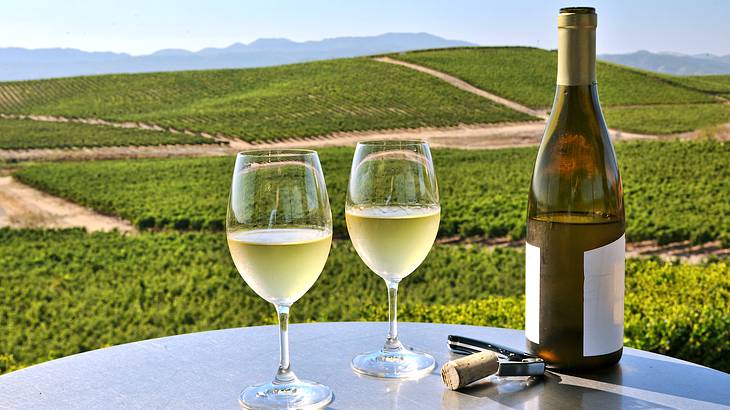 Plan a trip to the wineries of Napa Valley
The famous Napa Valley is only around an hour from Sacramento, and taking your other half to this beautiful wine region is sure to be a memorable trip.
If you want to make planning easy and leave the car at home, you can join a Napa Valley wine tour from Sacramento. Once you arrive, you'll be taken to some of the area's best wineries where you can taste samples and take in the vineyard vistas.
Experience indoor skydiving
Are you looking to plan a highly unique and memorable date? Then take your partner indoor skydiving. During this experience, you'll learn how to dive safely before giving it a go in a state-of-the-art wind tunnel. If you both have a good time, you could try skydiving from a real plane for your next date!
In Conclusion
As you can see, there are many fun and romantic spots in Sacramento for a daytime or nighttime date. No matter what you like to do together, you'll find an array of attractions to visit and bars and restaurants to check out in and around Sacramento!
Give us feedback about this article
Learn more about Sacramento:
More articles about California:
Read more articles about the United States:
More articles about date ideas:
---
---
Want to keep exploring?
Subscribe for discounts on tickets and hotels and our latest guides.
Thank you for subscribing
We will be in touch soon with discounts on tickets and hotels and our latest guides.
Want to keep exploring?
Subscribe for discounts on tickets and hotels and our latest guides.
Thank you for subscribing
We will be in touch soon with discounts on tickets and hotels and our latest guides.
Related Articles