15 Famous Landmarks in San Diego, California Not to Miss
Destguides may receive commissions from purchases made through affiliate links in this article.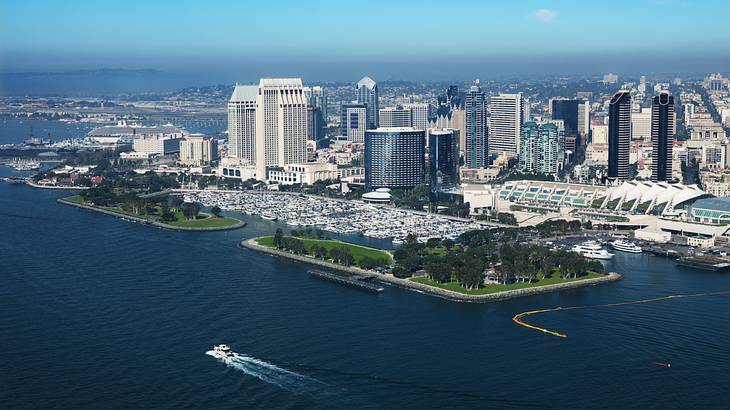 With stunning beach towns, a bustling city, and pleasant weather year-round, San Diego is a fantastic place to visit on a beautiful coastline, just south of Los Angeles. This gorgeous beach city offers aquatic attractions, a flourishing urbanscape with historical heritage, culture, and art, and great dining and nightlife options.
There's so much to explore in terms of natural landscapes, museums, and history. In fact, San Diego is commonly known as the "Birthplace of California" because it was the first place Europeans visited and settled on the West Coast of the United States.
Whether you're traveling to San Diego for a short trip or an extended vacation, these are 15 famous landmarks in San Diego, California, that you should not miss!
15 Famous San Diego Landmarks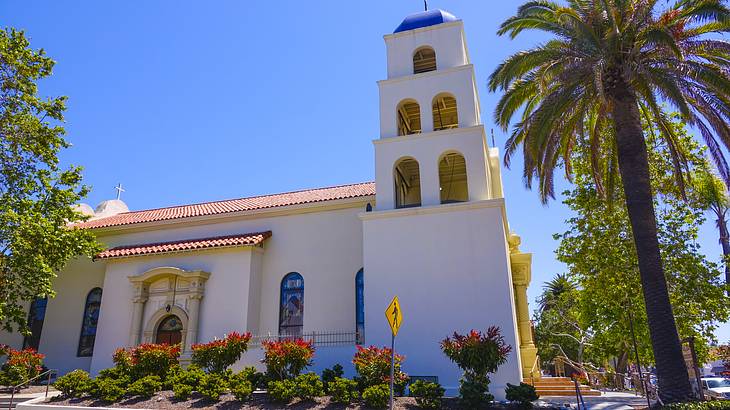 Old Town San Diego State Historic Park
This place gives San Diego its title as the "Birthplace of California." Also known as Old Town, this San Diego landmark features museums and historical sites that teach travelers about the first settlements in California. Moreover, it is a recreation and representation of life during the early American and European era from 1821 to 1872.
Inside the park, plenty of shops sell authentic Mexican handicrafts, textiles, and local spices. Additionally, you can visit a working blacksmith, explore various art studios, listen to Mariachi music, and enjoy a meal outside on one of the many restaurant's patios.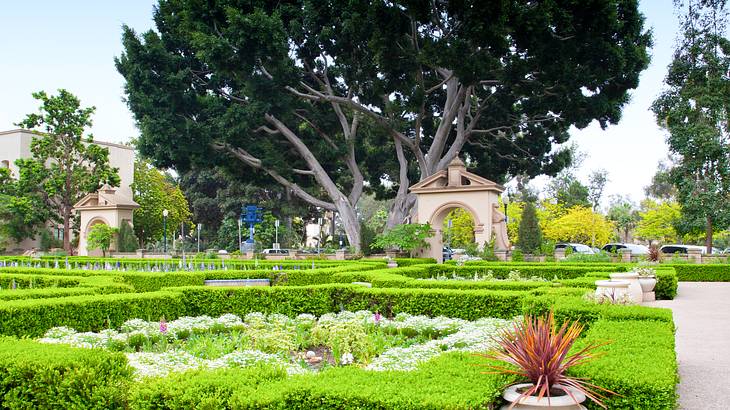 Balboa Park
Balboa Park is a must-visit landmark in San Diego. This massive park contains historical structures, various museums, gardens, theaters, shops, and green spaces. Initially created for the Panama California Exhibition of 1915-1917, most Spanish-styled buildings remain from that event.
You could easily spend a day exploring all the gardens and museums here. If you want to take a break, you can have lunch at the cafe or at one of the stands. Moreover, the famous San Diego Zoo is located within the park, making it easy to tack onto your itinerary.
San Diego Museum of Art
Located in the grand and beautiful Balboa Park, the San Diego Museum of Art is the region's most extensive and oldest art museum. Its exterior imitates the 17th-century University of Salamanca.
The museum's nationally renowned collection includes Spanish and Italian artists. It also permanently exhibits South Asian paintings and American art from the 1800s and the 1900s.
This is the perfect place for a rich and diverse cultural experience. While you're here, look out for special exhibitions from around the world or cultural-educational programs that the museum features.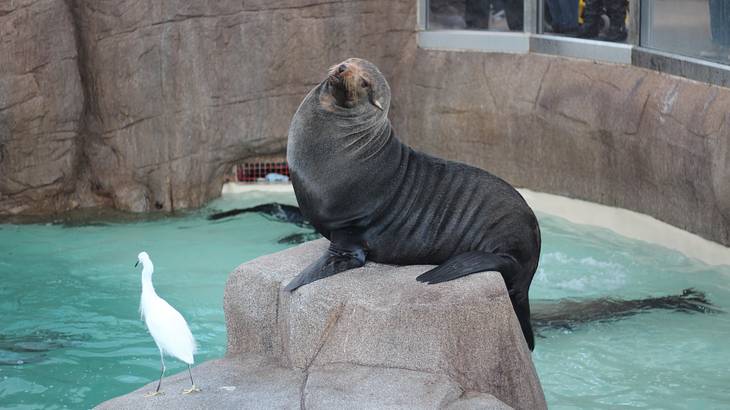 San Diego Zoo and San Diego Zoo Safari Park
The San Diego Zoo is the top San Diego landmark and one of the largest zoos in the US. From native to exotic species, you can see all kinds of animals here. Additionally, there is an extraordinary floral collection within its grounds.
The San Diego Zoo is also conservation-focused instead of profit. This means that the animals' habitats are suitable, and they are managed well.
If you want an African-style safari experience, visit the San Diego Zoo Safari Park. It is located north of San Diego in San Pasqual Valley. This park has free-roaming animals and offers a more special wildlife-watching experience.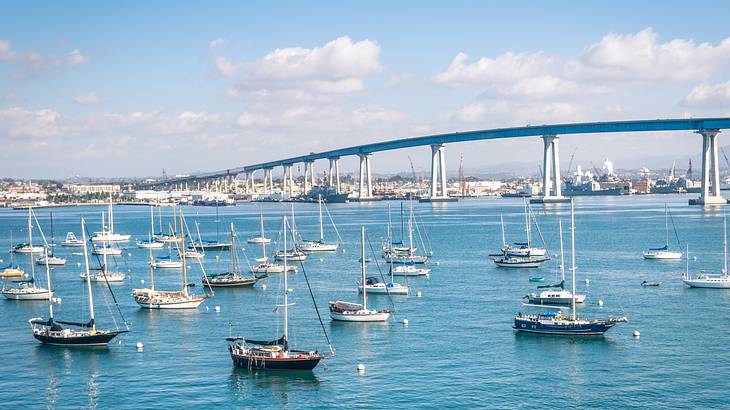 San Diego Bay and San Diego Harbor
The city of San Diego lies along a bay, so another can't miss attraction is its waterfront! You can walk along San Diego Walk or take a boat cruise at San Diego harbor, all while soaking in the sunshine and fresh air.
There are various boat tours you can choose from. You can learn about the city's history, visit the different historic buildings in San Diego, see its skyline, view the marine animals, or cruise under the Coronado Bridge that spans San Diego Bay.
Moreover, depending on the season, you could also take a boat to go whale watching!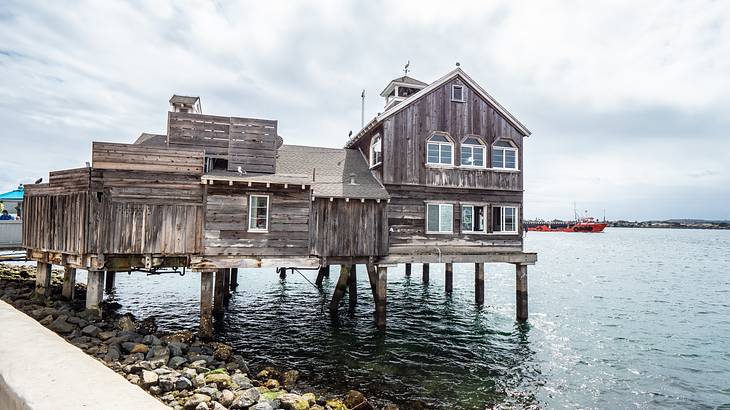 Seaport Village
Adjacent to the Bay, Seaport Village is a charming area to explore and spend an afternoon. Right on the water, Seaport Village comprises unique shops and restaurants with waterfront patios. You can buy anything from hot sauce and socks to candy and ice cream in this bustling neighborhood.
Additionally, you can also watch the outdoor stage that showcases various performers. Seaport Village is close to many other attractions, too. So it can be an excellent place to take a break, eat, and enjoy the city.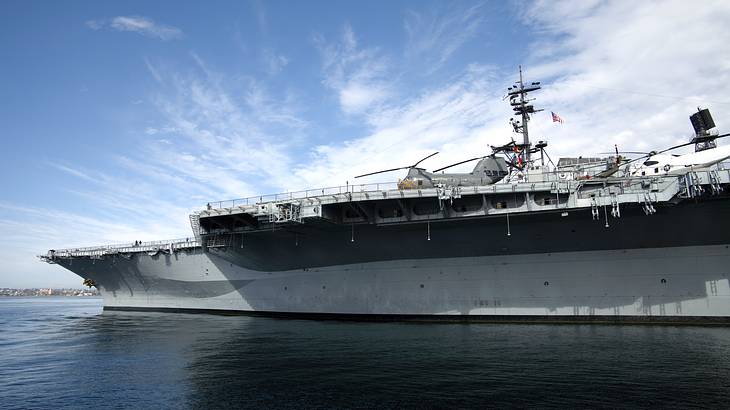 USS Midway Museum
If you plan on visiting Seaport Village, you'll probably come across one of the US military's most prominent and longest-serving aircraft carriers: the USS Midway. Decommissioned in 1992, the ship rests permanently at Navy Pier.
As one of the most historic places in San Diego, this museum highlights the history of this significant vessel through its exhibits and restored aircraft.
Take a self-guided audio tour, watch a show at the theater, or try the onboard flight simulator. See how the hundreds of thousands of military personnel lived in this floating city!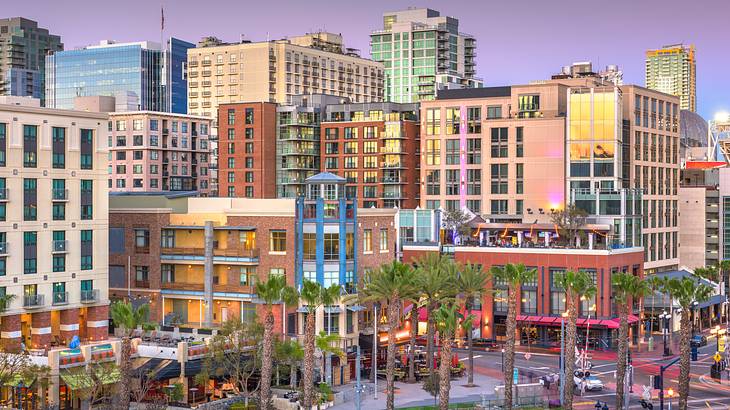 Gaslamp Quarter
Developed by William Heath Davis, the Gaslamp Quarter showcases the beauty of this waterfront city and is one of the best things to do in San Diego at night. Comprising 16 blocks from Broadway to the Bay, you can explore this national historic district by walking or on a bike taxi.
Initially home to casinos, salons, and other buildings during its early years, it now includes excellent shops, high-end boutiques, galleries, restaurants, and a bustling nightlife. Come here to enjoy one of the most popular places in San Diego!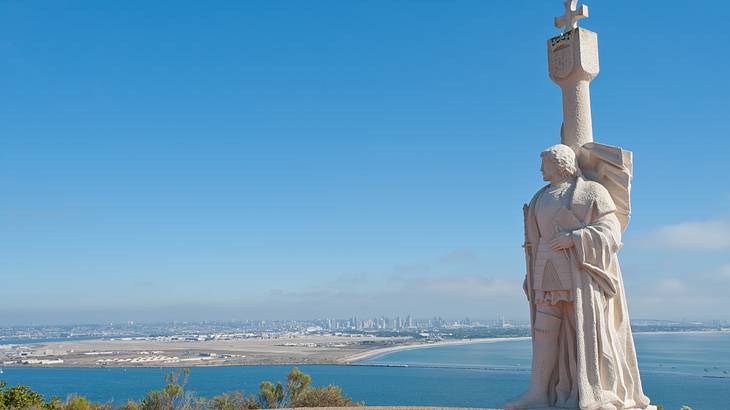 Juan Rodriguez Cabrillo National Monument
The Juan Rodríguez Cabrillo National Monument is located at the southernmost tip of Point Loma. Overlooking the city and San Diego Bay, this monument honors Juan Rodríguez Cabrillo, the first European to discover San Diego Bay.
The locals of Southern California consider this as one of the most famous historical places in San Diego with high heritage value.
Moreover, while you're at Point Loma, make sure to visit the other various attractions and California landmarks. You can tour the historic Point Loma Lighthouse, see the Sunset Cliffs, relax at Point Loma Beach, go tidepooling, or watch the sunset!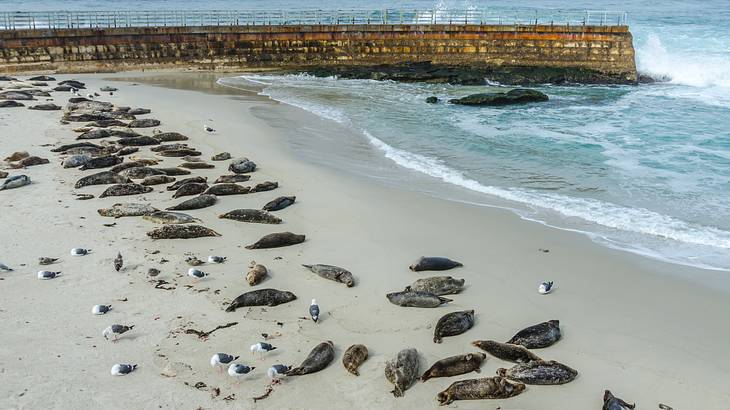 La Jolla Cove
This landmark is a small cove beach surrounded by cliffs in La Jolla, a seaside district in the northern part of San Diego. The area around the Cove is full of high-end shops, businesses, and restaurants.
La Jolla Cove is part of the aquatic reserve, so its underwater marine life is rich and diverse. The beach area is relatively small during high tide, but you can explore the tide pools during low tide.
Make sure not to confuse it with La Jolla Shore Park to the north of the Cove, although you should visit both! You can kayak to the nearby caves from La Jolla Shore Park.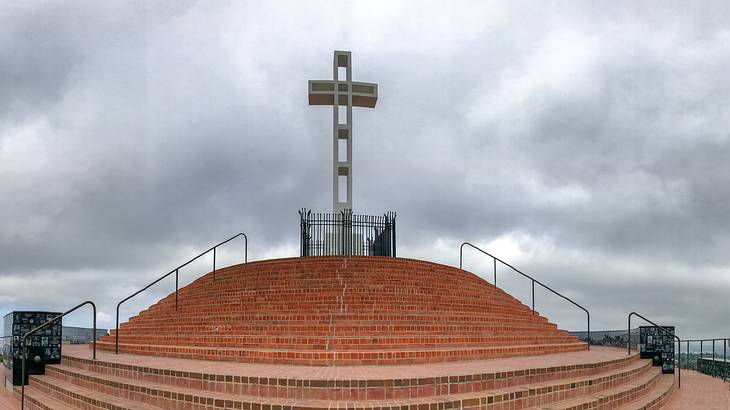 Mt. Soledad National Veterans Memorial
Located on the top of a hill in La Jolla, Mt. Soledad National Veterans Memorial spans from the Revolutionary War to the present War on Terrorism. The building's design and circular pathways lead up to the large cross at the top, which is a respectful tribute to the lives of all veterans.
In the memorial, there are granite walls with photos and small biographies attached to the names. After reading the various plaques, you can walk on the hiking paths to experience spectacular panoramic views of the city.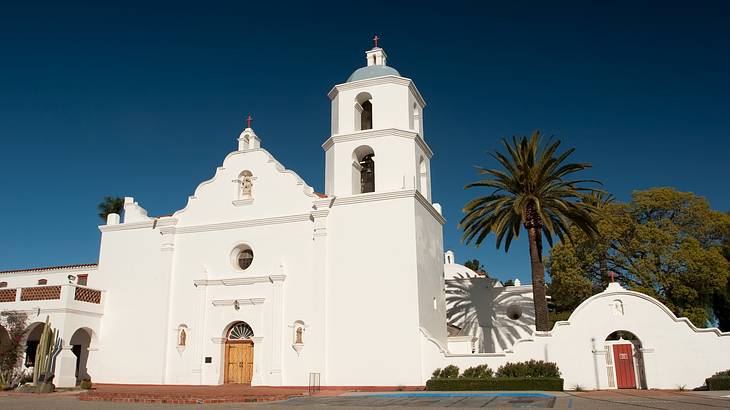 Mission San Luis Rey
Founded in 1798 and home to the Franciscan Friars, Mission San Luis Rey is a National Historic Landmark that still operates today. Part of a number of religious and historic buildings in San Diego, this one is the largest of the Californian Missions and is rated as one of the Seven Wonders of San Diego County North.
Visitors are welcome to experience the beauty and tranquility of this old Mission by visiting the museum, exploring the cemetery, attending a retreat, or even volunteering. Here, you can discover all the numerous historical and spiritual experiences that Mission San Luis Rey offers!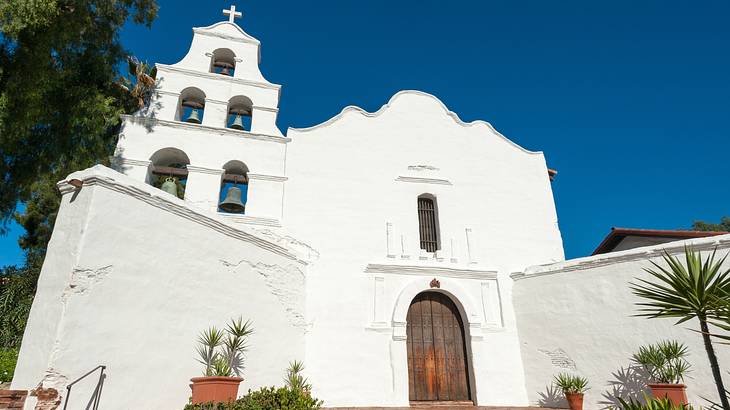 San Diego Mission Church
Although it isn't the largest, Mission Basilica San Diego de Alcala holds the title of the first Franciscan Mission in California. This prestigious place is also known as the Mother of the Mission. Initially, home to the Kumeyaay Indians, this site was established in 1769 by Father Junipero Serra.
From 1846 to 1862, the military used the Mission after years of operating. After a signed proclamation by President Abraham Lincoln in 1862, the various Missions turned into the Roman Catholic Church. Currently, this Mission now functions as the San Diego Mission Church.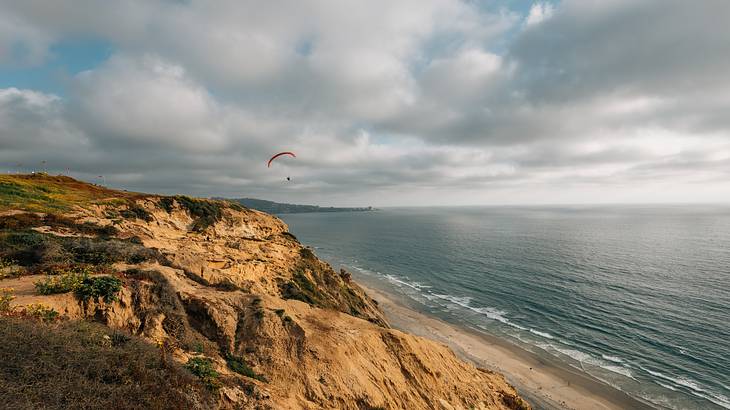 Torrey Pines State Natural Reserve
Torrey Pines State Natural Reserve is located north of San Diego, just past the University of California, San Diego. These 1,500 acres of land were preserved as San Diego developed, making it one of most primary and wildest areas in Southern California!
This park comprises the maritime chaparral, the Torrey pine, unspoiled beaches, and a lagoon. At Torrey Pines State Natural Reserve, you can easily spend a day hiking the many trails or relaxing on the beaches!
Whaley House Museum
Located on San Diego Avenue, the Whaley House Museum is a state historical landmark. The Department of Commerce recognized the Whaley House as haunted in its brochure of haunted locations in the US.
The house belonged to Thomas and Ana Whaley, along with their six children. The family moved in and out of the house until the suicide of their daughter. After being vacant for over two decades, the Whaley son restored the building and turned the home into a tourist attraction.
After its restoration, the rest of the Whaley family lived in the house and subsequently passed away on its grounds. This history designated the Whaley House as a haunted house.
Conclusion
So, there you have it! Some famous and historical landmarks in San Diego, California, you must see at least once!
There are even more relaxing, historical, cultural, and hidden gems in this Southern California city, but the ones mentioned above can help you get started!
Give us feedback about this article
More visual stories related to this article:
Want to keep exploring?
Subscribe for discounts on tickets and hotels and our latest guides.
Thank you for subscribing
We will be in touch soon with discounts on tickets and hotels and our latest guides.
Want to keep exploring?
Subscribe for discounts on tickets and hotels and our latest guides.
Thank you for subscribing
We will be in touch soon with discounts on tickets and hotels and our latest guides.