20 Best Things to Do in San Diego at Night
Destguides may receive commissions from purchases made through affiliate links in this article.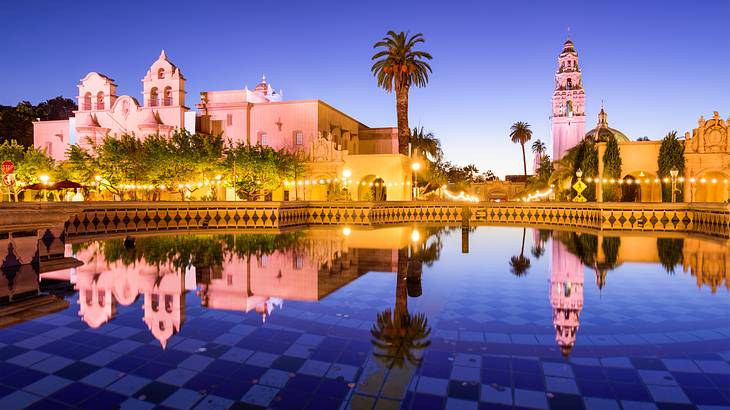 San Diego is the site of the first European settlement in California, and today is a bustling city of over a million people at the border of the United States and Mexico. This has made it a center for arts and entertainment while still managing to keep its old charm and beach town vibes.
Its sun and shore provide many things to do during the day, but these 20 best things to do in San Diego at night will give you a good idea of all the city has to offer after the sun goes down. Continue reading to learn more!
20 Things to Do at Night in San Diego
Take a San Diego City Lights Night Tour
For a complete tour of the city's many attractions, you can sign up for a San Diego City Lights Night Tour. This guided night tour lets you beat the heat as it takes you through Balboa Park, the Gaslight Quarter, Coronado Bridge, and Embarcadero.
When the hour-and-a-half tour is over, you can decide which of the areas you'd like to spend some more time in.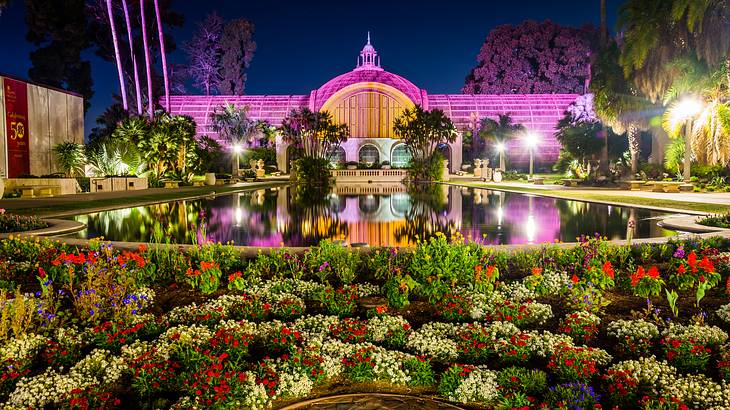 Visit Balboa Park after hours
Balboa Park is a famous landmark in the heart of the city full of gardens, museums, and the famous San Diego Zoo. During the summer months, over half of the park's seventeen museums extend their hours into the night.
Winter visitors asking what to do in San Diego at night can go enjoy the spectacular December Nights event with food, live entertainment, and festive lighting. Afterward, you can walk to nearby North Park for some holiday shopping.
See a play at The Old Globe Theatre
The Old Globe in San Diego was built in 1935 and featured abridged versions of Shakespeare's plays. The building itself was modeled off the original theatre of its name found in London, giving it an old-world ambiance.
Almost one hundred years later, visitors can still catch Shakespeare and other classics of the stage here. For true theater enthusiasts, the Old Globe has evening seminars that take guests backstage and provide behind-the-scenes insights into production.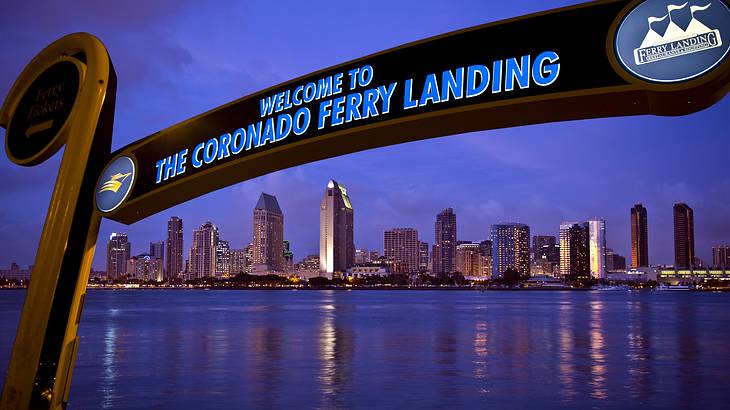 Take the Coronado Ferry across San Diego Bay
Across the San Diego Bay from the downtown area lies the town of Coronado, known for its idyllic beaches and the rustic yet luxurious Hotel del Coronado.
An evening ferry across the bay is a convenient and scenic way to reach this enchanting destination, with views of the San Diego skyline opening up as you depart. Once in Coronado, you can walk along the boardwalk in the cool night air, peruse quaint boutiques, and dine in oceanfront restaurants.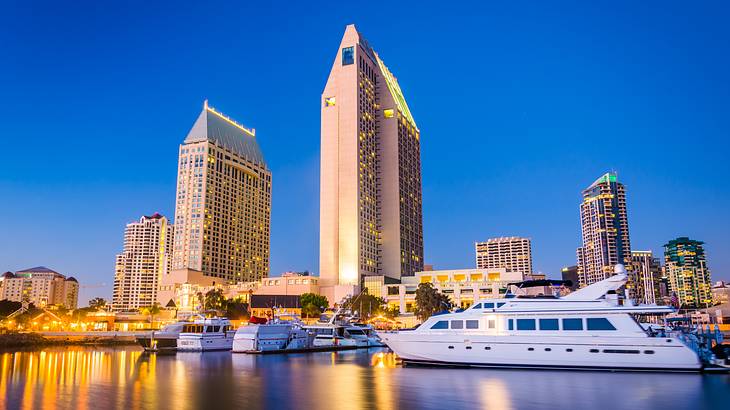 Enjoy a delicious dinner in Embarcadero
For a plethora of dining options in downtown San Diego, head to Embarcadero Marina Park. The Carnitas Snack Shack is a standout for its quirky cocktails and wide array of pork dishes.
For some of the best San Diego night activities in November, you can find your way to the annual week-long San Diego Bay Wine & Food Festival.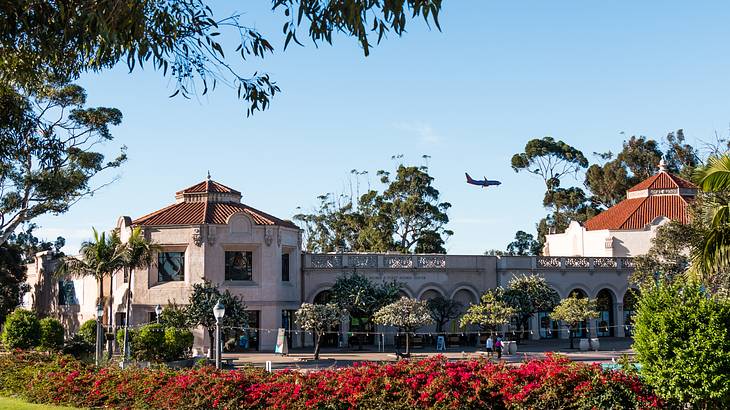 Be a kid again at the Fleet Science Center
Fleet Science Center is one of the many museums found in Balboa Park and gives its visitors glimpses of how science can be used to create a brighter future. Nighttime visitors can head to the center's planetarium for a narrated tour of our solar system.
During the summer, Friday nights offer more opportunities for the nocturnally inclined. Extended hours allow you to take in an IMAX movie or relive childhood games at Pause/Play.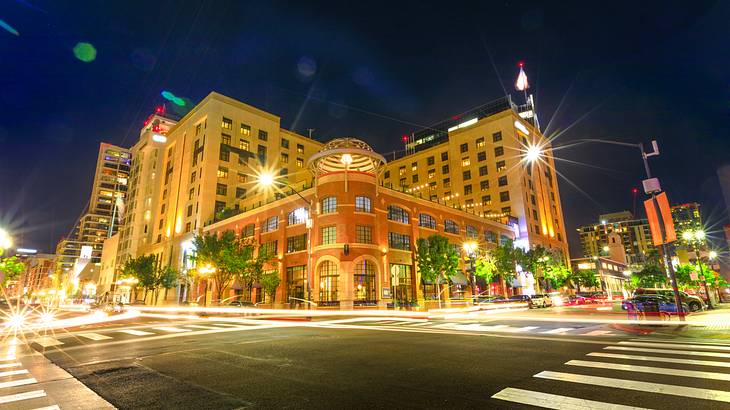 Revel in the Gaslamp Quarter
The Gaslamp Quarter of San Diego dates back to the 1860s, and there are walking tours that can help you navigate and understand this vibrant, historic district.
The district today has taken on a reputation as a center for nightlife and entertainment. A few nightlife options include spending the evening with a view in Altitude Sky Lounge or riding a mechanical bull at Double Deuce!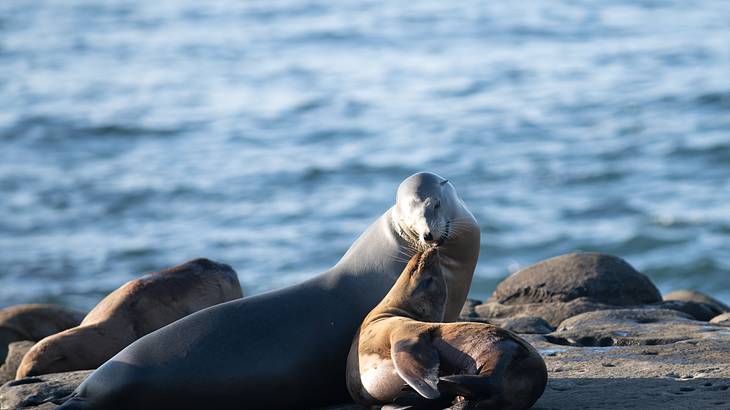 Go night diving in La Jolla Cove Ecological Reserve Canyon
La Jolla Cove is known for its sea lions and beaches, but diving into its inky waters after sunset is among the top cool things to do in San Diego at night. It is also one of the best California beach towns to visit.
This protected underwater environment is home to crabs, squid, and octopi that all float through the darkness, awaiting discovery. The dive area is also packed with bioluminescent phytoplankton, making this an eerie, otherworldly experience.
See a live performance at La Jolla Playhouse
La Jolla Playhouse features contemporary theater, musicals, and performances. If you're into new and creative performance art, La Jolla Playhouse prides itself on its imaginative programs using the art form to understand our world.
Shows rotate through regularly, so be sure to check the calendar to see what's on stage while you're in town.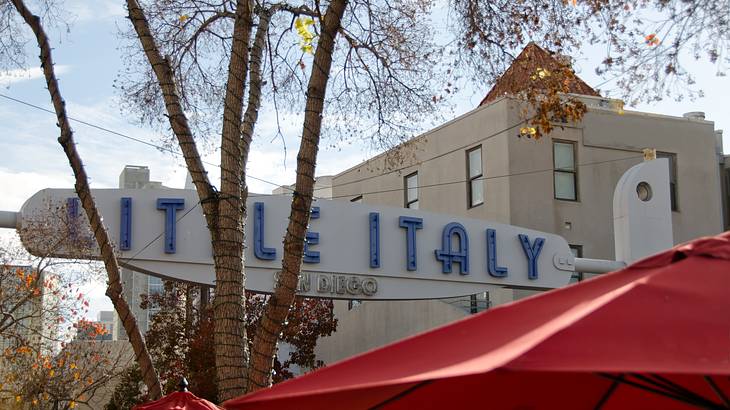 Eat your way through Little Italy
San Diego's Little Italy has been called "Top Chef Alley" for its concentration of world-class chefs and eateries. These restaurants include authentic Italian cuisine, such as Filippi's Pizza Grotto and non-Italian fare like Juniper & Ivy
After dinner, you can take a stroll to Piazza della Famiglia in the heart of Little Italy. This pedestrian area is a good place to relax after a meal or to catch live evening music on Flamingo Fridays.
Get fancy at the San Diego Civic Theatre
San Diego Civic Theatre is a great excuse to dress up for a fancy evening. Broadway San Diego makes its home here with regular performances, and the San Diego Opera uses it as their main performance hall.
It's also the host of a wide variety of other performing arts like piano concerts, orchestras, and interactive shows, making it one of the most eclectic places to go at night in San Diego.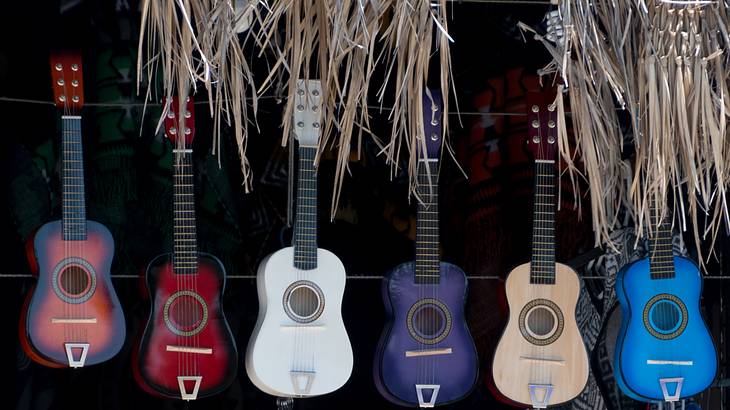 Visit old haunts in Old Town San Diego
Old Town San Diego near Mission Bay was the first European settlement in California all the way back in 1769. It was only a fort and a mission back then, but today it includes specialty shops, historic buildings, and many Mexican restaurants that showcase the area's multicultural history.
At night, the San Diego Ghosts and Gravestones tour will provide brave visitors with unsettling tales of the settlement's history and hauntings.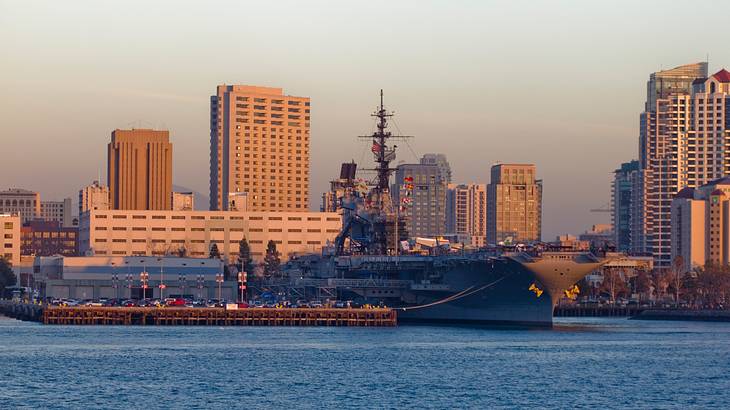 Take a Snooze Crewz at the USS Midway Museum
The USS Midway was the longest-serving naval ship of the twentieth century and was once the largest ship in the entire US Navy.
Now a harbored museum, its incredible Snooze Crewz program offers youth groups and families the chance to learn about the ship while staying overnight aboard the giant "city at sea." Guests can stargaze on the flight deck and take a guided tour of the inner workings of the retired behemoth.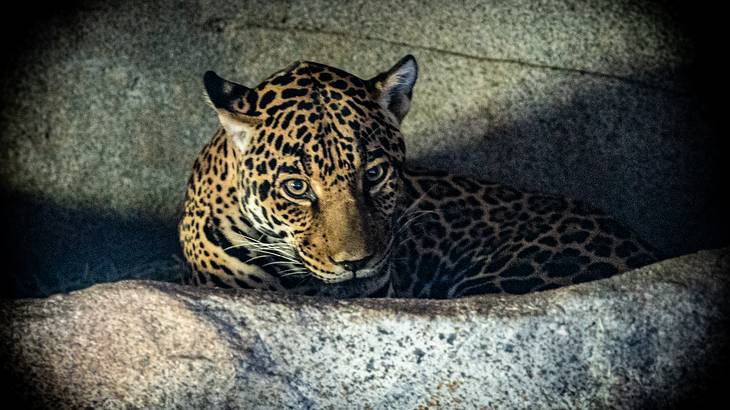 See the famous San Diego Zoo at night
Summer nights at the San Diego Zoo give visitors a chance to see the animals in a new light, so to speak. While some are moved off habitat, many of the nocturnal creatures stick around and are more active during these extended hours, such as the ocelots, sloths, and Tasmanian devils.
There are also regular live music performances by in-house band Rock & Roar or the Call of the Wild acrobatics show that visitors can see by staying after dark.
Play trivia at the San Diego Natural History Museum
The city's Natural History Museum, or "Nat" to the locals, offers several fun things to do in San Diego at night. Adult guests can enjoy tacos, ceviche, and drinks at the rooftop bar during the summer months.
Thursday evenings are for trivia at the Nat, and regular film screenings and pop-up exhibits over the weekends will enrich your summer nights.
Experience the San Diego Symphony at Rady Shell
Hearing the San Diego Symphony makes for a great night out any time, but catching one of their summer concerts at Rady Shell in Jacob's Park is a treat for all of your senses.
Situated on the pier in Embarcadero, listen as the world-class performers tune up at sunset, and then let your mind be carried away as the musical performance and sea breeze create a symphony of their own.
Find TNT at the Museum of Contemporary Art San Diego
The Museum of Contemporary Art San Diego boasts a collection of over 4,700 works of art created since 1950. It is also home to temporary and rotating exhibits and specializes in art from the San Diego County and Tijuana regions.
Typically, this museum is only open during the daytime, but they often host TNTs - Thursday Night Things. These are typically very temporary exhibits and come with wine and cocktails.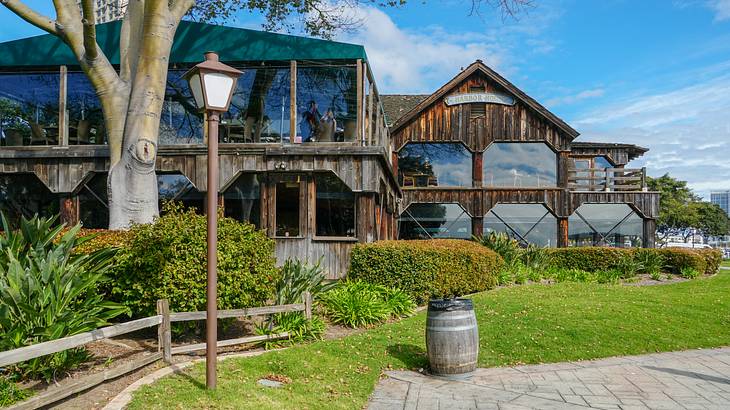 Stroll through Seaport Village
Seaport Village is a famous shopping and dining destination found near Embarcadero on Punta de Los Muertos (Point of the Dead). Roughly seventy specialty stores span its fourteen acres, where you can buy anything from bespoke clothing to unbelievably hot salsas.
After shopping, its cobblestone walkways make it one of the best places to go in San Diego at night for a sunset and a pleasant stroll by the shore.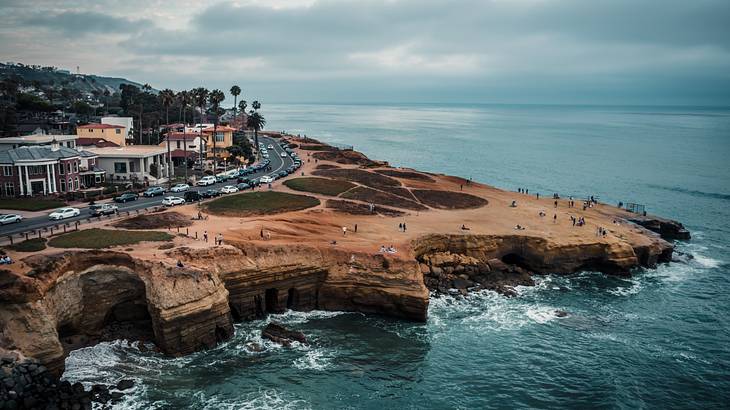 Watch the sunset at Sunset Cliffs Natural Park
This natural park is called Sunset Cliffs for a good reason. The sixty-eight-acre park ends abruptly at the cliffs overlooking the Pacific Ocean, and the elevation provides spectacular views as the sun vanishes from sight.
Pappy's Point is a popular spot to watch from, but you'll want to get there early to guarantee parking. If you are too late, don't worry, there are many viewpoints along the one-and-a-half-mile stretch of coastline.
Catch a movie at South Bay Drive-In Theatre
A list of San Diego night attractions would not be complete without the South Bay Drive-in Theatre. The theatre shows nightly features and double features that you can tune into through your FM radio.
The showtimes adjust for winter and summer sunsets, so check the schedule to see when you can catch your favorite films, both old and new.
Conclusion
These twenty places to visit in San Diego at night are great places for travelers to keep in mind for after-hours fun.
While southern California may be known for its sunshine, if you neglect its nighttime activities, you'll leave with only half of its story.
Give us feedback about this article
More visual stories related to this article:
---
---
Want to keep exploring?
Subscribe for discounts on tickets and hotels and our latest guides.
Thank you for subscribing
We will be in touch soon with discounts on tickets and hotels and our latest guides.
Want to keep exploring?
Subscribe for discounts on tickets and hotels and our latest guides.
Thank you for subscribing
We will be in touch soon with discounts on tickets and hotels and our latest guides.
Related Articles