3-Day San Diego Itinerary - A Long Weekend in San Diego
Destguides may receive commissions from purchases made through affiliate links in this article.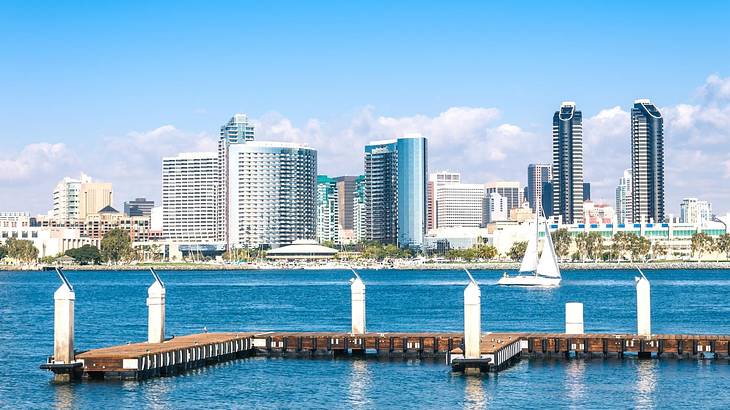 If you're looking for a fun trip idea, spending a weekend in San Diego is highly recommended! San Diego is found in San Diego County on the West Coast of the United States. The destination is known for its beautiful coastline and interesting attractions.
The city is also easy to reach, with San Diego International Airport just 15 minutes from downtown. Additionally, as the city sits along the Pacific Coast Highway, it's a convenient place to stop for those on a Southern California road trip.
When visiting for just 72 hours, it can be difficult to know what to see. This 3-day San Diego itinerary is here to help you plan the perfect trip and ensure you see all the best attractions in the area.
3-Day Itinerary for San Diego
The Attractions of Balboa Park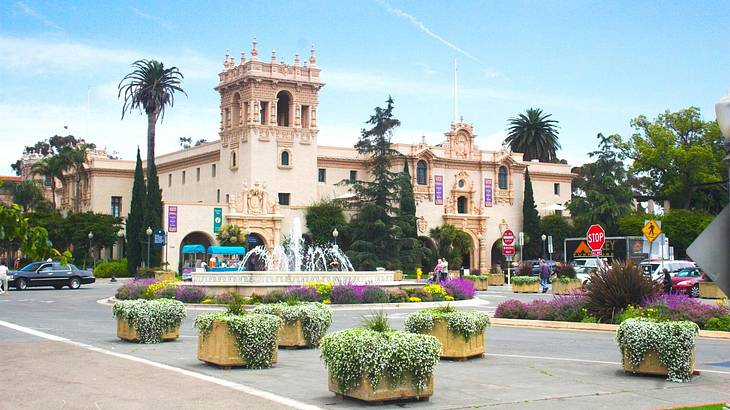 Your first day in San Diego, California will be spent exploring Balboa Park. The first attraction within the park to see is the San Diego Museum of Art. Here you can admire one of the largest collections of art on the West Coast.
Your next stop is the beautiful Japanese Friendship Garden to stroll around the plant and flower displays. The fascinating Fleet Science Center is the next place to visit. The last thing to do in Balboa Park is wander around the park itself. If interested, you can also book a private tour of the park.
Your day will end with your getting to know the North Park and South Park neighborhoods. You can find shops, top restaurants, and trendy bars there.
San Diego Museum of Art
The San Diego Museum of Art was founded in 1926 and houses an extensive collection. Interestingly, the attraction is the largest and oldest museum in San Diego.
Art to see here comes from across the world. While there is a focus on Spanish art, you can also find works from across the world, including the Middle East, Asia, and Europe.
Along with a permanent collection, the San Diego Museum of Art hosts temporary exhibits. Therefore, even if you've visited before, you get to see some new pieces.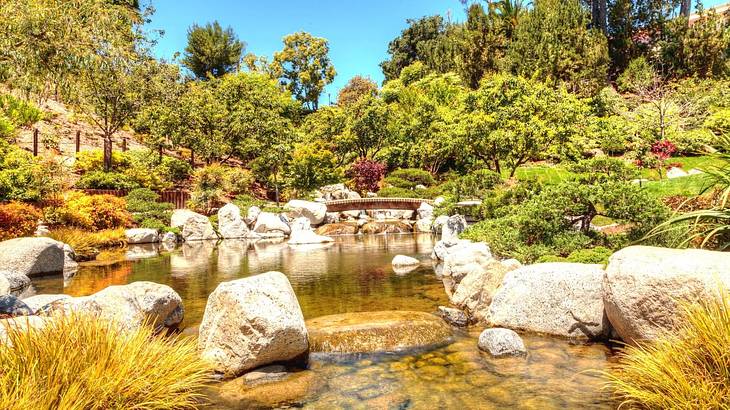 Japanese Friendship Garden
One of the most beautiful San Diego attractions is the Japanese Friendship Garden. The 12-acre garden marks the friendship between San Diego city and its sister town of Yokohama in Japan. While the garden focuses on creating displays like those seen in Japan, it also incorporates elements of San Diego.
In the garden, you can see a variety of traditional Japanese plants. These plants include cherry blossoms, bonsai trees, and Japanese wisteria. The Japanese Friendship Garden also has statues, structures like pagodas, water features, and koi ponds.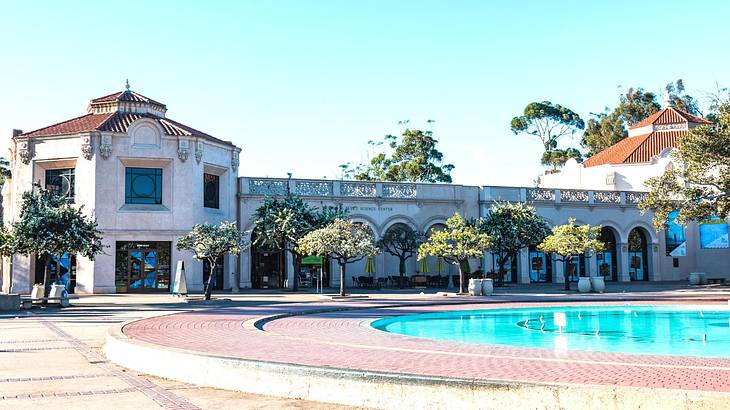 Fleet Science Center
One of the most educational places to go during your weekend trip to San Diego is the Fleet Science Center. The center houses a museum and planetarium and has been in the city since 1973.
At the museum, you can view a range of interactive exhibits covering different scientific phenomena. Topics covered include physics, wildlife and the environment, and outer space.
Along with seeing the exhibits, you can watch science-based movies in an on-site theater. Informative talks and other events are also held frequently, so be sure to check the events calendar to see what's on when you visit.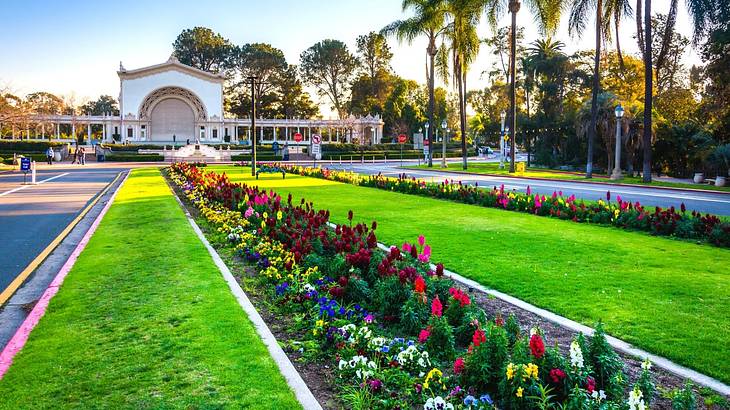 Balboa Park
Balboa Park is a 1,200-acre urban park that's home to attractions like the Fleet Science Center and the San Diego Zoo. The park has many scenic walking paths, lots of green space, manicured gardens, and water features.
Going to the park is an ideal way to unwind, and there are many areas to relax with friends or family. You could also take a picnic or go to one of the on-site cafes or food carts.
A unique way to explore the park is on a Balboa Park private tour. Your guide will take you past eight other landmarks before arriving at the park. On the tour, you can learn more about the history and significance of the park and the other attractions seen.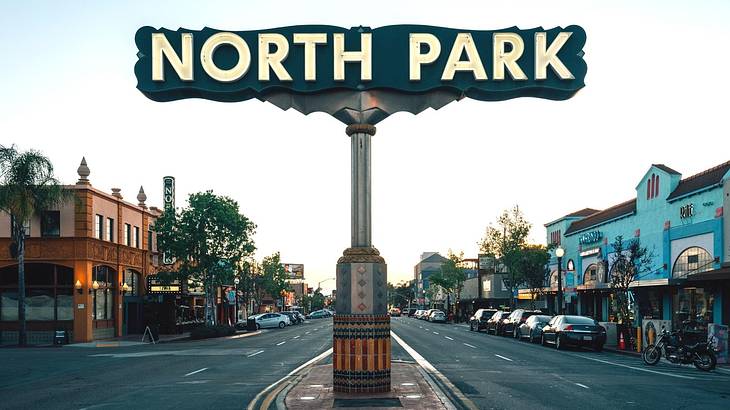 South Park and North Park
South Park and North Park are adjacent areas in downtown San Diego. They're home to a vast selection of bars, restaurants, and shops. Both neighborhoods have a trendy atmosphere and draw locals and tourists alike.
North Park is especially well-known for its craft breweries and craft cocktail bars. You can also find some great theaters here, including Observatory North Park.
South Park features an array of restaurants, from laid-back eateries to fine dining locations. You can also find unique independent shops here and some of the best coffee shops in the city. Taking some time to explore the North and South Park areas is highly recommended when visiting San Diego!
The Beach By Day and Bars By Night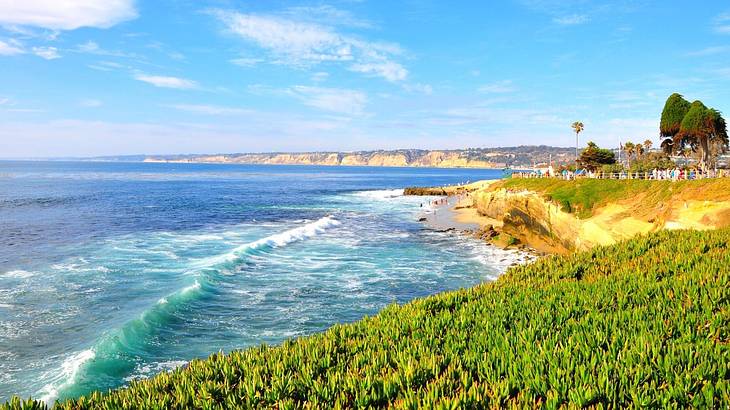 The second day of your San Diego three day itinerary will see you spending a lot of time at the beach. First, you'll hike around Torrey Pines State Park before heading to Torrey Pines State Beach to relax a little.
The next activity will please thrill-seekers as you get to go hang gliding or paragliding over the beach! Afterward, you get to visit some more coastal areas, La Jolla Cove and La Jolla Shores Beach.
If you have time and want to see some more beaches, Mission Beach and Pacific Beach are some of the most popular choices. Both are just a short distance from the other stops on your second day.
Your evening will be spent in the fun Gaslamp Quarter where you can find clubs, bars, and eateries.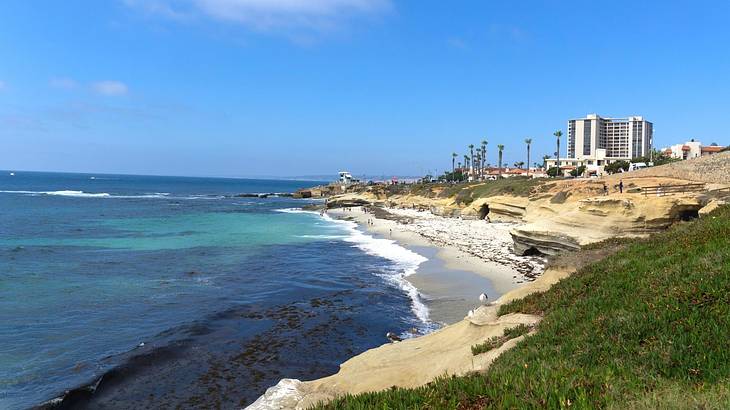 Torrey Pines State Park
Torrey Pines State Park, also known as Torrey Pines State Natural Reserve, is located 20-minutes from Downtown San Diego. Covering 2,000 acres, the park features coastal views and a combination of a desert and woodland landscape.
At the park, you can follow numerous hiking trails that will offer spectacular views. You can also spot an array of plant life, including cacti and the park's namesake rare Torrey Pines.
A vast variety of wildlife lives in the area too. Animals you could see range from bobcats and foxes to rabbits and raccoons.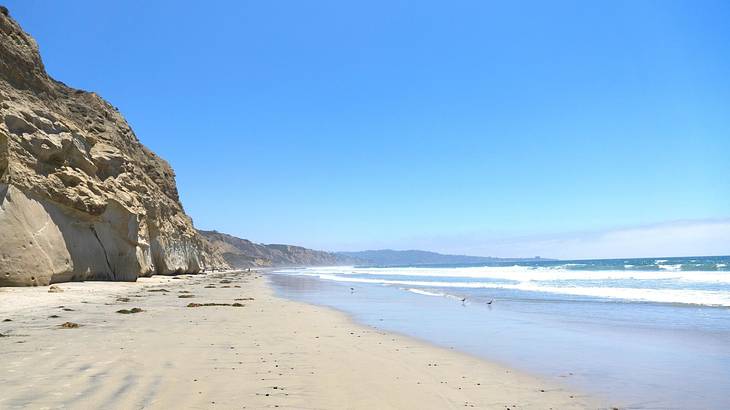 Torrey Pines State Beach
One of the best places to see the ocean in San Diego is from Torrey Pines State Beach. Along with seeing the sea, you can walk along the sandy shores or sunbathe on warmer days. Torrey Pines State Beach is also a top surfing location.
Once you've enjoyed the beach, you can also find some coastal trails to follow. As you hike, you can take in the picturesque views surrounding you.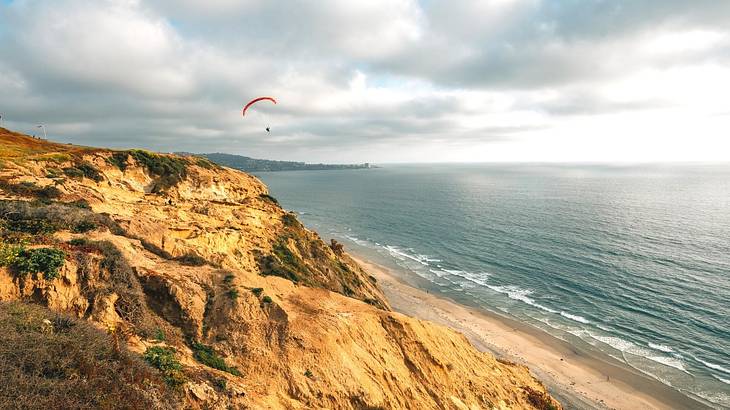 Torrey Pines Gliderport
Going paragliding or hang gliding is one of the most fun and memorable things to do on your San Diego weekend trip. At the venue, you can book a tandem ride that will allow you and your trained guide to glide over San Diego.
When in the air, you get the chance to see Torrey Pines State Beach and Torrey Pines State Natural Reserve from above. Whether you've hang glided or paraglided before or not, giving the sport a go when in San Diego is a great idea!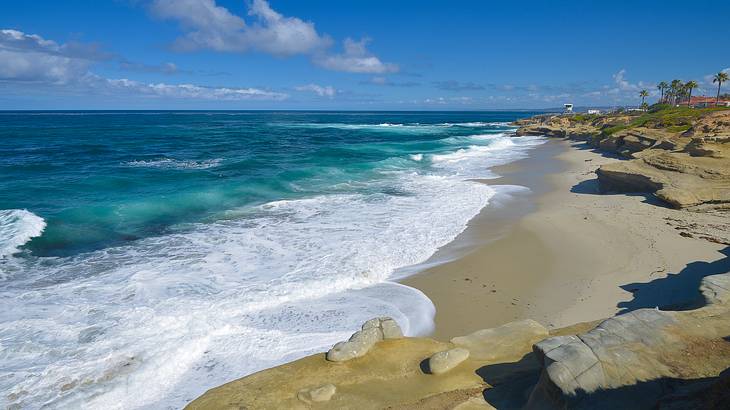 La Jolla Cove and La Jolla Shores Beach
La Jolla Cove and La Jolla Shores Beach are some more of the great beaches to be found in San Diego.
La Jolla Cove is a small and tranquil beach featuring sandy shores and turquoise water. This attraction is also home to many animals, like seals which you'll see relaxing on the sand and rocks. It's also a top diving and snorkeling location.
La Jolla Shores Beach is located just 15-minutes from La Jolla Cove. It also has a sandy palm-tree-lined shore, warm ocean waters, and some grassy areas to relax on.
Another of the things to do when in the area is going on a La Jolla sea cave kayak tour. During this experience, you can kayak among scenic caves and are likely to spot wildlife, like otters and sea lions.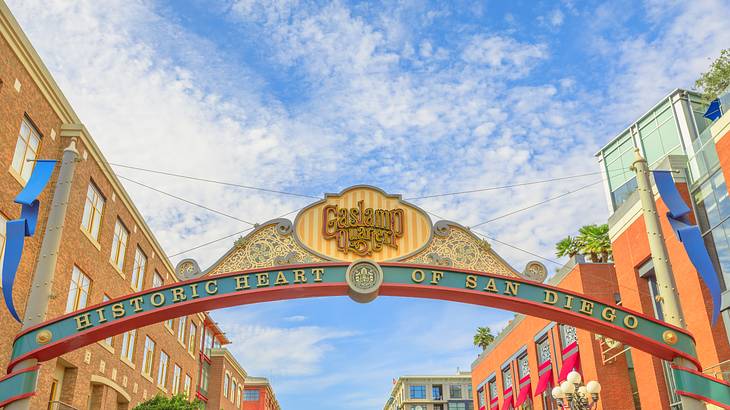 Gaslamp Quarter
Located in Downtown San Diego, the Gaslamp Quarter is a trendy neighborhood with bars and nightclubs. It's known as one of the best places to go at night in San Diego.
If looking to grab some drinks, recommended bars to go to include Side Bar, Fifth & Rose, and American Junkie.
You could also go on a Gaslamp Quarter bar and food crawl. On the tour, your guide will take you to the best eateries and bars in the area. You'll also learn more about the Gaslamp Quarter and hear some fascinating historical stories.
San Diego's Top Landmarks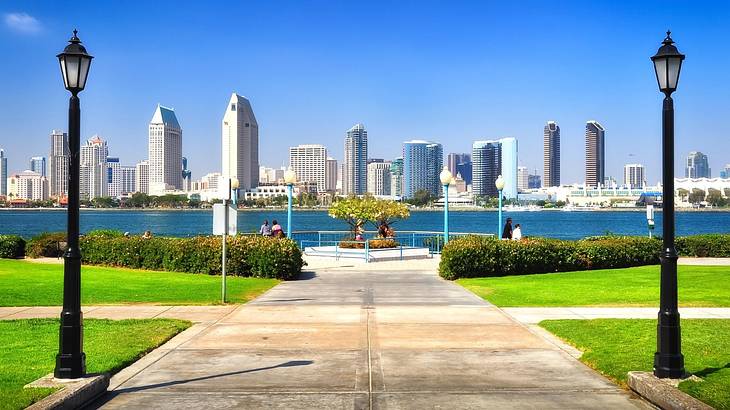 The last of your three perfect days in San Diego will be spent seeing some of the city's top attractions. Your first stop is Sunset Cliffs Natural Park where you can hike and take in the views.
Afterward, you'll explore the Old Town San Diego Historic Park before visiting Coronado Island. On the island, you can shop or go to the beach and enjoy skyline views.
Once back downtown, you can go to San Diego Harbor before heading to the USS Midway Museum. Your last evening will be spent in Little Italy enjoying a delicious dinner.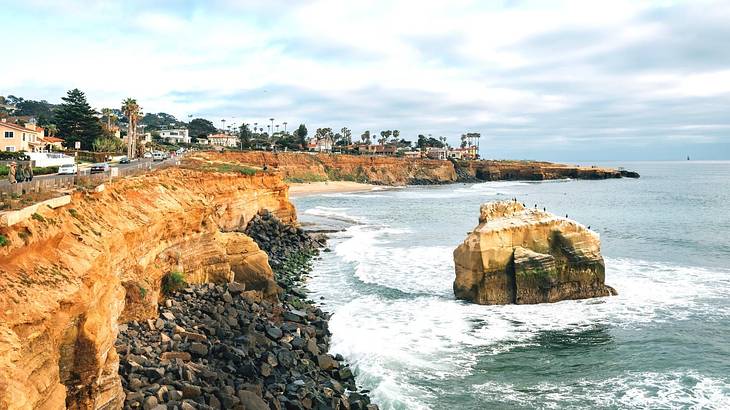 Sunset Cliffs Natural Park
Sunset Cliffs Natural Park is a coastal area with tall cliffs that offer panoramic ocean views. When visiting, you can hike to the top of the cliffs to admire the vistas. You can then walk along clifftop paths that wind around the 68-acre attraction.
If you can accommodate it in your schedule, also visit the Cabrillo National Monument and the Old Point Loma Lighthouse after Sunset Cliffs Natural Park.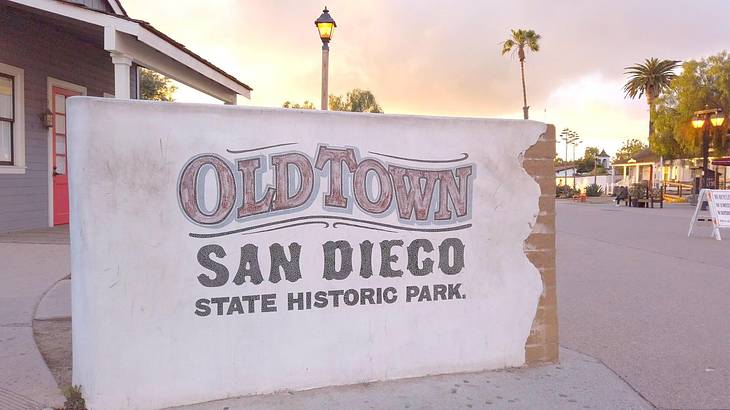 Old Town San Diego State Historic Park
Old Town San Diego State Historic Park, also simply known as Old Town San Diego, is a neighborhood that resembles San Diego in the 1800s. The area is known for its Mexican and early American influences and features many vibrantly colored and patterned buildings and decor pieces.
As you explore, you can appreciate the unique architecture and shop in a range of independent stores. You can also find many authentic Mexican restaurants here, selling delicious food and drinks.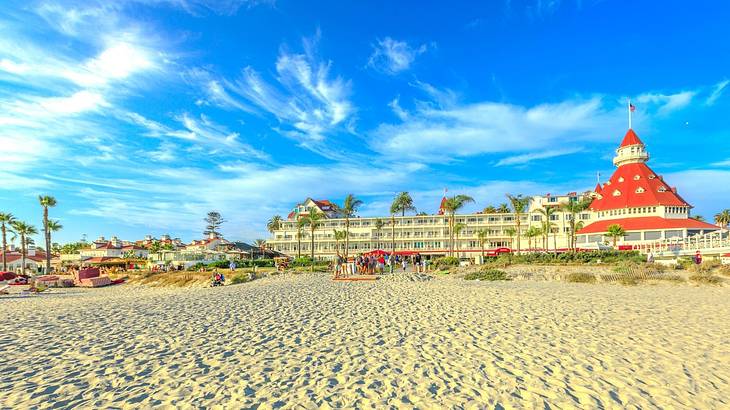 Coronado Island
Another of the landmarks you must visit when in San Diego for the weekend is Coronado Island. The small island is just 15-minutes from downtown and can be reached by public transport or by driving.
Once on the island, you can take in some of the best views of the San Diego skyline. Coronado Island is known for its incredible beaches and the famous Hotel del Coronado.
While on the island, you can also visit Coronado Ferry Landing. This shopping metropolis houses a selection of shops and eateries. Places to shop include jewelry stores and wine shops. If you want a snack, you can choose from various restaurants, such as pizzerias and cupcake bakeries.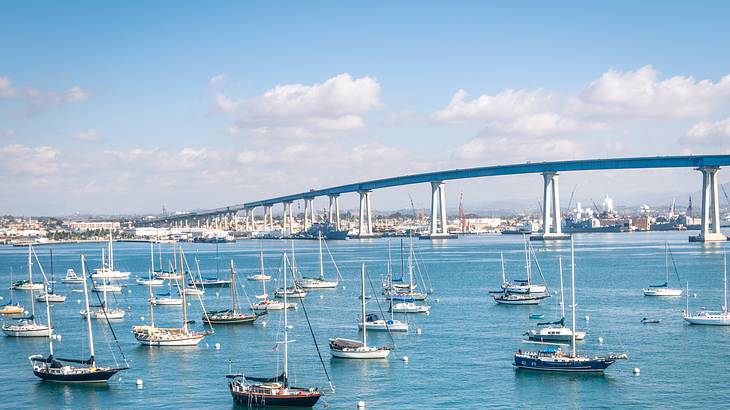 San Diego Harbor
The San Diego Harbor, or San Diego Bay, is the city's main waterfront and a must-see attraction. The waterfront here offers nice views, and you can find shops, cafes, and restaurants to check out.
You also have the option to take a San Diego Harbor cruise. On the cruise, you'll sail along the bay taking in the views and spotting landmarks and wildlife. Seal tours and whale watching cruises are another popular activity to try at San Diego Bay.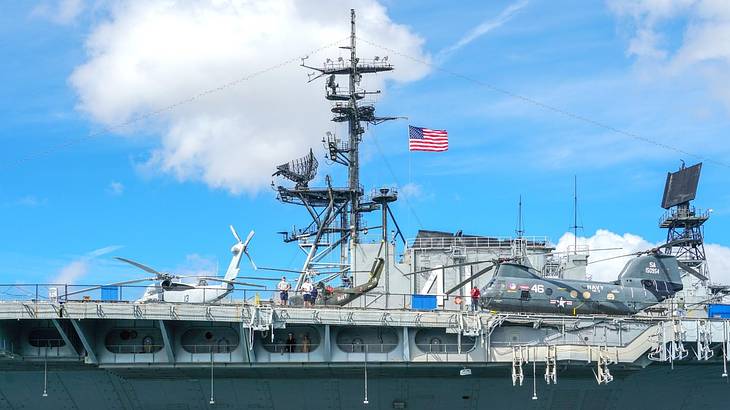 USS Midway Museum
The USS Midway Museum is a must-see San Diego landmark. The museum opened in 2004 and sits on the harbor. This attraction is notable as exhibits are housed within a historical naval aircraft carrier.
At the museum, you can learn more about the United States Navy, watch educational movies, and even try a flight simulator. Guided tours are available too for those that want to learn even more about US military history.
To ensure you get into the attraction at your desired time, book a USS Midway Museum skip-the-line ticket in advance.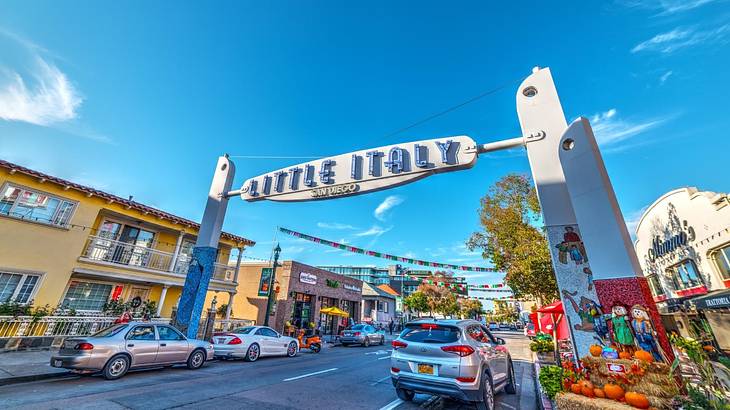 Little Italy
Little Italy is the perfect place to finish your San Diego weekend getaway. This neighborhood is a lively area filled with bars and restaurants. As the name suggests, you can find many great Italian eateries in Little Italy.
There is also "Top Chef Alley" which features a selection of outstanding restaurants. After having dinner, be sure to check out some cocktail bars or wander around the charming neighborhood.
On Saturdays during the day, there's also a farmers market, and you shop at a range of independent outlets.
In Summary
San Diego is a top US destination with lots to do for all types of travelers. This San Diego vacation itinerary should help you plan a great trip during which you can see the best of what the city has to offer.
Give us feedback about this article
More visual stories related to this article:
Want to keep exploring?
Subscribe for discounts on tickets and hotels and our latest guides.
Thank you for subscribing
We will be in touch soon with discounts on tickets and hotels and our latest guides.
Want to keep exploring?
Subscribe for discounts on tickets and hotels and our latest guides.
Thank you for subscribing
We will be in touch soon with discounts on tickets and hotels and our latest guides.