35 Fun Things to Do in San Francisco at Night
Destguides may receive commissions from purchases made through affiliate links in this article.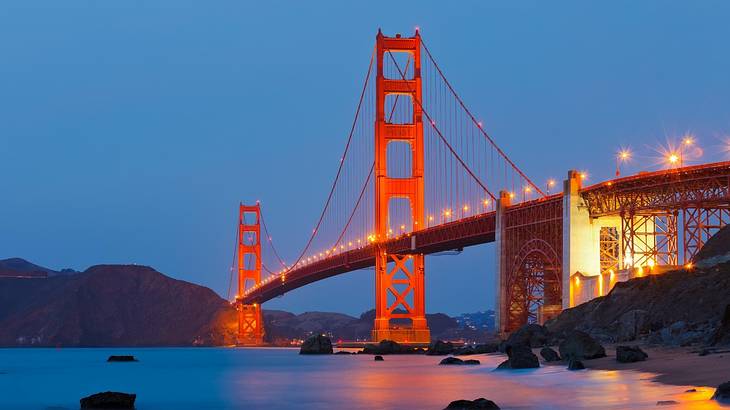 San Francisco is a stunning destination found on the West Coast of the United States. This well-known destination offers visitors lots of attractions to see and houses outstanding restaurants, unique shops, and many entertainment options.
You can also discover numerous fun things to do in San Francisco at night. The city has an array of bars, unique venues, such as a roller-skating rink in a church, and many places to watch the sunset across the bay.
If planning a visit to the San Francisco Bay Area, be sure to check out these top 35 things to do after dark!
35 Things to Do at Night in San Francisco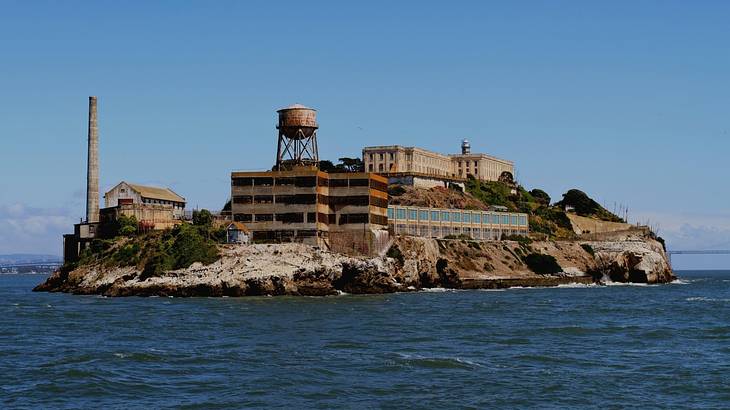 Visit the inescapable prison on an Alcatraz night tour
Alcatraz Island is one of the many world famous landmarks found in San Francisco. The island is best known as being an inescapable prison. The prison facility closed in the 1960s, and today, Alcatraz is a popular tourist attraction.
A spooky way to see this landmark is on an Alcatraz night tour. You'll get the opportunity to tour the prison after dark and hear tales about former inmates and attempted escapes.
Eat and drink your way through a North Beach pizza pub crawl
North Beach is a vibrant neighborhood, known for its Italian influences. There's a lot to see in this area of San Francisco during the day and at night, but one of the best things to do after dark is going on a North Beach pizza and beer crawl.
The crawl will take you to numerous stops where you can try a selection of pizzas and tasty local beers.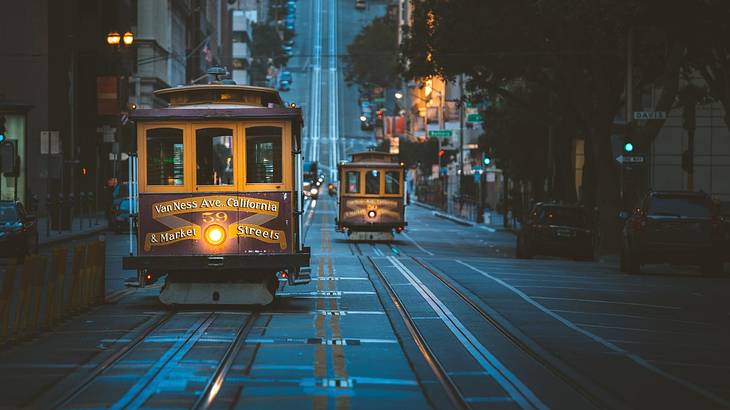 Experience a cable car ride
The San Francisco cable cars are one of the most iconic attractions in the city. Riding the cable car while visiting is a must and hopping on in the evening offers a great way to see San Francisco by night. Best of all, the cable cars are less crowded at night, and you'll have a shorter wait time.
Treat yourself to some Dim Sum
San Francisco has an array of great dim sum spots. While dim sum is more often enjoyed in the morning or mid-afternoon, some eateries are open until later.
One of the best places to get dim sum after dark is at Hang Ah Dim Sum Tea House, which stays open until 8 PM. You can order various dim sum dishes at affordable prices, with noodles, fried rice, and soups also on the menu.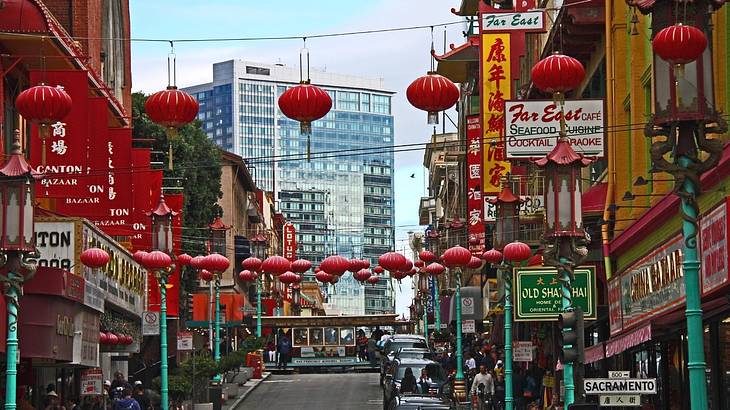 Shop and eat in Chinatown
San Francisco's Chinatown is the largest in the world outside of Asia. This area features a vast selection of Asian restaurants and many interesting shops.
Both restaurants and stores here tend to stay open late, so exploring Chinatown at night has to be on your San Francisco itinerary!
Enjoy dinner and a movie at Foreign Cinema
One of the best places to visit in San Francisco at night is Foreign Cinema! This unique restaurant offers indoor and outdoor dining, serving meals while movies play on a big screen.
Delicious dishes served at Foreign Cinema are generally Mediterranean-inspired and include arugula and burrata salad, butternut squash tagliatelle, and beef carpaccio. Films to watch range from classics to newer releases.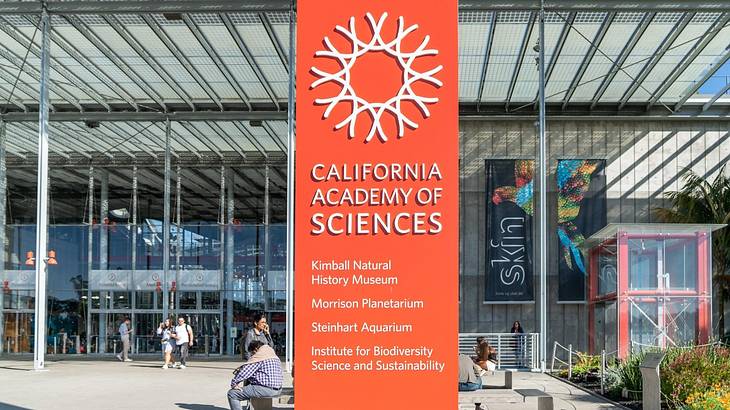 Learn something new at the California Academy of Sciences
If looking for an early evening activity, a trip to the California Academy of Sciences is a great idea. The museum is one of the largest natural history museums in California, and houses exhibits on wildlife, paleontology, space, and much more.
To ensure you get in, buy a California Academy of Sciences skip-the-line ticket in advance.
Explore Golden Gate Park
Golden Gate Park is a charming 1,017-acre urban park located in downtown San Francisco. The park has water features, flower gardens, and statues, with multiple walking paths to follow. If visiting in the evening, you'll benefit from fewer crowds and can admire the gardens lit up under the night sky.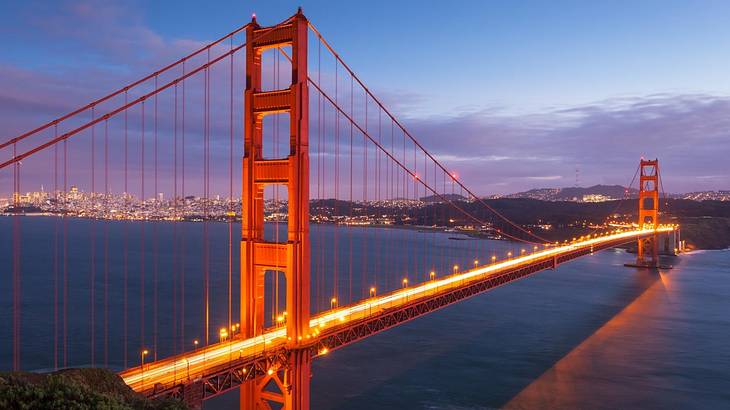 Walk across the Golden Gate Bridge
San Francisco is home to one of the most iconic landmarks in North America, the Golden Gate Bridge. Walking across the bridge to appreciate the sunset is hands-down one of the best things to do in San Fran at night!
You can stop on the pedestrian path to watch the sun go down over the bay and watch as the city begins to illuminate the surrounding area. Be sure to also take lots of photos to remember this magical experience!
Attempt to break free from an escape room
Playing an escape game is always a fun idea! Escape Game San Francisco offers visitors a selection of escape rooms to try. Themes include an Alcatraz-style prison break, a museum heist, and a special ops mission.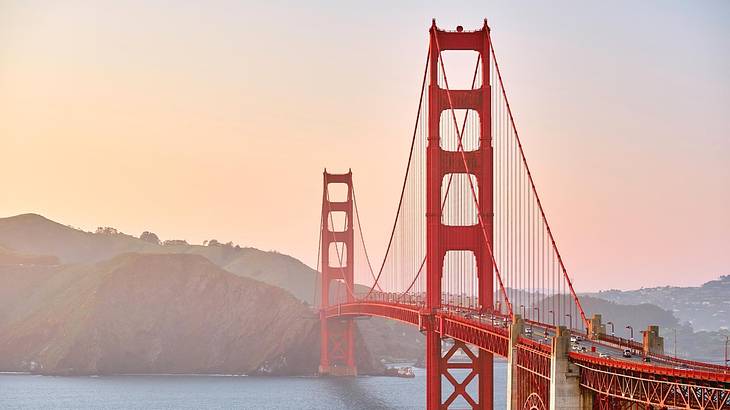 Go to the Golden Gate Overlook to see the San Francisco skyline
A fun place to watch the sunset is at the Golden Gate Overlook. This lookout point offers vistas across the bay with landmarks like the Golden Gate Bridge and Marin Headlands in view. Of course, you can also watch the skyline as the city lights up once night sets in.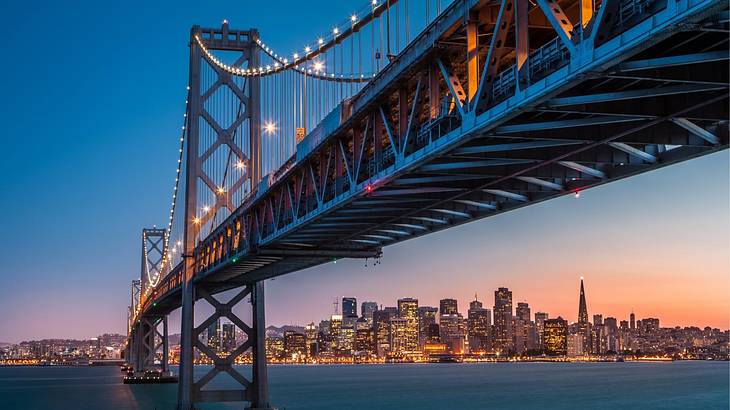 Admire the view from the San Francisco – Oakland Bay Bridge
Another of the San Francisco night activities that allows you to take in incredible views is walking across the San Francisco-Oakland Bay Bridge. The bridge is an important commuter route but also has bike and pedestrian lanes.
As with the Golden Gate Bridge, you can walk across the bridge during sunset to admire the stunning sky. Once in Oakland, you'll also find many fun things to do. There are lots of cool places for a night out with friends, or you could plan a date night in Oakland.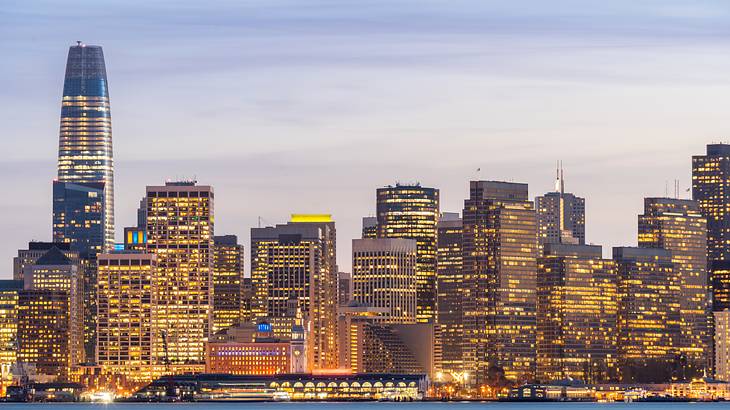 Go across to Treasure Island
Treasure Island is an artificial island that was constructed in the 1930s for the Golden Gate International Exposition. At night, you can go to the island and admire the views of the San Francisco skyline.
You can also find some cafes and restaurants where you can enjoy a meal. To make reaching the island easy, consider going on a San Francisco night tour, which includes transport to Treasure Island.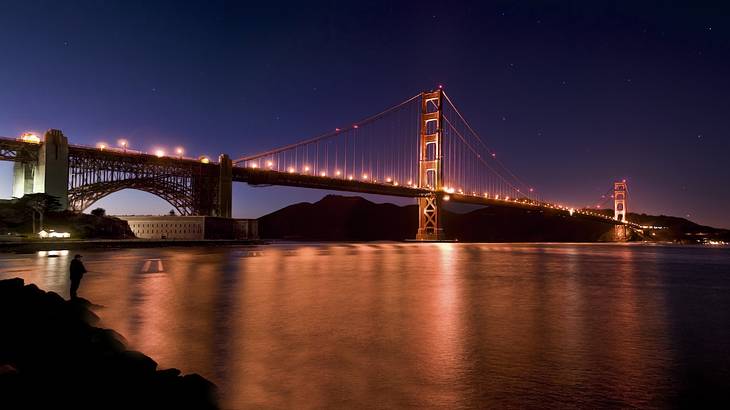 Luxuriate on a nighttime cruise
One of the most relaxing and memorable San Francisco things to do at night is going on a sunset cruise. You'll get to sail past the Golden Gate Bridge, Alcatraz Island, and the San Francisco Bay Bridge as the sun goes down. You can also see the San Francisco skyline.
Laugh at a comedy club!
You can find a good selection of comedy clubs in the city, with Cheaper Than Therapy being a popular choice. This independent comedy club features stand-up shows from an array of comedians. The club also has a bar so you can enjoy a beer, mixed drink, or glass of wine with the show.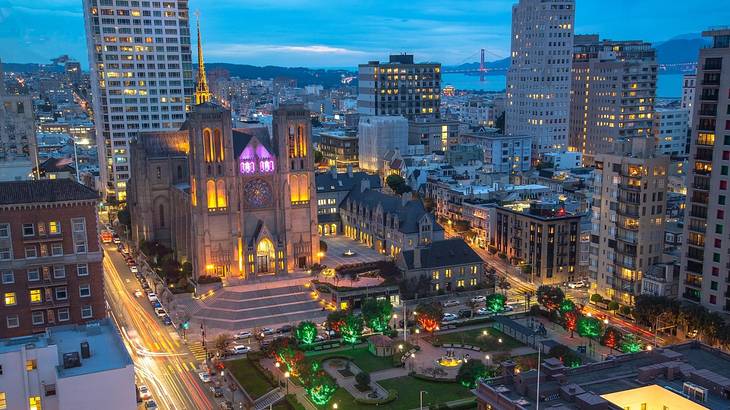 Visit San Francisco landmarks on a sightseeing tour
While many sightseeing tours are offered during the day, you can take a night tour of San Fran. On this nighttime bus tour, you'll see an array of attractions, including Fisherman's Wharf, Treasure Island, and the Grace Cathedral.
This experience is the perfect way to see all of the city's landmarks, even if only visiting for a short time.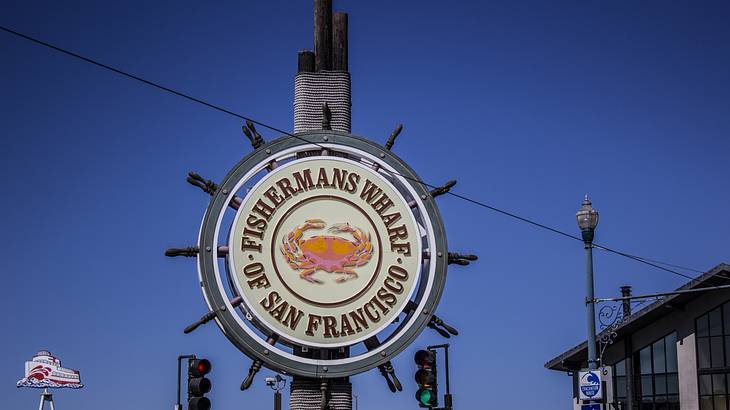 Spend the night at Fisherman's Wharf
Fisherman's Wharf is one of the most famous San Francisco landmarks and is a great place to hang out at night. At the wharf, you can find restaurants, shops, and lots of other attractions. If you arrive before it gets dark, you may also spot sea lions!
Get spooked on a ghost tour
If you're interested in the paranormal, one of the San Francisco night activities to try is a ghost tour. During the spooky walking tour, you'll visit a range of haunted spots, including Pacific Union Club and 450 Sutter Building, and hear about the eerie stories associated with them.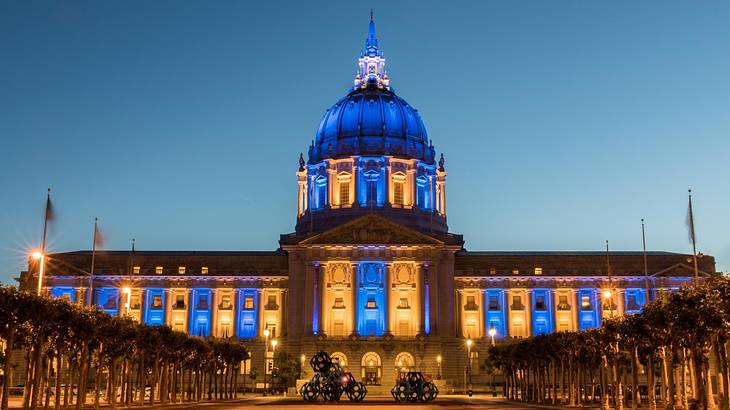 Marvel at the San Francisco City Hall lights
San Francisco City Hall is an incredible building that's modeled after St. Peter's Basilica in Rome. A cool thing to see at city hall is the lights that illuminate the building.
Every day after sunset, 220 LED lights illuminate the building. While the lights usually offer a soft white glow, you may see colored lights during different holidays.
Sip on delicious cocktails
For those that love cocktails, one of the best places to go at night in San Francisco is Peacekeeper. The unique bar features an open roof and lots of delicious drinks. Beverages to order include a tequila, ginger, and lime cocktail and a vodka, citrus, and cucumber mix. Other bars to check out include Whitechapel cocktail lounge and Novela, a library-themed bar.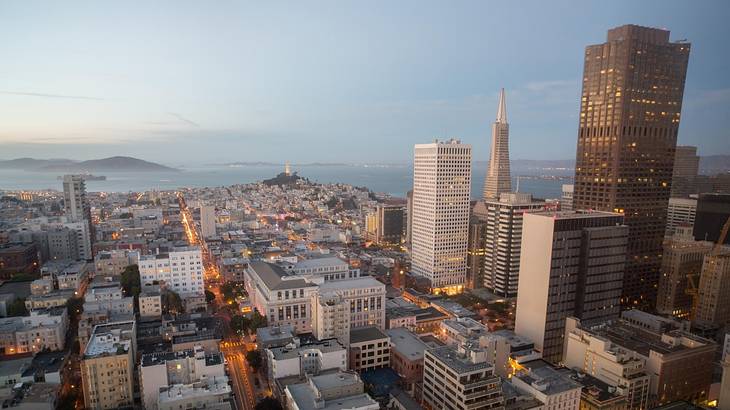 See San Fran from above on a sunset helicopter flight
A memorable way to watch the sunset in San Francisco is on a helicopter tour. You'll get the opportunity to fly above the city and spot a range of landmarks, like the Golden Gate Bridge and Coit Tower.
While booking your flight around sunset is a great idea, helicopter tours operate all day until about 8 PM. Therefore, you can organize a flight later in the evening if you want to see San Francisco illuminated at night.
Get drinks at a Tiki bar
Smuggler's Cove is another of the great bars in San Francisco. This venue is a tiki bar and serves tasty tropical rum drinks in a pirate-themed space. Cocktails include a passion fruit and rum mix, a banana, lime, and rum drink, and a classic Mai Tai.
If you love the drinks, you can buy a Smuggler's Cove book with over 100 drink recipes inside!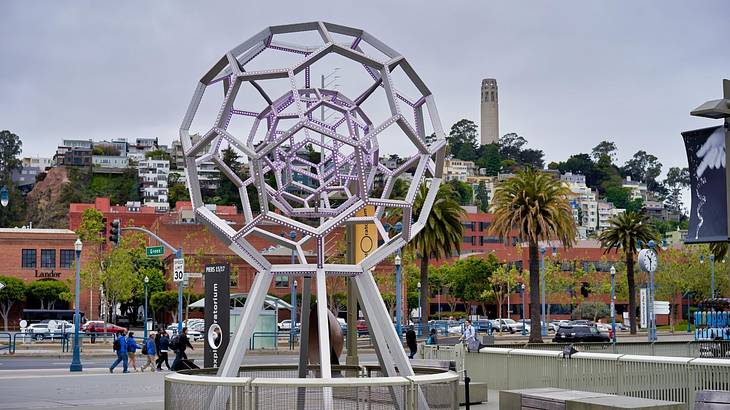 Head to Exploratorium for its after-hours event
Exploratorium is a much-loved California landmark that combines science museum exhibits with interactive displays and experiments.
On Thursdays, the museum hosts an after dark happy hour for adults only. You can sip on science experiment-themed cocktails while checking out all the exhibits without the noise and bustle of kids.
Listen to live music at Mr. Tipple's Recording Studio
One of the best places to go in San Francisco at night to listen to live music is Mr. Tipple's Recording Studio. The venue hosts amazing live jazz shows that you can enjoy with craft cocktails and snacks. Spending an evening at Mr. Tipple's Recording Studio is a must when in San Francisco!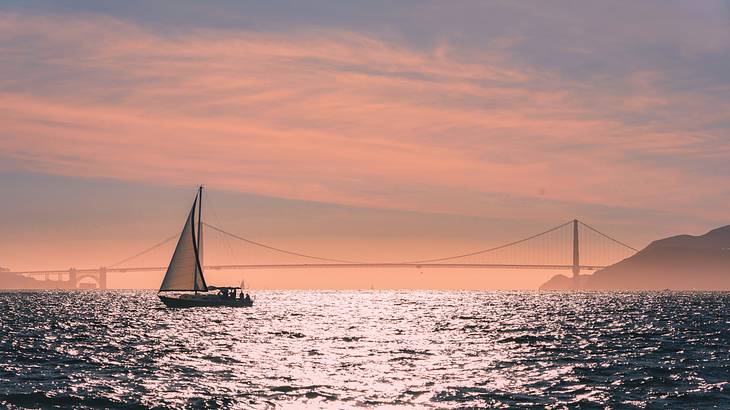 Set sail on a sunset catamaran experience
Another perfect way to enjoy the sunset from the bay is on a catamaran cruise. Once aboard, you'll sail past various landmarks as the sun begins to go down. You also get to enjoy alcoholic drinks as your take in the views.
Go bowling at Lucky Strike
Going bowling is always a fun way to spend the evening. One of the best spots to bowl at in San Fran is Lucky Strike. This bowling alley stays open until late and also has an extensive menu of snacks and drinks.
After bowling, you can enjoy dishes like pizza, quesadilla, and wings, plus beer, wine, or craft cocktails.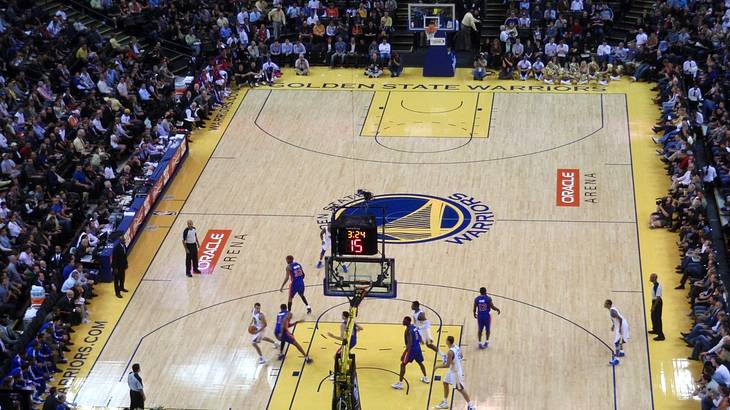 Cheer for San Francisco's sports teams
San Francisco is home to three professional sports teams, the San Francisco 49ers NFL team, the Golden State Warriors NBA team, and the San Francisco Giants MLB team.
While the Golden State Warriors are the most likely to be playing at night, both the 49ers and Giants play some of their games in the evening. Whichever team you watch, you're sure to have a great time cheering for San Fran's teams!
Try dishes from food trucks at Off the Grid
If you love trying new dishes and are looking for stuff to do in San Francisco at night, visiting the food trucks at Off the Grid is recommended. Off the Grid operates food truck events weekly, with an array of local eateries on site.
The number of food trucks at each event does vary, so be sure to check the website to see who will be on-site when you visit.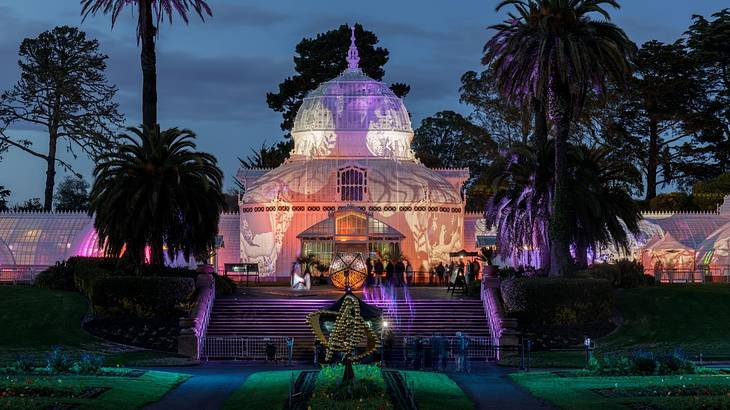 Walk around magical gardens at Conservatory of Flowers
Conservatory of Flowers is a botanical garden and conservatory in Golden Gate Park. The attraction features many beautiful tropical plants and floral displays. Throughout the year, Conservatory of Flowers hosts its Night Bloom event where you can explore the gardens after dark.
Roller skate at the Church of 8 Wheels
Whether you're traveling with kids or not, roller skating at the Church of 8 Wheels is a great idea! This roller rink is located inside a former church and hosts themed nights. In the evening, you can skate under neon and black lights, and there are adult-only nights held each week too.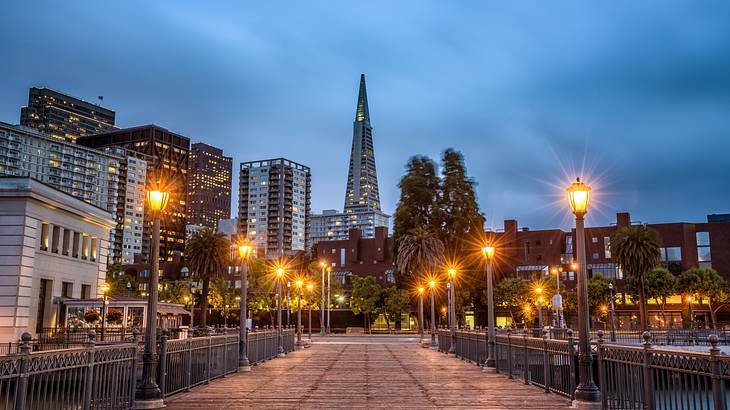 Wander along Pier 7
Another of the top San Francisco night attractions is Pier 7. This scenic pier stretches across the bay and offers views of the San Francisco Bay Bridge, the skyline, and more. At night, the walkway is illuminated, and you can see the sparkling city around you.
Dance at a concert at The Fillmore
The Fillmore is an independent music venue that hosts a range of concerts. Musicians to see include local artists, indie bands, and more well-known acts. No matter who you see, dancing the night away to a show at The Fillmore is always a fun time!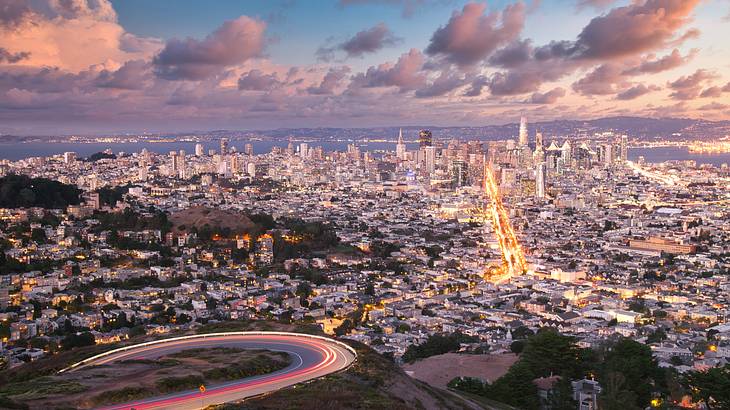 Appreciate the stunning views from Twin Peaks
Twin Peaks are two 922-foot-high summits located 20 minutes from downtown San Francisco. A main attraction at Twin Peaks is a 64-acre hilltop park that offers spectacular city views.
Going up to the park just before sunset to watch nightfall over the city is highly recommended. The best time to visit San Francisco to enjoy the most stunning views is during the fall or summer months.
If you'd prefer to visit this landmark during the day, you can also opt for a guided tour that takes you to Twin Peaks and some other famous attractions.
Play arcade games at Emporium
Emporium is an arcade-themed bar that features arcade games and delicious drinks. Games to play include Alien vs. Predator, Asteroids, and Donkey Kong.
The funky bar also has pool tables, basketball hoops, air hockey, and more! You can also enjoy a beverage as you play, including craft beer, wine, and retro-inspired cocktails.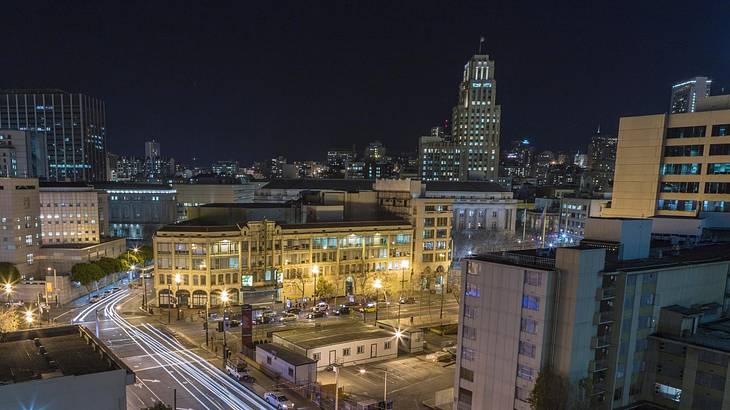 Catch a Broadway show
One of the places to go in San Francisco at night for theater lovers is the Orpheum Theater. The venue opened in 1926 and today hosts an array of Broadway productions. Shows that have been on here include Moulin Rouge, Oklahoma!, and Jersey Boys.
In Summary
If you've been wondering what to do in San Francisco at night, hopefully, this article has given you some unique ideas! No matter what you like to do in the evening, you'll be able to find many exciting things to do in San Fran.
Give us feedback about this article
Learn more about San Francisco:
More articles about California:
Read more articles about the United States:
More articles about things to do:
---
---
Want to keep exploring?
Subscribe for discounts on tickets and hotels and our latest guides.
Thank you for subscribing
We will be in touch soon with discounts on tickets and hotels and our latest guides.
Want to keep exploring?
Subscribe for discounts on tickets and hotels and our latest guides.
Thank you for subscribing
We will be in touch soon with discounts on tickets and hotels and our latest guides.
Related Articles