15 San Jose Landmarks You Should See
Destguides may receive commissions from purchases made through affiliate links in this article.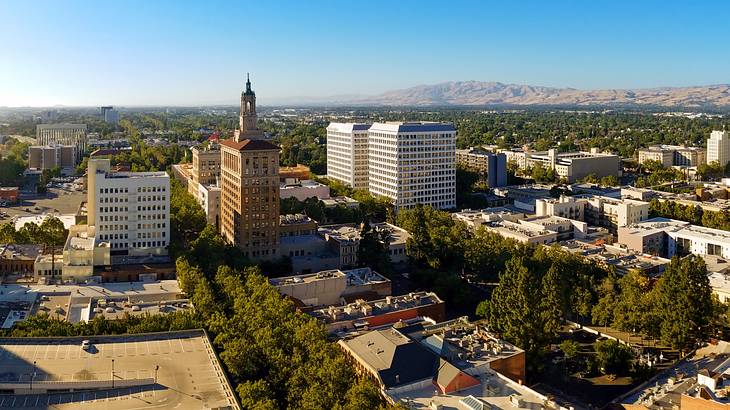 San Jose is a city that has something for everyone. Visitors with a penchant for science and technology can spend hours at The Tech Interactive, while people who prefer nature can marvel at Coyote Creek.
However, with everything "Teal Town" has to offer, figuring out what to visit first can be challenging. If you're interested in seeing this part of the Bay Area, you've come to the right place! Here are 15 San Jose landmarks you can't miss seeing.
15 Landmarks in San Jose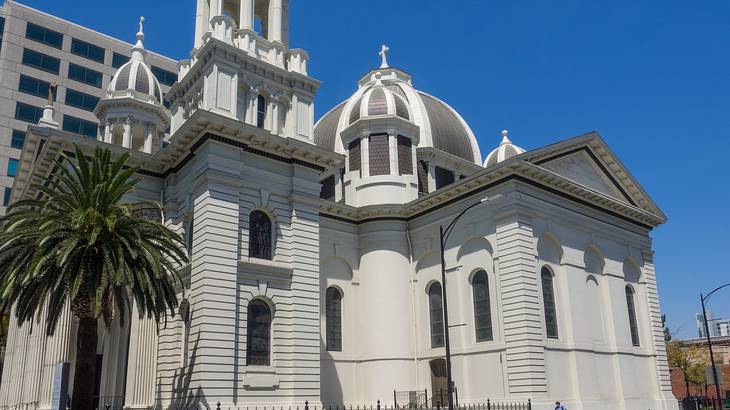 Cathedral Basilica of St. Joseph
The Cathedral Basilica of St. Joseph is one of the oldest and most historical monuments in San Jose. The current structure was initially completed in 1885, but it wasn't the first cathedral to bear its name.
This California landmark was originally constructed in 1803 as the first parish for Spanish settlers before being rebuilt in the 1880s. At that time, all of California's churches were built for missionary purposes to convert the indigenous Ohlone tribes.
Santana Row
Santana Row is one of the most famous districts in San Jose. When it opened in 2002, it was meant to create a village ambiance in the middle of the bustling city.
Its proximity to other city landmarks and impressive two million square feet of space dedicated to shopping and restaurants make it a popular spot for locals and tourists.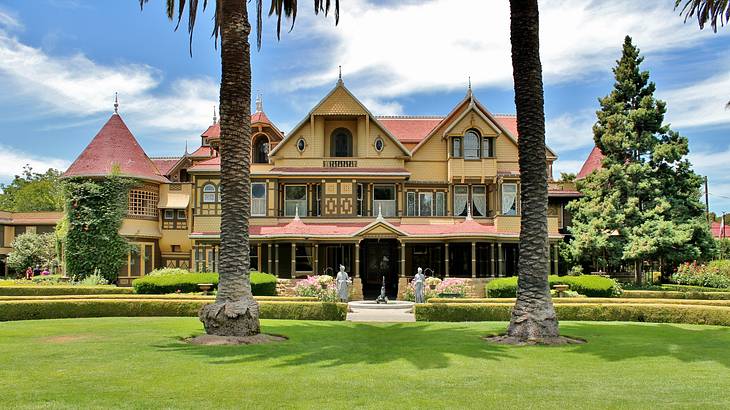 Winchester Mystery House
The Winchester Mystery House is one of the most interesting sites in the Bay Area. When heiress Sarah Winchester became a widow, she moved into this San Jose home and began renovations. Due to her lifelong interest in architecture and desire to design the finished home herself, she had work done on the property continuously for 38 years.
In fact, some suggest that the home holds the record for the longest home construction project! Her ongoing upgrades caused many legends to surround the house. One of the most popular is that Sarah believed she would die if she ever stopped the renovations.
Gonzales–Peralta Adobe and Fallon House Historic Site
Together, the Gonzales–Peralta Adobe and the Fallon House comprise one of the most significant areas in the heart of San Jose.
The Gonzales–Peralta Adobe was built in 1797 by José Manuel Gonzales, making it the oldest building in the city. It's had numerous residents, including the historic rancher Luis María Peralta from whom the building gets part of its name.
The Fallon House was built in 1854 by Thomas Fallon, one of San Jose's mayors and most important citizens during the 1800s. When it was constructed, this Victorian mansion was one of the largest homes in the area.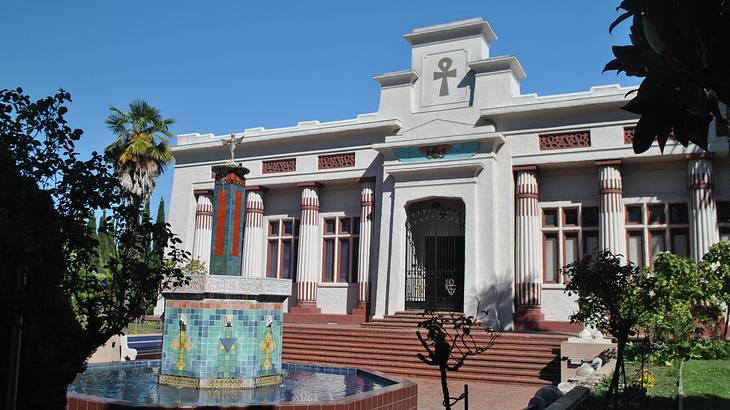 Rosicrucian Egyptian Museum
The Rosicrucian Egyptian Museum might be an unexpected San Jose landmark, but it's one of the city's most popular. With over 4,000 authentic artifacts from ancient Egypt, it houses one of the most extensive collections of its kind in North America.
It was founded by the Ancient Mystical Order Rosaei Crucis, with the first iteration of the museum opening in the 1920s. The museum aims to teach its visitors about the mystic and scientific culture of the Egyptian civilization.
New Almaden Quicksilver Mining Museum
In the 1840s, mercury, also called "quicksilver," was found in the hills of San Jose. Overnight, the mining industry boomed, and men came from around the country for work. The New Almaden was a community that formed around this mining site.
Unfortunately, it became a ghost town after the bankruptcy of the Quicksilver Mining Company that controlled the area. However, since the structures were so well preserved, it was later converted into an open-air museum.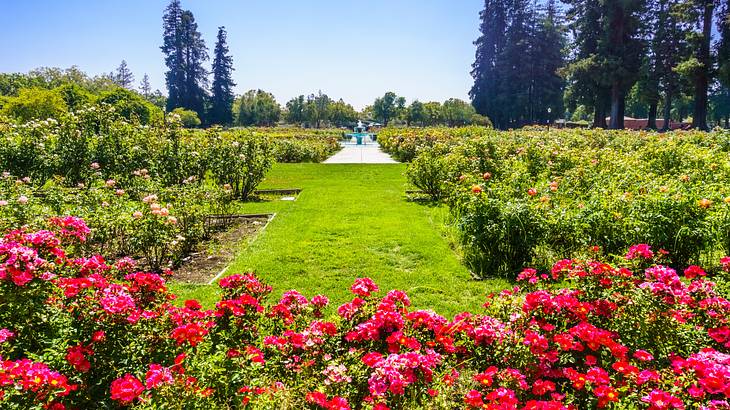 Municipal Rose Garden
Once dedicated to prunes, this over-five-acre garden was converted to exclusively display and cultivate different rose varieties. In operation since 1927, there are currently 189 rose varieties represented by the over 3,500 shrubs on the property.
It's such a beloved landmark that it has previously won the All-America Rose Selections award for "America's Best Rose Garden." This attraction is also one of the most romantic places to go on a date in San Jose.
History Park
History Park is an innovative museum that was opened in 1971 by History San Jose, a historical society. Its purpose was to speculate on what small US towns might have looked like in the years following the turn of the 20th century.
The park spans over 14 acres of land and includes authentic and reproduced historical structures. There's even a functioning trolley that visitors can ride.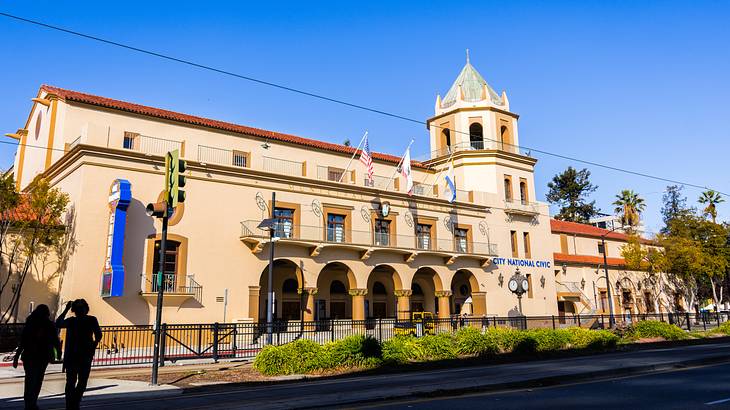 San Jose Civic
Since its opening in 1936, the San Jose Civic has been an important San Jose site. Its long history as the city's premier venue means world-famous artists like Frank Sinatra and the Rolling Stones have performed on its stage. Even today, it still operates as a theater and concert hall that can hold over 3,000 guests.
First Unitarian Church of San Jose
What makes the First Unitarian Church one of the most notable historical places in San Jose is its architectural style. Constructed in 1892, the church follows the Richardonian Romanesque style.
Elements of this design can be seen in its unadorned exterior walls and arches. Its cultural significance to the area earned it a place on the National Register of Historic Places.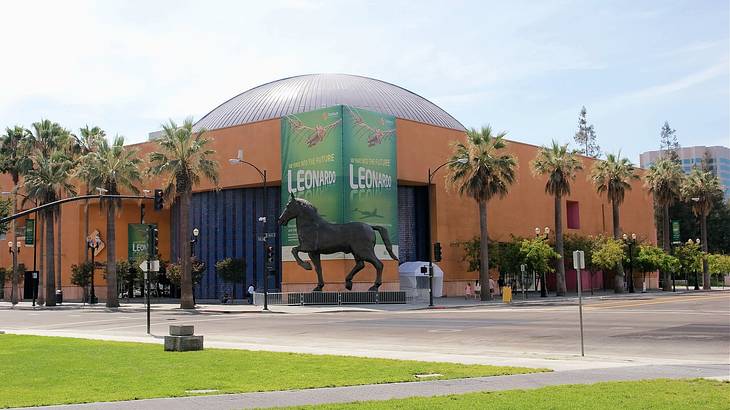 The Tech Interactive
Nearly everyone knows that California's Silicon Valley is at the center of technological development. So, it's only natural that The Tech Interactive would be one of its most popular attractions.
This center has interactive exhibits that allow guests of all ages to learn about science in a hands-on way. From biology to astronomy, the exhibits center on topics in science, technology, engineering, and math, also known as STEM.
Coyote Creek
At just over 63 miles in length, Coyote Creek is one of the most renowned features of the Santa Clara Valley. The river begins at Mount Sizer and eventually ends in San Jose, where it joins the San Francisco Bay.
Coyote Creek and the surrounding area isn't just a popular site for hiking or relaxing, though. It's also essential for maintaining the ecosystems of the flora and fauna in this part of the country.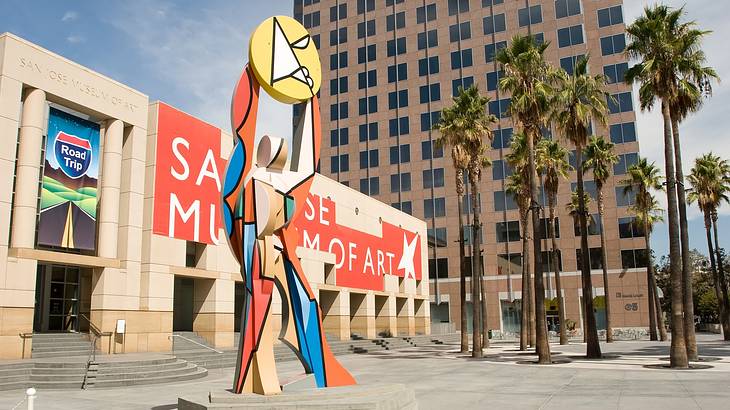 San Jose Museum of Art
Since 1969, the San Jose Museum of Art has been the premier facility for visitors interested in contemporary artists from the 20th and 21st centuries. The collection has around 2,500 permanent pieces housed in its facility, most of which are from West Coast artists.
However, thanks to its regular rotation of temporary exhibits, you can visit multiple times and always see something new.
Children's Discovery Museum of San Jose
Just a few minutes away from the bustle of Downtown San Jose is the city's Children's Discovery Museum. This 52,000-square-foot facility is a favorite spot among local families, especially those with children under ten.
Thanks to its 14 exhibits, kids can learn about colors, science, and more! The museum even hosts private parties and fun activities like facility-wide scavenger hunts for an extra dose of fun.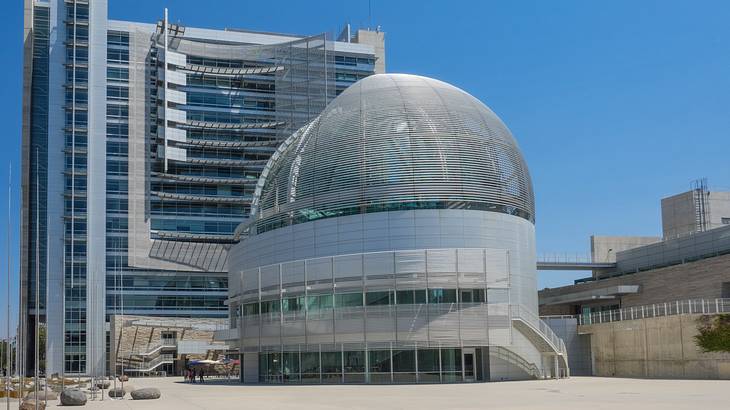 San Jose City Hall
San Jose City Hall is one of the most important seats of local government in Santa Clara County. It's also renowned for its signature rotunda building constructed in a Postmodern style by award-winning architect Richard Meier.
However, this city hall isn't just an architectural marvel. It's also a symbol of "green design" because it was built to resist earthquakes while being environmentally friendly.
In Summary
From the Winchester Mystery House to History Park, finding things to do in San Jose is not hard. The city's vibrance, history, and mix of diverse cultures make it a wonderful place to visit.
Hopefully, this list of famous landmarks has brought you one step closer to planning a trip to Fin City, so you can see for yourself everything this California destination has to offer!
Give us feedback about this article
Learn more about San Jose:
More articles about California:
Read more articles about the United States:
More articles about landmarks:
---
---
Want to keep exploring?
Subscribe for discounts on tickets and hotels and our latest guides.
Thank you for subscribing
We will be in touch soon with discounts on tickets and hotels and our latest guides.
Want to keep exploring?
Subscribe for discounts on tickets and hotels and our latest guides.
Thank you for subscribing
We will be in touch soon with discounts on tickets and hotels and our latest guides.
Related Articles