25 Fun Things to Do in San Jose for Couples (California)
Destguides may receive commissions from purchases made through affiliate links in this article.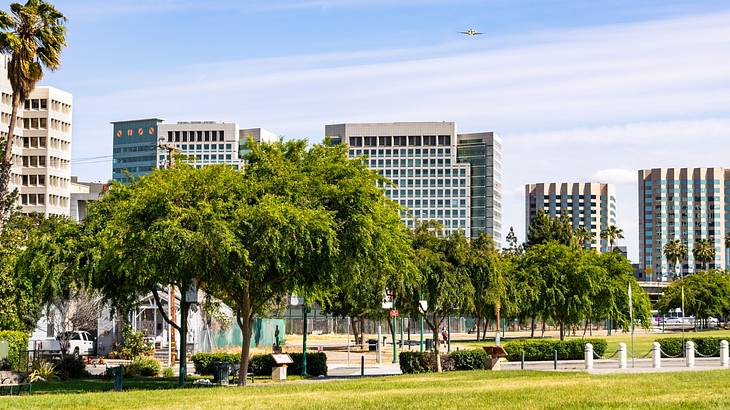 Do you live in San Jose and want to plan a unique date with your other half? Or are you visiting and want to find out what there is to do together in Fin City? Then this list of 25 things to do in San Jose for couples is a must-read!
Date ideas range from watching a San Jose Sharks game to exploring Santana Row or taking a romantic walk in the Municipal Rose Garden. You can also plan a day or weekend trip from the city, with destinations like Sacramento and San Francisco nearby. To discover all of the best date ideas in and around San Jose, continue reading!
25 San Jose Date Ideas
Fun Date Ideas in San Jose, CA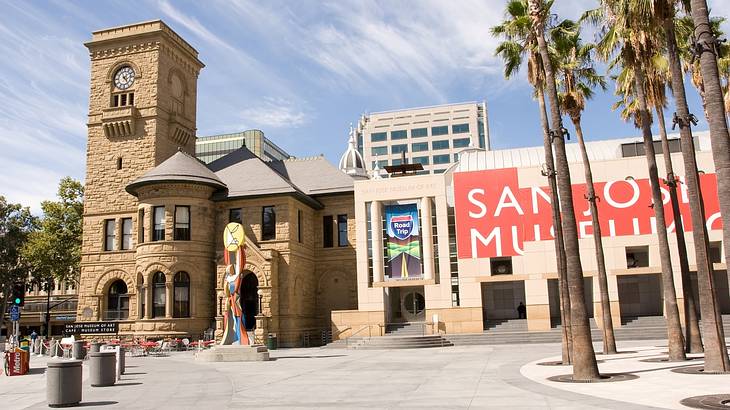 Admire artworks at the San Jose Museum of Art
Couples that love Art will want to plan a trip together to the San Jose Museum of Art. Opened in 1969 and housed in a building from the 1890s, the museum today is known for its vast collection of 20th and 21st-century art.
Along with a focus on contemporary art, many of the works displayed are by artists from the West Coast. During a visit, you can admire the permanent collection and see some fantastic temporary exhibits.
Follow Los Gatos Creek Trail
Outdoor activity enthusiasts will be interested in hiking or biking along the Los Gatos Creek Trail. The almost ten-mile loop trail takes you through beautiful scenery, including through forests and past lakes.
You can hike or bike as much of the trail as you like, and no matter how much you follow, you'll be amazed with the views.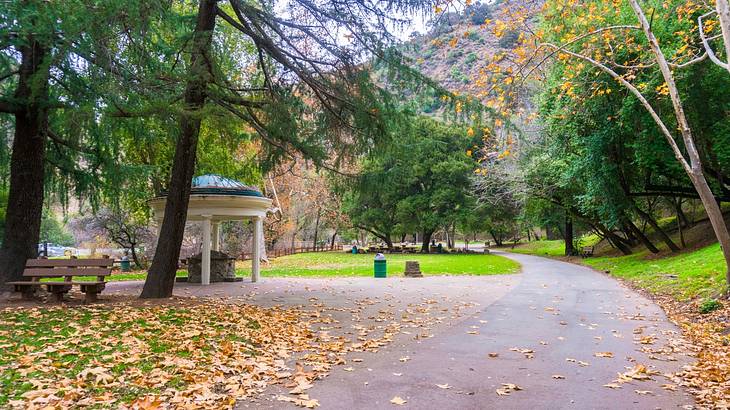 Hike through Alum Rock Park
When the weather is great, exploring the outdoors in San Jose is a must. If you're unsure of where to head on a nice day, Alum Rock Park is the perfect place to visit.
This attraction is the oldest municipal park in California and features multiple trails, all of which offer a beautiful view of the natural surroundings. There are also picnic areas and lawns to hang out on under the sun.
Hang out with a coffee at Academic Coffee
Getting coffee together is one of the most fun and laid-back date ideas, and San Jose has lots of cafes and coffee shops to visit. One of the best in the city is Academic Coffee.
This coffee shop has its own line of specialty coffee, which is used to make a range of hot and iced beverages. Along with caffeinated drinks, you can get tea, matcha latte, and more. Freshly baked pastries are also available, and you can enjoy your refreshments indoors or outdoors on the cute patio.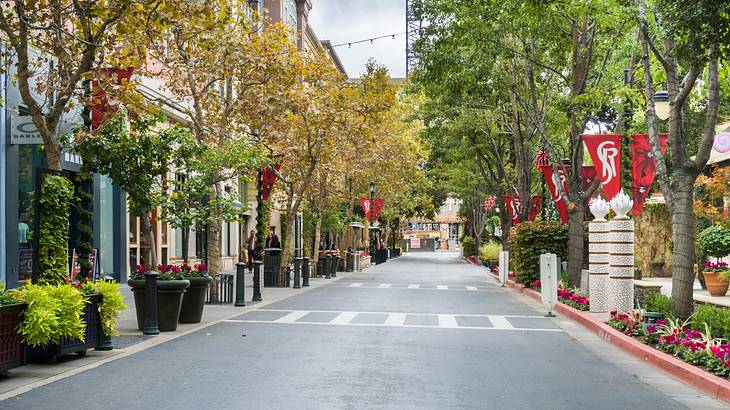 Explore Santana Row
Walking around Santana Row and checking out all the attractions is one of the best things to do in San Jose for couples, no matter what you like to do together. This upscale neighborhood is home to numerous shops, including chains, high-end brands, and independent retailers.
After shopping, you can get drinks and a meal at one of the bars and restaurants found in the area.
Shop in Willow Glen
Willow Glen is another trendy neighborhood to look around with your partner. The tree-lined streets feature unique shops, including independent clothing stores, boutique pet product shops, and home decor outlets. There's also a farmers market on the weekends, and you'll find many great bars, restaurants, and cafes to check out as well.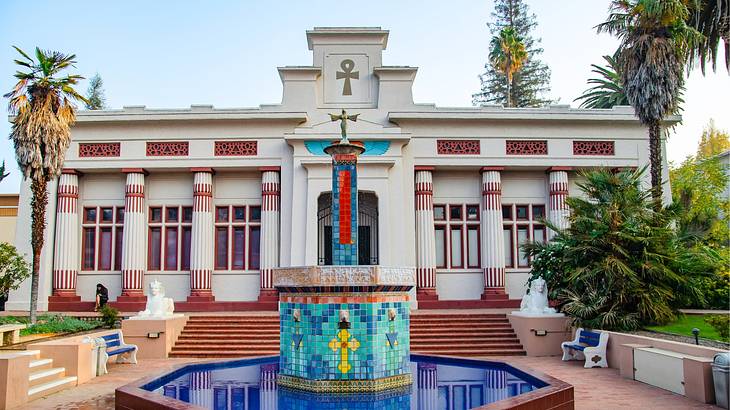 Learn new things at the Rosicrucian Egyptian Museum
The Rosicrucian Egyptian Museum is one of the most interesting attractions in the city and an excellent place to go on a daytime date. At the museum, you can learn about ancient Egypt and see a range of artifacts. Interestingly, the museum holds the most extensive collection of ancient Egyptian antiquities in the Western U.S.
Have fun at Topgolf
Topgolf is the perfect place to go for a fun and relaxed daytime or evening date. The attraction has golf games that are suitable for all levels, and while you play, you can order food and drinks.
Menu options include bar snack favorites like nachos and soft pretzel bites and various types of beer, wine, and cocktails. After your game, you can also hang out on a rooftop terrace that has fire pits for when it gets cold.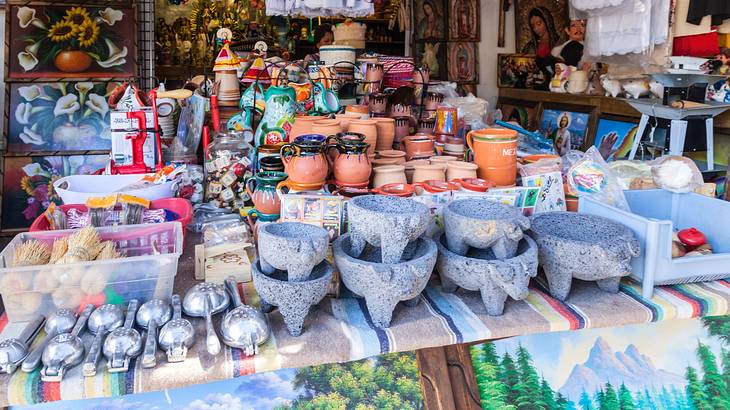 Discover unique items at the San Jose Flea Market
The San Jose Flea Market, also known as the Berryessa Flea Market, is an attraction that will appeal to most couples. This bustling outdoor market welcomes many vendors selling an array of products, from antiques and home goods to fresh local produce.
You can also enjoy live music as you explore the stalls and pick up ready-to-eat dishes. There's even an antique carousel from the 1950s which is still operational.
Check out The Tech Interactive
The Tech Interactive is not just for kids; it's also a fun and interesting place for adults to learn new things. Exhibits at the science and technology attraction cover an array of topics, from health and the human body to engineering and earth sciences.
After seeing all of the exhibits, which include lots of interactive displays, you can see films covering STEM topics in the IMAX Dome Theater.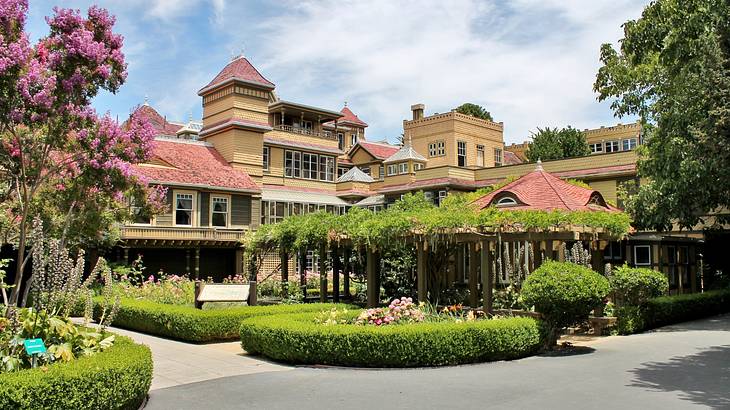 Tour the Winchester Mystery House
Another of the unique things to do in San Jose for couples is going to the Winchester Mystery Mansion. This property was home to heiress Sarah Winchester.
Interestingly, she spent 38 years doing renovations on the house until her death in 1922. This fact makes some think that the home holds the title of being the world's longest home renovation project!
Today, you can tour the house, admiring the interior design and learning more about its history. You can even return in the evening for a spooky ghost tour.
Go for a walk in Almaden Quicksilver County Park
Are you looking for more outdoor attractions in San Jose? If so, you'll want to add a trip to Almaden Quicksilver County Park to your date ideas list.
The over 4,000-acre outdoor space covers part of Capitancillos Ridge and has lots of scenic hiking and biking trails to follow. As you explore, you can take in the beautiful surroundings, including stunning displays of wildflowers.
San Jose Date Night Ideas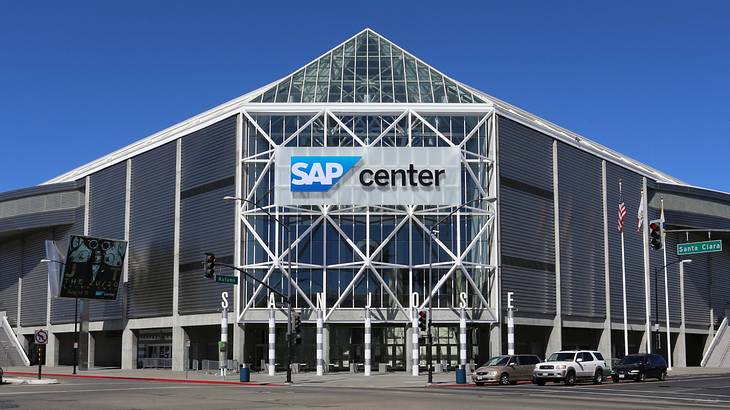 Catch a San Jose Sharks game
Sports-loving couples can cheer for the local NHL team by spending the evening at a San Jose Sharks game. The team plays at the SAP Center between October and April in the regular season.
Some games are also hosted in the afternoon, so even if you're planning a daytime date, you may be able to see the team in action.
Laugh all night at San Jose Improv
San Jose Improv is a fun place to go for a date night in San Jose. At the comedy club, you can watch local comedians and improv groups as well as nationally known performers. During the show, you can also order food, including sweet dishes and drinks, to your table.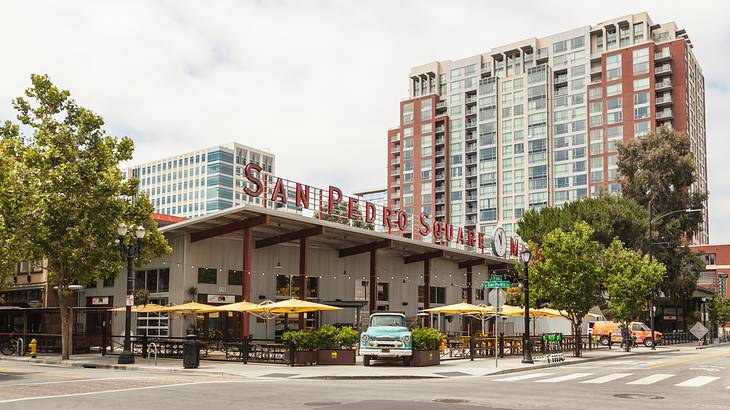 Try lots of great dishes at San Pedro Square Market Bar
There are many top restaurants in San Jose, but if you and your date want to try a few great eateries, head to San Pedro Square Market Bar. This marketplace is home to a range of vendors serving various types of food, including Japanese, Italian, and Mexican food.
Along with main dishes, you can get desserts, and there are bars serving craft beer, cocktails, and more.
Watch a show at the California Theatre
Lovers of the performing arts will be interested in seeing a show with their other half at the California Theatre. The venue is notably home to Opera San Jose and Symphony Silicon Valley, and watching a performance by one or both of these groups can't be missed! Other things to see at the theater include plays, musicals, and even comedy shows.
Romantic Things to Do in San Jose for Couples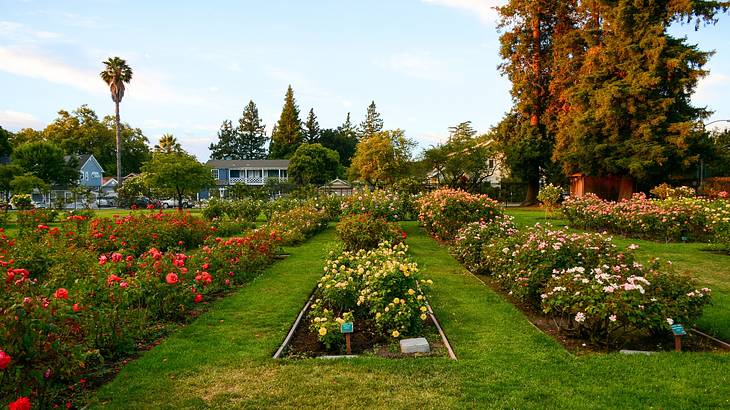 Wander through the Municipal Rose Garden
On a sunny day, strolling through the beautiful Municipal Rose Garden is one of the most romantic things to do in the city. This San Jose landmark has won awards as "America's Best Rose Garden" and features around 3,500 roses from 189 varieties.
Along with wandering through the floral displays, be sure to take some pictures together with the pretty roses as a cute backdrop.
Relax with a spa day
A spa day is a fun idea for couples that want to relax a little after a long week. Burke Williams is a popular spa to book some treatments at, with numerous options available, from massages to facials and manicures. You can also enjoy spa baths and a wet room.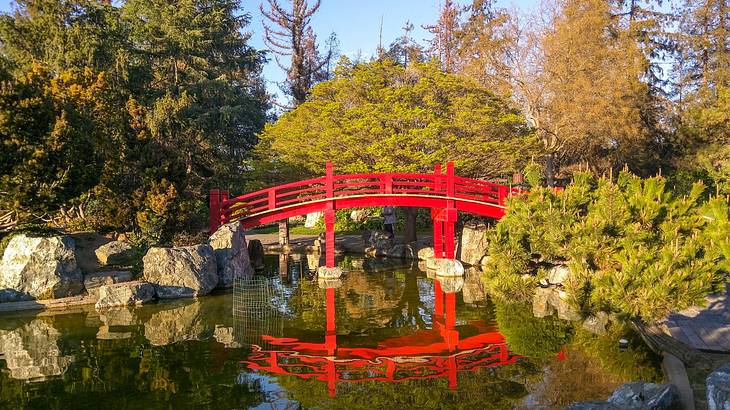 Stroll around the Japanese Friendship Garden in Kelley Park
Another beautiful and romantic garden to visit is the Japanese Friendship Garden. Located in Kelley Park, the garden is inspired by Korakuen Garden in Okayama in Japan.
As you explore, you'll get to see ponds filled with koi, bonsai gardens, and even Japanese art like woodblock prints. It's definitely one of the most tranquil places in the city to visit with your other half.
Dine at Paper Plane
If you're planning a dinner date, Paper Plane is one of the most stylish and romantic restaurants in San Jose, CA, to take your partner to. The food menu focuses on luxe bar snacks, with options like truffle fries, goat cheese bites, and homemade guacamole and chips available. You can also get unique craft cocktails or opt for beer, wine, or mixed drinks.
Things to Do Near San Jose, CA, for Couples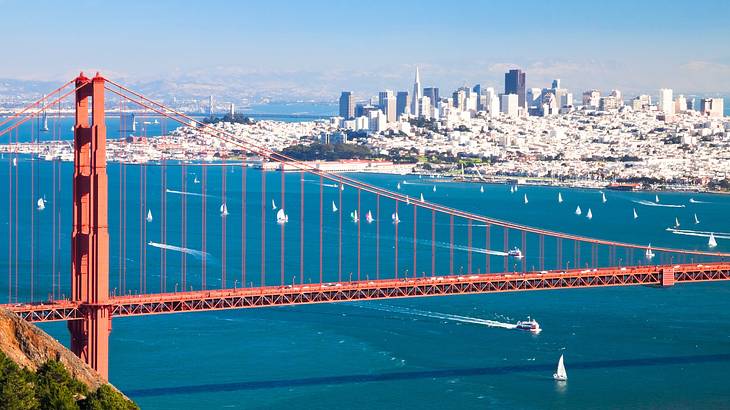 Plan a trip to San Francisco
Although there are lots of couple things to do in San Jose, sometimes, planning a getaway is a fun idea! Conveniently, there are many top day and weekend trip destinations near San Jose, with one of the most famous being San Francisco.
You can reach the city in about an hour and a half when driving. During your trip, you'll find lots of fun and romantic things to do in San Francisco, from biking across the Golden Gate Bridge to seeing the sea lions at Pier 39 or wandering through the Japanese Tea Garden.
As there is so much to see and do in the city, staying overnight or all weekend is recommended, and you can find excellent hotels in San Francisco to book a room at. Experiencing a San Fran tour is also a great option.
Enjoy California's Great America in Santa Clara
Located just 15 minutes away from Downtown San Jose in Santa Clara, California's Great America is a cool place for a daytime date. The 112-acre amusement park has a ride and roller coaster for every thrill level. There's also a waterpark which includes fun waterslides and poolside cabanas.
Visit Yosemite National Park
Yosemite National Park is a can't-miss attraction for couples that love the outdoors. You will need to travel a little to reach the famous park, with it located about four hours away when driving.
However, making the journey is well worth it, and you can find places to stay overnight around the park or spend the night in nature by booking a camping spot. During the day, you can hike various trails, taking in the breathtaking views and spotting wildlife. You could also join a Yosemite National Park tour.
If you're unsure when to plan your trip, the best time to go to Yosemite National Park is during the spring or summer when the weather is good, and all park amenities are open. Do note that crowd levels can be high during the summer, so opt for a spring trip if you want to enjoy the park with fewer people around.
Spend a weekend in Sacramento
The California state capital of Sacramento is another fun destination to head to for a romantic weekend getaway. When driving, you can get to the city in two and a half to three hours.
Things for couples to do in Sacramento range from admiring the flowers at the World Peace Rose Garden to watching a film at the Crest Theatre or hanging out at River Walk Park. You can also book a Sacramento excursion, like a downtown food tour or a local winery tour.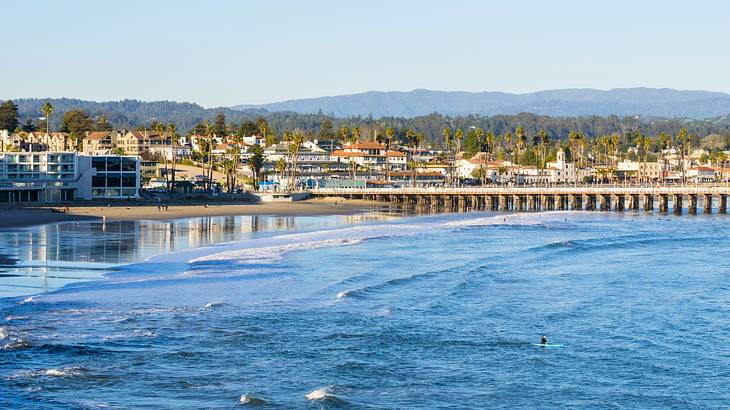 Drive to Santa Cruz for the day
If you want to plan a day trip, Santa Cruz is one of the best places to visit within an hour or so of San Jose. The beachside town has an array of attractions to enjoy together, from art galleries and independent shops to trendy bars and restaurants.
Of course, you also can't miss wandering along the Santa Cruz Beach Boardwalk and relaxing on Santa Cruz Beach or one of the other nearby beaches like Natural Bridges State Beach. Watching the sunset over the ocean from the shore is a must as well.
In Conclusion
This list of suggestions for fun and romantic dates in San Jose should have given you many ideas for different things to do on your next daytime or evening date.
If you don't mind traveling, you could also plan a couples day or weekend trip to destinations like San Francisco or Santa Cruz. No matter what you do, you and your other half are sure to have a great time in and around San Jose!
Give us feedback about this article
Learn more about San Jose:
More articles about California:
Read more articles about the United States:
More articles about date ideas:
---
---
Want to keep exploring?
Subscribe for discounts on tickets and hotels and our latest guides.
Thank you for subscribing
We will be in touch soon with discounts on tickets and hotels and our latest guides.
Want to keep exploring?
Subscribe for discounts on tickets and hotels and our latest guides.
Thank you for subscribing
We will be in touch soon with discounts on tickets and hotels and our latest guides.
Related Articles