25 Fun Things to Do in Aurora, Colorado
Destguides may receive commissions from purchases made through affiliate links in this article.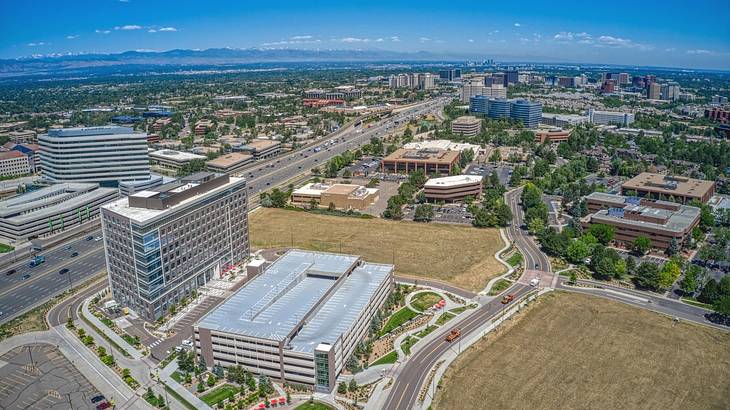 Colorado is a beautiful state to visit, with many amazing cities, like Aurora. This destination is located just outside of Denver and has an array of attractions to enjoy.
Some of the fun things to do in Aurora, Colorado, include taking a hot air balloon ride over the city, visiting the fascinating Aurora History Museum, and shopping and dining at Stanley Marketplace.
You can also plan some fun trips from Aurora, for example, to Denver or Colorado Springs. Want to learn more about all the activities in Aurora? Keep reading for 25 ideas!
25 Fun Things to Do in Aurora, CO
Fun Things to Do in Aurora, Colorado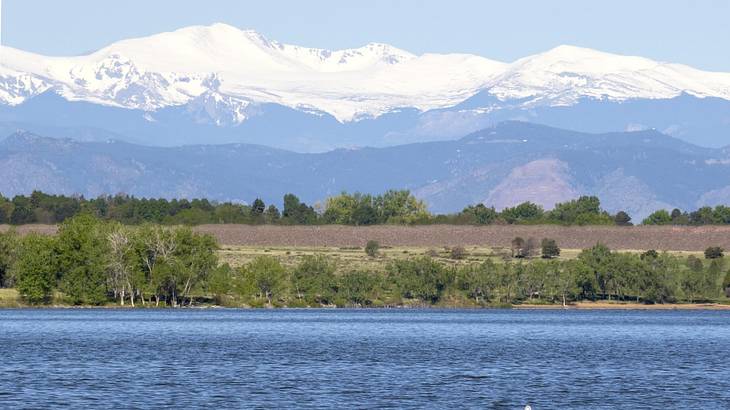 Enjoy the outdoors at Cherry Creek State Park
Cherry Creek State Park is a great place to spend the day outdoors. The park features a large reservoir, Cherry Creek Reservoir, that's ideal for boating and jet skiing. You can also swim in parts of the reservoir in the summer. In addition, you'll find nature trails to explore, and there's an off-leash dog park to check out if you're visiting with your pup.
See a performance at the Aurora Fox Arts Center
If you're looking for something to do in the evening, going to see a show at the Aurora Fox Arts Center is a great idea. The performing arts venue hosts a range of unique performances, including plays and musicals. No matter what show you go to watch, you'll have a memorable night out at this local theater venue.
Learn about local history at the Aurora History Museum
One of the best things to do in Aurora, Colorado, for those that want to learn more about the area's history, is going to the Aurora History Museum. Exhibits cover Aurora's history from past to present, including significant events and figures and the rise of various industries in the area.
You can also learn more about the different cultures represented in the area and will be able to see many historical items and artifacts.
Travel back in time at the Plains Conservation Center
Another fascinating place to visit in Aurora is the Plains Conservation Center. The education center is run by the Aurora Parks, Recreation, and Open Space department and features exhibits that cover the life of pioneers and Native Americans on the prairies in the 1800s.
You can see a homestead village as well as a schoolhouse, a blacksmith shop, and a tipi camp. After exploring the living history museum, you can follow some trails and may spot animals like prairie dogs, bald eagles, and coyotes.
Have a beach day at Aurora Reservoir
On a nice day, one of the best things to do in Aurora, Colorado, is heading to Aurora Reservoir. The reservoir is surrounded by sandy shores and is ideal for water activities like boating, kayaking, and stand-up paddleboarding.
You can also swim in the reservoir between Memorial Day weekend and Labor Day weekend. Of course, you can also relax on the beaches around the reservoir, enjoying the views and the sunshine.
Grab a beer in the taproom at Dry Dock Brewing Co.
One of the most fun places in Aurora, Colorado, to get a few drinks is the Dry Dock Brewing Co. taproom. Dry Dock Brewing Co. is an Aurora-based brewery with two taproom locations within the city.
Both taprooms serve a variety of brews as well as hard seltzers, including pineapple-coconut and sour raspberry hard seltzer. Snacks, like pizza, are also on offer. In addition, the North Dock location has a fun disc golf course to enjoy.
Shop, dine, and more at Southlands
Going to Southlands is a great idea on days when the weather isn't the best. The entertainment complex is located on South Main Street and features shops, eateries, and a movie theater. Shopping options include clothing stores, home furnishings outlets, and kids' shops.
Once you've explored the shops, you can grab snacks at various places, including sit-down restaurants and snack shops selling things like candy and frozen yogurt. Other things to do at Southlands include seeing a film at the AMC movie theater or painting pottery at Color Me Mine.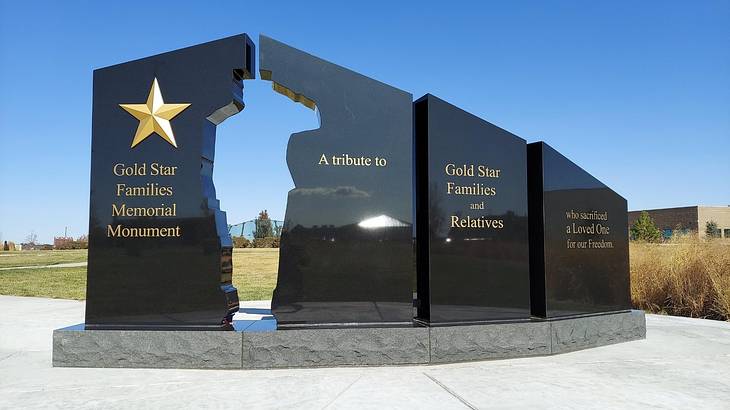 Visit the Colorado Freedom Memorial
The Colorado Freedom Memorial is an Aurora landmark that you must visit when in the city. The memorial pays respects to all those that have fought in wars for the United States and features the names of almost 6,000 Colorado residents that have given their lives in battle. At the memorial, you can see the names of these soldiers and pay tribute.
Wander along Havana Street
Havana Street is another fun area of Aurora to check out. The 4.3-mile business district features shops and restaurants, and many events are hosted throughout the year. Events held include movie nights, dance sessions, and seasonal festivals like Halloween events.
Sing karaoke and sip cocktails at Whispers on Havana
If you're wondering what to do in Aurora, CO, plan a trip to Whispers on Havana. At the bar, you can order specialty cocktails, plus many other drinks. You can then enjoy karaoke and perform if you want to! Drink offers are featured frequently as well, and karaoke is offered every night of the week.
Horseback ride at 12 Mile Stables
Going horseback riding is another way to explore the outdoors in Aurora. At 12 Mile Stables, you can go on guided horse riding tours through Cherry Creek State Park. These rides are suitable for all experience levels and are a fun family activity. You can also take riding lessons here if you want to improve your skills.
Check out Stanley Marketplace
Stanley Marketplace is one of the best attractions in Aurora, Colorado, no matter what you feel like doing. The exciting marketplace has independently owned restaurants, retail outlets, and other entertainment options.
Shopping options include trendy home decor shops, unique clothing and accessory boutiques, and kids' stores. After visiting all of the interesting shops, you can grab some great food and drinks, with eateries serving Japanese, Mexican, and American dishes, among many other cuisines. Other attractions here include salons, a kickboxing gym, and a gymnastics center.
Indulge in comfort food at Sam's No. 3
Established in 1927, Sam's No. 3 is a classic American Diner-style eatery serving comfort food dishes. The extensive menu has an array of delicious dishes, including many breakfast dishes like waffles with various toppings, plus burgers, chili, nachos, and so much more!
Those with a sweet tooth can also treat themselves to a decadent coffee, like a snickers latte. Alcoholic coffees and fun cocktails are available as well.
Get some drinks and enjoy trivia at Launch Pad Brewery
If you're looking for more fun places in Aurora, Colorado, to get a beer, go to Launch Pad Brewery. The microbrewery serves a variety of craft beers for all tastes, and food trucks are often on-site. You can also attend fun events at the brewery, like trivia nights.
Boat at Quincy Reservoir
You can find many reservoirs in the Aurora area, with another excellent one to check out being Quincy Reservoir. The vast reservoir is the ideal place to go boating while enjoying the surrounding woodland views. There's also a 3.5-mile trail around the reservoir, and you'll likely spot wildlife, including waterfowl.
Attend a show at the Vintage Theatre
The Vintage Theatre is a performing arts venue hosting many outstanding plays, musicals, and cabaret shows. Seeing a show here is a fun way to spend the evening, and you can opt to see productions of well-known shows or more unique performances. There's also a bar to get drinks to enjoy while you watch the show.
Play a round of golf at Aurora Hills Golf Course
If you enjoy golf or are learning the sport, the Aurora Hills Golf Course is one of the attractions in Aurora, CO, you'll want to add to your must-visit list. The manicured course features 18 holes and is one of the city's most popular golf courses. After a game, you can get a meal and drinks in the Aurora Hills Golf Course restaurant.
Fun Things to Do Near Aurora, Colorado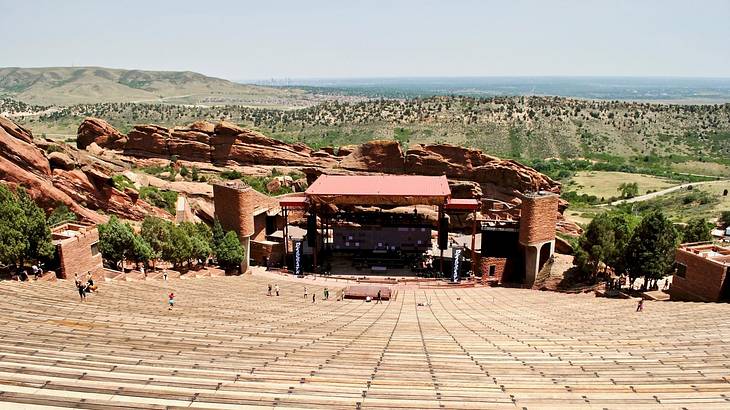 Experience an event at Red Rocks Park and Amphitheatre
Red Rocks Park and Amphitheatre is a famous Colorado landmark that's well worth visiting. The attraction is located around 40 minutes from Aurora when driving, depending on traffic, and features an outdoor theater carved into the surrounding red rock mountain.
At the theater, you can see various performances, including many genres of music concerts. Outdoor movies are also hosted here, as are fun events like yoga sessions. Before or after the event you attend, you can hike some trails in the area and visit other attractions, like the Colorado Music Hall of Fame.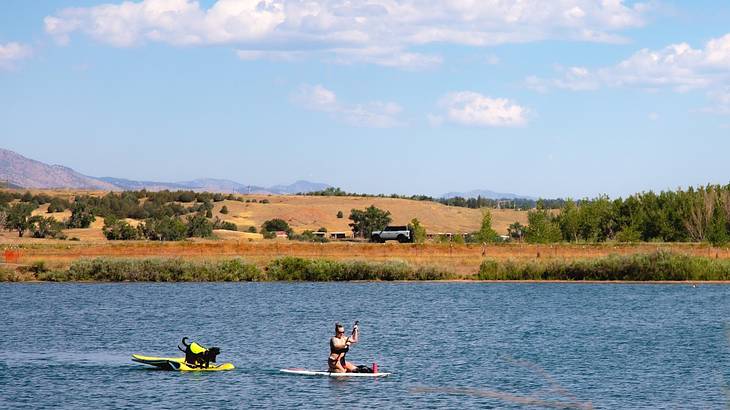 Explore Chatfield State Park
Colorado has the nickname "Colorful Colorado," due to its many beautiful parks with green forests and sparkling blue lakes. One of these parks is Chatfield State Park, which you can check out near Aurora. The park is situated approximately 30 minutes from central Aurora.
At the park, you can boat, paddleboard, or waterski on Chatfield Reservoir or hang out on the beaches around the water. You can also go biking or hiking along scenic trails, and there's a dog park if visiting with your pet.
Take a hot air balloon ride
Another of the fun and memorable things to do near Aurora, CO, is going on a hot air balloon ride. You can enjoy this once-in-a-lifetime experience with Rocky Mountain Hot Air. The tour begins from Chatfield State Park and will take you over Denver, Aurora, and the surrounding area. From above, you can admire the city, mountain, and forest views below.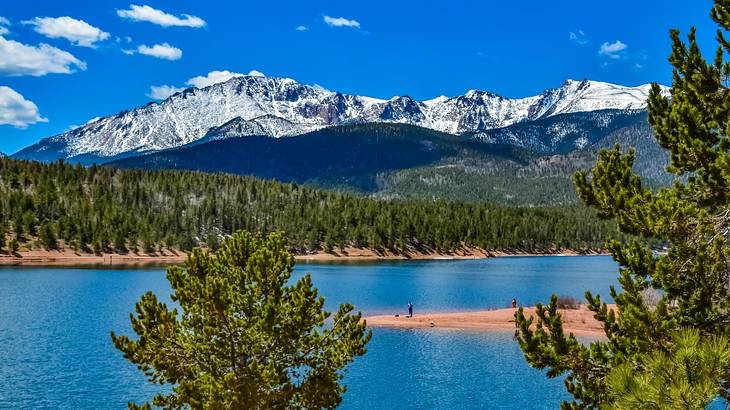 Plan a weekend getaway to Colorado Springs
Colorado Springs is another of the excellent destinations close to Aurora. The city is situated around an hour away from Aurora, depending on traffic. While you could visit for a day, planning a weekend getaway to Colorado Springs is highly recommended.
During your trip, you can enjoy many fun Colorado Springs activities, like hiking in nearby parks or going to the Bear Creek Nature Center. Even if the weather isn't great, you can still enjoy your getaway as there are many things to do indoors in Colorado Springs, from relaxing with a whiskey at Distillery 291 to unwinding at Alluvia Spa at Cheyenne Mountain Resort.
Spend an evening at Topgolf
Topgolf is a fun entertainment chain with a location in Centennial, Colorado. It can be reached in about 20 minutes when driving from Aurora. At Topgolf, you and your friends or family can play golf games on a high-tech driving range. You can also get food and drinks as you play, like delicious cocktails, flatbread pizzas, and wings.
Spend the day in Denver
Denver is Colorado's capital city and is also one of the most well-known destinations in the state. Conveniently, the city is about 30 to 40 minutes from Aurora, depending on where you're departing from. Due to its proximity, planning a day trip to Denver from Aurora is a fun idea.
Things to do in Denver range from experiencing a downtown food tour to visiting landmarks like the Colorado State Capitol Building. Other activities to add to your Colorado itinerary include going to the Denver Botanic Gardens, shopping along the 16th Street Mall, and unwinding at the Brown Palace Hotel & Spa.
Watch a show at Fiddler's Green Amphitheatre
Fiddler's Green Amphitheatre is a unique entertainment venue located around 15 minutes from central Aurora. At the open-air theater, you can see a variety of shows, including many musical concerts. The amphitheater is seasonal, and you can visit between May and September to enjoy a fantastic performance!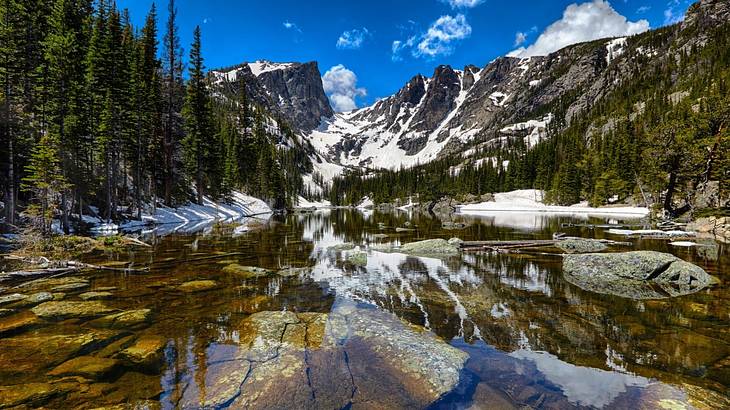 Go to Rocky Mountain National Park
Rocky Mountain National Park is a top-rated natural attraction that is slightly over an hour and 30 minutes from Aurora. An interesting Colorado fact about Rocky Mountain National Park is that it sees more than four million visitors every year!
However, as the park covers 265,000 acres, you'll have plenty of space to explore no matter how many people visit when you do. At the park, you can hike or bike along an array of trails. As you explore, you can enjoy the scenery and see many animals, like elk, bighorn sheep, and even bears.
In Conclusion
If you've been wondering what to do in Aurora, Colorado, you should now have a good idea of the vast array of activities you can enjoy in this exciting city. Whether you like visiting interesting museums, hiking in amazing national parks, grabbing drinks at local breweries or anything in between, you'll find many things to do in Aurora!
Give us feedback about this article
More articles about Colorado:
Read more articles about the United States:
More articles about things to do:
More visual stories related to this article:
---
---
Want to keep exploring?
Subscribe for discounts on tickets and hotels and our latest guides.
Thank you for subscribing
We will be in touch soon with discounts on tickets and hotels and our latest guides.
Want to keep exploring?
Subscribe for discounts on tickets and hotels and our latest guides.
Thank you for subscribing
We will be in touch soon with discounts on tickets and hotels and our latest guides.
Related articles