35 Unique Things to Do in Naples, Florida
Destguides may receive commissions from purchases made through affiliate links in this article.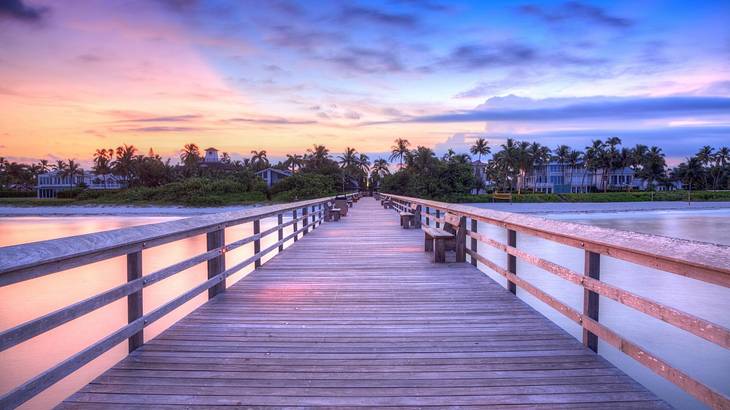 Naples is an enchanting city in Southwest Florida, United States, that's full of shops, outdoor attractions, and restaurants. The coastal city also features an abundance of historical sites and art experiences.
Regardless of what fun activities you're looking to do, you'll find things to enjoy. If you're planning a trip soon, keep reading to discover 35 of the most fun and unique things to do in Naples, Florida!
35 Unique Things to Do in Naples, FL
Cool Things to Do in Naples, Florida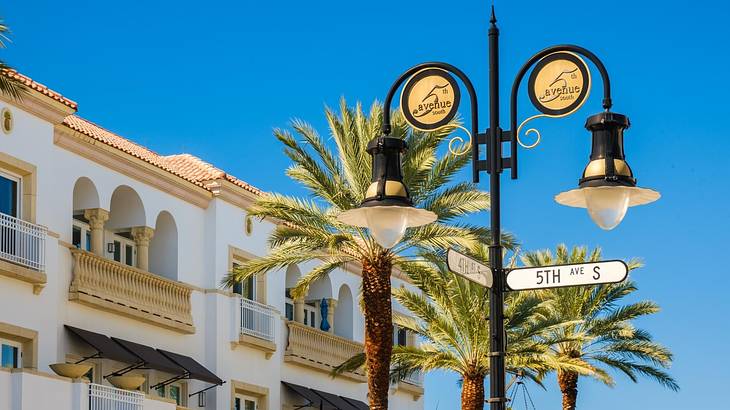 Explore Naples' 5th Avenue South
Just as 5th Avenue in Manhattan is known for its fancy shops and expensive restaurants, Fifth Avenue South in Florida offers some of the area's best architecture, shopping, and restaurant experiences.
The street is filled with local businesses and specialty shops that visitors will love, including art galleries, boutiques, ice cream shops, cafés, and jewelers.
Take a hike at CREW Bird Rookery Swamp Trail
One of the most fun places in Naples, Florida, for nature enthusiasts, is Bird Rookery Swamp. Visitors can grab their cameras and walk along 12 miles of hiking trails, known as the CREW Bird Rookery Swamp Trail.
This swampland area is one of best places to catch a glimpse of Florida wildlife, so keep an eye out for all the amazing creatures. Animals to spot include Florida panthers, alligators, bobcats, white-tailed dears, and wading birds.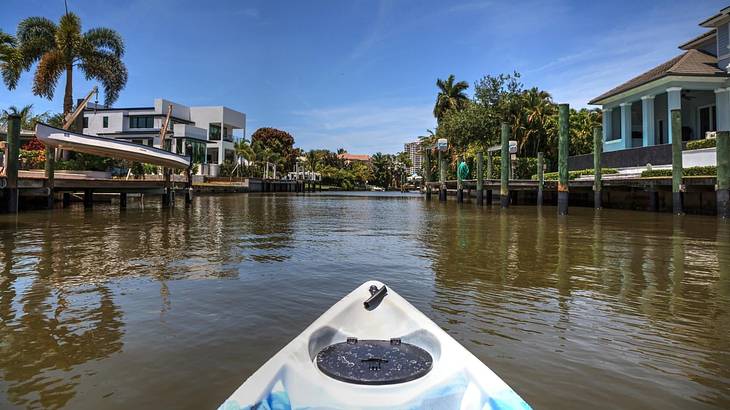 Search for shells at Clam Pass Park
Clam Pass Park is a family-friendly beach and park with white sand and calm waters. It's the ideal place to spend the afternoon suntanning or collecting shells.
To access the beach, you can walk the boardwalk through beautiful mangroves and coastal habitats or take the tram directly to the beach. Do note that there are no concessions or restrooms here.
Experience a sunset sail
Booking a sunset catamaran sail is the perfect way to treat yourself in Naples. This boat trip will take you through the waters around Naples and past places like Keewaydin Island and Rookery Bay National Estuarine Research Reserve. As you explore, you'll also be able to admire the beautiful sunset as you sip on a glass of champagne.
Go back in time at Historic Palm Cottage
If you're looking for cool places in Naples, Florida, Historic Palm Cottage has to be on your must-visit list. This building is the oldest home in Naples, having been built in 1895.
The Naples Historical Society is the current guardian of the house and provides guided tours. They also offer walking tours of the historic district that the cottage sits within.
Try the flavors at RipTide Brewing Company
The Riptide Brewing Company in Naples began as the only brewery within city limits. Now owned by a local family, the taproom is open for visitors to taste the company's delicious brews. While in Naples, be sure to stop by and taste some unique beer flavors!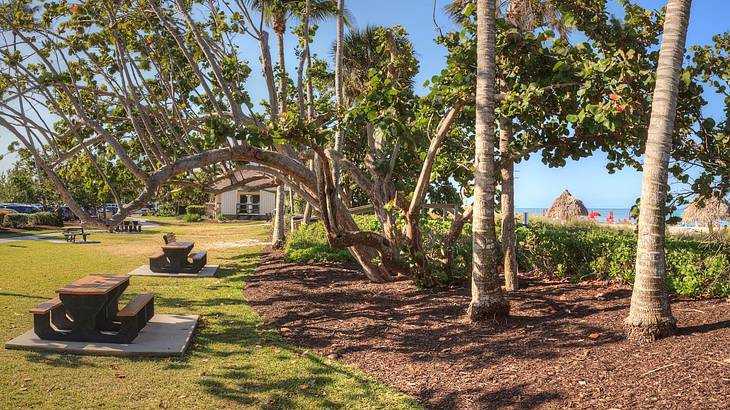 Bring the family to Lowdermilk Beach Park
Lowdermilk Beach Park is a family-friendly park that has fun activities for children and adults. The park has a duck pond and is close to the beach. You can also enjoy activities on the water, like kayaking or paddleboarding.
Spot manatees on a wildlife tour
The waters around Naples are home to many manatees. A great way to spot these creatures is by going on a manatee sightseeing tour. On the eco-tour, you'll sail out to areas known to be home to the creatures, with sightings almost guaranteed. You'll also see other marine life, like dolphins.
See all the trains at Naples Train Museum
The Naples Train Museum is located at the Naples Depot and is an excellent attraction to visit if you're traveling with children. Inside, you can see an array of model trains as well as real locomotives. The museum also features an outdoor scale train pulled by live steam or diesel locomotive.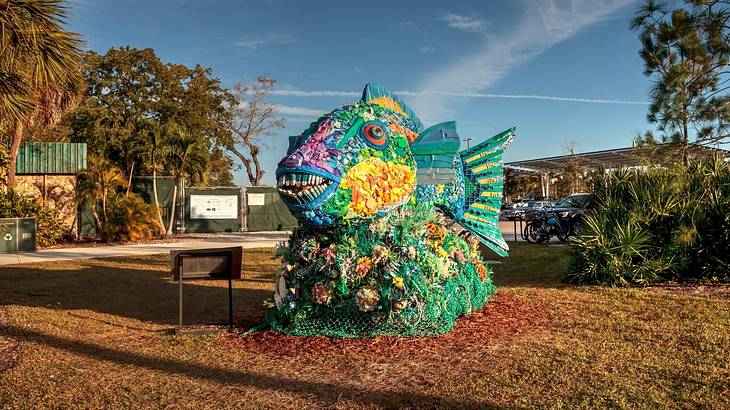 Visit Naples Zoo at Caribbean Gardens
Naples Zoo first started as a botanical garden in 1919, and exotic animals were introduced in 1969. The zoo now houses about 70 species and has a one-mile path that leads visitors through most of the main exhibits. Don't forget to visit the primates on an island that can be viewed via catamaran!
Eat delicious food on a food tour
Naples has fantastic eateries, including many serving Latin American dishes. To discover the best of the best, book a Naples food tour. You'll visit top Latin American eateries, where you can try a range of savory dishes, plus desserts and cocktails.
Take a tour with Rising Tide Explorers
Rising Tide Explorers offer unique tours in Naples and Marco Island led by local biologists. This special opportunity is excellent for those who want to learn a little extra while exploring the area. Some tour options include a mangrove tunnels and mudflat kayak tour or a sunset Bird Rookery cruise.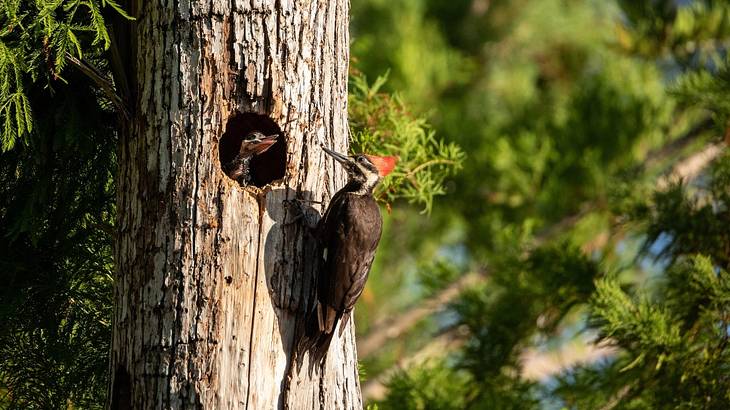 Go birding at the Audubon Corkscrew Swamp Sanctuary
Originally established to protect the largest strands of cypress in North America, the Audubon Corkscrew Swamp Sanctuary is now home to many animals. Creatures living here include alligators, otters, white-tailed deer, and red-bellied turtles.
The park connects to the Great Birding Trail and provides an important breeding area for the endangered wood stork. You can enjoy the sanctuary by going for a walk on the 1.9-mile nature boardwalk.
See a show at Sugden Community Theatre
Catching a show at the Sugden Community Theater, which is the home of the Naples Players, is a must! This community theater produces musicals, comedies, dramas, children's shows, and more. If visiting with kids, they'll especially love the Naples Players KidzAct, a musical theater workshop offered year-round.
See old cars at Revs Institute
Children might love this museum as much as their parents! Revs Institute is known for being one of the best automotive museums in the world. It is a nonprofit organization that is dedicated to the study and celebration of the automobile. The collection here features over 100 influential cars of our time.
Check out The Bird Gardens of Naples
The Bird Gardens of Naples is an animal welfare organization that helps parrots that have been abandoned or are otherwise in need. While visiting the gardens, you can see the colorful birds.
There are more than 100 birds on-site, and if the weather cooperates, you can enter the large macaw aviary. You'll also see various plants and flowers, as well as bees, butterflies, and other insects.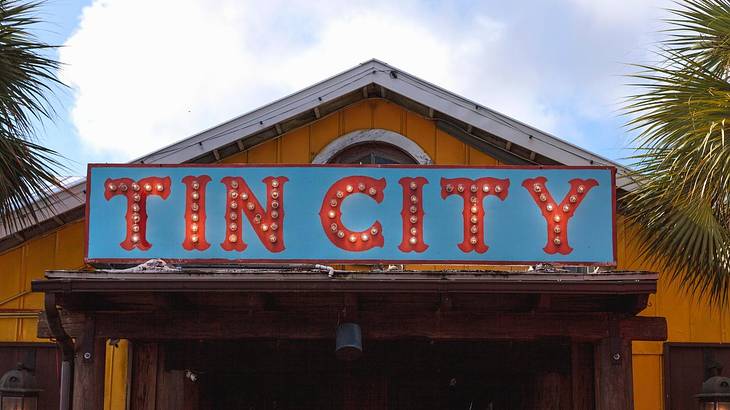 Take a look at the Tin City Waterfront Shops
One of the cool places in Naples, Florida, is Tin City, a waterfront boardwalk with more than 30 local shops and two restaurants. Not a chain store in sight, this location is completely unique to Naples! You can also rent kayaks and paddleboards from Tin City if you want to hop on the water.
Experience history at the Collier County Museums
Transport yourself back in time and learn about different eras of Florida history at the Collier County Museums. Everything from prehistoric saber-toothed cat skeletons to the history of Calusa Indians and Spanish explorers is covered here. The grounds also have a five-acre garden with relocated historic buildings, including a recreated Seminole village.
Watch a show at Opera Naples
Well-loved by local residents and tourists alike, Opera Naples is a treat for those who enjoy arts productions. Whether you prefer to attend in the evening or opt for the luncheon show, there are many options to choose from. Performances to see include those by the Naples Festival Orchestra and well-known shows like Georges Bizet's Carmen.
Have fun with art at the Baker Museum
The Baker Museum focuses on contemporary art and is one of the best fine art museums in Southwest Florida. Featuring 17 galleries and an art library, the Baker Museum offers three stories of exhibitions for visitors to explore. In addition, there is an eight-and-a-half-acre outdoor sculpture collection.
Go shopping at the Waterside Shops
Located next to the Baker Museum, this open-air mall houses more than 60 specialty shops. Key stores like Apple, Anthropologie, and L'Occitane call this mall home.
There's also a Saks Fifth Avenue department store. Additionally, the shopping complex features several restaurants for visitors to enjoy once they've explored all the shopping outlets.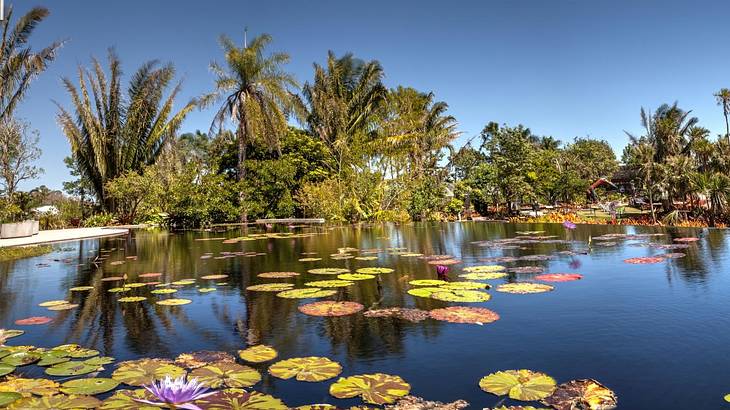 Stroll around the Naples Botanical Garden
Naples Botanical Garden offers a piece of tropical paradise just a short distance from downtown. This 170-acre garden provides incredible access to more than 1,000 species of plants. There is also a 90-acre preserve on-site that features restored habitats and trails for visitors.
Visit the Golisano Children's Museum of Naples
This museum originally started as the first museum in Southwest Florida devoted to children and families. It's been developed by experts in child psychology to provide brain-building activities. Kids will enjoy play spaces such as the ABC Tot Lot, Mother Nature's House, and World Café.
Take a swing at Hibiscus Golf Club
Hibiscus Golf Club was built in 1969 and is one of the few courses in the area open to the public. Playing on the 18-hole golf course is one of the most fun activities in Naples, FL, as it's surrounded by beautiful scenery to admire as you golf. The course is also suitable for almost all levels, from new golfers to pros.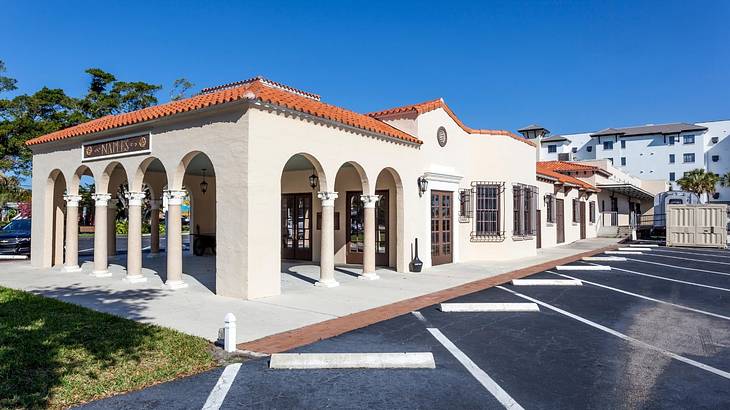 Explore the railway at Naples Depot Museum
The Naples Depot Museum reminds visitors of a day when railroads were the main form of transportation. At this attraction, you'll learn how generations of people used the railway to move to this region of Florida. You'll find restored rail cars, Seminole dugout canoes, and more.
Visit an exhibit at Naples Art Association
Organized by artists in the community, the Naples Art Association aims to provide educational opportunities for a broad range of local residents and visitors.
While you're in Naples, stop by and see one of the fantastic exhibits. They rotate about every six months, so check the website for updates on what's going to be on display during your visit.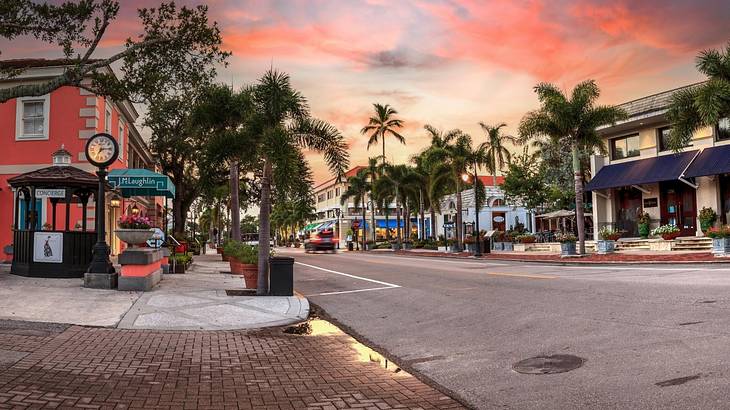 Grab a snack at Third Street South
Third Street South is full of restaurants and cafés that beachgoers love to take advantage of. In addition, Third Street South hosts a famous Farmer's Market every Saturday with numerous stalls featuring food and retailers galore! Make sure to stop by after your morning at the beach to grab a snack and explore the bustling market.
Head to "Food Truck Park"
If you're looking for fun things to do around Naples, FL, for lunch or dinner, head to Celebration Park, also known as Food Truck Park. This outdoor space features a permanent food truck gathering and an open-air tiki bar. Visitors can experience waterfront dining at its best while enjoying a unique selection of quick bites and fun drinks.
Taste fruit wine at The Naples Winery
Located in Tin City, The Naples Winery offers small-batch fruit wines. They have been serving up flavors, such as Flordia Grapefruit, Class 5 Hurricane, and Florida Fever, for 18 years. This is one of the fun places to go in Naples, Florida, that has to be on every wine lover's bucket list.
Fun Things to Do Near Naples, Florida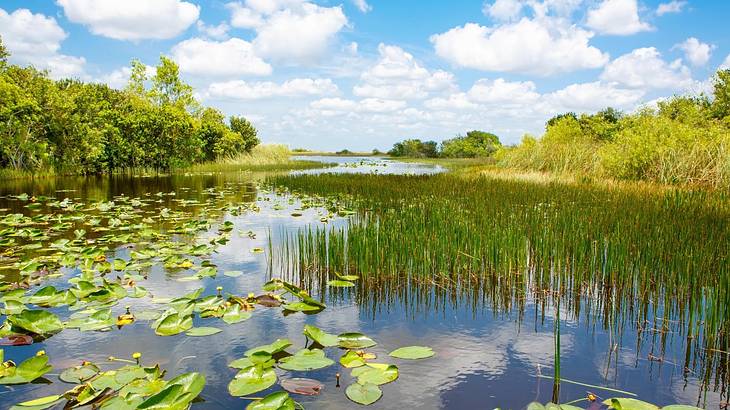 Spend the day at Everglades National Park
Everglades National Park is a famous landmark that's full of wildlife and natural beauty. It's also one of the best national parks on the East Coast.
The Gulf Coast Visitor Center is closest to Naples and provides easy access to this beautiful one-and-a-half-million-acre wetland preserve. You can spend your day looking for one of the many endangered species that call the park home or go boating through the lush everglades.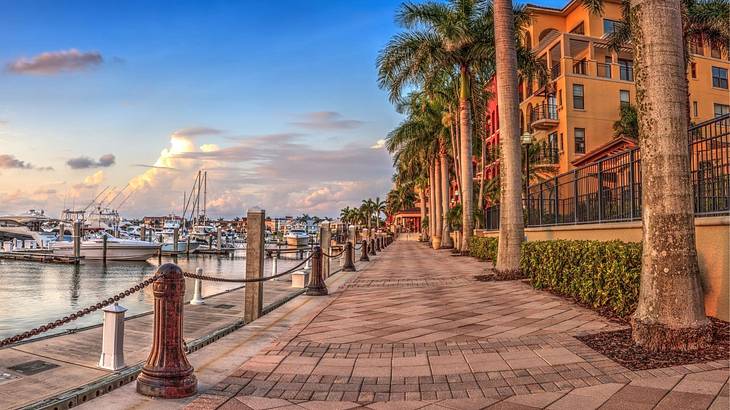 Leave the mainland for Marco Island
Visit this barrier island in Southwest Florida, and you're in for a treat! Marco Island is covered with beaches to relax on. There are also many tidal lagoons nearby which can be explored by kayaking, canoeing, or paddleboarding.
Alternatively, join a dolphin, birding, and shelling tour around Marco Island. Located only 30 minutes from downtown Naples, don't miss out on planning a trip to Marco Island. There are many excellent places to stay on Marco Island, so you could even spend a night or two there if you want to explore some more.
Explore Cape Romano
While you're visiting Marco Island, make sure to take advantage of this fantastic Cape Romano shelling and sightseeing boat tour. On this excursion, you'll get to go shelling, explore mangroves, and try to spot bald eagles, dolphins, and other wildlife.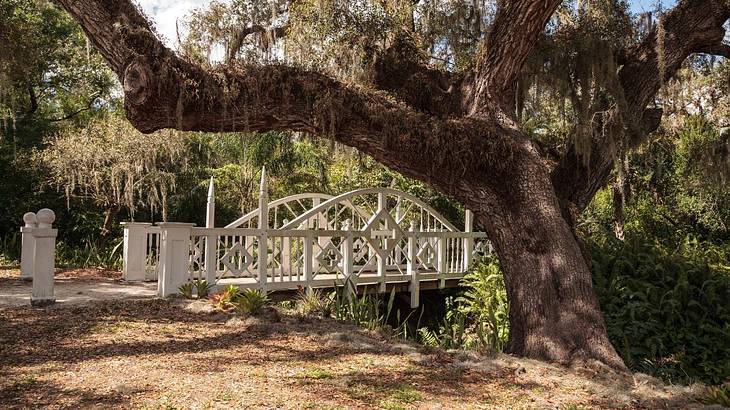 Look around the Koreshan State Historic Site
Once a 19th-century religious settlement, Koreshan State Historic Site is now a 200-acre park that maintains many historic buildings. Visitors can take a self-guided tour through the grounds, hike the nature trail, or canoe on the Estero River. There is a full-facility campground and a playground for children on-site as well.
Walk the trails at Rookery Bay
The Rookery Bay National Estuarine Research Reserve dominates the landscape between Naples and the Ten Thousand Islands. This 110,000-acre reserve has more than 150 different species of birds and animals to spot as you follow nature trails. There are several trails to choose from, or you can go on a guided kayak tour around Rookery Bay for more of an adventure.
Kayak around Ten Thousand Islands
Located just off Southwest Florida is a chain of islands and mangroves called Ten Thousand Islands. The best way to explore this 35,000-acre area is to join a group kayak tour, which also allows you to search for manatees, dolphins, and birds. You won't be disappointed with this incredible opportunity!
In Summary
If you're looking for fun things to do in Naples, Florida, this list should have given you a good idea of all the activities to enjoy in and around the city.
Naples and the surrounding area are full of natural wonders and unique attractions to delight all travelers, so no matter what you do here, you're sure to have a memorable Florida vacation!
Give us feedback about this article
Learn more about Naples:
More articles about Florida:
Read more articles about the United States:
More articles about things to do:
More visual stories related to this article:
---
---
Want to keep exploring?
Subscribe for discounts on tickets and hotels and our latest guides.
Thank you for subscribing
We will be in touch soon with discounts on tickets and hotels and our latest guides.
Want to keep exploring?
Subscribe for discounts on tickets and hotels and our latest guides.
Thank you for subscribing
We will be in touch soon with discounts on tickets and hotels and our latest guides.
Related Articles