50 Interesting & Fun Facts About Florida State You Should Know
Destguides may receive commissions from purchases made through affiliate links in this article.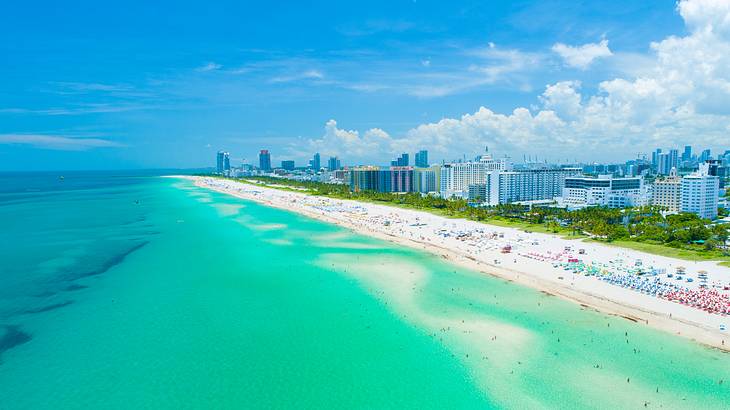 Florida might be considered a paradise vacation spot thanks to its perfect weather, many things to do, and stunning white sand beaches. However, this southern coastal state is more than just beaches, parties, and amusement parks.
There are hundreds of interesting and fun facts about Florida state culture, history, and nature that will make any visit even more exciting. For example, do you know who discovered Florida? How about how many people live in the state? What about the annual mullet toss?
Whether you've been to Florida dozens of times or are planning your first trip, you'll want to know these facts before you go! So, get ready to learn something new about North America's top vacation destination with these 50 facts about Florida.
50 Florida State Facts
Florida Fun Facts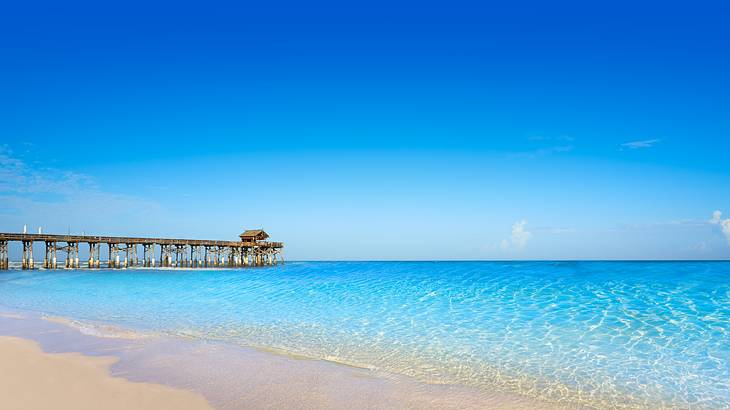 Florida is the most visited destination in the world
One of the fun facts of Florida you might not think of is that Florida could beat out huge vacation destinations across the globe, but this great state manages just that. Florida is the most visited destination in the world according to some polls.
There's a lot to draw visitors between Walt Disney World, Miami Beach, and all the other major beach towns and cities in the state. Don't forget; it's also the spring break capital of the USA.
Florida produces 70% of the country's oranges
You've probably seen orange juice commercials brag about their orchards in Florida. Well, that's not as uncommon as you might think!
Due to Florida's balance between regular sun and rain and its perfect year-round temperatures, orange trees thrive. That's why 70% of North America's oranges come from farmers in this state.
Cape Canaveral is owned by the U.S. Air Force
Cape Canaveral is where NASA conducts its launches. However, you might be surprised to know that it's actually owned by the U.S. Air Force.
The cape has even undergone different name changes over the years. It's officially known as Cape Canaveral Space Force Station today, but it's also been called Cape Kennedy Air Force Station in the past.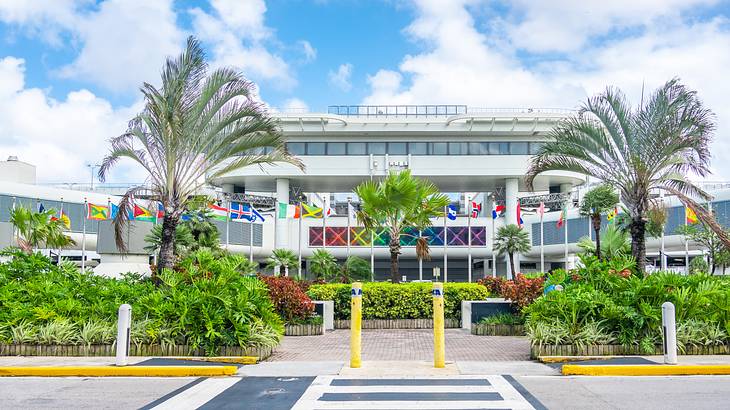 The Miami International Airport is in the top 10 busiest in the USA
Florida is one of the most popular destinations in the world. So, it's no surprise its airports are busy. Miami International Airport is the state's busiest hub, closely followed by Orlando's airport. So many people fly in and out of Miami that it's routinely on the list of the USA's top 10 busiest airports.
The World Golf Hall Of Fame is in St. Johns County
Though golf might have started in Scotland, it's become a favorite pastime in Florida. The state's weather makes it a perfect spot for year-round games, so the golf season never has to end.
Florida loves golf so much it's even the home of the World Golf Hall Of Fame near historic St. Augustine in St. Johns County.
Nearly all of America's fresh market tomatoes come from Florida
Florida's great weather makes it one of the best places to grow vegetables in the USA. Since there's never a cold or dry season, plenty of summer fruits and vegetables can grow all year.
You have the state to thank for most of your tomatoes, for example. You can buy them in the winter, thanks to Florida.
Florida is also known as "The Sunshine State"
Many USA states have little nicknames that they go by. Often they're printed on license plates, state signs, and souvenirs. So this list of fun Florida facts wouldn't be complete without its nickname.
Florida is often called "The Sunshine State." It's not hard to see why this would be an appropriate moniker for Florida. Sure, it rains in the state. During the summer it can rain every day. Usually, though, there's perfect weather, and rain showers don't last long!
Florida's state flower is the orange blossom
Since Florida is well known for producing oranges, it's not surprising the orange blossom was selected as its state flower in 1909. Florida is full of orange fields, and the blossoms can be smelled from miles around!
You'll find orange blossoms on a lot of state artwork. If you ever go to a Florida wedding, you'll be sure to find these flowers in the arrangements!
Muhammad Ali rose to prominence after a February fight in Miami
Muhammad Ali is known as one of the best boxers in history. One interesting fact about this famed athlete is that he rose to fame in Miami.
In February 1964, Ali won the world heavyweight boxing championship. He was still known as Cassius Clay at the time. If it weren't for that, he might have never had the career he's known for.
Florida's population is over 21 million
Florida isn't just a hotspot for vacation-goers; it's also a popular place for people to settle down. In fact, the state has a population of over 21 million people, which grows yearly.
If you were wondering, that number makes it the 3rd most populated state in the USA It doesn't lag far behind the Texas population which is the 2nd most populated.
Interesting Facts About Florida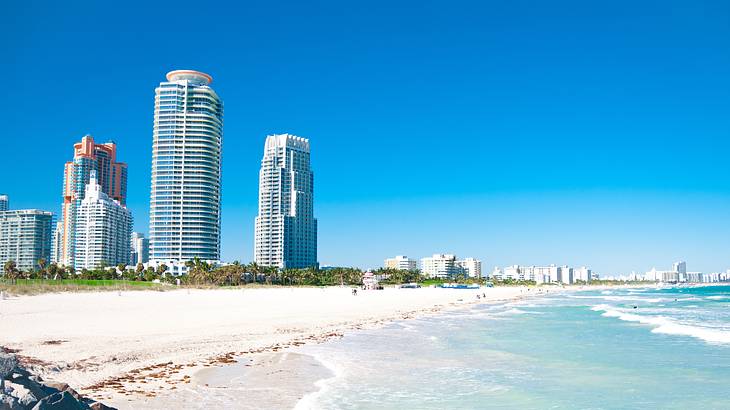 Florida Ranks #1 For Higher Education In The USA
Florida is the spring break getaway capital in the USA. However, many of those spring breakers might actually be local.
Florida is home to 3 universities that consistently rank in the top 100 in the country. It also has low tuition fees, which allows more students to attend college. All that ensures that Florida is #1 for higher education.
Spanish Florida was the first European settlement in North America
Everyone knows European explorers settled in the USA. However, most people focus on Plymouth Rock and the Mayflower Pilgrims as some of the first settlements, when settlements, instead, started in Florida.
Spanish Florida is the name given to these settlements by historians. Spanish explorers attempted to stake a claim on the "newly discovered" continent in modern-day Florida. Eventually, settlements elsewhere in the USA were established and flourished, but Spanish Florida was the first.
Key West is the southernmost city in the continental United States
When people think of Key West, Florida, they often think about beaches and boating. They often have to look at a map to realize this little part of Florida is the farthest south you can get without leaving the continental US.
Key West is actually a small island. However, it's close enough to the mainland to be considered part of the continental United States. However, it's still an incredibly interesting fact about Florida.
Miami is famous for its streamline moderne and art deco buildings
Miami's streets are full of beautiful buildings. However, if you're not an architecture fanatic, you might not realize that Miami has one of the largest collections of art deco and streamline moderne buildings in the USA.
Walking down the street, you'll notice tons of Miami landmarks that use abstract shapes and designs. These buildings give Miami the retro yet still futuristic look it's become famous for.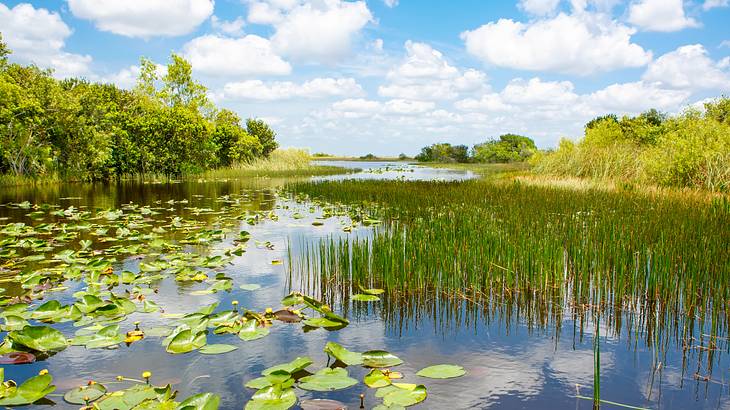 Protected animal species live in the Everglades National Park
Everglades National Park is one of the most popular parks on the East Coast. One interesting fact about the Everglades is that it's one of the only places you can find certain wildlife.
Many species that call this national park home are considered endangered, like the wood stork. While they're in the park, however, they can thrive safely.
Florida has the longest coastline in the contiguous United States
It's common knowledge that many people who head to Florida want to spend time on the beach. That's no surprise when you consider the fact that the state has the longest coastline in the USA.
Other states may have long coasts, but none beat Florida. With over 1300 miles of coastline, it almost doubles California's, the 2nd largest in the country.
Florida is the fishing capital of the world
Florida is a state with thousands of bodies of both fresh and saltwater. Since it's so diverse, it's also the fishing capital of the world. The Florida Fish and Wildlife Conservation Commission self-awarded Florida the title after analyzing many aspects of fishing in Florida.
The amount of fish caught daily (not commercial fishing) is a significant factor that pushes Florida over the edge. However, the state also has a wide variety of fish that can be caught responsibly and consumed.
Panthers are indigenous to Florida
When you think about big cats native to the US, you probably think about mountain lions and bobcats. Maybe even pumas.
Panthers, however, should be on that list as well because they're native to Florida. The Florida panther is usually found in the state's south due to the climate and landscape. However, they can be seen up north as well.
Florida has the most golf courses in the USA
You already read that the World Golf Hall Of Fame is found in Florida. Yet one of the most fun facts on Florida is that the state also has the most golf courses of anywhere else in the country.
There are over 1200, to be exact. While Florida has more than its fair share of thunderstorms, which can cancel games, its general weather conditions make it ideal for golf.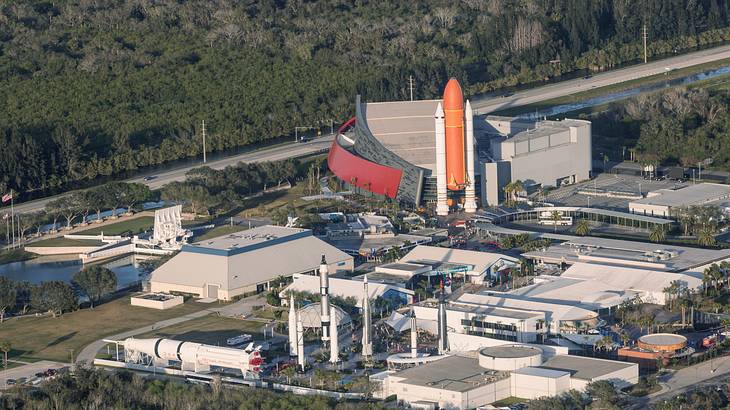 The Apollo 11 Mission launched from the Kennedy Space Center
The Apollo 11 mission is one of the most important parts of USA history. It marked the moon landing. Most people know the famed mission launched from the USA in July 1969, but you might not realize it departed from Florida.
The Kennedy Space Center, to be exact. As you've already read, the Kennedy Space Center is now called the Cape Canaveral Space Force Station.
Weird Facts About Florida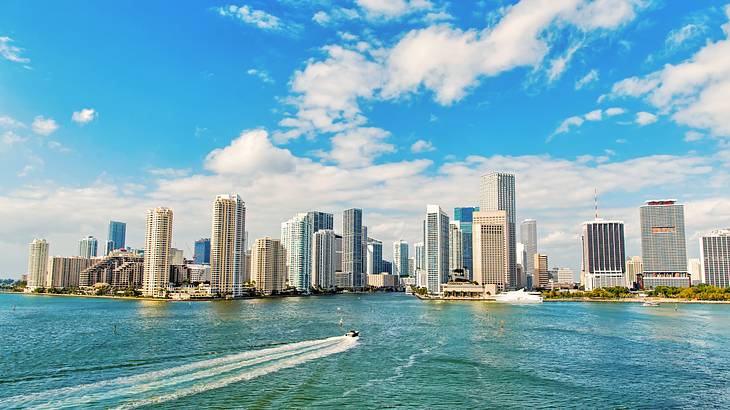 Suntan lotion was invented in Miami
With an average of 237 sunny days a year, it's no wonder that Florida was the birthplace of suntan lotion. A Miami pharmacist invented the first modern sunblock/suntan lotion during World War II.
He later perfected this formula after the war, creating the Coppertone brand in the process. Next time you put on suntan lotion, remember this interesting Florida fact!
Florida has a local myth called Skunk Ape
You've probably heard of Big Foot or Sasquatch, but have you ever heard of Skunk Ape? This mythological ape-like giant has been a legend in Florida since 1974.
Due to the thick wilderness of the Everglades, it's easy to imagine some undiscovered creature living there. While not yet famous around the country, Skunk Ape sightings still pop up all over south Florida.
Florida is the world's leading grapefruit producer
If Florida doesn't come to mind when you hear the word grapefruit, you should change that! Once again, the sunshine state has proven to be the premier spot for produce.
You can find grapefruit all over the world, particularly in warmer climates. However, most grapefruit on the global market will come from Florida. You'll also find grapefruit used in many recipes in the state.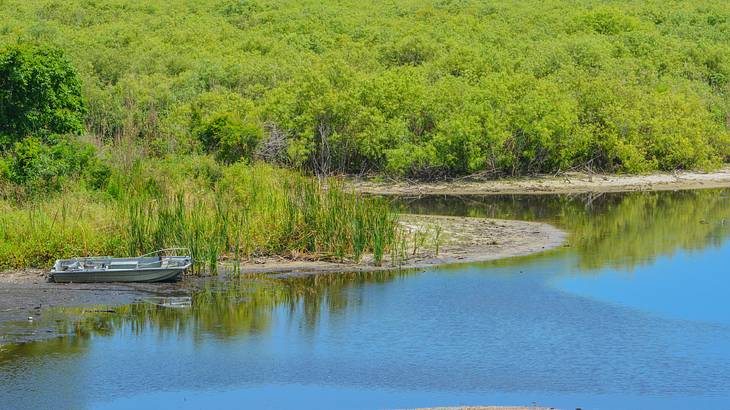 Lake Okeechobee is Florida's largest freshwater lake
Florida has over 1,000 lakes within its borders, so one of them had to be the biggest. That title goes to Lake Okeechobee in Clewiston and Pahokee.
The lake covers over 700 square miles of land. However, it's only about 12 feet deep, so while it might be the largest as far as space, it's nowhere near the deepest lake in the state.
Britton Hill is Florida's highest natural point
Britton Hill may only reach an elevation level of 345 feet, but it's still the highest natural point in Florida. It's not an intimidating hike for most people. The trail to the top of Britton Hill is less than a mile long and can be done in about 15 minutes. It's also one of the most interesting Florida Facts.
Cool Facts About Florida
Florida means "land of flowers" in Spanish
When you hear the word "Florida" being used so often to just refer to the state, you might not realize that the name has Spanish roots. Florida means "land of flowers".
When Spanish explorers first landed on the coast, they were shocked by the number of wildflowers that grew in nature. Thus came the inspiration for the state's name.
There are no dinosaur fossils in Florida
While some parts of the USA became known for their dinosaur fossils, no dino paleontologists flock to Florida. That's because, as of now, no dinosaur fossils have ever been found in the state.
Scientists believe dinosaurs probably lived in what is now Florida. However, climate or landscape characteristics in the area likely prevented any fossils from forming or being preserved.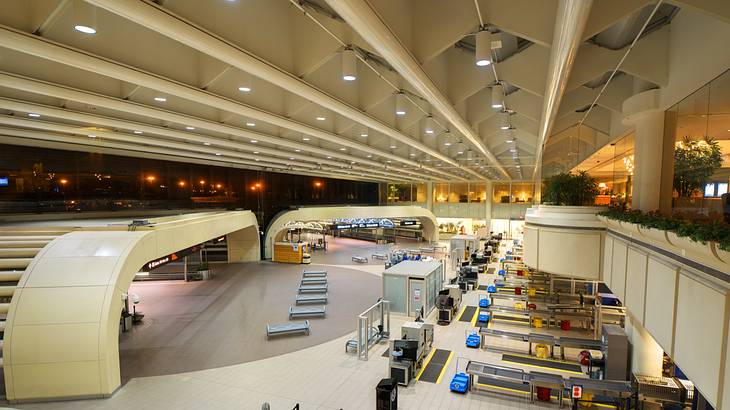 Over 40 million people travel through Orlando International Airport yearly
Orlando is home to some of the most popular family destinations in the USA. Walt Disney World and Universal Studios Orlando are two of the biggest theme parks in the world.
It's no wonder that the Orlando International Airport is constantly bustling with passengers. 40 million yearly on average to be exact. That makes it the 7th busiest airport in the USA.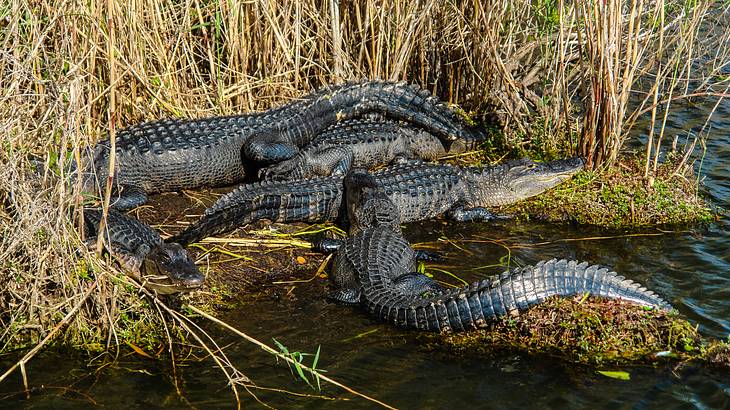 Florida is the only place where crocodiles and alligators live together
The Florida Everglades is one of the most important landmarks in Florida. It's home to many types of animals, including crocodiles and alligators.
An interesting thing to know about this area is that it's the only place where these two large reptiles live together naturally. Typically they aren't found in the same habitat in the wild.
The first communication satellite launched from Cape Canaveral
Before the moon landing, the USA was still hard at work doing space launches. One of the first launches involved sending the first communication satellite into space in 1962.
Since the USA space program is based in Florida, NASA launched this satellite from Cape Canaveral. At the time, however, it was still known as the Cape Kennedy Air Force Station.
Historical Facts About Florida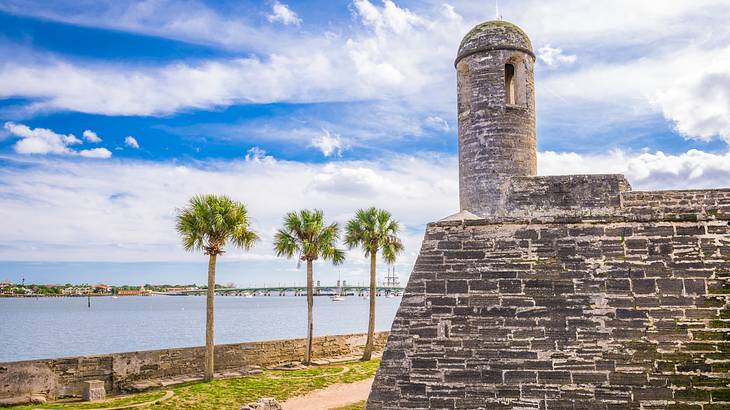 Europeans learned about Florida thanks to explorer Juan Ponce De León
As you've learned, Florida was first settled by Spanish explorers. Juan Ponce De León led these explorers. De León had previously explored and settled in Puerto Rico in the early 1500s. However, he continued his explorations after that and reached the Florida coastline in 1513.
Upon his initial discovery, he even believed the peninsula was an island. A list of Florida facts and history wouldn't be complete without this piece of trivia.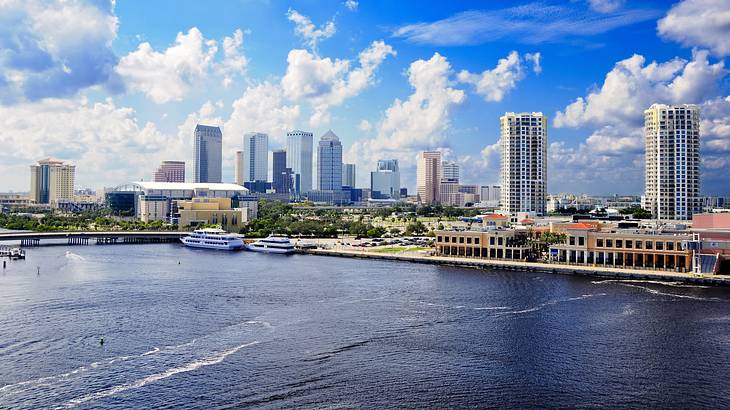 The first scheduled passenger flight flew from St. Petersburg to Tampa
While the first airplane flight took place in North Carolina in 1903, the first passenger flight happened further south. In January of 1914, the first scheduled aircraft flight to carry passengers departed from St. Petersburg in Florida.
The flight lasted 23 minutes and landed in Tampa. At the time, most traveled this route by train, which took over 11 hours.
The first permanent European settlement in the USA was in St. Augustine
Since Florida is home to the first in-depth exploration by European explorers, it's also where the first settlements were located. The very first settlement is still around today, it's St. Augustine.
It's not only the first settlement in the USA, but it's the oldest continuously occupied one. Since first being established in 1565, there have always been people living in St. Augustine.
Florida was the 3rd state to join The Civil War
The Civil War was a dark time in American History. Every state had to choose between the Union and the Confederacy.
While some states waited until they were forced to make a decision, Florida was more proactive. This southern state didn't contribute many soldiers, but it was the 3rd state to secede from the USA in 1961.
Florida was the 27th state in The Union
Though it's the location of the first European settlement in North America, Florida isn't one of the original colonies. The state was under Spanish rule until 1763 when it was given to Britain.
It took over 80 more years for Florida to officially join the USA in 1845. At that point, it became the 27th state in the young country.
Funny Facts About Florida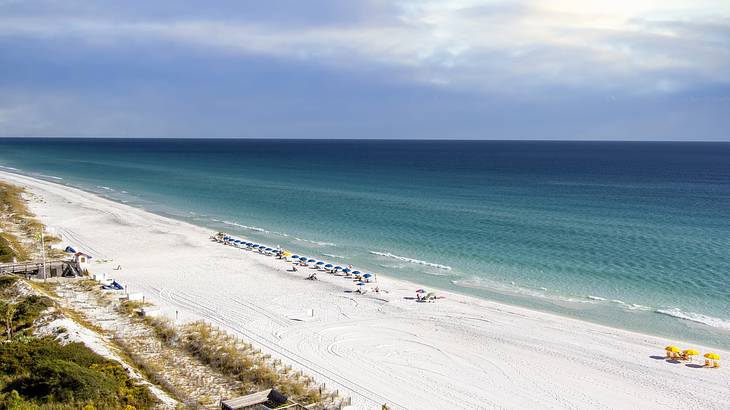 The world's smallest police station is in Carrabelle
Carrabelle, Florida may not be as recognizable as other cities in the state, but it still has its fair share of fun facts. The funniest of which is that the Carrabelle police station is the smallest in the world.
There are plenty of small police stations around, especially in small towns, but in 1963, this Florida town took small to a new level. At that time the police station was just the size of a telephone booth.
Florida is the flattest state in the USA
You've already learned that Florida's highest point only reaches 345 feet above sea level. However, one of the weird things about Florida is that it's the flattest state in the country.
You won't find sprawling hills or mountains in Florida; much of the state is at or slightly above or below sea level. Not only is it the flattest state, but it's also the flattest-looking.
There's an annual "Mullet Toss" at the Flora-Bama line
Floridians who live near the Alabama state line are familiar with the annual mullet toss that happens on the beach. A mullet is a type of fish, not just a hairstyle.
The festivities involve tossing a dead fish from Florida over the state line into Alabama. It's been a July 4th staple for the area since 1985.
Florida holds the Guinness World Record for the largest Easter egg hunt
On April 1st, 2007, 9753 children and their parents gathered in Winter Haven, Florida. Why? To break the world record for the largest Easter egg hunt.
501000 eggs were hidden throughout the Cypress Gardens Adventure Park. Since then the town's egg hunts have been much smaller in scale. However, the record has yet to be broken.
One of Florida's most popular landmarks is an old telephone booth
Carrabelle's police station has grown over the years, but the town's memorable landmark is still around. The original telephone booth police station is on display at city hall and can be visited.
If you're looking for a photo opportunity, a replica booth has been placed where the original once stood. Just ask around, and you'll find it.
Important Facts About Florida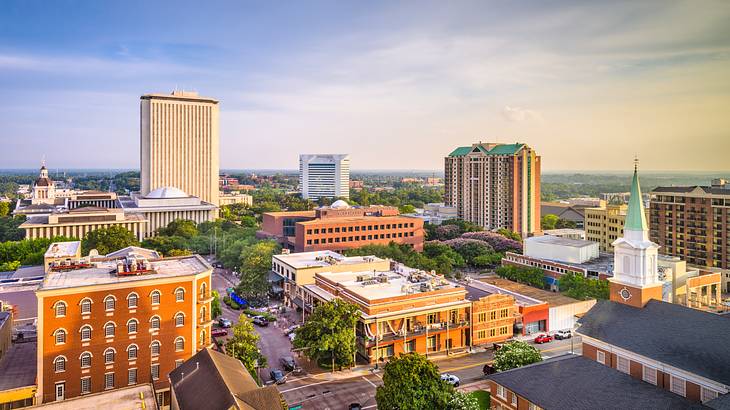 Florida's capital is Tallahassee
You might think Florida's capital is Orlando, Miami, or Fort Lauderdale since they're often the state's most well-known cities. In actuality, the state capital is Tallahassee.
It's the 8th most populated city in the state, but it's midway between the other important areas in Florida. It's also one of the most elevated cities in this flat state, sitting a little over 200 feet above sea level.
1000 people move to Florida every day
Florida's sunny weather makes it a popular destination for people looking to relocate. Whether you're retired or heading to college, many people want to call the Sunshine State home.
Around 1000 people, on average, move to Florida every day from other states. Most unsurprisingly, most arrive from northern states and are looking to escape the cold weather.
There are over a dozen Native American tribes in Florida
Many facts about the state of Florida discuss its climate and landscape, which were not only a selling point for settlers. Many indigenous people already lived in the state's territory.
Today there are still over a dozen Native American tribes in Florida. Each tribe is distinct in its customs. Historically, they all coexisted in Florida due to its plethora of natural resources like water.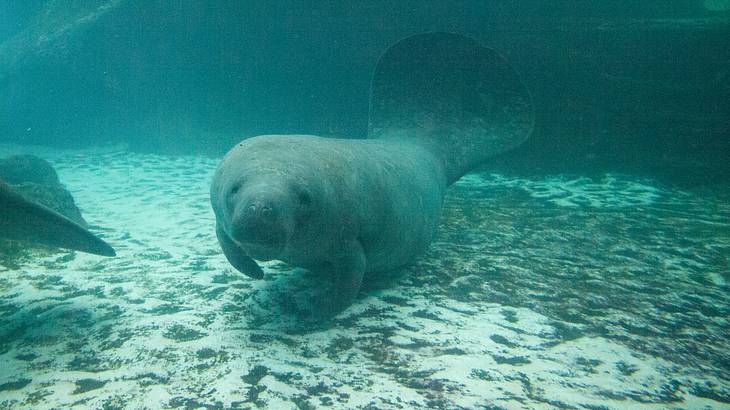 Florida is home to the West Indian manatee
The West Indian manatee is a threatened marine mammal species that calls the Florida coast home. You can even find them in Biscayne Bay in the Miami area.
There are many state-wide conservation efforts to help keep the manatee population from dipping too low. You can usually find them swimming around the coast from April to October.
Florida is the only state that borders both the Atlantic Ocean and the Gulf Of Mexico
Since Florida is a peninsula, much of it has a coastal border. However, the same can be said about other USA states. Unlike other peninsulas or coastal states, Florida doesn't just border one body of water. It borders both the Gulf of Mexico on its western coast and the Atlantic Ocean on its eastern coast.
Random Facts About Florida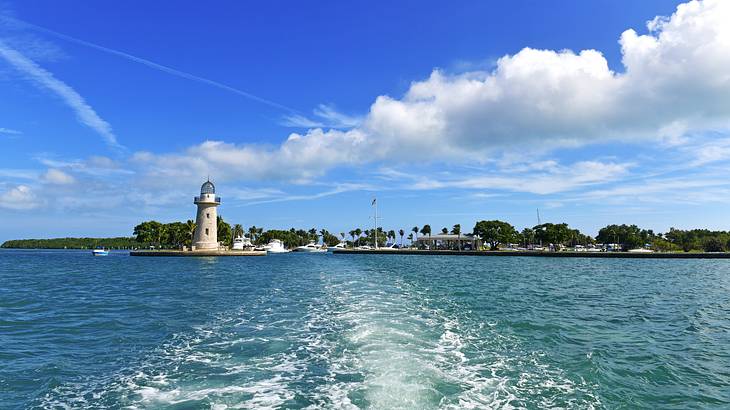 Florida has the largest collection of Frank Lloyd Wright structures
Frank Lloyd Wright was a famed architect who designed over 1000 buildings. Usually, Wisconsin is the place people think about when they hear his name; however, Florida should be too.
The Florida Southern College Historic District has the largest collection of Frank Lloyd Wright structures intact and in one place. With 13 of his buildings still preserved, the area is now a national landmark.
Biscayne National Park's highest elevation point is 9 feet
As you know, Florida isn't well-known for being hilly or elevated. You might still be surprised to find out that Biscayne National Park only reaches a maximum elevation level of 9 feet.
The majority of the park's over 170000 acres of land fall well below that number. Since part of the park dips into the bay, elevation even dips below sea level.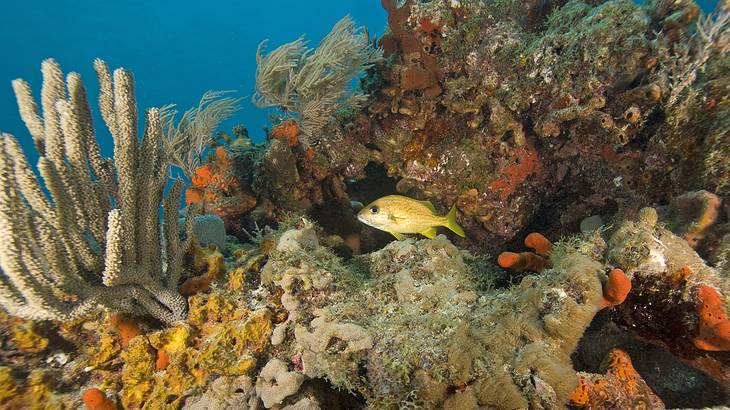 Florida has the only coral barrier reef in the continental US
Coral reefs are an essential part of the ocean ecosystem in many places. One of the most interesting facts of Florida is that the state's coast has many coral reefs.
You might be surprised to find out that no other continental USA state has a coral barrier reef within its waters. Florida is not only the only one; it's also one of the largest and is home to 40 million different ocean species.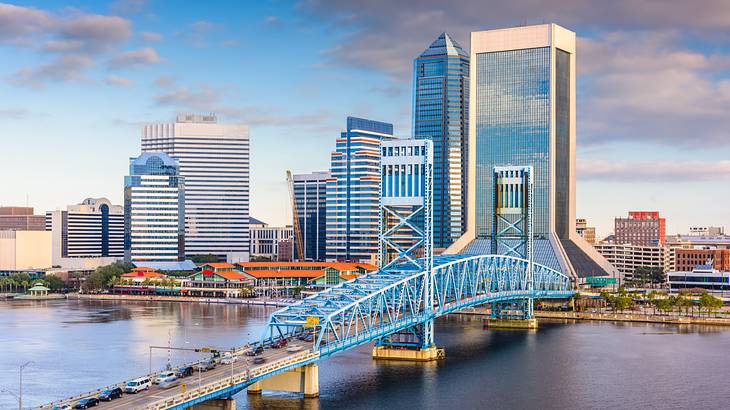 Florida's longest river is Saint John's River
As a coastal state, Florida has many rivers that run through it on the way to the Gulf of Mexico or the Atlantic Ocean. While some rivers start from out of state, some originate within Florida's borders.
Florida's longest river is Stain John's River. It's 310 miles long and runs from Blue Cypress Lake to its delta in the Atlantic Ocean near Jacksonville.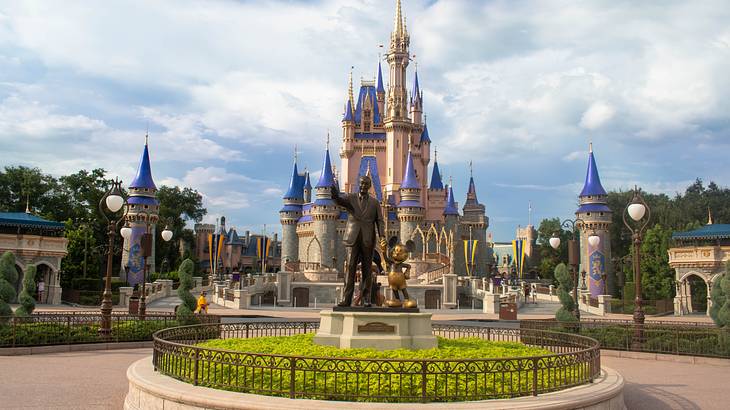 58 million people visit Walt Disney World Resort every year
Walt Disney World is one of the biggest reasons people travel to Florida. This resort comprises four theme parks, a waterpark, and numerous hotels. Walt Disney World and its multiple theme parks are so large it has their own government.
You might still be shocked by the number of visitors the resort gets. Over 58 million visitors enter the resort's gates annually.
In Summary
What did you think about this list? I bet there were at least a few surprising facts you had no idea about before reading!
Florida has something for everyone, from history buffs to thrill seekers and beach lovers. So, it makes sense that such a varied and eclectic state would be full of interesting and fun facts!
You can impress your friends and family with your new knowledge about the Sunshine State. Who knows? Maybe on your next visit, you'll even get the chance to share a fun fact with a native Floridian who had no idea about some of their state's trivia.
This article was edited by Henry Grahame.
Give us feedback about this article
For more interesting articles about United States, read:
For some great articles about facts, check out:
---
---
Want to keep exploring?
Subscribe for discounts on tickets and hotels and our latest guides.
Thank you for subscribing
We will be in touch soon with discounts on tickets and hotels and our latest guides.
Want to keep exploring?
Subscribe for discounts on tickets and hotels and our latest guides.
Thank you for subscribing
We will be in touch soon with discounts on tickets and hotels and our latest guides.
Related articles