12 West Palm Beach Landmarks You Have to Visit
Destguides may receive commissions from purchases made through affiliate links in this article.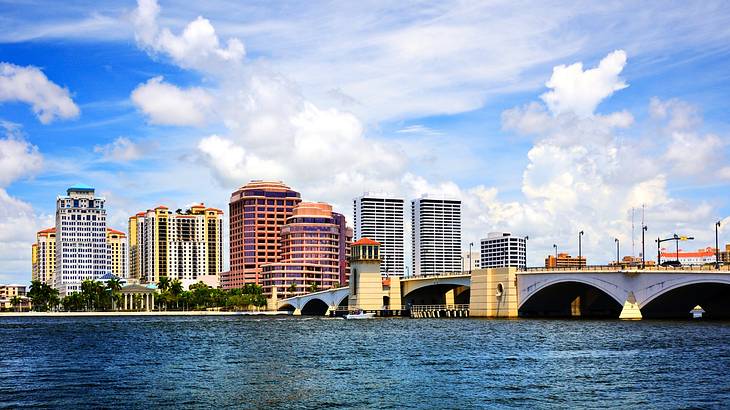 West Palm Beach is a colorful, thriving city that mixes art, nature, and history to create a unique environment with something for everyone. For example, nature lovers can explore Grassy Waters Preserve, while art buffs can spend hours roaming around the Norton Museum of Art.
No matter what sort of traveler you are, one thing's for certain, there are plenty of West Palm Beach landmarks for you to see. So, to help kickstart your itinerary planning, here are the top 12 you must visit.
12 Landmarks in West Palm Beach
West Palm Beach Landmarks Video
Check out our highlights video of West Palm Beach landmarks.
West Palm Beach Landmarks Map
A map of West Palm Beach landmarks. Use the map to explore all of the points of interest.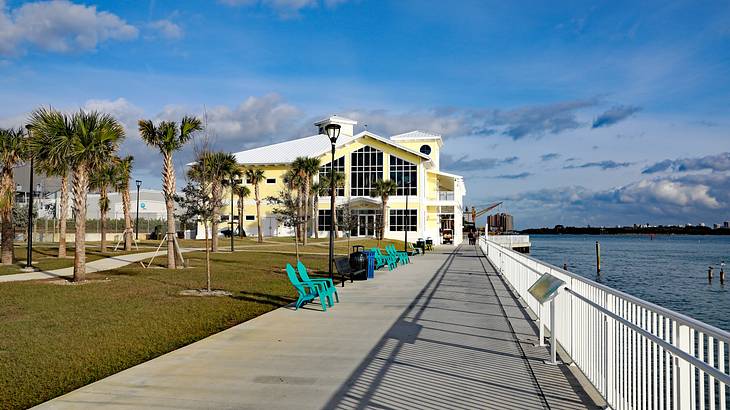 Manatee Lagoon
Palm Beach County sits on Florida's Atlantic Coast, which happens to be the natural habitat of the manatee. However, over the past 50 years, the population of this species has dropped significantly, which is why the Manatee Lagoon is so important.
This wildlife center aims to familiarize visitors with these gentle animals in the hopes that greater education will help with preservation efforts. Manatees migrate, though, so if you hope to see them while you visit, plan to come between November and March.
Rapids Waterpark
South Florida gets hot. So what better way to beat the heat than by spending the day at Rapids Waterpark?
This 35-acre park has over 15 rides that range from calm and relaxing to thrilling. There are even multiple food options in the park, meaning you can spend all day here having fun with your whole family.
Remember, though, the park is open seasonally, from Memorial Day to Labor Day. So don't plan on making it part of a winter visit to West Palm Beach.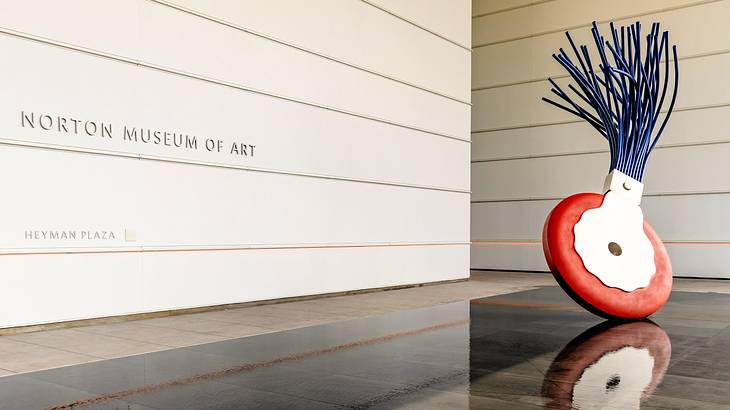 Norton Museum of Art
The Norton Museum of Art houses over 8,200 pieces from around the world, many of which are displayed outdoors in a tropical garden. Since the facility doesn't focus on a particular art style, you can see work from American, European, and Asian artists of the past and present.
For a truly unique visit, check out their calendar because concerts, workshops, and presentations are often hosted on the grounds.
Antique Row
West Palm Beach Antique Row is one of the most unique parts of the city. With dozens of shops that sell antiques from as far back as the 17th century, it's earned a reputation as one of the best antique districts in the US.
Even if you're not interested in shopping, there's still a lot to experience here. The street is a bustling art district as well, with fine art pieces from collections all over the country.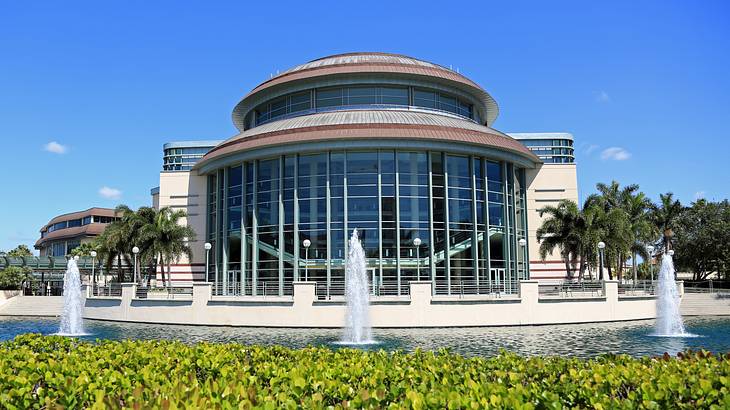 Raymond F. Kravis Center for the Performing Arts
The Kravis Center for the Performing Arts has a packed schedule of diverse plays and concerts, which has helped it become one of the most notable West Palm Beach attractions. From ballet to musicals that made their debut on Broadway, there's something on the center's calendar to suit virtually anyone.
The theater doesn't just provide entertainment, though. Part of its mission as a non-profit is to offer education programs in the performing arts to help inspire future dancers, actors, and musicians.
Ann Norton Sculpture Gardens
Ann Norton Sculpture Gardens is famous for two reasons, the combination of which earned it a spot on the National Register of Historic Places. Firstly, the building on the grounds, known as the Norton House, was once the home of Ralph Hubbard Norton, a Chicago art collector.
After moving to West Palm Beach, he used his collection to open an art museum which shot him to local prominence. Secondly, the home is also famous for its statue collection.
As an art lover, it's not surprising that Ralph Hubbard Norton married Ann Weaver Norton, a sculptor. On the estate's grounds, over 100 examples of her work are displayed, intermixed with hundreds of tropical palms.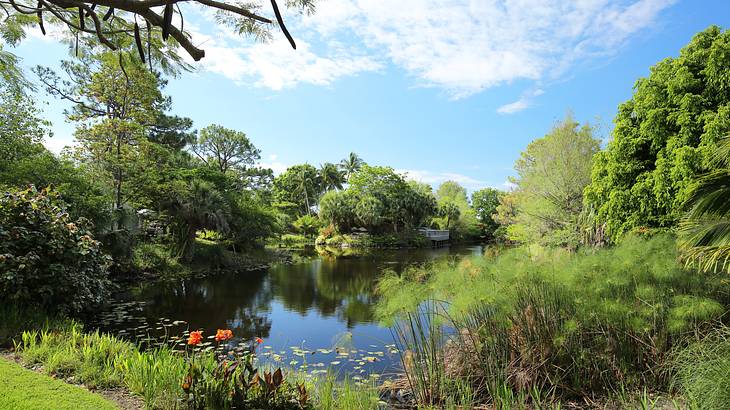 Mounts Botanical Garden
In the 40 years since it first opened, the Mounts Botanical Garden has become one of the most beloved attractions in West Palm Beach, FL. The garden is home to over 7,000 types of tropical and sub-tropical plants from six continents arranged in 25 displays to educate visitors about the wonders of nature.
You can find non-plant exhibits on the grounds as well, like the three Moai replicas, which perfectly emulate those that can be found on Easter Island. There are also numerous koi ponds and dozens of butterflies that flutter around the blooming flowers.
Richard and Pat Johnson Palm Beach County History Museum
There are near-countless West Palm Beach points of interest, but none capture local history quite like the Richard and Pat Johnson Palm Beach County History Museum. Located in a 1916 courthouse, the facility houses and displays an expansive collection of artifacts that cover 12,000 years of the area's past.
In addition to the facility's permanent exhibit, temporary displays are routinely rotated out to ensure the city's diverse background is fully appreciated.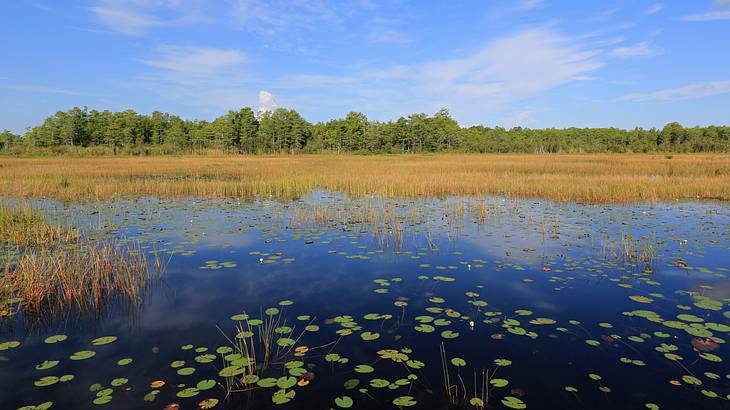 Grassy Waters Preserve
Stretching about 20 square miles, the Grassy Waters Preserve has managed to maintain the natural wetland ecosystem that once characterized much of the Gulf Coast.
The park has hiking trails and paddle boat tours that offer visitors the chance to see local wildlife like ibis, otters, and even bobcats. Due to being home to so much plant and animal life, it's not surprising that it's one of the most highly recommended attractions in West Palm Beach, Florida.
The Square
Since 2000, The Square has become a notable Florida landmark, especially among in-state residents. The Mission-Revival style complex in Downtown West Palm Beach spans over 600,000 feet.
It's considered a center for shopping as well as art and culinary experiences. Among some of The Square's more recognizable features are its immersive water pavilion fountain, the "My East Is Your West" light installation, and its LED Wishing Tree.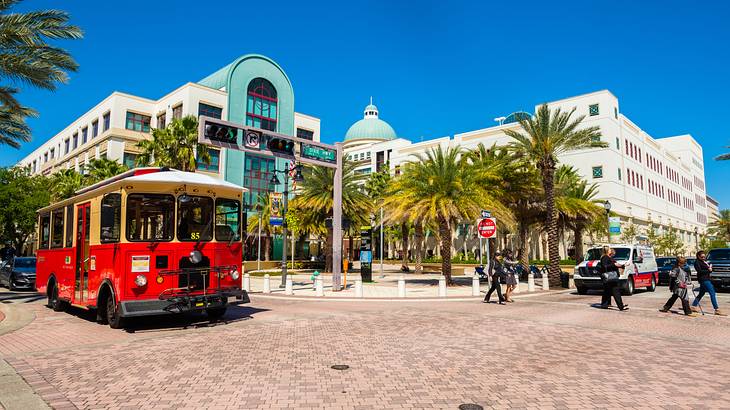 Clematis Street Historic Commercial District
Clematis Street is the most famous street in West Palm Beach, that's mainly due to the one-acre area that makes up its historic commercial district. Since it was once the city's main roads, many local businesses got their start here.
Today, only 12 of those historic buildings remain, the oldest of which was once the Gruner's Department Store, which opened to the public in 1920.
Okeeheelee Park
Oheeheelee Park spans over 1,700 acres and offers locals and out-of-towners a chance to relax and enjoy its multiple amenities. The park has sports fields, a nature center, and even a BMX track.
It also lives up to the Florida fact that it's the US state with the most golf courses. There are, in fact, three nine-hole courses in Okeeheelee that you can mix and match to practice your par.
In Summary
From visiting Manatee Lagoon to admiring Ann Norton's sculptures, there's no shortage of things to see and experience in West Palm Beach. Whether you're planning a solo trip, a romantic getaway, or a family vacation, hopefully, this list has helped inspire you to see everything this Florida city has in store for you!
Give us feedback about this article
More articles about Florida:
Read more articles about the United States:
More articles about landmarks:
---
---
Want to keep exploring?
Subscribe for discounts on tickets and hotels and our latest guides.
Thank you for subscribing
We will be in touch soon with discounts on tickets and hotels and our latest guides.
Want to keep exploring?
Subscribe for discounts on tickets and hotels and our latest guides.
Thank you for subscribing
We will be in touch soon with discounts on tickets and hotels and our latest guides.
Related Articles