12 Landmarks in Waikiki, Hawaii, to See
Destguides may receive commissions from purchases made through affiliate links in this article.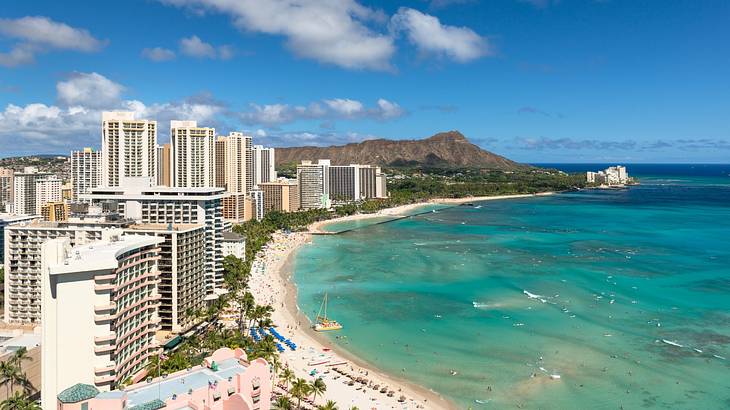 Waikiki is a renowned district in Honolulu, found on the Hawaiian island of Oahu. This area of Honolulu draws millions of tourists annually due to its impressive beaches and world-class hotels, shops, and restaurants.
As such a popular destination, there are various incredible landmarks in Waikiki, Hawaii, to explore. Things to do include visiting beautiful beaches and parks, learning about Hawaii's military history, and exploring the second-oldest aquarium in the US.
To learn more about all the amazing things to do in this area of Honolulu, read on for 12 landmarks in Waikiki, Hawaii, to see.
12 Landmarks of Waikiki
Honolulu Landmarks Video
Check out our highlights video of Honolulu landmarks.
Waikiki Landmarks Map
A map of Honolulu landmarks. Use the map to explore all of the points of interest.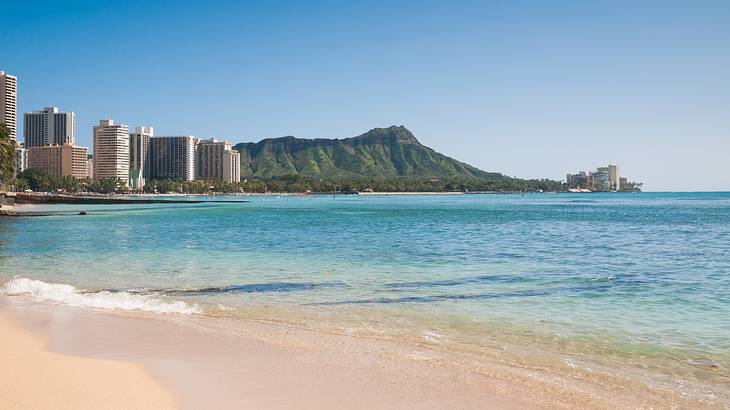 Waikiki Beach
There are many beaches in Hawaii, but Waikiki Beach is one of the most famous. This stunning tropical beach stretches for 2-miles and features sandy shores and crystal blue waters. There are numerous beaches along Waikiki Beach, but whichever you choose, you're sure to be impressed!
Waikiki Beach is also a world-class surfing spot. Surf instructors can be found all along the beach, making it easy for everyone to learn how to surf and perfect their skills. Snorkeling and boogie boarding are other fun activities to partake in here.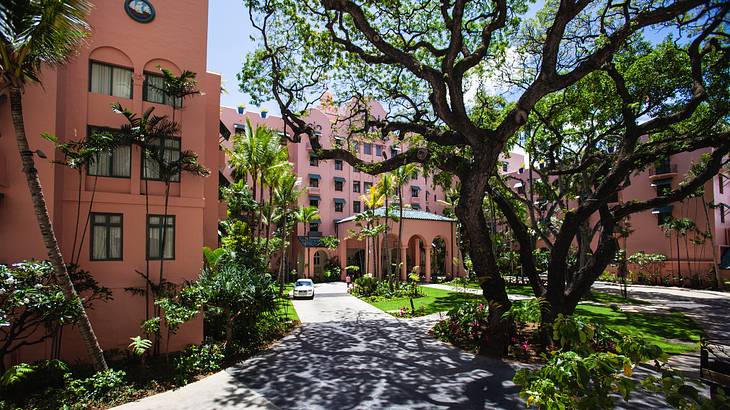 The Royal Hawaiian Beach and Resort
The section of beach found in front of the Royal Hawaiian Resort is known as the Royal Hawaiian Beach. It's one of the most popular areas on Waikiki Beach. This part of the beach offers incredible views of Diamond Head and the Honolulu shoreline.
If you stay at the luxury resort, you will benefit from a guaranteed spot on the golden sand. Guests can also reserve cabanas and umbrellas and order food and drinks from the Mai Tai Bar to enjoy on the beach.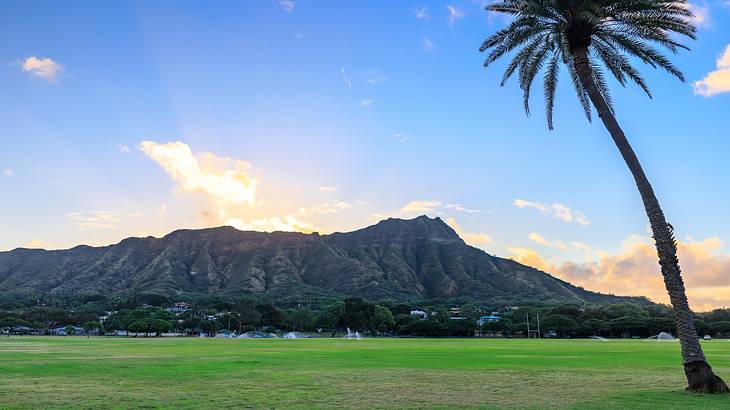 Diamond Head State Monument
Diamond Head State Monument (or Diamond Head Crater) is found on the east end of Waikiki. It's one of the many stunning natural landmarks in Waikiki, Hawaii.
The crater formed on an extinct volcano and can be viewed from the Diamond Head Lookout or the Kahala Lookout. You can also hike to the crater summit. At the top, you can enjoy breathtaking views of Waikiki and greater Honolulu.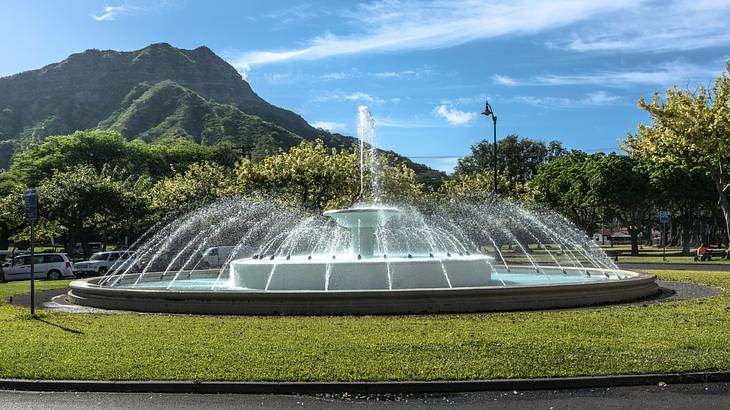 Kapiolani Park
Kapiolani Park is a historic park in Waikiki. In 1877, the park was donated to the public by King David Kalakaua. You can visit the beautiful Queen Kapiolani Hibiscus and Rose Garden while here.
The park additionally has many attractions to enjoy, from palm tree-lined walking paths to tennis courts and soccer fields. Outside shows and live music events are also hosted here frequently. It's a great place to relax with friends or family!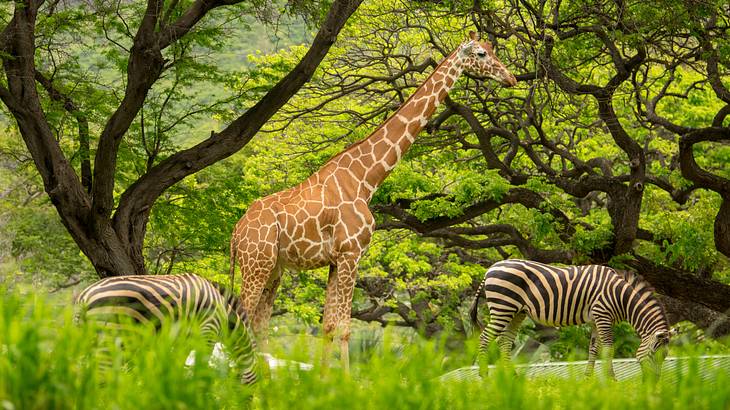 Honolulu Zoo
Honolulu Zoo is found in Kapiolani Park and is a must-visit for animal lovers of all ages. This Waikiki landmark is home to around 900 species of animals, including mammals, birds, and amphibians.
Animals to see include Komodo dragons, cheetahs, giraffes, and Sumatran tigers. There are also beautiful gardens with a range of plants and flowers, many of which originate from Hawaii.
Being a conservation zoo, a large percentage of the entry fee goes to continued animal protection and conservation efforts.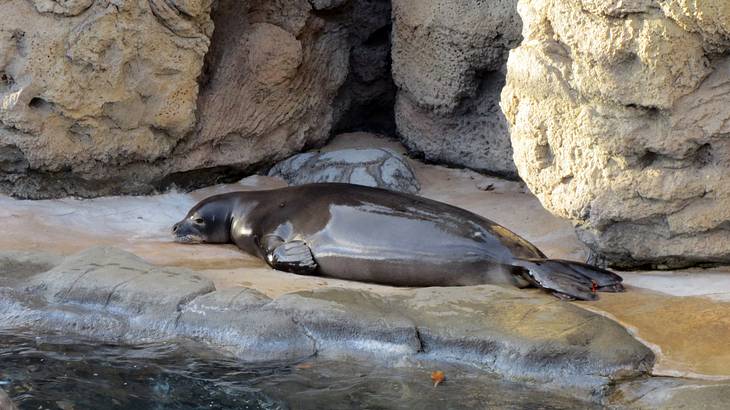 Waikiki Aquarium
The Waikiki Aquarium is another of the landmarks in Hawaii found in Kapiolani Park. What's notable about the aquarium is that it is over 100 years old, having been founded in 1904. It's also the second oldest aquarium in the United States after the New York Aquarium.
The aquarium is home to a vast array of aquatic creatures. These include parrotfish, angelfish, sea turtles, and native Hawaiian monk seals. Being so close to the Honolulu Zoo, combining a trip to both of these Oahu landmarks will make for a fun wildlife-themed day out in Waikiki!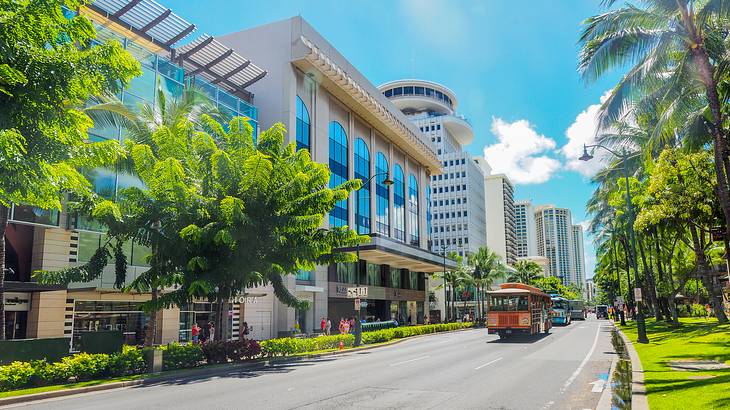 Kalakaua Avenue
Kalakaua Avenue is a well-known street running through Waikiki that gets its name from King David Kalakaua. Kalakaua Ave is filled with chain and designer shops, restaurants, and high-end hotels like Royal Hawaiian and Moana Surfrider.
You can also find shops selling Hawaiian goods like macadamia nuts and Kona coffee. If you visit Waikiki, you're bound to spend some time on this popular street!
Fort Derussy Beach Park
If you're looking for a tranquil place to relax that isn't a beach, then head to Fort Derussy Beach Park. This grassy, palm tree-lined area is right next to Fort Derussy Beach.
The park conveniently has grills and tables, making it the perfect place to hang out and enjoy a picnic or barbecue. There are also pickleball, racquetball, and volleyball courts if you want to partake in some sporting activities.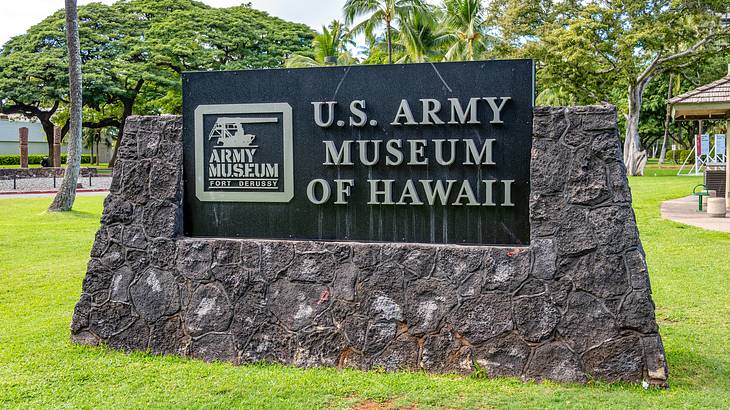 US Army Museum of Hawaii
This landmark near Waikiki is housed in Battery Randolph at the Fort DeRussy Military Reservation near Fort DeRussy Beach Park. What's great is that admission is free to all, but you can donate if you'd like.
Exhibits include those on US and Hawaiian military history. You'll find a range of Pearl Harbor exhibits, plus those covering the Vietnam War, the history of Battery Randolph, and more.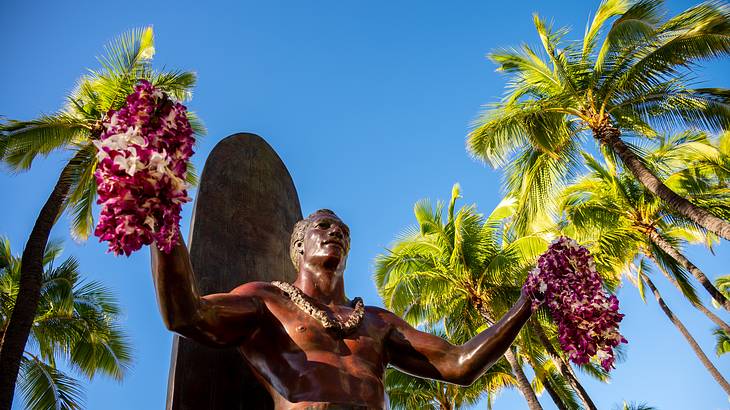 Kuhio Beach Hula Shows
Kuhio Beach Hula Shows are a landmark event in Waikiki. The free shows are held on Kuhio Beach Hula Mound and include some of Hawaii's best hula dancers.
Every show opens with the traditional lighting of a torch and the blowing of a conch shell. You'll then get to enjoy an hour of amazing hula dancing. Hula is an iconic Hawaiian custom, so be sure to catch at least one show while visiting Waikiki!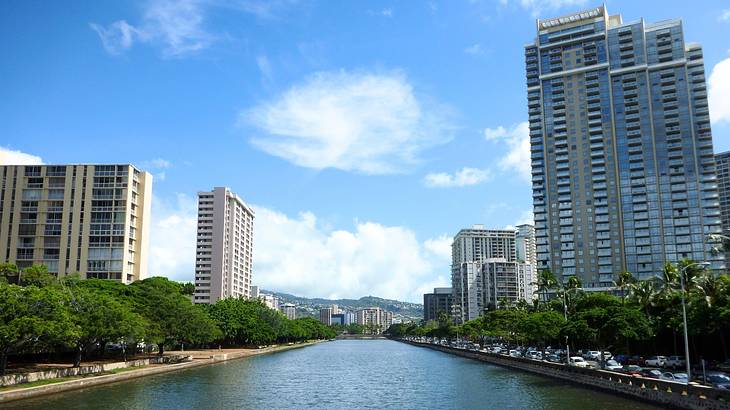 Ala Wai Canal
The Ala Wai Canal is an artificial waterway that runs down the Waikiki district boundary. The canal was originally developed in 1928 to drain rice paddies and swamps.
Today, residents and visitors enjoy walking its banks and relaxing in the nearby Ala Wai Community Park. While some locals canoe on the lake, the water is quite toxic, so avoid swimming or interacting with the canal's water.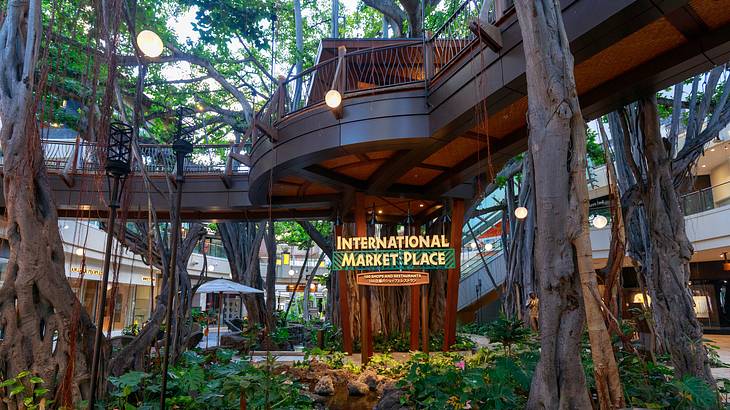 International Market Place
Found on Kalakaua Avenue, the International Market Place is a high-end open-air mall featuring designer brands and chain stores. Places to shop consist of Saks Fifth Avenue, Balenciaga, and Christian Louboutin.
If you get hungry, the International Market Place is home to Waikiki's most extensive collection of restaurants. These dining options include eateries run by award-winning chefs. The Royal Hawaiian Shopping Center on Kalakaua Avenue is another popular destination if you want to keep shopping!
In Conclusion
When in Hawaii, visiting Honolulu, and especially Waikiki, is an absolute must! To help make your trip as memorable as possible, be sure to check out as many of the above 12 landmarks in Honolulu, Hawaii as you can. Even if you can only make it to a few, you're guaranteed to be impressed!
Give us feedback about this article
More visual stories related to this article:
---
---
Want to keep exploring?
Subscribe for discounts on tickets and hotels and our latest guides.
Thank you for subscribing
We will be in touch soon with discounts on tickets and hotels and our latest guides.
Want to keep exploring?
Subscribe for discounts on tickets and hotels and our latest guides.
Thank you for subscribing
We will be in touch soon with discounts on tickets and hotels and our latest guides.
Related Articles