25 Fun Things to Do in Honolulu at Night
Destguides may receive commissions from purchases made through affiliate links in this article.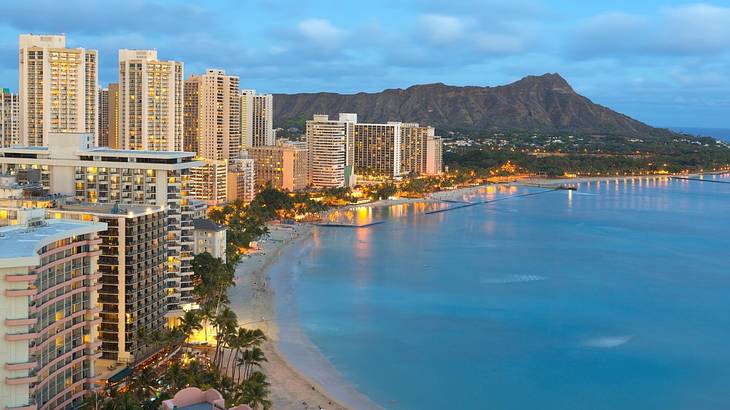 Honolulu is the largest city in Hawaii in the United States. It's a top-rated vacation destination with activities for all types of people. Exploring the city doesn't have to stop in the evening, as you can find an array of fun things to do in Honolulu at night.
Nighttime activities include having a sunset picnic on Waikiki Beach, joining a nighttime yoga class, and watching a traditional Luau. Keep reading to discover 25 cool things to do after dark in Honolulu!
25 Things to Do at Night in Honolulu, Hawaii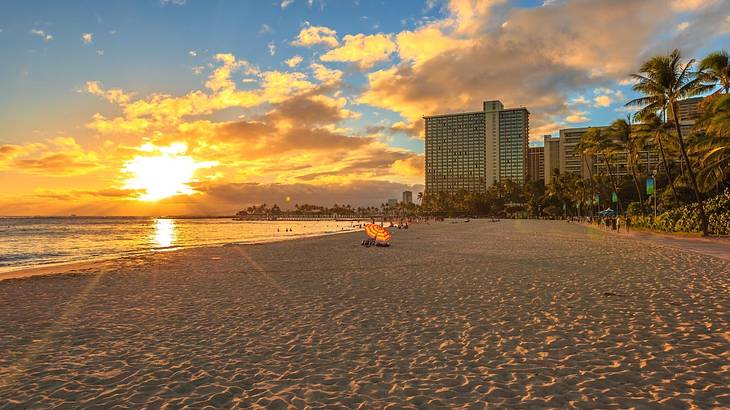 See the sunset at Waikiki Beach
Waikiki Beach is a famous Honolulu beach popular with locals and tourists. There are many activities to enjoy during the day at the beach; however, the fun doesn't stop after dark!
Waikiki Beach is notably one of the best places to watch the sunset in Oahu. After seeing the sun go down, you can head to the bars and restaurants around the beach.
Experience a Luau
A luau is a traditional Hawaiian live entertainment event with dancing, live music, and a feast of Hawaiian food. You can find many luaus to attend in and around Honolulu.
A popular option is booking a table at the Paradise Cove Luau. You'll get to enjoy a fantastic show while dining on a Hawaiian buffet and sipping a Mai Tai. The event also has some fun games and other entertainment.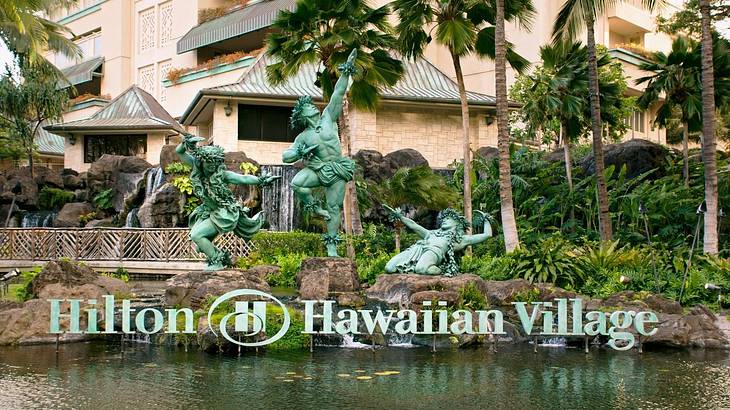 Watch the fireworks at Hilton Hawaiian Village
If in the city on a Friday, one of the best things to do in Honolulu at night is watch the fireworks at Hilton Hawaiian Village. If you're staying at the hotel, you can watch from the resort. If not, you can see them from the surrounding beaches.
The show generally begins at 8 PM and is the ideal way to start or finish your evening, depending on what you plan to do for the rest of the night! Seeing the fireworks is also one of many great free things to do in Honolulu.
Visit the Honolulu Zoo
The Honolulu Zoo is a Hawaii landmark that's popular to visit during the day. However, the attraction also has nighttime events, like a zoo twilight tour.
The evening tours allow you to explore the zoo with a guide. You can witness how some animals get ready to sleep while others become more active once the sun goes down.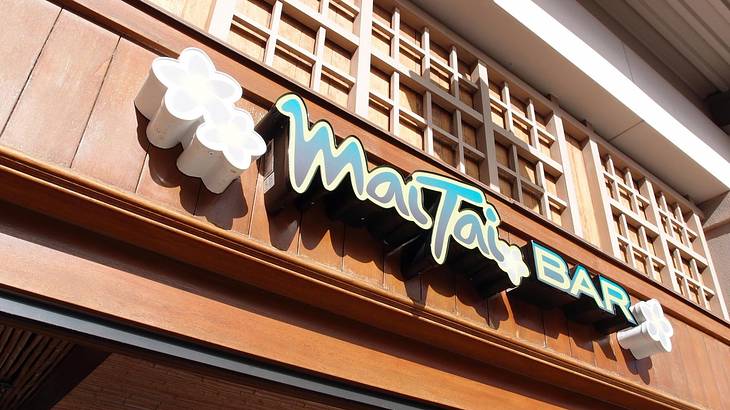 Bar hop at happy hour
An exciting way to start your night off in Honolulu is by checking out some happy hour offers. Yard House is one of the most popular happy hour spots in Honolulu. You can order discounted food, including bar snacks like sliders, vegan wings, and pizza.
Wine, beer, cocktails, and spirits are also on offer. Yard House generally runs a happy hour in the late afternoon and early evening and then again later in the night until close. Other bars with happy hour include The Surfing Pig and Mai Tai's Grill & Bar at the Ala Moana Center.
Hear spooky stories on a Honolulu ghost tour
One of the fun night activities in Honolulu for those interested in the paranormal is going on a Honolulu ghost tour. During this one-hour tour, you'll be taken to a range of haunted attractions, including Iolani Palace and the Kawaiahaʻo Church School. At each stop, you'll learn more about spooky events and paranormal sightings that have occurred.
Sip tropical drinks a Tikis Bar & Grill
A fun Tiki bar to check out in Honolulu is Tikis Bar & Grill. This vibrant tropical bar has an extensive cocktail menu with drinks like Mai Tais, mango margaritas, and lychee martinis. You can also order delicious dishes, including coconut shrimp, volcano chicken wings, and watermelon salad. The bar frequently hosts live music events as well.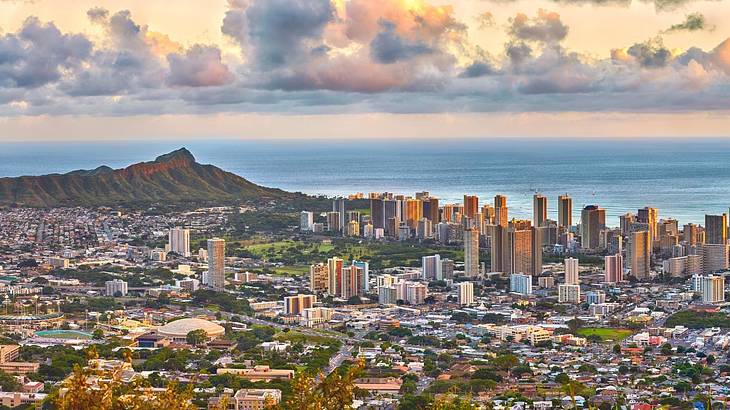 Fly above Honolulu on a sunset helicopter tour
A cool way to see Honolulu is by viewing the city from above on a helicopter tour. Booking a sunset helicopter ride is highly recommended and will allow you to see the city under a beautiful pink and orange sky.
Landmarks to see during the flight include the USS Arizona Memorial, Mokoli'i Island, and the North Shore. If you're looking for Oahu couples activities, a romantic sunset helicopter ride definitely needs to be on your date ideas list!
Sing at Wang Chung's Karaoke Bar
For those looking for the best nightlife in Honolulu, Hawaii, going to Wang Chung's Karaoke Bar is a must! This local favorite allows you to sing karaoke (or listen to others perform) while sipping on tropical drinks that incorporate seasonal island ingredients.
Drinks to order include a butter mochi Old Fashioned and a dragon fruit cosmopolitan with fresh Honolulu dragon fruit.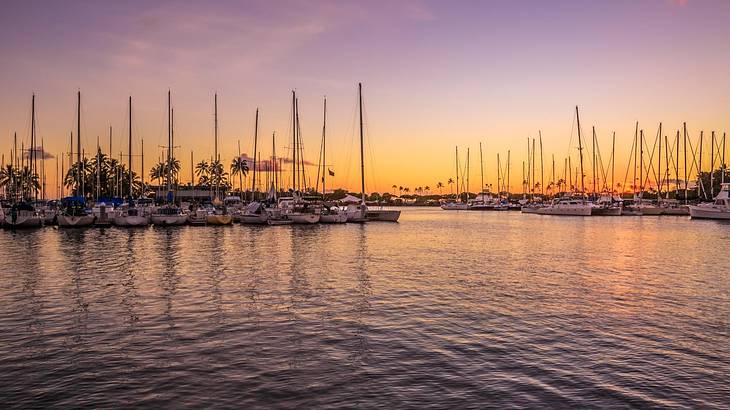 Luxuriate on a sunset dinner cruise
A fun experience to enjoy in the evening in Honolulu is sailing around the city on a sunset dinner cruise. Once aboard, you'll pass famous Honolulu landmarks, like Diamond Head State Monument. Wildlife like dolphins, turtles, and whales can also be seen.
For dinner, you'll be served a three-course crab and steak meal, plus tropical drinks. Of course, you can also see the beautiful sunset and admire Waikiki's night lights as you sail back to shore.
Shop at the Ala Moana Center night market
You can visit a Honolulu night market at the Ala Moana Center every second and fourth Friday of the month. This bustling market features a range of vendors, including those selling craft and food items.
Just a few things to purchase include handmade jewelry, Hawaiian candy, and freshly made lemonade. Live music is also featured at the event, and you can play various yard games.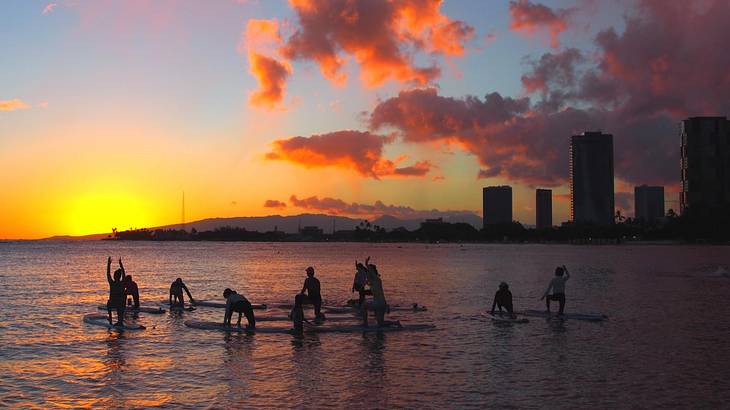 Unwind at a night yoga session
One of the best things to do in Honolulu, Hawaii, at night to help you relax and unwind is taking a night yoga class. This class is incredibly unique as it takes place on the water.
You'll get a paddleboard on which you can do a variety of yoga poses demonstrated by your instructor. During the session, you'll also be able to appreciate the sunset and the starry night sky.
Dine at Mai Tai Bar at the Royal Hawaiian Resort
Mai Tai Bar is the ideal place to have dinner and drinks in Honolulu. Located right next to Waikiki Beach, you can admire the sunset and nighttime views of the famous beach as you enjoy your meal. The bar also has live music in the evening.
Menu options include seafood platters, BBQ cauliflower, and Mahi sandwiches. If you want something sweet, try the signature pink pancakes! You can accompany your meal with tropical cocktails, wine, beer, or hard kombucha.
Enjoy a Honolulu bar tour
Honolulu has many fantastic bars and a great way to find the best ones, plus some hidden gems, is by participating in a Honolulu bar tour. Your guide can pick you up at your hotel and will take you to four of the coolest spots in the city.
At each bar, you can purchase drinks and then return to your favorite at the end of the tour to finish off the night.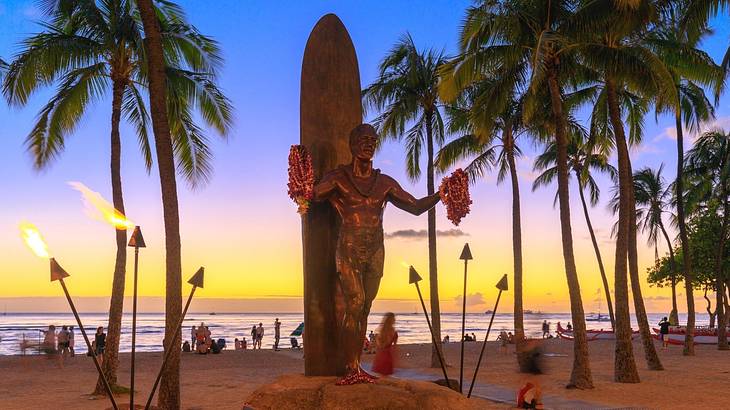 Go on a Honolulu sightseeing tour
Many tourists opt to sightsee during the day and then visit bars and restaurants in the evening. However, going on an after-dark sightseeing tour is just as fun as exploring during the day!
You will visit a range of places on the Waikiki Beach Strip and Downtown Honolulu at night. Just a few of the Waikiki landmarks to see include Diamond Head State Monument and the Statue of Duke Kahanamoku. You'll also get to stop at Leonard's Bakery for sweet treats like malasadas (Portuguese donuts.)
Spend the evening at Bar 35
Another fantastic bar to check out is Bar 35 in downtown Chinatown. You can order delicious drinks at the bar, like cucumber lime cocktails or a raspberry, strawberry, and lychee mix.
If you plan to eat, you can order from an extensive menu of bar snacks, including pizza, spicy edamame, and wings. In addition, Bar 35 has good happy hour offers, and live music events are frequently hosted.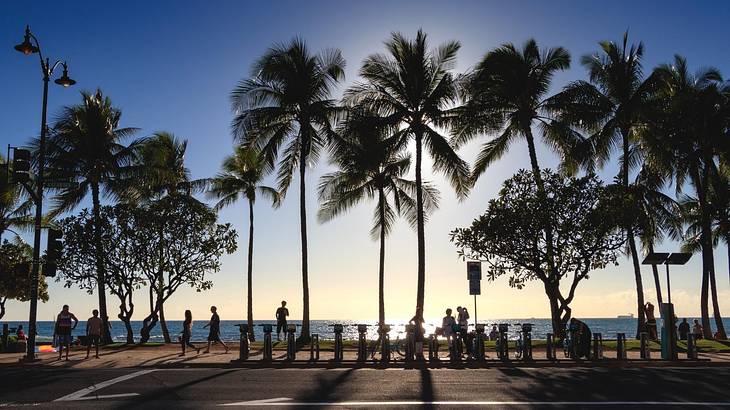 Wander around Kalakaua Avenue
Kalakaua Avenue is a bustling area of Honolulu with lots of shops, bars, and restaurants. Exploring this area in the evening is a fun thing to do and will allow you to mix with locals. The street begins at Ala Moana and goes all the way to Kapiʻolani Regional Park.
Things to do in the area include taking in nighttime views of the beach and Diamond Head, seeing performances at the Kuhio Beach Hula Mound, and stopping at one or more beachside bars.
Dance at Honolulu nightclubs
Going to some Honolulu nightclubs is a must if you plan to stay out quite late. One of the best nightlife in Honolulu, HI, spots to visit if unsure of where to go is NextDoor. The warehouse-style bar hosts music acts, including DJ sets and concerts.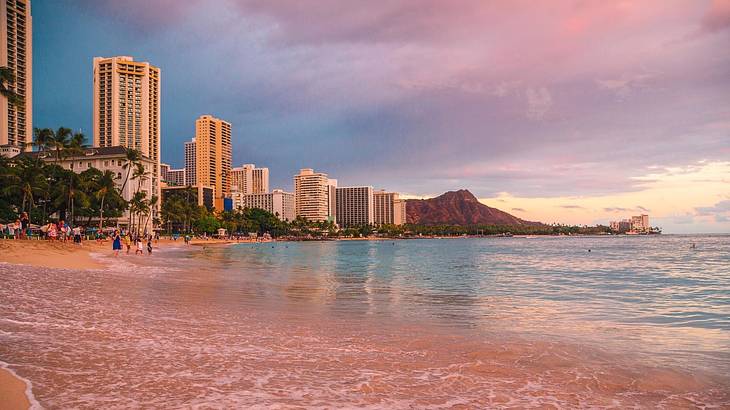 Snap photos on a night photography tour
Going on a night photography tour is one of the more unique things to do in Honolulu. This tour will take you to some of the most beautiful places in the city, like Makapu'u Point and China Walls.
As you explore, your guide will offer nighttime photography tips. The pictures you take will also be a great reminder of your trip!
Catch a show at Blue Note
Blue Note is a performance venue and bar that hosts concerts, jazz performances, and comedy shows. You can also order food and drinks at the venue while watching the show. Dinner options include poke bowls, seared ahi, and tofu curry. After your main meal, you can indulge in desserts, like strawberry and yuzu shortcake.
Attend a Rock-A-Hula show
An exciting nighttime activity is experiencing a Rock-A-Hula show at the Royal Hawaiian Theater. This unique performance features tribute bands, traditional Hawaiian acts, and performances covering Hawaii's history. A ticket includes entrance to the show, plus a buffet dinner and drinks.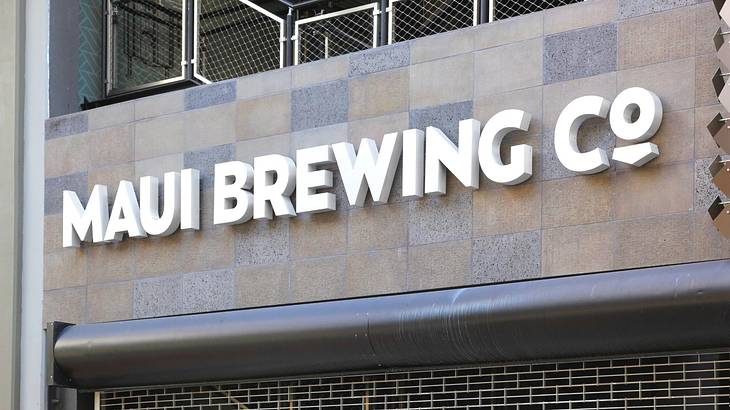 Grab a beer at Maui Brewing Company
Getting some beers is a failsafe idea if you're still wondering what to do at night in Honolulu! A great place to do so is at Maui Brewing Company. Located in Waikiki, the brewery has 36 craft beers on tap, and flights are available if you can't decide what to try.
Craft cocktails, wine, and hard seltzer can also be ordered. To accompany your drinks, dishes like pizza, guava BBQ pork sliders, and fish and chips are on the menu. The brewery also has a fantastic happy hour if you arrive in the late afternoon.
Dive under the ocean on a nighttime scuba tour
If you're a certified diver, one activity you'll likely want to participate in is going on a nighttime scuba tour. You'll meet your guide just before sunset and head to the first dive site.
You'll discover shipwrecks and coral reefs as you explore under the water and see marine animals like turtles and rays. If you're interested in learning to dive, daytime dive tours are offered for beginners.
Hang out at Teapresso Bar
Teapresso Bar is one of the best places to go in Honolulu at night for those that want to do something laid-back. This cafe has multiple locations in Oahu, including in Downtown Honolulu and stays open until late.
Drinks to order here include bubble tea, milk tea, and ice tea, plus hot and iced coffee, smoothies, slushies, and more! You can get your drinks to go and hang out at the beach or stay in the cafe.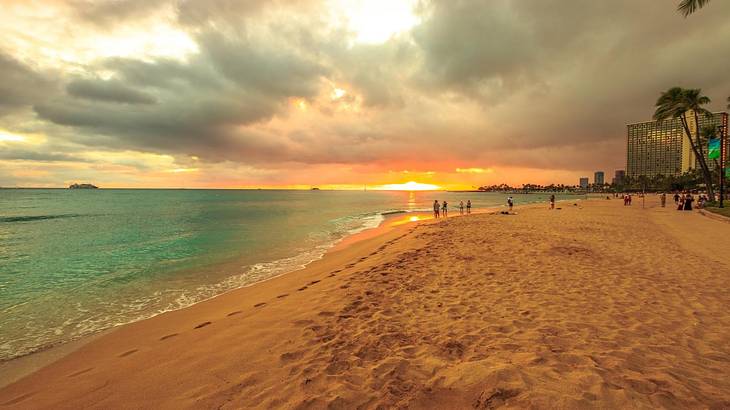 Have a picnic on Waikiki Beach
Along with heading to Waikiki Beach for the sunset, consider having an evening picnic on the beach. You can pick up picnic items from a range of nearby grocery stores or simply get takeout from a beachside restaurant or cafe. You can then hang out on the sand, enjoying your meal and the fantastic surrounding scenery.
In Conclusion
If you've been wondering what to do in Honolulu at night, this article should have given you an array of suggestions. Whether you want to find fun bars, spend time outdoors, or try unique experiences, there's a nighttime activity for everyone in Honolulu!
---
---
Want to keep exploring?
Subscribe for discounts on tickets and hotels and our latest guides.
Thank you for subscribing
We will be in touch soon with discounts on tickets and hotels and our latest guides.
Want to keep exploring?
Subscribe for discounts on tickets and hotels and our latest guides.
Thank you for subscribing
We will be in touch soon with discounts on tickets and hotels and our latest guides.
Related Articles