45 Fun Date Ideas in Boise, Idaho
Destguides may receive commissions from purchases made through affiliate links in this article.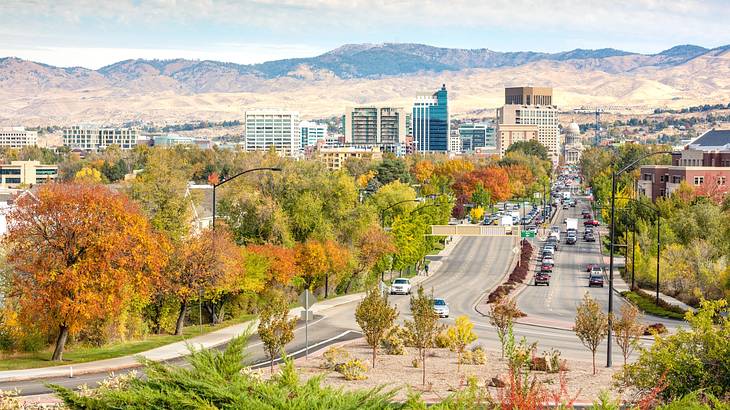 Boise attracts all kinds of visitors, including couples. Those planning a trip together to the area, or couples living there, will be pleased to learn that there are many fun and romantic things to do on a date in Boise.
Fun date ideas in Boise, Idaho, range from exploring the Morrison-Knudsen Nature Center or visiting the Boise Art Museum to having a picnic at Julia Davis Park or getting treats at Goody's Soda Fountain. To discover all of the date activities in and around Boise, keep reading!
45 Fun Date Ideas in Boise, ID
Best Date Ideas in Boise, Idaho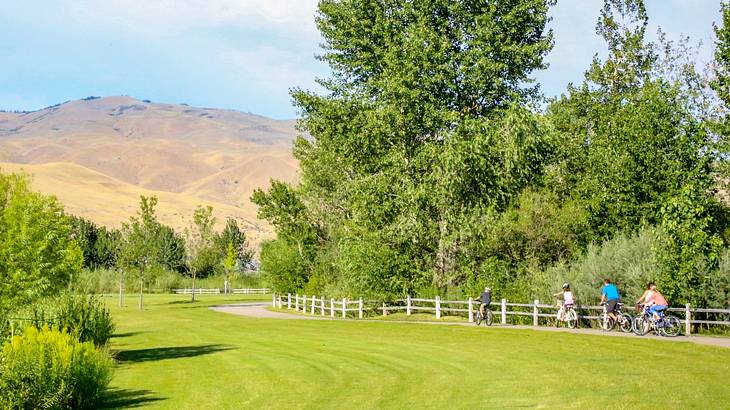 Bike along the Boise River Greenbelt
Biking along the Boise River Greenbelt is a perfect date activity for couples that enjoy outdoor adventures. The 25-mile-long scenic trail runs along the Boise River and through parks and woodlands. As you cycle, you'll also spot wildlife, and there are many places to stop and take in the views.
Learn new things at the Discovery Center of Idaho
The Discovery Center of Idaho isn't just a family-friendly attraction; adults can also visit the science museum to learn new things! Exhibits cover many topics, from space and solar systems to ecosystems and the history of the dinosaurs. Fascinating temporary exhibitions may be on display during your visit as well.
Tackle an escape room game
Playing an escape game is an excellent idea for all couples! At Escape the Room Boise, you can choose from various games like a spy agency escape room or a bank heist challenge. You and your date will then have an hour to solve puzzles and use clues to help you escape.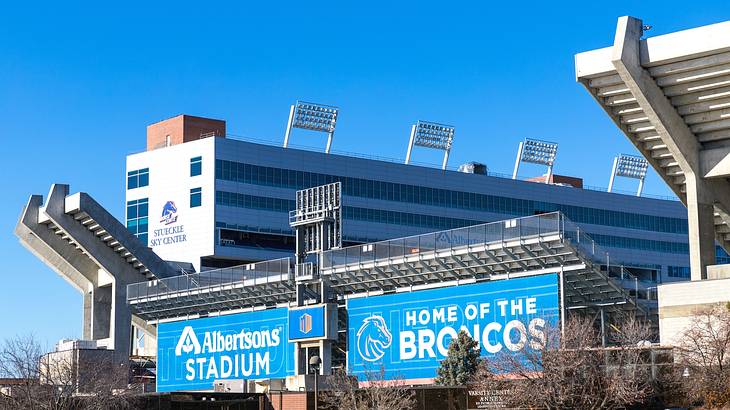 Attend a Broncos game at Albertsons Stadium
Sports-loving couples can plan a fun date at a Boise State Broncos game. The NCAA football team represents Boise State University and plays at Albertsons Stadium.
Even if you aren't a big football fan, going to a game and enjoying the atmosphere is sure to be a good time. The university also has other collegiate teams, like basketball and softball teams.
Visit the Basque Museum & Cultural Center
The Basque Museum & Cultural Center is a fascinating place to go for a daytime date. This museum covers topics relating to Basque history and culture. While looking around, you'll see many interesting artifacts, and guided tours are available to offer even more information on Basque heritage.
Spot wildlife at the Morrison-Knudsen Nature Center
The Morrison-Knudsen Nature Center is a great place to explore with your date. There are lots of trails that will take you through various wildlife habitats, with animal sightings guaranteed.
Creatures to see include birds, foxes, and deer. There is also an interesting area where you can see into a river bed and spot the fish that live in the water.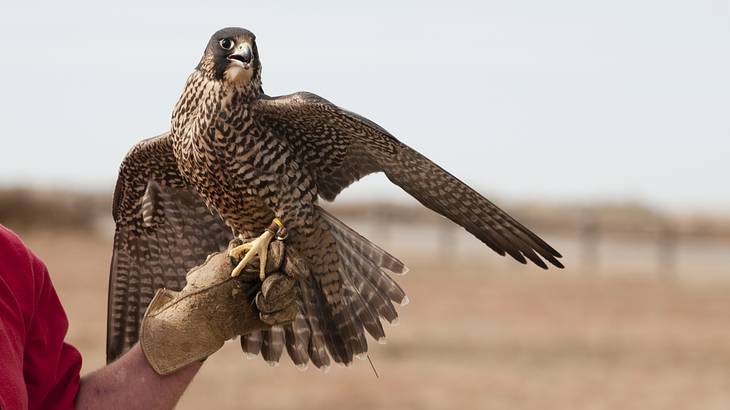 Meet raptors at The World Center for Birds of Prey
The Peregrine Fund's World Center For Birds of Prey is an exciting place to go on a date, especially if you both love animals and learning about wildlife. The center looks to conserve endangered raptors and is home to many birds, most of which you can meet!
Birds to see include falcons, owls, and vultures. You'll also learn more about each bird and how you can help with conservation efforts.
View artworks at the Boise Art Museum
One of the best date ideas in Boise, ID, for couples that like art is going to the Boise Art Museum. Opened in 1937, the gallery houses around 4,000 pieces, including Asian, Native American, and American artworks in a variety of mediums. Temporary exhibits, plus art classes and workshops, are also hosted at the museum.
Check out the Freak Alley Gallery
Freak Alley Gallery is a more unique art attraction to visit together. This open-air gallery consists of art murals that line the walls of a downtown alley. Snapping some pictures together with the fantastic street art is a must! Best of all, this attraction is free to see.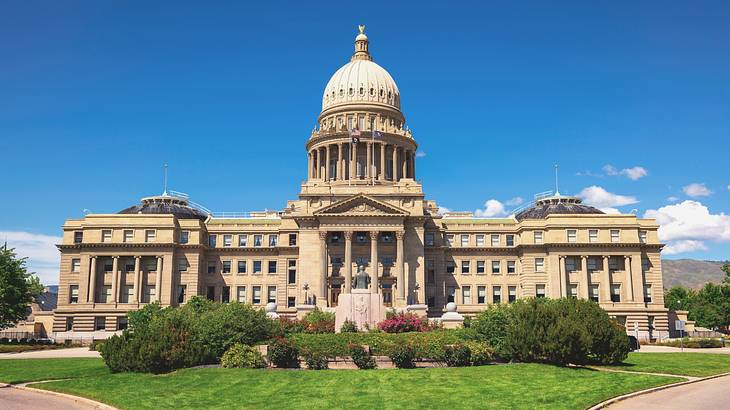 Tour the Idaho State Capitol Building
Boise is Idaho's state capital and, therefore, home to the Idaho State Capitol Building. If your other half is interested in United States politics, touring this Idaho landmark is a must.
You can take a self-guided tour, with information booklets provided, and will learn all about political history in the state. During a tour, you can also admire the building's Neoclassical architecture.
Find out more about Idaho at the Idaho State Museum
The Idaho State Museum is a great indoor attraction that will teach you and your date more about the Gem State's history. Exhibits cover significant events and what life has been like in Idaho over various periods. You can also learn more about the ecology of the area.
Look around the Old Idaho Penitentiary Site
An interesting landmark to explore with your partner is the Old Idaho Penitentiary Site. This landmark acted as a prison between 1872 and 1973. Today, you can tour the property, learning more about its history and events related to the prison, like prisoner escapes.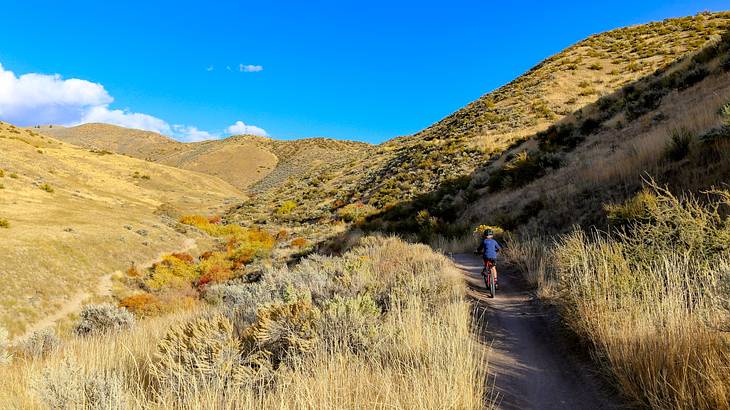 Enjoy the outdoors at Hulls Gulch Reserve
While there are many great outdoor spaces a little outside of Boise, you can also discover places to hike or bike nearer downtown, like Hulls Gulch Reserve. The 292-acre reserve is situated only ten minutes from central Boise and has trails taking you through grasslands and up hills, which offer panoramic views from the top.
Try axe throwing at Base Camp Pong + Axe
Whether you're looking for an afternoon or evening date idea, hanging out at Base Camp Pong + Axe will appeal to many couples. The entertainment venue offers axe throwing and ping pong.
If you both enjoy axe throwing, you can even join a league at the bar! Between activities, you can get food and drinks at the on-site bar and restaurant.
Go to the Idaho Black History Museum
If you and your date want to visit more fascinating attractions, the Idaho Black History Museum is another excellent place to visit. The museum is the oldest of its kind in the Pacific Northwest and is dedicated to African American culture and history.
When exploring the museum, you'll also be able to see artifacts, like photographs, some of which date back over one hundred years.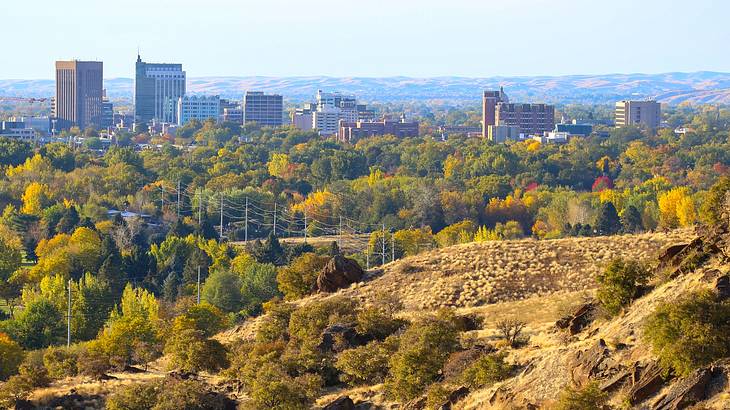 Climb Table Rock
Located about 20 minutes from downtown, Table Rock is another excellent place to hike and enjoy the fresh air. The primary trail to follow is a loop trail that covers 3.7 miles. As you hike, elevation will increase, offering stunning views over the city, especially from Table Rock's peak.
Eat delicious dishes on a food tour
Taking your date on a food tour is a great way to explore the city and find some top eateries. Indulge Boise Food Tours offers a few food tours, like a downtown brunch and art tour, and private tours are available. On the excursion, your guide will take you to multiple restaurants where you can sample dishes and drinks.
Skate at Treasure Valley Skate
Skating at Treasure Valley Skate is a quirky date idea that will make you feel like kids again! The roller rink is open in the afternoons and until late on the weekends.
As you glide around the roller rink, you can enjoy DJ music, and there are colored and strobe lights at night. If you want to avoid younger kids, going in the evening is recommended when there are adult open skates.
Romantic Things to Do in Boise for Couples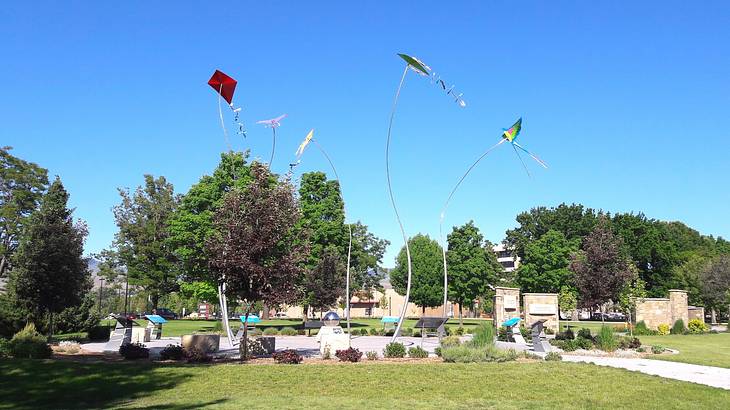 Have a picnic at Julia Davis Park
Exploring pretty Julia Davis is one of the most romantic things to do in Boise, Idaho. To make your date even more romantic, why not take a picnic to the park to enjoy together by the lake? After your meal, you can stroll along scenic paths and visit the beautiful rose garden.
Stay at The Grove Hotel
Couples visiting Boise can find many excellent accommodation options. Booking a room at The Grove Hotel is one of the best options for those on a romantic trip. The hotel features stylish rooms, a spa, and hot tubs, where you can relax with views over the city. In the evening, you can unwind with drinks and a meal at the hotel bar and restaurant.
Walk through Kathryn Albertson Park
Kathryn Albertson Park is a beautiful place to go for a romantic walk together, no matter the season. At the 41-acre park, you'll find paths that take you past ponds and rivers and through woodland areas.
There are also areas to sit and talk while taking in the views, and you may see animals, like deer or raccoons. If possible, plan your date at the park just before sunset to watch the sun go down above the scenic surroundings.
Drink wine on the patio at Bodovino
Whether you're planning a later afternoon date or something in the evening, getting drinks on the patio at Bodovino is the perfect romantic date idea.
You can choose a glass or bottle of wine from an extensive menu of over 100 wines. Sharing plates, oysters, and delicious desserts are also available to enjoy as you sip your wine and chat with your date.
Admire the floral displays at Idaho Botanical Garden
Visiting the Idaho Botanical Garden is one of the most fun things to do in Boise, especially for couples planning a daytime date. Covering 50 acres, the attraction has various themed gardens to explore, including a romantic rose garden and a pretty English garden. Events are also hosted here that you could attend together, like art exhibits and harvest festivals.
Fun Date Night Ideas in Boise, Idaho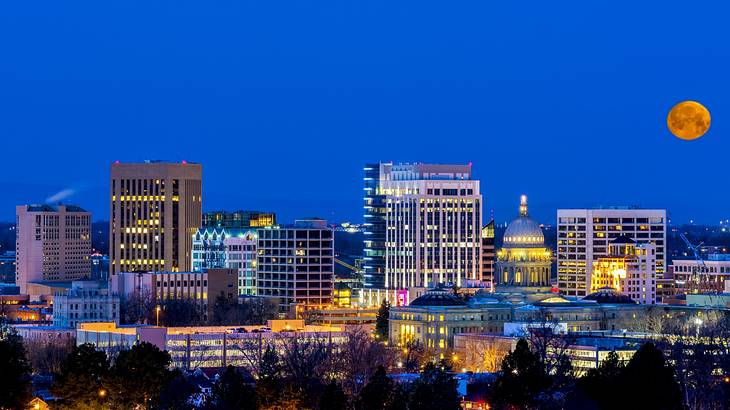 Take a nighttime tour
Going on a tour is a more unique date night idea in Boise. Boise Trolley tours offer excellent historical tours during the day, but they also have some nighttime excursions throughout the year. Options include a spooky Halloween ghost tour and a festive holiday lights tour.
Play arcade games at Spacebar
Spacebar is a fun and unique spot to check out together. The bar features retro arcade games and pinball, which you can play while sipping cocktails or craft beer. Events are also hosted frequently, like trivia nights.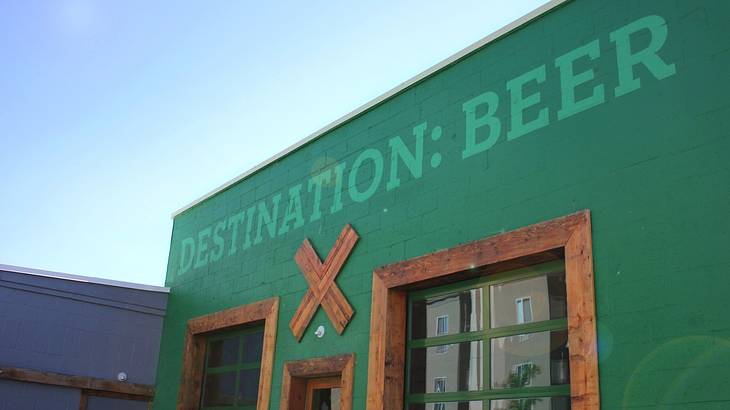 Grab beers at Lost Grove Brewing
While there are many wine and cocktail bars in Boise, there are also great breweries to visit in the evening, like Lost Grove Brewing. The fun spot serves many kinds of beer, with seasonal brews also available.
With your beer, you and your partner can snack on pizza and other food. Live music shows, trivia nights, and other events are also hosted in the evenings; there's always something going on!
Watch a movie at The Egyptian Theatre
Couples looking for highly memorable Boise date night ideas will be interested in seeing a film at The Egyptian Theatre. The venue opened in 1927 and retains its stunning Egyptian Revival architecture inside and out.
Movies at the theater are mainly classics and independent films. You can also see musical performances and poetry readings; just check the online calendar to see what's scheduled.
Sip cocktails at The Mode Lounge
If you want to plan a sophisticated date night in Boise, Idaho, take your partner for drinks at The Mode Lounge. The trendy spot serves delicious signature cocktails, plus wine and beer. You can even order fun shots, like a vodka, lemon, and apricot shot, and pizza is available if you get hungry.
Most Romantic Restaurants in Boise, Idaho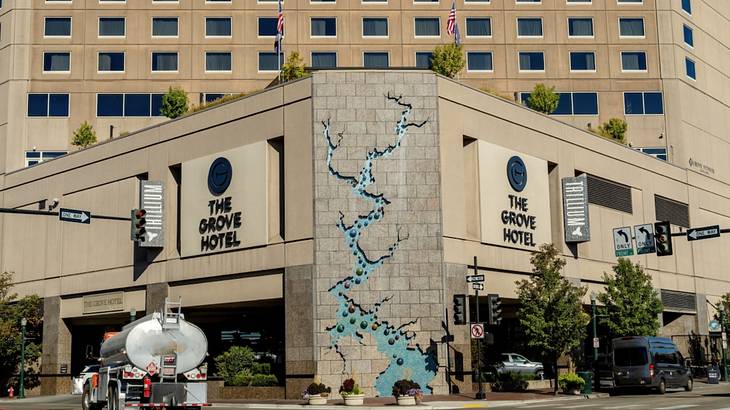 Trillium Restaurant
Located at The Grove Hotel, Trillium Restaurant is a stylish contemporary eatery that makes a great dinner date spot, even if you're not staying at the hotel. Unique dishes include roasted trout with tomato ice cream and feta salad with a huckleberry dressing. Cocktails, scotch, or bourbon are available from the bar, as are wine, beer, and coffee.
Cottonwood Grille
Cottonwood Grille is a romantic riverfront restaurant serving delicious dishes with a great view! Menu items range from Caprese salad and fried calamari to pappardelle with arugula pesto and North Atlantic sea scallops. You can accompany your meal with wine or cocktails, and decadent desserts are available to finish.
Red Feather Lounge
Another great date night restaurant to visit with your partner is Red Feather Lounge. At this sultry eatery and cocktail lounge, you can share small plates or salads, with larger dishes also available. A vast cocktail selection is available as well, and you can end your meal with desserts like passion fruit tart or lemon rosemary sorbet.
Mai Thai Restaurant
Lovers of Asian-fusion cuisine will want to plan a date at Mai Thai Restaurant. The extensive menu features many dishes, including starters like papaya salad, noodles, and curries.
You can also get sushi, and there's a great vegan menu. To complement your meal, opt for a tropical cocktail, and you can end your dinner with a delicious dessert like mango sticky rice.
Cute Date Ideas in Boise, Idaho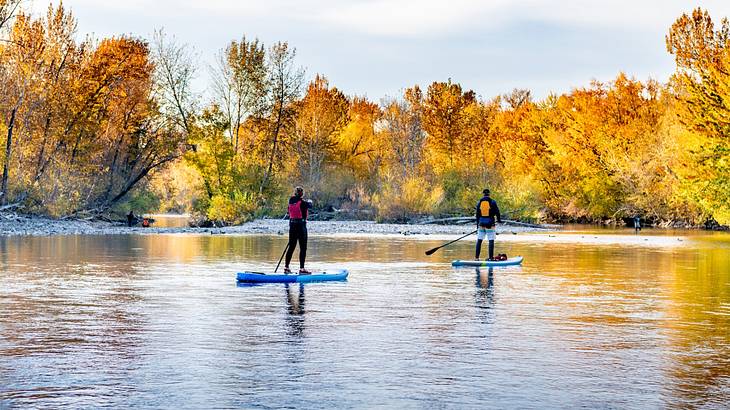 Paddleboard on the Boise River
The Boise River runs next to downtown and is a fun place to paddleboard with your date. You can bring your own equipment, or there are some rental outlets in the area.
If you want to take a paddle board class, doing so with Idaho River Sports is recommended. They also offer unique paddleboard yoga classes!
Treat your date to ice cream at The STIL
Does your date have a sweet tooth? If so, take them to The STIL for ice cream. You can choose from classic and more unique flavors, with vegan and alcohol-infused options also available.
Interestingly, The STIL offers beer or wine pairings with ice cream! You can order a flight with four ice cream flavors, and four matched wine or beer samples.
Indulge in dessert at The Melting Pot
Taking your date to The Melting Pot is one of many cute and romantic things to do in Boise, ID. The eatery specializes in fondue, with a range of dessert options available.
Sweet fondues to enjoy include bananas foster fondue with white chocolate, bananas, and dulce de leche, and a dark and white chocolate mix. All varieties come with fruit and cakes to dip.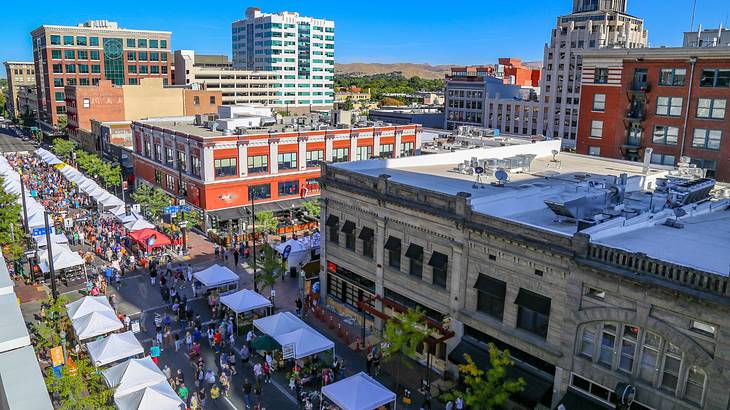 Shop at the Boise Farmers Market
If you're in Boise on a Saturday from April through October, going with your date to the Boise Farmers Market is a fun way to spend the morning. Vendors sell all kinds of local items, from fresh fruit, veg, and herbs to flowers, bath salts, and much more.
Chat over drinks at a coffee shop
Whether you're planning a first date or doing something with a long-term partner, a coffee date is always a good idea! You can find many cute coffee shops in Boise to hang out and chat with good drinks and yummy baked goods. If you're unsure which cafe to try, popular spots include Flying M Coffee, Caffeina Coffee, and Neckar Coffee.
Get sundaes, ice cream soda, and more at Goody's Soda Fountain
Goody's Soda Fountain is another top place to visit for couples with a sweet tooth. The shop has an old-fashioned soda fountain for ice cream soda or floats, and you can also get ice cream sundaes and milkshakes, among many other treats. Handmade chocolates and "sweet shop" candy are also available.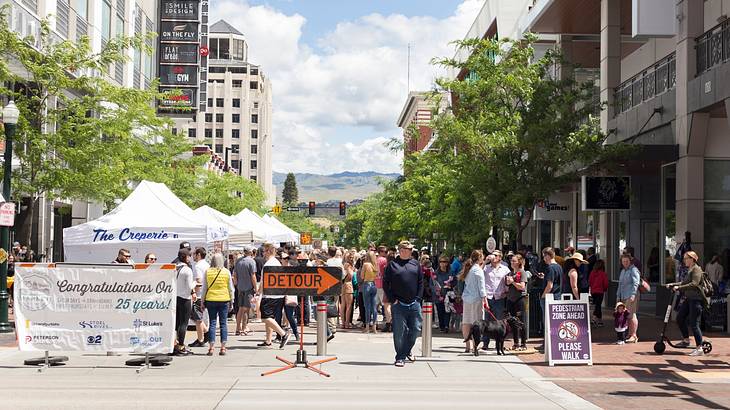 Walk through Capital City Public Market
Capital City Public Market is another farmers market to visit with your partner in Boise. This Saturday market runs from April through December, and there's also a holiday market that generally begins in October.
Food items to purchase range from produce to spices and ready-to-eat dishes. Vendors also sell arts and crafts items, like pottery and paintings. The market is the perfect place to find fantastic local products!
Create a masterpiece at a glass art class
Crafty couples can spend time learning a cool new skill at Boise Art Glass. During a class, you'll learn how to make glass items from scratch and can take your glass artwork home as a memento of your date. Pre-made glass jewelry, vases, and more can also be purchased at the studio,
Fun Things to Do Near Boise, ID, for Couples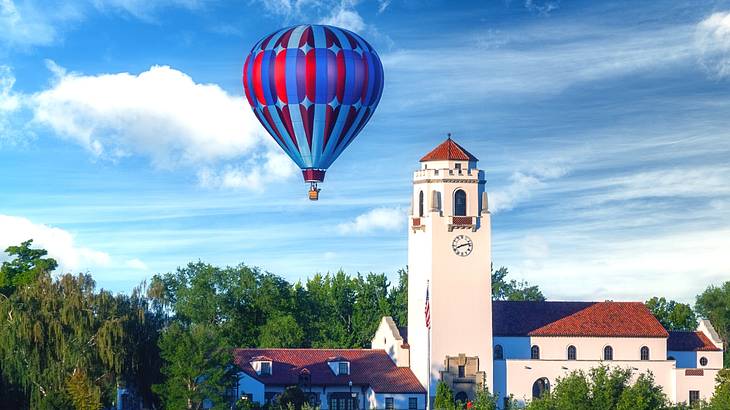 Fly over Boise on a hot air balloon ride
Going on a hot air balloon ride is a highly romantic thing to do together near Boise. You can book a ride via Idaho Balloon Adventures, which will take off from Eagle, Idaho, about 20 minutes outside Downtown Boise.
The best option for couples is to take a sunrise flight. You'll fly over Boise and the surrounding area, taking in the views as the sun comes up.
Raft along the Boise River
Outdoor activity enthusiasts will definitely be interested in going rafting on the Boise River with their partner! This half-day guided excursion begins in Garden City, just 15 minutes from central Boise.
Once you arrive, you'll get to start your rafting adventure, taking in the stunning surrounding views as you sail down the river. You'll also see wildlife and can hop in the water to swim.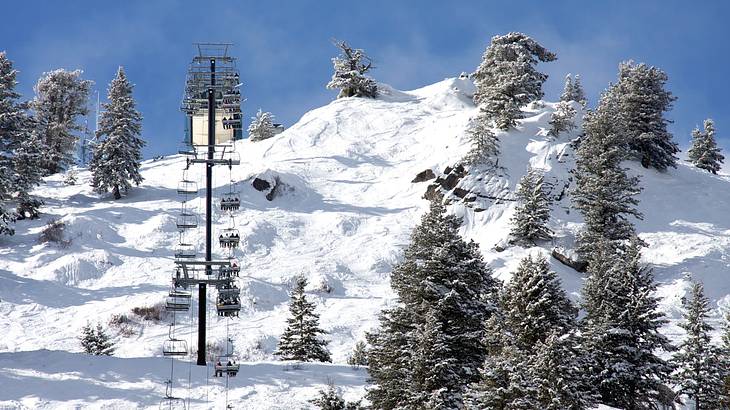 Ski or snowboard at Bogus Basin Mountain Recreation Area
Couples that like snow sports will be pleased to learn that there is a ski resort only 45 minutes from central Boise. You can plan a day of skiing or snowboarding at Bogus Basin Mountain Recreation Area or book overnight accommodation and enjoy the slopes for a few days.
Those visiting in warmer months can still check out Bogus Basin Mountain Recreation Area to hike or mountain bike.
Go to Morley Nelson Snake River Birds of Prey National Conservation Area
Located only 45 minutes outside Boise in Murphy, Idaho, the Morley Nelson Snake River Birds of Prey National Conservation Area is an excellent place to spend the day exploring with your other half.
The vast park sits on the Snake River and features canyons and trails suitable for most hiking levels. While hiking, you're bound to spot birds of prey as the park has a dense population of nesting raptors. Other animal sightings are also likely.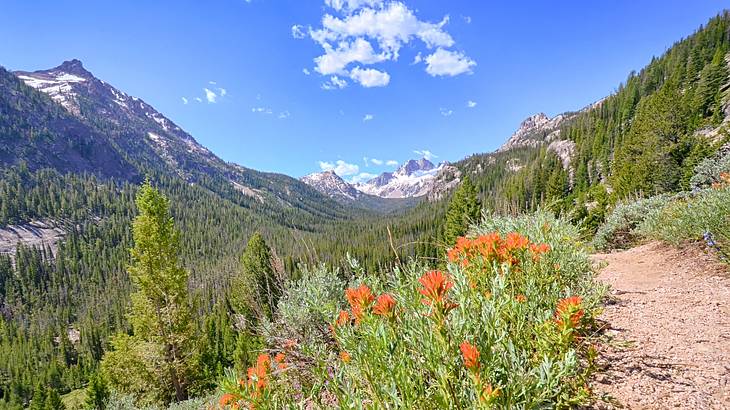 Hike in Sawtooth National Forest
If you're willing to drive a little, spending the day at Sawtooth National Forest has to be on your list of date ideas! You can reach the forest in about two and a half hours when driving, and an early start is recommended if you want a full day of exploring.
At the 2,110,408-acre forest, you can follow different trails of varying difficulty levels. No matter which you choose, you'll be rewarded with excellent views of mountains, lakes, and dense forests. Couples that want to stay overnight can camp or book a cute cabin.
In Conclusion
Boise has a date spot that all couples will enjoy. Whether you and your partner like exploring the outdoors, dining at romantic restaurants, or visiting unique attractions, you'll find many places to go together in Idaho's state capital!
---
---
Want to keep exploring?
Subscribe for discounts on tickets and hotels and our latest guides.
Thank you for subscribing
We will be in touch soon with discounts on tickets and hotels and our latest guides.
Want to keep exploring?
Subscribe for discounts on tickets and hotels and our latest guides.
Thank you for subscribing
We will be in touch soon with discounts on tickets and hotels and our latest guides.
Related Articles