25 Famous Idaho Landmarks You Must See
Destguides may receive commissions from purchases made through affiliate links in this article.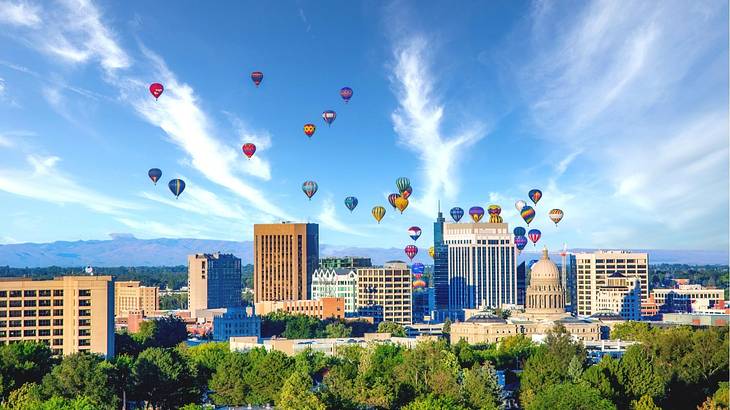 If you've ever wondered what Idaho is famous for, you have come to the right place! Idaho is famous for its mountain landscapes and vast wilderness, home to various plants and wildlife. The state also has some of the nation's most unique and interesting landmarks.
Famous Idaho landmarks to check out include Mesa Falls, the Old Idaho Penitentiary, and the Sawtooth National Recreation Area. To discover all of the must-see places of interest in the Gem State, continue reading for 25 of Idaho's best landmarks.
25 Famous Landmarks in Idaho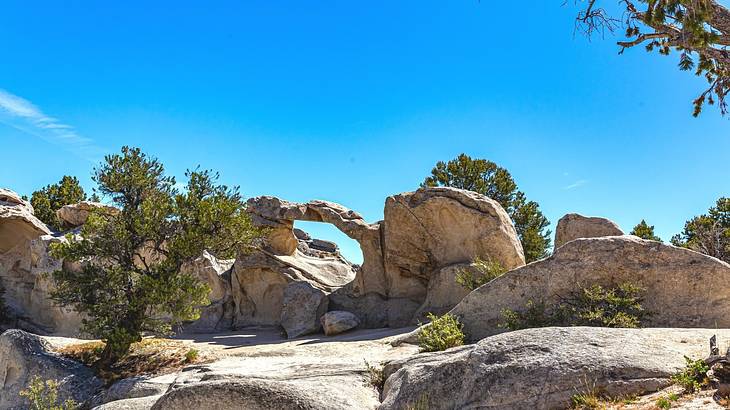 City of Rocks National Reserve
City of Rocks National Reserve is known for its many geological features, including rock structures like Window Arch and Twin Sisters. The park notably attracts rock climbers from across the world.
No matter your climbing level, you can find several routes for all, from rookies to intermediate and expert climbers. When visiting, you will also be able to hike paths that early pioneers followed centuries ago.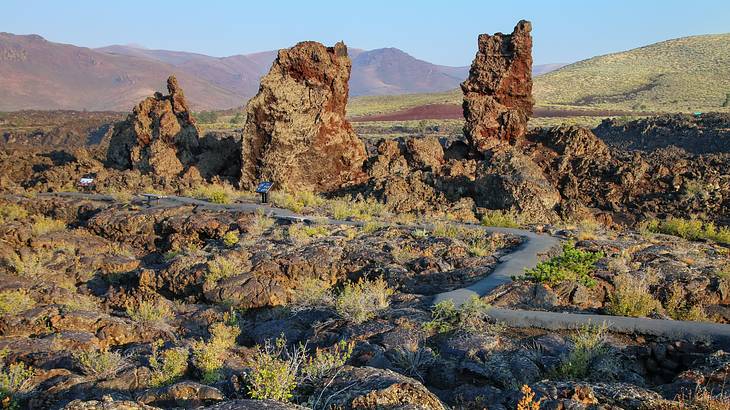 Craters of the Moon National Monument & Preserve
Located in Southern Idaho, Craters of the Moon National Monument & Preserve is one of the most remarkable national monuments in the United States. The volcanic formations and sagebrush in the area cover more than 53,000 acres.
As a visitor, you can choose to explore the site by car, on horseback, or on foot. Aside from striking landscapes, you will want to keep an eye out for wildlife. On the North Flow Crater Trail, you might spot bobcats, skunks, foxes, and even mountain lions.
Hagerman Fossil Beds National Monument
Hagerman Fossil Beds National Monument is home to fossils created over 3.5 million years ago. The site is one of the fascinating ancient Idaho monuments you can visit.
It is specifically famous for its Hagerman horse fossils located in the Hagerman Horse Quarry. A Hagerman horse was an equid that many suggest was a cross between a modern-day horse and zebra. The fossils found here form the largest collection of Hagerman horse fossils in North America.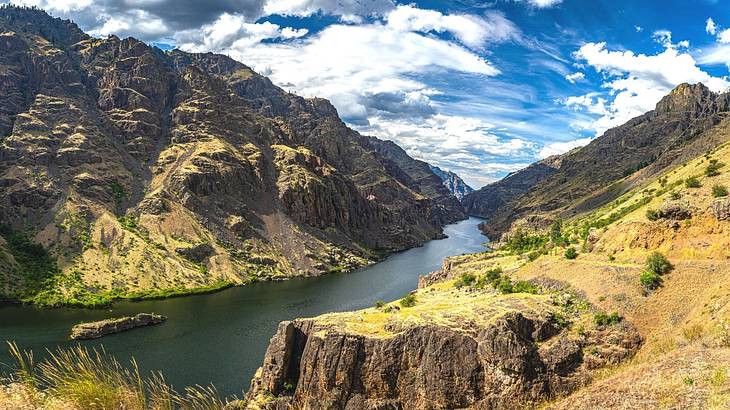 Hells Canyon National Recreation Area
Hells Canyon National Recreation Area covers over 650,000 acres and includes many Nez Perce sacred sites. The Canyon sits between Idaho and Oregon and is the deepest gorge in North America.
The massive recreational area offers majestic views and is a great place to go rafting or hiking. Nature lovers and those interested in Native American history will surely enjoy visiting Hells Canyon National Recreation Area!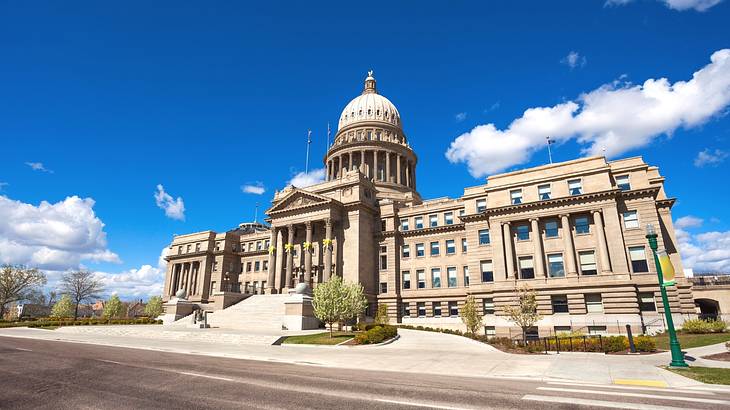 Idaho State Capitol
The Idaho State Capitol in Boise was constructed by architects J.E. Tourtellotte and Charles Hummel and opened in 1920. The structure was mainly built with sandstone from nearby Table Rock as well as several different types of colored marble.
The inspiration for the building came from St. Peter's Basilica in Rome and St. Paul's Cathedral in London. An interesting fact about the Idaho State Capitol is that it is the only US state capitol building heated by geothermal water.
Due to its stunning architecture and function as the primary seat of government for the state, the Idaho State Capitol is definitely one of the most famous buildings in Idaho. Visiting this iconic structure is a can't-miss thing to do in Boise!
Idaho State Museum
If you want to learn more about Idaho, visiting the Idaho State Museum is a great start. The museum features 800,000 square feet of exhibits that display artifacts and photographs. There are also exciting multimedia exhibits to view.
Visitors to the museum get a chance to understand Idaho's history, culture, and natural landscape. It is a great place to visit for everyone, from Idaho residents to first-time visitors.
Museum of Idaho
The Museum of Idaho is a history and natural science museum that offers educational exhibits on the social and environmental history of the state. Its permanent collections display Idaho's rich archaeological, paleontological, and geological records.
You can also see a variety of artifacts at this Idaho Falls museum (where it's located). Some of the most famous artifacts within the museum are a Columbian Mammoth replica and an American flag from the American Revolution.
Minidoka National Historic Site
Minidoka National Historic Site is one of the more somber historic sites in Idaho. During WWII, President Franklin D. Roosevelt signed executive order 9066. This order moved around 120,000 Japanese Americans into war relocation centers, including Minidoka.
Today, the site commemorates the 13,000 individuals that were imprisoned at the Minidoka War Relocation Center. Those that visit can learn about the lives and hardships of those incarcerated. While going to Minidoka can be emotional, it is one of the most fascinating places to visit in the Twin Falls area.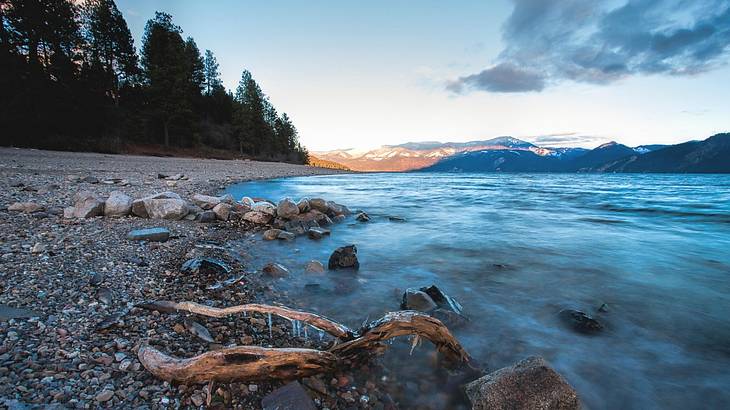 Lake Pend Oreille
Lake Pend Oreille is the biggest lake in Idaho and the 38th largest in the US. This Idaho landmark is located in the northern part of the Idaho Panhandle and was formed by glaciers during the ice age.
Residents and tourists like to head to the lake to boat or hike around it. The lake is also home to lots of wildlife, and visitors often spot ospreys diving for fish. Moose, deer, and even bears can also be seen in the forests around the lake.
Old Idaho Penitentiary Site
The Old Idaho Penitentiary Site, often referred to as "Old Pen," housed many dangerous criminals during its 101 years of operation, from 1872 to 1973. The prison is one of the more unusual famous attractions in Idaho, and tours are offered for those that want to see the prison grounds.
If you do visit, you will get to explore the prison quarters and learn about the gallows, dining halls, and inmate activities. A trip to the Old Idaho Penitentiary Site offers a unique look at the life of a prisoner in Boise in the 19th and 20th centuries.
Oregon Trail Memorial Bridge
Spread out above the Boise River, the Oregon Trail Memorial Bridge offers beautiful views of the Train Depot and the Idaho State Capitol. The Morrison Knudsen construction company created the Art Deco-style bridge in 1931.
Notable design features, not often seen on bridges, include bronze plaques and ceramic tiles with pioneer wagons and Western landscapes on them.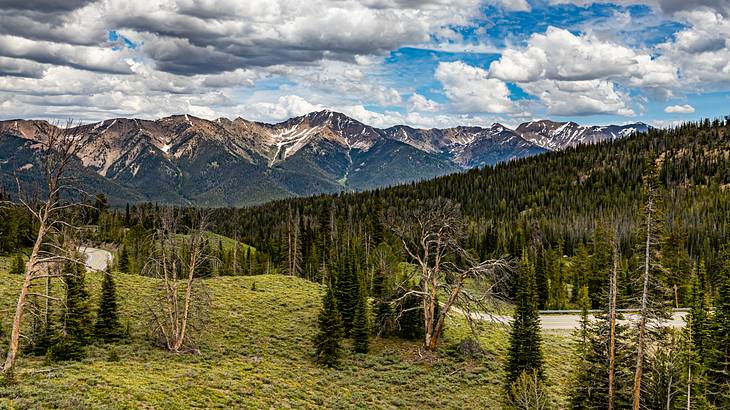 Sawtooth National Recreation Area
The Sawtooth National Recreation Area is a fun outdoor landmark filled with green aspen and pine forests, lakes, and wildlife. The area offers swimming, hiking, mountain biking, and camping.
The recreation area is also home to Thompson Peak, which provides picturesque views of the area. If visiting, make sure to bring your hiking gear and camera!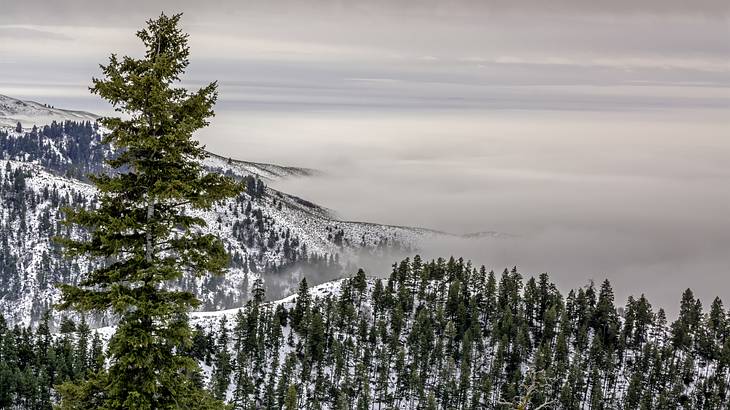 Bogus Basin
Bogus Basin serves as a popular ski area in Boise County. The Basin, operated by a non-profit organization, covers 2,600 acres and has an elevation of 7,582 feet above sea level.
The region was named during the 19th-century gold rush due to crooks in the hills making bogus gold dust, hence the name "Bogus Basin." Today, you can ski, snowboard, and enjoy other winter sports and activities in the area.
If you're in the area with your partner, going to Bogus Basin is also one of the best date ideas in and around Boise. Along with skiing or snowboarding, you can stay in cute cabins and visit romantic spas.
Silverwood Theme Park
You can have a day of pure fun at Silverwood Theme Park in Athol, Idaho. The attraction opened in 1988 and originally featured carnival rides, shops, and restaurants.
Today, the venue has grown, and, together with the Boulder Beach Water Park, is the largest amusement park in the Northwest. Those that stop by can enjoy over 70 rides and attractions.
Snake River
The Snake River is 1,078 miles long, making it one of the longest rivers in the country. It is a tributary of the Columbia River, which run through Canada and the United States.
Snake River crosses through Idaho and five other states, Washington, Oregon, Utah, Nevada, and Wyoming. The river is a popular destination for those looking to boat, fish, or spot wildlife.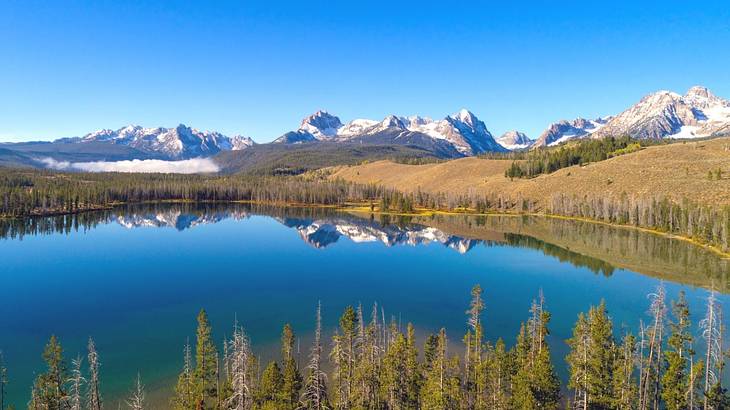 Redfish Lake
This alpine lake in Custer County, Idaho, has been open to visitors since the late 1800s. It is the largest lake within Sawtooth National Recreation Area.
The lake is also the last stop along the longest Pacific salmon run in North America. During this natural event, bright red-colored salmon, like Sockeye and Chinook, swim hundreds of miles upstream to return to their mating grounds.
At Redfish Lake, you can also partake in other water activities and go hiking. Campsites and charming lake-side log cabins are on-site for those wanting to stay overnight.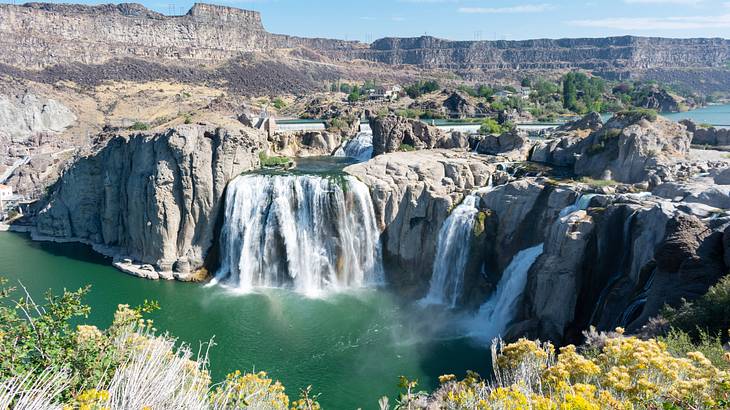 Shoshone Falls Park
Many refer to Shoshone Falls as the Niagara of the West. The 212-foot horseshoe-shaped waterfall is definitely a sight to behold!
The park, located in Twin Falls, not only houses Shoshone Falls but also has waterways to kayak on and trails to cycle or hike along. If you love nature and outdoor activities, Shoshone Falls Park is one of the famous places in Idaho you have to visit.
Borah Peak
As of 2021, the US Geology Survey recognizes Borah Peak as Idaho's only active glacier. Also known as Mount Borah or Beauty Peak, the natural structure is the highest peak in Idaho, with an elevation of 12,662 feet.
The peak is located in the middle of the Lost River Range, and it attracts around 4,000 climbers a year. Each climber's goal is to reach the summit and add their name to the log within the summit box.
Bald Mountain
Bald Mountain is a famous tourist attraction in Idaho. Its uniformed slopes cater to skiers and snowboarders of all abilities, making it the perfect winter destination for snow sports enthusiasts.
The Mountain is located within the Sun Valley Resort, which is sometimes called "America's first ski resort." Bald Mountain serves as the resort's main attraction during the winter season.
Mudgy Moose Trail
The Mudgy Moose Trail is two and a half miles long and travels along Lake Coeur d'Alene. The trail, which was inspired by Mudgy Moose and Millie Mouse from a children's book, begins at Tubbs Hill and ends at Independence Point. It is especially fun for families with little ones!
Throughout the trail, you will see cute statues inspired by Mudgy's search for Millie during a game of hide-and-seek by Lake Coeur d'Alene. Once you complete this unique trail, you can enjoy some lake activities like kayaking or paddle boarding.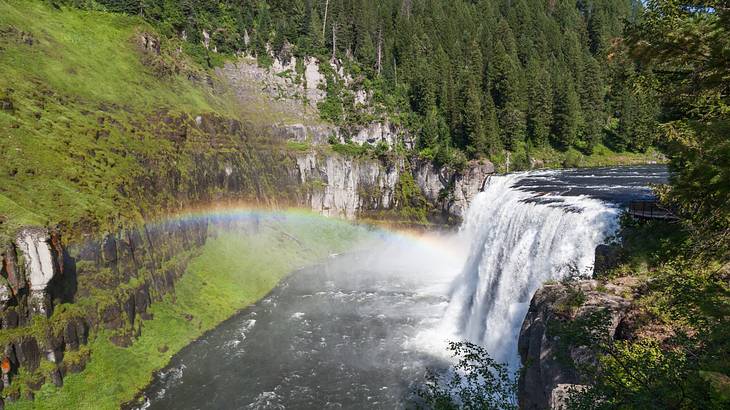 Mesa Falls
Mesa Falls comprises two waterfalls, Upper Mesa Falls and Lower Mesa Falls. The tallest part is Upper Falls which stands at 110 feet, while the Lower Falls is 65-feet tall.
The water that flows through the waterfalls comes from Henrys Fork, a tributary of the Snake River. The breathtaking Mesa Falls is another famous landmark in Idaho that can't be missed!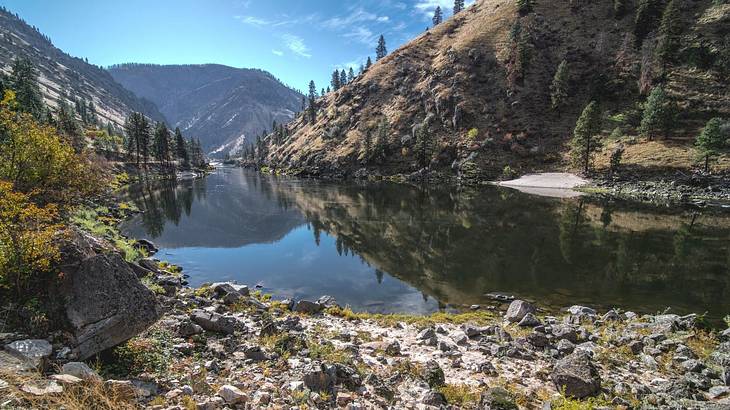 Salmon River
Running for 425 miles through central Idaho, Salmon River, also called "The River of No Return," attracts nature and outdoor enthusiasts. A popular activity at Salmon River is white water rafting, with its cool waters offering both class three and four rapids.
Fishers frequent the river, too, looking to catch rainbow trout, chinook, or steelhead. Its hot springs, sandy shores, and natural pools are also ideal for those looking for a more mellow adventure.
Weippe Prairie
Weippe Prairie is one of the many National Historic Landmarks in Idaho. The area is where the Nez Perce people first met the Lewis and Clark Corps of Discovery back in 1805. It also features vast fields of camas flowers.
You can still visit the prairie lands today to admire the scenery. If you want to see the fields of camas flowers in full bloom, visit the area in May or June.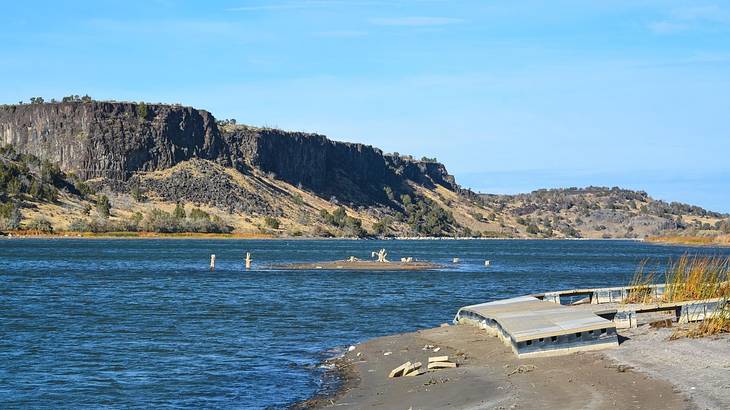 Nelson Snake River Birds of Prey National Conservation Area
The Nelson Snake River Birds of Prey National Conservation Area was named after Morley Nelson, an expert on raptors. The conservation area is located south of Meridian and is home to one of the largest populations of nesting raptors.
The area's ecosystem is perfect for both predators and prey. Visitors are guaranteed to spot at least one of 700 pairs of raptors nesting on the canyon walls or hunting for food around the river.
Kirkham Hot Springs
Kirkham Hot Springs is located in Boise National Park. This geothermal hot spring is the result of volcanic activity in the area and is one of the most accessible springs in Idaho.
Visitors can enjoy the springs between 7 AM and 9 PM, with a total of ten natural pools nestled within the surrounding mountains. Hiking the trails around Kirkham Hot Springs will also lead you to some waterfalls.
In Summary
You can discover an array of famous sites in Idaho to visit that offer picturesque views and great educational value.
Shoshone Falls Park, the Idaho State Capitol, and Bald Mountain are just some of the exciting places to see that will make your trip a memorable one. Whether you visit for the nature and wildlife, history, or culture, Idaho won't disappoint!
Give us feedback about this article
More articles about Idaho:
Read more articles about the United States:
More articles about landmarks:
More visual stories related to this article:
---
---
Want to keep exploring?
Subscribe for discounts on tickets and hotels and our latest guides.
Thank you for subscribing
We will be in touch soon with discounts on tickets and hotels and our latest guides.
Want to keep exploring?
Subscribe for discounts on tickets and hotels and our latest guides.
Thank you for subscribing
We will be in touch soon with discounts on tickets and hotels and our latest guides.
Related Articles