30 Fun Things to Do in Peoria, IL
Destguides may receive commissions from purchases made through affiliate links in this article.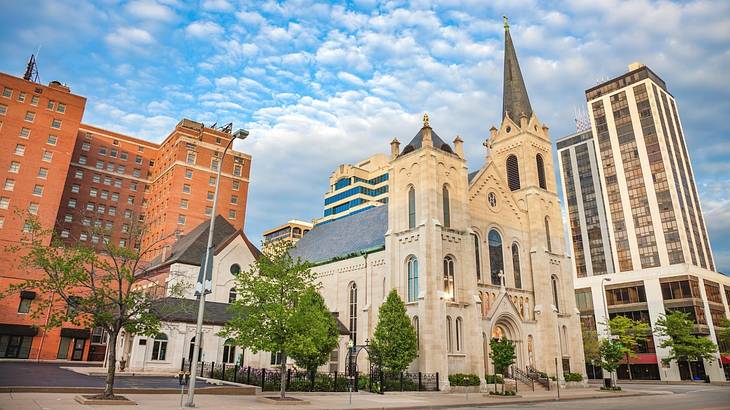 Located in central Illinois, Peoria is a vibrant city with a beautiful waterfront, stunning outdoor spaces, and lots of unique attractions. A handful of the fun things to do in Peoria, IL, include wandering around the pretty Luthy Memorial Botanical Garden, seeing a show at the iconic Corn Stock Theatre, and playing golf at WeaverRidge Golf Club.
In addition, Peoria is close to famous cities like Chicago and Springfield, which are ideal places to plan a weekend trip. Interested in learning about all of the exciting things to do in Peoria? Keep reading for 30 top suggestions!
30 Fun Things to Do in Peoria, Illinois
Peoria, IL, Things To Do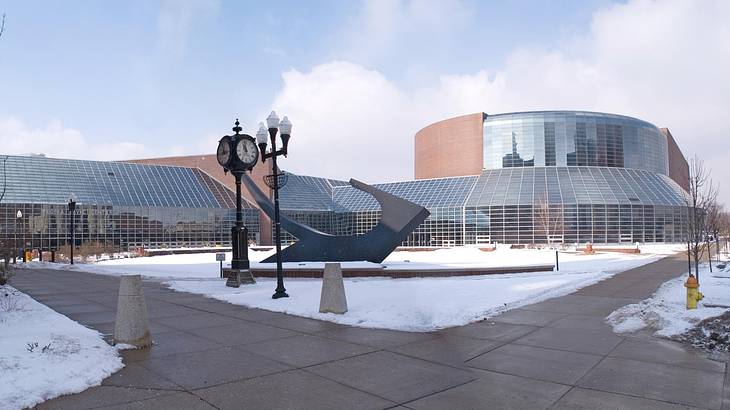 See a show at Peoria Civic Center
The Peoria Civic Center is an entertainment complex downtown that hosts a range of shows. Things to see include Broadway productions, tribute bands, and music concerts. There's also an exhibition space with various events throughout the year and a sports stadium, Carver Arena.
Check out the Caterpillar Visitors Center
Caterpillar Inc is a well-known producer of construction equipment. Interestingly, the brand has a visitor center in Peoria that acts like a Caterpillar museum.
At the center, you can learn about the brand's history and see various pieces of construction equipment. You can also immerse yourself in interactive exhibits like using 3D technology to design machinery.
Stroll around the Luthy Memorial Botanical Garden
George L. Luthy Memorial Botanical Garden, or Luthy Memorial Botanical Garden for short, is a 5-acre garden filled with beautiful plants, flowers, and trees. During a visit, you can wander through a tropical conservatory and 15 themed gardens.
Gardens to explore include a rose garden, a woodland garden, and a fun children's garden for little ones. Seasonal floral shows are also hosted during the year, like a spring flower show and a Poinsettia Show.
Cheer for local teams at Carver Arena
Carver Arena is one of the best attractions in Peoria, Illinois, to visit if you enjoy sports. The arena is located within the Peoria Civic Center and is notably home to the Peoria Rivermen, a Southern Professional Hockey League team.
The team plays from October through April, and attending a game is a fun thing to do, even if you aren't a huge hockey fan. If you prefer basketball, you can see the Bradley Braves basketball team from Bradley University play here.
Take your kids to the Peoria PlayHouse Children's Museum
If you have children, taking them to the Peoria PlayHouse Children's Museum is an ideal way to keep them occupied, especially on a cold or wet day. At the museum, your kids can enjoy interactive learning exhibits. Attractions include a pretend farm where you can pick vegetables, a construction area with building activities, and a fossil area with exhibits on paleontology.
Hang out at Laura Bradley Park
On sunny days, going to Laura Bradley Park is a great idea. The park was established in the late 1800s and sits next to Bradley University, about ten minutes from downtown and the riverfront when driving. Park amenities include trails, sports facilities like volleyball courts, a disc golf course, and a dog park.
There are also pretty garden-like features, including a pond and Japanese bridge, picnic tables, and even a performing arts theater, Corn Stock Theatre. So whether you want to walk your dog, play sports, or hang out with friends and family, Laura Bradley Park has something for everyone!
Experience a show at Corn Stock Theatre
Located in Laura Bradley Park, Corn Stock Theater is a popular performing arts venue. You can watch various shows, including classic plays like Death of a Salesman and more unique independent productions by local theater groups. No matter what you see, going to Corn Stock Theatre is one of the most memorable things to do in Peoria.
Explore the Peoria Riverfront Museum
The Peoria Riverfront Museum is a fascinating attraction for all ages. It has a variety of exhibits on numerous topics, including science, art, and history. There's also a planetarium and a movie theater showing classic and educational films.
After viewing the exhibits inside the museum, you can explore a beautiful sculpture garden that sits right on the riverfront, offering stunning views of the Illinois River.
Enjoy the amusements at Kartville
Kartville is a highly fun place to go, no matter your age! The entertainment complex has go-karts, bumper boats, and mini-golf, among other attractions. Theme park-style snacks, like snow cones and cotton candy, are available to enjoy too. If you live in the area, your kids can also plan a birthday party at Kartville.
Tee off at WeaverRidge Golf Club
Golf lovers will want to check out WeaverRidge Golf Club when in Peoria. The championship-caliber course has 18 holes and has been awarded a 4.5-star rating by both Golf Digest and Golf Advisor! After your game, you can relax in the clubhouse, which has a bar, restaurant, and cozy fireplaces.
Say hi to the animals at Peoria Zoo
Going to Peoria Zoo is another of the excellent activities in Peoria, Illinois, for families. Opened in 1955, the zoo is home to over 200 animals and covers 14 acres. Species come from across the world and include giraffes, lions, lemurs, and wallabies. You can also see reptiles, birds, and amphibians, from snakes and salamanders to owls and emus.
Relax with a coffee at thirty-thirty Coffee Co.
Peoria has many fantastic coffee shops, with one of the most popular being thirty-thirty Coffee Co. The cozy cafe serves classic coffee drinks, like cappuccino, plus more unique options, such as espresso with local honey and freshly ground cinnamon.
Hot and ice tea and chai tea are also on the menu, along with hot chocolate and fruit smoothies. Freshly baked goods, including pastries, are available to enjoy with your beverages.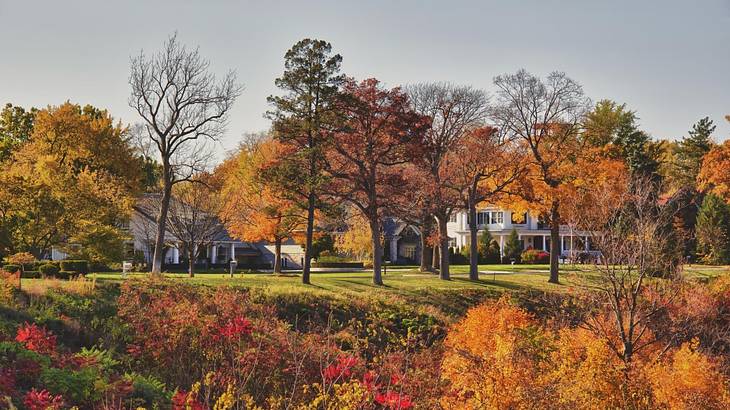 Admire the vistas at Grandview Park
Grandview Park sits along Grandview Drive, a scenic road listed on the National Register of Historic Places. As you journey along the road, you can enjoy views of the Illinois River Valley. Once at the park, you can sit on benches to admire the vistas some more and take a relaxing stroll along various trails.
Shop at Northwoods Mall
Illinois weather isn't always the best, and if you're wondering what to do in Peoria, IL, on a cold, wet, or snowy day, visiting the Northwoods Mall is a great idea! The shopping complex houses many stores, from clothing and beauty shops to electronics and home decor outlets. In addition, you'll find some classic mall eateries, like Auntie Anne's Pretzels and Mrs. Fields Cookies.
Unwind at Senara Health and Healing Center & Spa
If you're looking to relax and de-stress, planning a trip to Senara Health and Healing Center & Spa is a must! The 7,000-square-foot day spa offers a variety of treatments, like massages, salt wraps, and facials. Couples massages are also available if visiting with your partner.
Go for a walk at Detweiller Park
Detweiller Park is another of the great parks to visit in the Peoria area. Covering 760 acres, the park has over five miles of trails that are ideal for running, biking, or taking a stroll along. Other park amenities include soccer fields, volleyball courts, and children's playgrounds.
Wander through Glen Oak Park
Glen Oak Park is another of the stunning parks in the area managed by the Peoria Park District. The park is the ideal place to go for a walk and is especially beautiful in the fall.
There are also many amenities and attractions in the park, from a children's playground to an amphitheater and a large lagoon. Your dogs are welcome to join you for walks at the park as well.
Tour Pettengill-Morron House Museum
Pettengill-Morron House Museum is a historic home that was constructed in 1868. The residence was added to the National Register of Historic Places over 100 years later in 1976 and is now a museum that's open to the public for tours.
Tours of the home take place on Thursdays between 10 AM and 2 PM, and reserving a spot on a tour is necessary to participate. As you explore, you'll learn about the history of the building and its first owner, Moses Pettengill, a businessman and prominent abolitionist.
Try an escape game at Escape 60
Escape 60 is one of the most fun attractions in Peoria, IL, whether you're spending time with friends or family or planning a unique date. Various themes are available to choose from, including a wizard-themed escape game and a crime scene mystery. All ages are welcome to join in, making this a fun activity for the whole family!
Create ceramics at Wheel Art Pottery Studios
Craft enthusiasts will definitely want to book a glass at Wheel Art Pottery Studios. The artsy venue allows you to create pottery items from scratch, including bowls and vases. You can both learn a new skill and go home with a one-of-a-kind piece.
Classes for adults and kids are bookable, as are group classes for families. You can even bring your pet along! Wheel Art Pottery Studios has unique courses in which your pet can join in to make their own food dish.
Watch a movie at GQT Willow Knolls 14
Watching a movie is always a fun thing to do, and in Peoria, you can do so at GQT Willow Knolls 14. The cinema shows all the newest releases, with start times ranging from early in the morning through the evening, allowing you to stop in for a movie almost whenever you feel like it! Of course, classic movie snacks like popcorn and candy are available to purchase before the film begins.
Spend an evening at the Par-A-Dice Hotel Casino
Located right on the waterfront, Par-A-Dice Hotel Casino is a fun place to go for a night out. At the casino, you can gamble and play a range of games, like blackjack or roulette. After playing, you can grab drinks and a meal at one of the on-site eateries, including a steakhouse and bar & grill.
Attend events at the Contemporary Art Center of Peoria
If you enjoy unique events, the Contemporary Art Center of Peoria is one of the many Peoria attractions that you can't miss during your visit. This venue hosts an array of arts activities, from salsa classes to live music events. You can also see art exhibitions here, focusing on artists from Illinois.
Get pizza at Sugar Wood-Fired Bistro
Sugar Wood-Fired Bistro is a trendy spot serving delicious wood-fired pizza and other Italian-style dishes. The extensive menu includes pizza with various toppings, including classics like Margherita and more unique combinations.
Pasta dishes, wraps and sandwiches, and entrees like pesto chicken are also available. You can accompany your meal with wine or craft beers.
Grab drinks at Kelleher's Irish Pub & Eatery
Hanging out at Kelleher's Irish Pub & Eatery is a great idea if you're looking for laid-back stuff to do in Peoria, IL. The friendly Irish pub sits on the waterfront and serves many beers, including Irish classics like Guinness.
You can also order from an extensive whiskey menu, and wine and seasonal drinks are available, like a pumpkin pie martini in the fall. Bar snacks and popular Irish main courses can be enjoyed too, and the pub frequently has events, like live music and trivia nights.
Fun Things to Do Near Peoria, IL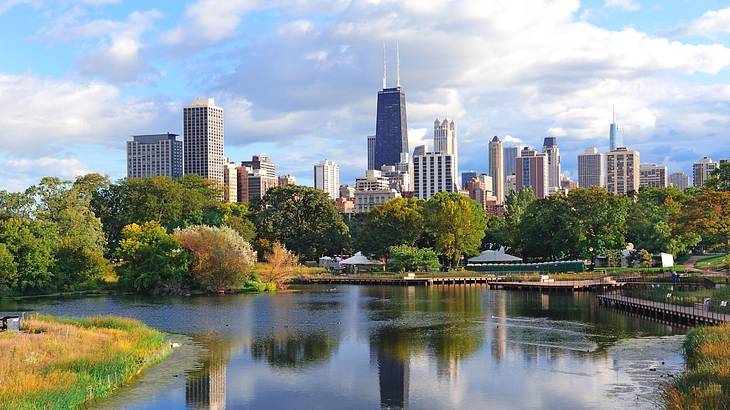 Spend a weekend in Chicago
Chicago is the most well-known city in Illinois and is a fun and memorable place to visit. Located about three hours from Peoria, depending on traffic, planning a Chicago weekend getaway is an excellent idea.
Things to do in Chicago include seeing a local sports team play, from the Bulls to the Cubs, enjoying the attractions at Navy Pier, and going to the fascinating Field Museum of Natural History. There are also many Illinois landmarks to add to your itinerary, like Cloud Gate, Lincoln Park, and the Marquette Building.
Spot animals at Wildlife Prairie Park
Located around 20 to 30 minutes from Peoria when driving, Wildlife Prairie Park is a fantastic place to spend some time outdoors. The 1,800-acre park is home to 60 different species of native animals. Creatures to spot as you explore include elk, eagles, and bison.
Coyotes, bobcats, and bears are some other animals in the park. Along with wildlife spotting, you can kayak, go on a scenic Prairie Zephyr Train ride, and check out a wildlife and education center.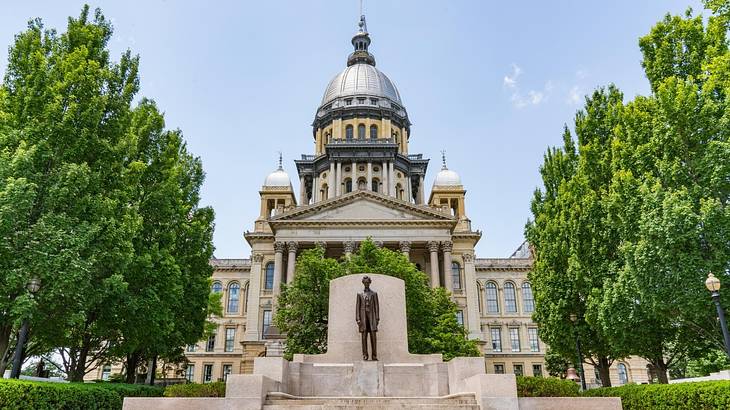 Plan a day or overnight trip to Springfield
While many people may think Chicago is the state capital, a fun fact about Illinois is that Springfield is actually the capital of the state. It's also where Abraham Lincoln's law office was located and is the city where he got into politics and lived before leaving for Washington, DC, to be president.
If you're interested in visiting this historical city, you'll be pleased to hear that it's just over an hour from Peoria. While you can make this a day trip location, planning an overnight trip is recommended if you want to see as many attractions and landmarks as possible.
Just a few of the fun things to do in Springfield, Illinois include visiting the Abraham Lincoln Presidential Library and Museum, exploring the Margery Adams Wildlife Sanctuary, and grabbing a drink at the unique Buzz Bomb Brewing.
Follow trails and spot wildlife at the Forest Park Nature Center
Outdoor enthusiasts will want to plan a trip to the Forest Park Nature Center. The attraction has seven miles of trails and is the ideal place to go bird watching. As you explore, you'll likely see many other woodland creatures as well.
In addition, guided hiking tours are sometimes offered, and there's a natural history museum with information on the area's ecology. Before leaving, you can also stop by a gift shop that has items like bird feeders so you can do some bird watching at home!
Mountain bike at Jubilee College State Park
Jubilee College State Park is a beautiful 3,200-acre park situated around 25 minutes from central Peoria. At the park, you can bike along trails that take you through wildflower fields and dense forests. There are also some equestrian trails to follow, and campgrounds are located in the park if you want to spend the night in nature.
In Conclusion
No matter what you like to do, you'll find numerous activities in Peoria, IL, to enjoy. The city is home to an array of outdoor attractions, fascinating museums, casinos, theaters, and much more. Whether you're just passing through or live in the area, this list should have given you some fun new activity ideas to try in Peoria!
Give us feedback about this article
More visual stories related to this article:
---
---
Want to keep exploring?
Subscribe for discounts on tickets and hotels and our latest guides.
Thank you for subscribing
We will be in touch soon with discounts on tickets and hotels and our latest guides.
Want to keep exploring?
Subscribe for discounts on tickets and hotels and our latest guides.
Thank you for subscribing
We will be in touch soon with discounts on tickets and hotels and our latest guides.
Related Articles