Chicago in a Weekend - A Perfect 3 Day Chicago Itinerary
Destguides may receive commissions from purchases made through affiliate links in this article.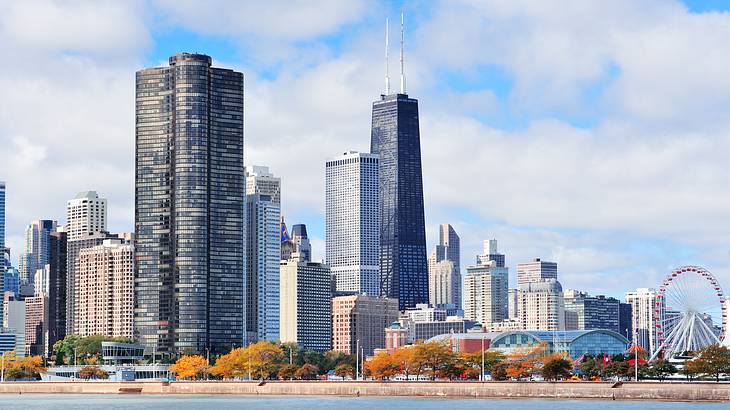 Are you organizing a trip to the Windy City? If so, this 3 day Chicago itinerary will help you plan the perfect long weekend trip, allowing you to see all the city offers in only 72 hours.
When deciding what to do in Chicago in a weekend, you'll be spoiled for choice. The city boasts many attractions and famous landmarks, from trendy bars and restaurants to parks, museums, and much more. To discover all the things to do during a weekend in Chicago, keep reading!
3 Days in Chicago Itinerary
Exploring Chicago's Cultural Landmarks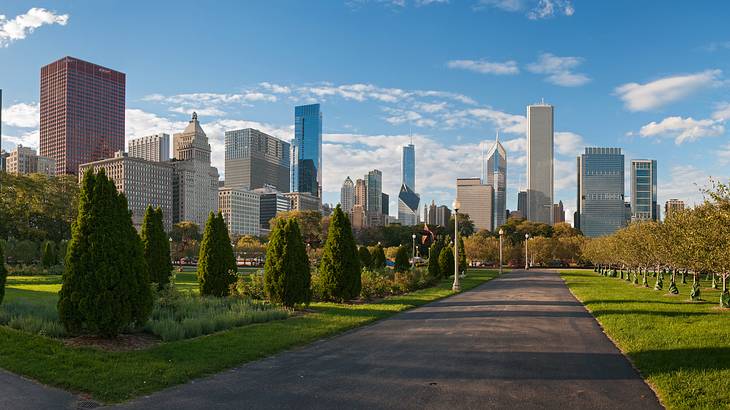 Your first day in Chicago will begin taking in panoramic views of the city from the Willis Tower Skydeck. Next, you can immerse yourself in Chicago culture and history at the Chicago Cultural Center before going to see the iconic Cloud Gate.
After walking around Millennium Park, you'll go out on the river on a Chicago architecture cruise. Once back on land, the next stop is the Art Institute of Chicago to view works from renowned artists. Your evening will be spent at the scenic Navy Pier, shopping, dining, and watching the fireworks.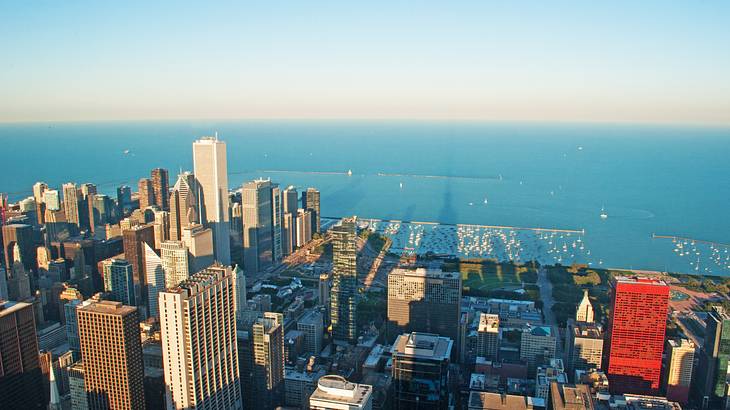 Willis Tower Skydeck
The Skydeck at Willis Tower is one of the most well-known observation decks in the United States. Sitting 1,353 feet above the ground on the 103rd floor, the Skydeck offers sensational views of downtown Chicago.
Making Willis Tower your first stop in the day increases the chances of getting incredible clear views. However, heading up shortly before sunset is highly recommended too. Purchasing a Willis Tower Skydeck ticket in advance will ensure you get to the observation deck without any hassle.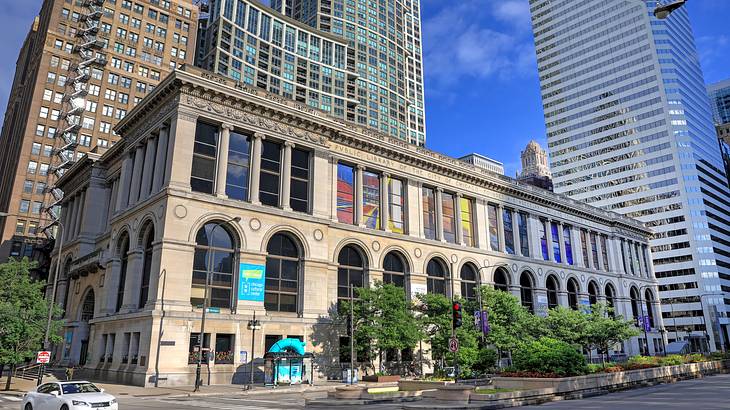 Chicago Cultural Center
A visit to the Chicago Cultural Center is a great addition to your Chicago trip itinerary. This historic building, opened in 1897, features numerous cultural exhibits and performances. Exhibitions cover a range of fascinating topics, from art exhibits to those covering the history of Chicago.
If you have time to add a few more stops to your itinerary, consider going on a Chicago architecture walking tour. This informative tour will take you to the Chicago Cultural Center, the Chicago Board of Trading Building, and The Loop.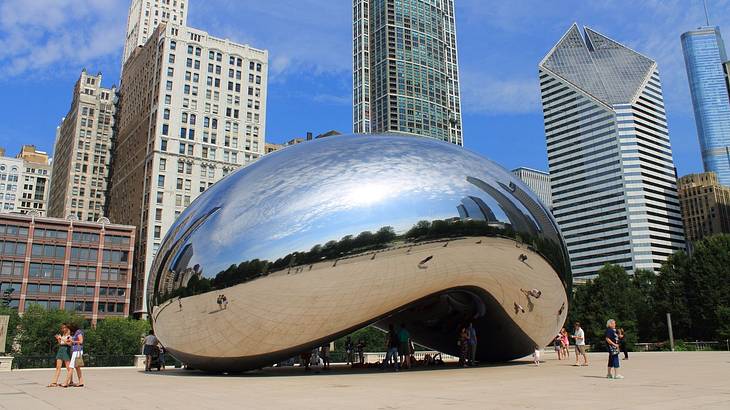 Cloud Gate at Millennium Park
Cloud Gate is a renowned world landmark. When visiting Chicago, a trip to this attraction is a must.
The famous mirrored bean-shaped sculpture sits proudly in Chicago's Millennium Park in North Grant Park. The sculpture was designed by British artist Anish Kapoor and was his first outdoor artwork installed in the US.
Having viewed Cloud Gate and taken some photos, you can wander around Millennium Park. The pretty urban park is the perfect place to unwind. If you have kids with you, a trip to the playground in the adjacent Maggie Daley Park is also recommended.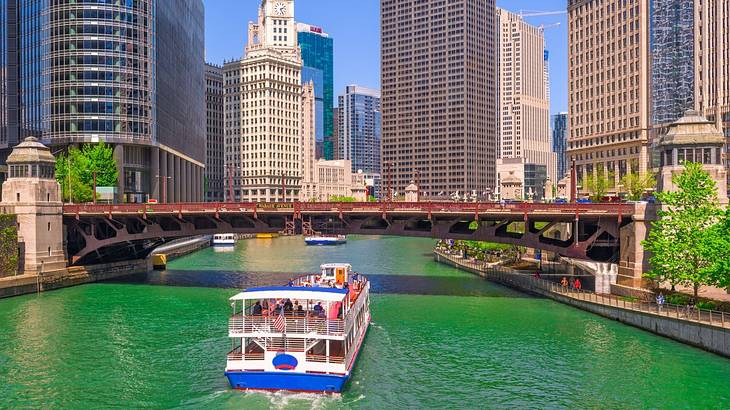 Chicago Architecture River Cruise on the Chicago River
Chicago is a destination filled with stunning architecture. The best way to see the beautiful skyline is by getting out on the river. A fun Chicago Architecture Cruise is the perfect option and will take you past the city's most amazing buildings.
Once aboard the boat, you'll sail past 40 plus iconic buildings. Attractions to see range from the John Hancock Building to Wrigley Field and the Lyric Opera House. Architects with buildings on the route include Mies Van de Roche and Skidmore Owings.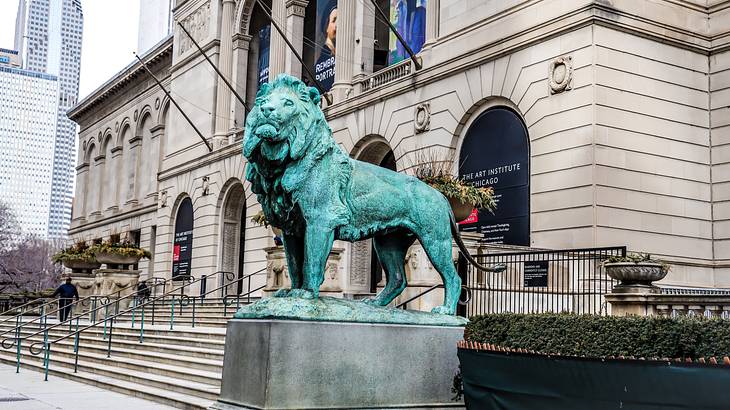 Art Institute of Chicago
Another must-see attraction to put on your three days in Chicago itinerary is the Art Institute of Chicago. This world-class gallery is one of the oldest and largest art museums in the US. When visiting, you can see works by Matisse, Van Gogh, Renoir, and many more.
The Art Institute houses over 300,000 pieces. While not all of those are on display, the collection open to the public is quite large. Spending two to three hours here is recommended to see everything. To save some time, book an Art Institute of Chicago fast pass ticket before you go.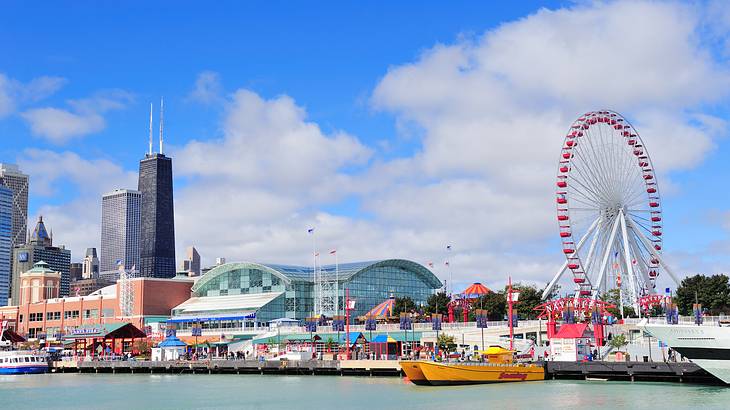 Navy Pier
Navy Pier is a bustling area found on Chicago's waterfront. The river-side attraction features shops, restaurants, and even a Ferris wheel! The views of the Chicago River from Navy Pier are breathtaking too. When in the area, you can browse the shops, pick up some gifts and souvenirs, and grab a delicious dinner.
In addition, there is a spectacular firework show held here each Wednesday and Saturday evening. Watching the Navy Pier fireworks is absolutely one of the best things to do at night in Chicago.
A Fun-Filled Day of Top Attractions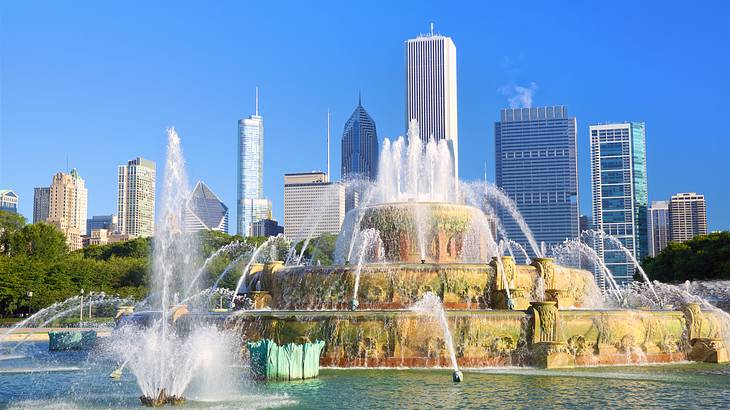 Day two of your Chicago three day itinerary begins at the bustling New Maxwell Street Market. Having explored the various market stalls, you'll then move on to the south part of scenic Grant Park. After wandering around the park and viewing landmarks like the Buckingham Fountain, head to Museum Campus.
This area houses some of Chicago's finest museums, such as the Field Museum of Natural History, which is your next stop. The Shedd Aquarium is your next stop before going to the waterfront to spend the evening on a luxurious Lake Michigan dinner cruise.
New Maxwell Street Market
A fun way to start your day is by visiting the New Maxwell Street Market. This historic market has been in operation in Chicago since 1912, with variations of the market being documented even earlier. Today, you can wander around a range of food and merchandise stalls, mixing with the locals.
You will also find entertainment preferences at Maxwell Street Market, such as live music acts. The best part about shopping at the market is that you never know what you'll find! You're guaranteed to go home with some one-of-a-kind souvenirs. Do note that the market is only open on Sundays.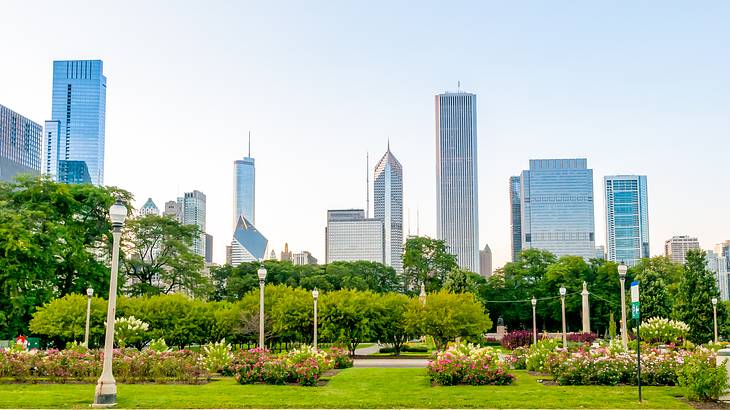 Grant Park
Grant Park is a vast urban park that houses many attractions, including the landmarks of Museum Campus and Millennium Park to the north. Taking a relaxed walk around Grant Park is the perfect way to take a brief break from the bustle of Chicago.
While in the park, you can admire the many beautiful trees and plants and are likely to spot wildlife. Be sure to pass by Buckingham Fountain too, which is one of the largest water fountains in the world.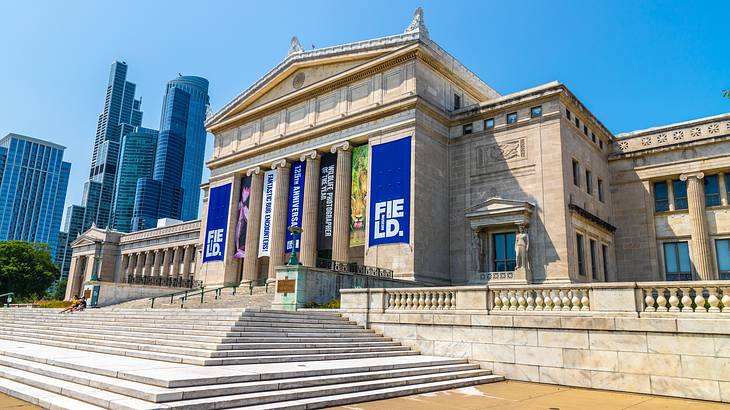 Field Museum of Natural History
The Field Museum of Natural History is a North American landmark, known as one of the largest natural history museums in the world. Exhibits to see include those on dinosaurs and fossils, ancient Egypt, ecosystems, and many other historic and scientific-related topics.
Depending on when you visit, you may also be able to attend some interesting events. To ensure that you get in, buy a Field Museum Natural History Museum admission ticket ahead of time.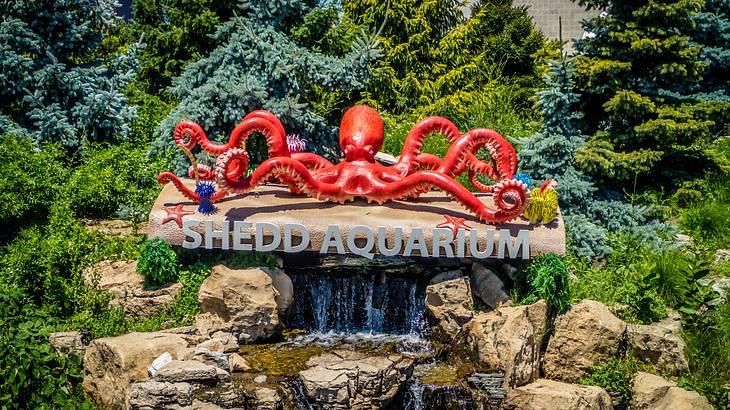 Shedd Aquarium
Whether you're traveling with kids or not, adding a trip to the Shedd aquarium to your weekend trip to Chicago itinerary is a must! The almost 100-year-old aquarium is home to a range of marine creatures.
Sea animals to see here range from tropical fish to sharks and beluga whales. The aquarium also offers a range of experiences, such as feeding stingrays and meeting penguins.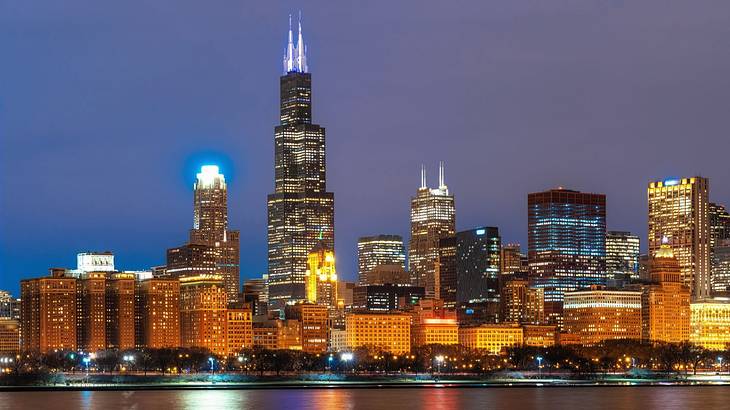 Lake Michigan Dinner Cruise
An ideal way to end your day in Chicago is by going on a Lake Michigan dinner cruise. On this sophisticated boat cruise, you'll be served a delicious three-course meal. Drinks including cocktails, beer, and wine are also available.
After eating, you can head to the stylish rooftop deck to take in amazing views of Chicago. Places of interest to see on the cruise include Navy Pier and Willis Tower. A DJ is on board as well to add to the atmosphere and make your night out even more memorable.
Sports, Shopping, and an Afternoon at the Beach
The last day of your Chicago weekend itinerary starts at the home of the Chicago Cubs, Wrigley Field. After taking a tour of this iconic baseball stadium, you'll visit Lincoln Park where you can go to a range of attractions or just take in the green open space.
The afternoon will start at North Avenue Beach. Next, you'll go up in the sky to the 360 Chicago observation deck from more panoramic views. The day ends on Magnificent Mile, where you can see the famous water tower, hit the shops, and try some Chicago style deep dish pizza.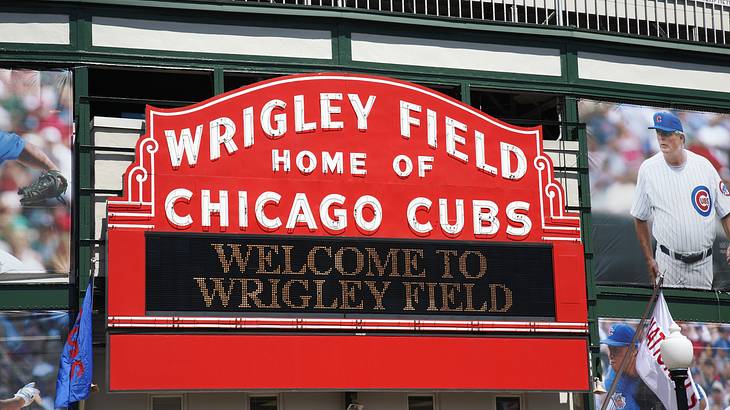 Wrigley Field Tour
Wrigley Field is the iconic home of the Chicago Cubs Major League Baseball team. If interested in sports, taking a guided tour of this Chicago landmark is a must.
On the tour, you can see the Cubs' dugout, the field, and more. You'll also learn more about the history of the team and the stadium. Depending on when you visit Chicago, you may also be able to catch a Cubs game at Wrigley Field.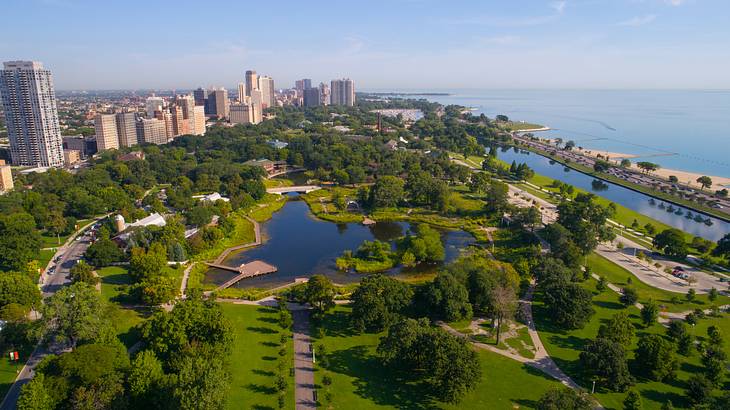 Lincoln Park
Lincoln Park is Chicago's largest park and is well worth visiting when in the city. This spectacular green urban park features beautiful gardens, lots of trees, and a charming lake.
You can discover many attractions within the park too. Places to visit include the Lincoln Park Zoo, the Chicago History Museum, and the Lakefront Trail. The park is also home to the Lincoln Park Conservatory. If in the city with your partner, visiting the conservatory is one of the cutest Chicago date ideas.
North Avenue Beach
It may be a surprise that a Chicago travel itinerary includes a trip to a beach. But it does! North Avenue Beach is a small sandy shoreline located next to Lincoln Park.
At this quaint urban beach, you can hang out on the sand, sunbathe, and even take a tip in the "ocean" (which is actually Lake Michigan). From the shoreline, you also get the most fantastic view of the Chicago skyline.
As you can imagine, this attraction is only enjoyable during the warmer months. If you want to go to the beach, spring or summer is the best time to visit Chicago. You can relax under the sun on the sand before the rainy and cold weather of fall and winter arrives.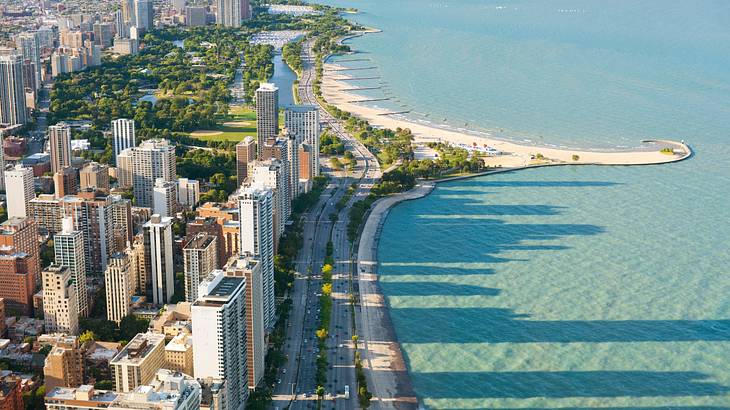 360 Chicago Observation Deck at the John Hancock Center
Located on the 94th floor of the John Hancock Building, the 360 Chicago Observation Deck is another of Chicago's lookout points. Once on the observation deck, you can take in the spectacular panoramic views.
This observation tower even features tilting windows! If you dare to look through them, you can also enjoy views of the bustling city below. To avoid a wait when you arrive, purchase a 360 Chicago Observation Deck skip the line ticket ahead of time.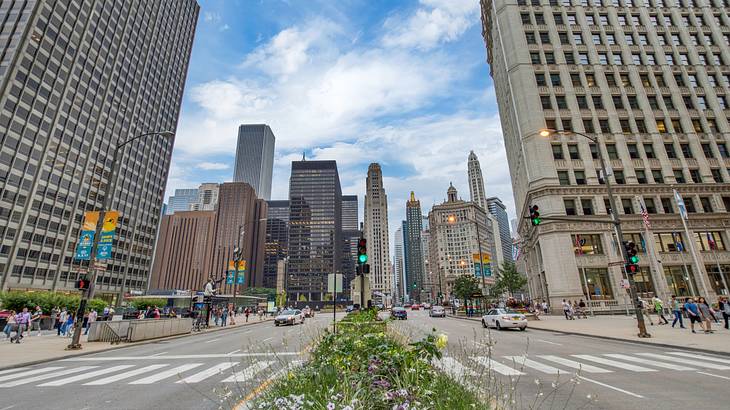 Magnificent Mile and the Chicago Water Tower
Magnificent Mile is a commercial district that runs along North Michigan Avenue beside the River North neighborhood. This area features a multitude of shopping, dining, and entertainment options.
One of the must-visit places on the Magnificent Mile is the Chicago Water Tower. This Illinois landmark has stood in Chicago since the 1860s and even survived the Chicago fire of 1871.
Having visited the water tower, you can shop at the array of stores on magnificent miles. If you get hungry, grabbing some iconic deep-dish pizza is highly recommended. There are many deep-dish spots on Magnificent Mile, including Gino's East and Lou Malnati's Pizzeria.
In Summary
Going on a Chicago weekend getaway is a great idea. However, deciding what to see in 72 hours can be a challenge. Hopefully, this three day itinerary has made planning the perfect long weekend in the Windy City a lot easier!
Give us feedback about this article
Learn more about Chicago:
More articles about Illinois:
Read more articles about the United States:
More visual stories related to this article:
---
---
Want to keep exploring?
Subscribe for discounts on tickets and hotels and our latest guides.
Thank you for subscribing
We will be in touch soon with discounts on tickets and hotels and our latest guides.
Want to keep exploring?
Subscribe for discounts on tickets and hotels and our latest guides.
Thank you for subscribing
We will be in touch soon with discounts on tickets and hotels and our latest guides.
Related Articles