8 Louisville Nicknames and the History Behind Them
Destguides may receive commissions from purchases made through affiliate links in this article.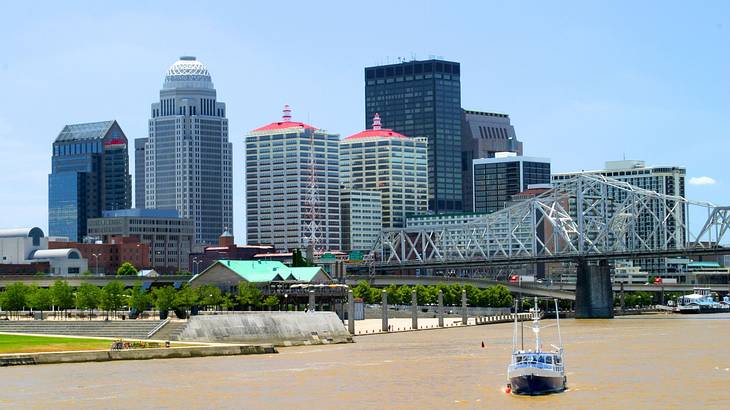 Louisville is one of Kentucky's most famous cities, and it's not hard to see why. After all, it's at the center of much of the state's culture and history, from bourbon production to the Kentucky Derby. However, not many people know that this city goes by multiple names.
While its moniker as Derby City is pretty well known, there are plenty of others that tend to fly under the radar of non-Kentuckians. So whether you're planning on spending time in this part of the South or just want to brush up on your state history, keep reading. Here are eight Louisville nicknames and the history behind them.
8 Nicknames for Louisville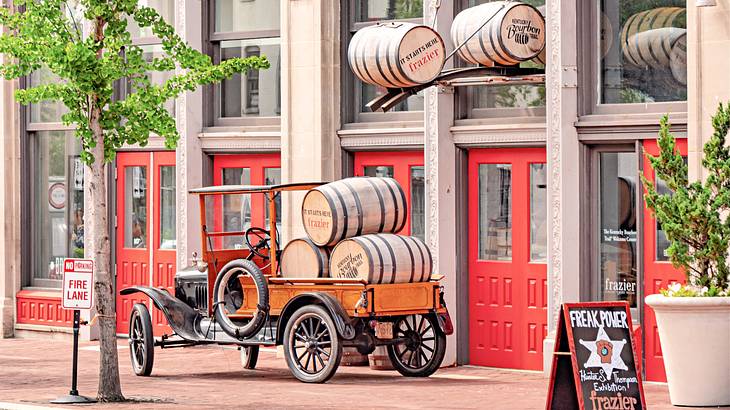 Bourbon City
Bourbon City has been a Louisville name for years. That's because of the large number of distilleries located in the city. It's a relatively famous Kentucky fact that the state is one of the country's largest producers of bourbon liquor.
However, not many people know that a large chunk of the state's 95 distilleries are located in Louisville, with some even offering tours to visitors 21 and older. The local tourism boards have recently used this fact to help encourage people to come to the area. The Bourbon City name has seen a resurgence in articles, tourism pamphlets, and on souvenir items.
City of Beautiful Churches
Louisville has a long history of being a very religious city. As such, numerous places of worship were built to reflect the different denominations of the area's residents during its early years. Many of these buildings were built ornately, so even non-religious visitors admired them.
This culminated in the creation of the City of Beautiful Churches nickname, which was once popular. Though it's no longer widely used, it can still be seen printed on old postcards and in texts discussing Louisville's history and its churches.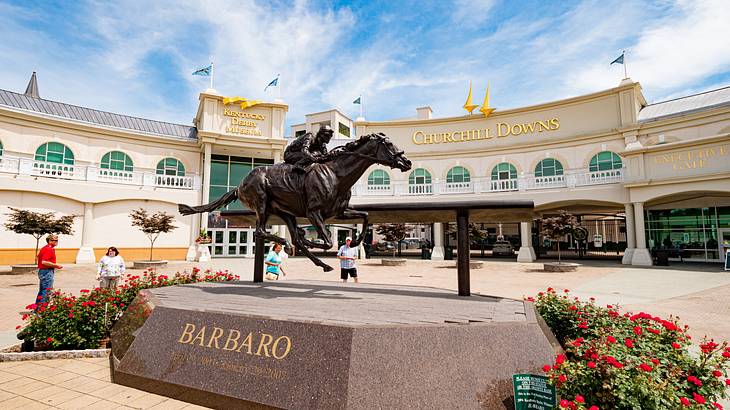 Derby City
Since 1875, Louisville has hosted the Kentucky Derby horse race. Over 100,000 spectators flock to the area each year to watch the race and participate in the festivities.
Love and appreciation for the race are shown even during the Derby's off-season. Churchill Downs, where the event is held, is one of Kentucky's most famous landmarks, with attractions like a museum open all year.
The importance of the event has led to the area being known as Derby City. You can expect to see this moniker used in tourist material for Louisville, as well as on souvenirs, information pamphlets, and historical texts.
Gateway to the South
Gateway to the South is a historic Louisville nickname that dates back to the early 1900s. In the years following the Civil War, many formerly enslaved men and women migrated from the South. A large number chose to stay in Louisville, which, at the time, was considered to be on the cusp between North and South in the US.
While that is often considered the main reason behind the moniker, others also cite how Louisville mixed the industrialism of Northern states and the agricultural economy of the South. This made it a gateway between both regions.
Its location in the middle of the country caused Louisville to be a strategic place for businesses to position themselves. It even housed a large military training operation at Camp Zachary Taylor during World War II.
Today, this nickname isn't used much. However, it has previously been used in book titles and other articles about Louisville's culture and history.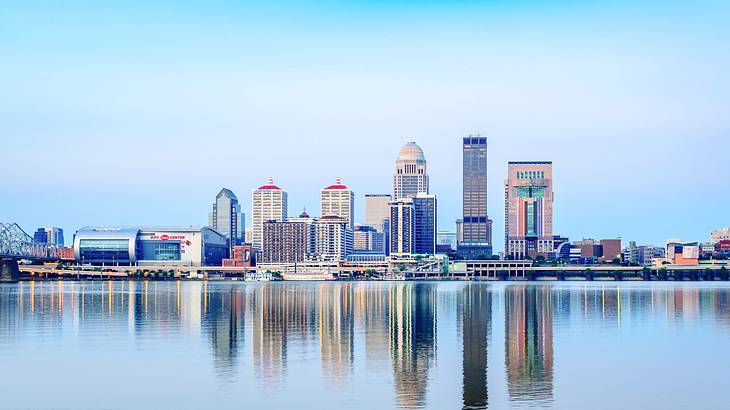 Possibility City
In recent years, Louisville has embraced the name Possibility City. The slogan was primarily used in the city's branding campaigns that encouraged people to relocate to the area. From Old Louisville to the more modern downtown area, there are numerous possibilities for work, education, and entertainment in the city.
The intention of the ad seems to have been successful. The city's population has steadily grown, with more people settling down in this part of Kentucky from other parts of the country. For that reason, this name will likely continue to be found on article titles, forums, and souvenirs.
River City
One of Louisville's most famous landmarks is the Ohio River, which runs through town. Historically, the area's citizens relied on this river for food and water. It also provided a way to travel and send correspondence to other states. All of this helped the area develop the nickname River City.
While this was once the most common nickname for the area, it was replaced in 1875 when the first Kentucky Derby was held and turned out to be a huge success. That doesn't mean you can't find this moniker at all, though. It's written in historical texts and on souvenirs and is occasionally found in modern-day publications.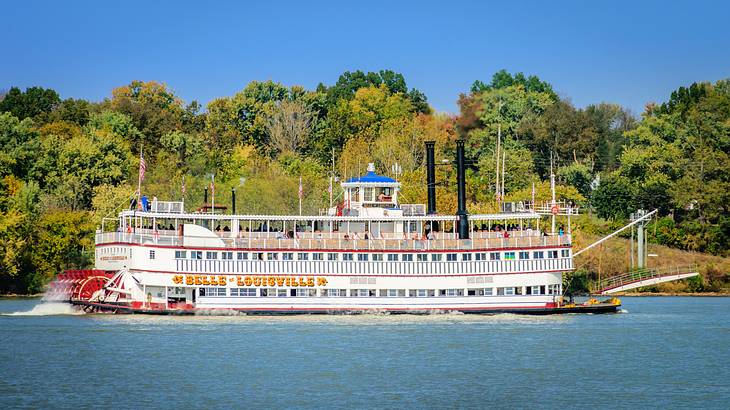 Falls City
Falls City, or the Fall City, has been a Louisville slogan since the 1880s. Louisville was founded on the banks of the Ohio River, near a natural waterfall, resulting in the area being dubbed with these titles.
Both of these monikers were among the city's most popular for many years, along with the related River City name. However, as Louisville became known for more things, like the Kentucky Derby and bourbon, Falls City began to decrease in usage. Today, you can still see it occasionally used in publications, and it's even on some souvenirs. However, it's most often found in historical or educational texts.
The Ville
Louisville's alternate name of the Ville has stuck around for a few different reasons. It's a more recent nickname to add to the city's list and is simply a shortened version of Louisville.
However, the name also has roots in the area's origins. This part of Kentucky was first settled by the French, who named it after King Louis XVI. In fact, "ville" means "town," so the name translates to Louis' Town. By popularizing this moniker, the city's French origins are kept alive.
As one of the most embraced names among residents, this nickname can be found in local publications, community blogs, event posts, and ads. It's also slowly starting to appear on souvenirs, though it's still most often a locally-used nickname.
In Summary
Louisville is known for a lot of things, from its location on the banks of the Ohio River to its bourbon distilleries. Many of these parts of the city's culture and identity are reflected in the area's monikers.
While you might have known about the region's reputation as River City, other names like Possibility City may have come as a surprise. Hopefully, this list has helped you learn a little more about this Kentucky city and inspired you to use a few of these nicknames for yourself!
Want to keep exploring?
Subscribe for discounts on tickets and hotels and our latest guides.
Thank you for subscribing
We will be in touch soon with discounts on tickets and hotels and our latest guides.
Want to keep exploring?
Subscribe for discounts on tickets and hotels and our latest guides.
Thank you for subscribing
We will be in touch soon with discounts on tickets and hotels and our latest guides.