50 Interesting & Fun Facts About Louisiana State
Destguides may receive commissions from purchases made through affiliate links in this article.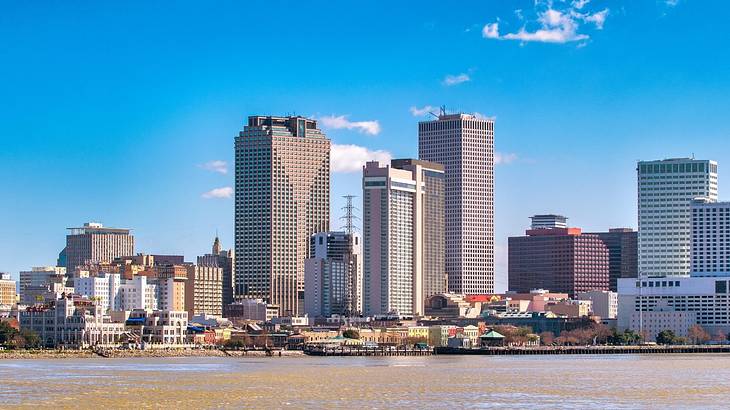 Known for lively music, food, and Mardi Gras, Louisiana is a unique and fascinating place. With world-famous cities like New Orleans and Baton Rouge, Louisiana is full of history, mystery, charm, and allegedly even ghosts!
Ghost tours, haunted hotels, and centuries-old cemeteries are among the most visited places in the state. From the Big Easy to the Bayou, there are many fun facts about Louisiana state to know. Keep reading to learn 50 interesting facts about the state of Louisiana!
50 Louisiana State Facts
Louisiana Facts Video
Check out our highlights video of Louisiana facts.
Lousiana Fun Facts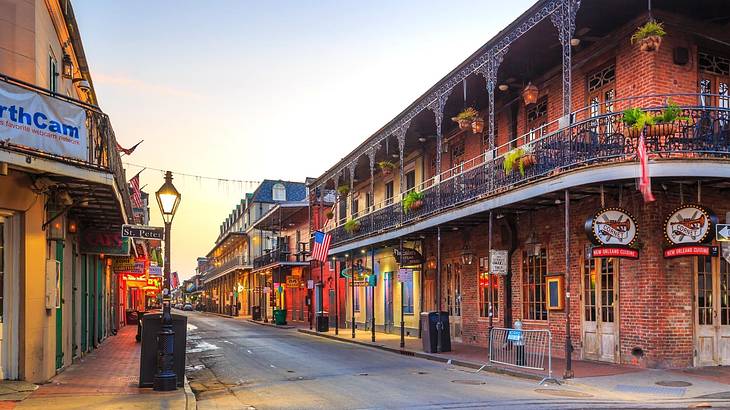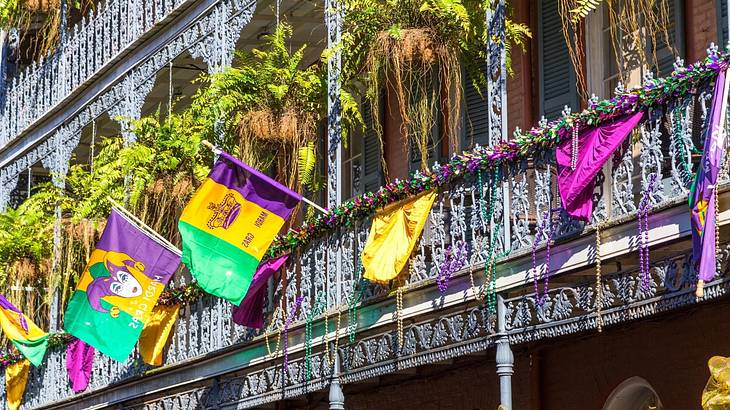 Louisiana is world famous for Mardi Gras
Mardi Gras has been celebrated since the Middle Ages in European countries as part of religious customs. French settlers in Louisiana began celebrating Mardi Gras in the late 1600s, declaring an area near New Orleans as "Pointe du Mardi Gras."
The tradition of Mardi Gras is still held in New Orleans with days-long festivities, including music, food, art, and cultural celebrations. People come from around the world to experience Mardi Gras. The laid-back party vibes of the city also led to some referring to New Orleans as "The Big Easy."
Jazz came from New Orleans
No one can pinpoint precisely when jazz began, but they know it all started in New Orleans. Some say it grew out of voodoo drumming rituals in the 1800s, while others say it began in the 1900s with the addition of instruments. Regardless, jazz has been and continues to be the lifeblood of New Orleans.
Many famous jazz musicians came from New Orleans, including Louis Armstrong. From the festivals and celebrations to the street music of the French Quarter, jazz is ingrained in the soul and the streets of New Orleans.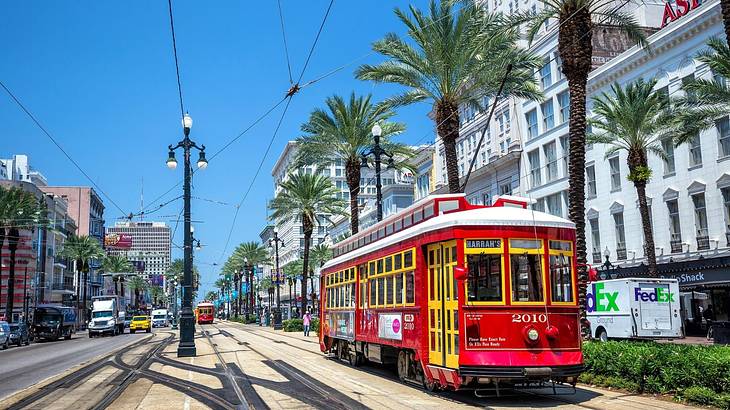 The French Quarter is the oldest neighborhood in New Orleans
Founded in 1718, the French Quarter is the oldest neighborhood in New Orleans. Several historical facts about Louisiana originated here.
Also known as the "Vieux Carré," the French Quarter is home to Bourbon Street, Café du Monde, and many other famous historical sites. It is one of the most visited places in Louisiana and offers excellent food, art, culture, music, and celebrations.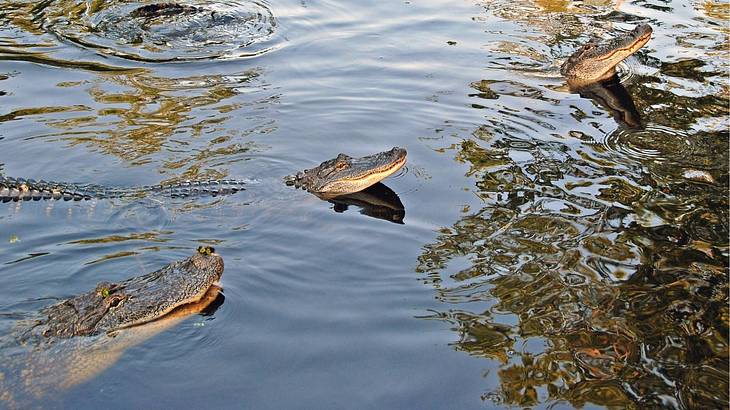 Louisiana has more alligators than any other state
While Florida is often thought of as the alligator capital, Louisiana reigns supreme with an alligator population that surpasses it by nearly threefold!
Over 2 million alligators live in Louisiana's coastal marshes, swamps, and bayous across the state. Records of alligators in Louisiana go back to the diaries of French explorers in the late 1600s, but these reptiles have likely been around much longer.
The state is famous for its hot sauce
Since its launch in 1928, the famous Louisiana Hot Sauce has been a staple in Louisiana kitchens ever since. The sauce continues to be crafted with its original recipe, captivating taste buds and retaining its popularity among hot sauce enthusiasts.
Tabasco hot sauce also originated in Louisiana. The first Tabasco factory opened in 1868 and is still operational. Hot sauce lovers can tour the factory and see how the sauce is made.
You can get coffee and beignets 24 hours a day in New Orleans
The world-famous Café du Monde has been a New Orleans staple since 1862. This historic café serves traditional New Orleans chicory coffee and mouthwatering beignets that are available 24/7.
People come from all over to try their signature sugar-dusted French donuts. Café Du Monde's beignets are so famous that they've even begun shipping their beignet mix worldwide.
Bananas Foster was created in Louisiana
Another interesting fact about Louisiana food, Bananas Foster was born there! This classic dessert made with bananas cooked in brown sugar and rum was created at the historic Brennan's Restaurant in New Orleans in the 1950s.
The creation stemmed from a surplus of bananas and was an instant success. Bananas Foster remains a popular dessert in Louisiana and the United States.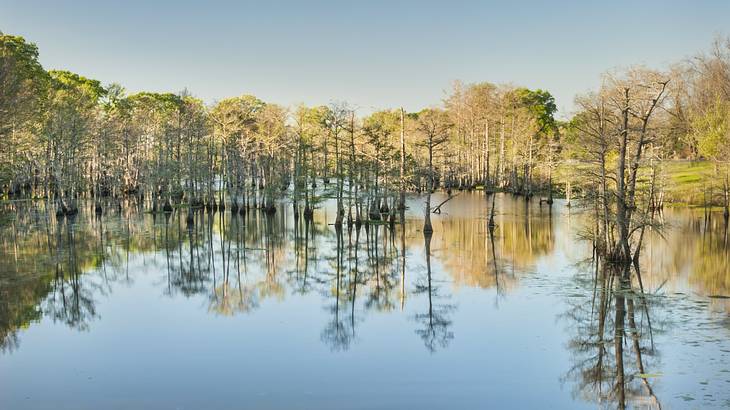 The state has trees that are hundreds of years old
Bald cypress trees, which grow in the swamps of Louisiana, can be hundreds of years old, with a few even dating over 1000 years. These trees recently came under protection to stop overcutting and give the current trees time to regrow. The bald cypress is also the official Louisiana state tree.
Louisiana is home to the Super Bowl champions, the New Orleans Saints
The New Orleans Saints football team was established in 1967. The team's name, "Saints," was inspired by their birthday aligning with the Roman Catholic Church's All Saints Day, reflecting the deep Catholic ties in the New Orleans area.
The Saints won the 2010 Super Bowl, launching their quarterback Drew Brees into instant stardom for his two touchdown passes during the game.
The world's first indoor movie theater was in New Orleans
First opened in 1896, Vitascope Hall was the first indoor movie theater in the world. The theater was established by businessman William "Pop" Rock and Walter Wainwright and named for the Vitascope film projector that played the movies. Vitascope Hall is now part of a hotel and holds a historic marker commemorating its place in Louisiana facts and history.
Famous author Anne Rice was from Louisiana
Author Anne Rice, celebrated for The Vampire Chronicles series, attributed her artistic inspiration to her Louisiana roots. Many of her books were set in New Orleans, including Interview with the Vampire, which became a movie filmed in New Orleans. Rice also wrote the screenplay for the movie, which starred Brad Pitt and Tom Cruise and became a cult classic.
Louisiana is a top strawberry producer in the US
Strawberries are a top commodity in Louisiana and have been since 1876. Louisiana is among the top 10 exporters of strawberries in the US. Every April, a strawberry festival is held in the town of Ponchatoula, one of the largest strawberry growers in the state.
New Orleans is home to haunted bars
New Orleans is home to several bars that claim to be haunted, but none are as famous as Lafitte's Blacksmith Shop Bar. Lafitte's is one of the oldest buildings in the city. It dates back to the 1770s and is said to house the ghost of its original owner Jean Lafitte.
The first mixed cocktail was created in Louisiana
Legend has it that the first mixed cocktail, the Sazerac, was crafted by Antoine Amédée Peychaud in the 1830s, right in the heart of New Orleans. This beloved concoction features whiskey and bitters, as well as Herbsaint and sugar. It remains a local favorite and has even been designated as the official cocktail of New Orleans.
Louisiana is a gambling haven
Most people don't think of Louisiana for gambling, but the state has over 130 casinos. In 1991, Louisiana legalized statewide gambling.
It started with riverboat casinos on the Mississippi River and quickly grew to the large casino resorts seen around big cities in Louisiana today. Information on Louisiana casinos is a big draw for many visitors to the state.
Interesting Facts About Louisiana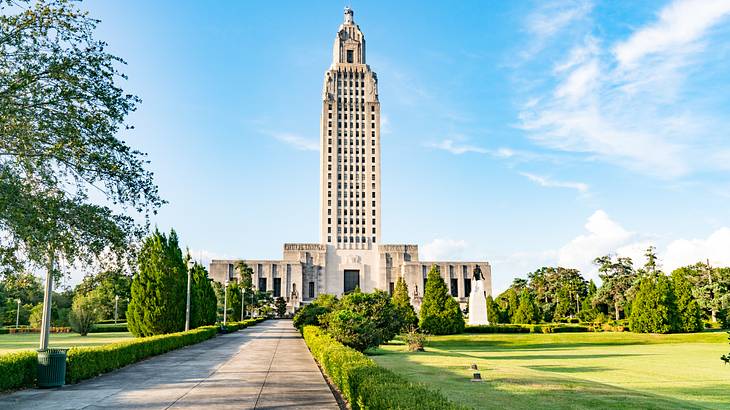 The tallest state capitol building in the country is in Louisiana
Towering over 450 feet, Louisiana has the tallest state capitol in the US. The Capitol Building was constructed in 1931 after the previous Capitol Building was deemed unfit due to an aging facility and growing government body. The Capitol sits on the National Register of Historic Places.
Louisiana is the birthplace of Creole cuisine
Louisiana is known for its vibrant culture and cuisine, notably Creole. Creole cuisine is said to have originated in New Orleans hundreds of years ago, with influences from the French, Spanish, African, and Indigenous cultures.
Many Creole restaurants can be found in New Orleans and across the state. Visitors to Louisiana revel in trying all of the rich and flavorful Creole dishes like jambalayas, gumbos, and étouffées the state is famous for.
New Orleans was home to famed Voodoo Queen Marie Laveau
None of New Orleans' mystery and folklore is more widely discussed than Marie Laveau. Known as the "Voodoo Queen of New Orleans", Marie Laveau was a prominent figure in the French Quarter in the 1800s.
A hairdresser by day and a voodoo priestess by night, Laveau led many spiritual ceremonies and celebrations and was an icon to her followers. Even after she died in 1881, her tomb remains the most visited in New Orleans, cementing her status as an enduring icon in Louisiana's history and folklore.
Louisiana's Lake Pontchartrain Causeway is the world's longest bridge over water
The Lake Pontchartrain Causeway spans approximately 24 miles at its longest point and takes about 25 minutes to drive across. It is the longest bridge over water in the world.
Originally built in 1955 to connect once-ferry-dependent cities on opposite ends of Lake Pontchartrain, this iconic causeway has undergone several reconstructions and has emerged as one of Louisiana's busiest and most vital thoroughfares.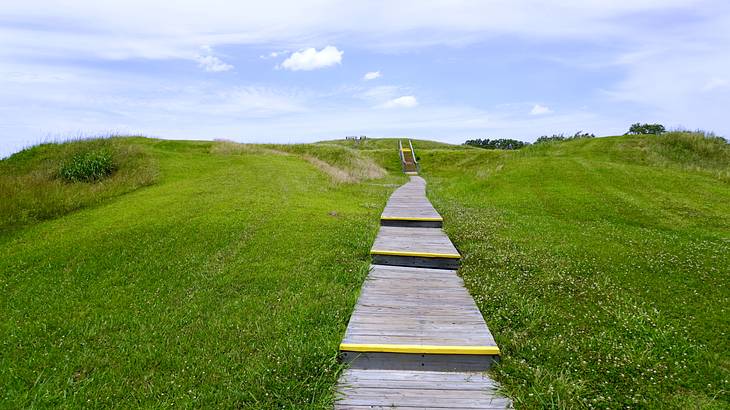 The state is home to an ancient city, Poverty Point World Heritage Site
Believed to be over 3,400 years old, Poverty Point is a massive area of archaeological ruins in northeast Louisiana. The remains of several sculpted mounds and millions of artifacts have been found at Poverty Point.
Archaeologists speculate that it was once a city consisting of homes, a trade center, and a proper place for an ancient indigenous culture.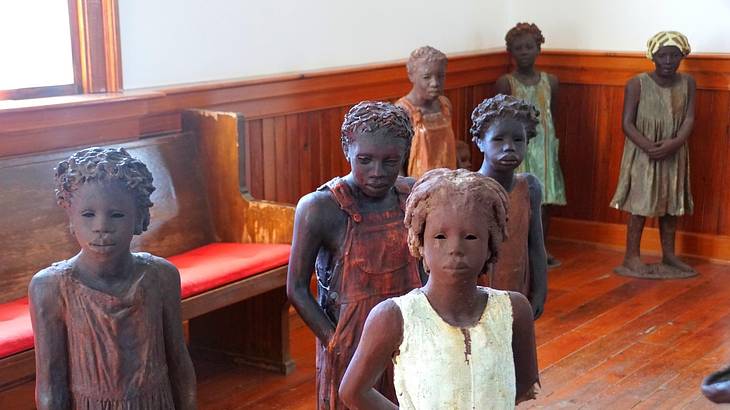 The Whitney Plantation is the only former plantation with a sole focus on slavery
While numerous former plantations in the South overlook or evade their history of slavery during tours and events, The Whitney Plantation takes a distinct approach by prioritizing public education about the harrowing realities of slavery.
Amongst the many slave plantations that dotted Louisiana in the 1700s and 1800s, the Whitney Plantation stands as a stark reminder of one of the darker chapters in Louisiana's history.
Following the abolition of slavery in 1865, the plantation transitioned into a wage-working system. Drawing upon firsthand accounts and records from formerly enslaved individuals, the present-day exhibits at the Whitney Plantation offer poignant insights.
The Whitney Plantation now serves as a museum and memorial to the over 100,000 enslaved people in Louisiana's history.
Louisiana has a diverse wildlife population
The Louisiana Department of Wildlife and Fisheries oversees vast expanses of wildlife management areas, refuges, and conservation areas spanning over 1.6 million acres.
These diverse habitats, from forests to marshlands, provide a haven for various game animals, fish, rare plants, and significant species like the Louisiana black bear.
The Louisiana black bear, recently recovered from the threatened list due to conservation efforts, is also the Louisiana state animal.
The Magnolia is the Louisiana state flower
Magnolia trees are found throughout Louisiana and are known for their beautiful and fragrant blooms. They are one of the oldest flowering trees and a staple in Louisiana landscapes. In 1900, the magnolia was established as the Louisiana state flower.
Louisiana is home to the National WWII Museum
The National WWII Museum in New Orleans is designated by Congress as the official United States museum to remember WWII. It showcases exhibits and artifacts relating to the second world war.
The museum opened on June 6th, 2000, the 56th anniversary of D-Day. In addition to all the educational exhibits, the museum regularly hosts educational events and commemorations for the heroes of WWII.
Cemeteries in New Orleans are above ground
The city of New Orleans sits on historical swamp lands and is below sea level. When the first cemeteries were constructed hundreds of years ago, it was discovered they could become flooded or displaced due to the high water table. Thus began the tradition of above-ground tombs in New Orleans.
Louisiana has one of the highest natural gas reserves in the United States
Louisiana stands at the forefront of the energy sector, ranking 3rd in natural gas production nationwide. With a notable surge of nearly 50% in natural gas exports since 2020, the state plays a pivotal role in driving forward cleaner fuel technology. Most of Louisiana's natural gas comes from the Haynesville Shale, discovered in 2008.
The eastern brown pelican is the official state bird
The eastern brown pelican can be found along almost all the waterways in Louisiana. These majestic diving birds have been admired since the 1700s when French explorers journaled about them during their time on the Gulf Coast.
The eastern brown pelican is not only the official Louisiana state bird; these birds also grace the Louisiana state flag and seal. Surrounding the pelican on the flag and seal are three pelican chicks that represent the Louisiana state motto of "Union, Justice, and Confidence." Thus, earning the nickname for Louisiana, the "Pelican State."
The state was devastated by Hurricane Katrina in 2005
One of the most painfully notable times in Louisiana's facts and history was the landfall of Hurricane Katrina on August 29th, 2005. Levees breached during the hurricane, causing thousands of people to be trapped in their homes with rising flood waters.
Hurricane Katrina caused catastrophic flooding and loss of life in New Orleans and neighboring areas. It was one of the deadliest hurricanes in US history.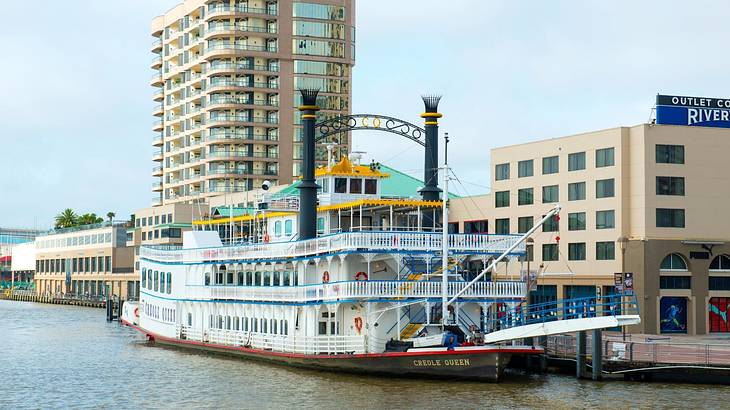 Louisiana is a popular cruise destination
The Port of New Orleans is one of the largest cruise ports in the US and one of the most popular stops. Major cruise lines such as Carnival, Norwegian, Royal Caribbean, and Disney all sail in and out of New Orleans.
Smaller cruise lines offering Mississippi River Cruises also operate from the port, including American Queen Steamboat and Viking River Cruises.
Famous actor and musician Harry Connick Jr. is from Louisiana
Harry Connick Jr. was born and grew up in New Orleans and began playing instruments at age 3. Now a famed jazz musician and actor, Harry Connick Jr. is very active in New Orleans music and culture. He regularly plays at jazz festivals and founded the Krewe of Orpheus, a Mardi Gras event.
Weird Facts About Louisiana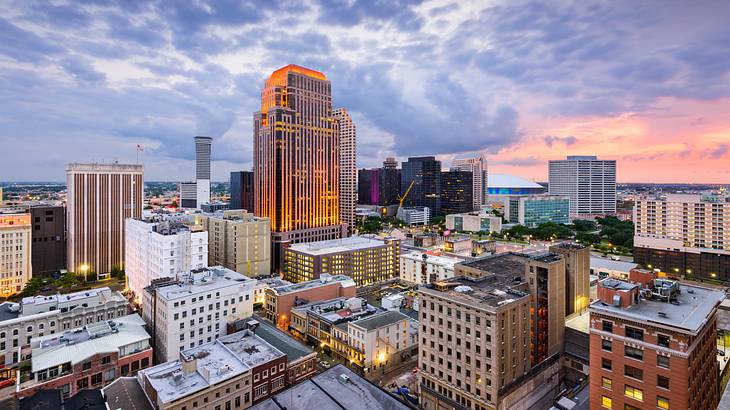 New Orleans has modern-day "vampires"
While Louisiana has a long history of vampire legends and folklore, there is a "real-life community of vampires" residing in present-day New Orleans. This group of self-identifying vampires periodically consume human blood from willing participants they refer to as "donors."
Some members of this vampire community have even had their teeth altered into fang shapes. It is estimated there are about 50 active members of this vampire community in New Orleans.
Louisiana's political landscape is defined by parishes
One of the most unique state facts about Louisiana is its division of regions. While most states separate their lands into counties, Louisiana does things differently.
Setting itself apart from other states in America, Louisiana stands as the sole state whose political subdivisions are known as parishes, not counties.
With a total of 64 parishes, this distinctive system reflects Louisiana's historical ties to Roman Catholic influence and preserves elements of its rich past.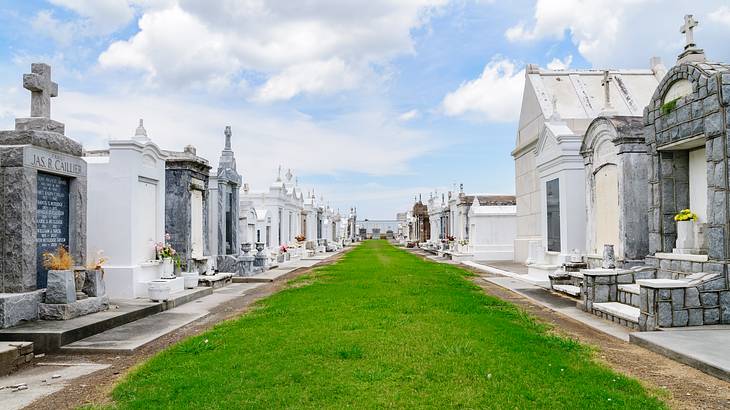 The Saint Louis Cemetery draws over 100,000 visitors a year
Known as "the city of the dead'', the Saint Louis Cemetery in New Orleans is one of the country's oldest and most visited cemeteries.
Dating back to 1789, the Saint Louis Cemetery has many famous and historical gravesites, including Marie Laveau, the "Voodoo Queen of New Orleans." The cemetery intrigues over 100,000 visitors a year with its history and unique above-ground tomb structure.
New Orleans has a Museum of Death
Not for the faint of heart, the Museum of Death showcases macabre exhibits and artifacts. Many of their presentations relate to gruesome murders and notorious serial killers.
Visitors interested in true crime find it fascinating, while others report the museum goes too far. Regardless, the Museum of Death remains a popular attraction for those interested in all the creepy happenings in New Orleans.
Louisiana is nicknamed the Pelican State
Louisiana is known for the brown pelicans that frequent the state's waterways and are the official state bird. The pelican is also prominently featured on many Louisiana state symbols, including the Flag, Seal, and brochures offering information on Louisiana. This has led to the Louisiana state nickname of the Pelican State.
Facts About Louisiana History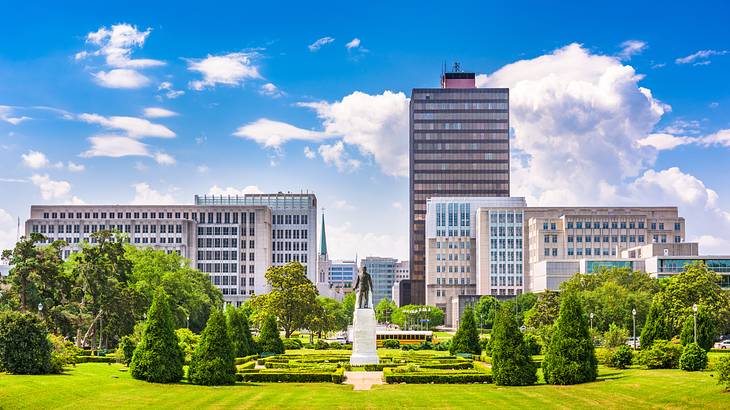 Louisiana was named for French King Louis XIV
During French control of the area in the 1600s, the state was named Louisiana in honor of France's King Louis XIV. It was part of a district known as "New France''. The state was sold to the United States during the Louisiana Purchase, cutting all ties with the French government, but the name remained.
Louisiana's capital, Baton Rouge, was once the location of a three-hour battle
On September 21st, 1779, during the Anglo-Spanish War, The Battle of Baton Rouge occurred between the Spanish and the British. The battle took place at Fort New Richmond (nowadays Baton Rouge), which the British held. The siege lasted three hours before the Spanish prevailed.
Upon overtaking the fort and ending the British occupation of the Mississippi River, the Spanish renamed the fort, Fort San Carlos. The fort no longer exists today, but in its place is a marker and a low-set brick structure to remember it.
The Louisiana Purchase ended France's control over the region
In 1803, the United States purchased the territory of Louisiana, which encompassed modern-day Louisiana and some surrounding states that settlers had not yet named.
The land acquisition became known as the "Louisiana Purchase" and ended France's attempt at reestablishing a French Colonial Empire in North America.
The Louisiana Purchase also gave the United States critical trade access to the Mississippi River, shaping America's future prosperity and influence.
27 Civil War battles took place in Louisiana
Louisiana's economy thrived on cotton and sugar industries powered by slave labor, aligning the state with the Confederacy. Yet, a complex mix of loyalties emerged, with some residents, especially in the southern regions, sympathizing with the Union.
During the Civil War, Louisiana seceded from the Union in 1861 and became a Confederate state. The state witnessed 27 battles before ultimately surrendering. The capture of New Orleans by the Union marked a significant turning point for the war in Louisiana, as the city was a crucial trading port.
Louisiana was the 18th state added to the United States
While the United States had already acquired the area of Louisiana and some surrounding states in 1803, it didn't become a recognized state until 1812. On April 30th, 1812, Louisiana was admitted into the Union and became the 18th state in the United States of America.
Scary Facts About Louisiana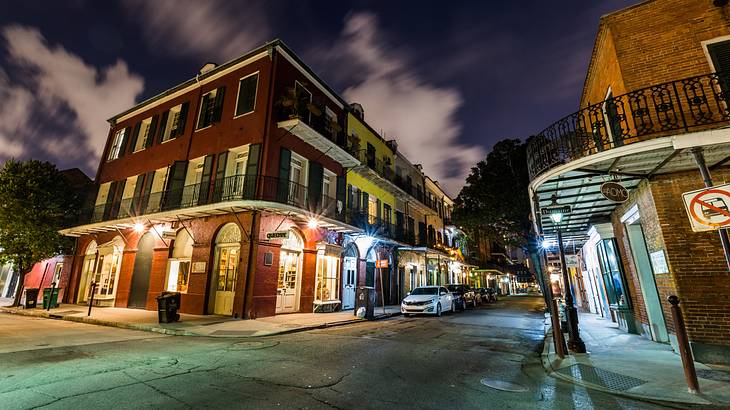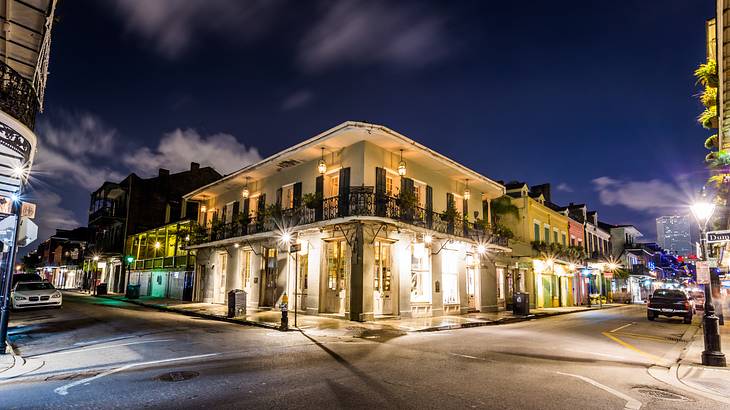 The most haunted city in America is considered to be New Orleans
With several sites being hundreds of years old and many atrocities committed there, New Orleans is known to be the most haunted city in America.
From cemeteries to occult shops and a variety of ghost tours throughout the city, it's easy to see why paranormal investigators flock to New Orleans.
New Orleans has 15 haunted hotels
With New Orleans being known as the most haunted city, it's no surprise many haunted hotels exist. In New Orleans, a whopping 15 different hotels are allegedly haunted.
These historic establishments, some dating back to the 1700s, have witnessed a multitude of deaths over the years, including the notorious 1919 New Orleans Axe murderer, adding to their eerie reputation.
The most haunted house in Louisiana is LaLaurie Mansion
One of the most horrifying in Louisiana history facts lies within LaLaurie Mansion. The Mansion was the site of unspeakable crimes by Madame LaLaurie, a New Orleans socialite of the early 1800s. Madame LaLaurie held captive enslaved people for torture and experimentation.
Hauntings have been reported by previous tenants, visitors, and employees of the building for almost 200 years. It is said that psychic mediums have visited the house and reported paranormal findings. It is now a popular stop on New Orleans city ghost tours and is considered by many to be the most haunted house in Louisiana.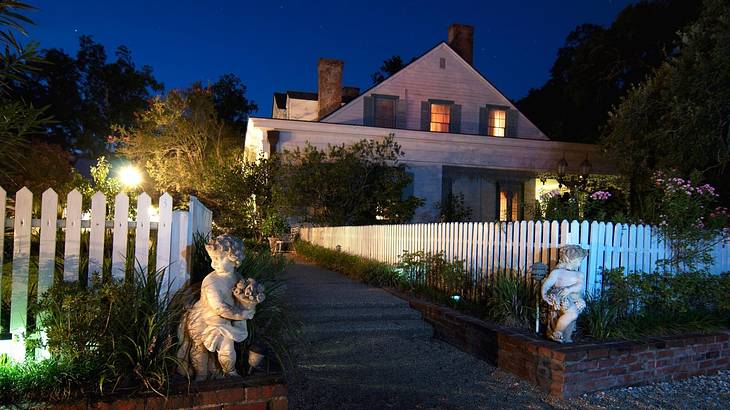 Myrtles Plantation is known as "One of America's Most Haunted Homes"
Myrtles Plantation has a sordid past and is a site of much paranormal speculation. In the 1800s, it was a slave plantation where heinous acts were committed. Numerous deaths have occurred on the property, which is also rumored to have been built on ancient burial grounds.
Visitors have reported strange occurrences, and ghostly figures have appeared in photographs taken on-site. Myrtles Plantation has been the subject of books and television shows documenting paranormal activity and is often called "One of America's Most Haunted Homes."
Louisiana has the highest homicide rate in the United States
While Louisiana has many positive aspects, there are also some negatives. One of the most unfortunate state facts about Louisiana is that they hold the highest homicide rate of any state in the US.
Most of these occurred in big cities like New Orleans and Baton Rouge, which have the highest populations in the state. Although Louisiana holds this unfavorable title, the tourist areas are generally still considered safe, as most homicides tend to occur in residential areas.
Cool Facts About Louisiana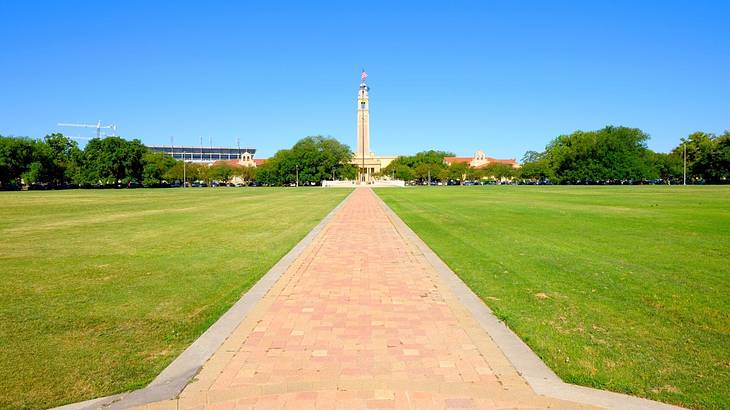 Louisiana has an official state dog
Named after the Catahoula Parish, the Catahoula Leopard Dog was proclaimed the Louisiana state dog in 1979. Originally used for hunting and herding, these intelligent, iconic dogs are known for their rare merle patterns.
It is understood that the Catahoula breed originated in Louisiana. The breed was formed when various breeds of dogs native to North America were bred with several breeds brought to North America by the Spanish Explorers in the 1500s.
Legendary pianist Fats Domino was from Louisiana
Antoine Dominique Domino Jr., better known by his stage name, Fats Domino, was born in 1928 in New Orleans. Domino went on to have a decades-long music career and won many accolades.
He was inducted into the Rock and Roll Hall of Fame and won a Grammy Lifetime Achievement Award. Fats Domino passed away in 2017 in Harvey, Louisiana. He remains a musical icon.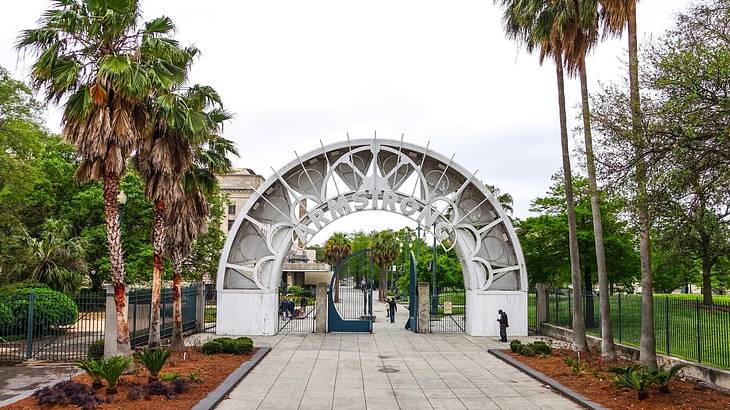 Louisiana is home to Louis Armstrong Park
Jazz legend Louis Armstrong was born in New Orleans in 1901. Armstrong later became a world-famous jazz musician and cultural icon.
The park dedicated to Louis Armstrong now sits at the edge of the French Quarter and is on the National Register of Historic Places. It is the site of local festivals and music throughout the year.
Famous jazz musician Jelly Roll Morton was from Louisiana
Born in New Orleans as Ferdinand Joseph LaMothe, Jelly Roll Morton was a famous jazz musician who claimed to have invented the genre.
Much debate exists around this, with other musicians claiming otherwise and so many different versions of information on Louisiana jazz. Whether he was or wasn't the inventor of jazz, Morton did compose some of its biggest hits like the Jelly Roll Blues and King Porter Stomp.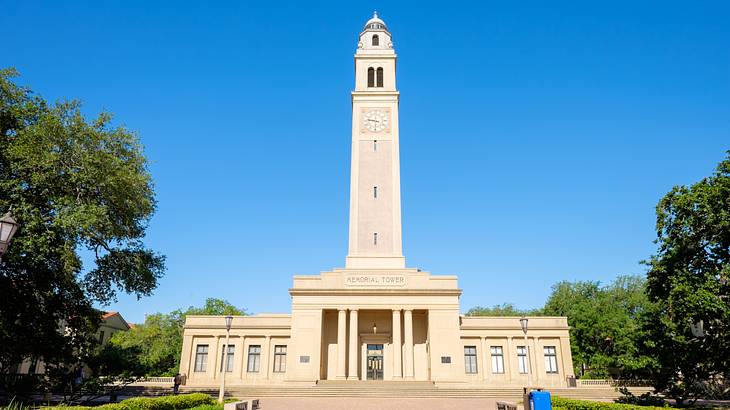 Louisiana State University has many famous alumni
Louisiana State University has been a staple of education in the state since its establishment in 1860. Since that time, many students have called LSU their alma mater, including some famous ones.
Famous NBA player Shaquille O'Neal, Olympian Lolo Jones, US Vice President Herbert Humphrey, and Journalist Don Lemon are just a few of LSU's famed alumni.
In Summary
These interesting Louisiana facts make it easy to see why the state is a top tourist destination. From big cities like Baton Rouge to small towns like Breaux Bridge and everything in between, Louisiana is full of captivating history and famous landmarks. Hopefully, this list helped you sharpen up on your Louisiana trivia skills!
Give us feedback about this article
More articles about Louisiana:
Read more articles about the United States:
More articles about facts:
---
---
Want to keep exploring?
Subscribe for discounts on tickets and hotels and our latest guides.
Thank you for subscribing
We will be in touch soon with discounts on tickets and hotels and our latest guides.
Want to keep exploring?
Subscribe for discounts on tickets and hotels and our latest guides.
Thank you for subscribing
We will be in touch soon with discounts on tickets and hotels and our latest guides.
Related Articles