50 Interesting & Fun Facts About Maine State
Destguides may receive commissions from purchases made through affiliate links in this article.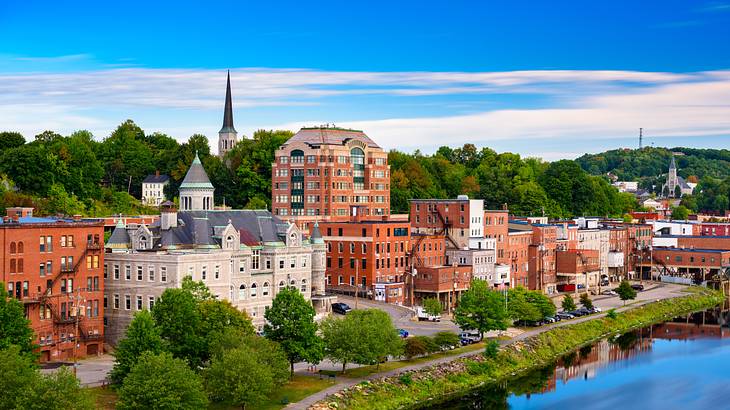 Maine is widely known for its blueberries, lobsters, and author Stephen King. Mainers, the people who call this northeast US state home, know there's a whole lot more that makes this state special. They'll be able to tell you that it was once the toothpick capital of the world, that it's home to an unlikely desert, and that donuts with holes originated here.
Maine is also famous for its breathtaking natural beauty. From the stony Acadia National Park on the coast to the vast expanses of uninterrupted forests in its interior, there is a lot to see and learn about this East Coast gem.
And while no one knows how Maine got its name, you'll learn a lot of the region's history with these 50 interesting and fun facts about Maine state. Continue reading to start your journey through the Pine Tree State!
50 Maine State Facts
Maine Facts Video
Check out our highlights video of Maine facts.
Maine Fun Facts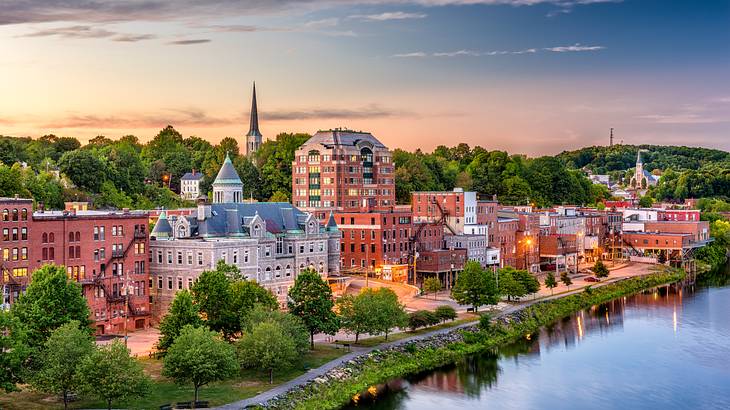 Maine became the 23rd US state in 1820
Maine was one of the first areas settled by British colonists but was sparsely populated and used for logging enterprises by the Massachusetts Bay Colony. By 1819, the population had increased enough to vote on statehood, and it officially entered the Union on March 15, 1820.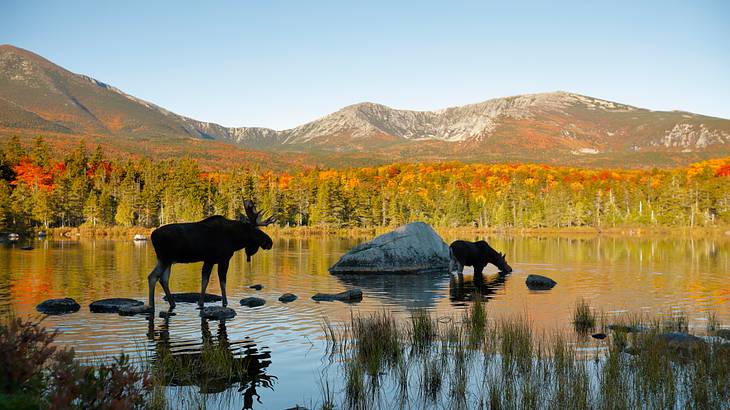 It has the highest moose population among the lower 48 states
The vast, undeveloped forests and cold winters in Maine create ideal conditions for their estimated 60,000-70,000 moose. This gives them the highest moose population in the lower 48 states. Only Alaska has more, with as many as 200,000 roaming the wild.
Maine is one of the New England states
New England is found in the northeasternmost reach of the United States, taking its name from the British colonists who began to settle there in the early 1600s. Since then, it has been separated into six different states: Rhode Island, Connecticut, Massachusetts, New Hampshire, Vermont, and Maine.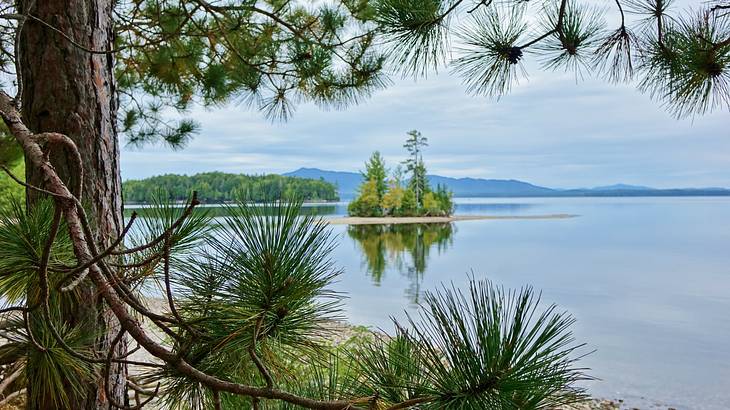 The nickname for Maine is the Pine Tree State
The Maine state nickname is the Pine Tree State due to its abundance of eastern white pines. This tree is also the official Maine state tree.
The official state insect of Maine is the honey bee
TheMaine state insect is the honey bee, though it is not native to the Americas. And though British colonists brought them in, they are not native to Europe, either. Instead, these prolific pollinators originate from sub-Saharan Africa.
The state capital of Maine is Augusta
When Maine became a state in 1920, the capital was Portland, which was temporary by design. A new, grander statehouse was built in the more centrally located capital of Augusta, which held its first legislative session in 1832.
Maine is 30,843 square miles in size
The state of Maine consists of 30,843 square miles of territory within its borders. This makes it significant compared with its New England neighbors but minor in the United States overall, ranking only 39th out of 50 in state size.
The state animal of Maine is the moose
Maine's state animal is the moose, and it's the only eastern state where these gigantic creatures thrive. Their long legs allow them to easily navigate through deep snow, and plenty of tree bark, balsam fir, and twigs get them through the winter.
The Maine state seal shows off their history and wildlife
The state seal of Maine shows a farmer and a seaman standing with their weight rested on a scythe and an anchor, respectively. Between them is a shield with a moose sitting at the base of a white pine. Written above is the Maine state motto, "Dirigo" ("I lead" in Latin), and this whole scene is displayed on Maine's state flag.
The Maine state population is 1.3 million
About 1.3 million people call Maine their home. Additionally, its mere 41.3 people per square mile give it a population density lower than any other state east of the Mississippi River.
The Maine state flower isn't a flower
Among the fun facts about Maine is that its state "flower" isn't a flower. Because of the importance of the eastern white pine tree, the white pine cone and tassel combine to hold the honor of representing Maine's state flower. The bloom of needles that make the tassel is soft, blue-green, and strongly scented.
The chickadee is the Maine state bird
The black-capped chickadee has been Maine's state bird since its adoption by the legislature in 1927. It's common to spot this stubby little bird in Maine at backyard feeders and deep in the piny wilderness.
Maine lobster was once used as fertilizer
Before it was the state crustacean of Maine, lobsters were far from being regarded as the delicacy they are today. Because they were so abundant, lobsters were used to feed prisoners and servants, as fertilizer for crops, or as bait for catching larger fish.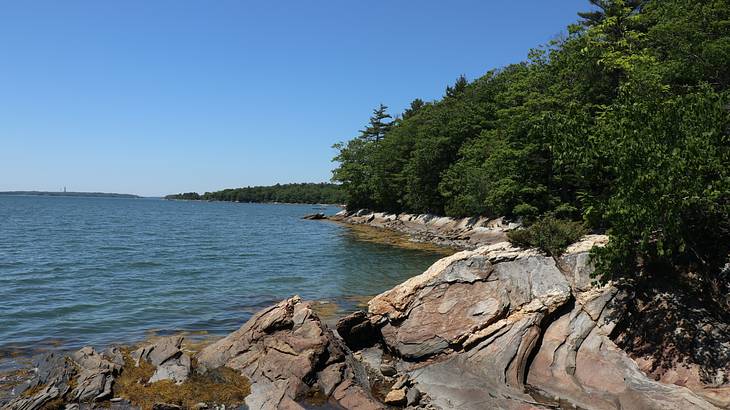 The coastline of Maine is either 228 miles long or 3,478 miles long
The length of the Maine coastline varies drastically depending on how you measure it. The general coastline covers about 228 miles, but when all of its inlets and more than 4,000 islands are accounted for, this number explodes to nearly 3,500 miles. By this measure, Maine has a longer coastline than California.
There are roughly 6,000 lakes and ponds in Maine
The last of the fun Maine facts is that it has 5,785 lakes covering about a million acres within its borders. The state's sparse population has kept most of these lakes clean, allowing for healthy fish and wildlife and providing residents with abundant, accessible drinking water.
Funny Facts About Maine
There's a desert in Maine
The Desert of Maine is the result of poor farming practices in the 1800s that led to the loss of vegetation and topsoil. It's not a climactic desert and gets plenty of rain, but its 40 acres of sandy dunes look the part.
"Maine" is the only monosyllabic state name in the country
Did you know that Maine is the only US state with one syllable? While Iowa, Ohio, and Utah may all be shorter words, Maine is the easiest state to say.
Maine is the easternmost US state
The full territory of the United States spans across oceans, and states like Hawaii and Alaska are not directly connected to the mainland.
In the contiguous United States, though, the easternmost point is at West Quoddy Head, Maine. This makes Maine the closest US state to Africa and the first place the sun rises in the country each morning.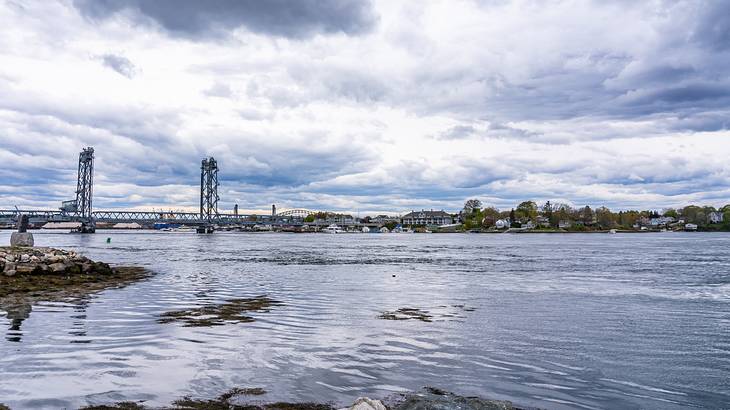 Maine is the only state to border one other state
A surprising fact about Maine is that it borders only one state. Every other state in the US borders at least one other state, but Maine shares a border with New Hampshire to its east. However, It borders two Canadian provincesuebec and New Brunswick.
Donut holes were born in Maine, probably
The origin of fried dough with a hole in the middle can be traced back to a Maine sea captain named Hanson Crocket Gregory. In one colorful story, he allegedly smashed his fried dough cake over the handle of his ship's wheel to free up his hands while steering through a storm, creating a hole. The most likely explanation is he realized he could avoid an undercooked center if he removed the middle.
Residents of Maine are called "Mainers" or "Down Easters"
It's always interesting to hear how groups of people refer to themselves. In Maine, they typically call themselves "Mainers" or "Down Easters" though the latter is also shared with some Canadian provinces. Sadly, they are not called "Maine-iacs."
Mainers have a tricky accent and vocabulary
In keeping with one of the names for people from Maine, their manner of speaking is called the "Downeast Accent." It can be confusing for non-Mainers when they drop the "r" out of words, call lobsters "bugs," or refer to a large, clumsy visitor as a "gawmy honkin flatlandah."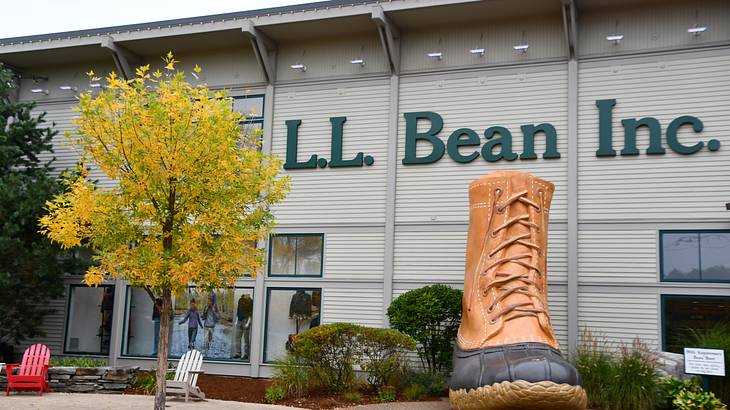 There's a size 410 boot in front of the flagship L.L. Bean store
One of the sillier facts about Maine the state is the size 410 boot standing in front of its flagship L.L. Bean store. The outdoor company is most famous for its iconic boots, so it makes sense that an enormous piece of footwear is the first thing visitors see.
Millions of toothpicks were produced in Maine everyday
The town of Strong, Maine, used to produce more than 15 million toothpicks per day. This accomplishment is even more impressive when you consider that Strong only had a population of around 1,000, yet was the toothpick capital of the world for a brief time.
Maine fought a "war" against British North America
In 1839, Maine resolved a longstanding border conflict with a British North American territory now part of Canada. The Aroostook War saw four Maine militia regiments march to the border, but no violence broke out. A treaty that gave Maine most of the logging territory and Britain a strategic military position was signed.
Interesting Facts About Maine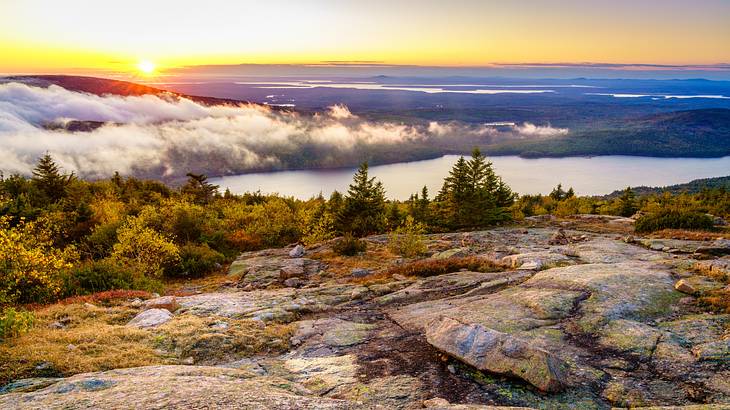 Acadia National Park is the oldest national park in the eastern US
The mountainous coastal region called Acadia National Park was established in 1919 and was called Lafayette National Park until 1929.
In a time when most national parks were being created in the west, Acadia was the first one established east of the Mississippi River and is still considered one of the best parks in the Eastern United States.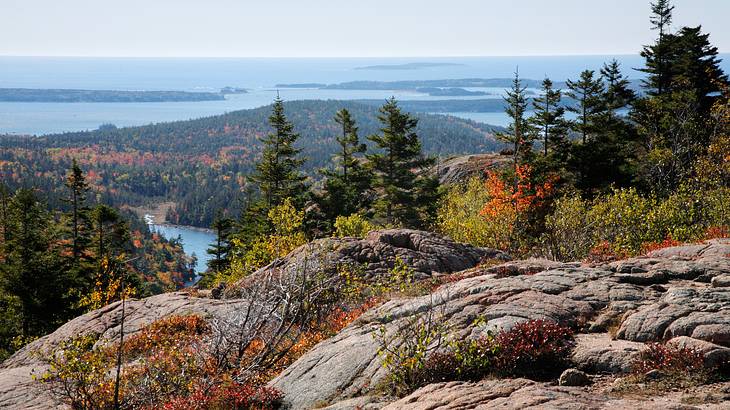 Cadillac Mountain is the tallest US mountain on the Atlantic Coast
Most of Acadia National Park is located on Mount Desert Island, and Cadillac Mountain is the island's highest peak. Its summit of 1,536 feet is not just tall locally but is also the United States' highest peak within 25 miles of the Atlantic Ocean.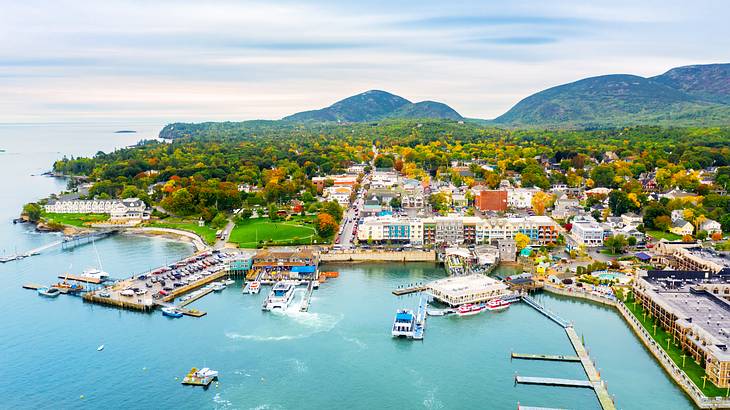 Mount Desert Island is the second-largest East Coast island
There's much more to Mount Desert Island than Cadillac Mountain. It's the contiguous United States' sixth largest island and second most prominent on the East Coast only to Long Island, New York. Not all of it is part of Acadia, and Bar Harbor is a thriving resort town.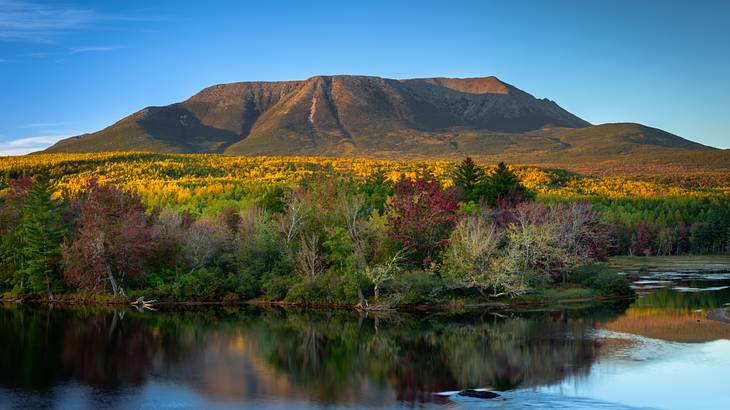 Baxter State Park marks the end of the Appalachian Trail
The entrance to Baxter State Park marks the northern end of the Appalachian Trail (AT), a 2,200-mile hiking path that extends south to Georgia. Though technically not part of the trail, many AT through-hikers finish their trek by climbing Baxter's Mount Katahdin, Maine's highest peak.
Portland Head Light in Cape Elizabeth was commissioned by George Washington
Portland Head Light was completed in 1791, making it the state's oldest lighthouse and a famous landmark in Maine. A bit of interesting information is that this beacon was commissioned by George Washington. He did this before the US government was even formed, and today the lighthouse is a National Historic Civil Engineering Landmark.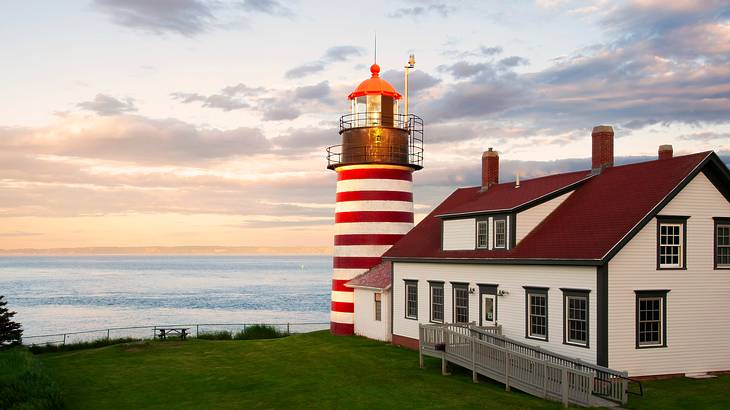 West Quoddy Head Lighthouse is in the National Register of Historic Places
The lighthouse in Quoddy Head State Park marks the easternmost point of the contiguous United States. Its iconic red-and-white stripes were part of its original construction in 1858, and it has been listed in the National Register of Historic Places since 1980.
Maine produces the most blueberries of any US state
Agriculture is an important industry for Maine, and one of its most well-known exports is its blueberries. That's because Maine produces nearly 100 million pounds of blueberries per year, more than any other state in the country.
There are 65 lighthouse stations in Maine
Maine's rocky coastal topography extends beneath the Atlantic Ocean, making it a historically hazardous area for ships. For this reason, Maine has 65 lighthouses dotting its shoreline, with many open to the public and doubling as museums or works of art.
There is a Valentine's Day town in Maine
The townspeople of Kennebunkport (called Kennebunks) go all out to celebrate Valentine's Day each February. This quaint town, numbering just over 3,000 residents, decks its buildings in red and white lights for its romantic "Paint the Town Red" events and attractions.
Mainers take New Year polar plunges to combat climate change
Making a fun challenge out of the state's frigid winter weather, it's become common for many coastal Maine towns and cities to host New Year "polar plunges" in the Atlantic. One of the most popular since 2009 is organized by the Natural Resources Council of Maine to support clean energy programs.
Maine History Facts
Vikings most likely came to Maine
The first of these Maine historical facts is that around the year 1000 CE, it's likely that the Vikings reached the coast of Maine and attempted to build a settlement.
This has a shaky truth as it's based on inconclusive Viking artifacts found in New England and stories from Leif Ericson of Vinland--his name for the land he explored west of Greenland.
Wabanaki tribes controlled much of Maine and Eastern Canada
"Wabanaki" means Dawnland and refers to the Algonquin tribes from the region now occupied by Maine and several Eastern Canadian provinces.
Four of these nations (Mi'kmaq, Maliseet, Passamaquoddy, and Penobscot) combined to form the Wabanaki Confederacy by the late 1600s to confront the growing numbers of English and French settlers.
Maine was home to the Revolutionary War's first naval battle
The first naval engagement of the Revolutionary War was fought in Machias Bay, Maine. In June 1775, townspeople discovered a British plan to resupply their besieged troops stuck in Boston. They used local ships to pursue and engage British Midshipman James Moore, killing him and capturing his crew and ship, the HMS Margaretta.
It gained statehood as part of the Missouri Compromise
In 1819, tensions were high regarding the continued enslavement of Black people in the US South. Admitting Maine threatened to shift the balance of power toward abolishing slavery.
In a deal known as the Missouri Compromise, southern states agreed to Maine's entry only if the Missouri Territory entered simultaneously as a slave state.
Maine sent the most soldiers per capita to fight in the Civil War
Maine facts and history from the American Civil War are fascinating. When the war broke out in 1861, Maine responded enthusiastically to defend the Union. Proportionate to its population, Maine sent the most soldiers of any state involved in the bloody conflict.
Weird Facts About Maine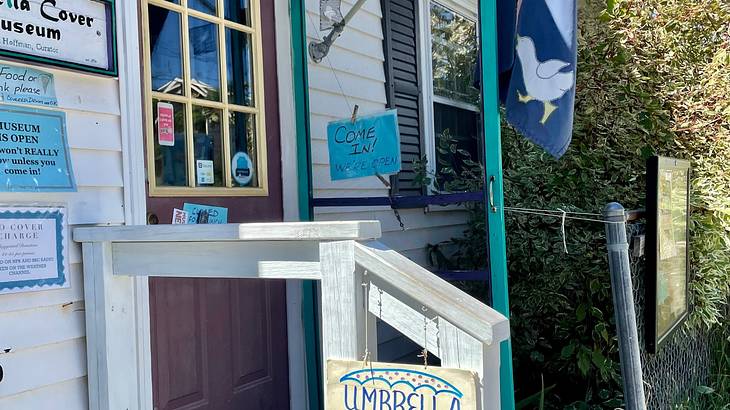 There is an umbrella cover museum in Maine
This baffling (yet charming) museum only contains and displays over 2,000 umbrella covers. The museum's mission is admirable, encouraging people to find beauty in the mundane.
Maine's Wild Blueberry Land preserves a history of preserves
Looking like a massive berry half submerged in the ground, the blue dome of Wild Blueberry Land in Columbia Falls beckons travelers from near and far. Since 2001, its proprietors have sold jams and built exhibits to showcase the region's long history of canning and preserving blueberries.
Perry's Nut House in Belfast, Maine, is superbly zany
In 1927, Perry's Nut House primarily sold pecans and only became nuttier. Founder I.L. Perry slowly introduced curios from his travels, culminating in a bizarre roadside attraction that included trick mirrors, a man-eating clam, and a stuffed water buffalo shot by former US President Teddy Roosevelt.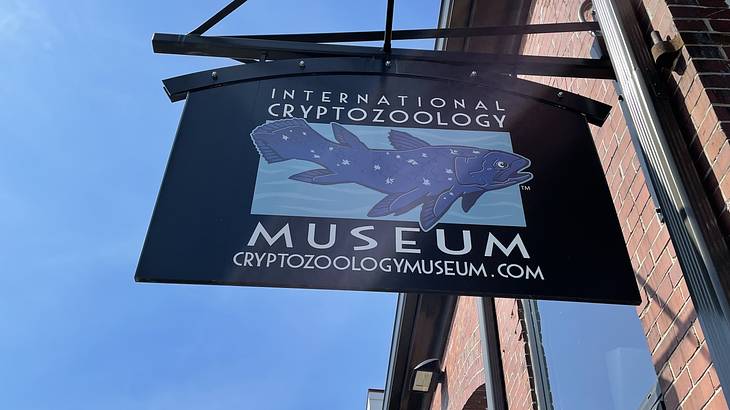 Fantasy becomes reality at the International Cryptozoology Museum
Cryptozoology is the study of intriguing but scientifically unverified mythical and legendary creatures, such as Bigfoot or the Loch Ness Monster.
This museum provides exhibits, evidence, and arguments for the existence, current or historical, of sea serpents, mermaids, and other undiscovered "cryptids" allegedly roaming the world.
Maine has a lot of reported UFO activity
Some weird information on the state of Maine is that since 1946 there have been approximately 1,000 reported UFO sightings here. Perhaps it's because the night sky is clearer without the light pollution of more urban areas, but this number ranks the Pine Tree state fourth in the country in total sightings.
Cool Facts About Maine
Maine Coon cats are gentle giants
The Maine Coon is the state cat of Maine and is one of the largest and oldest breeds of domestic cats in the US. These shaggy, social creatures can reach lengths of nearly four feet, making the largest of the breed roughly the size of a bobcat.
Allagash Brewing uses a million pounds of Maine-grown grain per year
In 2016, Maine's Allagash Brewing pledged to raise its usage of locally sourced grains from 200,000 to over 1,000,000 pounds per year. In 2021, they succeeded in their mission, making it one of the most sustainable brewing companies in the country.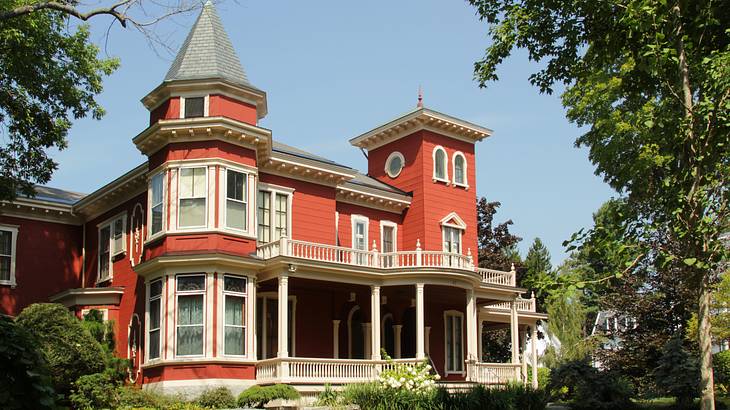 Author Stephen King's house in Bangor is a creepy Victorian mansion
Looking at Stephen King's house in Bangor, Maine, it's easy to imagine any of his tales of horror unfolding within. The Victorian Mansion has a brick facade with white trim and is surrounded by a wrought-iron fence that twists into sculptures of spiders and bats.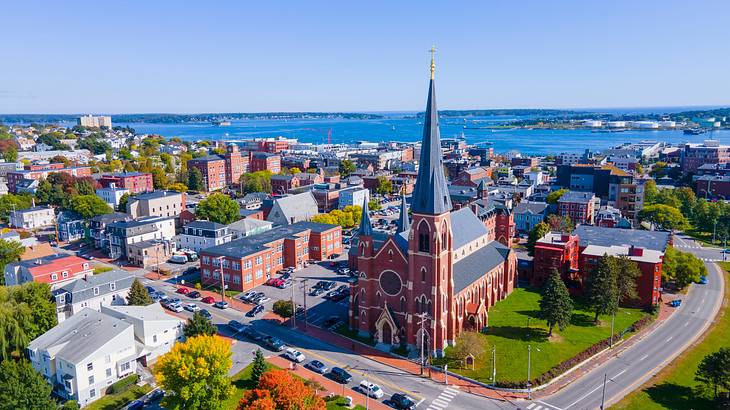 Henry Wadsworth Longfellow was born in Portland before it was Maine
The long, lyrical poems of Henry Wadsworth Longfellow made him the country's most famous and popular poet in the 19th century. He was born in Portland while it was still part of the Massachusetts colony, though modern Mainers claim him as their own.
Maine is equidistant from the equator and the North Pole
Maine is a northern state with long, cold winters, but it's worth remembering that it's just as close to the equator as it is to the North Pole. The equator is found at 0 degrees latitude, and the North Pole is located at 90 degrees latitude, with the 45th parallel cutting through much of Maine's landscape.
Conclusion
In the far northeast of the United States, Maine awaits curious and adventurous visitors to come here and learn more about the state. Its rich history goes back well before it was a state to the territory of the Wabanaki Confederacy and its later inclusion in the Massachusetts Bay Colony.
The more you learn about Maine, the more you realize what an interesting, curious, and cool place it is. Even in neighboring New England states, there's nothing quite like it. If you make it out to the Pine Tree state, let this list of facts be your guide to its wonders!
---
---
Want to keep exploring?
Subscribe for discounts on tickets and hotels and our latest guides.
Thank you for subscribing
We will be in touch soon with discounts on tickets and hotels and our latest guides.
Want to keep exploring?
Subscribe for discounts on tickets and hotels and our latest guides.
Thank you for subscribing
We will be in touch soon with discounts on tickets and hotels and our latest guides.
Related Articles