35 Fun Date Ideas in Minneapolis, MN
Destguides may receive commissions from purchases made through affiliate links in this article.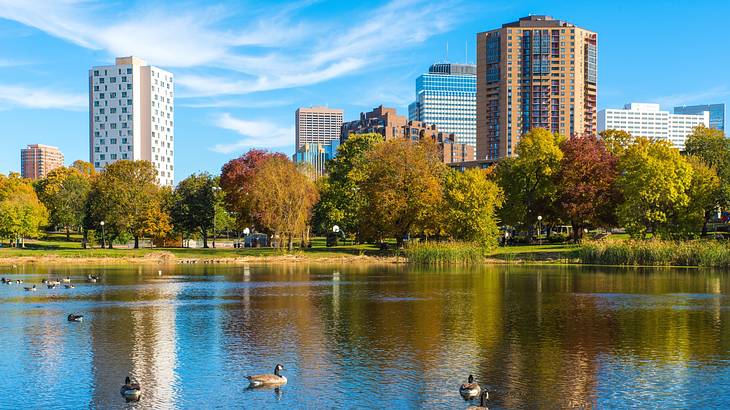 Whether you live in Minneapolis or are visiting, you'll find no shortage of fantastic places to go on a date in and around this Minnesotan city. Fun date ideas in Minneapolis, MN, range from going to a Minnesota Vikings game to exploring interesting art galleries and walking through pretty parks and gardens.
You and your other half can also find many things to do together at night, like dining at romantic restaurants or getting drinks at unique bars. If you want to learn more about all the things to do on a date in Minneapolis, keep reading for 35 ideas!
35 Date Ideas for Minneapolis
Best Date Ideas in Minneapolis, MN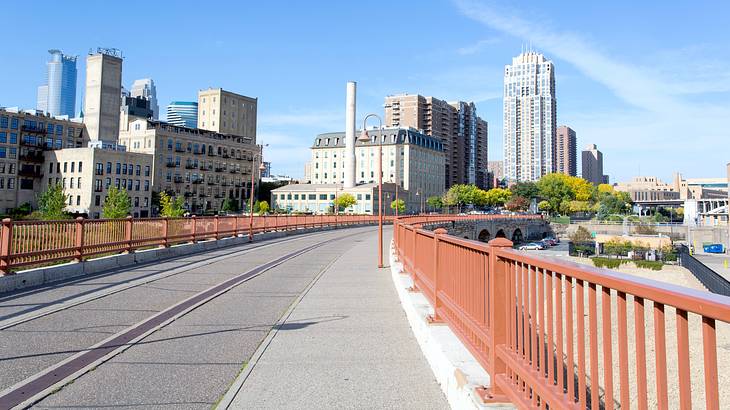 Stroll across Stone Arch Bridge
Stone Arch Bridge is a famous landmark in Minneapolis, and wandering across the bridge with your date offers scenic views. The bridge was constructed in the 1880s and crosses the Mississippi River at Saint Anthony Falls in Downtown Minneapolis.
As you walk over the bridge, you can take in views of the river, Saint Anthony Falls, and the Minneapolis skyline.
Look for wildlife at Lyndale Park Gardens
Lyndale Park Gardens has a beautiful rose garden and other gardens with flowers, fountains, and more. Along with strolling through these gardens, you can see lots of wildlife at the park.
You can also visit the Lyndale Park Butterfly and Hummingbird Garden to see colorful birds and butterflies. You can then head to the Roberts Bird Sanctuary, which is home to eagles, owls, warblers, and more!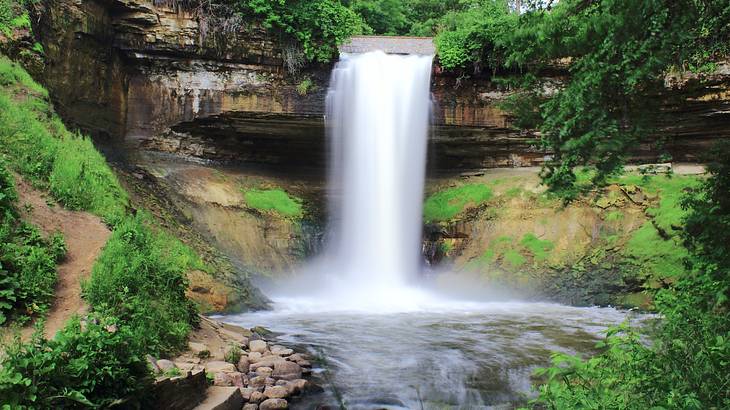 Marvel at the waterfall at Minnehaha Park
Minnehaha Park is an excellent outdoor space to explore together. Notably, the park is home to the stunning Minnehaha Falls. You can find various trails that take you to viewing decks overlooking the waterfall.
After seeing the falls, you can follow more trails, explore gardens, and even play disc golf. You and your date could also order a self-guided tour of Minnehaha Park, which will take you to all the best spots, including Minnehaha Falls.
Try axe throwing!
If you want to plan a unique date in Minneapolis, take your partner axe throwing! At Bad Axe Throwing, you'll be taught the basics before having a go at hitting the target. Food and drinks, including alcoholic drinks, can also be enjoyed here.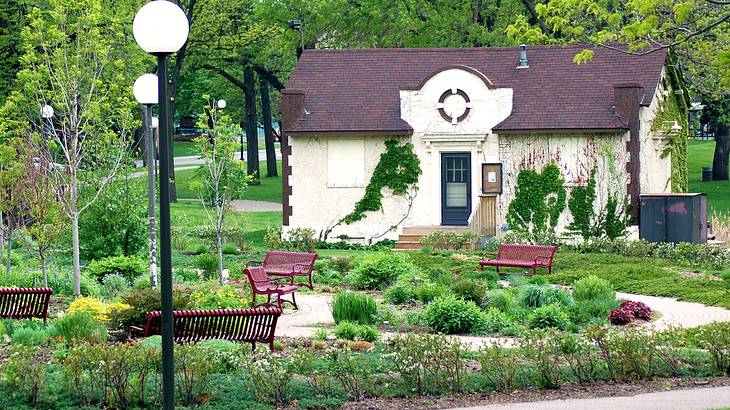 Cycle around Loring Park
Loring Park is a neighborhood named after the green space of the same name located within the district. One of the fun things for couples to do in Minneapolis when in this area is exploring on bike.
There are cycle trails that take you through the scenic park and around its vast lake. You can then explore the rest of the area, which has independent shops and lots of bars, restaurants, and cafes.
Appreciate the collection at the Minneapolis Institute of Art
The Minneapolis Institute of Art is a can't-miss attraction for couples that love art. However, even if you aren't art enthusiasts, it's still a fun place to explore together.
The gallery has a collection of over 89,000 objects, including pieces dating back thousands of years. Works to see range from paintings and drawings to sculptures, pottery, and ancient artifacts.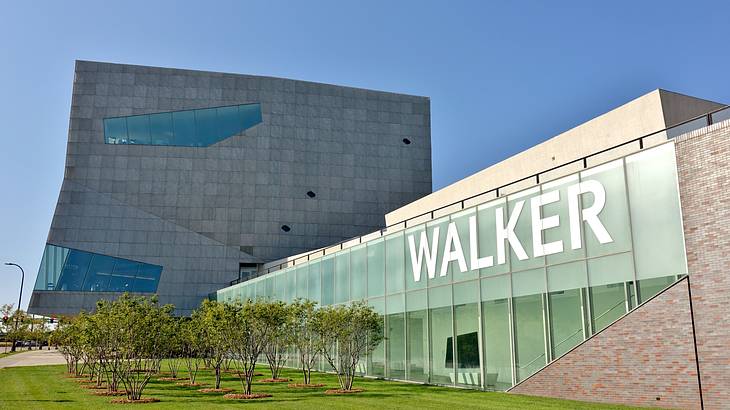 Look around the Walker Art Center
The Walker Art Center is an interesting arts and culture attraction to visit together. The space showcases works by local and upcoming artists and includes paintings, photographs, fashion pieces, multi-media installations, and more. There's also a cinema showing independent films.
Catch a Minnesota Vikings game
Between September and the start of January, sports-loving couples in Minneapolis can go to a Minnesota Vikings game. The NFL team plays its home games at U.S. Bank Stadium, located in Downtown East (which is also one of the best places to stay in Minneapolis).
Even if you aren't the biggest football fan, cheering the team on together is sure to be fun. Just remember to wrap up warm if going to a game in the colder months!
Cheer for the Minnesota Timberwolves
Going to a Minnesota Timberwolves NBA game is another great idea for sports fans. This team plays at the Target Center, also downtown, and you can catch a game between October and April in the regular season. Games are generally played in the evening on weekdays but may be held during the day on weekends and holidays.
Minneapolis Date Night Restaurants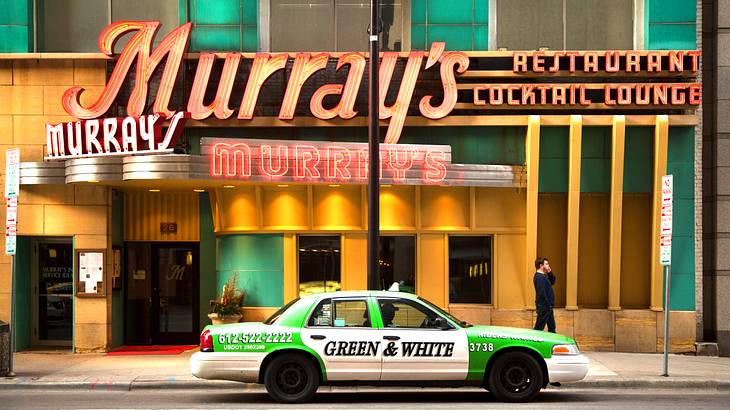 Murray's
Murray's is a popular steakhouse in Minneapolis that's been in the city since 1946. Along with steak, you can order dishes like mushroom risotto, caesar salad, and arancini. You and your other half can accompany your meal with cocktails or choose a bottle or two from the extensive wine list.
North Loop Galley
North Loop Gallery comprises multiple eateries in one space, making it the ideal place to go for a unique dinner date. This luxury food court features everything from pizza to Hawaiian and Japanese dishes.
You can also order draft beer and cocktails, and there's a cute outdoor patio that's pet-friendly if you or your date want to bring your pup along!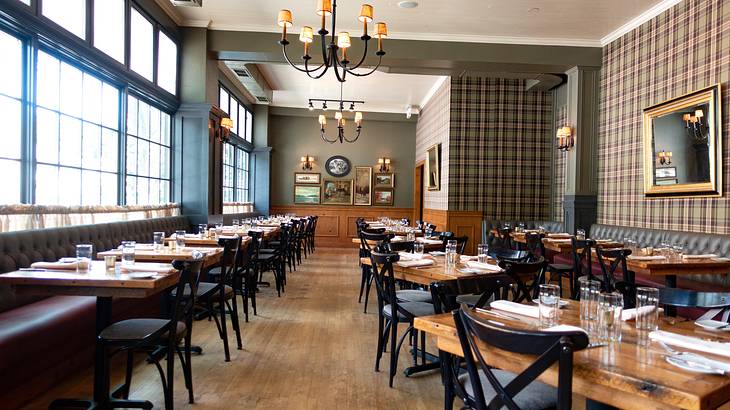 The Kenwood Restaurant
The Kenwood Restaurant is a contemporary American restaurant with a stylish indoor dining room and a patio. Fine dining dishes on offer range from spaghetti with Calabrian chili and smoked mussels or mixed mushroom campanelle to burgers and various salads. Brunch is also served if you can't make it for dinner.
Broders' Pasta Bar
Another of many fun date spots in Minneapolis for dinner is Broders' Pasta Bar. As the name suggests, the restaurant specializes in pasta dishes and has over 30 options to choose from, with risotto and appetizers also available.
To accompany your meal, Italian wine is on offer, and you can finish with a decadent dessert like tiramisu or profiteroles.
Francis Burger Joint
Whether you eat exclusively plant-based or not, Francis Burger Joint is a must-visit date night spot! At the trendy burger restaurant, you can get veggie burgers with various toppings as well as vegan chicken sandwiches, chili fries, salad bowls, and much more. Cocktails and plant-based baked goods, like cookies, can also be enjoyed.
Fun Date Night Ideas in Minneapolis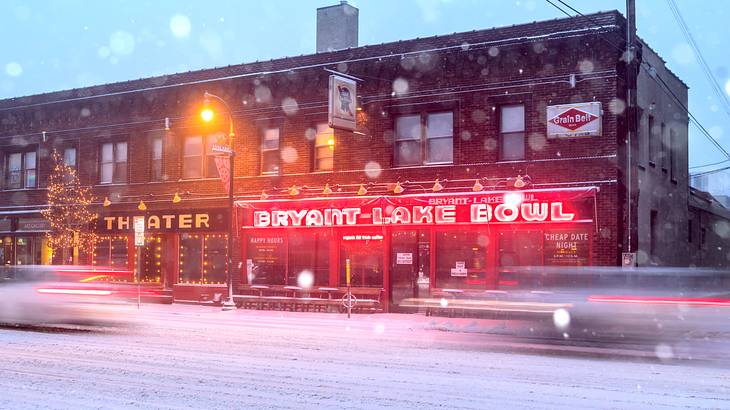 Check out Bryant Lake Bowl & Theater
Bryant Lake Bowl & Theater is a fun place to spend the evening with your date. This venue has a retro bowling alley as well as a theater showing classic movies and independent films.
You can also order food and there's an extensive beer and cider menu. Bryant Lake Bowl & Theater even has a date night special, which includes a game of bowling, food, and alcoholic drinks for a discounted price.
Sip cocktails at Norseman Distillery
Norseman Distillery is the ideal place to go to chat with your date over drinks. At the distillery, you can order cocktails made with the brand's gins, rums, or flavored liqueurs.
Events like trivia nights and comedy shows are also hosted in the evenings. You can even take cocktail-making classes, and tours of the distillery are hosted on Saturday afternoons.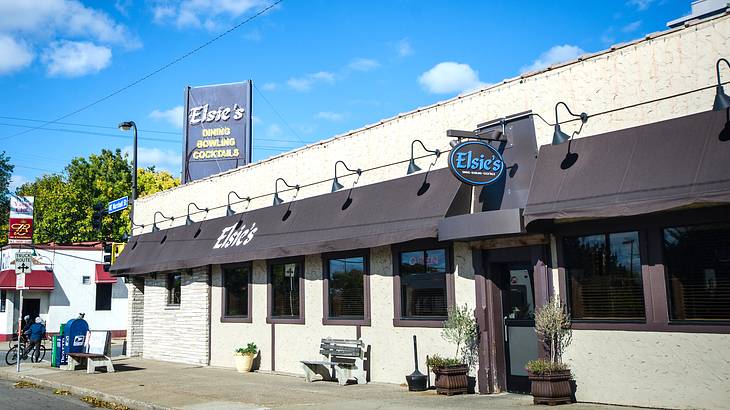 Bowl at Elsie's Bowling Alley
Elsie's Bowling Alley is another place to head for a laid-back Minneapolis date night. You can bowl until late, and there's also a bar and grill on-site. A range of fun cocktails as well as wine, beer, and sweet and savory snacks are available.
Watch a show at Orpheum Theatre
Seeing a show at the Orpheum Theatre is an excellent idea for those wanting to plan a memorable date night. The theater opened in 1921 and, today hosts a range of musicals. You can see independent productions as well as well-known shows like The Lion King.
Listen to live music at Turf Club
Turf Club is a popular bar and live music venue that also makes a great date night spot! The bar is located in St. Paul but is only a ten-minute drive from central Minneapolis.
Live music acts, including many rock bands, perform most nights. While enjoying the show, you can get bar snacks and a range of alcoholic drinks.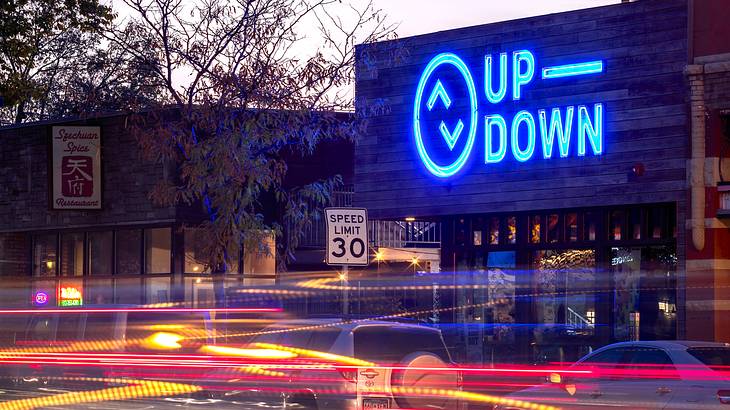 Enjoy arcade games and drinks at Up Down Bar
Up Down Bar is one of the best spots to check out if you're trying to plan the best date night in Minneapolis! The bar has retro video games and pinball, as well as some newer games. While you play, you can order food and drinks, with the menu featuring around 60 craft beers and house-made pizza.
Dare to go on a ghost tour
A more unique date idea to try is going on a Minneapolis ghost tour. The eerie excursion will take you to some of the city's most haunted spots, where you can hear of ghost sightings and spooky events. This tour offers a different way to see the city together, whether you're visiting or living in Minneapolis.
Take in the views with drinks at Prohibition Bar
Prohibition Bar is a speakeasy-style bar that's located on the 27th floor of the W Hotel. Due to its location, it offers stunning views over the city. As you admire the vistas, you and your date can sip on craft cocktails, with beer, wine, and spirits also on the menu.
Romantic Things to Do in Minneapolis for Couples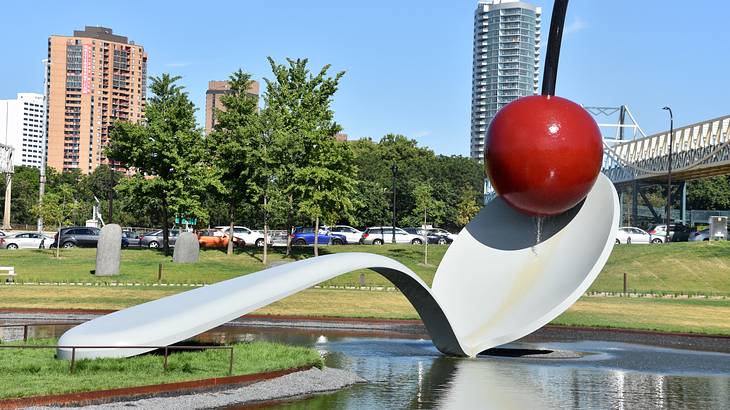 Admire the artworks in the Minneapolis Sculpture Garden
The Minneapolis Sculpture Garden is a Minnesota landmark and a pretty place to go for a romantic walk with your partner.
As you explore the 11-acre garden, you'll see a range of unique art installations, including the famous Spoonbridge and Cherry sculpture. You'll also pass ponds, flower beds, and lush greenery.
Stay at the Marquette Hotel
Couples that are planning a romantic trip should consider booking a room at the Marquette Hotel. This stylish hotel is centrally located and features gorgeous rooms and many amenities, like bars, restaurants, and a gym. It's also close to many other excellent bars and eateries as well as other attractions.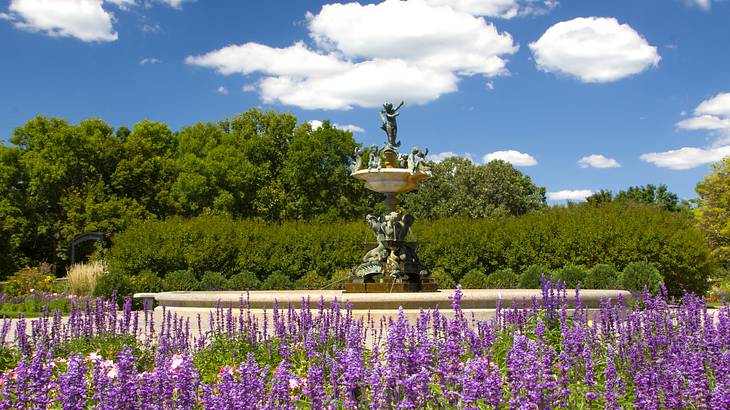 Smell the flowers at the Lyndale Park Rose Garden
Visiting the Lyndale Park Rose Garden is definitely one of the most romantic things to do in Minneapolis, MN! This beautiful garden features 3,000 plants, including various species of roses.
You'll also pass many trees as well as ponds and water fountains. Taking some photos together here with the stunning backgrounds can't be missed.
If you're planning a couples trip to the city, the best time to visit Minneapolis to explore the Lyndale Park Rose Garden is during the summer when most of the flowers are in bloom.
Go for a romantic walk around Boom Island Park
Boom Island Park sits on the Mississippi River across from downtown. It's a romantic place to go for a walk with your partner, taking in the river and Minneapolis skyline views. As you explore, you'll also see the scenic Boom Island Lighthouse.
Have a picnic at Lake Nokomis Park
Another romantic thing to do in Minneapolis is going to Lake Nokomis Park for a picnic. The park has a lakeside beach to hang out on, and after your picnic, you can follow some trails through the surrounding forests. You can also swim in the lake or go paddleboarding, with rentals available at the park.
If you enjoy this date, there are many other lakes in the city to visit. In fact, the Minneapolis nickname, City of Lakes, was created due to the vast number of lakes found around the region.
Relax at Anda Spa at Hotel Ivy
Going to the spa is one of the most romantic things to do in the city, with the Anda Spa at Hotel Ivy being one of Minneapolis' most popular. Treatments include massages, facials, and manicures. After your spa session, you and your partner can get drinks in the luxurious hotel bar.
Fun Things to Do Near Minneapolis, Minnesota, for Couples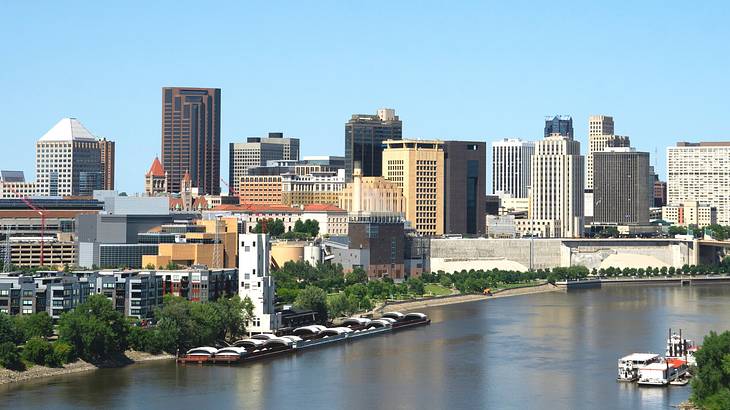 Plan a day trip to St. Paul
St. Paul is another Minnesotan city that sits next to Minneapolis. Together, the two locations make up the "Twin Cities."
While you can find many excellent Minneapolis date spots, there are also lots of fun things to do in St. Paul together and planning a day trip is well worth it. You can reach St. Paul in around 20 minutes when driving from central Minneapolis.
Once you arrive, you can enjoy various activities, from going to the Saint Paul Farmers' Market to having cocktails with a view at Herbie's on the Park. You could also take a St. Paul sightseeing tour to ensure you see all of the city's landmarks.
Shop at the Mall of America
A fun fact about Minnesota is that it's home to the largest shopping mall in the United States, the Mall of America. This attraction is conveniently located only 15 minutes from Minneapolis is neighboring Bloomington.
At the mall and entertainment complex, you and your partner can shop at over 500 stores. You can also find entertainment venues, like escape rooms and movie theaters, and there's no shortage of dining options either!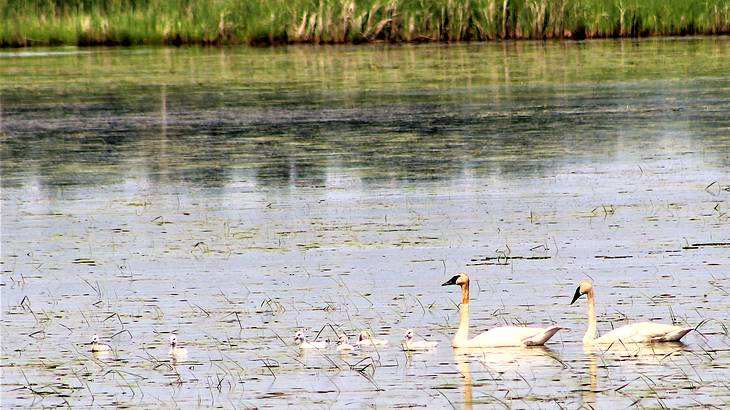 Explore the Sherburne National Wildlife Refuge
Located about an hour outside of Minneapolis, the Sherburne National Wildlife Refuge is a must-visit attraction for couples who like exploring the outdoors. The 30,700-acre refuge is home to many animals and habitat types. You can follow trails through some of these habitats, admiring the plant life and spotting wildlife like otters, eagles, and white pelicans.
Visit the Marjorie McNeely Conservatory
The Marjorie McNeely Conservatory is another place to see pretty floral displays near Minneapolis. Inside the conservatory, you can see sunken gardens as well as orchids, tropical plants, and more. You can then explore the outdoor gardens and snap some romantic couples photos!
Hang out at Central Park of Maple Grove
When the weather is nice, hanging out at Central Park of Maple Grove is a fun and laid-back date idea. The park has lots of grassy areas to sit and chat or have a picnic. There are also walking paths, a loop trail, and pretty gardens. There's even an ice rink at Central Park of Maple Grove during the colder months.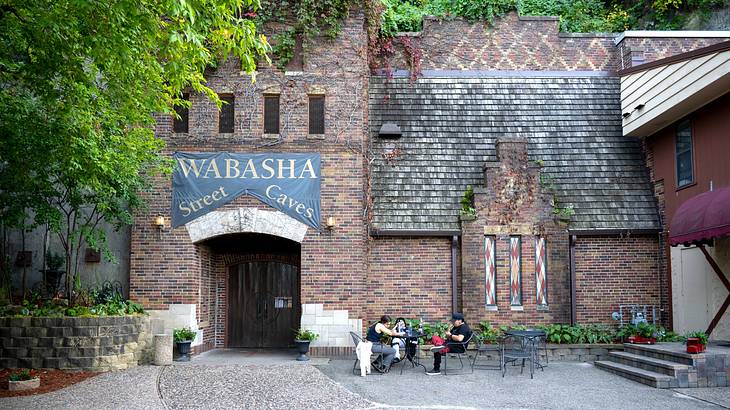 Tour the Wabasha Street Caves
Going on a Wabasha Street Caves tour is a unique thing to do in the Minneapolis-St. Paul area. The caves date back to mining activities in the 1800s but were later used as speakeasies and hideouts for the gangsters of St. Paul in the 1920s and 1930s.
On the tour, you'll explore the caves and learn more about their fascinating history. You can also visit a restored speakeasy bar from the 30s!
Ice skate around the Central Park Ice Skate Loop
As mentioned, Central Park of Maple Grove has a seasonal ice skating rink, and going skating together is a very romantic date idea. The rink stays open until late, so you could even go for a sunset skate!
Ice skate rentals are also available, and the rink is suitable for all skating levels. This attraction is generally open from October through March.
In Conclusion
You can find many fun things to do as a couple in Minneapolis! Whether you're looking for first date ideas in Minneapolis or want to do something different with your long-term partner, this list should have given you many ideas for unique and memorable date activities.
Give us feedback about this article
Learn more about Minneapolis:
More articles about Minnesota:
Read more articles about the United States:
More articles about date ideas:
---
---
Want to keep exploring?
Subscribe for discounts on tickets and hotels and our latest guides.
Thank you for subscribing
We will be in touch soon with discounts on tickets and hotels and our latest guides.
Want to keep exploring?
Subscribe for discounts on tickets and hotels and our latest guides.
Thank you for subscribing
We will be in touch soon with discounts on tickets and hotels and our latest guides.
Related Articles