35 Fun Date Ideas in Kansas City, MO
Destguides may receive commissions from purchases made through affiliate links in this article.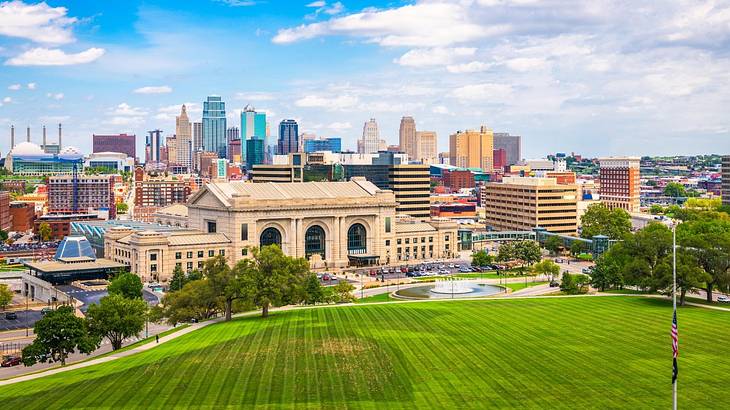 Kansas City is an exciting destination found in the midwestern United States. The city has an array of unique indoor and outdoor attractions, from museums and art galleries to parks and botanical gardens.
You can also find numerous fun date ideas in Kansas City, MO, to try with your partner. Romantic activities range from drinking cocktails at a high-end bar to watching local sports teams and taking couples cooking classes. To discover the 35 best things for couples to do in KC, read on!
35 Kansas City Date Ideas
Fun Things to Do in Kansas City on a Date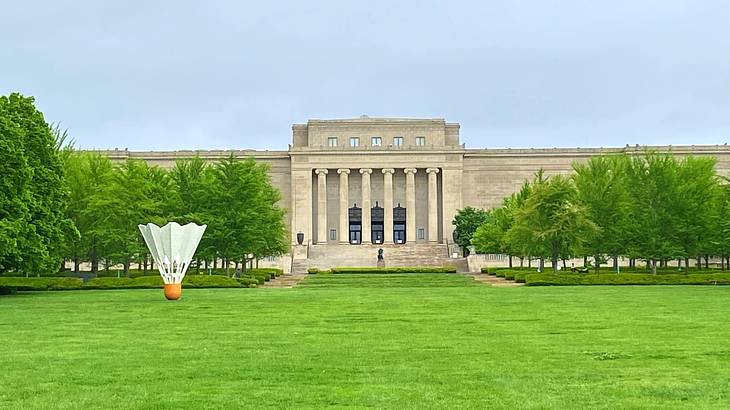 Admire artworks at the Nelson Atkins Museum of Art
If your date is an art lover, a trip to the Nelson Atkins Museum of Art is a must - it is one of the famous landmarks in Missouri after all! The museum houses an extensive collection with a renowned collection of Asian art.
You can see works from well-known artists from across the globe, including Willem de Kooning, Claude Monet, and Vincent Van Gogh. After exploring the museum, you can relax on the museum's vast lawn area.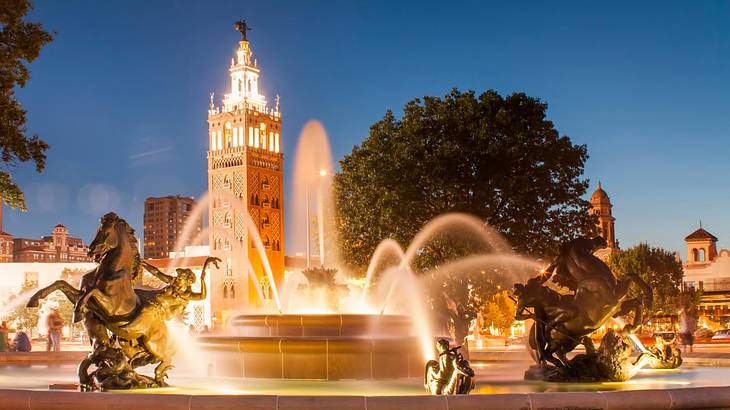 Shop at Country Club Plaza
One of the best places for you and your date to go shopping in Kansas City is at Country Club Plaza. The mall has a vast array of shops, including chains, high-end stores, and locally owned outlets.
You can shop for clothing and accessories, home goods, beauty products, and more. When you're all shopped out, you can stop by one of the on-site cafes or restaurants for refreshments.
Listen to jazz at Green Lady Lounge
Green Lady Lounge is a renowned spot in Kansas City. The jazz club has live music every night, which you can enjoy while sipping on cocktails.
Some signature drinks to try include the "Pink Lady" with vodka, elderflower liqueur, lemon, prosecco, and Aperol, and the "Mango Lady," a mango rum and mango lassi mix. Jazz acts playing vary each night, but no matter which band you see, you're guaranteed to be impressed.
Explore Union Station
Union Station is a grand and historic train station in Kansas City. Today, the station also features an array of amenities and attractions.
You and your date can check out some of these attractions, which include a science center, planetarium, and movie theater. Alternatively, dine at one of the on-site restaurants or spoil your date with some treats from the Rocky Mountain Chocolate Factory store.
Additionally, don't forget to see the stunning water fountain. This fountain is one of around 200 in the city that led to the creation of the Kansas City nickname City of Fountains!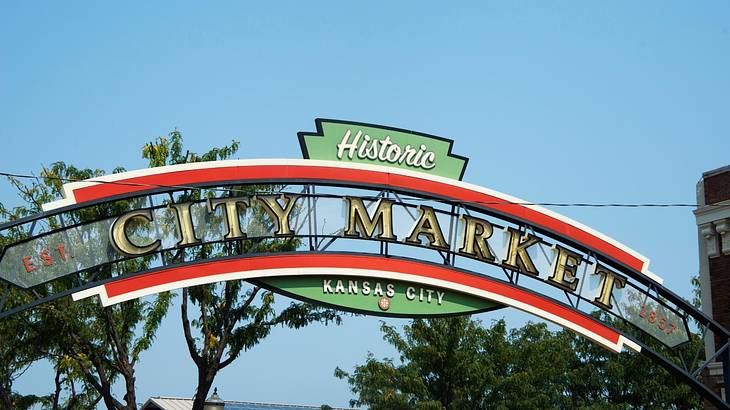 Find local produce at City Market
A great farmers market in the Kansas City area is City Market. Opened in 1857, the market is one of the oldest attractions in the city. Vendors at the market sell all kinds of goods, from produce to beauty products and pet goods. There are also specialty stores to check out and some cafes and restaurants.
See a show at the Midland Theatre
Another of the top Kansas City date night ideas is watching a show at the Midland Theatre. Also known as the Arvest Bank Theatre at The Midland, the venue hosts music performances by a variety of artists.
No matter what genre of music you and your partner enjoy, you'll find a show to see at Midland Theatre!
Smell the flowers at the Loose Park Rose Garden
What's more romantic than wandering through a rose garden together? At Loose Park, you can do just that! The beautiful rose garden has over 3,000 roses and features 130 different varieties. After admiring the flowers, you can explore the rest of the park.
Have brunch at the Raphael Hotel
Kansas City has some incredible hotels, and the Raphael Hotel is one of them. Even if you aren't staying overnight, you can enjoy a meal here. One of the best things to do in Kansas City for couples is having brunch at the Raphael Hotel.
Brunch is served on Saturdays and Sundays, and you can choose from classic brunch dishes like pancakes, omelets, and granola. Accompany your meal with a mimosa, Bellini, or Bloody Mary.
Jump among the trees with Go Ape Treetop Adventure
A highly unique date idea is completing a Go Ape Treetop Adventure. You and your other half will be taken 45 feet above the ground to tackle zip-lines, Tarzan swings, and treetop crossings within the forest canopy.
The adventure lasts between two and three hours, and Go Ape is planning on adding a fun after-dark treetop adventure soon!
Cheer for a local sports team
Couples that love sports won't be disappointed in Kansas City! You can find three top teams to watch in the city: the Kansas City Chiefs in the NFL, the Kansas City Royals MLB team, and Sporting Kansas City in MLS.
You'll generally be able to find at least one team playing when you're in KC, and attending a game is a memorable and fun experience.
Eat BBQ at Char Bar
Kansas City is known for its many barbecue spots. One of the great BBQ restaurants to check out is Char Bar.
You can choose from a selection of barbecue meats and add mac and cheese, hushpuppies, cornbread, beans, and slaw. You and your date can also share a platter complete with various meats and sides.
Stay the night at 21C Museum Hotel
If you and your other half are visiting from out of town, one of the most romantic things to do in Kansas City, MO, is booking a stay at 21C Museum Hotel. The trendy four-star accommodation has beautiful rooms, a high-end restaurant, and a lounge bar.
21C Museum Hotel is also pet friendly if you want to bring your dog, or other pet, with you.
Look around River Market
Located around City Market, River Market is an urban village with shops, restaurants, bars, and other attractions. Things to do here include visiting the Steamboat Arabia Museum, grabbing a drink at Strange Days Brewing Co, and relaxing with a coffee at one of many coffee shops.
Watch the Kansas City Ballet
If your partner enjoys cultural events, taking them to see the Kansas City Ballet is a perfect date night idea. Founded in 1957, the ballet company puts on performances throughout the year.
Notably, December is one of the best times to visit Kansas City and go to the ballet as The Nutcracker is performed then. If you're in the city around the holidays, seeing this classic show is an absolute must.
Be kids again at the Legoland Discovery Center
A fun activity that will make you feel like kids again is going to the Legoland Discovery Center. The attraction has Lego-themed exhibits, rides, and interactive displays. Before you leave, grab some cute Lego souvenirs from the gift shop!
Sip on cocktails at Brown & Loe
Do you and your partner like finding the best cocktails? Then one of the best date night ideas in Kansas City, MO, to try is getting drinks at Brown & Loe.
The trendy bar and eatery serves a selection of classic and signature cocktails. They also have wine by the glass, plus beer and virgin cocktails. As you enjoy your drinks, you can snack on dishes like butternut squash hummus and sea salt pretzels.
Relax with a coffee at Oddly Correct
A classic laid-back date idea is hanging out at a coffee shop. A great place to do so in Kansas City is at Oddly Correct Coffee Bar.
The quirky spot serves a variety of brews in its tasting room, including a bourbon vanilla latte, brown sugar hazelnut latte, or dark chocolate mocha. You can also get more traditional coffees like cappuccinos and americanos, plus some baked goods.
View modern art at the Kemper Museum of Contemporary Art
Another must-visit location for art lovers in Kansas City is the Kemper Museum of Contemporary Art. This museum focuses on modern art and is the largest contemporary art museum in Missouri.
At the gallery, you and your date can admire works in the permanent collection, plus those in the temporary collections and special exhibits.
Play arcade games at Up-Down Arcade Bar
A unique twist on getting some drinks with your partner is going to an arcade bar. Up-Down Arcade Bar has a selection of retro and newer games, such as Pac-Man, NBA Jam, and Street Fighter. As you play, you can order craft cocktails, beer, and pizza.
Get drinks at The Monarch Bar
The Monarch Bar is one of the most trendy and romantic spots in Kansas City to enjoy some drinks together. The bar specializes in craft cocktails, which you can sip while sharing some small plate dishes. If the weather is nice, you can hang out on the patio as well.
Attend a comedy show at Improv Comedy Club
Improv Comedy Club is the perfect place to spend an evening with your date. Shows by local comedians and well-known names are hosted here. As you laugh at the show, you can enjoy bar snacks and alcoholic drinks.
Dine at Gram & Dun
Gram & Dun is one of the best places to go for a dinner date in KC. The eatery has both indoor dining and an outdoor patio complete with cozy fire pits.
Dishes to order range from light salads and tacos to steaks and wagyu beef burgers. Sharing dessert is a must here too! Treats to enjoy include blueberry lemon trifle and German chocolate cake.
Discover new books together at the Kansas City Public Library
One of the best dates in Kansas City for bookworms is going to the Kansas City Public Library. You can find a range of books, plus other types of publications and films. If you find a book that interests you, you and your partner can relax and read in one of the library's reading rooms.
Enjoy live music at The Blue Room
The Blue Room is another great venue to listen to live jazz in Kansas City. The jazz club is located within the American Jazz Museum and hosts multiple acts throughout the week. While at the club, also consider checking out the museum, which is a famous Kansas City landmark, to learn more about the history of jazz in the United States.
Treat your date to cupcakes from Bloom Baking Co.
Does your other half have a sweet tooth? If so, getting treats at Bloom Baking Co. is a must. The bakery sells cupcakes in a variety of flavors, like red velvet, lemon, and vanilla bean.
At Bloom Baking Co, you can also get cookies, bars, tarts, and macarons. If you or your partner are plant-based, check out Mud Pie Vegan Bakery too!
Fun Things to Do Near Kansas City on a Date
Spend a weekend at the Elms Hotel & Spa
Planning a romantic weekend in the Kansas City area? Then checking into the Elms Hotel & Spa is a great idea. Located just 30 minutes from downtown KC, the resort allows you to escape the bustle of the city.
Amenities include a spa with a hot tub, sauna, and an exfoliation and mud bar. There's also a high-end restaurant, a cozy tavern bar, and a coffee shop. At the end of the day, you can relax in a luxurious suite.
Go to the Overland Park Farmers Market
Overland Park is the second-most populous city in the state of Kansas. It's found just across the Missouri border from Kansas City.
A fun activity to enjoy with your date in Overland Park is exploring the the local farmers market. You can shop for locally grown produce, jams, flowers, baked goods, and much more at this bustling market.
Walk around Powell Gardens
Powell Gardens comprises 970 acres and is often called "Kansas City's Botanical Garden." It's the ideal place to take a romantic stroll with your partner and also happens to be one of the best outdoor attractions in Kansas City.
There are 6,000 plant varieties to see in total across gardens like a perennial garden, an area with aquatic plants, and a harvest garden with fresh veg growing.
Taste Bourbons at the Holladay Distillery
If you're willing to drive about 40 minutes out of the city, making a trip to the Holladay Distillery with your partner is recommended. Holladay specializes in Bourbon, and you can taste a selection of their offerings while at the distillery.
Tours of the facility are also offered, allowing you to learn more about the production process.
See art collections at the Nerman Museum of Contemporary Art
Visiting the Nerman Museum of Contemporary Art is another of the fun date activities for art lovers. Opened in 2007, the museum has an extensive collection and is found 20 minutes from central Kansas City.
Works include paintings, clay and ceramic pieces, photography, and more. There are also collections dedicated to Native American art and pieces by Latino artists.
Cook delicious meal together at the Culinary Center
Why go on a dinner date when you could cook a delicious meal together instead? At the Culinary Center, you can take classes that will teach you how to cook a range of dishes. Just a few of the things to learn to cook include cinnamon rolls, fresh pasta dishes, and sushi.
See a variety of exhibits at the Museum at Prairiefire
Located in Overland Park, the Museum at Prairiefire houses a variety of educational exhibits and is known for its interesting architecture. Displays to see cover topics like science, wildlife, and natural history. There's also an "Animal Encounters" area with some small creatures to see.
Have a game of golf at Topgolf
If you're planning a date night in Kansas City, going to Topgolf is a great idea! Located 20 minutes from downtown Kansas City in Overland Park, the venue has covered driving ranges and an extensive bar and dining menu.
As you play, you can order a variety of cocktails or beer and share wings, nachos, tacos, and other bar snacks.
Visit the Amelia Earhart Birthplace Museum
An interesting daytime date idea is visiting the Amelia Earhart Birthplace Museum. The famous aviator was born in the home in 1897.
At the museum, you can learn more about Amelia and her successes. You can also explore the house's rooms, which are decorated as they would have been when she lived there in the early 1900s.
Gamble or relax at Argosy Casino Hotel & Spa
Spending some time at the Argosy Casino Hotel & Spa is another of the best date ideas around Kansas City. The entertainment venue has a large casino, plus a spa, hotel, and multiple dining options.
After gambling a little, you can enjoy treatments at the spa, including couple's massages. Finish your trip with a meal at an on-site eatery, with steakhouse dishes, Asian cuisine, and more available.
In Summary
Kansas City is a great destination, and as you can see, there are many fun date ideas in KC to try with your partner. Whether you enjoy a laid-back dinner date or trying something more memorable together, there's an activity for every couple in Kansas City!
Give us feedback about this article
More visual stories related to this article:
---
---
Want to keep exploring?
Subscribe for discounts on tickets and hotels and our latest guides.
Thank you for subscribing
We will be in touch soon with discounts on tickets and hotels and our latest guides.
Want to keep exploring?
Subscribe for discounts on tickets and hotels and our latest guides.
Thank you for subscribing
We will be in touch soon with discounts on tickets and hotels and our latest guides.
Related Articles