60 Most Romantic Things to Do in NYC for Couples
Destguides may receive commissions from purchases made through affiliate links in this article.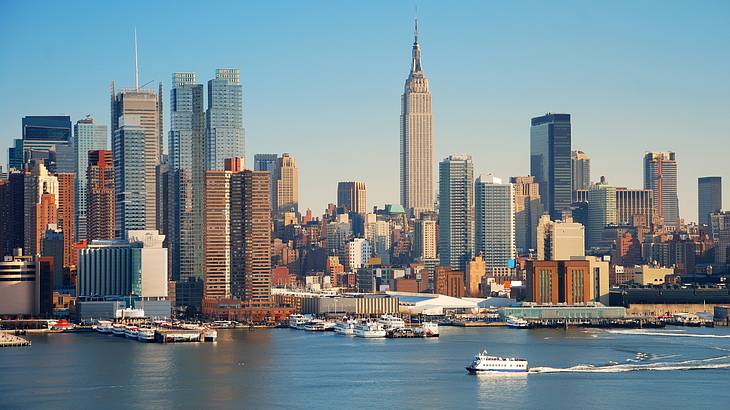 New York City is a destination known across the world. The famous city welcomes over 65 million visitors every year. It's also very popular with couples planning a romantic city break.
Whether you live in the area or are planning a couples vacation, this list of the most romantic things to do in NYC for couples will give you some great date ideas.
Suggestions range from museum dates to exploring urban parks and finding the best pizza in the city. If you and your other half are after some fun date ideas in New York, keep reading for 60 fun date suggestions!
60 Fun Couple Things to Do in NYC
Most Romantic Things to Do in New York City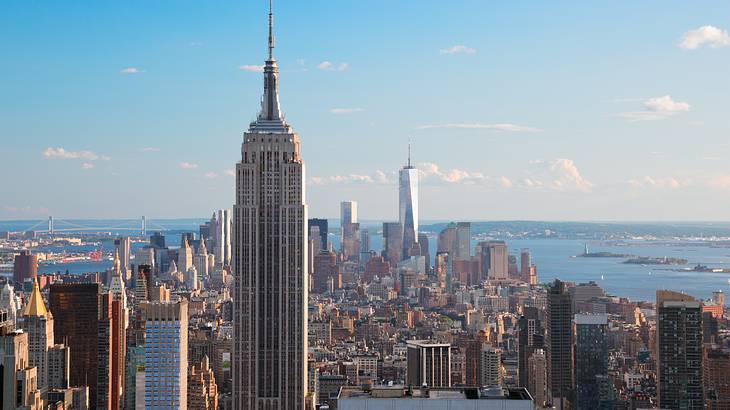 Go up the Empire State Building
The Empire State Building is one of the most iconic places in New York City. The building also offers some of the best panoramas of New York, and taking your partner to appreciate these views with you is a perfect date idea.
You can visit the Empire State Building during the day or in the evening. While going to the viewing deck during the day offers clear views, going just before sunset is incredibly romantic! No matter when you go, you and your other half can take some scenic pictures and make memories together.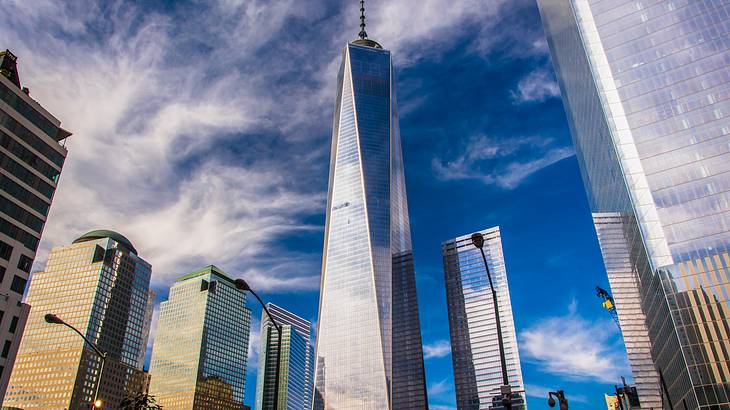 Share a meal at the One World Observatory
While you can visit the One World Observatory observation deck, taking your partner for dinner here instead is well worth it. The restaurant offers 360-degree panoramas of the New York skyline, along with delicious food and drink.
Dishes on offer include burrata salad, lobster rolls, and filet mignon. You can also choose from a selection of specialty cocktails and finish your meal with a decadent dessert. Enjoying high-quality cuisine and some of the best views in the city is sure to please you both!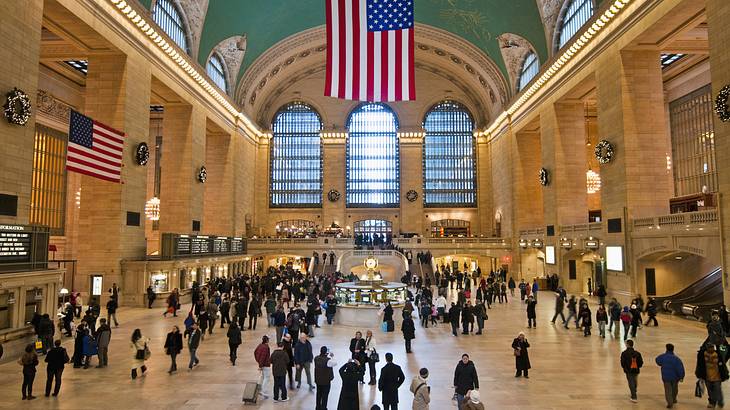 Unearth the Secrets of the Grand Central Station
While you may not think it, Grand Central Station is one of the most romantic places to go in New York. The station has been associated with reuniting couples since WWII when soldiers would reconnect here with their loved ones.
Today, it's a fun place to go with your partner to people-watch and appreciate the architecture, even if you don't have a train to catch. Another exciting thing to take a Secrets of Grand Central Station tour. This fascinating tour uncovers facts about the station that few know.
Hang out at an arcade
Barcade is an arcade-bar combo that's one of the best places to hang out in the city. At the arcade, you can play a selection of retro arcade games. You can also order drinks, including craft beer, cocktails, and wine. If you get snacky, bar foods like poutine, nachos, and wings are on the menu.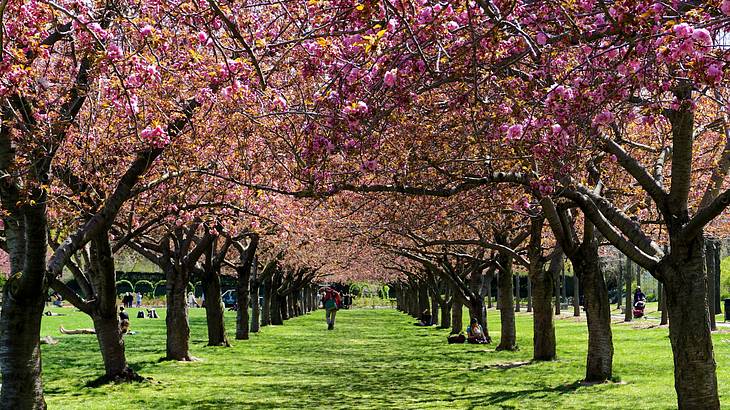 Escape the city bustle at the Brooklyn Botanic Garden
New York is one of the busiest cities in the world. While the bustle of the city can be exhilarating, heading to a peaceful urban retreat is always welcome. The Brooklyn Botanic Garden is the ideal place for you and your date to unwind and connect.
The 52-acre gardens feature a range of flowers, plants, and trees from across the world. These include dahlias, cherry blossom trees, and palm trees. You'll also discover relaxing water gardens and will spot a variety of bird species.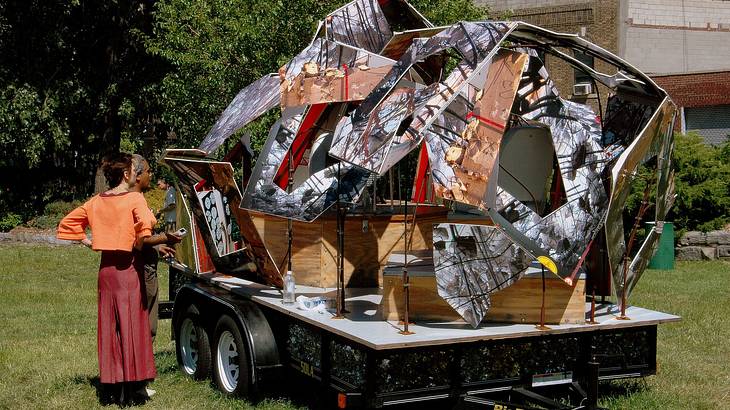 Wander through Socrates Sculpture Park
Located in Astoria, Queens, the Socrates Sculpture Park is a beautiful outdoor park filled with art and multimedia installations. It's the perfect place to stroll through with your loved one, taking in the greenery and artistic designs.
With such a selection of unique sculptures in the park, it's also an ideal place to take some pictures with interesting backgrounds. Due to being one of the less touristy attractions in New York, the park is never overcrowded either.
Spend an evening at the New York City Ballet in the Lincoln Center
Watching a show at the New York City Ballet, located in Lincoln Center, makes for one of the most romantic dates in NYC. The New York City Ballet is one of the most famous ballet destinations in the world.
They host breathtaking shows every year, including performances of Swan Lake and The Nutcracker Ballet. Whichever performance you see, you and your significant other are sure to be mesmerized.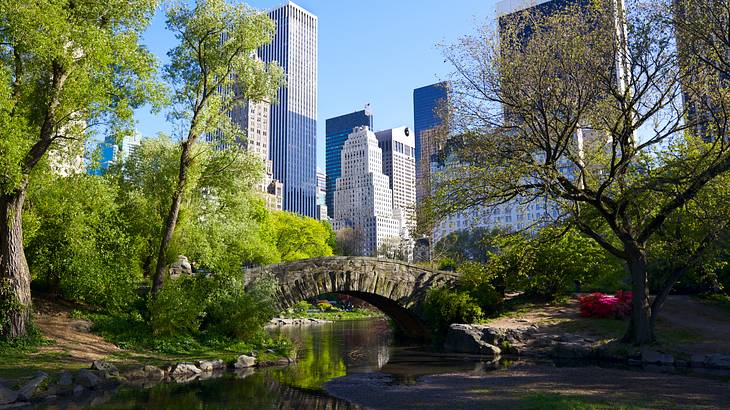 Bike through Central Park
If you and your partner like bike riding, then biking through scenic Central Park is a fun date idea. While you can both take your bikes, you can also find Central Park bike rentals or take a bike tour.
Whichever way you choose to ride through the park, you'll find an array of paths to follow. Along the way, you'll enjoy the views of the iconic urban park and the surrounding skyline.
Explore the catacombs under the city
If you and your date like spooky things to do, going on a candlelit catacombs tour might appeal to you. Your guide will take you beneath the Basilica of St. Patrick's Old Cathedral, where you can walk through real crypts and catacombs, learning more about the site's history as you explore.
Enjoy drinks with stunning views at a rooftop bar
New York City has some of the best views in the world. Therefore, it's no surprise that the city is home to a multitude of rooftop bars, allowing you to take in the skyline as you relax with a drink.
Going with your partner to one of these bars is sure to make for an incredible day or night out. If you're unsure which bar to head to, try a New York rooftop bar tour. The tour will take you to multiple incredible bars, and at least one drink is included at each location.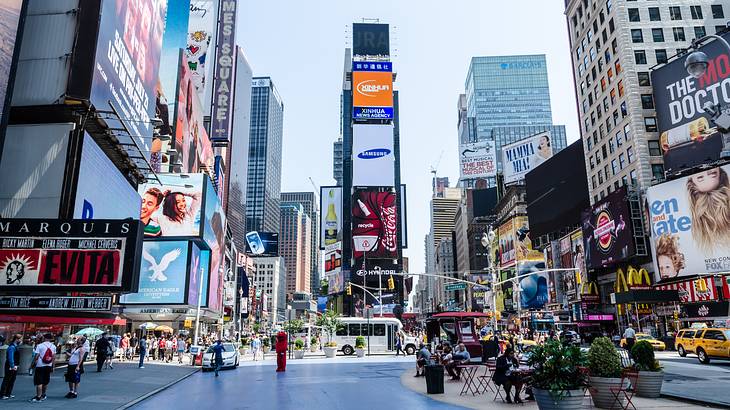 Explore Times Square
Spending the day or an evening exploring Times Square is one of the many fun date ideas in New York. This renowned area is known for its brightly illuminated buildings and billboards, plus an array of shops and restaurants.
When in Times Square, you'll find lots for you and your date to check out. To start with, you'll find multiple places to enjoy a meal. These establishments range from high-end spots to chain favorites. You can also shop at a range of stores and are sure to spot some fun street performers.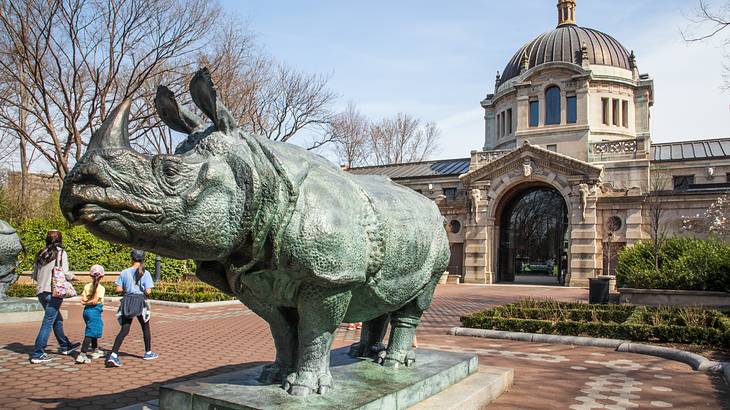 Spot a variety of animals at the Bronx Zoo
Go back to your childhood with a fun day out at the Bronx Zoo. The 265-acre animal park features over 8,000 creatures from all over the world. Animals living here include lions, elephants, red pandas, flamingos, and more.
The zoo also hosts experiences, such as watching feedings and getting up close with some animals. Best of all, the Bronx Zoo is a conservation zoo, meaning proceeds go to wildlife conservation efforts.
Learn to make new dishes at a cooking class
If you enjoy cooking or are looking to learn how to create different dishes, one of the fun couple activities in NYC to try is taking a cooking class.
Taste Buds Kitchen hosts a selection of cooking classes, including private lessons and adult classes. Things you can learn to cook include freshly made pasta, Thai dishes, and Mediterranean classics.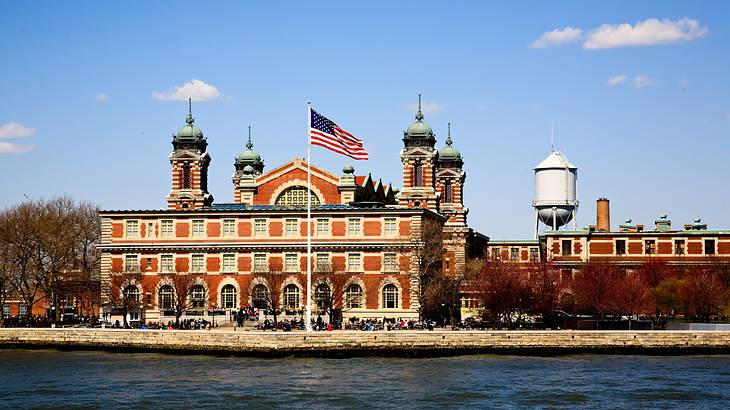 Have a historical date at Ellis Island
If your partner loves historical attractions, a trip to Ellis Island is one of the fun date activities in NYC that you must try. The island was opened in 1892 to process immigrants sailing in. During its operational years from 1892 to 1954, the island processed more than 12 million immigrants.
Today, the island houses a museum covering Ellis Island's history and the backstories of some of the immigrants that arrived there. To make a day out of it, combine a tour of Ellis Island with a visit to the Statue of Liberty.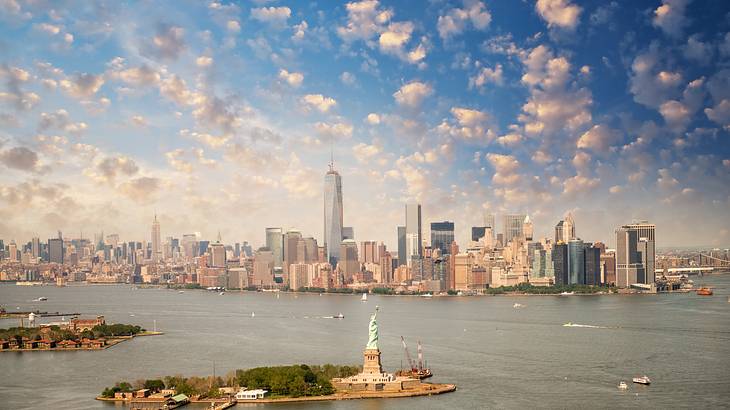 Get aerial views of New York City on a helicopter tour
New York City is breathtaking when viewed from the ground, but it's even more stunning from above. To have a date neither of you will forget, book an NYC helicopter tour.
Helicopter tours are a popular activity in New York, so there are various options to choose from. All tours will take you above the city and offer views of major landmarks.
These North American landmarks include the Statue of Liberty, the Empire State Building, and the Brooklyn Bridge. While a helicopter tour can be a little expensive, neither of you will ever forget it!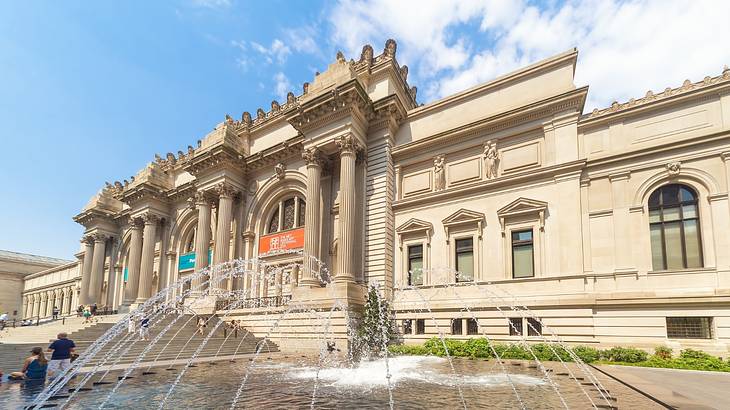 Appreciate artworks at the Metropolitan Museum of Art
The Metropolitan Museum of Art, or the Met, is the largest art museum in the US. It houses an extensive collection of artworks, with two million pieces in the permanent collection alone.
If you and your partner enjoy art and cultural activities, spending a day exploring the Met is a fun idea. Works on display include those by Van Gogh, Monet, and Picasso. You can find a variety of Metropolitan Museum of Art guided tours if you would like an in-depth background on the artworks on display.
Sip cocktails at New York's speakeasies
During prohibition in the 1920s, New York City was one of the main cities to secretly disobey the new laws and run illegal bars called speakeasies. If you and your date want to "do drinks" in a more unique way, you have to go on a Speakeasy tour of New York.
The tour takes you on a speakeasy outing through Manhattan. At each bar, you can try prohibition-style drinks and learn more about how the era played out in NYC.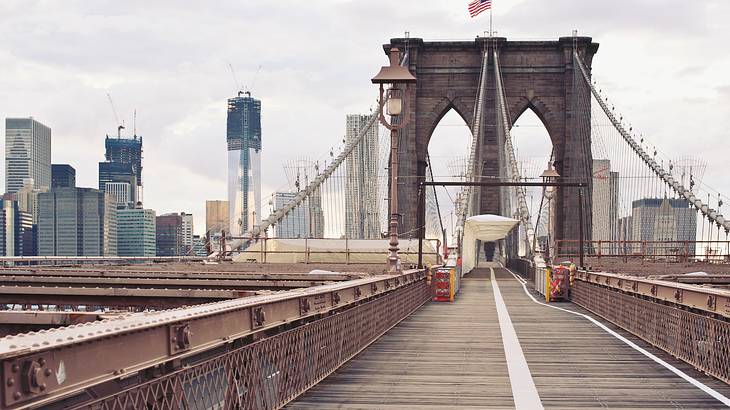 Walk across the Brooklyn Bridge
The Brooklyn Bridge is another iconic world landmark on the New York City skyline. Strolling along the bridge that connects Brooklyn to Manhattan is one of the laid-back things to do for couples in New York. The bridge even has romantic connotations as a meeting point for couples where one lives in Manhattan and the other in Brooklyn.
Even if you aren't meeting your date halfway, wandering along the bridge, chatting, and taking in the breathtaking views will never disappoint. You'll also find Brooklyn Bridge tours and activities if you're after something a little different.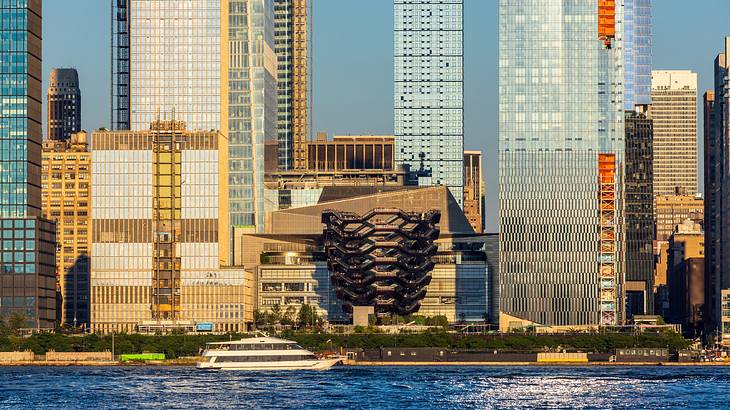 Dine under the stars on a New York dinner cruise
Enjoying the New York City skyline from the water is a must-do. An even better and more romantic way to do this is by going on a New York dinner cruise. As you enjoy your meal, the boat will take you down the Hudson River and the East River past major New York landmarks.
The cruise sets sail just before sunset so that you can watch the sunset and then dine under the stars. For dinner, you can choose from a range of buffet dishes, and there's even DJ entertainment. This date night activity is the perfect way to relax and enjoy your date's company.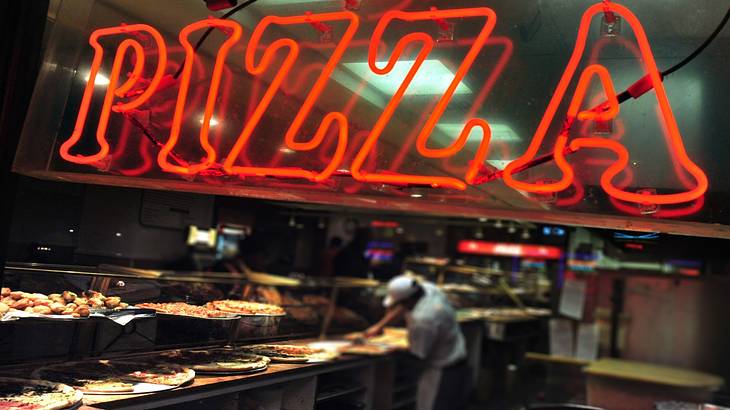 Discover the best Brooklyn pizza joints
New York pizza is iconic and is often referred to as the best pizza in North America. While it's up for debate, many believe the best pizza in New York is found in Brooklyn. If you and your date are foodies, why not test this opinion by going on a Brooklyn pizza walk?
The delicious tour will take you to a selection of Brooklyn's top pizzerias, where you can grab a slice and learn more about each location's pizza-making process. You may even find your new favorite spot to grab a slice!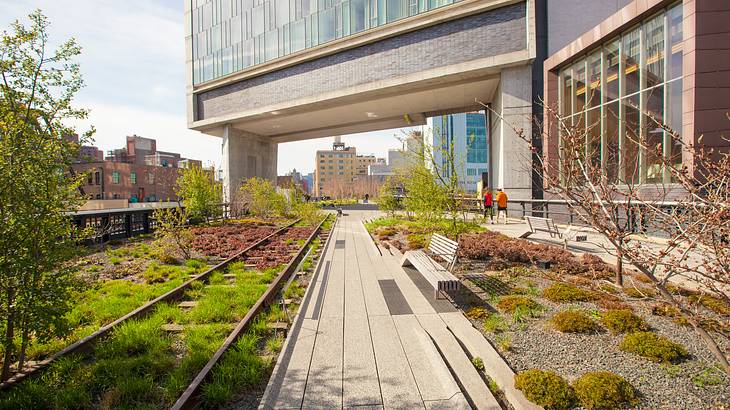 Stroll along the High Line
Walking along the High Line is one more of the chilled-out and fun things to do in NYC for couples. The High Line is an urban park raised above the city on an old train line. The 1.45-mile-long path features greenery and beautiful flowers, all planted and maintained as part of a non-profit operation.
Strolling along this attraction with your partner is a great way to unwind and enjoy each other's company. If you want to walk the entire length of the High Line, it will take around two to three hours. However, you can also wander along a section of the path.
Relax at AIRE Ancient Baths
AIRE Ancient Baths is a luxury spa that's an ideal place for a relaxing date. You can choose from a selection of spa treatments, including couples' massages and treatment packages. After treatments, you can relax in the spa's pools and hot tubs.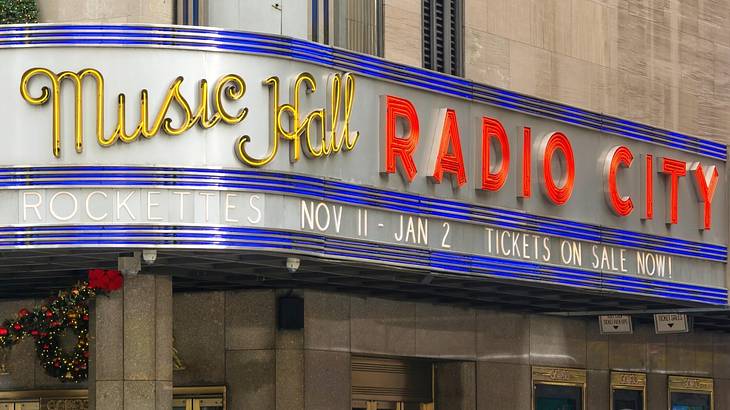 See a show at Radio City Music Hall
Radio City Music Hall is a performance venue that's known for being home to the Radio City Rockettes. You and your date can catch a show at the venue, with concerts, theater performances, and comedy shows hosted.
You can also take a tour of Radio City Music Hall to learn more about the landmark. Whether you do a tour or see a show, visiting Radio City Music Hall has to be on your NYC itinerary!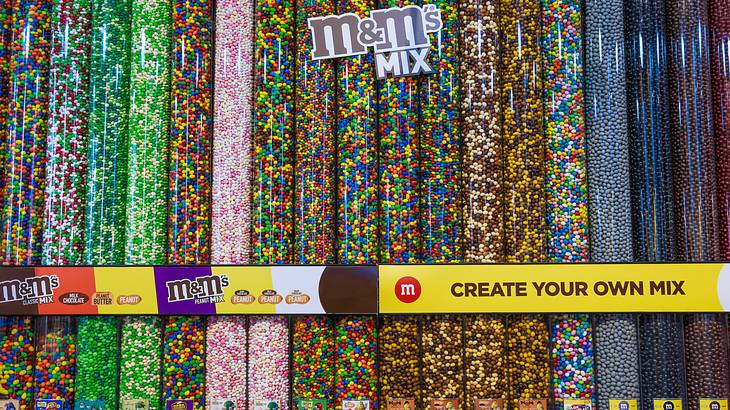 Indulge your sweet tooth at a candy store
Going to some local candy stores is a super fun date idea, and luckily you can find many sweet shops in NYC. BonBon NYC is a highly recommended store to visit, with Swedish-style candy and pick & mix options.
The Sweet Shop NYC is another place to go, and don't forget to visit the M&M's store in Times Square.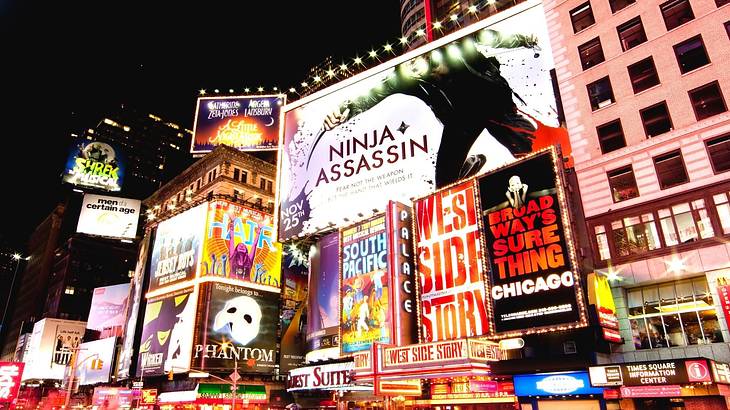 Attend a Broadway Show
Another of the fun things for couples to do in NYC is going to a Broadway show. New York's Broadway is world-renowned, and there are many shows to watch. Just a handful of musicals that are on Broadway include The Lion King, Wicked, The Phantom of the Opera, and Chicago.
Catch a movie at Skyline Drive-In
One of the fun NYC activities for couples in the evening is watching a movie at Skyline Drive-In. At the drive-in movie theater, you can catch a range of films, including new releases and much-loved classics. Remember to pack some movie snacks as well to enjoy with the film!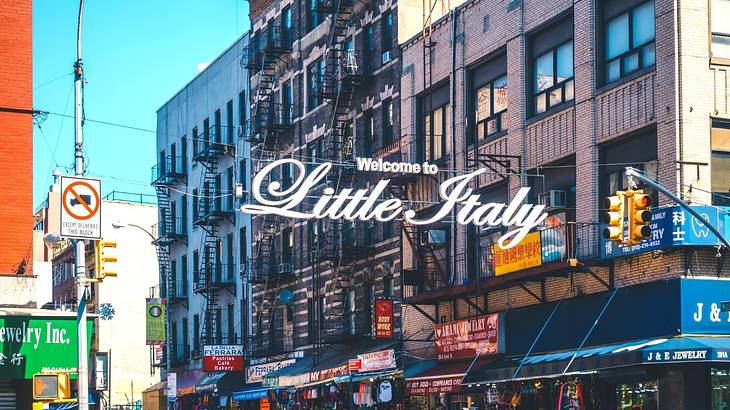 Eat your way through New York on a food tour
Couples that like trying new dishes have to go on an NYC food tour when in the city. You can find tours that take you to spots across Manhattan, as well as in other boroughs. Things to try include pizza, sandwiches, and sweet treats.
Bowl at The Gutter
The Gutter is a fun bowling alley where you can play a game or two with your date. Along with bowling, you can order craft beer, plus cocktails, wine, fun shots, and alcoholic kombucha. You can also enjoy snacks, like brick-oven pizza. The Gutter has locations in Manhattan, Brooklyn, and Queens.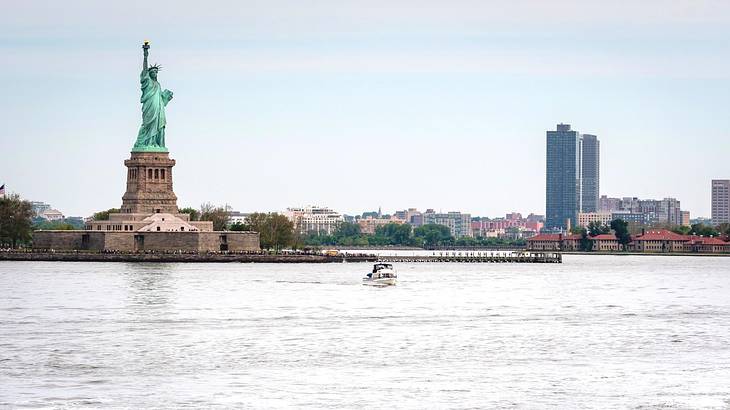 Spot NYC's landmarks on a sightseeing Cruise
If you're visiting the city with your loved one, a great way to see New York's landmarks is on an NYC sightseeing cruise. Once aboard the 1920s style yacht, you'll sail past sights like Ellis Island and the Statue of Liberty. You can also admire views of the Manhattan skyline.
Share brunch together
A brunch date is always a good idea! You can find numerous restaurants serving brunch across the city, with an array of different dishes on offer.
Sidney's Five is one of the great spots to check out. They serve buckwheat waffles, buttermilk pancakes, and brunch drinks like mimosas and bloody marys. Chez Ma Tante and Fairfax NYC are just a few more of the outstanding eateries to check out.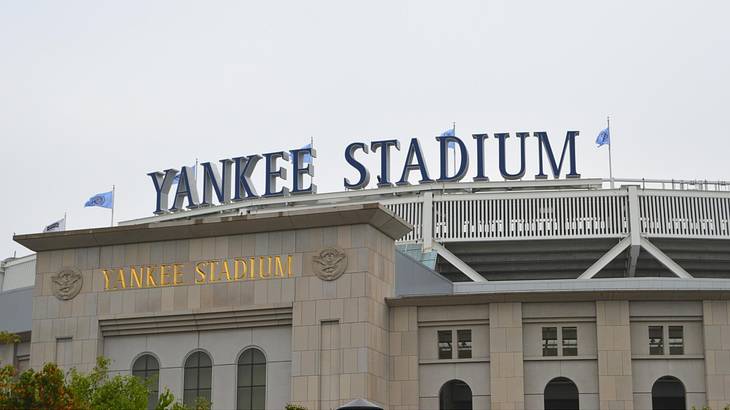 Cheer for local sports teams
A great date idea for sports lovers is watching one of New York's teams play. At Madison Square Garden, you can watch the New York Rangers NHL team and the New York Knicks NBA team. You can also see the Brooklyn Nets NBA team at the Barclays Center.
Alternatively, you can head to MetLife Stadium to watch the New York Giants or New York Jets NFL teams. If baseball is more your thing, head to Yankee Stadium to see the Yankees play.
Spend the day thrift shopping
Exploring some of the city's thrift stores is an ideal way to find some unique pieces. You and your partner have lots of choices across New York City for thrifting.
City Opera Thrift is a good store to visit if you're looking for some higher-end vintage pieces. Cure Thrift Shop is another trendy store to visit, selling second-hand clothing and homewares.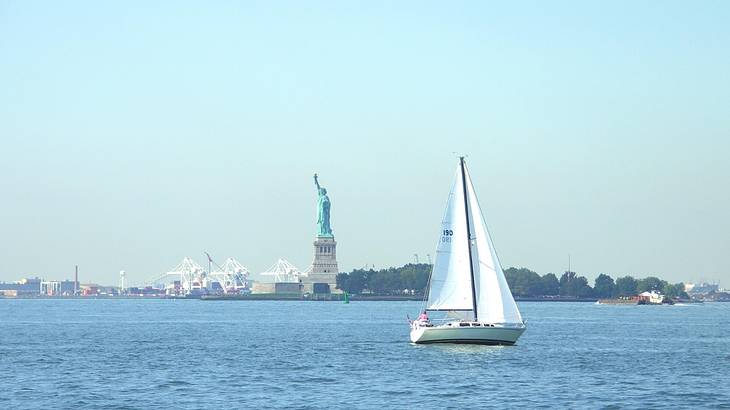 Sail on the East River
If you like outdoor activities, a great thing to try with your partner is sailing. Thanks to One 15 Brooklyn Marina, you can try a three-hour lesson that will teach you all the basics. You'll get to go out on the East River to sail and take in the surrounding views.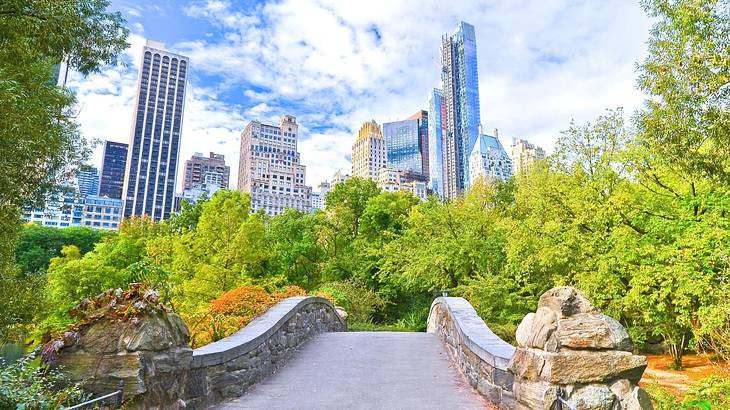 Get professional pictures taken
New York City is the perfect backdrop for some cute couples' photos. You can book a private photography session for you and your loved one that will allow you to have some professional pictures as souvenirs. Places to take photos during the session include Central Park, Times Square, and the Grand Central Terminal.
Have a game of mini golf at Shipwrecked
Located in Brooklyn, Shipwrecked is an indoor mini-golf venue. You and your date can play a round of mini-golf, and also play arcade games and tackle escape rooms. After playing, you can hang out with drinks on the rooftop Tiki Terrace or order snacks, like pizza rolls and pretzels.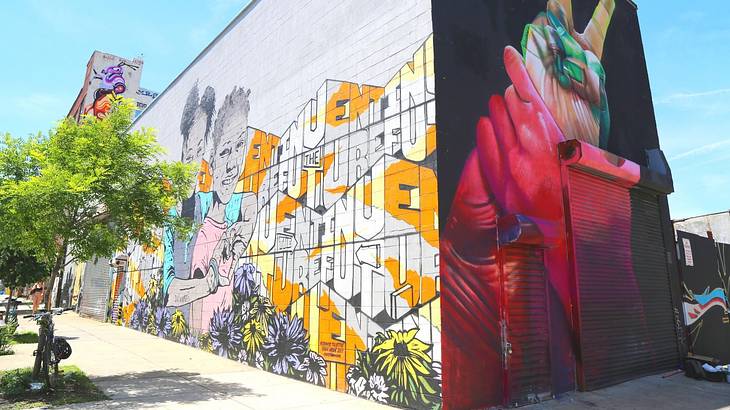 Discover the best street art in Brooklyn
One of the many things to do for couples in New York is going on a Brooklyn street art tour. The tour takes you to see some of the best murals in the borough, including those at the Bushwick Collective.
This open-air art installation has graffiti pieces by an array of well-known local artists. As you explore, you'll also be able to snap some unique Instagram pics!
Treat yourselves on a cupcake tour
You can find many NYC food tours, but the best one for couples with a sweet tooth is a cupcake tour. Your guide will take you to the best bakeries and sweet treat outlets in the West Village, SoHo, and Greenwich Village.
At each location, you can enjoy delicious cupcakes, and you can learn more about Manhattan and its landmarks as you explore the city.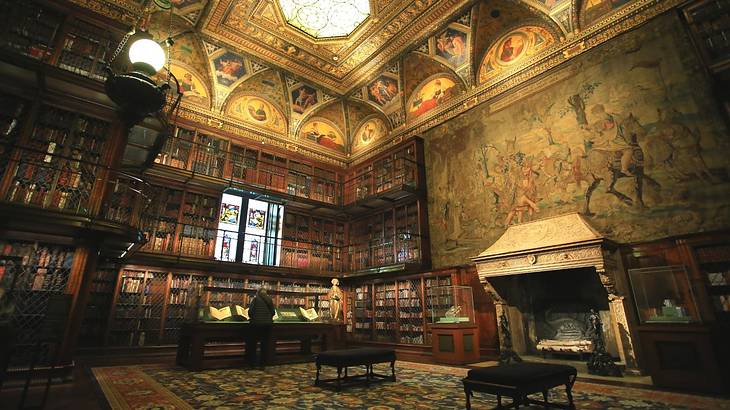 Look around the Morgan Library and Museum
The Morgan Library and Museum is a museum and research library found in Murray Hill. The building's interior is stunning, with high ceilings, many bookshelves, and art-covered walls.
Exhibits at the museum cover art and literature. These collections get rotated frequently, so there's always something new to see and learn about.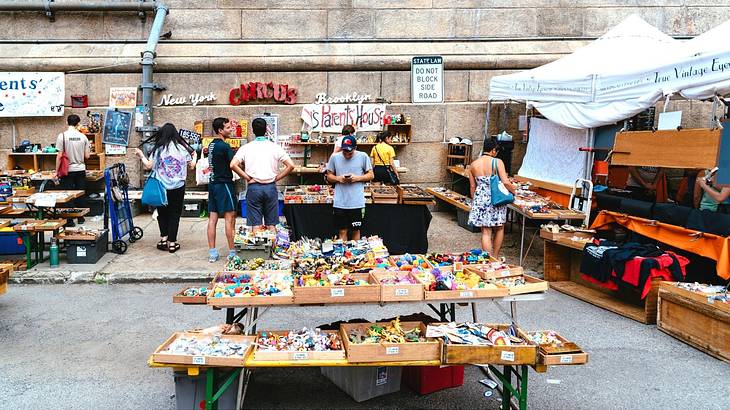 Shop at the Brooklyn Flea Market
Another of the great shopping-based things to do in New York for couples is going to the Brooklyn Flea Market. The market is held on Saturdays and Sundays and offers shoppers many products to buy. Pieces on offer include clothing, jewelry, decor items, and much more!
Skate around at Roller Jam USA
Roller Jam USA is a perfect date spot that allows you to skate around to great music. The venue is located on Staten Island and has adult-only nights that go until midnight on Fridays and 2 AM on Saturdays. The roller rink also has black lights and neon lights for a retro vibe.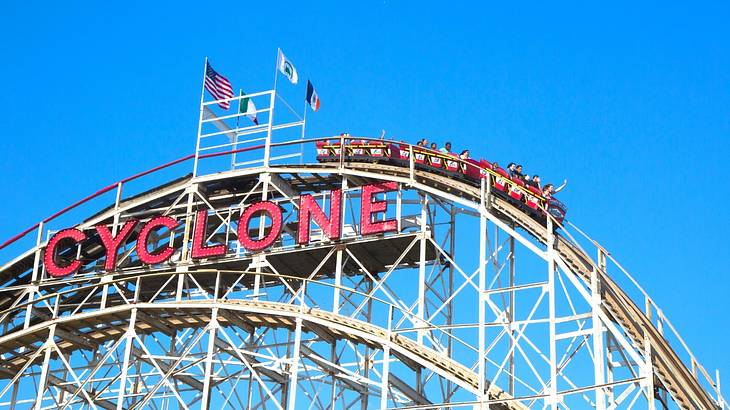 Enjoy a fun day at Luna Park on Coney Island
Luna Park is an amusement park located on Coney Island. The park has numerous roller coasters, plus other attractions like fun-fair games and shops. You and your date can also grab classic amusement park snacks, such as hot dogs, funnel cake, and ice cream.
Laugh the night away at a comedy club
Going to a comedy club is another of the great NYC couple activities you can try. You can find a good selection of clubs across the city, with stand-up nights, improv shows, and acts by famous comedians.
Places to check out include New York Comedy Club, Gotham Comedy Club, and Comedy Cellar.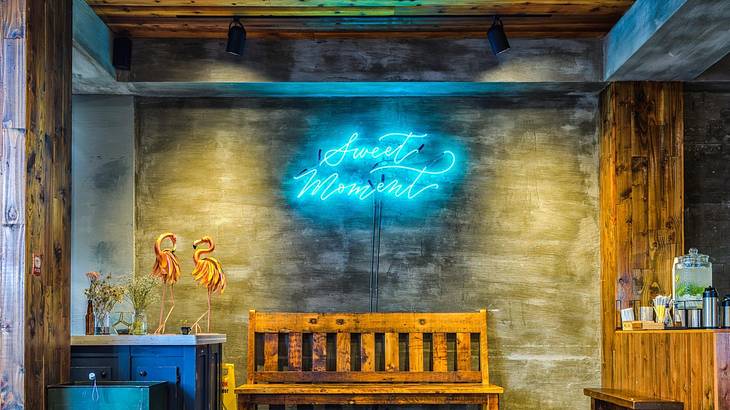 Admire the cute latte art at Sweet Moment
Sweet Moment is a cute cafe that has delicious and unique desserts. The cafe is also known for its adorable latte art. When you and your partner order a drink, it will be adorned with kawaii-style animal faces.
Desserts on offer include decadent shaved ice treats and waffles covered in Nutella, fruit, and other sweets.
Work together to get out of an escape room
A perfect way to bond is working together to get out of an escape room. At Escape Game New York, you can play a range of different themed games. No matter which theme you choose, you're sure to have a great time solving puzzles to break free!
Have a breakfast date at Pershing Square
Pershing Square is a brasserie located opposite Grand Central Station. It's also one of the most romantic places in New York City to enjoy breakfast with your loved one. Dishes on the menu include pancakes, french toast, yogurt with granola, and much more.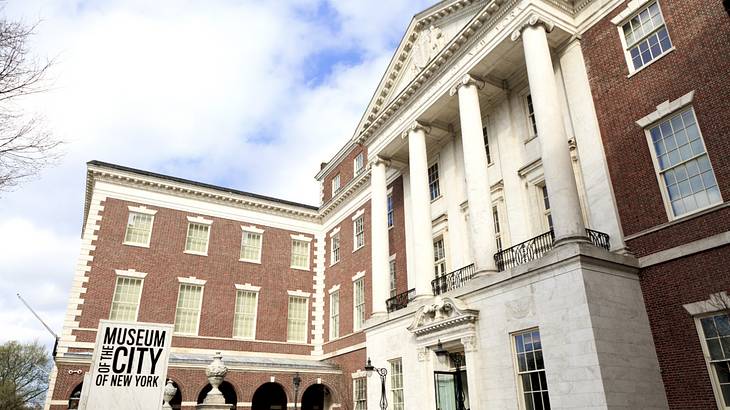 Learn more about NYC at the Museum of the City of New York
Founded in 1923, the Museum of the City of New York is intended to preserve the history of the city and its residents. At the museum, you can find exhibits on notable events and individuals in the city's history.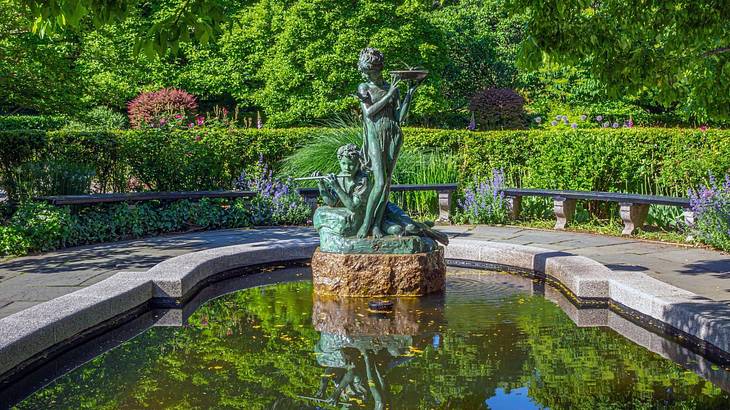 Walk around the Conservatory Garden
Conservatory Garden is a six-acre park located near Central Park. The park has beautifully manicured lawns, flower beds, water fountains, and other scenic details. It's a great place to go for a walk with your date and unwind surrounded by nature.
Dine on delicious plant based dishes at Blossom
For couples that are plant-based, or interested in trying new dishes, a trip to Blossom is a must. The Upper West Side fine-dining spot has an array of meat and dairy-free dishes. Menu options include sweet potato gnocchi, salmon tofu, and plant-based desserts.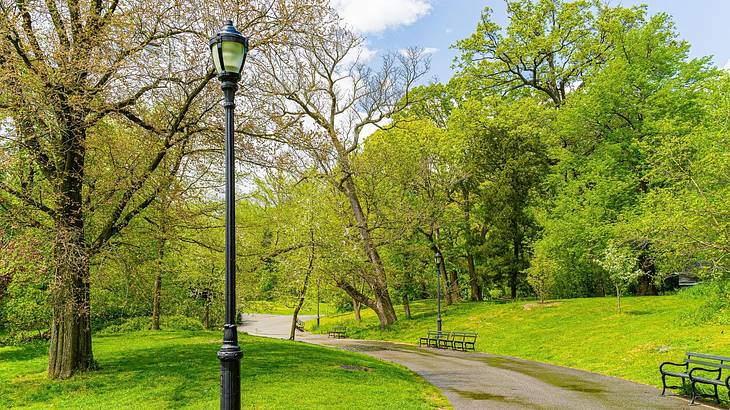 Enjoy outdoor activities at Prospect Park
You and your date can try many activities at Brooklyn's Prospect Park. The park is ideal for those that like to jog or bike. You can also find great spots to share a picnic and can boat, do yoga, play tennis, and much more.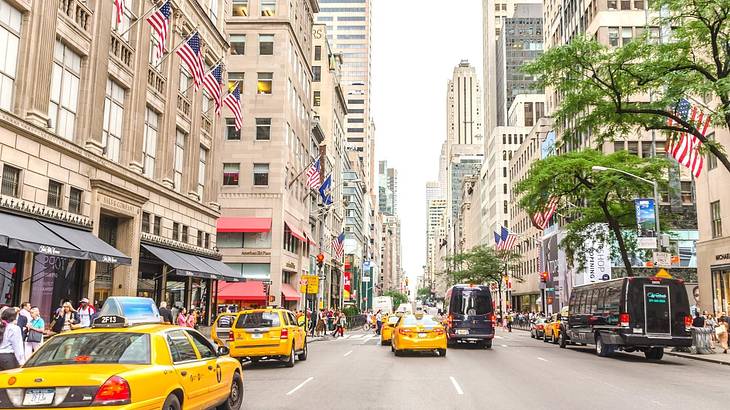 Spoil your date on Fifth Avenue
If you're looking to splurge a little on your partner, one of the best things to do for couples in NYC is going shopping on Fifth Avenue. The well-known street has many designer and luxury shops and department stores. Even if you don't want to buy, window-shopping in this area is a fun activity too!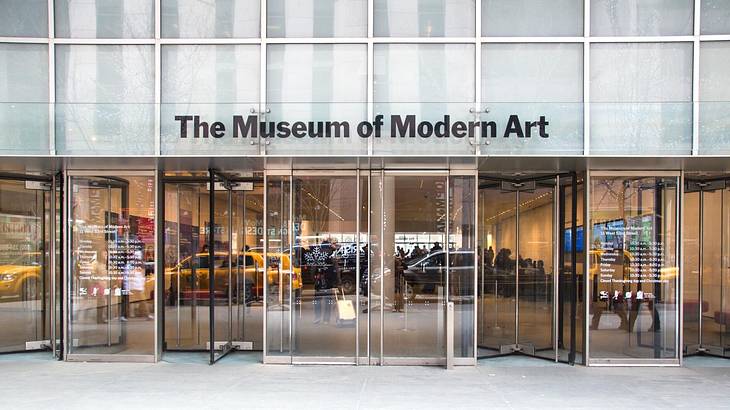 Appreciate modern art at the MoMA
MoMA, or the Museum of Modern Art, was founded in 1929 and remains one of the most famous art galleries in the United States. When visiting, you and your date can see an outstanding collection of contemporary art. Artists with works on display include Picasso, Frida Kahlo, and Salvador Dali.
Try rock climbing at Central Rock Gym
A cool thing to try together in New York is indoor rock climbing at Central Rock Gym. The venue has a range of climbing walls for all ability levels. You can also take lessons and classes to enhance your skills.
Explore the American Museum of Natural History
Another top museum in Manhattan is the American Museum of Natural History. Exhibits cover the world's wildlife, with butterfly, shark, and bear displays, among others. You can also learn about dinosaurs and see fossils and skeleton replicas.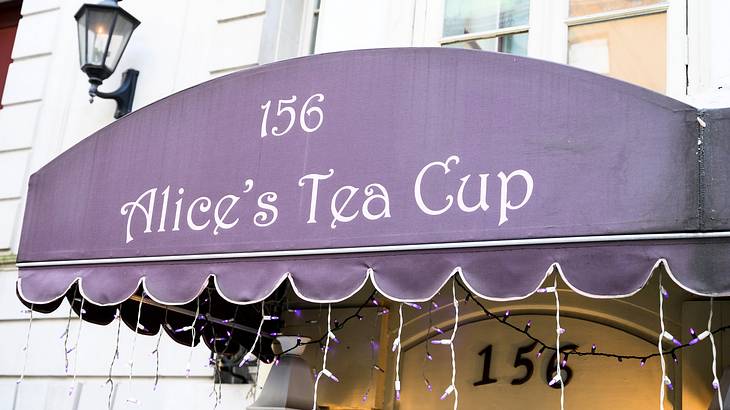 Share afternoon tea at Alice's Tea Cup
One of the cute and romantic places to go in NYC is Alice's Tea Cup. This Alice in Wonderland-themed cafe serves afternoon tea, which includes scones, finger sandwiches, and other sweet treats. You can accompany your meal with a selection of teas, prosecco, bellinis, or mimosas.
Ice skate at Rockefeller Center
Another perfect date activity, especially in the winter, is ice skating at Rockefeller Center. The rink opens early and closes late, so you can visit no matter what time your date is planned for.
You and your date can skate around the rink while taking in the surrounding city views. During the holidays, you can admire the Rockefeller Center tree too!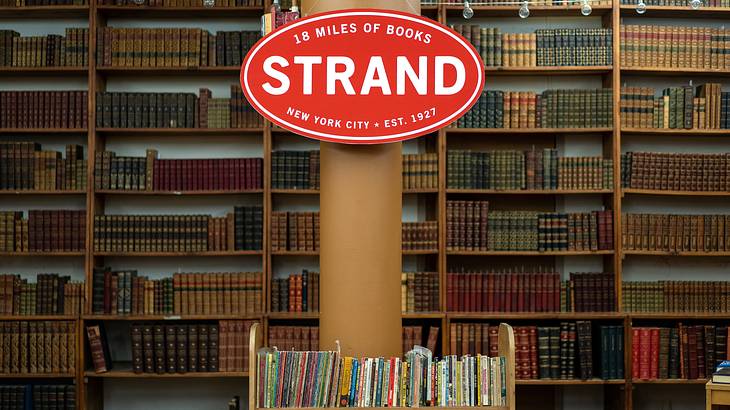 Search for rare books at the Strand Bookstore
The Strand Bookstore is a well-known book shop in Manhattan. It has new releases, classic books, and some rare and antique publications. Wandering around the store with your loved one is a laid-back activity to enjoy in New York. You may also find a great new read or a unique book to buy.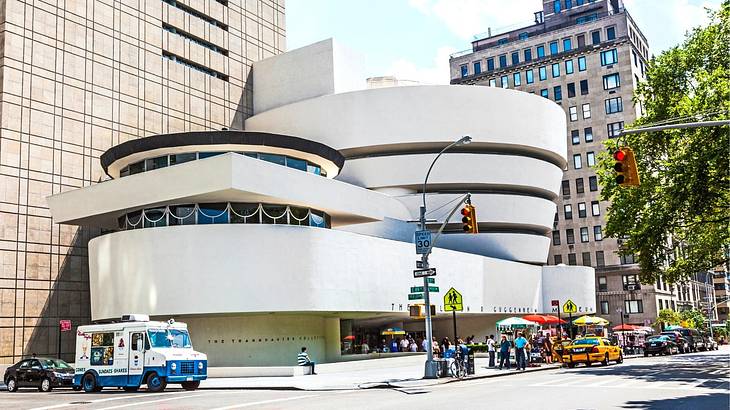 Go to the Guggenheim
The Guggenheim is another of the great art museums in New York to visit with your other half. The art gallery has an impressive collection of contemporary art, along with temporary exhibits. The museum building is also one of the most famous pieces of architecture in the city.
Cuddle with kitties at a cat cafe
One of the cutest places in New York for couples to have a date is at a cat cafe. NYC has a selection of cafes to choose from, including Koneko Cat Cafe, Meow Parlour, and Brooklyn Cat Cafe.
At the cafes, you can enjoy a coffee, play with kitties, and even adopt a cat if one of them steals your heart!
Romantic Things to Do Near New York City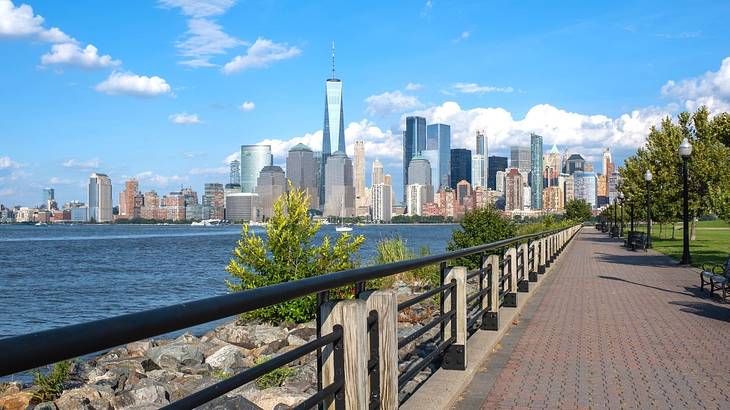 Go across to Liberty State Park
Liberty State Park is one of the outdoor attractions you and your partner should check out. The park is located in New Jersey but is easy to get to when driving or taking a cab. You can stroll around the park and take in the views of the Statue of Liberty and the Manhattan skyline.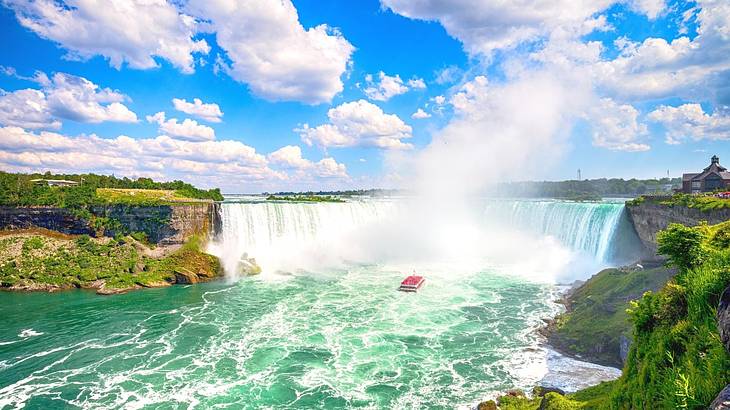 Take a day trip to Niagara Falls
The iconic Niagara Falls are located six hours from New York City. If you and your partner are willing to start the day early, you can visit the falls on a Niagara Falls day tour.
You'll be taken to and from the falls, where you can admire the world-renowned landmark and explore some surrounding attractions. While the falls are impressive any time of year, a great time to visit Niagara Falls is in the spring.
The weather is excellent, and the falls won't be frozen, as they may be during the winter. Taking a boat ride around the falls will also be pleasant at this time. In addition, the crowds of summer won't have arrived yet, especially if you go in early spring, making it easier to enjoy the falls and get reservations at restaurants overlooking them.
In Conclusion
New York City is a location full of attractions for all types of travelers. If you're looking for date ideas, you'll discover an array of fun and romantic things to do in New York City. This list of travel tips for couples covered a few of those romantic suggestions and, hopefully, gave you some new ideas for a fantastic date in New York!
Give us feedback about this article
More visual stories related to this article:
---
---
Want to keep exploring?
Subscribe for discounts on tickets and hotels and our latest guides.
Thank you for subscribing
We will be in touch soon with discounts on tickets and hotels and our latest guides.
Want to keep exploring?
Subscribe for discounts on tickets and hotels and our latest guides.
Thank you for subscribing
We will be in touch soon with discounts on tickets and hotels and our latest guides.
Related Articles