The Best 3 Day New York City Itinerary for First Time Visitors
Destguides may receive commissions from purchases made through affiliate links in this article.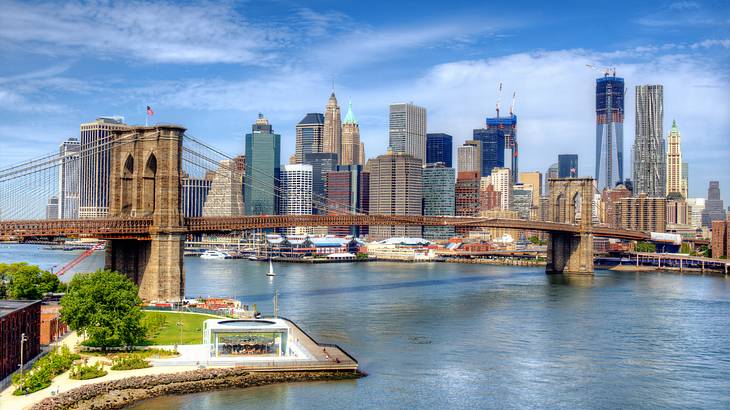 New York City is a bucket-list destination for almost every traveler. However, if you're visiting the iconic city for the first time, it can be a bit overwhelming planning what to see and do.
Luckily, this 3 day New York City itinerary covers all the top attractions and landmarks to make organizing a trip easy for first-time visitors. Activities you'll get to enjoy when in the Big Apple include going up the Empire State Building, seeing the Statue of Liberty, and exploring Greenwich Village.
3 Day NYC Itinerary
Famous New York City Attractions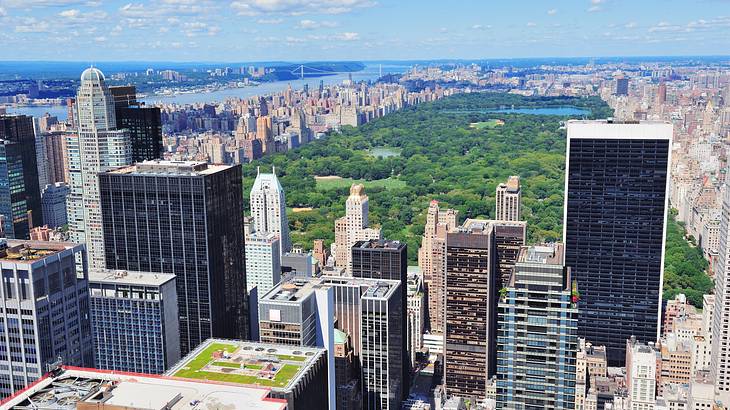 On your first day in New York City, you'll get to see some well-known attractions. Your day starts at the American Museum of Natural History, where you'll learn about wildlife, science, and more. Next, you'll visit beautiful Central Park to explore the iconic urban green space. Your next stop is the stunning New York Public library.
Having taken in the shelves of books and fantastic architecture, head to Grand Central Station to view another renowned New York landmark. The afternoon will be spent touring Radio City Music Hall and visiting Rockefeller Center, where you can go up to the observation deck for 360-degree views of Manhattan. Finally, you'll end your day in the illuminated Times Square, shopping and grabbing dinner and drinks.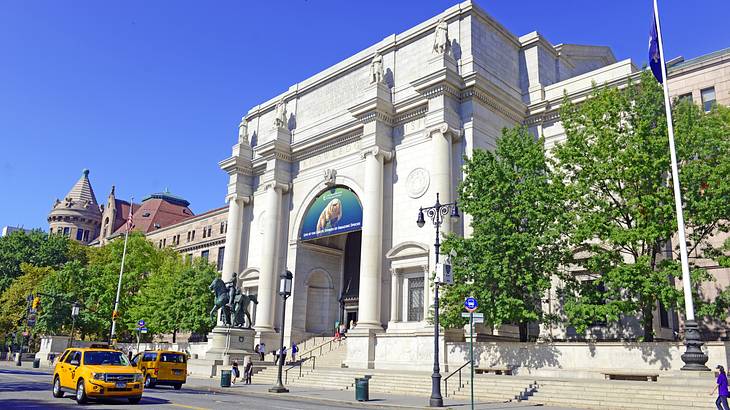 American Museum of Natural History
The American Museum of Natural History is one of the most prestigious scientific museums in the United States. Located on the Upper West Side, it's a must-visit attraction when in New York.
When visiting the American Museum of Natural History, you'll discover an array of exhibits on animal species and scientific phenomena. These displays include features on outer space, the Tyrannosaurus Rex, and butterfly conservation.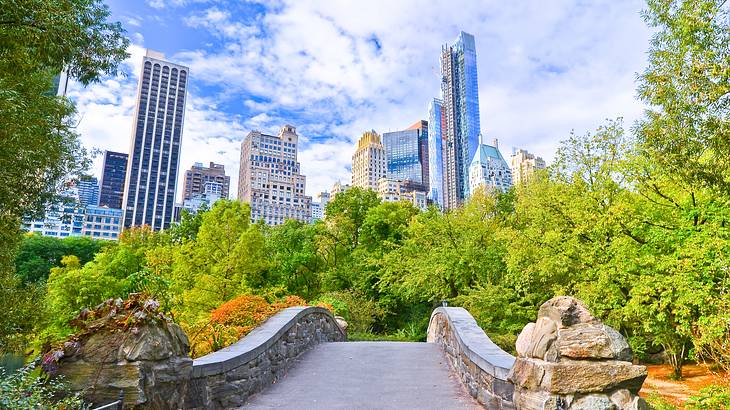 Central Park
Central Park is a renowned New York City attraction. The urban park has beautiful trees and greenery, lakes, statues, and more. You can't visit NYC without spending at least a few hours here, and there are various ways to enjoy Central Park, from exploring on foot to biking or taking a guided tour.
If you're wondering when the best time to visit NYC is to explore Central Park, you really can't go wrong any time of year! During the spring and summer, the park's trees and flowers are in full bloom, and the weather is warm and sunny, allowing you to enjoy a long walk or have a picnic.
In fall, the leaves turn pretty shades of red, yellow, and orange, and in the winter, the park becomes a winter wonderland, often covered in snow. However, do note it can get quite cold in NYC during late December, January, and February, so wrap up warm to wander around Central Park.
New York Public Library
Another famous New York attraction is the New York Public Library - Stephen A. Schwarzman Building. This renowned landmark is a must-visit location to add to your three days in NYC itinerary. Founded in 1895, the New York Public Library in Manhattan is part of the fourth largest library system in the world.
At the library, you can explore the many rows of bookshelves that house a range of classics and limited editions. In addition, you can relax with a book in the stunningly designed Rose Main Reading Room.
Grand Central Station
Grand Central Station, also known as Grand Central Terminal, is another amazing NYC landmark. The station, open to the public since 1913, features stunning architecture and is an excellent place to people watch.
A main draw here is the vast main terminal that houses a magnificent clock, high ceilings, and tall glass windows. Along with wandering around the station by yourself, an exciting way to see the landmark and learn more about its history is via a Secrets of Grand Central Walking Tour.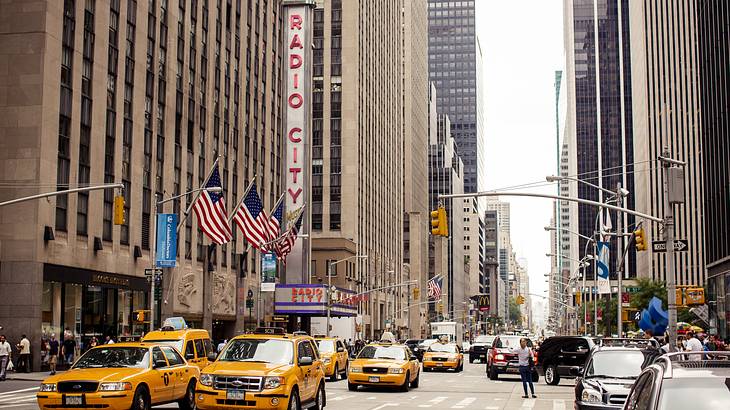 Radio City Music Hall
Radio City Music Hall is a popular entertainment venue that's known for the Radio City Rockettes. The venue hosts various shows, including concerts, comedy shows, and arts performances. This location also hosts the exciting Rockettes' Christmas Spectacular during the holidays.
Along with seeing a performance at this legendary venue, you can take a guided tour of Radio City Music Hall during the day. On the tour, you'll get to see exclusive areas, such as backstage, and will even meet a Rockette!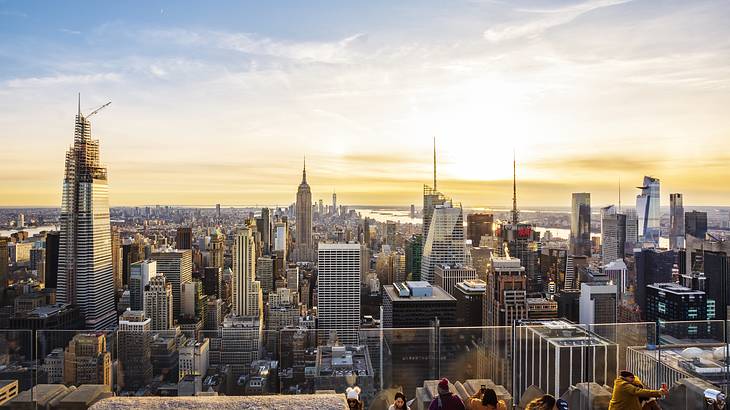 Rockefeller Center and the Top of the Rock Observation Deck
Another must-see attraction on your 3 day NYC trip is Rockefeller Center. The area covers 22 acres and houses 19 commercial buildings, including NBC Studios. This attraction is also home to a seasonal ice rink and large Christmas Tree during the holidays. If you haven't been to NYC at Christmas, it's one of the most amazing times of the year to visit!
Rockefeller Center also has an observation deck called Top of the Rock, located on the 70th floor of the main building. On the Top of the Rock Observation Deck, you'll enjoy breathtaking 360-degree views on Manhattan. Visiting just before sunset is recommended to get day and night views.
Times Square
Times Square is one of the most exciting attractions in NYC. The iconic square features shops, restaurants, and entertainment venues. While visiting during the day is fun, seeing Times Square illuminated at night is a must.
Once you've enjoyed the flashing billboards and displays, you can grab some souvenirs at a range of shops or stop for dinner and drinks. You may also see street performers. Of course, taking lots of pictures is highly recommended too!
A Relaxed Day Exploring NYC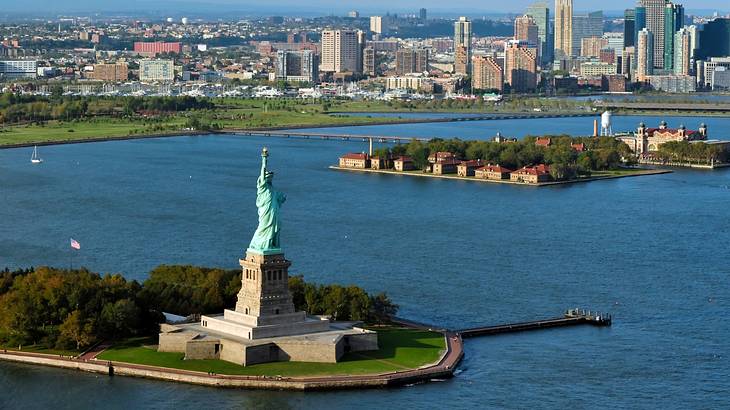 Day two of your itinerary for 3 days in new york city will be laid-back, but you'll still get to see lots of attractions and landmarks. The day begins with breakfast and exploring the beautiful Greenwich Village and Washington Square Park. Next, you'll head to Hudson Yards for some shopping and lunch.
In the afternoon, you'll see two iconic NYC attractions, Ellis Island and the Statue of Liberty. Having enjoyed these famous landmarks in New York, you'll move on to another renowned spot, the Empire State Building.
Here, you can visit the observation deck or just take pictures from the ground. In the evening, you'll catch the Staten Island Ferry, with the option to discover bars and restaurants on the island or head back to Manhattan to finish the night.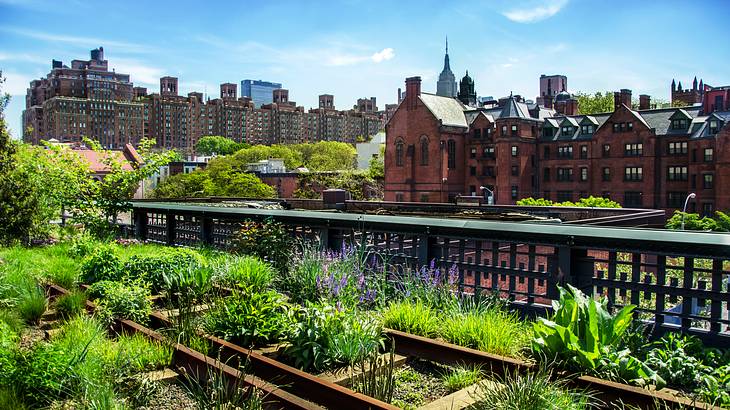 Greenwich Village
Greenwich Village is a scenic neighborhood in Lower Manhattan, featuring quaint brownstones and tree-lined streets. You can also find many things to do and see in Greenwich Village.
Attractions to check out include Washington Square Park and the High Line. You can also visit an array of shops and eateries, including the well-known Magnolia Bakery, to get some sweet treats.
Washington Square Park
As mentioned, Washington Square Park is a must-see attraction in Greenwich Village. The 95-acre park is a great place to take a break from the bustle of the city.
Washington Square Park notably features the Washington Arch. This marble structure was constructed to mark the centennial of George Washington's Presidential inauguration and is one of NYC's many must-see landmarks.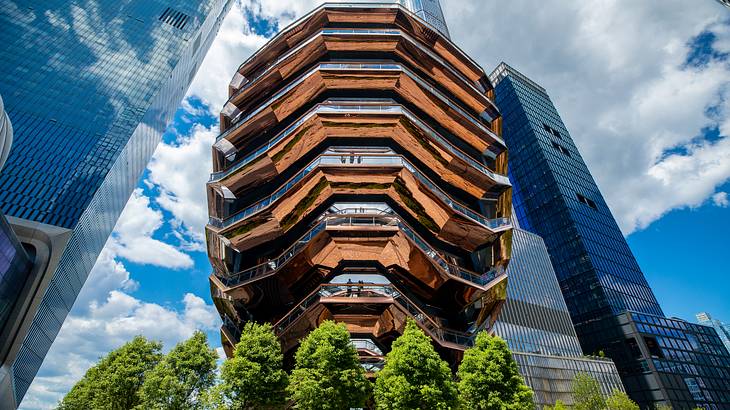 Hudson Yards
Hudson Yards is an apartment, office, and entertainment complex that boasts a range of shops and restaurants. Shopping options include a range of mid to high-end fashion, beauty, and home-good brands. Hudson Yards is the ideal place to window shop, splurge on yourself, or buy someone a special gift.
You can also stop for lunch or a snack at one of many eateries, including a champagne bar on the 100th floor. If you're in the mood for an adrenaline-pumping activity, you can even scale the building with the Climb experience.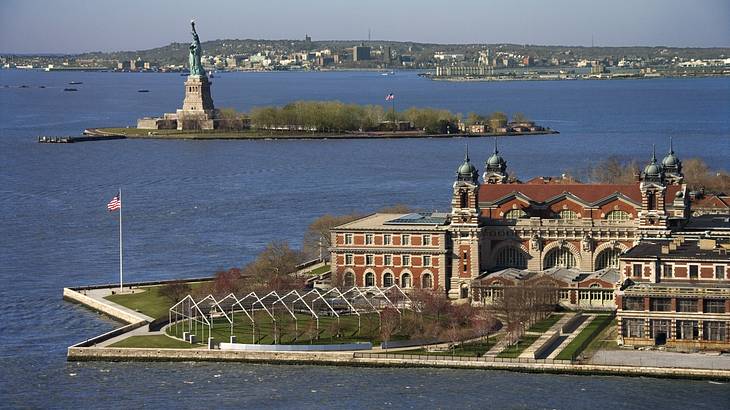 Ellis Island
If you want to learn about some of New York's history, a trip to Ellis Island must be on your NYC in 3 days itinerary. This island, located a short boat ride from Manhattan, is where immigrants to the US were processed between 1892 and 1954.
Today, the main processing building houses a museum. The museum covers the history of the structure and immigration to the US, as well as some specific immigrant stories. Being so close to the Statue of Liberty, taking a combined Ellis Island and Statue of Liberty tour is a great way to tick both landmarks off of your to-do list.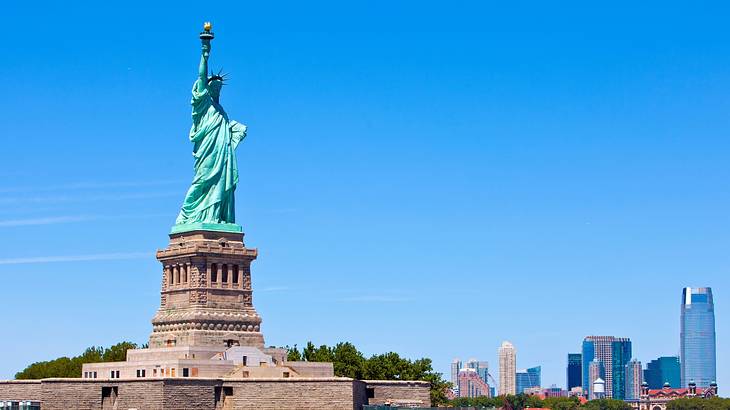 Statue of Liberty
The Statue of Liberty is one of North America's renowned landmarks. The statue of a woman holding a torch was gifted to the US by France, and it symbolizes unity and friendship.
You will find an array of ways to see the Statue of Liberty. From taking a sightseeing cruise to combining a visit to Lady Liberty with a trip to Ellis Island.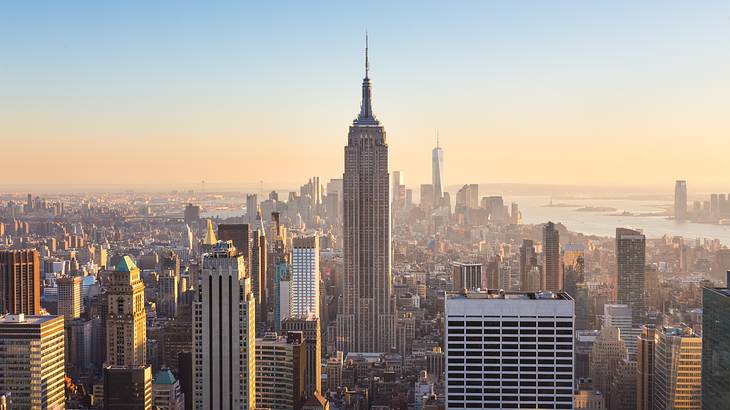 Empire State Building
The Empire State Building is one of the most famous landmarks in the world. It's an attraction that every first-time visitor to New York City should see!
You can simply view the building from ground level or go up to the Empire State Building viewing deck for panoramic city views. There are two viewing decks to visit, one on the 86th floor and one on the 102nd floor. You can also see the Empire State Building from various places in NYC, such as from the Top of the Rock.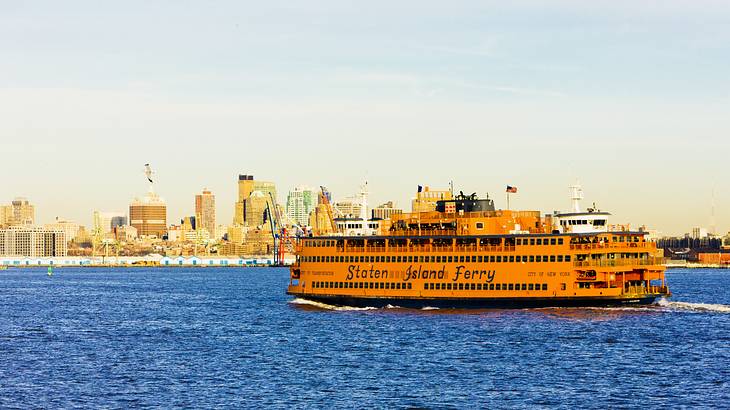 Staten Island Ferry
While Manhattan is a great area to explore, going outside the island is recommended too. Staten Island is one of these places and can be reached easily by taking the Staten Island Ferry. The ride takes 25 minutes and allows you to enjoy stunning views of the Manhattan skyline.
Once in Staten Island, you can take a cab to one of many bars (that are often less crowded than those in central New York City) for a fun night out. Even if you don't stay in Staten Island, taking the ferry is a great thing to do during your 3 days in NYC.
Pretty Parks and Landmarks of the Financial District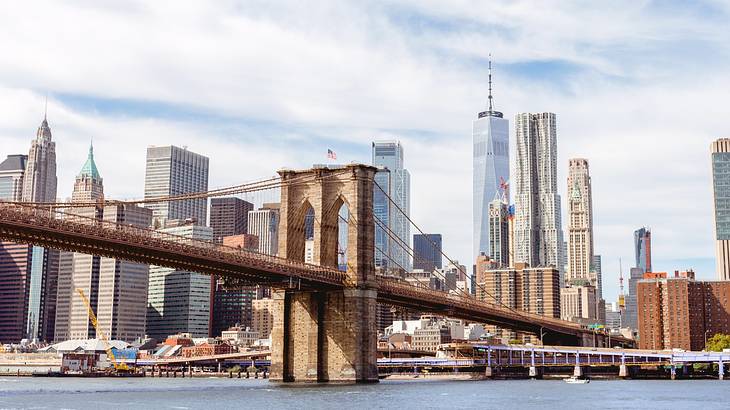 Your last day in New York City will be primarily spent in the Financial District and discovering beautiful urban parks. First, you'll visit Wall Street, Manhattan's business and financial center. After learning more about this important location, you'll relax by exploring City Hall Park and Battery Park City.
Your next activity is crossing the Brooklyn Bridge, where you'll enjoy breathtaking panoramas all the way across. In Brooklyn, you can hang out in Brooklyn Bridge Park and appreciate the skyline.
Once back in Manhattan, you can pay respects at the 9/11 Memorial and Museum before visiting the rebuilt World Trade Center. Your evening will be spent with a delicious meal and incredible views at the One World Observatory restaurant.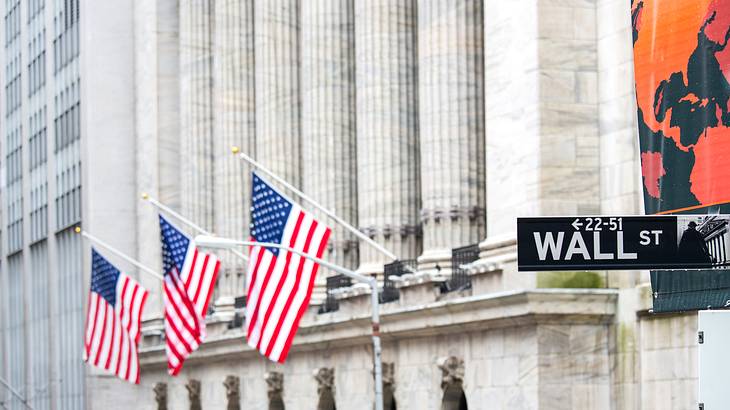 Wall Street
Wall Street is home to the New York stock exchange and some of the biggest financial institutions in the world. Stopping by this bustling and important area of Manhattan is a highly worthwhile thing to do.
If you want to spend more time on Wall Street and learn about the area, be sure to book a Wall Street tour. You will be taken to top attractions by a former Wall Street professional and given detailed background information relating to everywhere you see. This tour offers the ideal way to become a Wall Street expert!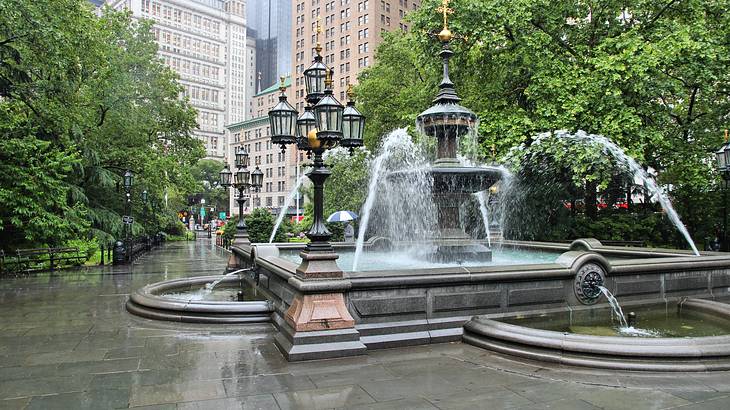 City Hall Park
City Hall Park is a tranquil and relaxing park in lower Manhattan. The park features beautiful greenery and charming fountains. Wandering around City Hall Park is a great way to escape the bustle of New York City.
The park is also a perfect place to people-watch or sit and enjoy a coffee. From the park, you can also see the impressive City Hall building.
Battery Park City
Another must-see outdoor area on your three days in NYC itinerary is Battery Park City. Located along the Hudson River, this area of Manhattan features apartment buildings and amazing green space.
Hanging out at Battery Park is one of the laid-back non-touristy things to do in NYC, and allows you to unwind as you take in the city and river views. You'll also discover a range of casual restaurants and cafes if you want to stop for a snack.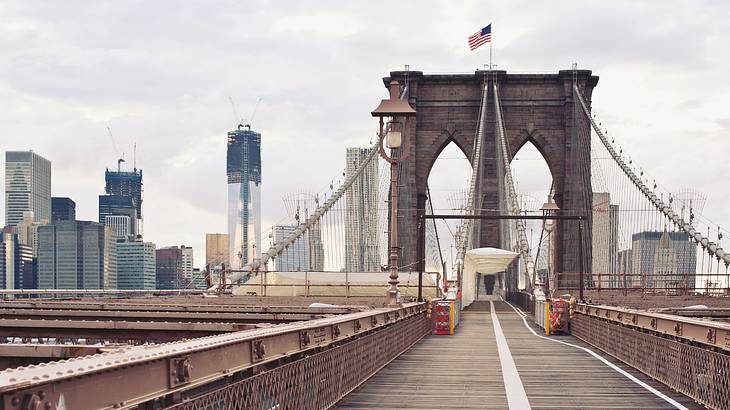 Brooklyn Bridge
Walking across the Brooklyn Bridge is another of the many things a first-time visitor to New York City must do. The bridge connects Manhattan and Brooklyn and is an iconic feature on the NYC skyline.
If you don't feel like walking across, biking over the Brooklyn Bridge is a great option! Whether you walk or bike, you'll get to take in incredible views of the city skyline and snap lots of amazing photos.
Brooklyn Bridge Park
Brooklyn Bridge Park is an 85-acre park on the banks of the East River. The park sits next to the entrance to the Brooklyn Bridge on the Brooklyn side. When visiting, you can admire the Manhattan skyline, relax on the grass, or even pack a picnic to enjoy.
Hanging out in Brooklyn Bridge Park is also one of the fun things to do at night in NYC. You can see the skyline lit up and can watch outdoor movies in the summer.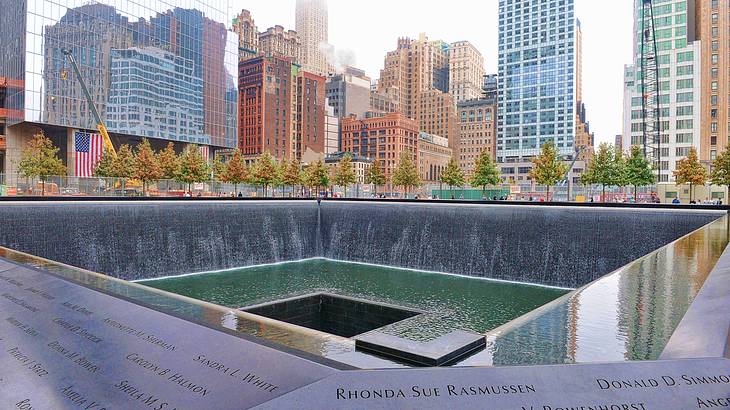 One World Trade Center and World Trade Center Memorial
One World Trade Center is an office building with an observation deck located in lower Manhattan. The building is the tallest in the US and the seventh-tallest in the world. One World Trade Center is the rebuild of the World Trade Center complex, or Twin Towers, destroyed in the September 11 terrorist attacks.
Along with appreciating this stunning piece of architecture, make sure you visit the World Trade Center Memorial and 9/11 Museum. The memorial is located at the site of the old World Trade Center and pays homage to victims of the September 11 attack. The 9/11 Museum features a range of artifacts and covers stories relating to the tragic event.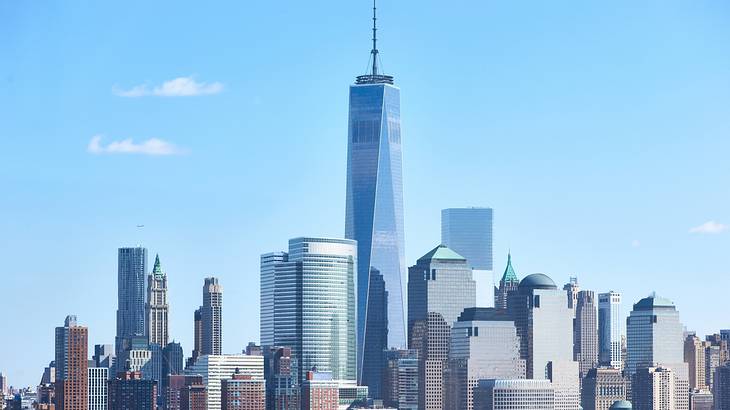 One World Observatory
One World Observatory is located across One World Trade center's 100th, 101st, and 102nd floors. When visiting, you'll discover observation decks to take in panoramic views of NYC and can have dinner at ONE Dine.
The ONE Dine restaurant allows you to savor an outstanding meal as you take in the views. Having a delicious meal at One World Observatory is the perfect way to end your three days in NYC! Enjoying dinner here is additionally one of the most romantic things to do in New York City.
In Summary
New York City is a must-visit destination. The world-famous city features an array of incredible landmarks and fun things to do. When visiting for the first time, this three-day itinerary should ensure you don't miss any of NYC's best attractions.
Give us feedback about this article
Learn more about New York City:
More articles about New York:
Read more articles about the United States:
---
---
Want to keep exploring?
Subscribe for discounts on tickets and hotels and our latest guides.
Thank you for subscribing
We will be in touch soon with discounts on tickets and hotels and our latest guides.
Want to keep exploring?
Subscribe for discounts on tickets and hotels and our latest guides.
Thank you for subscribing
We will be in touch soon with discounts on tickets and hotels and our latest guides.
Related Articles