20 Fun Things to Do in NYC at Night
Destguides may receive commissions from purchases made through affiliate links in this article.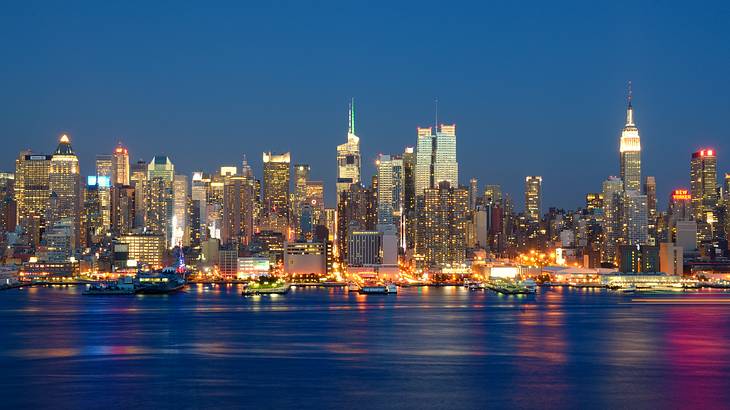 New York City is consistently ranked as one of the most-visited destinations in the world. The iconic city features activities for all types of travelers and is home to numerous world-famous landmarks.
Along with lots to do and explore in the daytime, you can find many fun things to do in NYC at night. Activities include dinner and sightseeing cruises, going to Broadway shows, listening to jazz, and much more. If you're after some new things to do at night in the city that never sleeps, read on for 20 fun suggestions!
20 Fun Things to Do in New York City at Night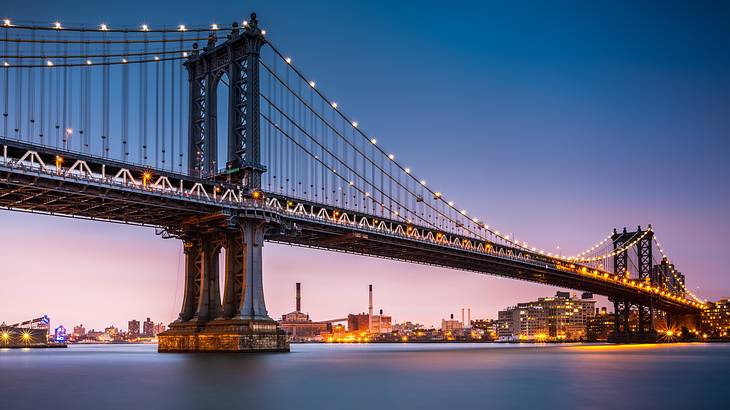 Walk across the Brooklyn Bridge
The Brooklyn Bridge is one of the most famous New York landmarks. Although most people cross the bridge during the day, doing so at night is also an excellent thing to do!
On your walk, you'll get to appreciate the views of the illuminated New York City skyline and can take some unique pictures. Being on the bridge for sunset is a great idea too. Starting your night walking across the bridge also means you can check out the nightlife in the destination at the end of the walk over the bridge: Manhattan or Brooklyn, depending on which side you come from.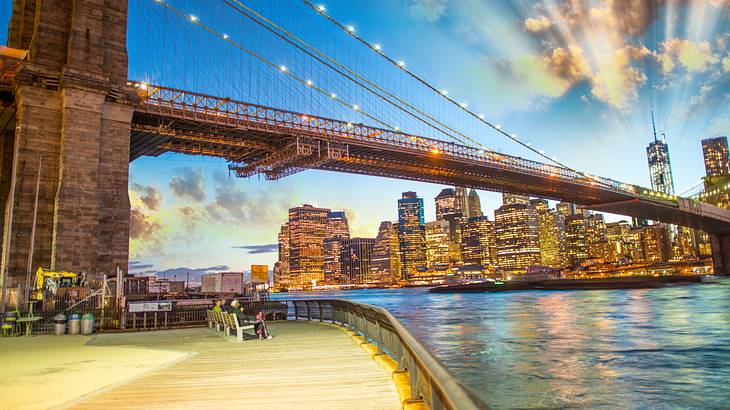 Hang out at Brooklyn Bridge Park
Brooklyn Bridge Park is a pretty park close to the start of the Brooklyn Bridge in Brooklyn. Hanging out in the park for a few hours and taking in the nighttime views of Manhattan is a fun and laid-back thing to do during the evening.
You can bring a blanket, drinks, and snacks and watch the twinkling lights across the water. In August, the park also hosts outdoor movies after dark, which are well worth checking out.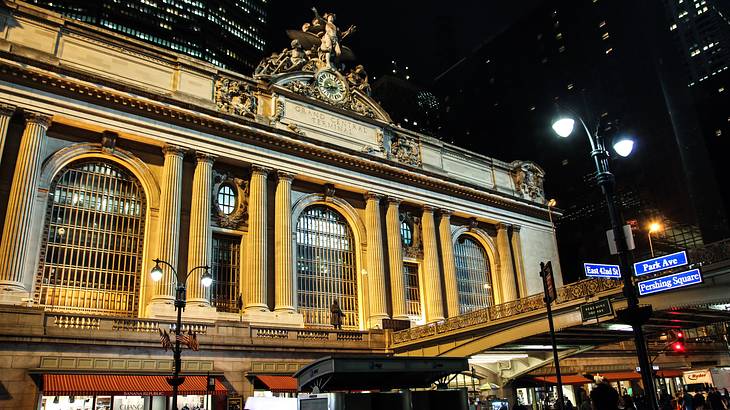 Wander around Grand Central Station
Grand Central Station is the best-known station in New York. Although many choose to visit during the day, it's also one of the cool places to go in New York City at night.
After taking some beautiful photos of the station under the night sky from outside, head inside to explore. The station will be much quieter at night and is magical, with bright lights illuminating the famous main terminal.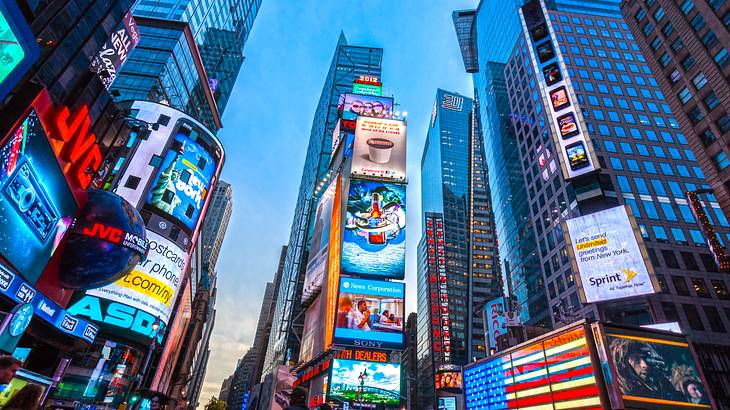 Visit bustling Times Square
Times Square is one of the most-visited places in New York City, and the iconic area looks its best at night. As it becomes dark, the many illuminations in the square light up the area. Having admired the lights and billboards, you can check out more attractions.
Things to do in the evening include exploring shopping outlets and choosing from a multitude of dining options. Places to eat range from pizza shops to chain restaurants and high-end dining venues.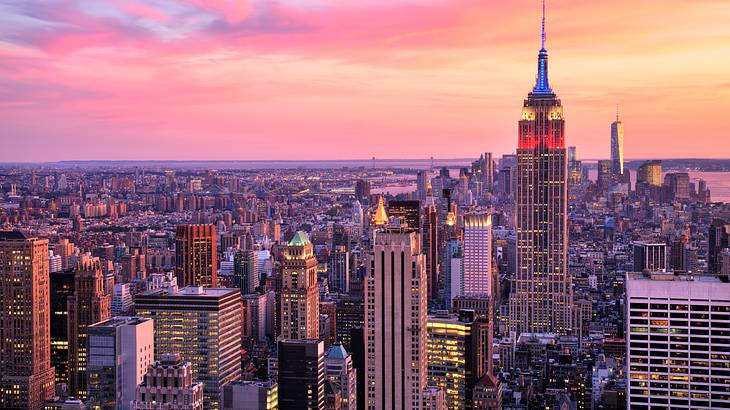 Go to the top of the Empire State Building
A great way to see NYC lit up at night is by going to the Empire State Building observation deck. The Empire State Building is one of the most famous landmarks in the world and has stood in New York City since 1931.
You can go to the Empire State Building observation deck until 11 PM, so there's no excuse not to visit the building in the evening. Once on the viewing deck, located on the 86th floor, you can take in stunning nighttime views of NYC.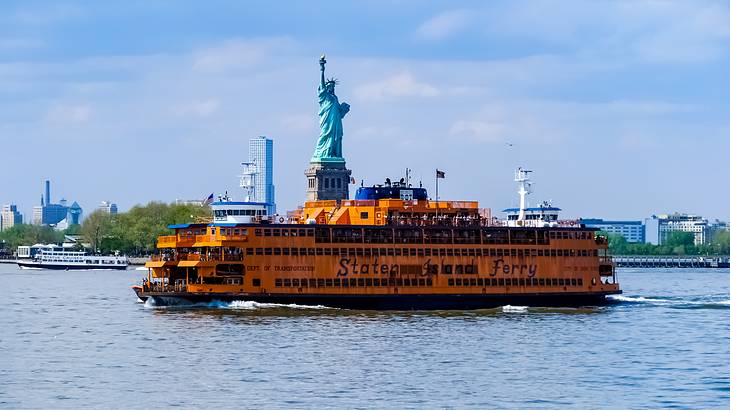 Ride on the Staten Island Ferry
The Staten Island Ferry is a well-known passenger ferry connecting Manhattan and Staten Island. Hopping on the ferry is one of the free fun things to do at night in NYC. On the 25-minute ride, you'll get to appreciate breathtaking views of the Manhattan skyline and the Statue of Liberty lit up under the night sky.
If you want to make a night of it, you can grab a cab to some of the bars and restaurants on Staten Island. These nightlife spots are a little quieter and more relaxed than bars and restaurants in Manhattan.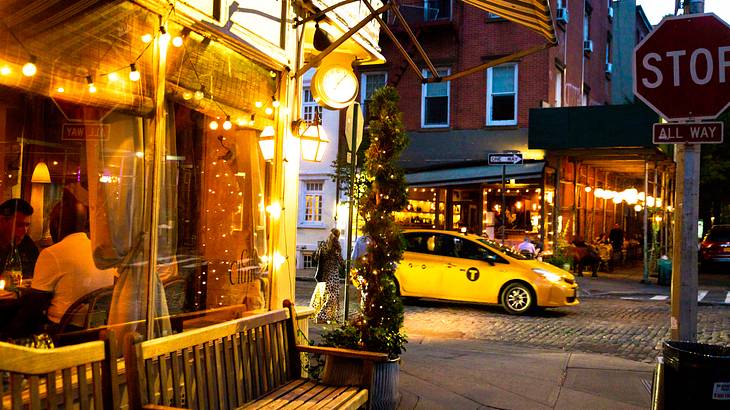 Bar hop on a Greenwich Village literary pub crawl
Manhattan has some of the best bars in the world, and an ideal way to see them is by going on a Greenwich Village pub crawl. The unique thing about this tour is that it's a literary pub crawl!
As you hop from bar to bar, you'll learn more about literary icons that have called NYC home. Some of the bars you stop at are also spots that have been popular with writers and poets.
This fun pub crawl is the perfect way to meet new people, find new favorite drinking spots, learn new things, and have an overall great night out.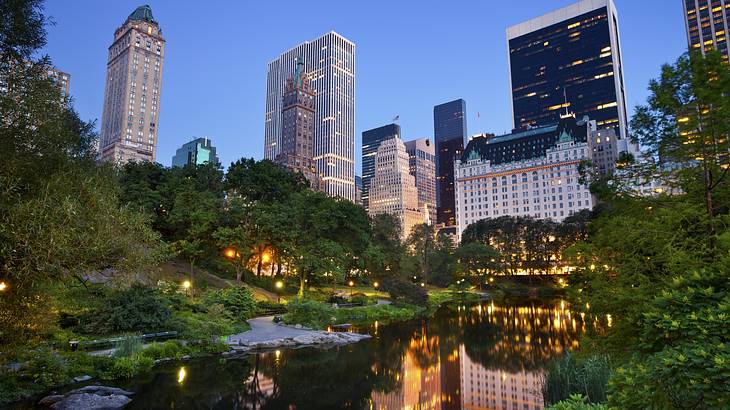 Wander through Central Park
Central Park is one of the most famous parks in the world. The 843-acre green space sits in the middle of Manhattan and attracts thousands of locals and tourists every day. A fun early evening activity is wandering through the park as the sun goes down.
The park is also a little quieter in the evening, meaning you can see famous attractions with fewer crowds. Landmarks to see in Central Park include Bethesda Fountain, Belvedere Castle, and the Central Park Zoo. As you explore, you'll also see the surrounding skyscrapers begin to light up.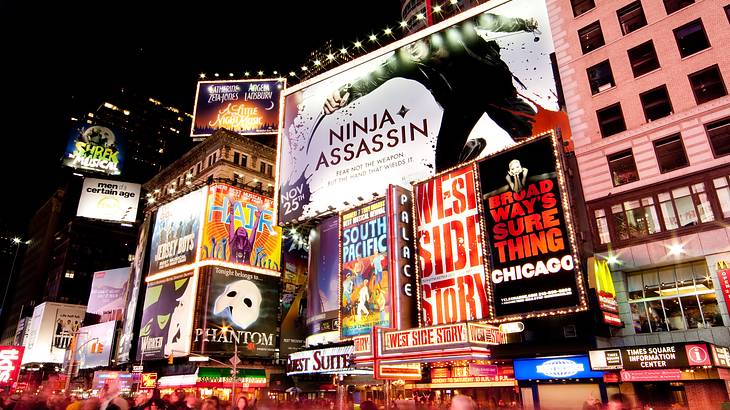 Watch a Broadway show
One of the world-renowned night activities in NYC is going to a Broadway show. New York City is home to 41 Broadway theaters, and well-known shows that have been on Broadway include Les Miserables and The Lion King.
Of course, the shows that are on will vary based on when you visit, but no matter what you see, you're guaranteed to have an amazing and memorable night out. If you can't catch a show or want to learn more about the New York Theater District, you can also take a Broadway tour!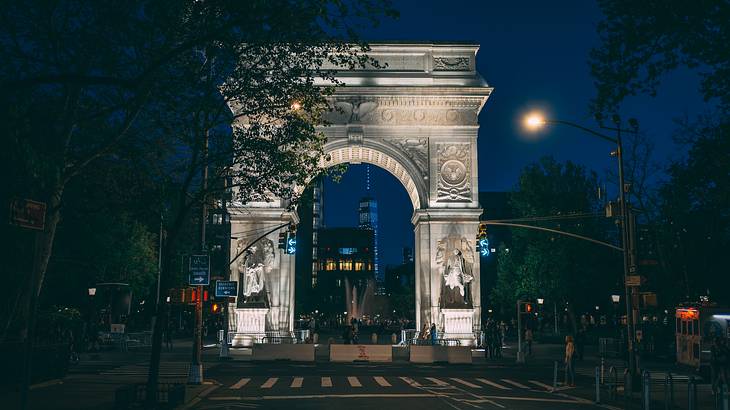 Explore Greenwich Village
Greenwich Village is a picturesque area of Manhattan that's a little more residential than some parts of the city. It's also one of the fun places to hangout in NYC at night!
Things to do in Greenwich Village at night include walking along the beautiful streets, visiting Washington Square Park, getting dinner at one of the area's excellent restaurants, and stopping for dessert at Magnolia Bakery. There are also fun bars to check out, like Marie's Crisis Cafe, a piano and cabaret bar.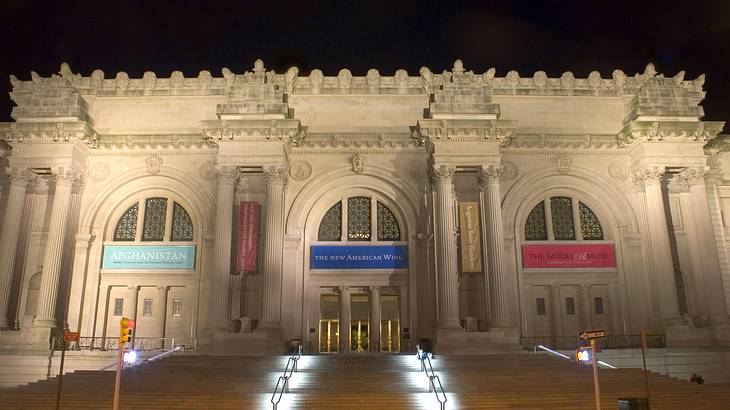 Go to the Metropolitan Museum of Art
The Metropolitan Museum of Art is a major North American Landmark. It's known for its breathtaking art collections and the array of events hosted there, including the annual Met Gala. Visiting the museum when in Manhattan is a must, but why not do so at night?
On Friday and Saturday, the Met is open until 9 PM, allowing for late evening viewings with fewer crowds than in the day. If you want to learn more about the artworks you see, take a Metropolitan Museum of Art guided tour.
Relax at AIRE Ancient Baths
Going out in New York City doesn't have to involve crazy parties and getting home late. If you're looking for some of the more chill places to visit in NYC at night, heading to AIRE Ancient Baths is for you. Visiting AIRE is also one of the fun non-touristy things to try in New York City.
AIRE has just eight luxurious spas worldwide, with one being in New York's Tribeca. Relaxing treatments to choose from include soaking in thermal baths, getting a massage, and enjoying a Himalayan salt scrub. There's even a wine and bath experience - the perfect way to unwind after a long week.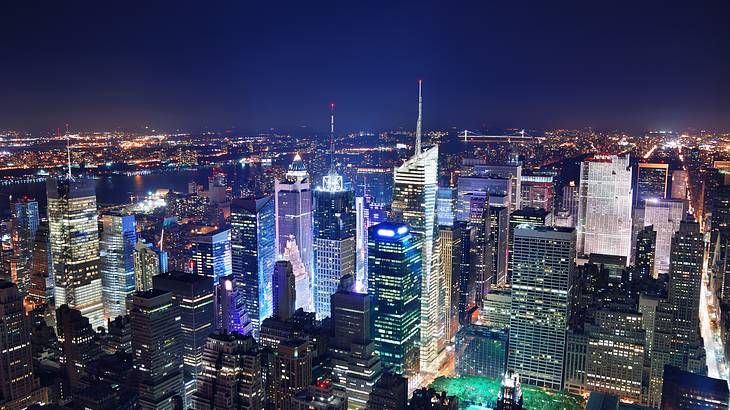 Fly over NYC on a helicopter tour
What better way to see New York City at night than flying over it on a scenic nighttime helicopter tour? You can choose a variety of time slots to fly, including during sunset and after dark.
Once in the air, you'll enjoy aerial views of all the major landmarks, including the Statue of Liberty, Empire State Building, Times Square, and Central Park. Your pilot can also offer more information on the New York landmarks you see from above. Taking a nighttime helicopter ride over NYC is something you'll never forget.
Have dinner at One World Observatory
The One World Observatory comprises the 100th, 101st, and 102nd floors of One World Trade Center. These floors feature an observation deck and a restaurant. While seeing New York City at night from the observation deck is memorable, getting the same views while you enjoy a meal is even better!
Dining at One World Observatory is also one of the most romantic things to do in NYC. Dishes to order range from burgers and lobster rolls to filet mignon and NY strip steak. You can also choose from a range of craft beers, fine wines, and chic cocktails to accompany your dinner.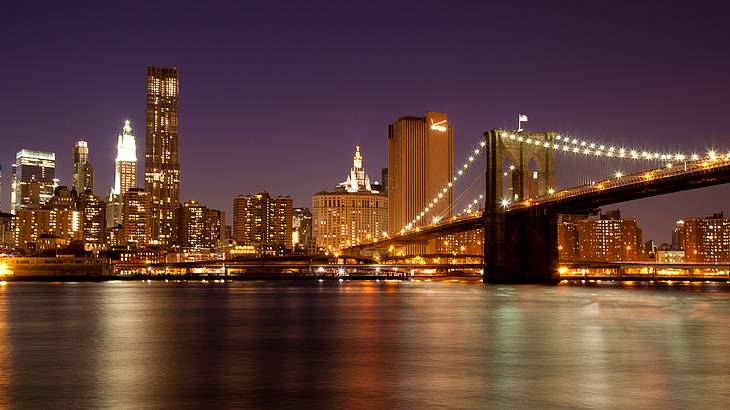 View the lights of NYC on a harbor cruise
Watching the sunset and the city lights begin to shine is one of the most incredible things to see in NYC at night. An ideal way to witness this scenic change from day to night is on the Harbor Lights Night Cruise.
The sightseeing cruise will take you out on the Hudson River to enjoy views of the Manhattan skyline. You'll also pass by many landmarks, such as the Brooklyn Bridge and the Statue of Liberty.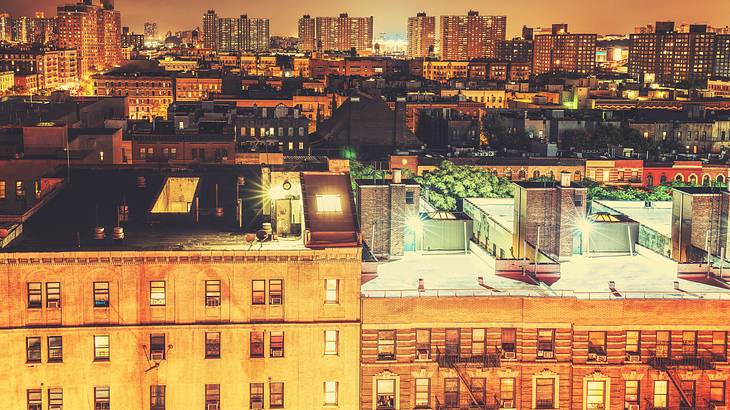 Listen to jazz in Harlem
Harlem is a vibrant neighborhood in the upper part of Manhattan. One of the things the area is known for is being home to many jazz clubs. When in NYC, checking out some of these jazz clubs is a unique and memorable experience.
To ensure you see all the best spots, go on an evening Harlem jazz tour. The three-and-a-half-hour tour will take you to various jazz clubs, and you'll see some Harlem landmarks as you go between clubs.
See the spooky side of NYC on a ghost tour
New York City has a varied past, some of which is not always that pleasant. An interesting activity to try at night is an NYC ghost tour.
There are various tours to choose from, including gangster and ghost tours and tours taking you to haunted parks, restaurants, and university campuses. Whichever tour you choose, you're sure to learn something new about New York and may even witness some spooky paranormal activity.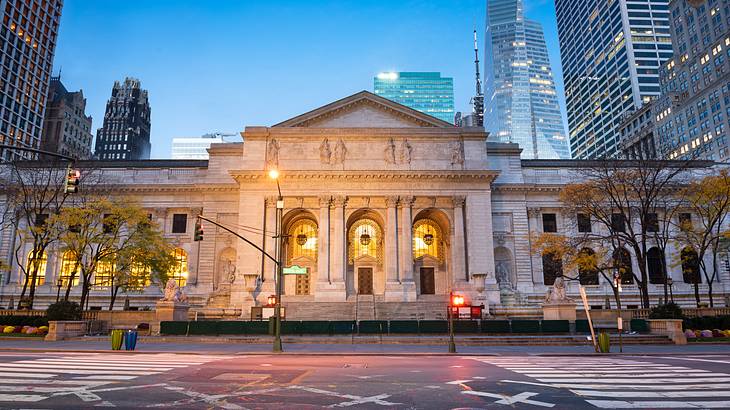 See NYC landmarks at night on a bus tour
If you can't choose what to do or what places to visit in NYC at night, going on a nighttime NYC bus tour is an ideal option. The bus will take you to seven landmark locations and will drive you past multiple other attractions.
Places that you'll stop include Times Square, Pier 17, and Hudson Yards. You'll also drive by the Empire State Building, Rockefeller Center, the New York Public Library, and many other places of interest.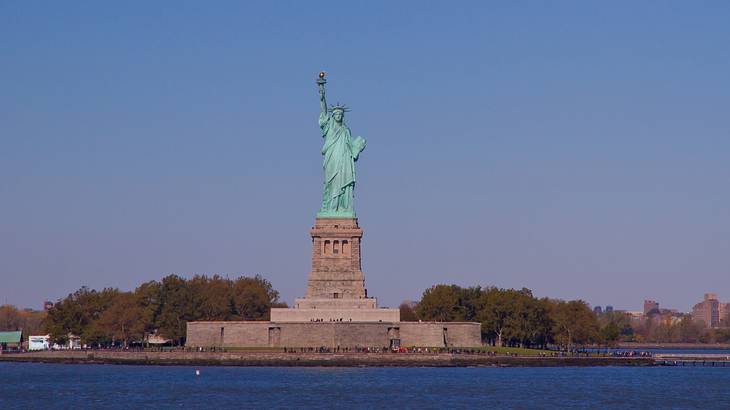 Dine on the water with an NYC dinner cruise
Having dinner on the water with the beautiful nighttime New York City skyline behind you is a once-in-a-lifetime opportunity that you can partake in on a New York dinner cruise. The cruise takes you across the Hudson and East Rivers and features a delicious buffet dinner and live entertainment.
Landmarks you'll see on the way include One World Trade Center, the Empire State Building, and Ellis Island. You'll also stop at the Statue of Liberty for 10 minutes to get the perfect photographs.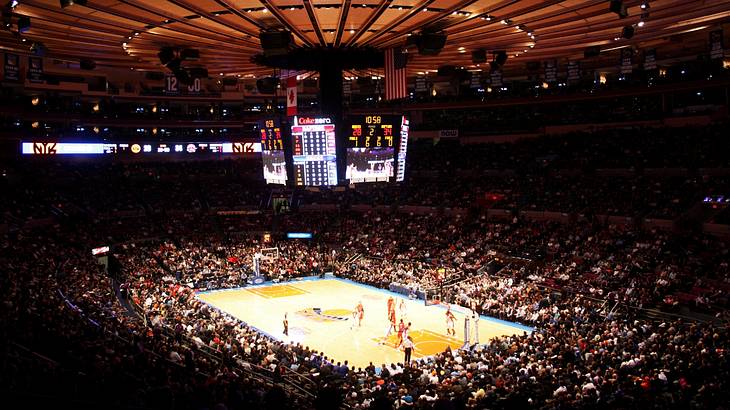 Watch a sports game
New York City is one of the few cities home to a team for all of the big four sports: NFL, NHL, NBA, and MLB. They also have a soccer (MLS) team. Catching an evening game is a must-do nighttime activity for sports lovers.
If you want to watch a game, you're most likely to find the New York Rangers NHL team and the New York Knicks NBA team playing in the evening. Both teams play at Manhattan's Madison Square Garden. You could head to Brooklyn to watch the Brooklyn Nets NBA team as well.
You may also find the New York Giants or New York Jets NFL teams, the New York Mets MLB team, or the New York City FC MLS team playing an evening game at their respective stadiums. Of course, the time of year you visit will also determine which teams are active.
In Conclusion
New York City is a destination everyone should visit at least once. The bustling city is filled with attractions, iconic landmarks, and fun activities to try. t also has a vibrant nightlife scene, with an array of things to do and places to see at night. Whatever your interests, you're guaranteed to have some great nights out in NYC!
Give us feedback about this article
More visual stories related to this article:
Want to keep exploring?
Subscribe for discounts on tickets and hotels and our latest guides.
Thank you for subscribing
We will be in touch soon with discounts on tickets and hotels and our latest guides.
Want to keep exploring?
Subscribe for discounts on tickets and hotels and our latest guides.
Thank you for subscribing
We will be in touch soon with discounts on tickets and hotels and our latest guides.