20 Fun Things to Do in Yonkers, NY
Destguides may receive commissions from purchases made through affiliate links in this article.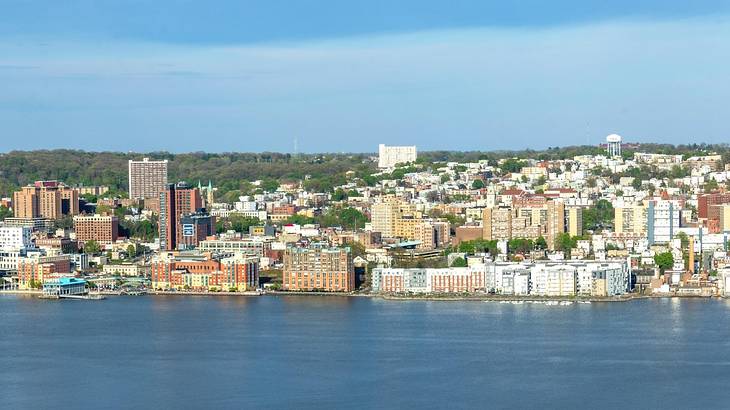 Most people think of Manhattan and the other boroughs of New York City when thinking of New York. However, this East Coast state has many other cities to visit, like Yonkers. Located just under an hour from NYC, Yonkers has excellent outdoor attractions, unique museums, and more.
If planning a visit, you'll be able to experience all the fun things to do in Yonkers, NY, for yourself! Activities include walking through Untermyer Gardens Conservancy, seeing a film at the Alamo Drafthouse Cinema, and shopping and dining at Ridge Hill. Learn more about all the fun things to do in and around Yonkers by checking out these 20 activity suggestions.
20 Fun Things to Do in Yonkers, New York
Yonkers, NY, Things to Do
Follow trails around the Old Croton Aqueduct
In the 1800s, New Yorkers got their water primarily from the Old Croton Aqueduct. The aqueduct was replaced in part by the New Croton Aqueduct in 1890, but the original remained somewhat in use until 1955.
Old Croton Aqueduct was listed on the National Register of Historic Places in 1974 and became a National Historic Landmark in 1992. Visitors today can hike trails around the aqueduct and see landmarks like the Croton Dam and the High Bridge. The area also has lots of wildlife to see.
Play games at Empire City Casino
Empire City Casino is an MGM Resorts casino and entertainment complex. At the casino, you can play a variety of games, including poker, blackjack, and other table games. There are also slot machines and electronic table games.
After enjoying the casino, you can get a meal at one of two eateries, the upscale Empire City Chophouse and The Pub, which is a little more laid-back. There's also a food court and a small store with snacks. Depending on when you visit, you may be able to see live entertainment too, like jazz acts.
Grab a slice at Frank Pepe Pizzeria Napoletana
Like most cities in New York, Yonkers has many excellent pizzerias. Frank Pepe Pizzeria Napoletana is a local favorite that's well worth stopping by.
You can choose from classic pizza topics like Margherita, pepperoni, or mushroom and spinach. Specialty pizzas, such as a white clam pizza or meatball and ricotta, are also available. The pizzeria serves salads as well, and you can treat yourself to desserts like cannoli pie or tiramisu.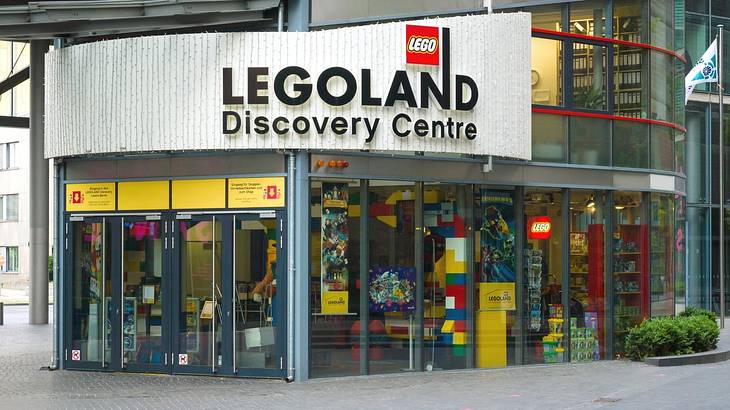 Enjoy the Legoland Discovery Center
The Legoland Discovery Center is another family-friendly attraction to check out. It's located within Westchester County, about 20 minutes from central Yonkers. The Lego theme park has an array of amusements, including rides and areas with Lego and Duplo building blocks for kids to create their own models.
Additionally, you'll discover a miniature village with Lego replicas of famous New York landmarks like Rockefeller Center, Times Square, and Yankee Stadium. Before you leave, be sure to also watch a Lego-themed movie in the 4D cinema and treat your kids to some Lego merchandise or new building blocks in the on-site shop.
Tour the Sherwood House Museum
Sherwood House Museum is another of the attractions in Yonkers, NY, on the National Register of Historic Places. The three-story home was initially constructed in 1740 and was modified throughout the 1800s. Today, the home is managed by the Yonkers Historical Society and is a house museum that's open to the public.
During a visit, you can tour the property and see exhibits on the history of the building and its owners. You can also learn a little about life in the area in the 18th and 20th centuries.
Hang out at Tibbetts Brook Park
Tibbetts Brook Park is one of the most fun places in Yonkers to visit on a nice day. It's especially great for families with young kids. The 161-acre park has hiking trails, lots of wildlife-watching opportunities, and a mini-golf course.
The most popular feature in the park is the aquatic center which includes outdoor pools, waterslides, and splash pads. There's also a small lazy river and in-pool basketball and volleyball.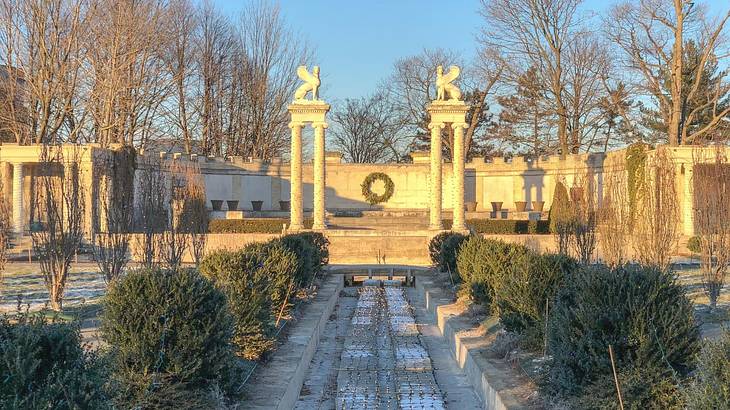 Wander around Untermyer Gardens Conservancy
Also known as Untermyer Park and Gardens, Untermyer Gardens Conservancy is one of the best outdoor places to visit in Yonkers. The beautiful botanical gardens were designed in 1916 as a private space by Samuel Utntermyer.
They were gifted to the City of Yonkers in the 1940s and added to the National Register of Historic Places in 1947. Today, visitors can stroll around the 43-acre public gardens that include a charming walled garden, Rhododendron garden, and the scenic Temple of Love structure.
Visit the Hudson River Museum
The Hudson River Museum is a fascinating cultural attraction in Yonkers with exhibits on art, science, and history. The museum has an art gallery, plus vast exhibition spaces and even a planetarium.
Art exhibits focus greatly on contemporary art and local artists, with new displays added frequently. After exploring the gallery, you can learn about astronomy at the Planetarium or see exhibits on local history.
In addition, a gilded-age mansion that's listed on the National Register of Historic Places, Glenview Historic Home, sits on the museum site. It was constructed in 1877, and guided tours are offered.
Watch a movie at Alamo Drafthouse Cinema
The Alamo Drafthouse Cinema is a boutique cinema chain founded in Austin, Texas. The chain now has cinemas across the US, including one in Yonkers. Seeing a movie at the Alamo Drafthouse Cinema is a fun thing to do and offers a different and more unique experience than going to a traditional movie theater.
You can catch classic films, independent movies, and some new releases in one of six high-end auditoriums. In addition, you can get food and drink delivered directly to your seats as you enjoy the film.
Menu options include truffle popcorn, buffalo cauliflower, and pineapple upside-down cake donuts. Drinks available include craft beer, classic and signature cocktails, and wine.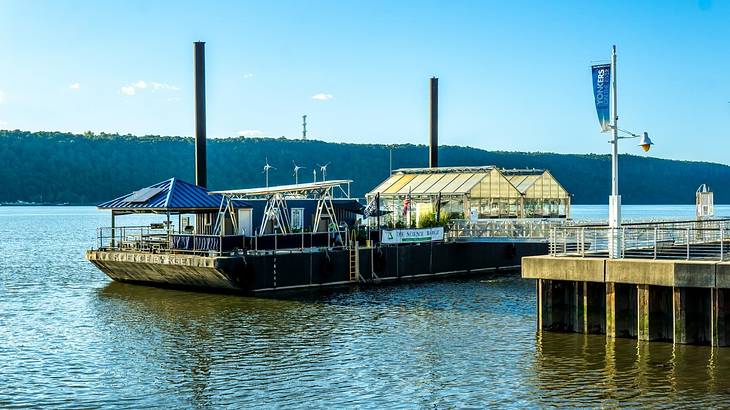 Hop aboard the Groundwork Hudson Valley Science Barge
The Groundwork Hudson Valley Science Barge is definitely one of the most interesting Yonkers attractions. The barge is docked on the Hudson River and houses science exhibits, including many relating to ecology and environmental issues. There's also a hydroponics farm onboard.
The museum is run by Groundwork, a non-profit organization focusing on sustainability and climate education. The Science Barge is especially recommended for those with school-aged kids who are learning about environmental science topics.
Treat yourself at Cross County Shopping Center
Cross County Shopping Center has been a popular mall in Yonkers since 1954. It's the ideal place to visit on a rainy day and do some window shopping or treat yourself to some purchases. The mall has many well-known shops, like a Macy's department store, Victoria's Secret, and Zara.
After shopping, you can get snacks from outlets like Panda Express, Cinnabon, and Panera. There are also some sit-down eateries like a Japanese restaurant and a steakhouse.
Shop, dine, and more at Ridge Hill
Ridge Hill is another great place to go shopping in Yonkers. The open-air shopping mall has an array of shops, plus a children's play area, restaurants, and a cinema.
Shopping outlets include clothing shops, luxury jewelry stores, and technology shops like Apple. There are also many entertainment options, including a candle-making business, a comedy club, and virtual reality gaming spaces.
Once you've visited the shops and attractions, you can stop for a meal and drinks at various dining spots. Options include a Brazilian steakhouse, an American casual dining restaurant, and pizzerias.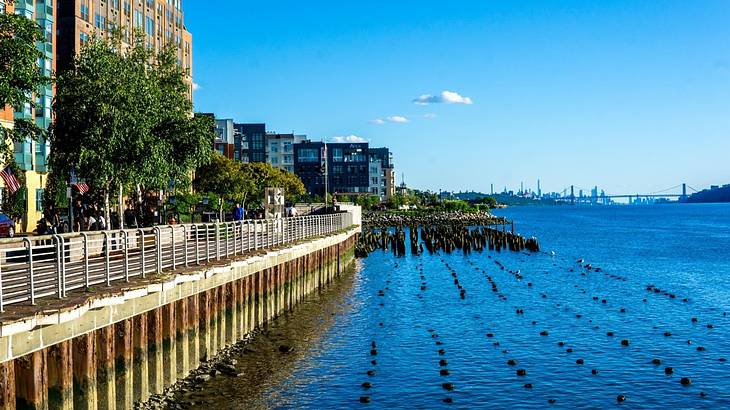 Stroll along the waterfront at Yonkers Waterfront
The Yonkers Waterfront sits next to the Hudson River and is a scenic place to go for a walk. As you wander along the path, you'll find waterfront parks, like Esplanade Park. On clear days, you can also see across to New Jersey, and there are some fun waterfront bars and restaurants to check out.
Go for a walk at Lenoir Preserve
Lenoir Preserve sits next to the Hudson River and is the ideal place to go for a walk, no matter the season. At the 40-acre preserve, you can follow scenic nature trails. There's also a pretty pond and a butterfly garden to see during the spring and summer.
Wildlife to see other than butterflies includes woodpeckers and hawks. If you're in the park close to the evening, you may spot owls and bats too. The preserve also features a wide variety of trees, including maples, ginkgo trees, and red oaks.
Things to Do Near Yonkers, NY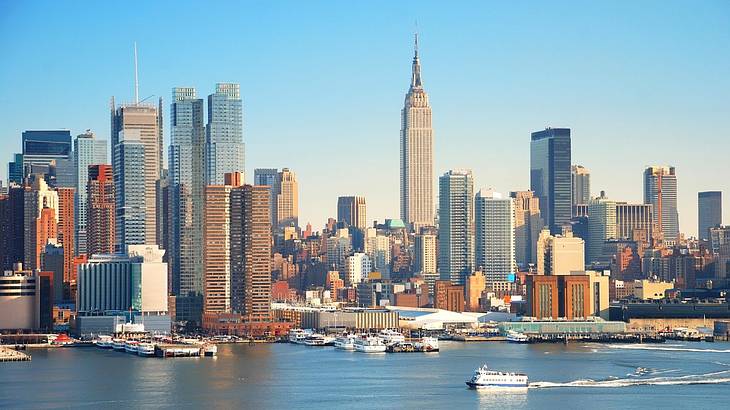 Spend the day in New York City
NYC is just 50 minutes from Yonkers, and visitors can find fun things to do in all five boroughs, from Manhattan to the Bronx. One of the best things to do in New York City if you haven't visited before is going on a sightseeing tour.
You'll get to see world-famous landmarks like the Empire State Building and the Statue of Liberty. Other things to add to your NYC itinerary include walking across the Brooklyn Bridge and hanging out at Brooklyn Bridge Park and exploring Greenwich Village or Little Italy.
Some more unique things to do in NYC range from visiting Roosevelt Island to getting a milkshake at Lexington Candy Shop or snapping photos at the Museum of Ice Cream. No matter what activities you choose, you'll have a great time exploring this iconic destination!
Go to Edith G. Read Natural Park and Wildlife Sanctuary
The Edith G. Read Natural Park and Wildlife Sanctuary is located in Rye, about 30 minutes from Yonkers. The 179-acre wildlife sanctuary is found next to Playland Park and the Long Island Sound and features trails, lakes, and an array of flora and fauna.
The sanctuary is notably known as an "important bird area," making it the ideal place to go birdwatching. Birds to see range from ducks and songbirds to owls, eagles, and osprey. As you walk around the park, you may also see other animals, like deer.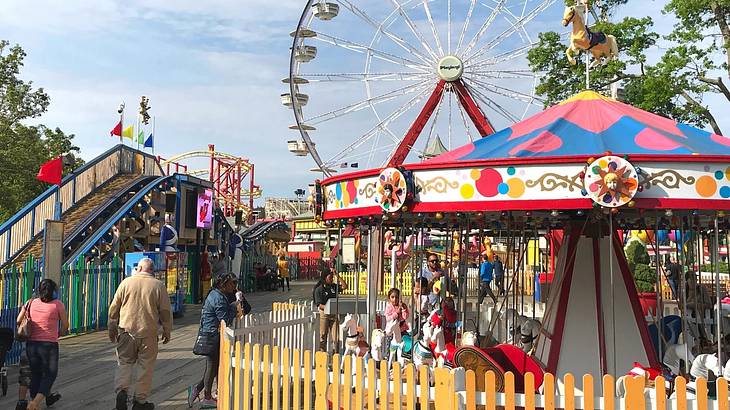 Take your kids to Playland Park
Spending the day at Playland Park is another of the things to do in and around Yonkers with kids. The theme park is 30 minutes from Yonkers and has many rides and other amusements. Interestingly, the park is almost 100 years old, having opened in 1928.
Attractions include roller coasters and other thrill-seeking rides for older kids and adults, plus rides for young children like a carousel and kiddie train. In addition, there's a Ferris wheel, a fun house, and bumper cars, among many other things to do.
See wildlife at the Greenburgh Nature Center
Going to Greenburgh Nature Center is another of the things to do near Yonkers for wildlife enthusiasts. The attraction is located in Scarsdale and features a nature preserve, small museum, trails, gardens, and more.
As you wander around, you'll see woodland animals and birds, including birds of prey like eagles and white-necked ravens. There's also a barnyard with goats, sheep, and chickens. After seeing the animals, you can follow trails and discover pretty gardens and some attractions for kids, like the Nature Discovery Playground.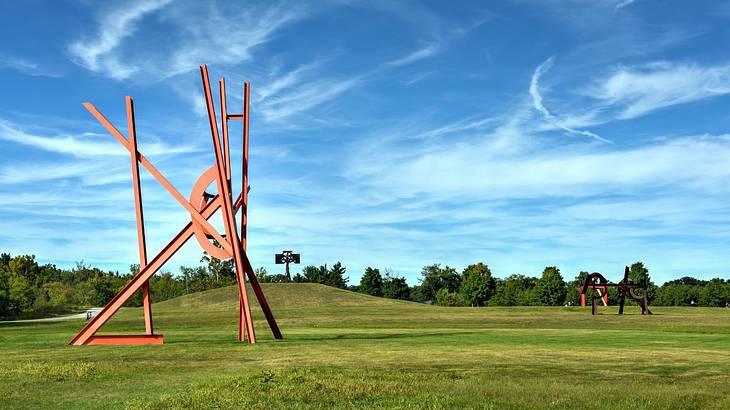 Marvel at artworks at Storm King Art Center
Located approximately an hour from Yonkers in New Windsor, Storm King Art Center is a must-visit for art lovers. The open-air sculpture garden comprises one of the largest contemporary outdoor sculpture collections in the United States.
The attraction is located within vast grounds next to Storm King Mountain, meaning you can also admire the stunning natural landscape as you view the sculptures. Works to see date from 1910 all the way to present-day creations.
Drive to Hartford, Connecticut
If you want to plan a fun day or overnight trip from Yonkers, Hartford in Connecticut is a great destination to check out. This charming New England city is approximately two hours from Yonkers and has many attractions.
Fun things to do in Hartford include seeing Connecticut landmarks like the Connecticut State Capitol and visiting fascinating museums, such as the Wadsworth Atheneum Museum of Art. Hartford also has independent shops and excellent bars and restaurants to pass an evening at if you plan to spend the night in the city.
In Conclusion
Having read this article, you should now have numerous ideas on what to do in Yonkers, NY. Despite the city being less well-known than its world-renowned neighbor cities like Manhattan, it's well worth a visit! From museums and parks to great pizzerias, Yonkers has no shortage of fun attractions.
---
---
Want to keep exploring?
Subscribe for discounts on tickets and hotels and our latest guides.
Thank you for subscribing
We will be in touch soon with discounts on tickets and hotels and our latest guides.
Want to keep exploring?
Subscribe for discounts on tickets and hotels and our latest guides.
Thank you for subscribing
We will be in touch soon with discounts on tickets and hotels and our latest guides.
Related Articles