37 Romantic Things to Do in Charlotte, NC, for Couples
Destguides may receive commissions from purchases made through affiliate links in this article.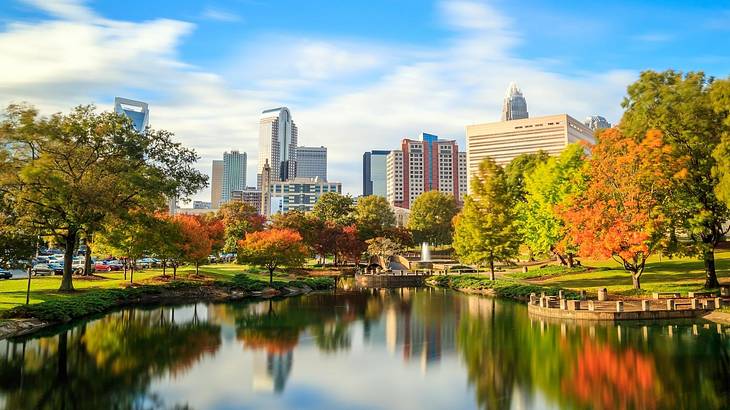 Charlotte is a vibrant city in North Carolina. Interestingly it's the largest city in North Carolina and offers activities for all types of people.
Notably, you can find many romantic things to do in Charlotte, NC, for couples. Whether you're visiting or live there, date ideas to try include relaxing at a spa, enjoying outdoor activities, and visiting local breweries. Read on to discover 30 of the best date ideas in Queen City!
37 Fun Date Ideas in Charlotte, NC
Fun Things for Couples to Do in Charlotte, NC
Go rafting at the U.S. National Whitewater Center
Adventure activity lovers will want to head to the U.S. National Whitewater Center to go whitewater rafting. Interestingly, you and your date can also go whitewater kayaking here.
Other fun activities include ziplining, rock climbing, and mountain biking. The best time to visit Charlotte to go to the U.S. National Whitewater Center is in the spring or summer as you can enjoy the outdoor attraction in the beautiful weather.
Cook delicious meals together at Chef Alyssa's Kitchen
Learning to cook new dishes together is a great couples activity and should help to make your next at-home dinner date a little more special!
One of the best places to take cooking classes in Charlotte is Chef Alyssa's Kitchen. An array of classes are offered for all levels, including those that teach you to make Italian, Greek, and Southern US dishes.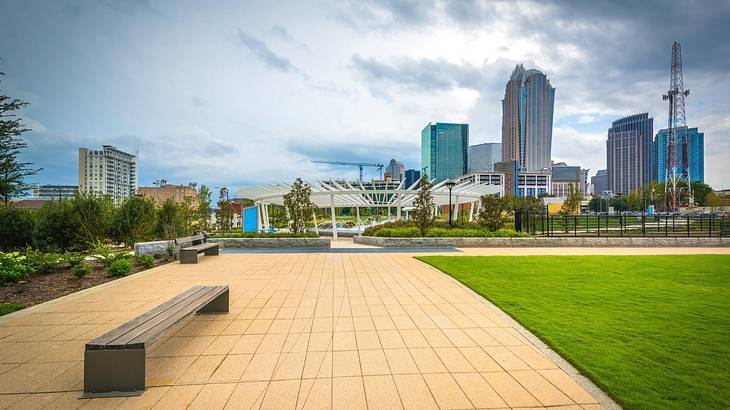 Share romantic picnic in First Ward Park
First Ward Park is a much-loved Charlotte attraction. While strolling around the 4.6-acre urban park is a great idea, having a picnic in the park is much more romantic!
To make planning your al fresco meal easy, book a First Ward Park private picnic experience. Your picnic area will be all set up for you, complete with blankets, tableware, and drinks. All you have to do is bring your picnic food items.
Watch a show at the Blumenthal Performing Arts Center
Seeing a show at the Blumenthal Performing Arts Center is a perfect date night in Charlotte, NC idea for couples that enjoy the arts. Performances held at the venue include musicals, dance performances, and comedy shows. The center also has a full events calendar year round, so check their website to see if any fun events are being held when you visit.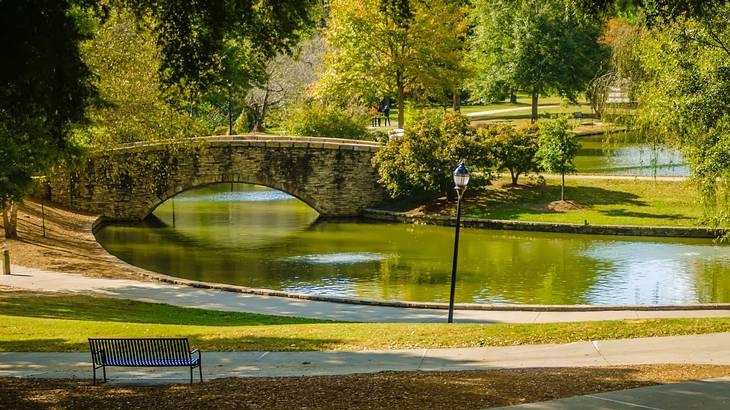 Walk through Freedom Park
The Charlotte nickname of the City of Trees exists due to the city's many green spaces. Freedom Park is one of these outdoor areas that's well worth visiting with your date.
The tranquil park is located about ten minutes from central Charlotte. You and your date can go for a relaxing walk or a jog if you like to exercise together. You'll also find ponds and fountains and may spot wildlife like deer as you explore.
Admire artworks at The Mint Museum
Another art and culture date idea is going to The Mint Museum. The museum collection is split over two locations: The Mint Museum Randolph and Mint Museum Uptown.
Whether you visit both or just one, you'll see a vast collection of art from across the globe. Pieces to see range from paintings and sculptures to furniture and Native American craft items.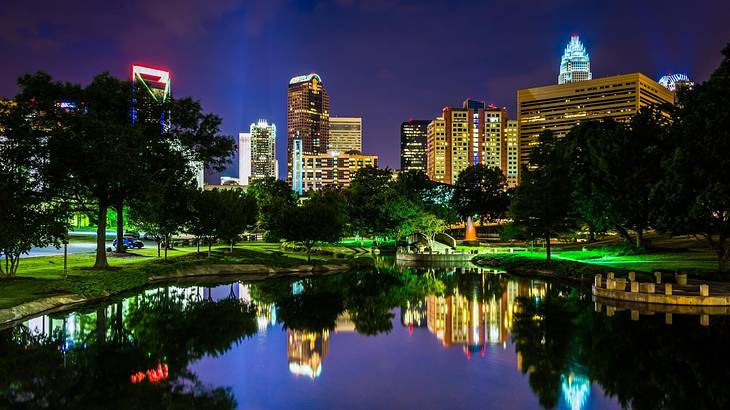 Hear ghost stories on a Charlotte haunted tour
If you and your partner want to do something different and are interested in the paranormal, joining a ghost tour is recommended. During this hour and a half-long tour, you'll visit multiple haunted places, including the Dunhill Hotel and the first public hospital in North Carolina. At each stop, you'll hear eerie tales of ghost sightings and other spooky events.
Sip drinks above the city at a rooftop bar
Getting drinks is a date idea that's sure to please, and going to rooftop bars makes this activity a little more special. Nuvole Twenty Two sits 22 stories above the city and serves signature cocktails and sparkling wine, among other beverages. Merchant & Trade and the tropical Aura Rooftop Bar at the Marriott Hotel are also well worth a visit.
Cheer for the Carolina Panthers at the Bank of America Stadium
The Bank of America is somewhat of a North Carolina landmark as it's home to the state's NFL team, the Carolina Panthers. Couples that are sports fans can watch the team if in the city between September and January.
Whether the team wins or loses, you'll have a great time together cheering them on and enjoying the game-day atmosphere.
Visit the Harvey B. Gantt Center
Another great cultural attraction to go to with your other half is the Harvey B. Gantt Center for African-American Arts + Culture. The museum celebrates the achievements and contributions of African Americans in art, literature, dance, theater, and community outreach, among other areas.
As you look around, you can see exhibits on these topics and learn more about how African Americans shaped North Carolina and the United States.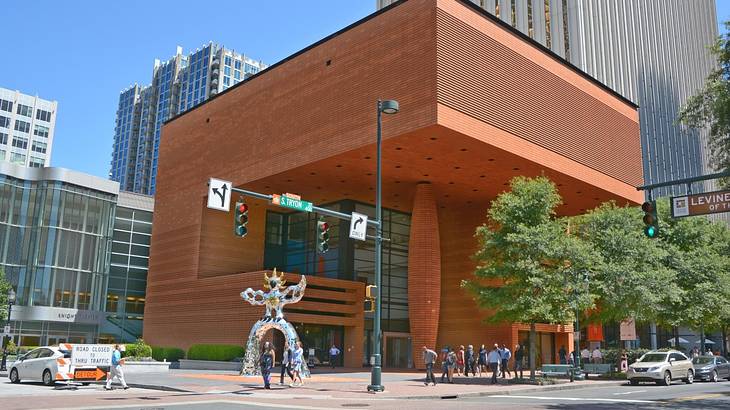 Explore the Bechtler Museum of Modern Art
If you're looking for Charlotte, NC, date ideas in the day, going to the Bechtler Museum of Modern Art is recommended. The museum is relatively new, having been founded in 2010, and features an extensive collection of fantastic modern art.
When visiting this Charlotte landmark, you and your date can explore together or learn more about the artworks you see by joining a guided tour.
Shop for unique items at Sleepy Poet Antique Mall
Couples that love thrifting and finding unique items and antiques have to plan a visit to Sleepy Poet Antique Mall. The large store is packed with treasures, from decor items and furniture to clothing and vinyl records.
Even if you don't end up purchasing anything (which will be difficult,) looking through all the weird and wonderful items is fun in itself.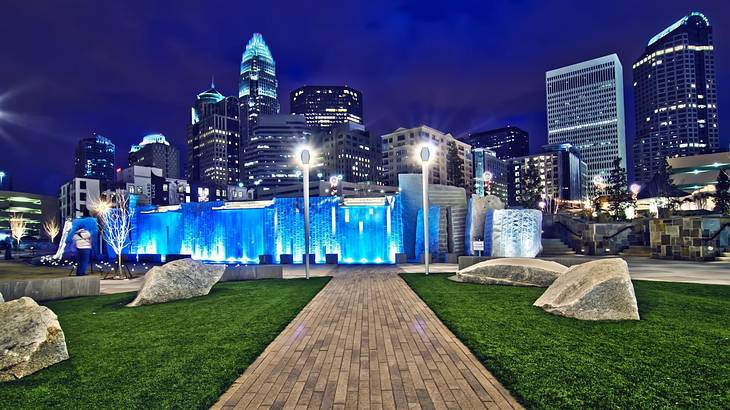 Chat in Romare Bearden Park
Romare Bearden Park is the perfect place to put a blanket on the grass and chat with your partner. As you do, you can enjoy the surrounding greenery and city skyline. This park is also another ideal spot for a romantic picnic. Before you leave, stop by the pretty illuminated fountain feature that lights up different colors.
Play games at Slingshot Game Club
For those planning a date night in Charlotte, North Carolina, a fun place to go is Slingshot Game Club. This bar has a variety of arcade games, plus skeeball and duckpin bowling. While you play, you can order bar snacks, like burgers, wings, and nachos. The venue also has an extensive drinks menu and a beer wall with 48 brews on tap.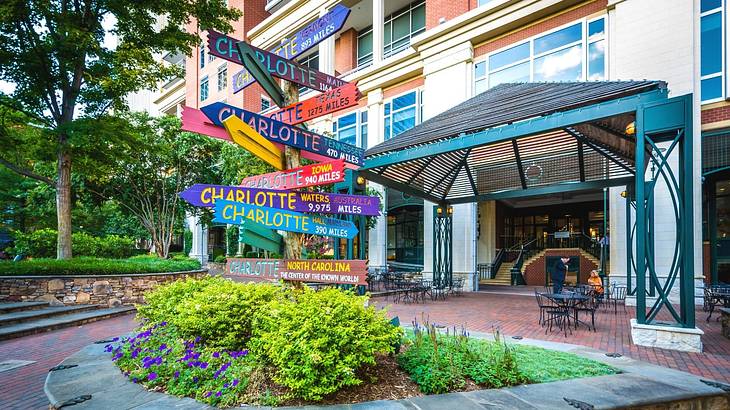 Find unique sculptures at The Green
Located in uptown Charlotte, The Green is another beautiful park to explore with your partner. There are many coffee shops nearby, so getting some drinks to enjoy as you walk around the park is recommended.
One of the unique things about this park is that it features lots of sculptures. Spotting these sculptures as you walk around is a cute additional activity to enjoy! You can also see the famous Charlotte sign with distances to other cities and states.
Learn new things at Discovery Place Science
Discovery Place Science will teach you and your date new things as you interact with fascinating and hands-on exhibits. The science and technology museum covers various topics, from dinosaurs to ocean life and other ecosystems. There's also an IMAX theater showing interesting educational films.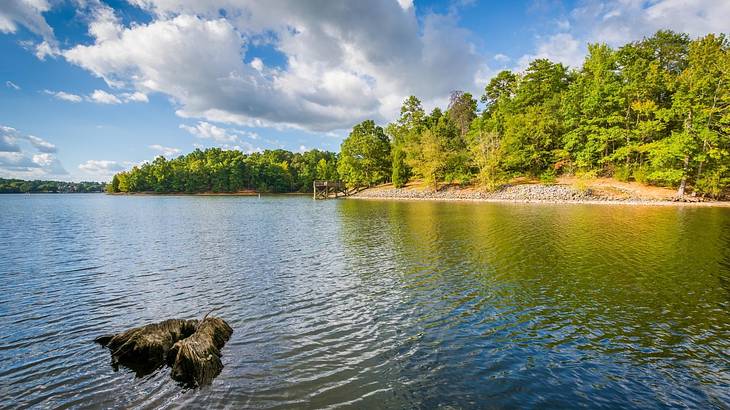 Camp at McDowell Nature Preserve
Another of the fun things to do in Charlotte for couples that love the outdoors is going camping. McDowell Nature Preserve is one of the best places to spend the night in nature. It features a lake, woodland hiking trails, and a nature center. The campground has 56 spots, which you should reserve in advance and are suitable for tenting and RV hookup.
Eat at the best food trucks in Charlotte
While Charlotte has an array of great restaurants, they also have a vibrant food truck scene. Doing a food truck crawl with your date is a cute idea if you both enjoy trying new dishes.
An easy way to see what food trucks are open in Charlotte is by using an online tracker, like Food Trucks Charlotte. Just a few of the types of food trucks in the area include those selling cajun-style food, lobster rolls, and vegan comfort food.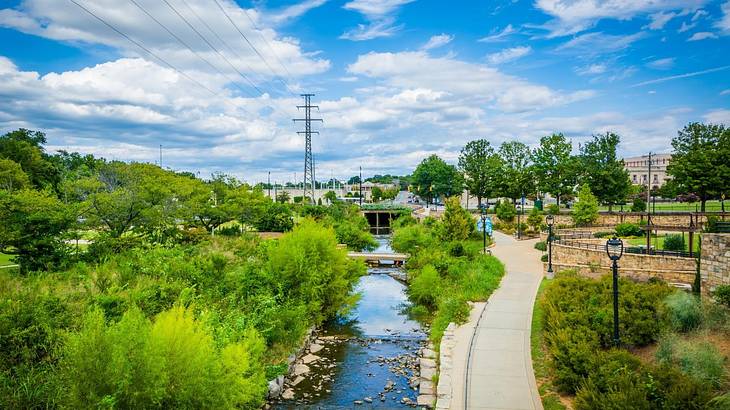 Hike at Little Sugar Creek Greenway
As you can see, there are many couple activities in Charlotte, NC, that involve exploring the great outdoors. Another of these date ideas is hiking at Little Sugar Creek Greenway. The park features 19 miles of trail, much of which runs along tranquil streams, rivers, and creeks.
See songbirds at Wing Haven Gardens & Bird Sanctuary
Wing Haven Gardens & Bird Sanctuary is a beautiful place to explore with your date. You can find various gardens filled with pretty flowers and sculptures. You'll also see lots of wildlife, like songbirds and butterflies.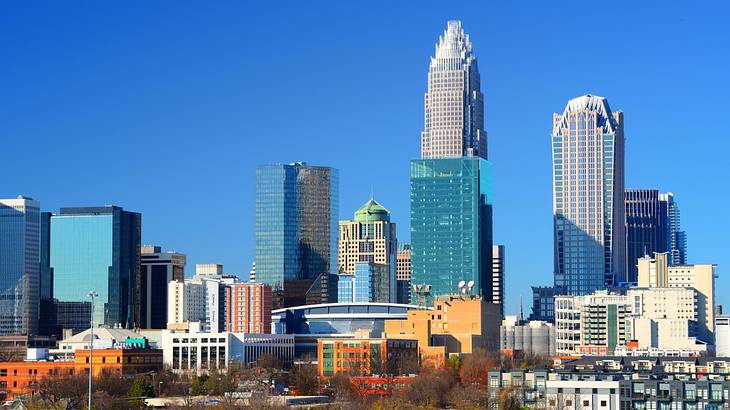 Get to know Charlotte on a historical tour
Going on a historical tour of Charlotte is an activity that must be on your North Carolina bucket list!
This fascinating excursion will take you to a variety of historical sites, including Charlotte's oldest neighborhoods and some famous landmarks like Bank of America Stadium and The Mint Museum. This tour offers you and your date a unique way to learn about Charlotte, past and present.
Smell the flowers at McGill Rose Garden
Another stunning and romantic garden in Charlotte is the McGill Rose Garden. As you wander through this colorful garden, you'll come across over 1,000 rose bushes, sculptures, fountains, and greenery.
There are many benches in the gardens too, allowing you and your date to relax and admire the flowers. In addition, there's a small coffee shop where you can get drinks to enjoy during your walk.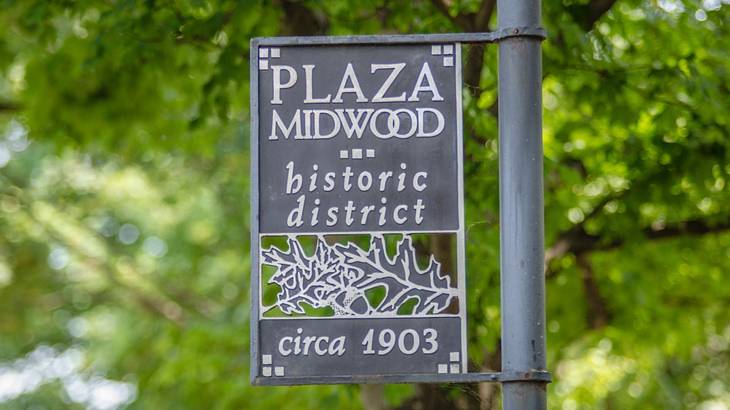 Look around Plaza Midwood
The Plaza Midwood area has many great attractions and is fun to explore with your date. Things to do in Plaza Midwood include visiting breweries, checking out bookshops, listening to live music, and eating at some unique restaurants. Even if you go to Plaza Midwood without much of a plan, you're sure to discover a multitude of things to do and see.
Listen to live music
Charlotte has a great live music scene, and catching a show with your date is a great idea. Places to check out include The Evening Muse, which has country music acts, jazz bands, and the like, and Snug Harbor which focuses on rock and indie bands.
Another top live music venue to check out if the weather is nice is The Music Yard, an outdoor bar with a variety of bands and artists performing.
Relax at the Ballantyne Hotel spa
A luxurious way to unwind with your date is by spending some time at the spa at the Ballantyne Hotel. Treatment options include massages, facials, other skincare treatments, and manicures. Spa guests also have access to an indoor pool and whirlpool, steam room, lounge, and more.
Dine at Sea Level NC
When discussing romantic dates in Charlotte, NC, a classic dinner date has to get mentioned. A fabulous place to take your date is Sea Level NC. This high-end restaurant is located in the Hearst Tower and serves a selection of seafood dishes. Fresh oysters are also delivered daily, with 12 varieties available.
Bar hop between Charlotte's best breweries
North Carolina is known for its amazing breweries. Going on a brewery tour is an excellent way for you and your date to discover the best breweries in Charlotte. Four craft breweries are on the agenda, and at each stop, you can do a tasting and learn about the brewing process. At one brewery, you'll also be able to enjoy some BBQ dishes.
Dance together at a Latin dance class
Another fun and unique activity to enjoy together is learning to dance at a Latin dance class. Rumbao Latin Dance hosts classes for all levels, including Salsa, Bachata, and Tango. You can try one class, or if you live in the area, sign up for weekly sessions with your partner.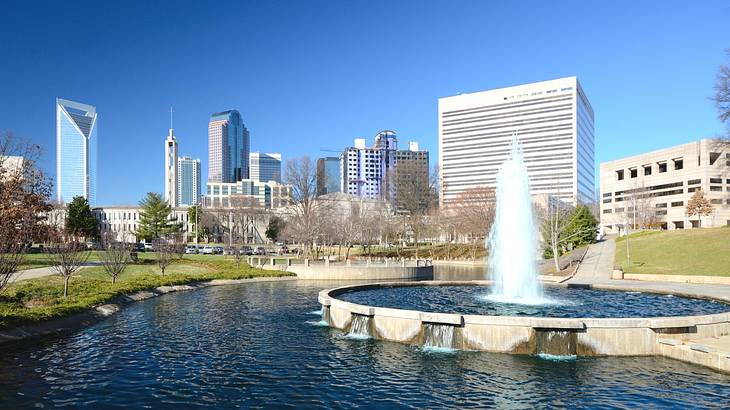 Snap some photos together around Charlotte
Charlotte is a beautiful city and a perfect place to take some pictures together. Instead of relying on selfies or asking strangers to take pictures, why not book a professional photography session?
On a photography tour, you and your other half will go to various places in Uptown Charlotte, where a professional photographer will take pictures. Backdrops include Romare Bearden Park and the Confetti Hearts Wall.
Laugh the night away at The Comedy Zone
Another of a multitude of fun dates in Charlotte, NC, to enjoy is going to The Comedy Zone Charlotte. You can watch different shows at the venue, including those by famous comedians. While watching the show, you can order cocktails, beer or wine, and snacks like chips and guacamole or pretzel bites.
Paint a masterpiece at Wine & Design
While going to a bar is fun, having some drinks and learning to paint is much more unique. At Wine & Design, you can paint artworks while sipping on your favorite wine. The venue also hosts DIY sessions, where you can try other crafts like painting home decor items.
Look around the Market at 7th Street
Also known as the 7th Street Public Market, the Market at 7th Street is a bustling place to explore with your date. The indoor market features a variety of shops and stalls, including a wine shop, a smoothie bar, and a gourmet kettle corn vendor! It's the perfect place for a casual date and allows you to pick up a variety of food and drink.
Grab coffee at Mugs Coffee
Getting coffee is one of many fun Charlotte date ideas that's also very laid-back. A recommended place for a coffee date is Mugs Coffee. This popular spot serves various hot and iced coffee drinks, tea, smoothies, and indulgent ice cream milkshakes.
Things to Do Near Charlotte for Couples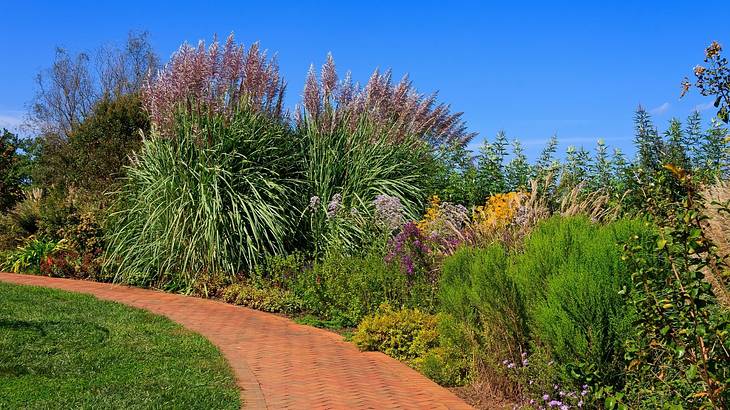 Wander around the Daniel Stowe Botanical Garden
Covering 380 acres, the Daniel Stowe Botanical Garden is a beautiful place to visit with your loved one. You'll find tree-lined paths, pretty floral displays, and scenic ponds and fountains within the gardens. The attraction is especially well-known for its orchid collection, housed in a one-of-a-kind orchid conservatory.
Sip local wines and meet llamas at Divine Llama Vineyards!
Many people aren't aware of how many excellent wineries are located near Charlotte. One of the cutest to take your date to is Divine Llama Vineyard. Located about an hour from central Charlotte, this winery is also home to adorable llamas.
After enjoying a wine tasting (and likely purchasing a few bottles), you can meet the llamas and go on an adventurous llama trek!
Catch a race at the Charlotte Motor Speedway
Charlotte Motor Speedway hosts a variety of races that you and your partner may be interested in, including NASCAR and NHRA. You can also participate in experiences at the race track, like driving NASCAR vehicles.
Another racing-based activity to consider is visiting the NASCAR Hall of Fame in central Charlotte.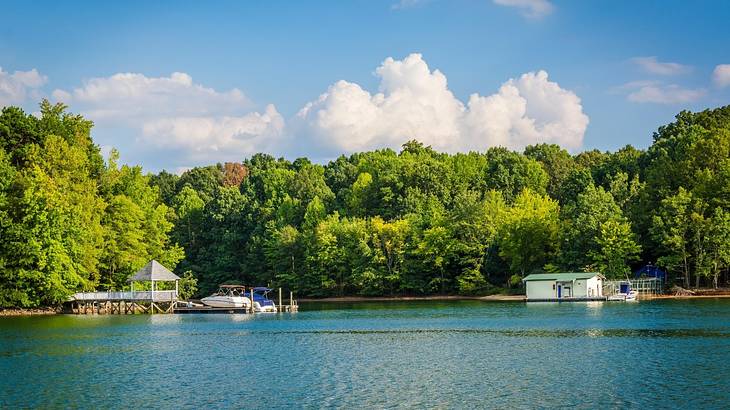 Boat or jet ski on Lake Norman
Created in the early 1960s by Duke Energy, Lake Norman is now a popular outdoor attraction 30 minutes from Charlotte. It's a great place to spend the day with your date in the fresh air.
Activities on offer include boating and jet skiing, with rentals available for both. You can also hike around the lake and explore the nearby town of Davidson.
In Conclusion
There are an array of attractions in Charlotte, NC, for couples. So whether you like spending time outdoors, sharing food and drinks together, or doing unique things, like learning to dance or paint, there'll be something for you and your date to enjoy in Charlotte!
Give us feedback about this article
More visual stories related to this article:
Want to keep exploring?
Subscribe for discounts on tickets and hotels and our latest guides.
Thank you for subscribing
We will be in touch soon with discounts on tickets and hotels and our latest guides.
Want to keep exploring?
Subscribe for discounts on tickets and hotels and our latest guides.
Thank you for subscribing
We will be in touch soon with discounts on tickets and hotels and our latest guides.