26 Famous Landmarks in North Carolina You Have to See
Destguides may receive commissions from purchases made through affiliate links in this article.
Do you want an answer to the question: "What is North Carolina known for?" This article is here to help!
North Carolina, in the Southeast part of the US, has stunning mountain ranges, breathtaking state and national parks, and calming Atlantic Ocean views. There are also lots of cities to visit, including beach towns, like those in the Outer Banks.
In addition, there are numerous famous landmarks in North Carolina. Along with natural landmarks, like the Blue Ridge Mountains, you'll find multiple historical places, such as the USS North Carolina Battleship Memorial and the Town Creek Indian Mound State Historic Site.
If you want to discover all of the top landmarks in the state, keep reading!
26 North Carolina landmarks
26 Famous North Carolina Landmarks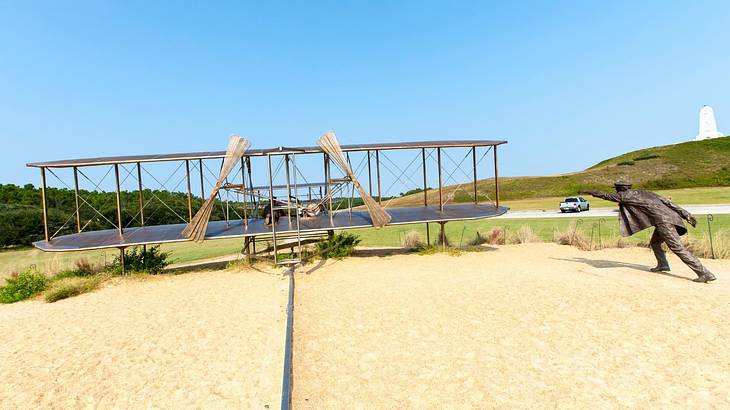 Wright Brothers National Memorial
A fascinating North Carolina fact is that the Wright Brothers completed the first-ever powered flight in the Outer Banks in 1903. Today, the Outer Banks features a memorial to the brothers, which is found in Kill Devil Hills.
The world-famous landmark was opened in 1927 and was added to the National Register of Historic Places in 1966. It covers 431 acres and features the primary stone memorial, a replica of the plane flown, and memorial plaques.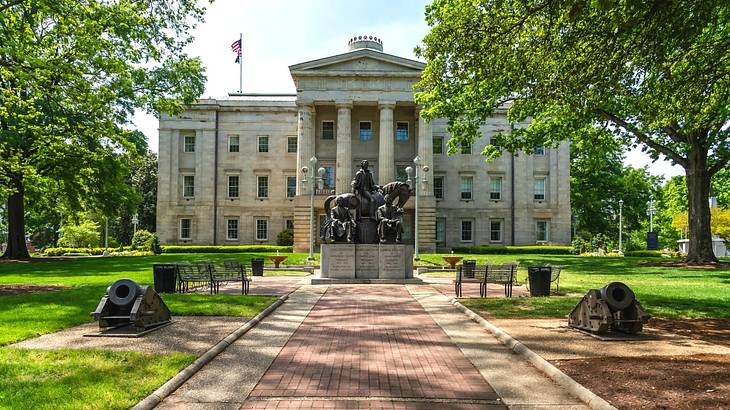 North Carolina State Capitol
The North Carolina State Capitol is one of the most well-known Raleigh attractions and was the seat of government from 1840 to 1961. In 1961, the North Carolina State Legislature Building became the primary seat of government for the state.
Visitors can tour this renowned building and learn more about its uses and political history in the state. Touring the State Capitol is a fun and educational activity for all, including families traveling to Raleigh with kids.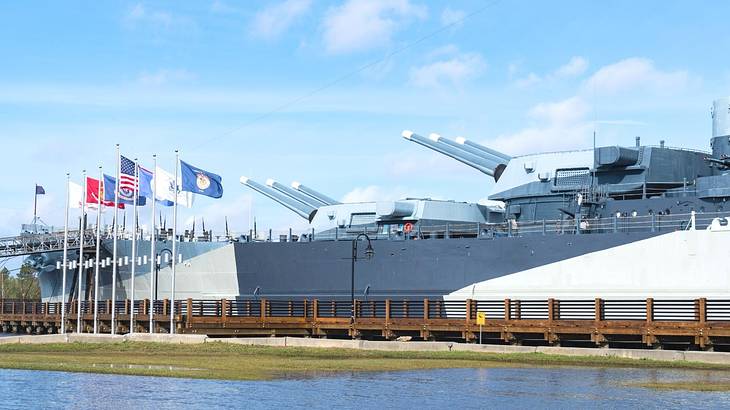 USS North Carolina Battleship Memorial
The USS North Carolina Battleship Memorial is one of the most significant landmarks of North Carolina. Constructed in 1937, it was the first ship of its kind built for the United States Navy and was used in World War II.
Also known as Battleship North Carolina, you can see the iconic ship moored in Wilmington. Tours of the ship are also offered, during which you can learn more about its history and how the Navy used it.
Cape Hatteras Lighthouse
Another must-see attraction that needs to be on your Outer Banks itinerary is Cape Hatteras Lighthouse. The famous lighthouse in Buxton features an eye-catching black and white striped design and was opened in 1870.
The lighthouse's pattern wasn't chosen without reason. The unique stripes allow mariners to easily identify Cape Hatteras Lighthouse from the ocean.
Despite this, the lighthouse has not guided all sailors home safely as it sits around the Graveyard of the Atlantic. This area of the ocean is known for treacherous waters and many shipwrecks.
Town Creek Indian Mound State Historic Site
Town Creek Indian Mound is one of the many fascinating National Historic Landmarks to be discovered in North Carolina. It marks the spot of a prehistoric Native American village that is thought to have been built in 1150 and abandoned in 1400.
The site was excavated between 1937 and 1987, with archeologists finding various structures, including a temple and a meeting place. If in the area, you can visit Town Creek Indian Mound to see the ruins of the ancient town and follow some hiking trails.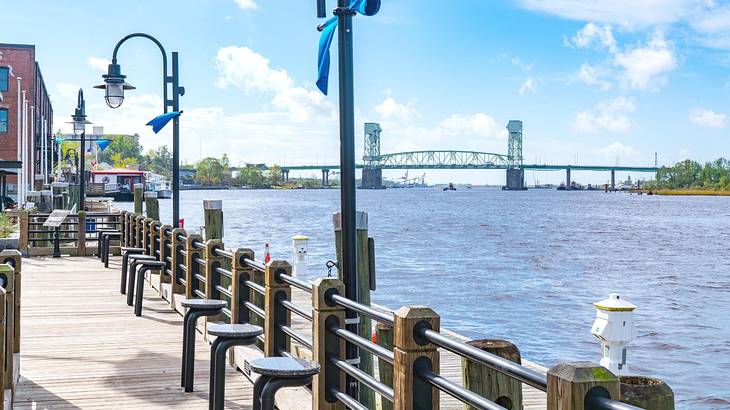 Cape Fear River
One of the most well-known natural NC landmarks is the Cape Fear River. The river runs for almost 200 miles through east-central North Carolina and into the Atlantic Ocean.
A fun thing to do in Fayetteville and the surrounding area is hiking or biking along the Cape Fear River Trail. This activity will allow you to enjoy the scenic river and surrounding landscape.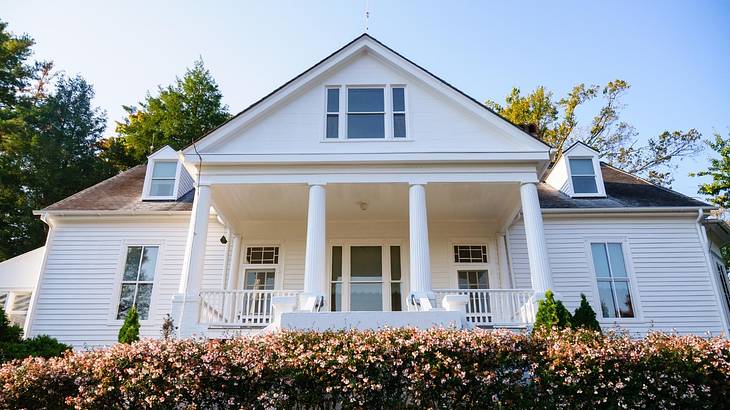 Carl Sandburg Home National Historic Site
Located in the town of Flat Rock, the Carl Sandburg Home is the former residence of poet and writer Carl Sandburg. The Pulitzer Prize winner purchased the house in 1945 and lived there until he died in 1967.
His wife sold the residence to the US government in 1969 under the agreement that it would be preserved as a memorial to Sandburg. The house remains a memorial for the poet, and visitors can tour the residence and learn more about Carl Sandburg's life there.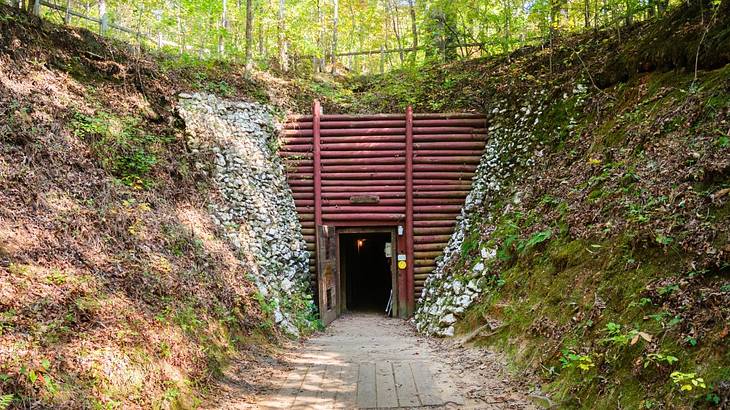 Reed Gold Mine
Reed Gold Mine in Midland, North Carolina, is the first place in the US where gold was discovered. After this discovery in 1799, gold mining began to expand across the country, eventually leading to the Gold Rush in California in 1848.
In fact, before 1848, North Carolina was the largest gold mining state in the country. The Reed Gold Mine is now open as a tourist attraction where you can learn about gold mining in NC. Kids can pan for gold themselves too!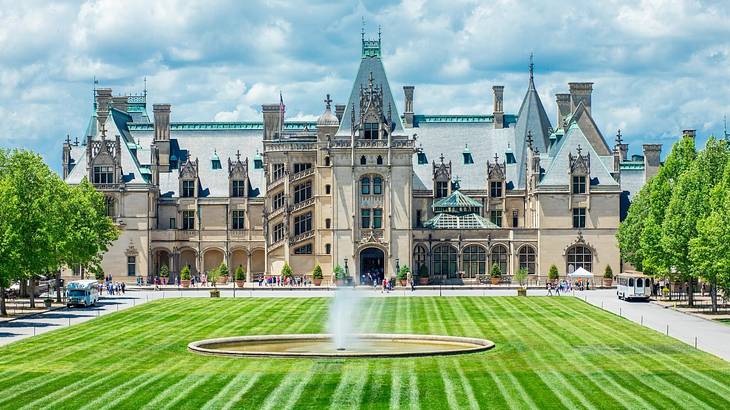 Biltmore Estate
Holding the title of the largest privately-owned home in the United States, Biltmore Estate can't be left off a list of North Carolina famous landmarks!
The Chateauesque residence was constructed in the early 1890s for George Washington Vanderbilt II, and it was added to the National Register of Historic Places in 1966.
The manor house is now open to the public for tours that allow you to admire this perfect example of Gilded Age architecture. A visit to the estate is a must for anyone visiting Asheville, including those in Asheville with kids.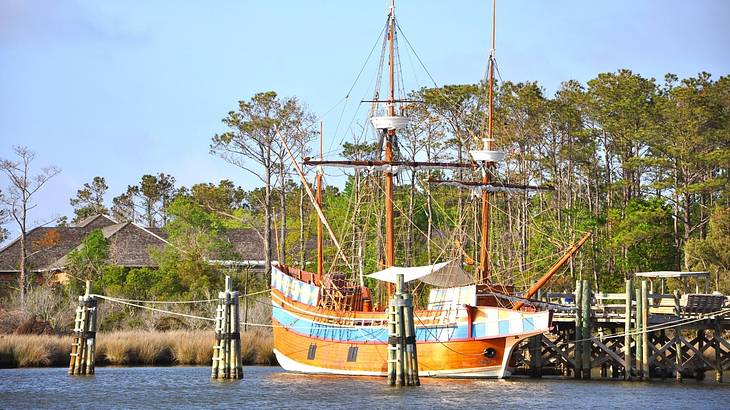 Roanoke Island Festival Park
Located in the Outer Banks town of Manteo, the Roanoke Island Festival Park is a 25-acre open-air historical museum. The attraction allows you to find out what life was like for the first English settlers in the US. Things to see at the park include a 16th-century sailing ship, a museum, and historical re-enactments.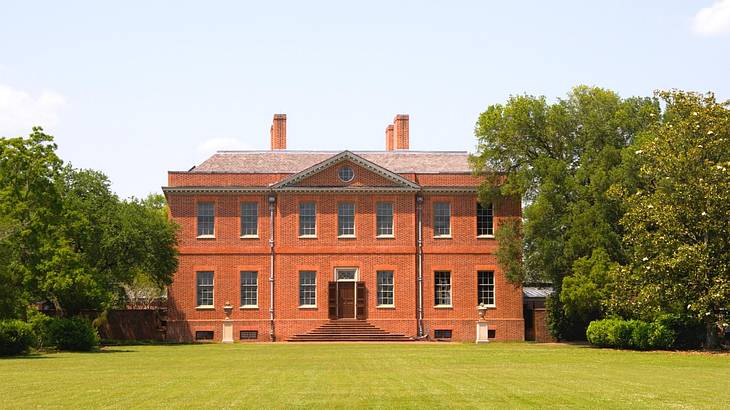 Tryon Palace
Construction of Tyron Palace began in 1767 and was completed in 1770. The building was used as the residence and headquarters of the British Governors of North Carolina until 1775, when patriot troops took it over during the Revolutionary War.
The Georgian-style building is now open for tours, which allows you to enjoy the stunning residence and surrounding 16 acres of gardens.
Blue Ridge Mountains
A renowned famous place in North Carolina is the Blue Ridge Mountains. The vast 550 mile long mountain chain runs through Western North Carolina as well as Pennsylvania, Maryland, West Virginia, Virginia, South Carolina, Georgia, and Tennessee.
The best way to see the mountains in North Carolina is by taking a scenic drive along the Blue Ridge Parkway. This drive takes you through the Blue Ridge Mountains and connects you to Great Smoky Mountain National Park and Shenandoah National Park.
Blandwood Mansion
Blandwood Mansion is a historic home located in Greensboro. It was built as a farmhouse in 1795, with significant additions to the design in 1822 and 1844. The residence is a house museum now, and visitors can discover more about its history and previous owners.
The mansion you can see today was designed by New York architect Alexander Jackson Davis in 1844 in an Italianate style for North Carolina governor John Motley Morehead. The house was notably used as quarters for the Confederate Army and then the Union Army after their victory during the Civil War.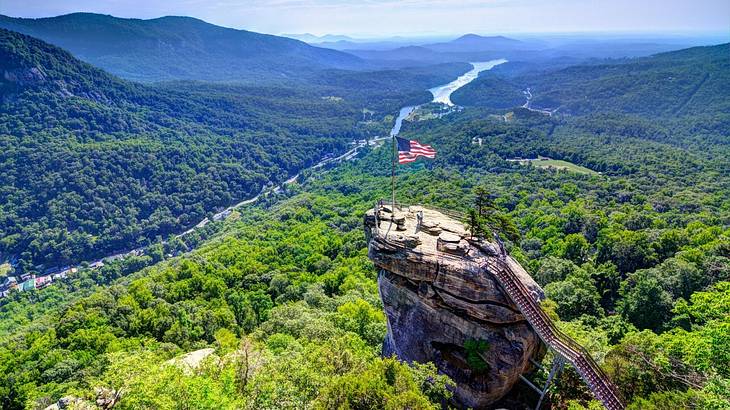 Chimney Rock State Park
Chimney Rock State Park is an 8,014-acre park that's a great addition to your North Carolina bucket list! The outdoor space is famous because it has some notable geological and natural features.
These include a balancing rock called Devil's Head, Hickory Nut Falls waterfall, and a granite monolith called Chimney Rock, from which the attraction gets its name. Activities to enjoy in the park range from hiking and rock climbing to wildlife watching and visiting an onsite nature center.
Charlotte Hawkins Brown Museum
Charlotte Hawkins Brown was an iconic author and educator who founded the Palmer Memorial Institute in 1902. The school for African American boys and girls was one of the first of its kind in the US.
Although the institute closed in 1970, it's now a museum and one of the must-see historical sites in North Carolina. Visiting the venue allows you to learn more about Charlotte Hawkins Brown, the school, and life as an African American in North Carolina in the early 20th century.
Bentonville Battlefield
Bentonville Battlefield is a National Historic Site and the location of the 1865 Battle of Bentonville. This Civil War battle was one of the last during the war and saw the Union take a significant victory.
Visitors to the battlefield can learn more about the battle and see war re-enactments. You can also take a guided tour of the site, which includes a visit to a Civil War field hospital.
Brunswick Town and Fort Anderson
This historic landmark is notable as it combines a Revolutionary War site and a Civil War site. Brunswick Town was a colonial town along Cape Fear River that was razed by British troops in 1776.
Around 85 years later, a Confederate Army fort, Fort Anderson, was built on the grounds of Brunswick Town. Excavations of both sites have slowly taken place over the years since the discovery of the ruins in 1951. Today, you'll also find a visitor center where you can discover more about this area's rich past.
Fort Fisher State Historic Site
Another of the historical places in North Carolina relating to the Civil War is Fort Fisher. The fort was used by the Confederate Army beginning in 1861 and is located in Hanover County.
Fort Fisher was an important base for the Confederate Army as it protected key supply channels that ran through the ports around Wilmington. The Union eventually captured the military structure in 1865. As with other historical sites in the area, visitors can tour Fort Fisher, learning more about its history and use in the Civil War.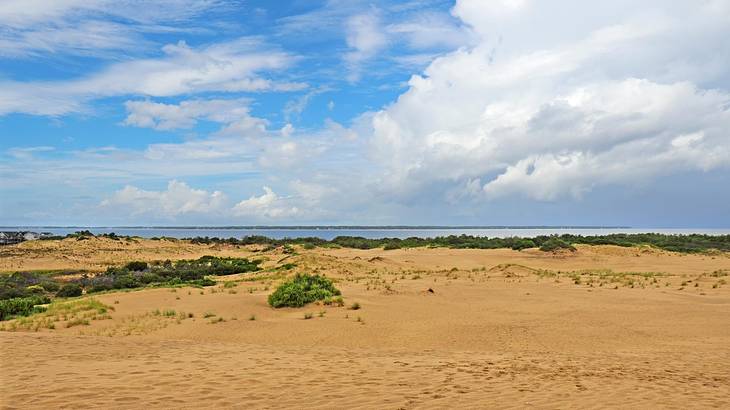 Jockey's Ridge State Park
Jockey's Ridge State Park features 427 acres of unique landscapes in Nags Head in the Outer Banks. An interesting Outer Banks fact relating to the park is that it has the tallest sand dunes on the east coast.
Visitors can wander among the dunes while admiring views of Roanoke Sound. Adventure activity enthusiasts can try hand gliding too.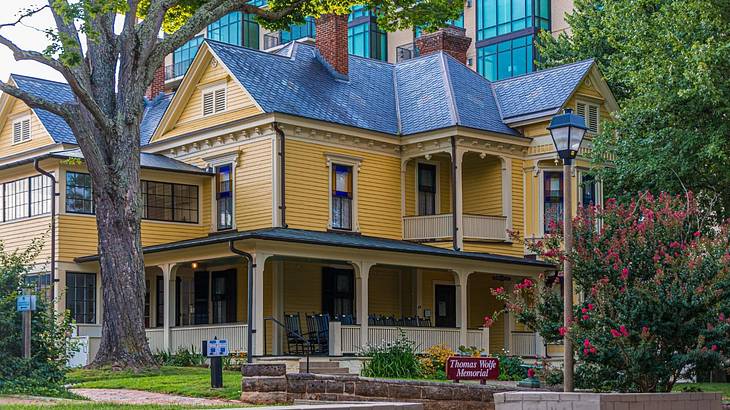 Thomas Wolfe Memorial
Thomas Wolfe was a well-known author born in Asheville in 1900. The Thomas Wolfe Memorial, or Thomas Wolfe House, is a house museum that pays homage to the writer.
The house is where Thomas grew up and was built in 1883, with the Wolfe family moving in in 1906. Visitors can take a tour and discover over 600 artifacts relating to Thomas Wolfe and his family.
Bennett Place
As another of the historic places in North Carolina, Bennett Place is a must-visit for history enthusiasts, especially those interested in the Civil War. This farm and homestead, constructed in 1789, was the site of the final Confederate surrender of the Civil War.
Bennett Place was also where Union generals, who had been discussing the terms of the Confederate surrender, learned of the assassination of President Lincoln. Today, you can tour Bennett Place and see educational Civil War re-enactments.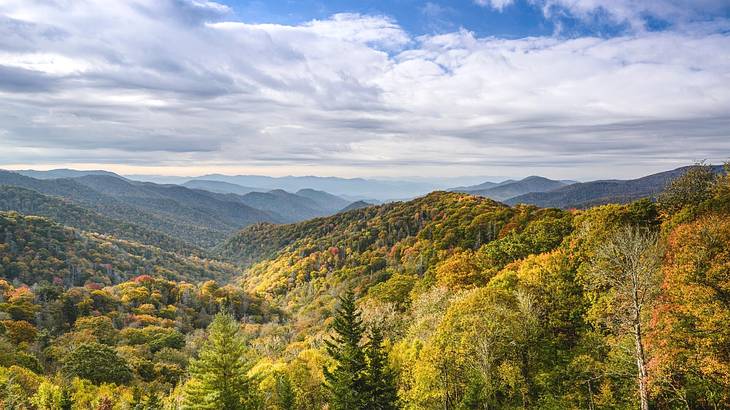 Great Smoky Mountains National Park
Great Smoky Mountains National Park is a North American landmark and one of the can't-miss outdoor attractions in North Carolina. The outdoor attraction is situated on the border between NC and Tennessee and is managed by the National Park Service.
The stunning park features dense forests, abundant wildlife, rivers, waterfalls, and much more. Numerous trails can also be found, including one route that's part of the Appalachian Trail.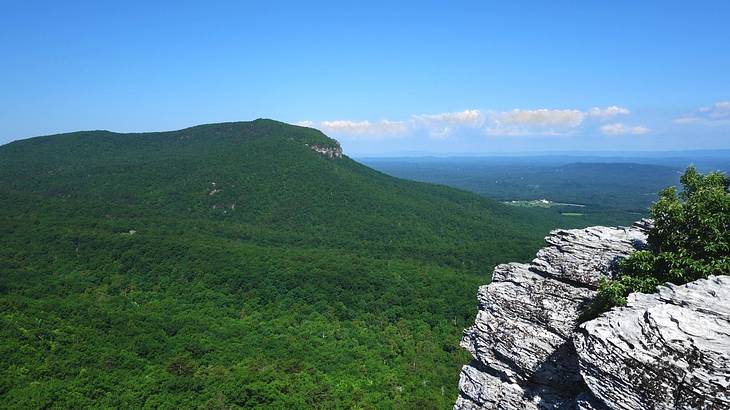 Hanging Rock State Park
Another famous landmark in North Carolina to visit that will get you exploring the outdoors is Hanging Rock State Park. This 9,011-acre park is known for its namesake hanging rock formation and for being a top place to hike and wildlife watching.
Creatures to see range from falcons and wild turkeys to white-tailed deer. Hanging Rock State Park is also rich in ecology and has many plants not usually seen in this part of the US.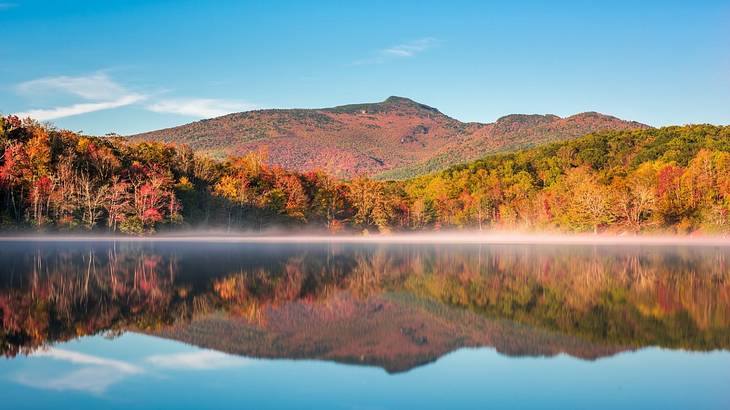 Grandfather Mountain State Park
Near Linville, NC, Grandfather Mountain State Park features mountainous terrain and backcountry hiking trails. Activities to enjoy, other than hiking, include camping, rock climbing, and wildlife watching.
The key attraction is its namesake Grandfather Mountain. This geological feature has an elevation of almost 6,000 feet and is quite a sight to see!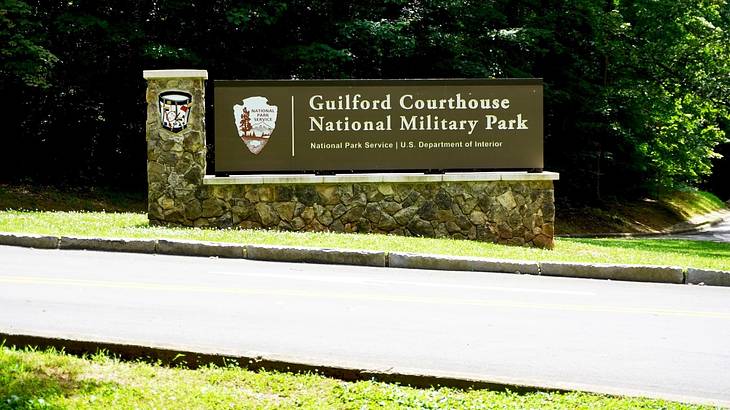 Guilford Courthouse National Military Park
Guilford Courthouse National Military Park is a fascinating historical site. The park is the place of the 1781 Battle of Guilford Courthouse, which was effectively the first battle of the American Revolution.
In this first battle, the US took a loss, with about 93 soldiers killed and over 400 injured. The site today acts as a memorial to the first losses of the war that would lead to the United States being a free country.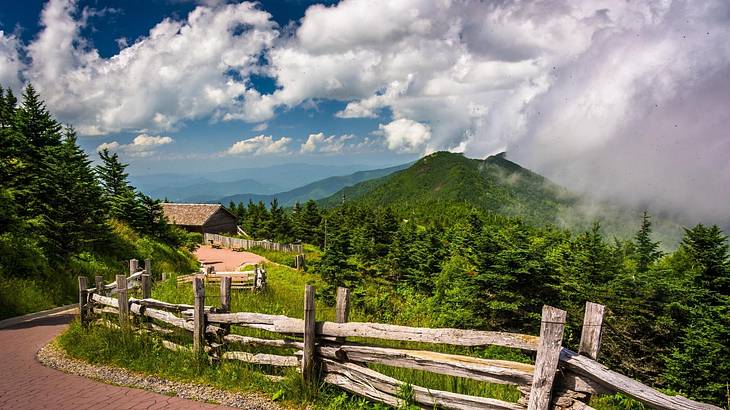 Mount Mitchell State Park
Established in 1915, Mount Mitchell State Park was the first state park in North Carolina. It covers 4,789 acres and is home to Mount Mitchell, hiking trails, and campgrounds.
Like other parks in the area, Mount Mitchell State Park has an array of wildlife to spot. Animals you may see include salamanders, flying squirrels, and bobcats.
In Summary
North Carolina has many well-known landmarks and offers something to please every visitor. From Raleigh to Fayetteville and across the Outer Banks, you won't run out of famous places to see in North Carolina!
Give us feedback about this article
For more interesting articles about United States, read:
For some great articles about landmarks, check out:
For visual stories related to this article, take a look at:
---
---
Want to keep exploring?
Subscribe for discounts on tickets and hotels and our latest guides.
Thank you for subscribing
We will be in touch soon with discounts on tickets and hotels and our latest guides.
Want to keep exploring?
Subscribe for discounts on tickets and hotels and our latest guides.
Thank you for subscribing
We will be in touch soon with discounts on tickets and hotels and our latest guides.
Related articles