12 Nicknames for Charlotte, NC, and the Reasons for Them
Destguides may receive commissions from purchases made through affiliate links in this article.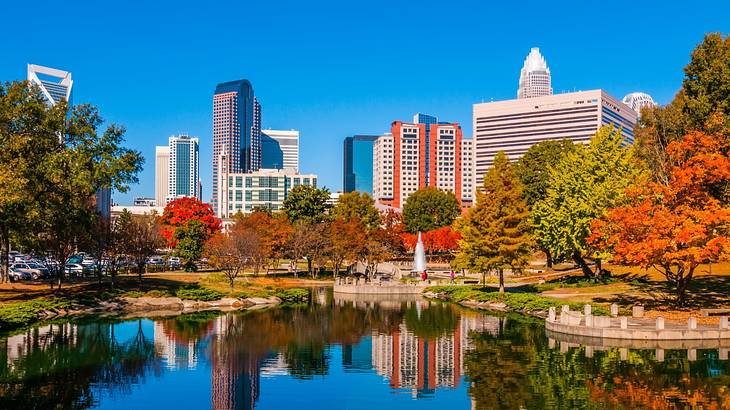 Charlotte is a North Carolina city that is steeped in history. Despite not being the capital (that title belongs to Raleigh), it's actually the biggest city in the entire state and one of the largest cities in the USA.
Due to its rich history, the city has been given many monikers over the years. One of the many nicknames for Charlotte, NC, is the Queen City. This is thanks to the city's regal ties. Likewise, Crown Town is another moniker that refers to Charlotte's royalty.
In fact, Charlotte is named after King George IIIs wife, Queen Charlotte. And the surrounding county is named Mecklenburg County after her birthplace in Germany. Charlotte hasn't forgotten its noble status, either. The city motto is Regina Civitatem, translates to Queen City.
But Charlotte is much more than just royal links. From sporting ties to references to Charlotte's golden past, these are some of the names that define this wonderful city.
12 Charlotte Nicknames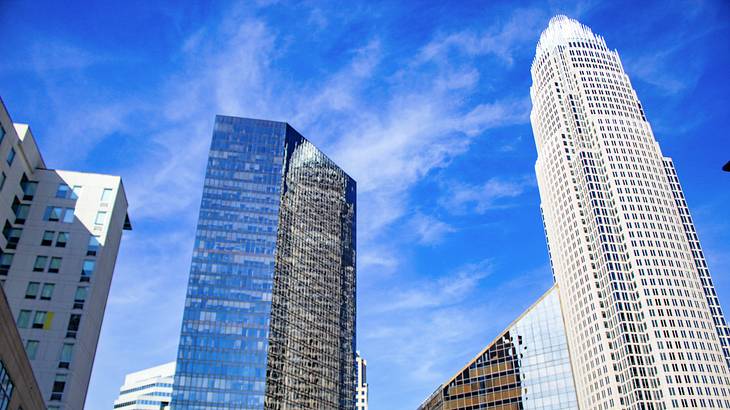 Banktown
While New York's Wall Street might be the most famous banking center in the USA, Charlotte comes in very close as the second-largest banking destination in the country. Charlotte is home to the headquarters for both Bank of America and the East Coast post of Wells Fargo.
The finance industry has always been an important part of Charlotte's history. Ever since the gold rush of the early 1800s, this city has been known for its fiscal connections, hence its Banktown moniker.
The Hornet's Nest
You might think that the Hornet's Nest refers to Charlothat'slove for basketball, and the city's team, the Charlotte Hornets, but that's incorrect. This nickname actually dates to the American Revolutionary War.
During the war, Charlotte was occupied by British commander General Cornwallis. But he was actually chased out of the city by residents. This resulted in General Cornwallis saying, "This place is a damned hornet's nest."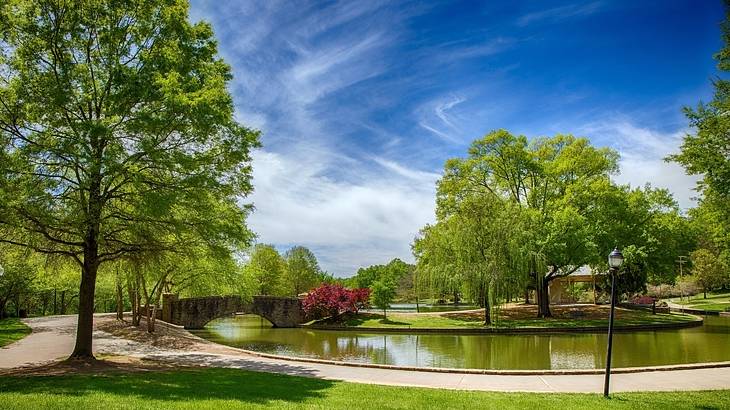 City of Trees
City of Trees is another commonplace nickname for Charlotte. Despite the city's soaring skyscrapers and rapid growth, Charlotte is still home to an abundance of green and leafy spaces throughout the city, especially in and around the Myers Park area.
As well as this, the city has consciously preserved its greenery. Local groups have ensured Charlotte remains a City of Trees and is as environmentally friendly as possible.
CLT
Unlike the other Charlotte monikers in this article, CLT has a slightly more useful reason to be used. This is the International Air Transport Association (IATA) code for Charlotte Douglas International Airport. As the city's main airport and transport hub, residents and tourists alike have opted to call the city CLT. And now the two are interchangeable.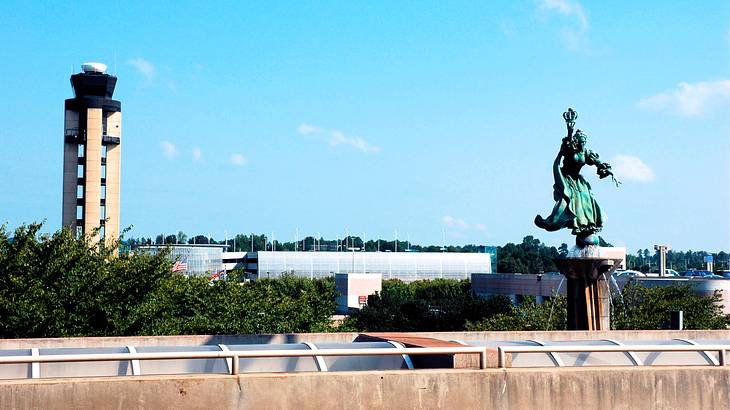 Queen City
The most famous name for Charlotte is Queen City. This destination is named after the German Princess Charlotte of Mecklenburg, the queen consort of British King George lll. At the time, in 1768, King George was head of the colony of North Carolina.
Regina Civitatem (or Queen City in Latin) is the city's motto and can be found on the city's official seal, which is still used on official documents.
Buzz City
Another name for Charlotte is Buzz City. This is because of Charlotte's affinity with sports and, in particular, basketball. Charlotteans are very dedicated to their NBA team, the Charlotte Hornets.
This spirited nickname reflects the residents' support and the electric atmosphere during game days. Try to catch a game, and you'll find that the Spectrum Center (which is also one of the top Charlotte landmarks), quite literally buzzes with energy.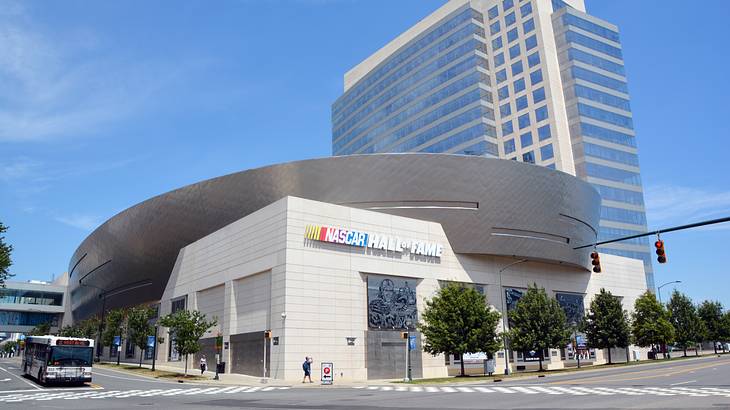 NASCAR Central
One of the Charlotte names with modern ties is NASCAR Central. This moniker is thanks to Charlotte's connection with the famous motorsport. The Charlotte Motor Speedway is a huge oval track that hosts NASCAR races, including the famous Coca-Cola 600 that takes place on Memorial Day weekend.
Charlotte is also home to the NASCAR Hall of Fame, a museum that illustrates the sport's fascinating history. This is also one of the interesting North Carolina landmarks that must be on your NC bucket list!
Crown Town
Crown Town is a play on the nickname Queen City. For many residents, it has become a tongue-in-cheek way to refer to the city. One of the most interesting facts about North Carolina is that the City of Charlotte emblem, flag, and seal all feature crowns on them.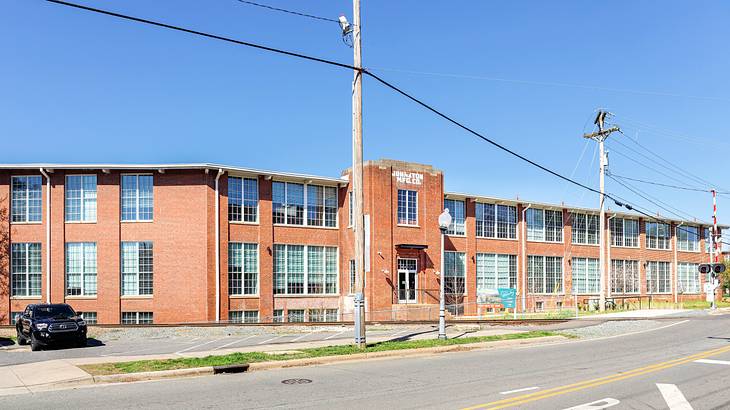 The City of Industry
The City of Industry is a name that references a booming period of the city's economy. Between the late 1800s and 1900s, Charlotte was a hub for textile manufacturing and was home to a significant number of mills.
In recent years, Charlotte has maintained its strong industry roots. It is estimated that manufacturing, trade and transportation, and finance are still the three biggest industries in the city.
Mint City
The next nickname is Mint City. This relates to Charlotte's role in the gold mining industry throughout the 19th century.
The USA's first gold rush took place in North Carolina, and Charlotte was a major center for processing and minting coins. The Charlotte Mint operated between 1837 to 1861 before the outbreak of the Civil War forced it to close.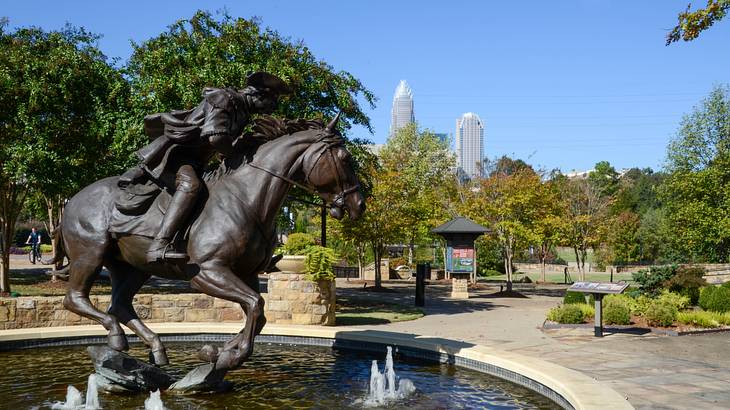 The QC
The QC is another of the nicknames relating to royals. This moniker is an abbreviation of Queen City. Much like Crown Town, the QC is a funny way that locals like to refer to Charlotte.
The surrounding county of Charlotte was named Mecklenburg after her full title, Charlotte of Mecklenburg-Strelitz. This is also how, in 1819, the Mecklenburg Declaration of Independence, which stated that 13 colonies wanted independence from Britain, got its name.
The City of Churches
Another name for Charlotte is the City of Churches. Although, as a city, Charlotte is significantly less religious nowadays, it used to be one of the most conservative places in the USA. In fact, it previously boasted more churches per capita than any other city in America.
Charlotte was known as the home of Presbyterianism, though there were plenty of other religious denominations in the city. Today, just over 50% of people living in Charlotte are believed to be religious, with around 5% being Presbyterians.
In Summary
Charlotte is a gorgeous Southern city where a strong economy and soaring skyscrapers meet leafy parks. This North Carolina gem is known for being the home of NASCAR and for its love for its NBA team, the Charlotte Hornets, which is reflected in many of its nicknames.
The City of Industry and the City of Churches pay tribute to Charlotte's immense growth in multiple areas. While Queen's City and Crown Town illustrate Charlotte's royal ties. Next time you pay a visit, make sure to use some of these Charlotte, NC, nicknames, and you'll sound like a local in no time.
Give us feedback about this article
Learn more about Charlotte:
More articles about North Carolina:
Read more articles about the United States:
More articles about nicknames:
---
---
Want to keep exploring?
Subscribe for discounts on tickets and hotels and our latest guides.
Thank you for subscribing
We will be in touch soon with discounts on tickets and hotels and our latest guides.
Want to keep exploring?
Subscribe for discounts on tickets and hotels and our latest guides.
Thank you for subscribing
We will be in touch soon with discounts on tickets and hotels and our latest guides.
Related Articles