30 Fun Things to Do in Fayetteville, North Carolina
Destguides may receive commissions from purchases made through affiliate links in this article.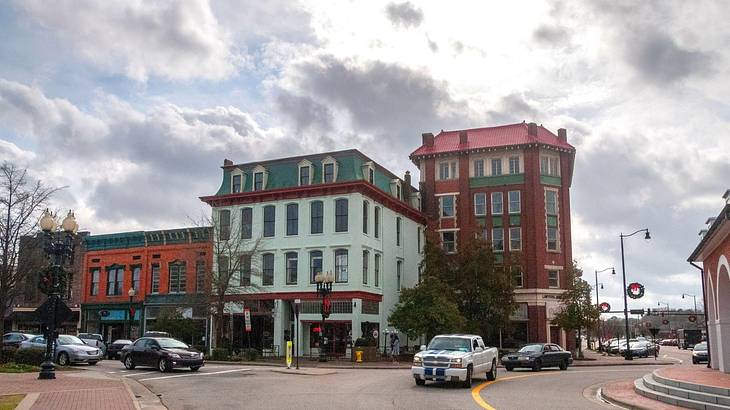 If you're looking for a quaint weekend getaway destination, Fayetteville, North Carolina, United States is a perfect choice. You'll find a vast array of fun things to do in Fayetteville, North Carolina, that will please all types of travelers.
Fayetteville features numerous North Carolina landmarks, outstanding breweries and restaurants, and lots of outdoor attractions. No matter what type of things you like to do on vacation, charming Fayetteville offers something for everyone!
30 Fun Things to Do in Fayetteville, NC
Fayetteville, NC, Fun Things to Do
Admire beautiful flowers at the Cape Fear Botanical Garden
The perfect activity when in Fayetteville is going to the Cape Fear Botanical Garden. This non-profit attraction features beautifully manicured gardens and numerous flower, tree, and plant varieties.
Be sure to check the events calendar before you go, as there are always fun things going on at the gardens. These events include a holiday lights show, yoga, and tai chi classes.
Take a beginner's class at the All-American Fencing Academy
A unique and exciting thing to do in Fayetteville is taking a fencing class at the All-American Fencing Academy. The academy offers beginner classes so anyone can have a go at fencing. Those that have fenced before can take a more advanced class.
If you don't have time to book a class, no problem! You can walk into classes every fourth Friday with no reservation.
Stroll around Arnette Park
One of the laid-back attractions in Fayetteville, North Carolina, is Arnette Park. This expansive 100-acre green space features forested areas, playing fields, and an array of wildlife to spot.
When in the park, you can stroll along the public paths, taking in the scenic views. You can also play a range of sports, from volleyball to tennis. Slightly more intensive hiking trails are also found around the park.
Visit the 1897 Poe House
The 1897 Poe House is a Fayetteville landmark. This iconic house was built, as the name suggests, in 1897 and was home to the Poe family. Interestingly, one of the owners was called Edgar Allen Poe, but was not the writer, nor was he any relation to him!
North Carolina's Edgar Allen Poe was instead a successful North Carolina businessman. Today, you can visit the home and learn more about the house and Fayetteville in the late 1800s and early 1900s.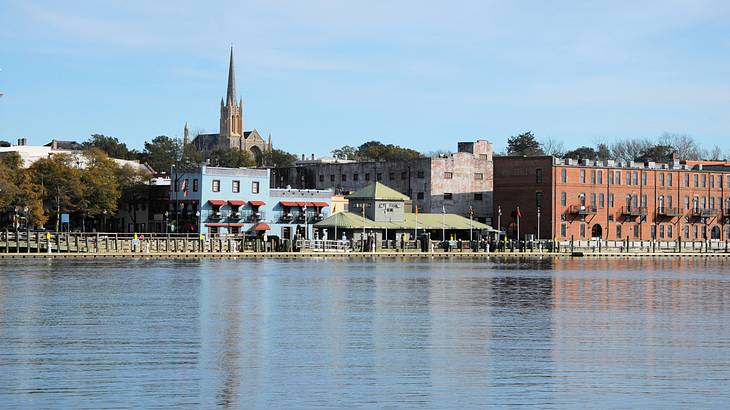 Hike or bike the Cape Fear River Trail
The ideal activity for outdoor enthusiasts is hiking or biking on the Cape Fear River Trail. The 10.2-mile trail is moderate in difficulty and features a beautiful lake and forest vistas.
You'll also spot an array of wildlife while hiking or biking, including 150 species of wild birds. Your dog is welcome to join you on the trail too, but must be kept on leash.
See a production at the Cape Fear Regional Theatre
Another of the many Fayetteville, NC, fun things to do is watching a performance at the Cape Fear Regional Theatre. This local theater house can seat just over 300-people and hosts a range of theater productions.
Shows that have been on include The Wizard of OZ, a theatrical production of The Color Purple, and a dramatization of the game Clue. No matter what you see, you're guaranteed to have a memorable night out!
Catch a film at Cameo Art House Theatre
The Cameo Art House Theatre is an iconic venue that's a local favorite. The theater shows a range of films, from classics to indie features.
When in Fayetteville, spending an afternoon or evening watching a film here is highly recommended. Watching a movie in this cozy and slightly retro theater is the ideal way to relax after a busy day exploring the town.
Pick fruit at the Carter Blueberry Farm
The quaint family-run Carter Blueberry Farm is a must-visit spot if you're in Fayetteville during the summer. It's also one of the best attractions in the area for kids.
At the six-acre farm, you can pick fresh blueberries for very affordable prices. The farm also offers strawberry picking. Carter Blueberry Farm is generally open for fruit picking from June to August.
Shop and dine at the Cross Creek Mall
Shopping is always a good idea, and the Cross Creek Mall is the ideal place to shop-til-you-drop in Fayetteville! The mall houses numerous stores, including Macy's, chain stores, and independent shops.
Various cafes, restaurants, and sweet treat outlets are on-site in case you need a snack. The Cross Creek Mall is one of the Fayetteville attractions that everyone will enjoy.
Learn more about North Carolina at the Museum of the Cape Fear
If you're interested in learning more about Fayetteville and southern North Carolina, one of the Fayetteville things to do you can't miss is going to the Museum of the Cape Fear. This museum is a regional branch of Raleigh's North Carolina Museum of History.
The museum features various informative exhibits. Topics covered included early exploration of the state of North Carolina, American Indians, the Civil War, and the textiles industry.
Explore the Fayetteville Area Transportation and Local History Museum
The Area Transportation and Local History Museum is one of the many fascinating Fayetteville, NC, attractions. This museum primarily features exhibits on transportation and is housed in an old railway station.
Things to see include vintage cars, a recreated 1920s gas station, and a steam pump engine. You'll also learn about Fayetteville's history and the Fayetteville fire department.
Appreciate the beautiful Fayetteville Rose Garden
If looking for a relaxing activity, wandering around the scenic Fayetteville Rose Garden is the perfect thing to do. This scenic attraction features a variety of species of roses, including over 1,000 rose bushes. While unwinding in this gorgeous garden, you'll also discover water fountains, gazebos, and other flowers and plants.
Grab a beer at Gaston Brewing Company
An excellent brewery in Fayetteville that's well worth checking out is Gaston Brewing Company. The bar offers a range of beers to choose from, served by friendly staff. If you like, you can even fill up a growler with your favorite brew.
Along with delicious drinks, you can choose snacks from an extensive menu. Dishes to enjoy include wings, pizza, and chicken sandwiches.
Have a meal at Huske Hardware House
One of the fun places in Fayetteville, NC, to grab a meal is Huske Hardware House. This restaurant is housed in a 100-year-old hardware store and serves tasty dishes, craft beer, and signature cocktails.
Snacks to order include nachos, burgers, fish and chips, and sandwiches. If you have a beer you particularly like, you can fill a growler with it. Fun fruit mimosas can also be put in growlers to take away.
Spot wildlife at the J. Bayard Clark Park and Nature Center
Located by the Cape Fear River, the J. Bayard Clark Park and Nature Center is a must-visit attraction. In the park, you can follow scenic trails and are guaranteed to spot a range of wildlife. You'll also discover small waterfalls, and there are lots of perfect picnic locations.
If you want to see even more animals, head to the Nature Center. Creatures to see here include turtles, birds, snakes, and more.
Have fun at Lake Rim Park
Lake Rim Park is an attraction everyone will enjoy. It's an ideal place to visit for all types of people, from families with small children to outdoor activity enthusiasts.
Things to do at the park include following nature trails past charming creeks, sharing a picnic, and riding bikes. There's also a playground for little ones and multiple fields and courts to play sports on.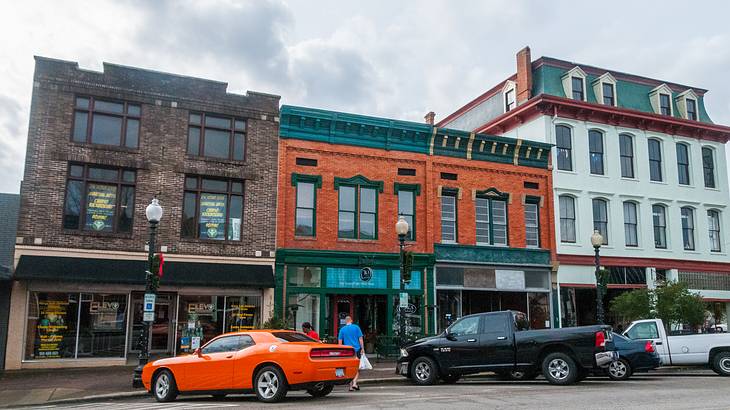 Go shopping on Hay Street
One of the most laid-back Fayetteville activities is exploring Hay Street, the main street in downtown Fayetteville. This bustling part of town features unique shops, quaint cafes, and amazing restaurants.
While in the area, make sure you explore the interesting independent stores. You can then grab a coffee or enjoy a delicious meal at a locally-owned eatery.
Cheer for local sports teams at the Crown Complex
Although Fayetteville doesn't have any teams in US major league sports, they do have some local professional teams. Heading to the Crown Complex to catch these local teams in action is highly recommended.
Teams to see play include the Fayetteville Fury soccer team and the Fayetteville Marksmen hockey team. If sports aren't your thing, you can also see ice dancing shows, ballet performances, and more at Crown Complex.
Enjoy an Italian meal at Luigi's Italian Chophouse and Bar
Luigi's Italian Chophouse and Bar is one of Fayetteville's best restaurants. This eatery serves authentic Italian dishes, including over ten preparations of pasta. Steaks, seafood dishes, and much more are also on the menu.
Accompany your meal with a beverage chosen from an extensive wine and cocktail list. In the winter, you can get cozy in front of the fireplace, and in the summer, you can relax on an outdoor patio. Eating at Luigi's shouldn't be missed when in Fayetteville!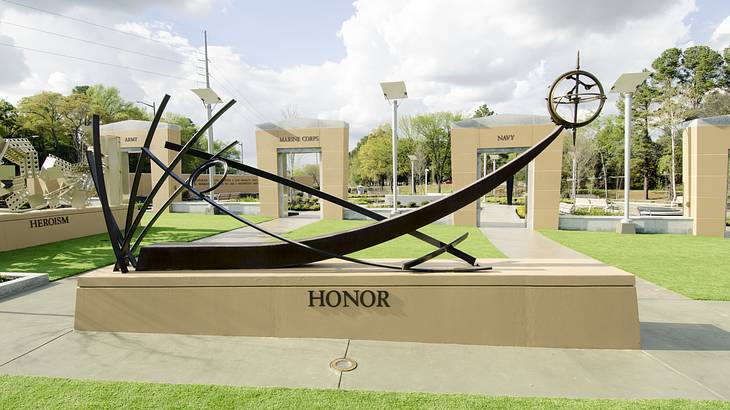 Appreciate the memorials at the North Carolina Veterans Park
The North Carolina Veterans Park is a memorial park devoted to US military veterans from all branches of the armed forces. While exploring the park, you'll discover commemorative memorial sculptures and interactive exhibits.
This Fayetteville landmark allows you to pay respects to military personnel. Additionally, it teaches you more about the US armed forces and those that have fought for the country.
Watch a Sweet Tea Shakespeare classical performance
For those that enjoy classical theater performances, seeing a play by Sweet Tea Shakespeare is one of the most fun things in Fayetteville, NC, to do. This group of classical performers puts on plays outdoors and at various Fayetteville indoor venues.
As the name suggests, the theater group does Shakespeare plays. However, classical plays by other playwrights are also performed throughout the year. If you want to watch an outstanding performance, seeing a Sweet Tea Shakespeare play is a must!
Go to the US Army Airborne & Special Operations Museum
Located close to Fort Bragg, the US Army Airborne and Special Operations Museum houses exhibits on United States military history. While various military topics are covered, there is a focus on US army special operations and airborne units.
This museum houses both permanent and temporary exhibits. Therefore, every time you visit, you'll be able to see new displays and learn something new!
Take an educational guided tour at Sandhills Family Heritage Center
Sandhills Family Heritage Center offers educational guided tours that teach you about African American history and the history of North Carolina. You'll learn about slavery and its abolishment, the Civil Rights Movement, and much more. You can discover a range of fascinating galleries and exhibits covering these topics too.
Visit an old weaponry production site at Arsenal Park
Arsenal Park is the location of a former US Arsenal, constructed shortly after WWI. The arsenal acted as a site for ammunition and weapons production, mainly for the Confederacy during the Civil War. Today, you can explore what remains of the Arsenal at the interesting historical park.
Walk a Cultural Heritage Trail
While in Fayetteville, you can discover many cultural heritage trails to follow. Trails to try include an African American heritage trail, an antiquing trail, and an all-American adventure trail. There is a themed trail for everyone! No matter which you choose to follow, you'll see some amazing landmarks and learn something new.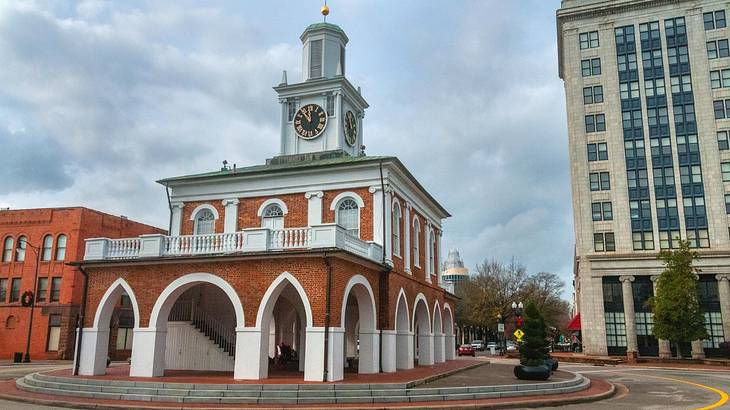 See the historical Market House
When deciding what to do in Fayetteville, North Carolina, a trip to Market House needs to be on your list. A fun fact about North Carolina is that Fayetteville was once the state capital, and the Market House building acted as a significant political base during that period.
Today, Market House is Fayetteville's town hall. It's also a famous landmark that tourists must see.
Hike the Mazarick Park Loop
Mazarick Park is an 80-acre park, complete with lakes, trails, and picnic areas. The park features the popular Mazarick Loop, a one-mile trail offering scenic views. It's the ideal place to hike, run, or walk your dog. If visiting with kids, there's also a fun playground for them to enjoy.
View artworks at the David McCune International Art Gallery
As one of Fayetteville's premier art galleries, you can't visit the area without going to the David McCune International Art Gallery. Works displayed in the gallery range from temporary pieces and artworks by international artists to the work of Fayetteville Methodists University students.
Things to Do Near Fayetteville, NC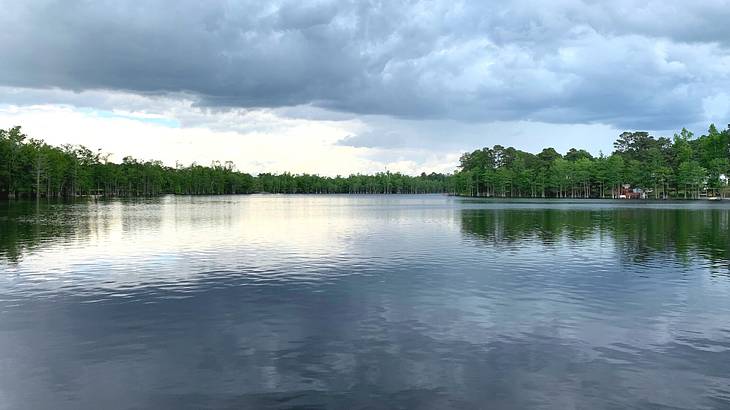 Kayak at Hope Mills Lake
Hope Mills Lake, known locally as "The Pond," is a park and lake found about 15 minutes from downtown Fayetteville. One of the Fayetteville activities to try at the lake is kayaking.
You can bring your own kayak or get a rental and will be able to paddle through this tranquil and scenic lake. Paddleboarding is another enjoyable activity to try at Hope Lake Mills.
Relax with a drink at Dirtbag Ales Brewery & Taproom
If you like trying local bars and breweries, one of the must-visit breweries near Fayetteville is Dirtbag Ales Brewery & Taproom. At the bar, you can choose from a wide array of fresh-brewed IPA, with flavors like Blood Orange Kolsch and Cold Brew Mocha Porter available. Burgers, wings, and other bar snacks are also available at the on-site Napkins Restaurant.
In Summary
Fayetteville is a charming town in North Carolina that makes a great weekend getaway or day trip destination. When in the area, you'll find a range of fun things to do. Whether you enjoy outdoor activities, visiting historical attractions, or brewery hopping, there's something for everyone in Fayetteville.
Give us feedback about this article
More visual stories related to this article:
Want to keep exploring?
Subscribe for discounts on tickets and hotels and our latest guides.
Thank you for subscribing
We will be in touch soon with discounts on tickets and hotels and our latest guides.
Want to keep exploring?
Subscribe for discounts on tickets and hotels and our latest guides.
Thank you for subscribing
We will be in touch soon with discounts on tickets and hotels and our latest guides.