20 Landmarks in Columbus, Ohio, That Can't Be Missed
Destguides may receive commissions from purchases made through affiliate links in this article.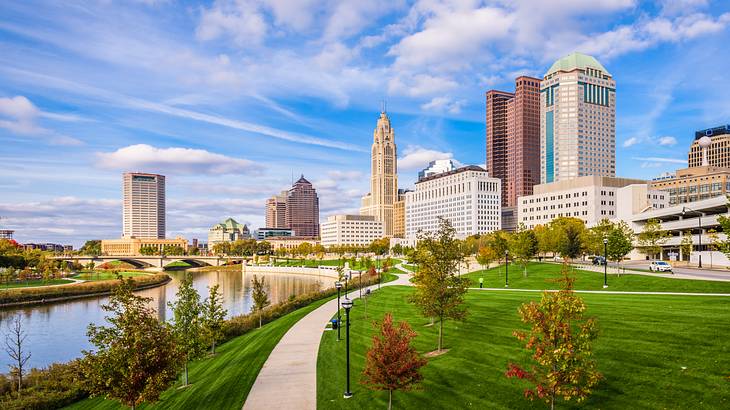 Looking for city break destinations? Then you have to consider a trip to Columbus! Located in the state of Ohio, this exciting city offers visitors a range of activities to try and places to visit.
You'll also discover numerous famous landmarks in Columbus, Ohio, including many that are designated as National Historic Landmarks. Notable places to go to include museums, theaters, parks, and historic homes.
Whether you enjoy getting to know more about the city you travel to, visiting cultural attractions, or going to off-the-beaten-path places, there are sure to be multiple Columbus landmarks you'll enjoy seeing!
20 Columbus Landmarks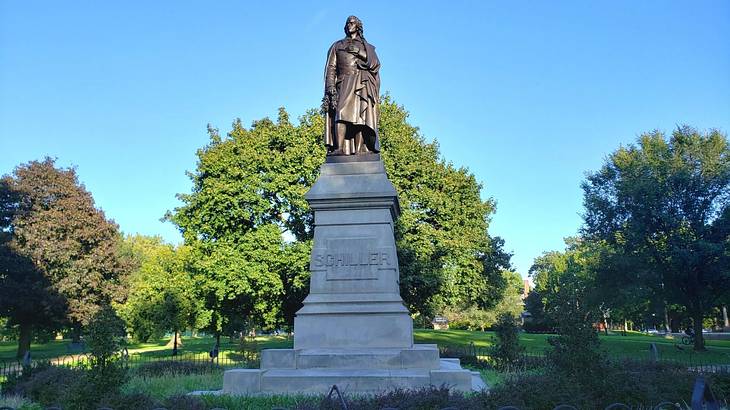 Schiller Park
Schiller Park is a scenic city park found in the German Village to the south of downtown. This urban park is, notably, the second-oldest park in Columbus after Goodale Park. The park features pretty floral gardens, ponds, water features, and lots of walking and biking paths.
You can also find sports facilities here, including a basketball court and a softball field. There's additionally a kids' playground and designated picnic areas to enjoy an outdoor meal with friends and family.
Franklin Park Conservatory and Botanical Gardens
The Franklin Park Conservatory and Botanical Gardens is one of the most famous Ohio landmarks. The vast botanical gardens feature over 400 species of exotic plants.
Flowers and plants to see include bonsai trees, a selection of orchids, and colorful tulips. You're likely to also spot vibrant butterflies and birds. There are even art installations to view, including glasswork by Dale Chihuly.
German Village Historic District
One of the most interesting historical places in Columbus, Ohio, is the German Village Historic District. The district features many shops and restaurants and is full of history.
As you explore the area, you'll discover charming cobblestone streets and quaint brick houses. You can also find many historical plaques and markers offering more information on the history of the area and the buildings you see.
Jefferson Avenue Historic District
The Jefferson Avenue Historic District in Downtown Columbus is a well-known area that's listed on the National Register of Historic Places. This iconic district features 12 buildings that are highly regarded for their architecture and history, including the Thurber House.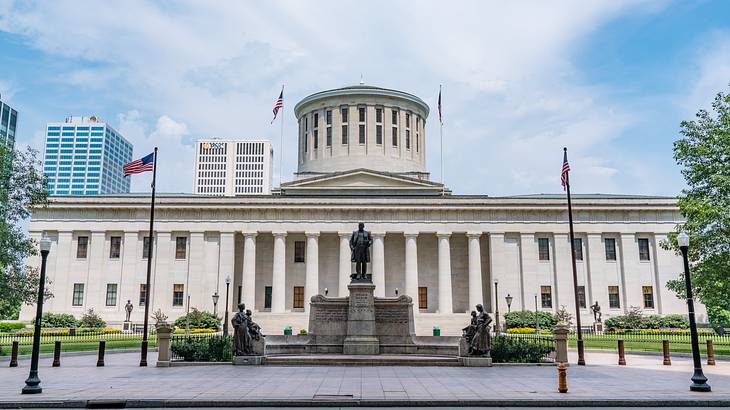 Ohio Statehouse
The Ohio Statehouse is an important building in United States politics and houses the seat of government for Ohio state. The Statehouse also features a museum, allowing visitors to learn more about Ohio history and politics.
If interested in visiting, you can partake in a guided tour as well. There are also pretty gardens with memorial statues to discover.
Thurber House
Another of the most famous places in Columbus, Ohio, is Thurber House. This iconic house was the home of New Yorker cartoonist James Thurber. Today, the house acts as a museum and literary center for writers.
During a visit, you can wander around the house museum and learn more about James Thurber and the building itself. Many events are also held here, such as writing workshops for all ages and meet-the-author sessions.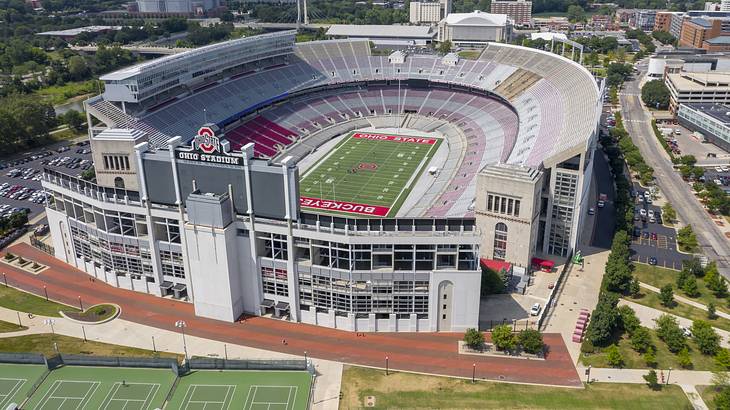 Ohio Stadium at Ohio State University
Also known as the Horseshoe, Ohio Stadium at Ohio State University is a much-loved Columbus venue. The stadium is home to the Ohio State Buckeyes college football team.
Concerts are also held here, with former acts including Pink Floyd and The Rolling Stones. When in Columbus, catching a Buckeyes game or other event at this much-loved stadium is highly recommended!
Easton Town Center
Located in northeast Columbus, the Easton Town Center is a large and popular shopping mall. The shopping village-style mall features a contemporary design and lots of outdoor space.
Shops to check out include Nordstrom, Nike, Sephora, and many more. Once you've shopped around, you'll find numerous places to stop for something to eat. Dining options range from pretzel and bubble tea spots to poke bars and seafood restaurants.
Short North Arts District
One of the really fun Columbus, OH, landmarks to visit is the Short North Arts District. This trendy area of the city includes many dining options, independent boutiques, and cute coffee shops.
The district also has approximately 15 art galleries showcasing a range of unique works. Exploring the Short North Arts District is the ideal way to unwind and discover some Columbus hidden gems.
Billy Ireland Cartoon Library & Museum
The Billy Ireland Cartoon Library and Museum is a fascinating museum dedicated to cartoon art. The museum is affiliated with Ohio State University and houses exhibits on the world's most famous cartoonists.
Exhibits at the Billy Ireland Cartoon Library and Museum are often temporary and rotate frequently. Therefore, you'll always get to see some new cartoon collections every time you visit!
Nationwide Arena
Nationwide Arena is a large multipurpose arena in downtown Columbus. The venue is notably the home of the Columbus Blue Jackets NHL team. Along with hockey games, other events like concerts, WWE and UFC fights, ice skating shows, and more are held here.
Watching a Blue Jackets game at Nationwide Arena is an absolute must if you're a sports fan visiting during the National Hockey League season.
Columbus Symphony Orchestra Building
The Columbus Symphony Orchestra is the oldest performing arts group in Columbus. The orchestra plays from the Ohio Theatre, also known as the Columbus Symphony Orchestra Building. This historical structure was initially constructed in 1928 and was restored in 1969 after facing demolition.
Today, the building features a music hall with high ceilings and ornate details. Going to the Ohio Theatre to see the Columbus Symphony Orchestra and appreciate the architecture has to be on your Columbus to-do list!
Huntington Park
Another of the sports-related Columbus, Ohio, landmarks is Huntington Park baseball stadium. The park is home to the Columbus Clippers minor league baseball team.
Locals will often flock to the park on sunny days to watch a game. If in the area during the season, heading to Huntington Park to watch the Clippers play is a fun thing to do, even if you aren't the biggest sports fan.
Polaris Fashion Place
Polaris Fashion Place is a popular two-story shopping mall in north Columbus. The shopping plaza features both chain and specialty stores covering a range of categories from fashion and accessories to pets and home goods.
Along with shopping options, you can find an array of places to eat or grab a drink at Polaris Fashion Place. These outlets include chains, such as Starbucks and Cheesecake Factory, plus more independent eateries.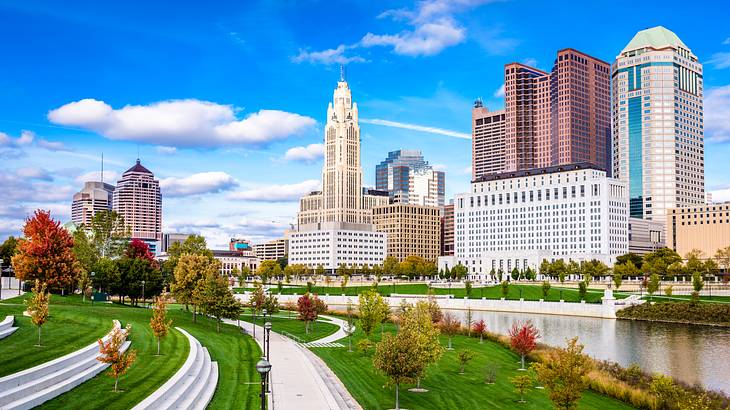 Scioto Mile
An popular outdoor landmark in Columbus is the Scioto Mile. This 12.2-mile long greenway trail takes you along the banks of the Ohio River. It's also part of the over 120-mile-long Central Ohio Greenways trail network.
As you wander along the trail, you can appreciate both river and city views. You'll also discover numerous lush parks to relax in and escape from the bustle of the city.
The Southern Theatre
Another of the Columbus, Ohio, historical landmarks constructed in the 1800s is the Southern Theatre. Today, the Victorian-era building is used for broadway shows and other performances. Interestingly, it's the only 19th-century theater still in Columbus.
If you want to catch a performance here, there are lots to choose from. Shows to see include jazz and classical music performances, ballet, stand-up comedy, and theater productions.
Columbus Museum of Art
Founded in 1878, the Columbus Museum of Art was the first art museum to register in Ohio. Collections at the museum include works by American and international artists that range from classic works to contemporary pieces.
Artists with pieces on display include Picasso, Matisse, and Monet. Along with a permanent collection, the Columbus Museum of Art has many fascinating temporary collections to view.
North Market Food Hall
North Market is a public market that has been in Columbus, Ohio, for 145-years. The market is currently located on Spruce Street in downtown Columbus. There is also an additional location in Dublin, Ohio.
The market features a food hall that offers an array of dining options, plus stalls selling fresh and local produce. Places to eat and shop at include ramen bars, burger joints, Mexican eateries, and sweet treat outlets.
Various events are also hosted at North Market, including happy hours, a night market, and pop-up stalls and shops.
Kelton House Museum and Garden
Kelton House Museum and Garden is one of the older Columbus, Ohio, historical sites, having been built in 1852. The Greek Revival and Italianate-style mansion and gardens house an array of rare artifacts and decorative art pieces. The home was also a stop on the Underground Railroad that helped slaves escape into free states.
When visiting, you can explore each room of the house as you learn more about the estate's history. You then have the chance to wander around the beautifully manicured gardens.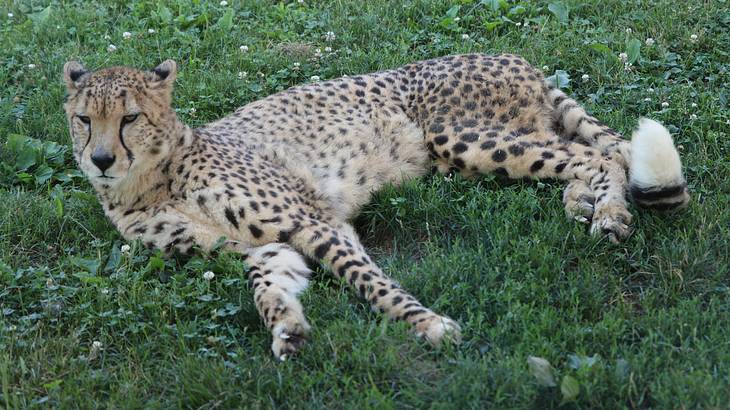 The Columbus Zoo and Aquarium
If in Columbus with kids, a trip to the Columbus Zoo and Aquarium is recommended. This wildlife attraction is home to over 11,000 land and aquatic animals from approximately 600 species.
Animals you may see at the zoo range from koala bears, giraffes, and lions to alligators and bald eagles. At the Aquarium, creatures to spot include penguins, manatees, and zebra sharks.
You can also participate from various experiences, such as watching feedings and learning about how the animals are taken care of.
In Summary
Columbus is the perfect place to visit for a fun city trip. As you explore the area, you'll discover a multitude of famous attractions and monuments.
From iconic sports venues to fascinating museums and outdoor attractions, you're guaranteed to have the best time exploring Ohio's state capital!
Give us feedback about this article
More visual stories related to this article:
---
---
Want to keep exploring?
Subscribe for discounts on tickets and hotels and our latest guides.
Thank you for subscribing
We will be in touch soon with discounts on tickets and hotels and our latest guides.
Want to keep exploring?
Subscribe for discounts on tickets and hotels and our latest guides.
Thank you for subscribing
We will be in touch soon with discounts on tickets and hotels and our latest guides.
Related Articles