25 Famous Landmarks in Ohio State You Must Visit
Destguides may receive commissions from purchases made through affiliate links in this article.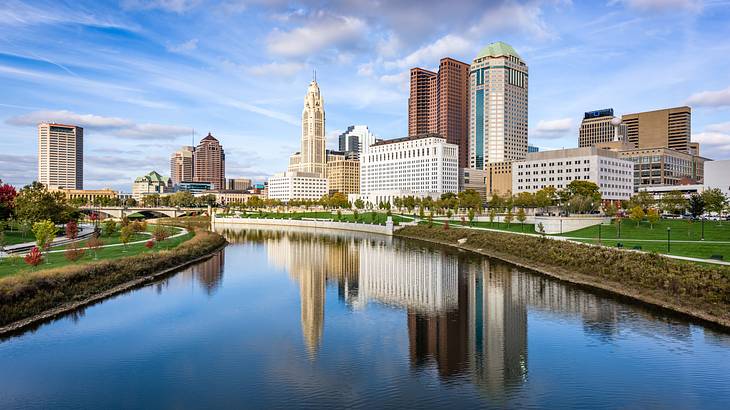 Ohio, in the Midwestern United States, is a diverse state with both big cities and quaint villages and towns. If planning a visit, you'll find an array of things to do and attractions to check out. There are also incredible landmarks to see all across Ohio, not just in the big cities like Cleveland and Cincinnati.
What are some famous landmarks in Ohio?
Some famous landmarks in Ohio state include the National Veterans Memorial & Museum, the Pro Football Hall of Fame, and various state parks.
Whether you enjoy nature activities, historical and political attractions, or more modern landmarks, you're sure to find places of interest you want to visit in Ohio. So if visiting this Midwest state, be sure to see as many of these famous places in Ohio as you can!
25 Famous Ohio Landmarks
The Fallen Timbers Battlefield and Fort Miamis National Historic Site, Maumee
Located in Maumee, the Fallen Timbers Battlefield is the site of an American victory over Native Americans and the British. Occurring in 1794, this win at the Battle of Fallen Timbers ended the Northwest Indian War.
When visiting this landmark, there are three areas to explore: the Fallen Timbers Battlefield, Fallen Timbers Monument, and Fort Miamis, which also played a role in the War of 1812. You'll also have access to resources that teach you more about the history of these sites.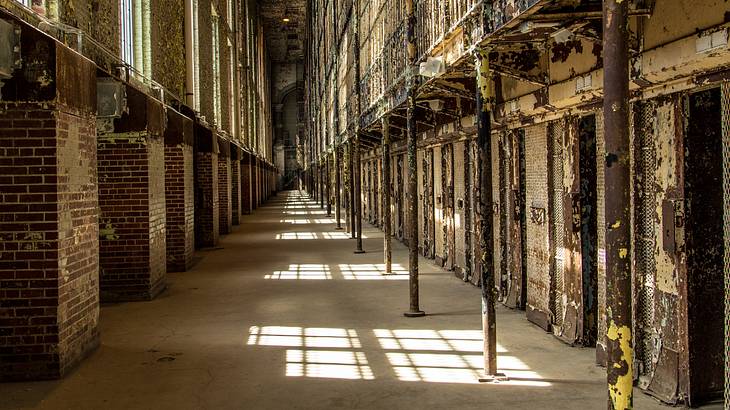 Ohio State Reformatory, Mansfield
The Ohio State Reformatory is one of many interesting famous places in Ohio. The building was a prison from the early 1900s through to 1990. Today, it's a museum with exhibits on the building's past as a reformatory. You can also take tours of the building and go on paranormal and ghost-hunting tours.
The building has been used as a set for many films too. The most well-known movie filmed here is the Shawshank Redemption. There is even an exhibit in the museum with props from the movie.
William Howard Taft Historic Site, Cincinnati
Ohio has many historical landmarks, including the William Howard Taft Historic Site in Cincinnati. This building is the birthplace of the 27th US president. William Howard Taft was born here in 1857 and spent his childhood in the home.
The house is now a museum and features exhibits on the politician's career and personal life. In addition, many of the rooms are styled in the way they would have been when William Howard Taft lived there. There are also park rangers on-site to offer extra information and explain the exhibits and pieces on display.
Interestingly, the Ohio nickname, Mother of Presidents, exists because the state has produced eight presidents. Therefore, this isn't the only site in the area related to a president, with another example being the James A. Garfield Memorial.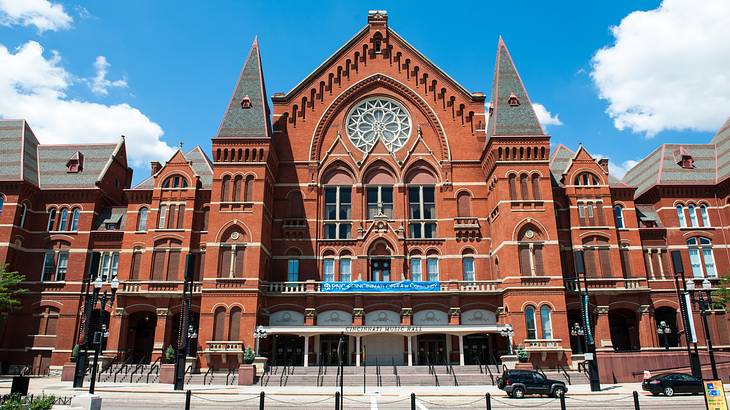 Cincinnati Music Hall, Cincinnati
Cincinnati Music Hall is a National Historic Landmark located in Cincinnati. The theater was constructed in 1878 and is Cincinnati's most recognizable landmark. The exterior of the building is warm red-brick and is designed in a Victorian-gothic style. Inside, you'll find hand-painted high ceilings and many other ornate details.
Performances to watch include those by the Cincinnati Opera and Cincinnati Symphony Orchestra. You can also see the ballet and attend special events and concerts. The Music Hall is additionally home to the May Festival, one of the world's longest-running choral festivals.
National Veterans Memorial and Museum, Columbus
Found in Columbus, the National Veterans Memorial and Museum is the United State's national museum for the Armed Forces and veterans. Visiting this museum is the ideal way to honor soldiers and veterans and learn their stories.
Exhibits include those highlighting personal experiences, remembering lost soldiers, and explaining the struggle of PTSD in veterans. There is also a 9/11 exhibit honoring and remembering those lost and affected by the tragedy. This Ohio landmark can be somber at times, but it's a must-visit to connect with and pay respect to those fighting for the US.
Ohio Statehouse Museum, Columbus
Found in the state capital of Columbus, the Ohio Statehouse Museum offers a look at the history and importance of politics in Ohio. The Statehouse is the seat of government for Ohio state, and the museum is on the building's ground floor.
Along with giving background on politics in Ohio, the exhibits act as educational resources. The goal is to encourage visitors to participate in the processes of state governments. When visiting the Ohio Statehouse, guided tours of part of the building can be arranged. There are also gardens with memorials and statues to explore.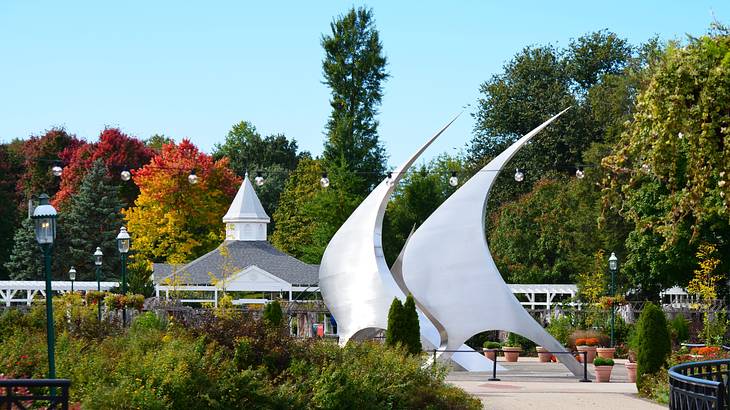 Franklin Park Conservatory and Botanical Gardens, Columbus
If you love exotic plants, the Franklin Park Conservatory and Botanical Gardens is one of the best places to visit in Ohio. There are over 400 plant species to see, including orchids, tulips, and bonsai trees. You'll also discover art installations and wildlife like birds and vibrant butterflies.
A range of events get held throughout the year, so check out the event calendar before visiting. You can even host your own events here in the beautiful scenic setting.
A Christmas Story House, Cleveland
A Christmas Story House is a 19th-century Victorian home that was used in Ralphie Parker's movie A Christmas Story. Having been restored to as it was in the film, the house is now open to the public as a museum.
Exhibits feature props, costumes, photos, and memorabilia from the movie. Along with the interesting exhibits, there is a gift shop where you can buy movie merchandise and prop replicas.
You can even spend the night in the parts of the house not open to the public. If your other half loves the movie, booking a room at the residence is one of the most romantic things to do in Cleveland that can't be missed!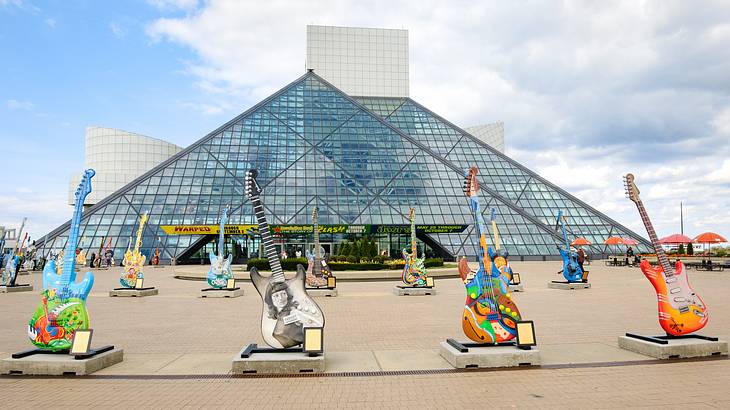 Rock and Roll Hall of Fame, Cleveland
This landmark has to be on every music lover's Ohio bucket list! The Rock and Roll Hall of Fame is a 150,000-square-foot museum in Cleveland dedicated to Rock and Roll. Genres from folk-rock to heavy metal, as well as blues, jazz, and hip-hop, are represented.
When visiting, you'll discover exhibits on rock and roll legends and those featuring clothing, artwork, album covers, and more related to famous musicians. There's also an area with a live band and a space to play with your own band.
James A Garfield Memorial and Tomb, Cleveland
The James A Garfield Memorial and Tomb is unique as it's the only memorial to a president that houses their casket. Ohio was selected for the memorial as James Garfield was born here in 1831. He went on to be the 20th US president but was assassinated in 1881.
Located in Lake View Cemetery, the memorial comprises a two-story gothic tower. The monument also features carvings and plaques providing more history on the president. You can also enter the tomb and memorial during your visit. The interior features a statue of Garfield, ornately decorated walls and ceilings, and the president's casket.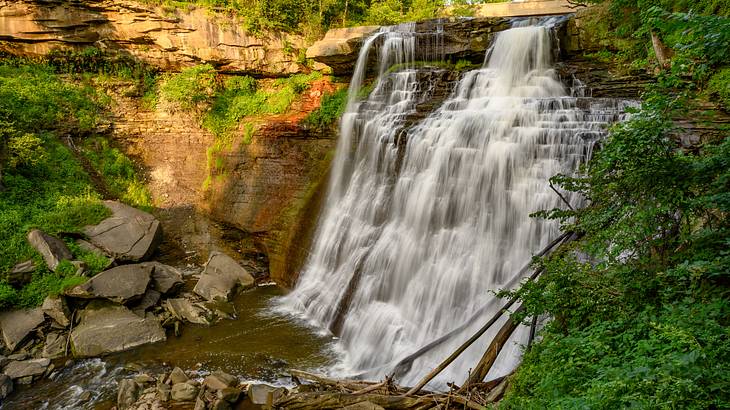 Cuyahoga Valley National Park, Brecksville
Ohio has many amazing national and state parks, and Cuyahoga Valley National Park is one of the most popular national parks on the East Coast. Tourists and residents enjoy visiting this urban park to hike and bike.
A well-known hiking path here is the Towpath Trail. This trail is a restored section of the Ohio and Erie Canal towpath. Brandywine Falls is another favored attraction here, and there is also a moderately easy trail to the falls. When exploring the park and enjoying the forest views, you may spot wildlife like deer, woodchucks, and beavers.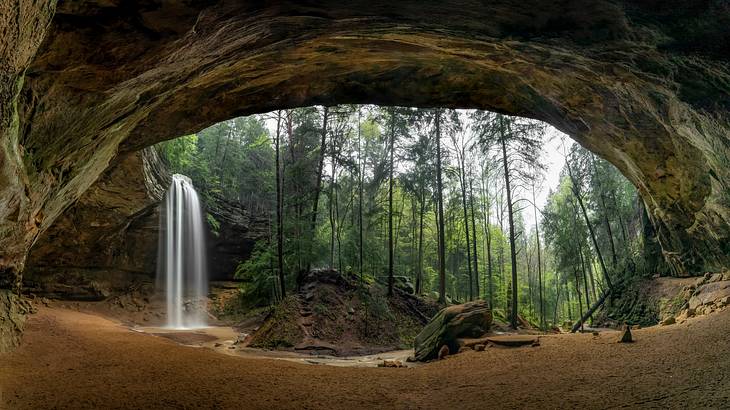 Hocking Hills State Park, Logan
Hocking Hills State Park is a much-loved park in Ohio. The park has incredible scenery, including tall cliffs, multiple waterfalls, and gorges. It's a nature and hiking lover's paradise!
Popular attractions to hike include Old Man's Cave, Ash Cave, and Cedar Falls. Conveniently, there are trails for all activity levels, so everyone can enjoy this incredible state park.
In addition to excellent hiking options, the park features many quaint cabins, meaning you can spend the night surrounded by nature. Mountain biking and boating are some other activities to try at Hocking Hills State Park.
Huffman Prairie Flying Field, Dayton
Huffman Prairie Flying Field is part of the Dayton Aviation Heritage National Historical Park. This landmark is notable as it's where the Wright brothers work on the first motor-operated flight.
The brothers' first flight took place in a town on the Outer Banks, North Carolina. However, Huffman Prairie Flying Field is where all the work leading to that moment was undertaken.
A well-known sight to see here is the Wright Flyer III, the third-powered aircraft the Wright brothers built. You'll also have access to resources to learn about aviation history while visiting.
Wright Cycle Company Shop, Dayton
The Wright Cycle Company Shop is another Ohio landmark found at Dayton Aviation National Historical Park. Again, this attraction relates to the Wright brothers. This complex houses the bicycle business the Wright brothers owned and is a National Historic Landmark.
The site is significant as manufacturing and repairing bikes here gave the brothers the know-how to start working on powered aircraft. You'll also find the brothers' printing shop in this area of the complex.
Paul Laurence Dunbar House, Dayton
Paul Laurence Dunbar was a notable poet active during the late 1800s. Born in Dayton to formerly enslaved parents, he became one of the first influential African-Americans in US literature.
To learn more about this notable literary figure, you can visit Paul Laurence Dunbar House. The poet lived here between 1904 and 1906, when he passed away. During this time, he wrote some of his most influential works. Visitors can explore the home and learn more about Paul Laurence Dunbar's life and poetry.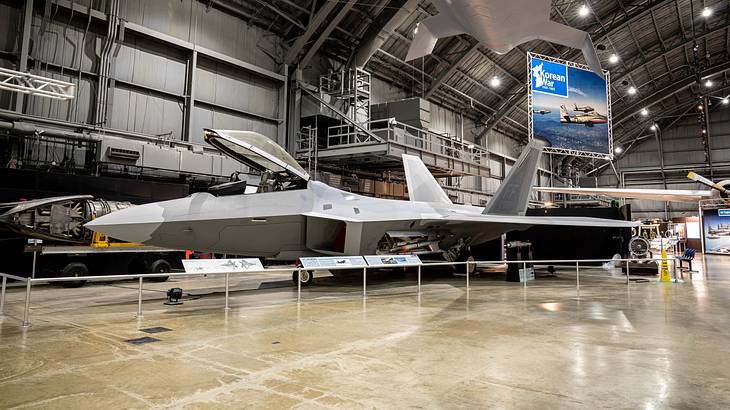 National Museum of the US Air Force, Dayton
Located at the Wright-Patterson Air Force Base in Dayton, this Ohio Landmark is the official museum of the United States Air Force. It also holds the title of the world's largest and oldest aviation museum.
The National Museum of the US Air Force features over 350 aircraft and missiles. All exhibits also provide background information on the planes and weaponry. Aircraft on display include those used in WWI, WWII, and the Cold War, as well as more modern aircraft. There are also exhibits on the Wright brothers and space travel.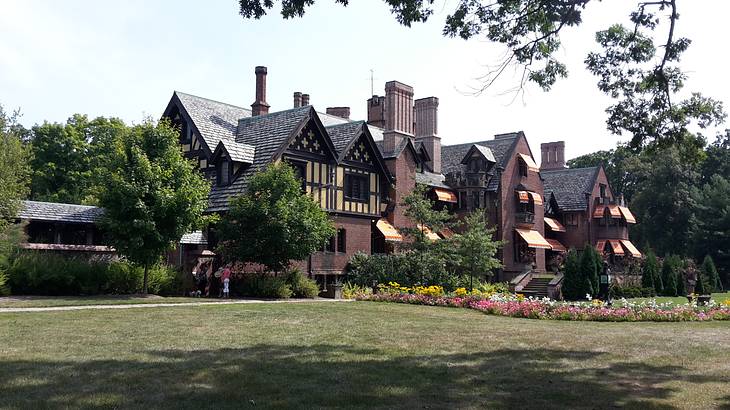 Stan Hywet Hall & Gardens, Akron
The Stan Hywet Hall & Gardens are a stunning stately home and garden in Akron. The home was constructed in 1915 for the founder of The Goodyear Tire & Rubber Company. Stan Hywet Hall has 65 rooms and a carriage house. It's the sixth-largest house in the US that's open to the public.
Visitors can wander around the house and take in its history and beauty. The gardens are also open to the public and feature manicured lawns, pretty flower gardens, and rustic vegetable plots.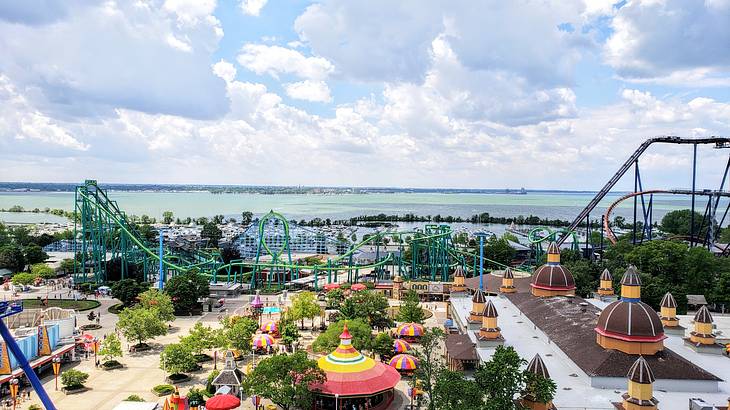 Cedar Point Amusement Park, Sandusky
Cedar Point Amusement Park is one of the best places to visit in Ohio. This theme park opened in 1870, making it the second-oldest amusement park in the United States. Being located right on Lake Erie, you can admire fantastic views as you explore the park.
Visitors to the park can ride 18 roller coasters and enjoy a range of other rides. There is also an 18-acre waterpark with an array of fun waterslides. Having spent an exciting day discovering the amusements, you can spend the night at an on-site hotel or the Cedar Point Resort.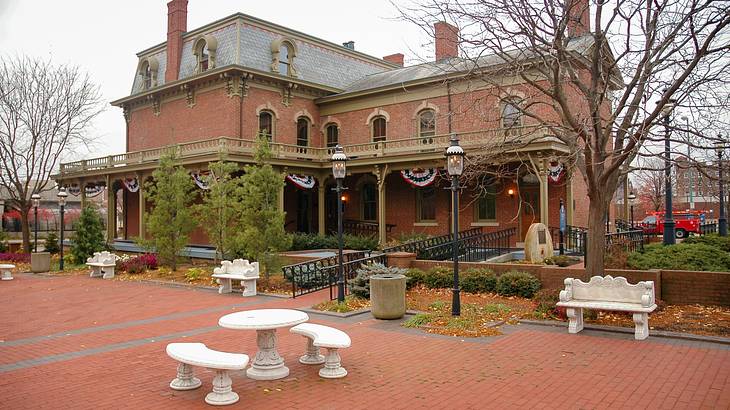 Saxton McKinley House, Canton
This historical Ohio landmark was named after former first lady Ida Saxton McKinley as she formerly lived there. It's also known as the First Ladies National Historic Site and is operated by the National Park Service.
Today, the Victorian building is home to the National First Ladies Library. The exhibits document the accomplishments of the United States' first ladies and some other notable females in US history. You can also tour the entire home with a guide who will offer more background on Ida Saxton McKinley.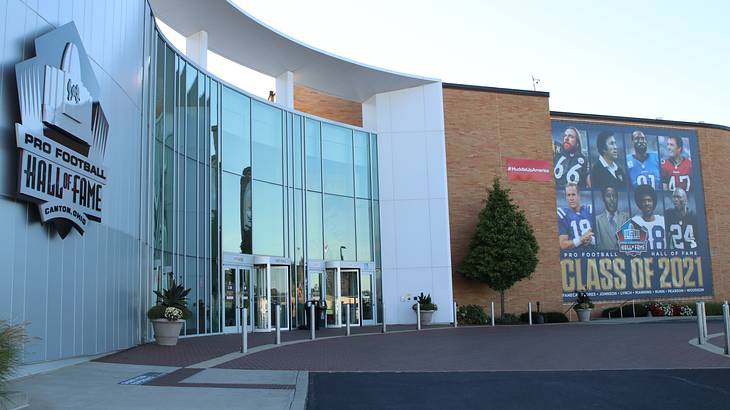 Pro-Football Hall of Fame, Canton
Home to all things NFL and American Football, the Pro-Football Hall of Fame is one of Ohio's prized landmarks. The museum features interactive games, memorabilia like Super Bowl rings, and the Bronzed Bust Gallery with statues of American Football legends.
You can also learn more about National Football League Hall of Fame members, with new inductees added yearly. You can additionally find exhibits on all NFL teams to learn more about your favorite. Before you leave, grab some team gear at the gift shop stocked with merchandise from all 32 NFL teams.
Thomas A Edison Birthplace Museum, Milan
Most people don't know that American inventor Thomas Edison was born in Ohio in a town called Milan. Those visiting Ohio will learn more about the inventor's early years at the Thomas A Edison Birthplace Museum.
The small brick house stands almost as it was when Edison was born in 1847. Inside, you'll find the museum featuring Edison's early inventions as well as items belonging to his family. A tour guide is also on-site to offer more background on the house, the items displayed, and Edison himself.
Buffington Island Battlefield Memorial Park, Portland
Of the many historic landmarks in Ohio, Buffington Island Battlefield is one of the few related to the Civil War. Notably, a primary fighter for the Union Army, Major Daniel McCook, died in battle here, and there is a plaque in his memorial.
In addition, there is also a battlefield monument commemorating the fight and its importance in the eventual Union victory. Along with viewing these memorials, you can explore the park and learn more about this battle's role in the war.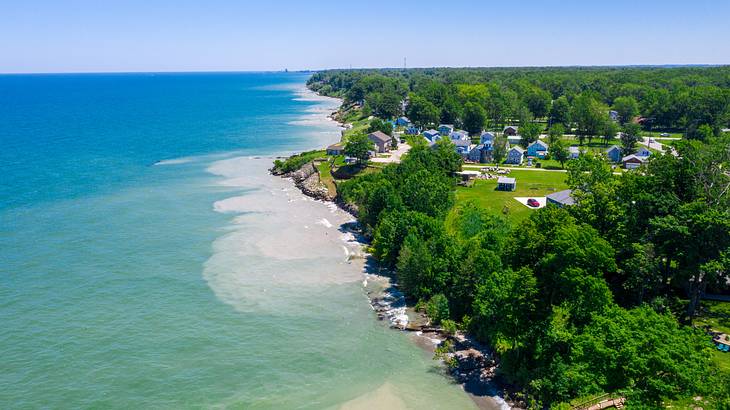 Lake Erie
Lake Erie is one of the United State's five Great Lakes. Despite covering 871 miles of shoreline, it's the smallest of the Great Lakes.
This renowned lake borders four states: Michigan, Pennsylvania, New York, and Ohio. A trip to Lake Erie is a popular activity with residents and tourists who visit to go boating and relax on the lake's banks.
You'll also discover many quaint towns around the lake. These are perfect for exploring and finding a charming cabin or B&B to stay at. Vermillion, Ohio, is a particularly famous Lake Erie town worth checking out.
Ohio River
The Ohio River is another of the notable geographical landmarks in Ohio. This river is 981 miles long and the third-largest by volume in the United States. It's also the tenth-longest river in the US.
Despite being named the Ohio River, the river runs through five other states, including Illinois and Pennsylvania. You can see the river in many cities in Ohio. No matter where you visit, there's a good chance you'll be able to view it and walk along its banks.
Ohio and Erie Canal
This canal system was constructed in the 1820s, primarily as a way to connect Akron with the Cuyahoga River. It also serves as a way to connect Lake Erie with the Ohio River.
The canal was highly effective at increasing economic prosperity in the state of Ohio. It was one of the first transport systems to easily and cheaply connect larger cities in Ohio to those that were less accessible. Today, the canal is still in use. Biking or hiking the Ohio and Erie Canal Towpath Trail is a popular activity for residents and visitors.
In Conclusion
Ohio is an exciting state packed full of things to do and places to see. Many of the famous landmarks in Ohio are found in populated cities like Cleveland and Columbus.
However, you'll also discover attractions in smaller cities across the state. This means that wherever you're visiting in Ohio, there'll likely be some incredible landmarks to check out.
Although this list just scratches the surface of the many amazing attractions in Ohio, it covers those most popular with tourists. Hopefully, the guide will help you plan a memorable visit to this Midwest state and ensure you don't miss any top sights!
Give us feedback about this article
More visual stories related to this article:
---
---
Want to keep exploring?
Subscribe for discounts on tickets and hotels and our latest guides.
Thank you for subscribing
We will be in touch soon with discounts on tickets and hotels and our latest guides.
Want to keep exploring?
Subscribe for discounts on tickets and hotels and our latest guides.
Thank you for subscribing
We will be in touch soon with discounts on tickets and hotels and our latest guides.
Related Articles