50 Interesting & Fun Facts About Oregon State to Know
Destguides may receive commissions from purchases made through affiliate links in this article.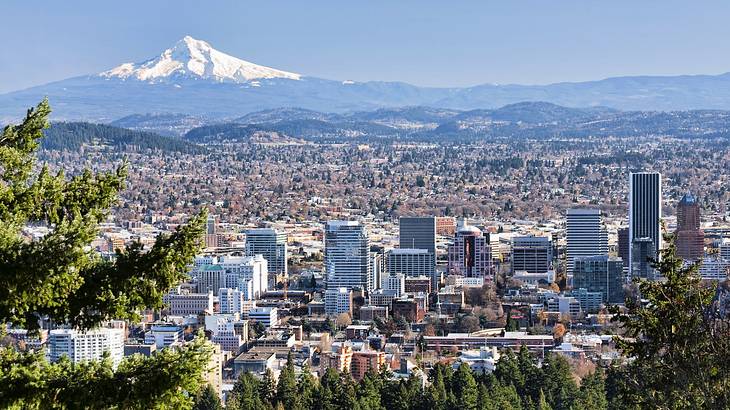 As part of the Pacific Northwest, Oregon is an interesting and diverse territory with a lot worth learning about it. However, when you think about Oregon, what comes to mind? Do you imagine that it produces the most hazelnuts in the country? Or that it has an official "father" of the state?
If you're interested in brushing up on your Beaver State facts to learn a little more about this corner of the US, keep reading! Here are 50 fun facts about Oregon state you won't want to miss.
50 Oregon State Facts
Oregon Facts Video
Check out our highlights video of Oregon facts.
Oregon Fun Facts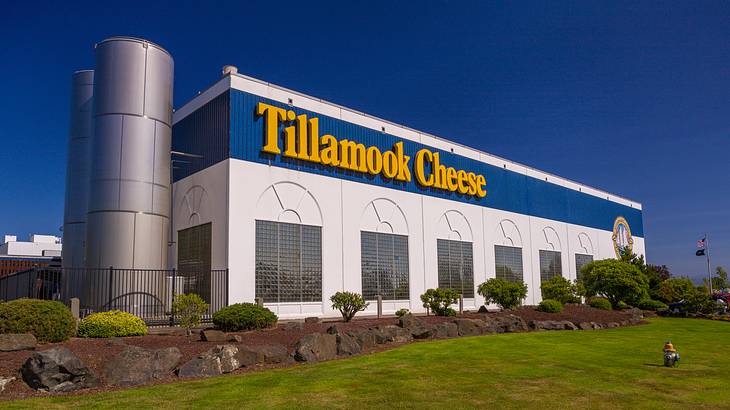 The Tillamook Cheese Factory has a long history
For over a century, Oregon's Tillamook Cheese Factory has been synonymous with quality dairy products. Local farmers perfected their dairy farming over the course of nearly 50 years before the Tillamook factory officially opened.
In 1909, a few of these local farmers and creameries decided to join forces to create the first rendition of the factory, the Tillamook County Creamery Association. Today, it's also one of the largest direct and indirect employers in the Tillamook Valley.
Oregon's nickname is "The Beaver State"
Another fun fact about Oregon relates to the state's nickname. You'll see it referred to as "The Beaver State" on most tourism information.
When Oregon was first settled, fur trading was a large part of the local economy, and beaver pelts were the most popular. Along with being included in an Oregon nickname, the beaver is also the state's animal.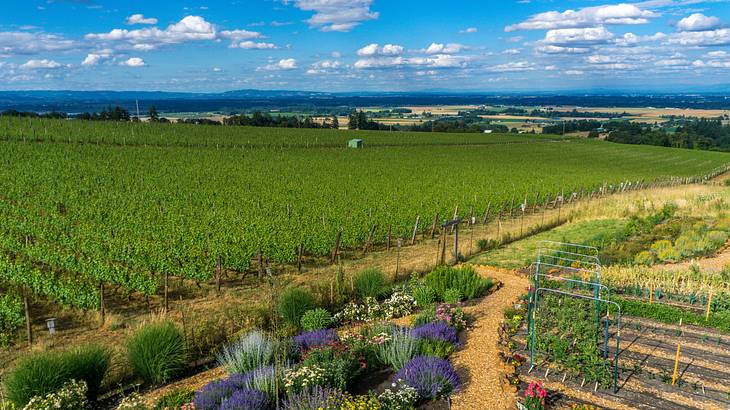 Willamette Valley is famous for wine production
The Willamette Valley is considered the heart of Oregon's Wine Country. Hundreds of vineyards operate in this territory mainly due to the fertile soil and humid air that allow grapes to thrive.
The valley is divided into four regions, North, Mid, and South Willamette Valley and the West Cascades, all of which have slightly different landscapes and attractions, along with top wineries. So visitors can partake in various activities no matter where they go.
"Free Willy" was filmed here
In 1993, the film "Free Willy," set largely in Oregon, made countless kids fall in love with orca whales. While most movies are filmed in different locations than their actual stories' settings, that's not the case with this blockbuster hit.
Seaside, Astoria, and Portland were all filming locations. All of these towns are located within Oregon's borders. Even the whale star, Keiko, was moved to an in-state rehabilitation facility after being freed from his amusement park captivity when the movie finished production.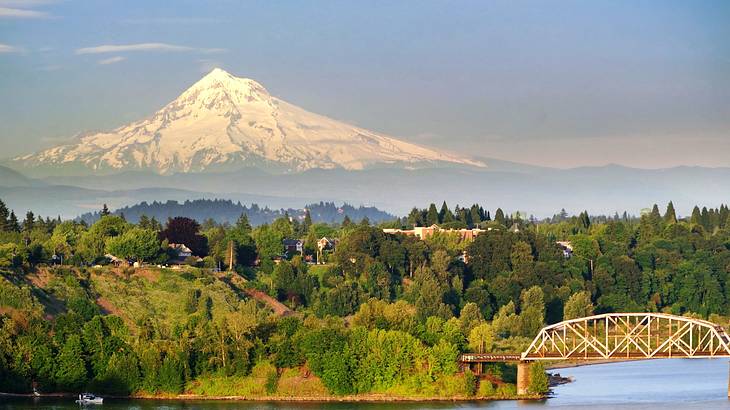 Mount Hood is the highest point in the state
Mount Hood stands at over 11,000 feet in height, making it the highest point in the state. That fact alone is impressive, but the peak is even more interesting.
It's not just a regular mountain; it's a volcano. However, since it hasn't erupted since 1866, most geologists are comfortable considering it dormant. It's still actively monitored, though.
The Oregon Caves National Monument formed over 300,000 years ago
Oregon Caves National Monument and its surrounding preserve make up an over-4,500-acre park. This entire area is protected from development to preserve the unique geological features of the caves.
The caves developed over the course of 330,000 years. During that time, they preserved fossils and chemical deposits, which allow scientists to learn how the area's climate and territory have changed over time.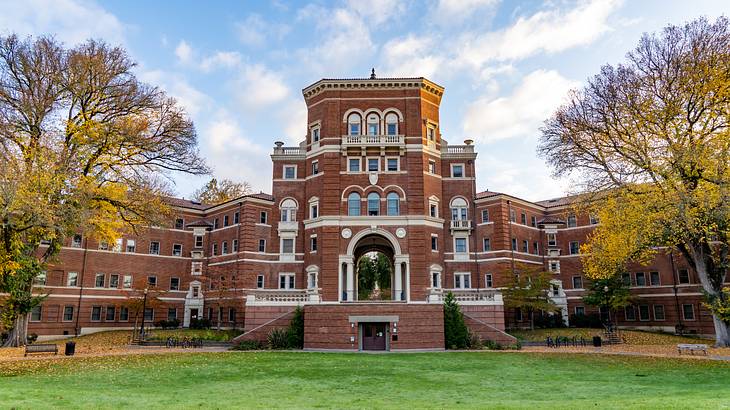 Oregon State University has four land grants
One of the most overlooked fun facts on Oregon has to do with its higher education institutes. For example, Oregon State University is a top research school.
This is shown by the fact that it's the recipient of four prestigious land grants, which focus on studying the earth, the sea, space, and the sun. Only one other university in the country has Land-, Sea-, Space- and Sun-Grant designations.
The Columbia Plateau was formed by lava
The Columbia Plateau mountain range stretches across Washington, Oregon, and Idaho. The mountains formed millions of years ago due to lava outpours.
Over time, this lava formed igneous rock, which then formed these Pacific Northwest peaks. Today, it's a beloved hiking site for nature lovers and a source of rich data for researchers studying the region's development.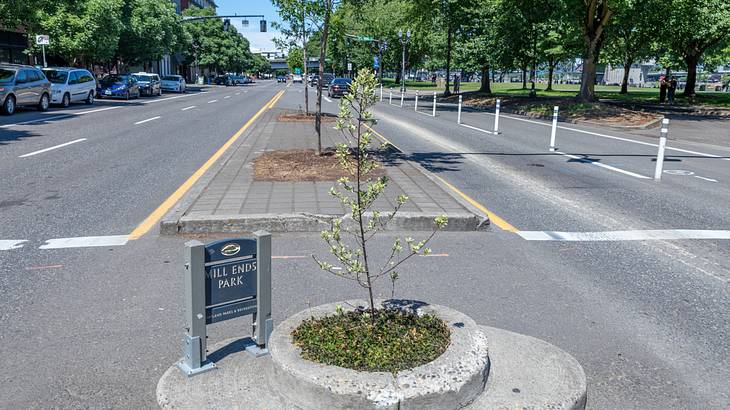 Mill Ends Park is the world's smallest park
You'll find Mill Ends Park tucked between two busy streets in Portland. This tiny urban park spans just two feet of space and has just a single small tree setting it apart from the surrounding pavement. Its small size earned it a spot in the Guinness World Record Book in 1971 as the world's smallest park, a title it still holds to this day.
Oregon's population is dropping
For decades, Oregon was a popular spot for out-of-state relocation, causing Oregon's population to grow for 30 straight years. However, according to the last census conducted in 2022, that trend might be ending. Over the course of the year, there was a net drop of about 16,000 people.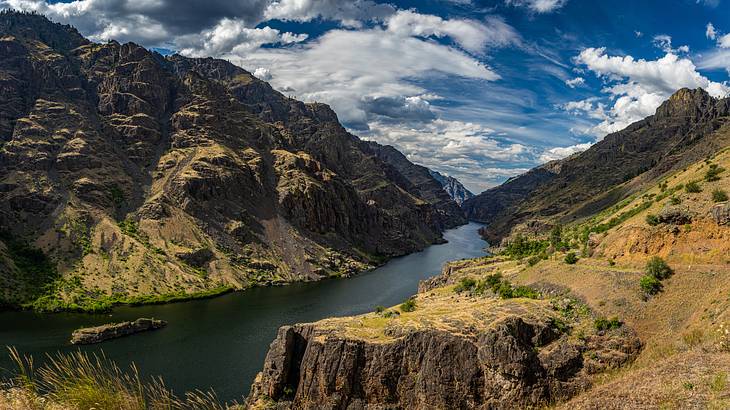 Hells Canyon is the deepest in North America
Reaching depths of 8,000 feet, Hells Canyon is the deepest river gorge in all of North America. It's even deeper than the Grand Canyon! The canyon formed over 150 million years ago due to two primary geological functions.
The first thing that helped create this natural marvel was tectonic activity below the earth's surface, which helped form the area's terrain. This chasm was further emphasized by the Snake River, which cuts through the area.
Snake River is an important Columbia River tributary
A list of fun Oregon facts wouldn't be complete without mentioning the Snake River. At over 1,000 miles in length, it's one of the longest on the West Coast. Starting in Wyoming, the river flows through six states, including Oregon.
Not only is the Snake River impressive on its own, but it's also one of the most important tributaries of the Columbia River. The two rivers meet in Washington, where they then continue before emptying into the Pacific Ocean.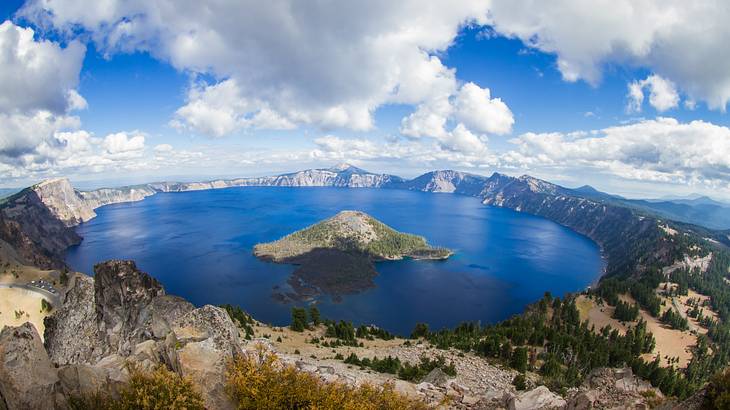 Crater Lake National Park has the deepest lake in the US
Over 7,000 years ago, a volcanic eruption caused a mountain in Oregon's territory to cave in on itself. The result was the formation of one of the west coast's most famous national parks, Crater Lake National Park.
The park's namesake is the 20-square-mile body of water that reaches average depths up to 1,943 feet, making it the deepest lake in the country.
Portland State University is an inclusive and socially conscious school
Portland State University boasts national recognition for the care put into creating a socially conscious campus environment. In particular, the school is lauded for being a safe and welcoming place for students from all walks of life and backgrounds. In fact, it's one of the top ten most inclusive schools for students in the LGBTQ+ community.
Among its other efforts toward tackling social issues, the university has also made strides toward environmental sustainability and fighting the climate crisis. It's even one of the top "green" schools in the country.
The Columbia River Gorge has a lot of waterfalls
The Columbia River Gorge is an 80-mile canyon that follows part of its namesake's path. Since the gorge can reach depths up to 4,000 feet, it's not surprising that there are numerous natural waterfalls visitors can admire while hiking or biking.
What might be surprising, though, is the number. There are 26 named waterfalls throughout the Columbia River Gorge, of which Bridal Veil and Multnomah Falls are two of the most popular.
Funny Facts About Oregon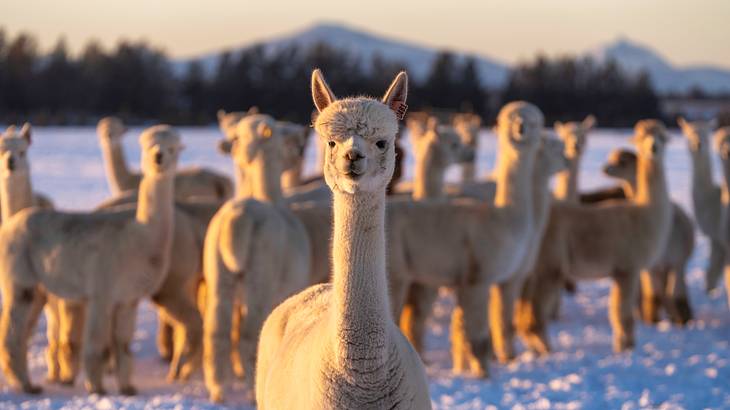 There are a lot of alpacas in Oregon
When you think of Oregon animals, alpacas might not be the first species that comes to mind. However, the state has one of the largest alpaca populations in the country, with almost 18,000 registered alpacas according to the Alpaca Owners Association. Part of the reason why these animals are so popular is their ability to do well in Oregon's wet climate.
The state has a humongous fungus
Most people don't realize that Oregon is home to the largest living organism in the world. In 1998, a 2,384-acre Armillaria Ostoyae fungus was discovered in the state's Blue Mountains.
However, some scientists debate whether this fungus can be considered the largest living thing in the world. That's because rather than being made up of one giant mushroom, it's formed by a colony of many connected mushrooms.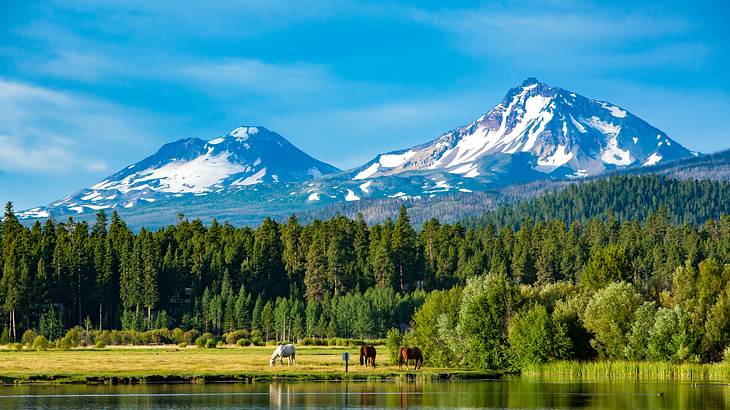 Sisters and Brothers are cities
If you go to Central Oregon, keep an eye out for two small towns near Bend. Sisters and Brothers might seem like they're connected, but these towns were actually named for entirely different reasons.
According to locals, Brothers was named after multiple sets of siblings who settled in the area. On the other hand, Sisters gets its name from three mountains that can be seen from within the town.
A coin toss named Portland
Today's Portland was first settled in the 1830s and 1840s as settlers began coming to the area. However, although the territory had initially been mapped out by Lewis and Clark on their famous expedition, it still didn't have an official name. How that changed is, perhaps, one of the most interesting Oregon facts on this list.
In 1845, two of the city's settlers finally decided to give the area a name. However, they were undecided between christening the town "Portland" after a city in Maine or Boston, after the Massachusetts metropolis. A penny was tossed to decide the name, and Portland came out as the winner.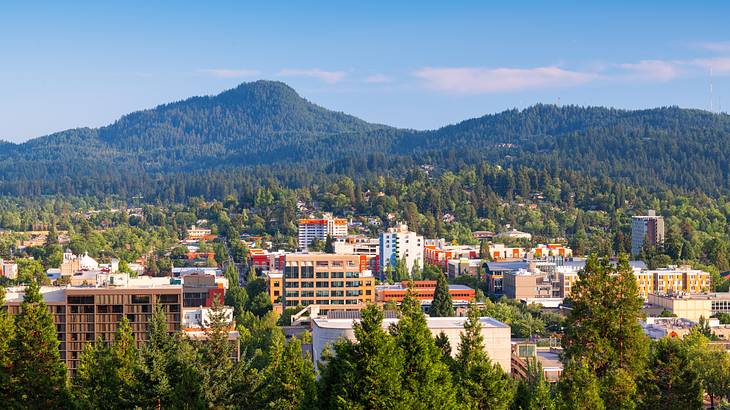 One-way streets started in Eugene, OR
Today, one-way streets are a common part of city traffic planning. They help keep small streets from getting clogged with cars and reduce accidents. However, they didn't start becoming popular internationally until the 1800s and 1900s, and it took even longer for this type of street to become popular in the United States.
Though it's unconfirmed, it's widely believed by locals that Eugene, Oregon, was the first place to have a one-way traffic road in the US. This one-way street came about in 1941 when a busy two-way artery was converted to increase safety.
The state flag is two-sided
If you look at the Oregon state flag, you'll see its seal on a blue background, with the year 1859 sprawled underneath to commemorate its admission into the Union. However, unless you look at its back, you're only seeing half of the flag's design.
With the image of a beaver adorning the opposite side of its banner, Oregon is the only state in the country to have a dual-sided state flag.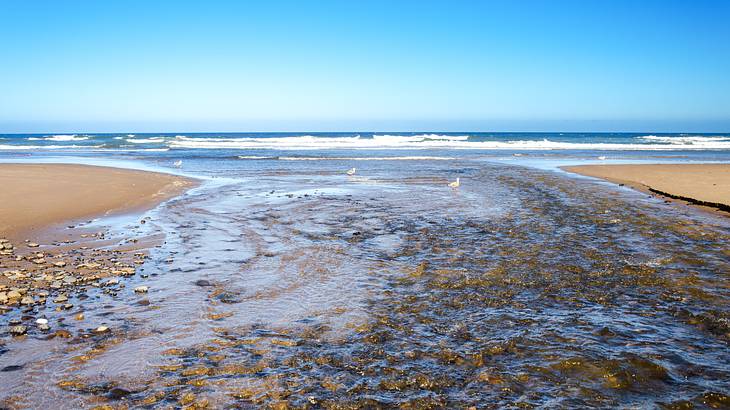 The D River is one of the world's shortest
Lincoln City's D River is a small body of water that connects Devils Lake to the Pacific Ocean. With a route of just 440 feet, it's often considered one of the shortest rivers in the world and even received recognition as such from the Guinness World Records.
However, since disputes regarding the classification of Montana's Roe River sprang up in 1989, you won't find D River in any more Guinness World Record books.
Oregon's name might be French
No one knows for sure where Oregon's name comes from, and there are multiple plausible theories that circulate among historians. One of the most commonly-held beliefs is that it came from the French word "Ouragon," which means hurricane.
However, others believe the name might have Native American origins. These archaeologists theorize Oregon derived from the word "ooligan," which may have Chinook or Algonquian roots.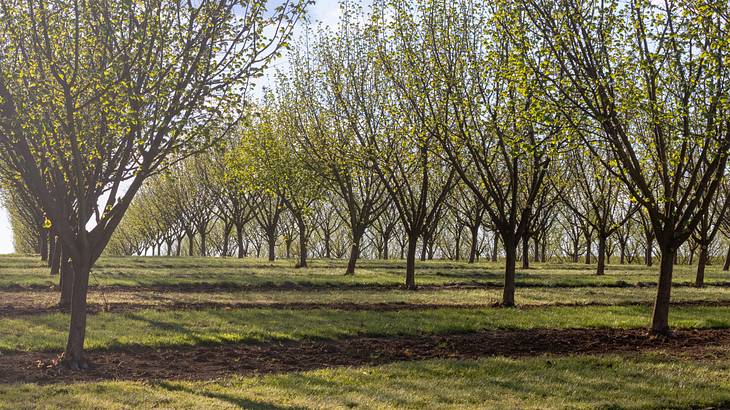 There's a state nut
A unique and interesting fact about Oregon is that it's one of the only states in the US to have a nut as a state symbol. In 1989, the hazelnut was voted as an OR symbol. The decision was made in large part because Oregonian farmers are responsible for 99% of the country's hazelnut crop.
The tallest barber shop pole is located in Oregon
Forest Grove is a relatively small city that typically flies under people's radar. However, when it comes to Oregon facts and history, this town stands out for one big reason. It's home to the tallest barber pole in the world. In 1973, a local resident had the idea to build the now-73-foot striped pole in the town's Lincon Park.
Interesting Facts About Oregon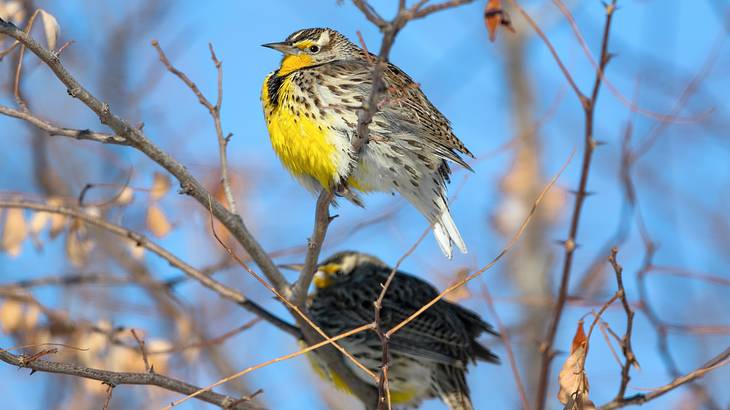 The Western Meadowlark is the state bird
In 1927, students at schools around Oregon voted for the official state bird and chose the western meadowlark. This little yellow and black bird isn't just popular in the Pacific Northwest, though; five other states have chosen it as a state symbol.
Oregon City was the first capital
Though it wasn't an official state until 1859, Oregon was still a US territory with a civic system to keep laws in place. As such, it had a territory capital. Since 1851, save for a one-year gap, Salem has been the seat of the area's government. However, before then, Oregon City was the capital since it was one of the territory's oldest towns.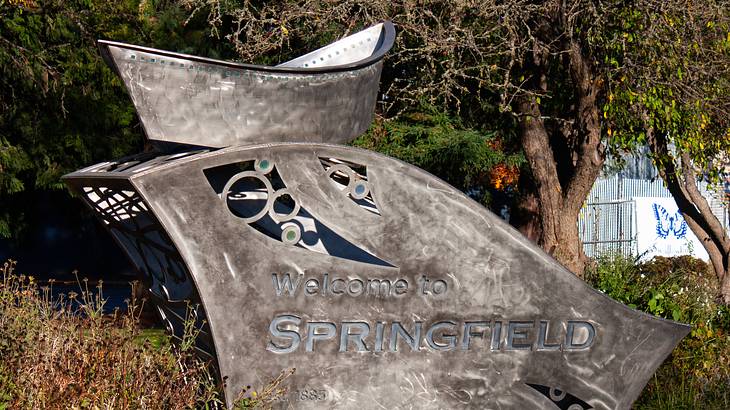 Oregon helped inspire "The Simpsons"
Springfield, Oregon, might not be directly known by many, but it's gained some indirect fame over the past 30 years thanks to "The Simpsons" TV show. The show's creator grew up in Oregon and wanted to set his characters in a place that would feel familiar.
As a result, he named the show's setting after Springfield, Oregon. Once he realized Springfield was a common city name throughout the country, he was further inspired to use it as it would help fans relate to the show.
Oregon has multiple regions
It would be a mistake to think that all of Oregon is the same. With diverse landscapes and climates, the state can be divided into multiple regions. While the exact number varies, the state is generally said to be split into eight regions.
The 8 regions that makeup Oregon are:
Central Oregon
Southern Oregon
Eastern Oregon
Willamette Valley
Portland
The Oregon Coast
Mt Hood
The Columbia River Gorge
The state is also separated into five transportation regions:
Portland Metro
Willamette Valley and North Coast
Southwestern Oregon
Central Oregon
Eastern Oregon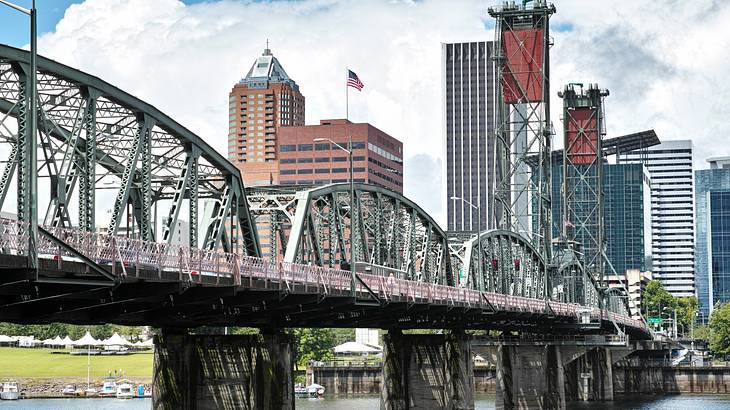 Oregon has a lot of bridges
If you're looking for fun state facts about Oregon, you'll be interested to learn that it has a lot of bridges. There are over 8,200 officially registered bridges in Oregon. These bridges were built to help keep traffic flowing and facilitate transportation.
John McLoughlin is the "Father of Oregon"
When you think about Oregon state symbols, a person probably doesn't come to mind. However, in 1957, John McLoughlin was officially named the "Father of Oregon." This honor stems from his work to help the state's first settlers and his active role in developing Oregon City as a merchant and businessman.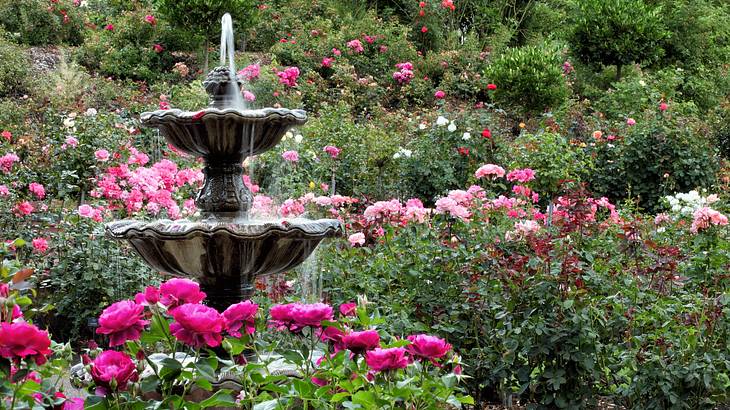 Portland is "The City of Roses"
Portland has a few nicknames, but its most well-known nickname is "The City of Roses." The moniker came about due to the city's various connections to the bloom.
For example, historic resident Georgina Pittock loved this type of flower so much that she created the Portland Rose Society in 1889. In 1921, the city became further connected with the plant when the International Rose Test Garden was designed.
There are no self-service gas stations
If you drive in Oregon, you'll notice a lack of self-service gas stations. That's because it's one of only two states in the country where they're banned.
It might seem like second nature for most people to fill up their own car, but it's widely believed that self-serve options would put many stations out of business. Hence the law against them.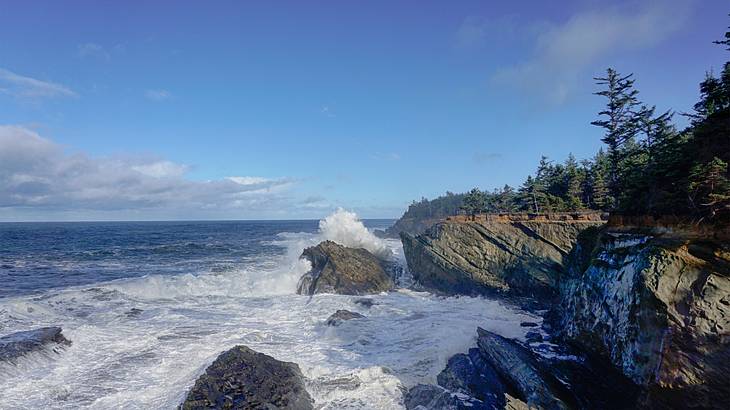 Oregon has over 360 miles of coastline
As a West Coast state, Oregon is bordered by the Pacific Ocean. While that might be relatively common knowledge, it might still surprise you to learn just how long that coastline is.
Between the state's borders with California to the south and Washington to the north, the state has 362 miles of uninterrupted shoreline. The coast is so long it's further subdivided into three regions, North, Central, and South coast.
It's part of the Pacific Northwest
The Pacific Northwest is a unique region of the US that's characterized by its proximity to the Pacific Ocean, rainy weather, and lush greenery. The moniker doesn't have very strict regional borders, but it's generally agreed that Oregon falls within the PNW territory, along with Washington state and British Columbia, Canada.
According to some people, Idaho, parts of Montana, Wyoming, and even Alaska can also be considered part of this area.
Weird Facts About Oregon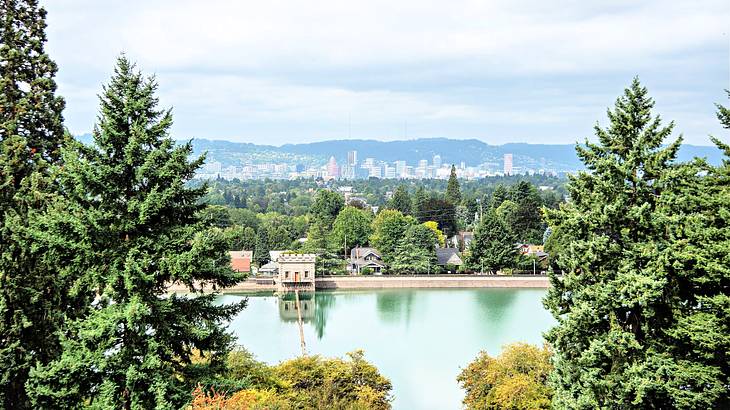 Two cities have volcanoes
When looking up facts about the state of Oregon, you might realize that it's a pretty volcanic territory. There are 61 volcanoes within the state, five of which are considered active, with others classified as dormant.
Despite that large number, only two cities have volcanoes within their territory. Portland's Mount Tabor is considered extinct, while Bend's Newberry Volcano is still active.
The territory is less than 3% water
Oregon covers over 98,000 square miles of land, making it the ninth-largest state in the country. That size, combined with the 75 to 90 inches of annual rainfall, might have you believe the territory is covered in lakes, rivers, and other wetlands. However, that's not the case. In reality, Oregon's area is only 2.4% water.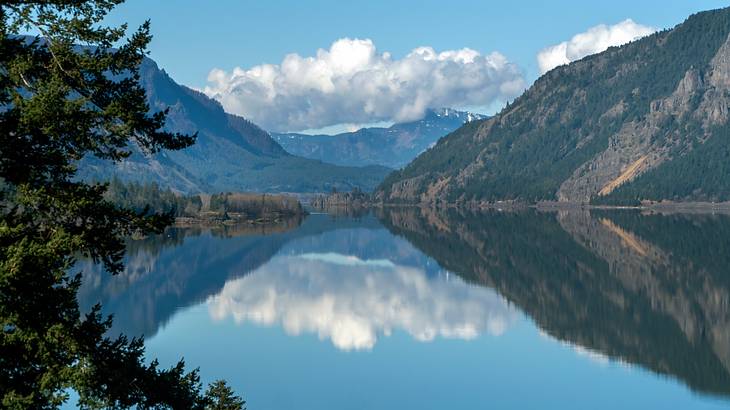 The Ice Age shaped Oregon
During the last Ice Age, between 18,000 and 15,000 years ago, a giant sheet of ice created a dam on Montana's Missoula Lake. As temperatures rose, however, this ice began to melt.
While it's possible the melting was slow at first, evidence suggests there was a burst that released millions of cubic feet of water into Oregon and the surrounding states. This initial flood led to multiple subsequent occurrences over the next few hundred years. The water stripped Oregon's soil to create gorges and valleys, forever changing the state's territory.
Natural resources drive Oregon's economy
Oregon has always relied on its natural resources to drive its economy. That's largely because they're so plentiful.
Even today, when tourism has become a leading industry, many of those tourists come to the state to enjoy nature. Unsurprisingly, agriculture, fishing, and forestry are also thriving industries that take advantage of the area's diverse landscape.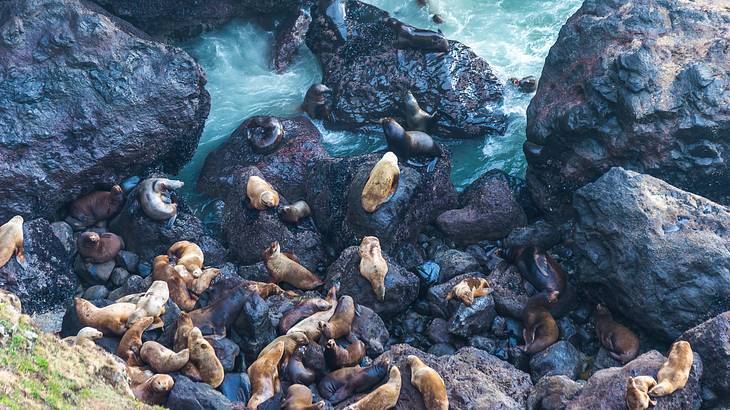 Sea Lion Cave is a record-holder
Oregon's Sea Lion Caves is America's largest cave. The cave in question is 1,315 feet in length, with multiple chambers. What draws visitors to the landmark isn't its size, though; it's the sea lions that can often be seen sunning on rocks around its mouth.
Oregon History Facts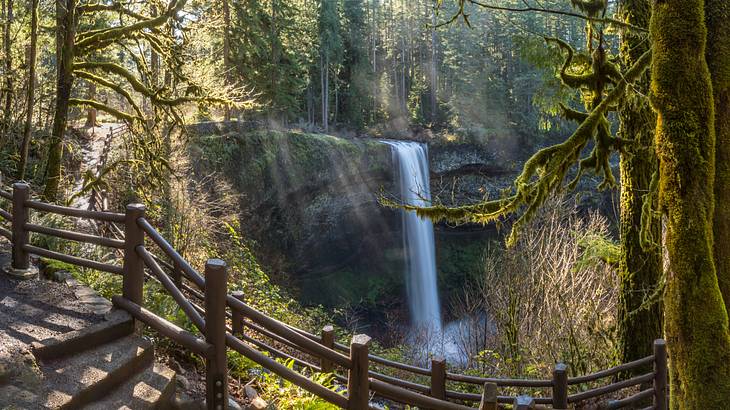 Thousands of people took the Oregon Trail
In the mid-1800s, many people uprooted their lives in the Eastern and Midwestern parts of the US in search of a better life. When gold was found in California, and news of free land stretching up the coast spread, hundreds of thousands of travelers took to the Oregon Trail. The journey out west generally took five to six months.
The final destination for these travelers was Oregon's Willamette Valley. After arriving, settlers would splinter off, often heading south to California or north to Washington.
The Oregon Coast Range was a natural barrier
The Oregon Coast Range is a 200-mile mountain range that follows the state's coastline. As Native American tribes began to settle in the area 12,000 years ago, these mountains served as a natural way to divide territory.
As a result, the people in these areas had to adapt their ways of life to their environment. For example, the populations on the coast greatly relied on fishing as a source of food, while inland tribes incorporated more hunting.
There were once over 60 Native American tribes in the state
When learning historical facts about Oregon, you can't forget about the thousands of years before the US was a nation. For millennia, over 60 indigenous tribes called the state home.
It's estimated that nearly 20 languages were spoken, signifying a vast difference in cultures, and hundreds of villages were spread out around the territory. Through assimilation and colonization, only nine distinct tribes are still recognized.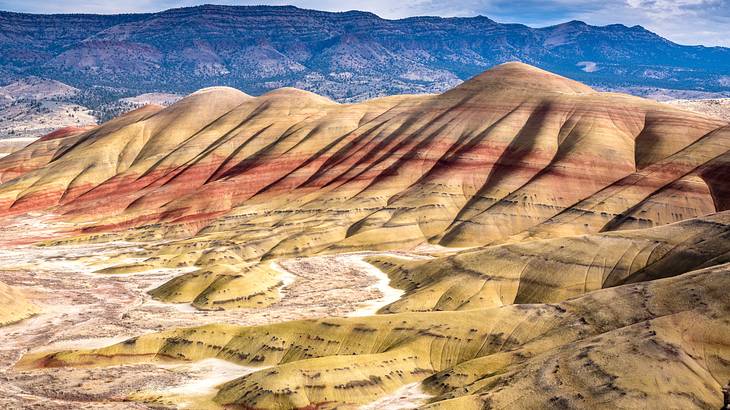 John Day Fossil Beds National Monument dates back millions of years
John Day Fossil Beds National Monument is one of Oregon's most important landmarks. The area's ecological history spans 40 million years
The natural site used to be a flowing river, which created an ideal environment for fossils to form. As such, millions of years of the area's history have been preserved for scientists to study.
Five nations have claimed the state
Oregon has been part of the US since 1859, but before then, its ownership had a tumultuous history. The original Oregon Territory was much larger than it is today. It spanned from the Pacific coast to the Rocky Mountains and stretched all the way up to British Columbia in Canada.
This territory, dubbed Oregon Country, was ripe with natural resources. For that reason, Spain, Great Britain, Russia, France, and, eventually, the US have all claimed the land.
Scary Facts About Oregon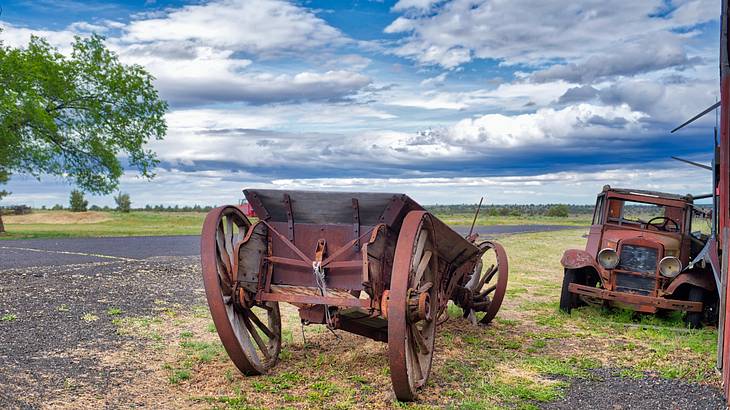 There are a lot of ghost towns
Oregon's population underwent a massive influx during the 1800s as settlers began heading west. However, over time, many in-state areas were similarly abandoned, leaving behind empty towns.
For that reason, Oregon has over 200 eerie ghost towns. Some were once thriving cities, like Shaniko, while others were more obscure and less populated.
Portland has underground tunnels
When you're walking around Portland, you'd never guess that there are tunnels under the city. Commonly referred to as the "Shanghai tunnels," they connected the city's Chinatown to the Willamette River.
While it's likely these tunnels were used to quickly transport goods to and from the port, that hasn't stopped legends from circulating about them. Many claim they were once used by organized crime or to rob unsuspecting pedestrians.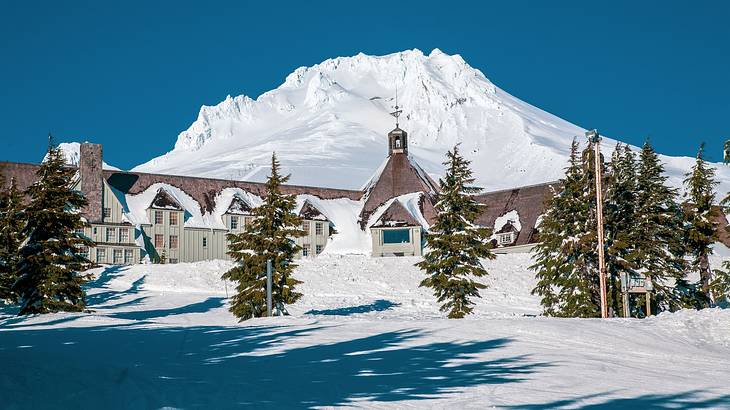 Timberline Lodge was in a horror movie
Since the 1930s, Timberline Lodge has been a popular ski resort in Mount Hood National Forest. Though, after the 1980 release of Stanley Kubrick's "The Shining," a new tourist base started flocking to make reservations.
While the story takes place in Colorado, the film was actually shot in two different places. A set in England was used for interior scenes, while the Timberline in Oregon was used for external shots.
Bigfoot sightings inspired a state prank
With 16 million acres of forest, it's not surprising that sightings of the mythical Bigfoot, also called Sasquatch, are common. Bigfoot claims are so numerous that Portland's city hall even released an April Fool's Day prank statement poking fun at the phenomenon.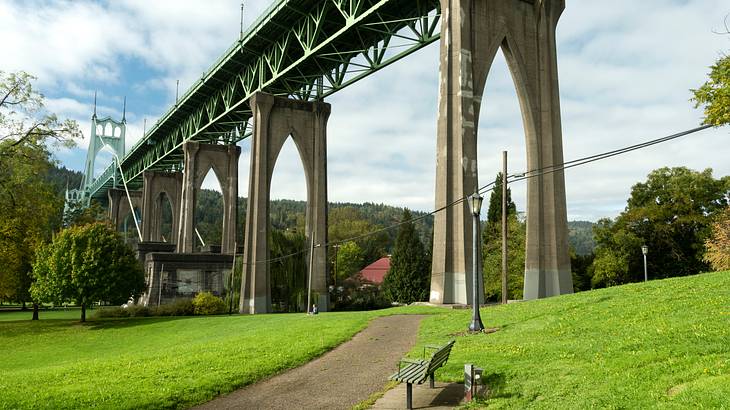 Numerous buildings might be haunted
Like all states, Oregon has no shortage of state ghost stories. However, its 19th-century population boom and subsequent ghost towns have helped even more legends flourish.
To date, there are an array of locations in Oregon that are considered "haunted.". These structures are spread across the state's regions and cover places ranging from theaters to waterfalls.
In Summary
From its numerous ghost towns to inspiring one of the most popular TV shows in history, Oregon is a truly fascinating place. With any luck, this list helped you learn something new about The Beaver State, but don't stop now! There are plenty more Oregon facts left to learn.
Want to keep exploring?
Subscribe for discounts on tickets and hotels and our latest guides.
Thank you for subscribing
We will be in touch soon with discounts on tickets and hotels and our latest guides.
Want to keep exploring?
Subscribe for discounts on tickets and hotels and our latest guides.
Thank you for subscribing
We will be in touch soon with discounts on tickets and hotels and our latest guides.