25 Famous Landmarks in Oregon to Visit
Destguides may receive commissions from purchases made through affiliate links in this article.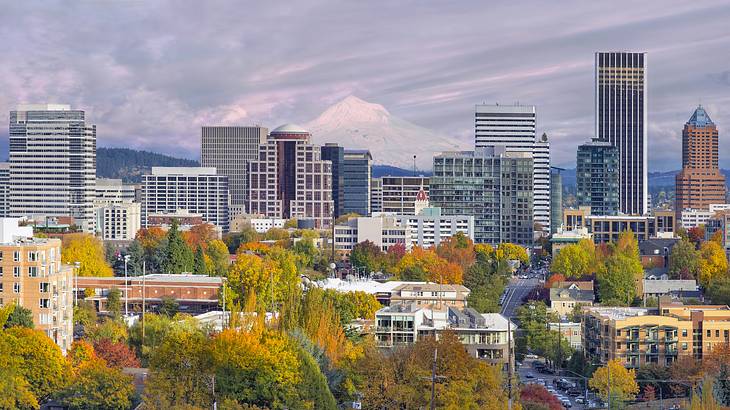 Oregon has long stood out as one of the country's top destinations for its rugged natural beauty and seemingly interminable coastline. Even so, its environment is much more diverse and far more stunning than pictures or stories could ever lead on. It's a place you need to see to believe.
Oregon has also had an interesting role in the history of the United States. Before its incorporation as a US territory in 1848, it was disputed by the US and Britain, home to Native Americans, and the terminus of Lewis and Clark's Voyage of Discovery.
This list covers 25 famous landmarks in Oregon that display the state's cultural, historical, and natural attributes. Keep reading to find out where you can start your next Oregon trip!
25 Famous Oregon Landmarks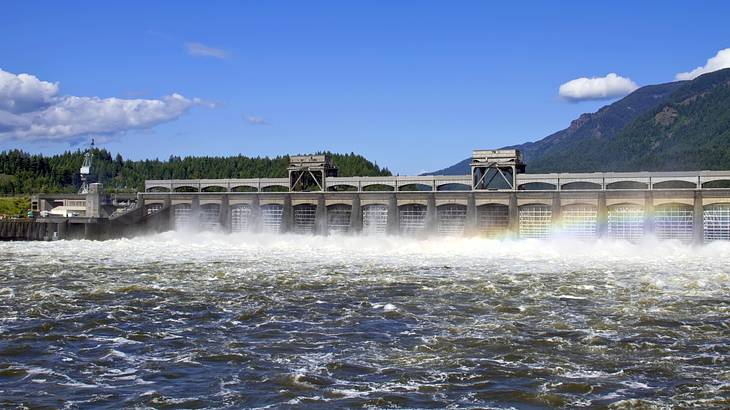 Bonneville Dam Historic District
Bonneville Dam Historic District is a national historic landmark east of Portland. Built by the Army Corps of Engineers in 1938, it remains one of the largest hydroelectric systems in the world, producing three quarters of the energy needs for the Pacific Northwest.
Visitors to the dam can also learn about the migration of salmon and visit the nearby fish hatchery. Additionally, the reservoir formed by the dam provides opportunities for boating and water sports.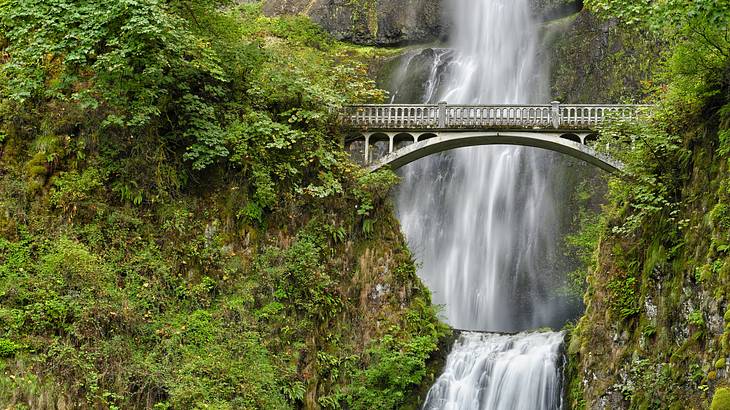 Columbia River Gorge National Scenic Area
The Columbia River Gorge runs for eighty miles along the border of Oregon and Washington. Measured from the top of the canyon to the bottom of the water, the Gorge is as much as 4,000 feet deep.
Through this chasm flows a staggering volume of water from the Cascades to the Pacific Ocean. There is plenty of hiking, biking, and boating here and more than ninety waterfalls on the Oregon side alone.
Additionally, a fun Oregon fact is that the Columbia River Gorge has many of the state's waterfalls. Twenty-six named falls, plus many others, are found throughout the National Scenic Area.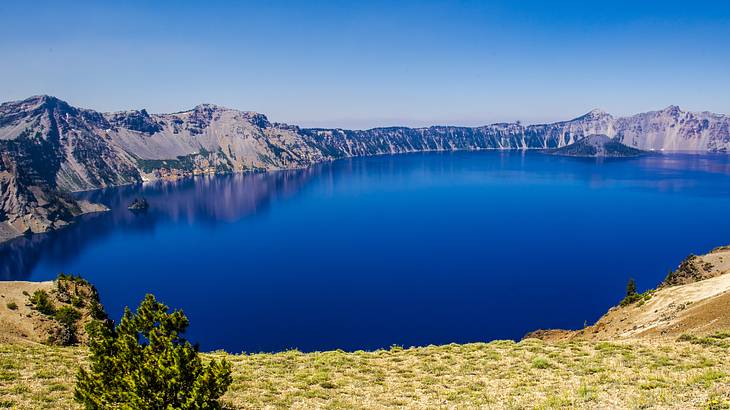 Crater Lake National Park
Seven thousand seven hundred years ago, a violent volcanic reaction blew the top off of Mount Mazama. Scientists estimate that roughly 4,000 feet of earth and stone were ejected from their elevated perch in the ferocious geological event.
Over time, the crater filled with nearly 2,000 feet of rain and snowfall, making it the deepest lake in the United States. The National Park Service has been protecting this Oregon landmark since 1902, making it into one of the best national parks on the West Coast.
Crater Lake Superintendent's Residence
In an interesting evolution of events, one of the structures built to oversee one of America's landmarks has itself become a landmark. It was built in 1932 and, in 1987, was named one of the country's national historic landmarks for its impressive, rustic architecture.
Its exposed stone and wood runs 33 by 61 feet, rises about one and a half stories on the north side of Munson Valley Historic District, and is still in use today.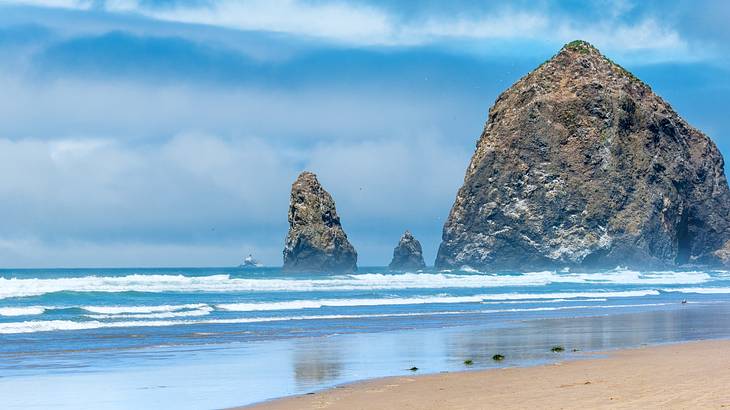 Haystack Rock
Haystack Rock on Cannon Beach is one of the most iconic natural landmarks in Oregon. The 230-foot basalt stack rises out of the water at high tide, and at low tide, it can be reached on foot.
In the tidepools, visitors can find starfish, anemones, crabs, coral, snails, and sea slugs. On its majestic heights, Tufted Puffins and other birds find perches, making this an excellent place for coastal wildlife viewing in Seaside, Oregon.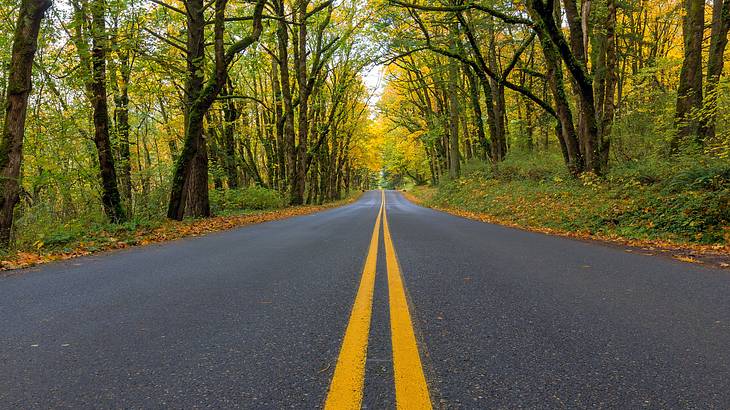 Historic Columbia River Highway
The Historic Columbia River Highway Scenic Byway stretches for seventy miles atop the canyon walls of the Columbia River Gorge. It's often called the "King of Roads" and became America's first scenic highway when it was completed in 1922.
While the highway can be driven in a few hours, there is enough to justify several days here. For enthusiasts of Lewis and Clark's Oregon Trail expedition, know you'll be walking in their footsteps when you visit.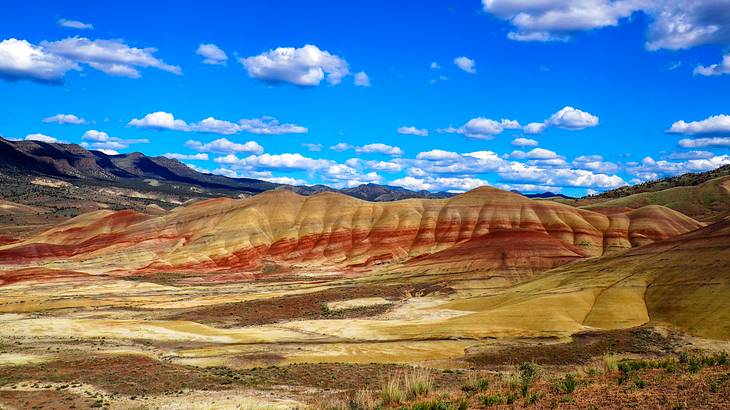 John Day Fossil Beds National Monument
Forty million years of geology are on display at John Day Fossil Beds National Monument in Mitchell, Oregon. This river basin provides one of the best continuous sequences of ancient plant and animal populations in the world.
Visitors will be surprised to learn that palm trees and avocados once thrived in Oregon's prehistoric tropical climate. Dinosaurs were gone by this time, but fossils of some beefy ancestors of bears, rhinos, tigers, and wolves are found here.
Mount Hood National Forest
Towering over the landscape at 11,249 feet, Mt. Hood separates Portland's rainy coastal plain from central Oregon's high desert. Surrounding this behemoth is over a million acres of protected national forest, with nearly half being old-growth forest.
The Forest Service maintains campgrounds all throughout this vast, natural area. Hiking, hot springs, and winter sports can all be enjoyed here as well, making this one of the top landmarks of Oregon for outdoor enthusiasts.
Kam Wah Chung State Heritage Site
After Ing "Doc" Hay and Lung On bought the Kam Wah Chung Company Building in 1887, it became an important center for Oregon's Chinese population. It was an herbal apothecary, general store, and community center, and it paints an important portrait of the wild west.
In 1967, the building was converted into a museum, which is preserved as a time capsule with its goods still on display. An interpretive center accompanies the museum, providing glimpses into the proprietors' lives.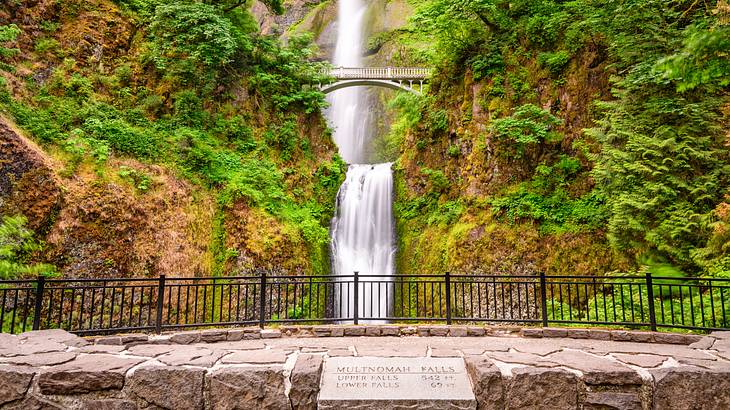 Multnomah Falls
More than two million people come to Multnomah Falls each year, making this one of the most famous places in Oregon. The best way to experience the falls is by hiking to Benson Bridge.
From here, you can watch the upper tier of the cascade drop 542 feet into the pool below. Then, turning around, you can see the water crash the remaining 69 feet of the lower tier and empty into the Columbia River.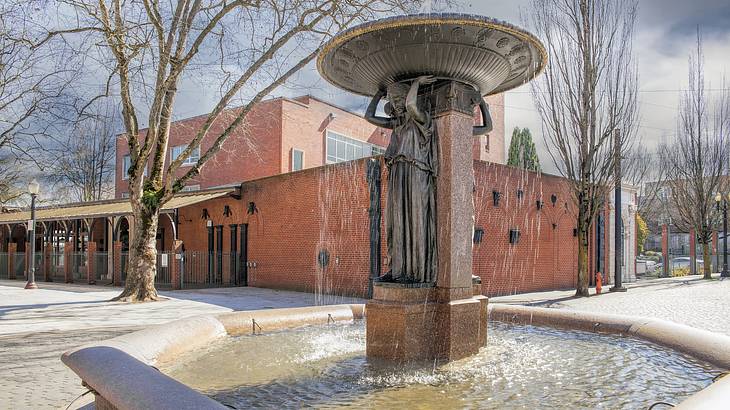 Old Town Historic District
Portland's Old Town was designated a national historic landmark in 1977 and is often called Skidmore after the area's famous Skidmore Fountain. Once part of the city's Chinatown, it's now a vibrant mixed-use area.
Restaurants, nightlife, and parks are scattered throughout this part of town. Where Old Town meets the Willamette River by the Burnside Bridge, you'll find Portland's famously weird and eclectic Saturday Market every weekend.
Oregon Caves National Monument & Preserve
In the remote south of the state near its border with California, Oregon Caves National Monument and Preserve awaits to dazzle visitors. Unlike most caves that are eroded out of limestone, this cave system has been formed out of marble.
Ranger guides can take visitors 220 feet below the surface. Here, the cave opens into a massive room with pillars of stalagmites and hanging stalactites.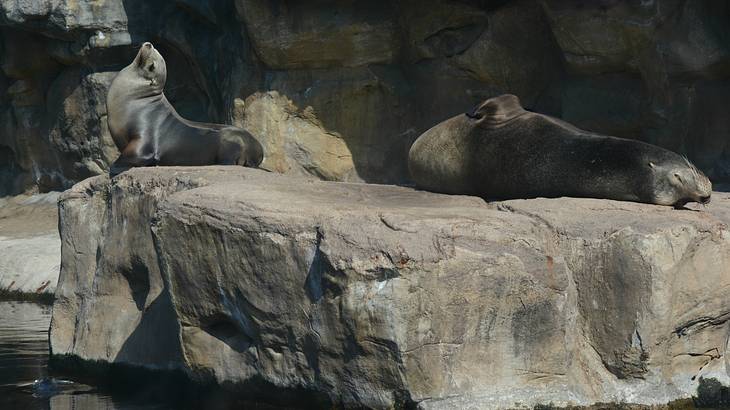 Oregon Coast Aquarium
The Oregon Coast Aquarium in Newport is an incredible experience, with exhibits designed to portray the region's unique ecosystem. You can visit the octopus caves, watch frolicking otters, and enter the seabird aviary.
Afterward, take a walk through the rocky shores, coastal waters, and passages of the deep exhibits to learn about the fascinating creatures of the Pacific Northwest. This is one of the Oregon state landmarks you shouldn't miss!
Oregon Coast Public Art Trail
The Oregon Coast Public Art Trail is massive, consisting of 800 individual works spread out over its 363-mile Pacific coastline. It's all outdoors, in the open air, with free access for anyone willing and able to travel and appreciate the diverse works.
The trail's murals, sculptures, and architecture represent Oregon's people, history, and nature. The track is self-guided, and a map has been created to help those interested in exploring.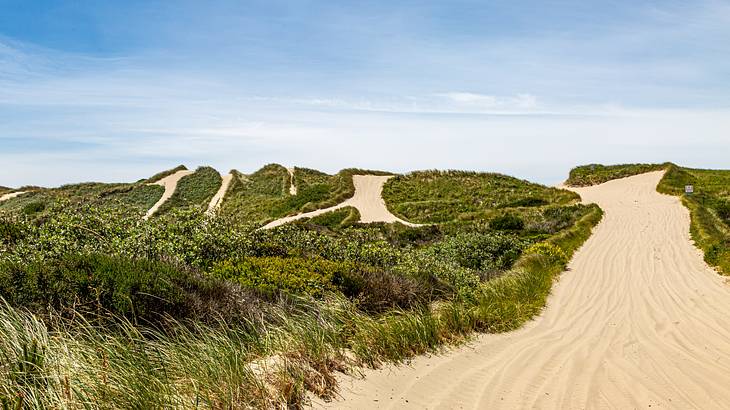 Oregon Dunes National Recreation Area
The windswept sand of Oregon Dunes National Recreational Area extends for forty miles from North Bend to Florence. The shifting dunes here can reach over 500 feet, and its 7,000 acres make it the largest region of coastal dunes in North America.
During the summer, it's a popular area for dune buggies, dirt biking, sandboarding, and hiking. The annual Dune Fest event brings people from all over the state, so be sure to check the calendar and plan ahead.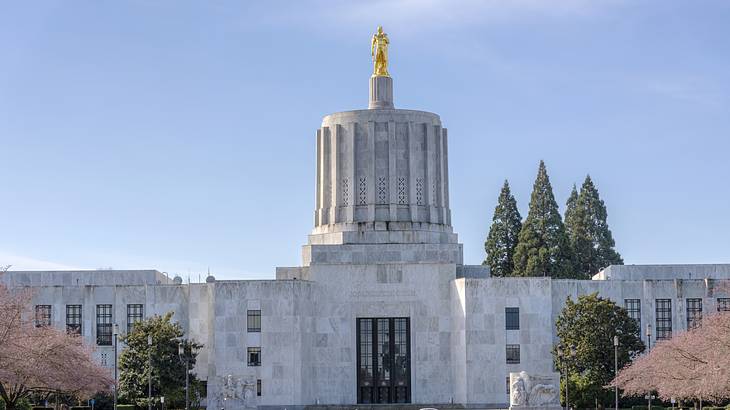 Oregon State Capitol Building
The debate over the capital city of Oregon has been surprisingly contentious and predates its official statehood. A dizzying debate in the 1850s saw it move from Oregon City to Salem to Corvallis and ultimately back to Salem.
To make things more unusual, the first two Capitol buildings were destroyed in fires in 1855 and 1935. Salem's third, current, and hopefully final Oregon State Capitol Building was completed in 1938.
Pioneer Courthouse
The Pioneer Courthouse in Portland is one of the most famous buildings in Oregon and another of the national historic landmarks to visit while you're here. Its Italianate style is responsible for its simple, boxy shape and copper-clad cupola offering excellent city views.
The courthouse is the Pacific Northwest's oldest federal building and the second-oldest such structure west of the Mississippi River.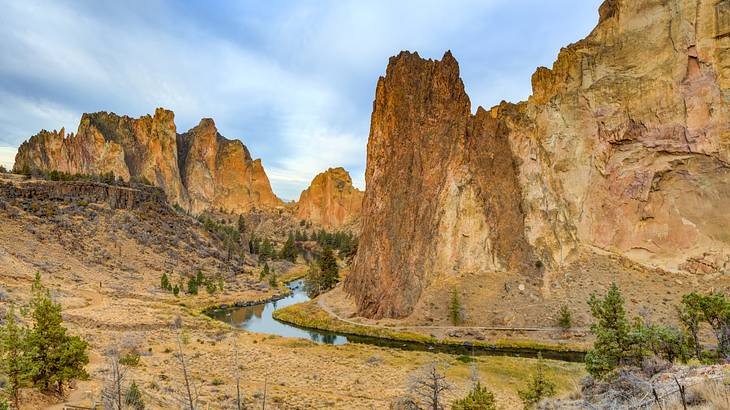 Smith Rock State Park
Smith Rock State Park is one of the top destinations in Oregon for rock climbing and hiking. It has more than a thousand bolted climbing routes and miles of trails for hiking and biking, making it one of the best things to do near Bend.
Misery Ridge Trail is a good challenge due to its steep elevation gain and exposure to the unrelenting desert sun. The views of deep canyons and the winding Crooked River from the summit make it well worth the effort.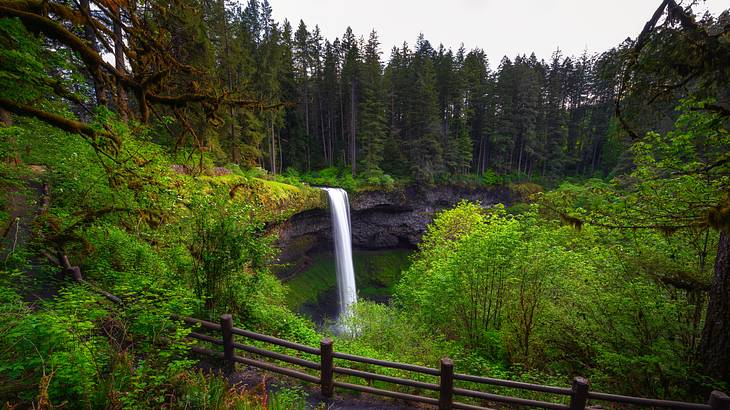 Silver Falls State Park
On the western slopes of the Cascades near Salem, Silver Falls State Park is one of the most quintessentially "Oregon" places to visit. Its waterfalls and vibrant, green forests make it an excellent place for a weekend of camping and hiking.
The park's Trail of Ten Falls is a 7.2-mile loop that weaves through all this beauty. Along the way, you can walk behind the 117-foot South Falls as it thunders into a swimming hole below.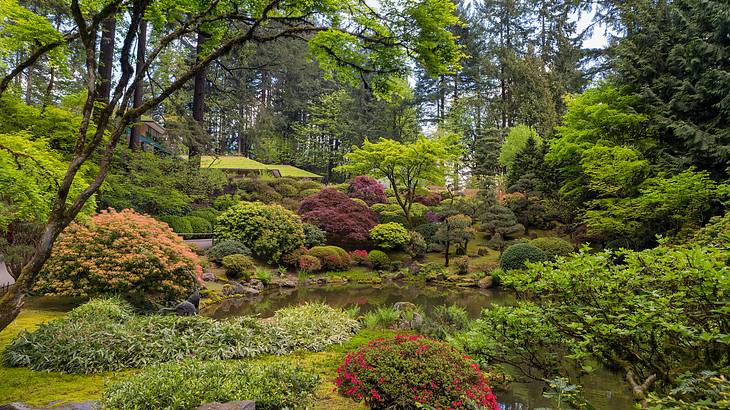 Portland Japanese Garden
It's easy to lose track of time and yourself in Portland's Japanese Garden. It's one of many famous places to visit in Oregon and a great Portland activity for kids.
The garden's twelve acres contain eight unique spaces representing eight distinct styles in the Japanese art of cultivation. Along its walkways, you'll find trickling streams, a Japanese tea house, and views of Mount Hood.
Trillium Lake
Trillium Lake was formed in 1960 when the Department of Fish and Wildlife dammed the headwaters of Mud Creek. The resulting lake is only about eight miles from Mount Hood, providing stunning views of the glaciated volcano on clear days.
Near the town of Government Camp, visitors can post up in one of Trillium Lake Campground's fifty-seven tent and RV sites. During the summer, the lake provides refreshing opportunities for swimming, fishing, and boating.
Tualatin River National Wildlife Refuge
On the floodplains of the Tualatin River outside of Portland, this is one of the country's only urban national wildlife refuges. The location is important both for providing public access and maintaining an important stopover point for migratory waterfowl and the Arctic nesting birds.
The refuge is vital for preserving sensitive wetlands and riparian habitats. Local flora and fauna, such as the bald eagle, are protected from human development and invasive species.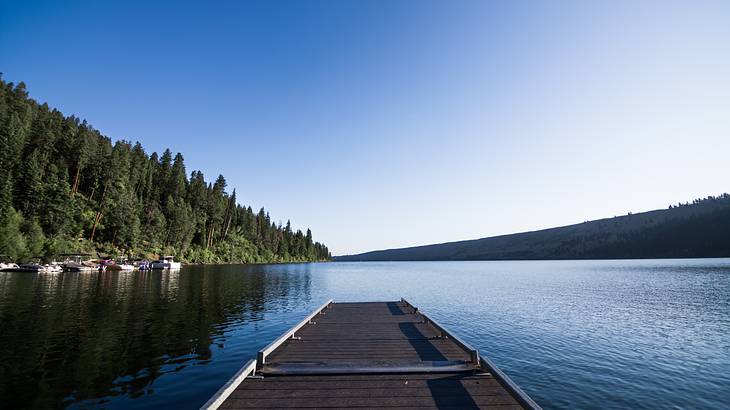 Wallowa Lake
This glacial lake below the towering Wallowa Mountains in northeast Oregon is one of the most famous places in Oregon. The deep blues of the water against the surrounding lush green forests combine for a breathtaking experience.
Wallowa Lake State Park provides campgrounds nearby if you're unwilling to leave the area for the night. The isolation here translates to brilliant, starry nights with clear views of the Perseid meteor shower each August.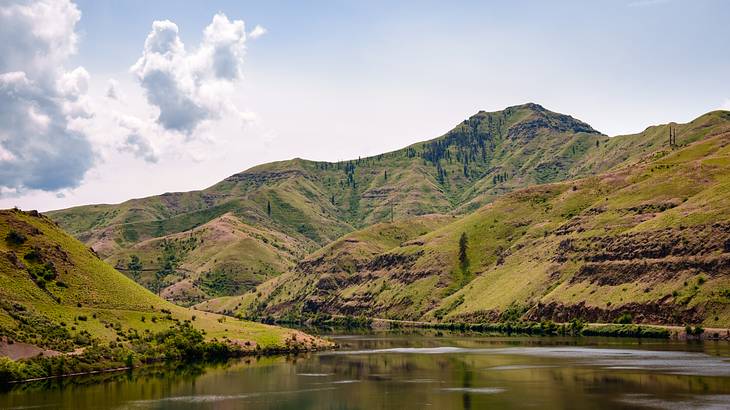 Hells Canyon National Recreational Area
Along the Snake River separating Oregon from Idaho, Hells Canyon National Recreation Area features the deepest river gorge in North America. Delving nearly 8,000 feet to its bottom, this gorge bests the Grand Canyon's mark by almost 2,000 feet.
There's more to the recreational area than just viewpoints into the void, with over 650,000 acres of wilderness to explore. There are also petroglyphs from ancient settlements and artifacts from abandoned mining towns.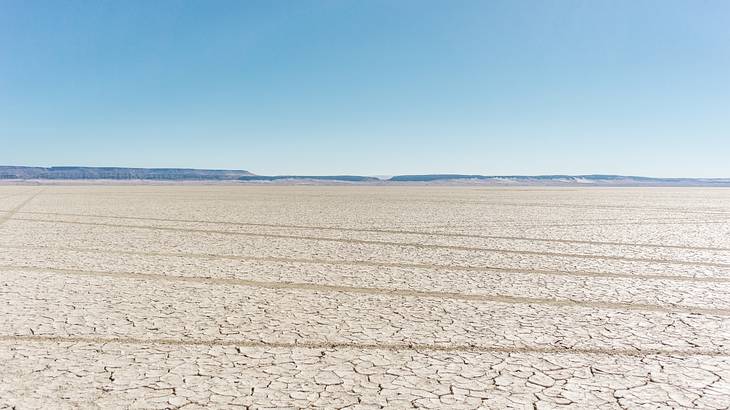 The Alvord Desert
Oregon is very diverse in its topography. While many associate the state primarily with the rainy, PNW climate of Portland, the Alvord Desert in the southeast provides a very stark contrast.
The wrinkled and cracked plains of this desert lie in the rain shadow of Steens Mountain, its often-snow, 5,000-foot peak blocking its would-be precipitation. Visitors can camp in this five-by-ten-mile stretch of desolate beauty and soak in nearby hot springs.
Conclusion
These 25 famous Oregon landmarks will hopefully inspire you to plan a visit to the Beaver State sooner rather than later. Whether you're a nature lover or city dweller, traveling solo or with a family, there should be something for everyone on this list.
At nearly 100,000 square miles, Oregon is the tenth-largest state in the country and larger than all of the United Kingdom. Be sure to pace yourself or plan more than one trip to properly enjoy its cities, deserts, mountains, and the Pacific coastline.
Give us feedback about this article
More visual stories related to this article:
---
---
Want to keep exploring?
Subscribe for discounts on tickets and hotels and our latest guides.
Thank you for subscribing
We will be in touch soon with discounts on tickets and hotels and our latest guides.
Want to keep exploring?
Subscribe for discounts on tickets and hotels and our latest guides.
Thank you for subscribing
We will be in touch soon with discounts on tickets and hotels and our latest guides.
Related Articles