15 Landmarks in Myrtle Beach, SC, to See
Destguides may receive commissions from purchases made through affiliate links in this article.
Located right in the heart of 60 miles of sandy beaches known as the Grand Strand, Myrtle Beach is one of South Carolina's most visited tourist destinations. However, the city is more than just a quiet beach town, although its miles of Atlantic coast are certainly its biggest draw.
There's also the spacious Myrtle Beach Convention Center which attracts travelers to the area with dozens of conferences and exhibitions throughout the year. But no matter why people come to the city, one thing is true: there is no shortage of landmarks in Myrtle Beach, SC, to see and experience during a visit.
As a tourist town, Myrtle Beach really does have something for everyone. From catching a variety show at the Carolina Opry to feeling the wind blow through your hair on one of Broadway Grand Prix's seven go-kart tracks, here are 15 of the best spots to check out in Myrtle Beach.
15 Myrtle Beach landmarks
15 Myrtle Beach Landmarks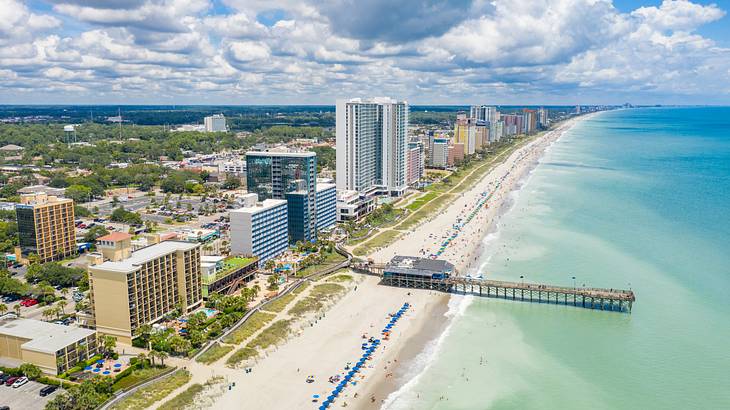 Myrtle Beach Boardwalk and Promenade
The Myrtle Beach Boardwalk and Promenade runs along the city's scenic shoreline from the 2nd Avenue Pier to Pier 14. The boardwalk and promenade, stretching 1.2 miles, go past hotels, restaurants, and retail shops in the heart of Downtown Myrtle Beach.
You'll find no shortage of sabal palms lining the boardwalk, which, as an interesting South Carolina fact, is the official state tree. And every June, the boardwalk's Burroughs and Chapin Pavilion comes alive as it hosts the popular Carolina Country Music Fest.
The Bowery
As the oldest music bar on the Grand Strand, The Bowery has been a Myrtle Beach landmark since 1944. Known for its country-rock style of music, The Bowery is most famous for having country music megastars Alabama as its house band from 1973 to 1980.
Open daily until 2 AM, visitors can still enjoy nightly music, reasonably priced drinks, and some of Myrtle Beach's best pub food.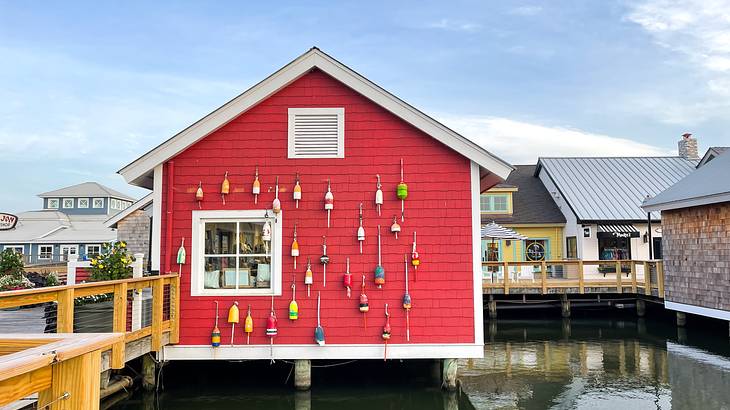 Barefoot Landing
Barefoot Landing is an expansive shopping, dining, and entertainment complex along the Intracoastal Waterway on US Highway 17 in North Myrtle Beach. Opened in 1988, Barefoot Landing features a boardwalk design and dozens of boutique shops. You can also find some of the city's best dining and nightlife, including the House of Blues Myrtle Beach.
Myrtle Beach Pinball Museum
Perfect for spending an hour or two out of the sun, the Myrtle Beach Pinball Museum is home to a rotating assortment of more than 25 pinball machines dating back to the 1970s. Just make sure you book your time slot in advance, as space is limited to ensure everyone can access the machines.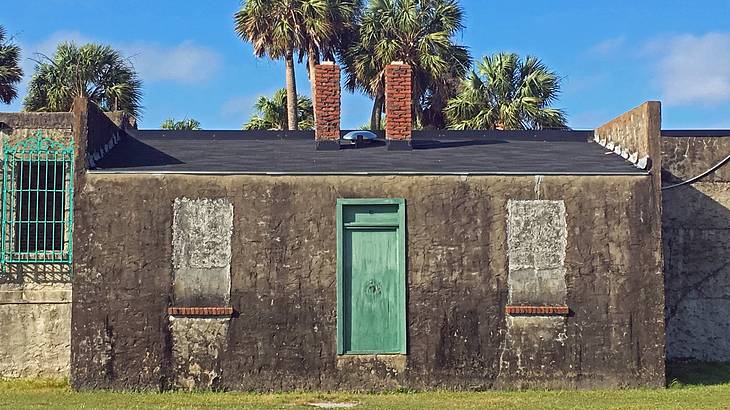 Atalaya Castle
Completed in 1931 as the winter home for famed sculptor Anna Hyatt Huntington and her businessman husband Archer, Atalaya Castle is one of the region's most historic structures and tourist destinations.
Designated as a National Historic Landmark in 1984, the landmark is about 30 minutes south of Myrtle Beach. Notably, it's a popular wedding venue and backdrop for photographers.
Grand Strand
Myrtle Beach is the beating heart of the 60-mile stretch of the South Carolina coastline known as the Grand Strand. Spanning from Little River at the North Carolina border to Winyah Bay, south of Pawley's Island, the Grand Strand encompasses a myriad of state parks and world-class golf courses. Of course, you'll also be able to enjoy the endless beaches that comprise the Myrtle Beach area.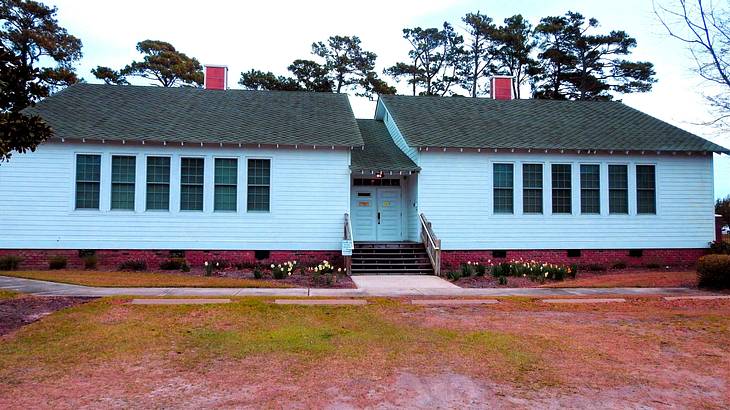 Historic Myrtle Beach Colored School & Education Center
Initially constructed in 1932, the Historic Myrtle Beach Colored School & Education Center was the city's first school for African-American students. In use until the 1950s, the wood-frame building fell into disrepair in the second half of the 20th century.
Construction began on the current structure, a replica of the original, in 2005, with the doors of the four-room museum and education center opening the following June.
Broadway Grand Prix
Located adjacent to the Hollywood Wax Museum, Broadway Grand Prix is one of the most popular Myrtle Beach points of interest for families. With seven go-kart tracks, two 18-hole mini golf courses, a 20,000-square-foot arcade, and plenty of other kid-friendly attractions, Broadway Grand Prix offers something for kids and adults of all ages.
North Myrtle Beach Area Historical Museum
The North Myrtle Beach Area Historical Museum operates to preserve the culture of the North Myrtle Beach neighborhood. With items of local significance from throughout the 20th century on display, the museum offers a great way to get to know the area and its history as a tourist destination.
Myrtle Beach Convention Center
With more than 250,000 square feet of exhibition space, the Myrtle Beach Convention Center is one of the region's largest exhibition spaces and home to various meetings, competitions, and trade shows throughout the year. One of its most unique claims to fame? Every September, the Myrtle Beach Convention Center hosts South Carolina's largest garage sale!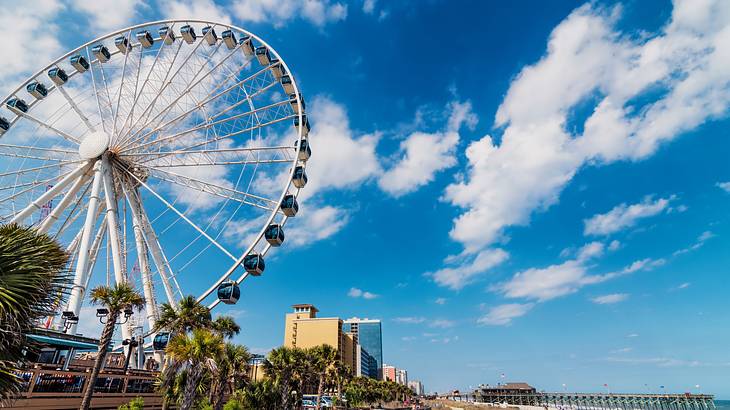 Skywheel Myrtle Beach
Towering above the Myrtle Beach Boardwalk and Promenade, Skywheel Myrtle Beach is a 187-foot tall fully-enclosed Ferris wheel. Up to six riders can fit in each of the observation wheel's 42 air-conditioned gondolas. Be sure to ride Skywheel Myrtle Beach twice, once during the day and once at night, to fully experience its exceptional views.
The Carolina Opry
The Carolina Opry is one of the Grand Strand's leading performance venues. The opry hosts an assortment of musical stage performances, including its signature variety show and renowned Christmas production.
Opened in 1992, the Carolina Opry can accommodate up to 2,000 guests, with both main-floor and balcony-level seating available for its performances.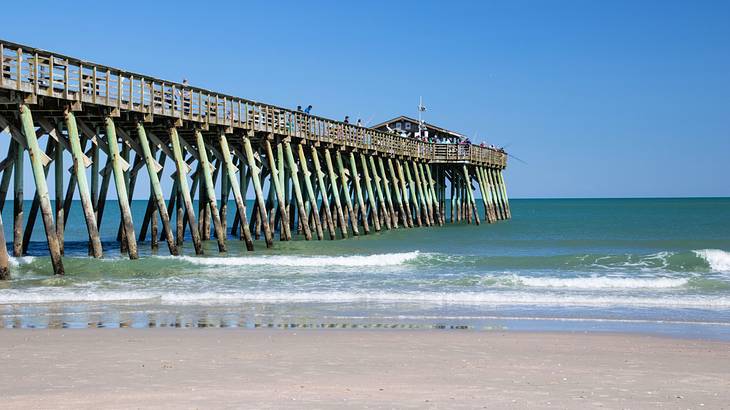 Myrtle Beach State Park
Occupying 312 acres of land between US Highway 17 and the Atlantic Ocean, Myrtle Beach State Park is one of the most famous landmarks in South Carolina. The park offers visitors a classic taste of coastal Carolina between its sandy beach and natural woodlands. It's historic, too: Myrtle Beach State Park became South Carolina's first state park in 1936.
Family Kingdom Amusement Park
With more than 35 rides, including go-karts, a log flume, and three unique rollercoasters, Family Kingdom Amusement Park is a must-visit for thrill seekers and families with children. The amusement park, which opened in 1966, offers free admission. You can then pay for whatever rides and amusements you want to enjoy or get an all-access wristband.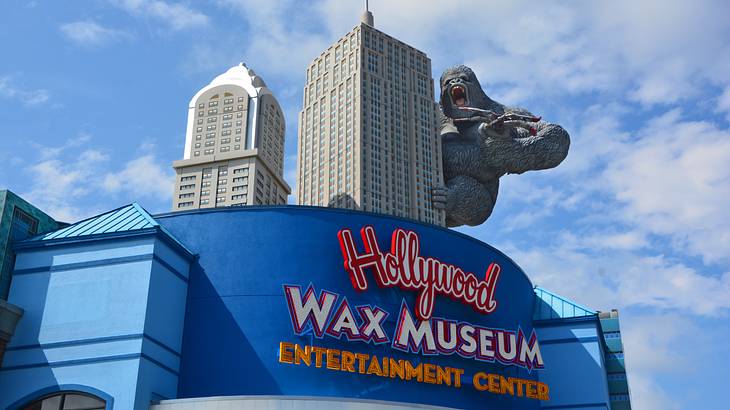 Hollywood Wax Museum
The Hollywood Wax Museum is a Myrtle Beach, SC, landmark that features more than 80 realistic, life-sized wax statues of celebrities and public figures. The building is designed as an homage to the film industry, with a 40-foot King Kong mounted on top.
In addition to the gallery of wax statues, the Hollywood Wax Museum is also home to Hannah's Maze of Mirrors and the Outbreak – Dread the Undead zombie attraction.
In Summary
While no visit to Myrtle Beach is complete without spending time on the sandy shoreline, the area offers much more than just its coast. From the outdoor all-ages fun of Family Kingdom Amusement Park to catching a late-night concert at the city's oldest music bar, The Bowery, a trip to Myrtle Beach will surely be memorable.
But these 15 landmarks are just the beginning: the Grand Strand area has lots more to offer visitors and locals alike. So next time you're in Myrtle Beach, play some pinball, explore South Carolina's original state park, and take it all in from the top of the 187-foot Skywheel Myrtle Beach!
Give us feedback about this article
More articles about South Carolina:
Read more articles about the United States:
More articles about landmarks:
---
---
Want to keep exploring?
Subscribe for discounts on tickets and hotels and our latest guides.
Thank you for subscribing
We will be in touch soon with discounts on tickets and hotels and our latest guides.
Want to keep exploring?
Subscribe for discounts on tickets and hotels and our latest guides.
Thank you for subscribing
We will be in touch soon with discounts on tickets and hotels and our latest guides.
Related articles